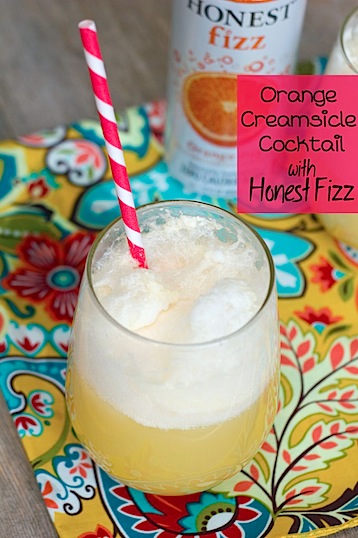 Is it a cocktail? Is it a dessert? Is it the best drink ever? Well, I'll let you decide. But just for the record, I'm going with all of the above. Mostly because I love any and all things creamsicle flavor and also, vodka. And fizz, too. I know it's not Friday, but man, don't you wish it were? It's actually only Wednesday. Have you actually ever met anyone whose favorite day is Wednesday? No. You never hear people say, "I just LOVE Wednesdays; they're the best!" In fact, more people probably love Mondays than love Wednesdays since at least Monday offers you the opportunity for a fresh start. Wednesday is the worst, other than Tuesday, which I'd basically vote out of the week if I had that kind of authority. I'm just all set with you, Tuesday and Wednesday; stay away. Only don't, because we need you in order to get to Friday.
While Cocktail Friday is kinda my thing, sometimes I think Cocktail Wednesday is more appropriate. So this week I'm doing it. And not just Cocktail Wednesday, but Ice Cream Wednesday and Vodka Wednesday, too. Might this just be the best Wednesday ever?
A couple weeks ago, Vijay of NoshOn.It sent me a whole bunch of Honest Tea products, including their brand new Honest Fizz, and I immediately knew I needed to create a cocktail. And I knew it had to be with Orange Pop because orange soda is one of my faves. Except with Honest Fizz, I don't have to drink my calories. Because there aren't any since the soda is sweetened with Stevia. This is awesome for me since I really don't drink much soda at all. Even diet kinda skeeves me out… But I know I can feel good about the Honest Tea brand, so I'm very excited to have these in my life for when I soda craving hits.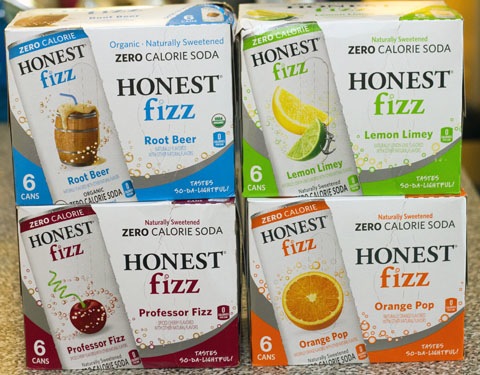 Right now, Honest Fizz comes in Root Beer, Lemon Limey, Professor Fizz (um, cherry?), and Orange Pop flavors. Yes, I'm a little confused as to why the cherry is labeled "Professor," but I'll let it go since it's delicious. I'm also thrilled to have a zero calorie Root Beer drink.
Orange Creamsicle Cocktail with Honest Fizz (makes 2 drinks):
1 C orange juice
2 C vanilla ice cream
5 oz. vodka
1 t vanilla
12 oz. Orange Pop Honest Fizz
Fresh orange, for garnish (optional)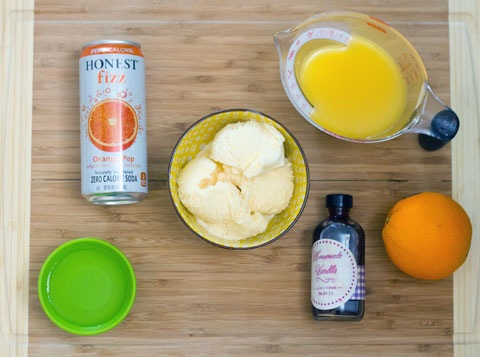 I decided to get a little fancy with my cocktail and whip up an orange reduction to boost the orange flavor profiles in my drink. I should make it clear that you don't have to do this if you're looking to make a super quick and easy cocktail. Just the Honest Fizz with ice cream, vodka, and a little vanilla would make a delicious cocktail in about 2-minutes flat. You know me; I just like to get a little crazy sometimes.
Basically, I brought one cup of orange juice to a boil in a medium saucepan and let it simmer until it was reduced by about half. Then I popped it in the fridge to chill.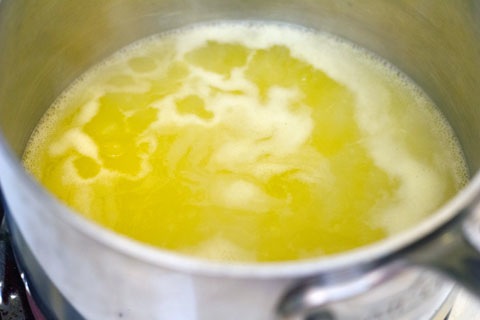 When the orange reduction is chilled, plop your ice cream in two glasses. And yes, plop is my favorite verb.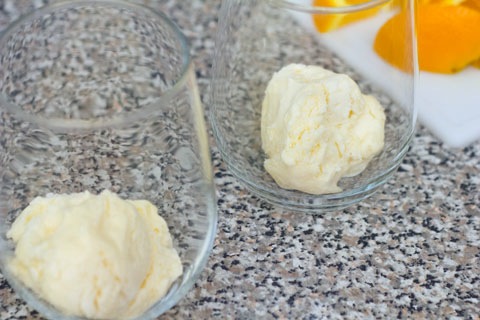 Divide orange reduction, vodka, and vanilla between the two glasses.
And then pour Orange Pop Honest Fizz into glasses to completely fill.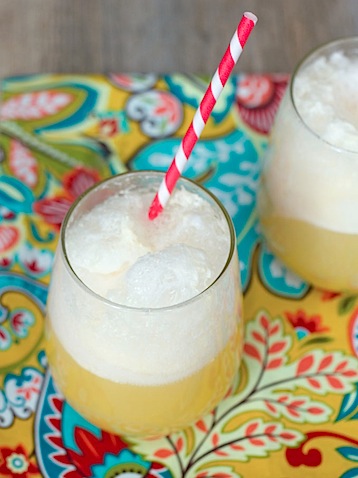 You could also garnish with an orange. Which was my original intent. As you can see from the above image, I even sliced one up! But somehow, it didn't land in my drink. Orange fail.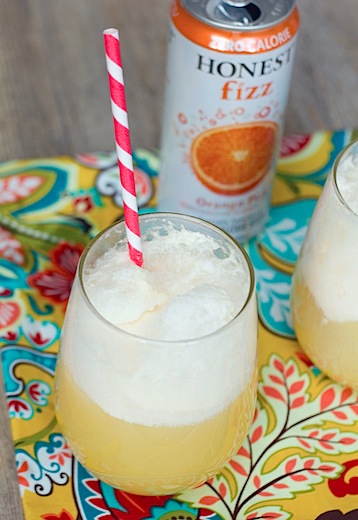 But no matter because this orange concoction was already a pure delight and it didn't really need that extra garnish! A red striped straw did the trick, anyway. The drink was full of orange flavor and the vanilla ice cream and extra vanilla extract definitely gave it that delicious creamsicle taste.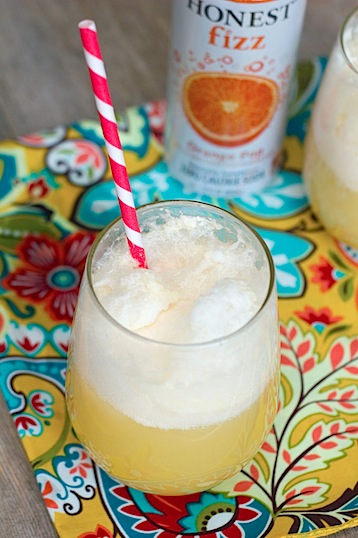 Plus, I love the way the Honest Fizz combined with the ice cream to bring forth the perfect frothy fizz. There's nothing better than that.
I keep forgetting that there's vodka in this drink, but hello, that's what makes it a cocktail. Which is what makes my Wednesday wonderful.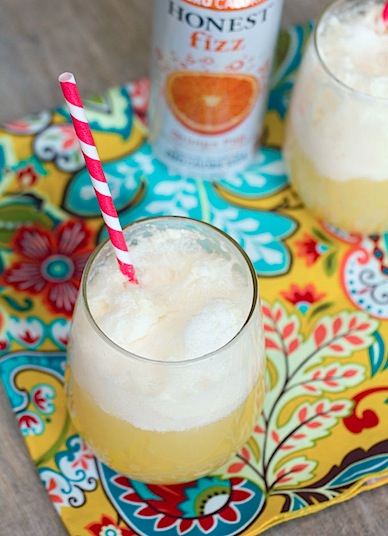 Hooray for cocktails! With zero calorie, naturally sweetened soda! I'm pretty sure Honest Fizz is one of those drinks I'll always have a box or two of in my pantry for when the cocktail craving hits (which is quite often these days!).
And now I want you to have a chance to try it!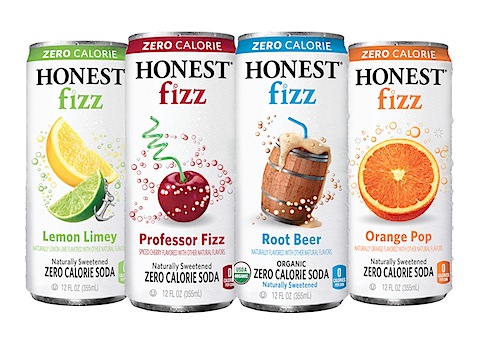 30 Days of Honest Fizz Giveaway!
Want to try Honest Fizz for yourself? Well, I'm giving away 30 days of it to one lucky reader! Enjoy the new bubbly brew—all the fun of a natural soda with zero guilt and hopefully you'll find it a sip in the right direction. All you have to do is leave a comment on this post telling me which Honest Fizz flavor you're most excited to try by Wednesday May 29 at 11:59 p.m.
Want extra entries? 1) Follow @wearenotmartha on Twitter, 2) follow @honesttea on Twitter, 3) "like" We are not Martha on Facebook, and 4) "like" Honest Tea on Facebook, 5) "like" NoshOn.It on Facebook. Be sure to leave a separate comment for each extra entry (will count even if you've previously been following!).
Good luck and happy Cocktail Wednesday!!
[Sues]
Disclaimer: Samples of Honest Tea products and the giveaway items were provided to me by Honest Tea through the NoshOnIt Publisher Partner Program.