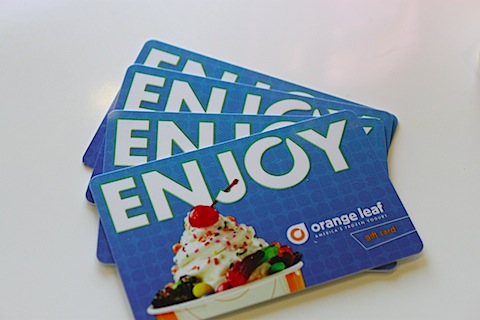 A while back we were invited to the grand opening of a new Orange Leaf location on the South Shore. The timing didn't work out, mostly because driving out of Boston during rush hour can be a pain. I knew I wanted to try the fro-yo because, really, anyone who knows me knows that I eat fro-yo for dinner far more than I should and I'm addicted to it. I told the PR people that while I couldn't make the event, I'd still love to try it out, so they sent me a handful of gift cards! Woop, fro-yo on the hoooouse! And when I found out my friend Julie from the JQ Lounge got gift cards as well, we decided to make an afternoon date of it. With my favorite toddler, Julie's daughter Lil' C, and our friend Becca in tow 😉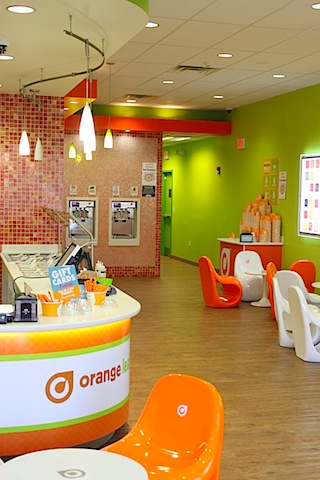 We decided to go to the Orange Leaf in Lexington since it was close enough for all of us. Although they're opening up many new locations, one in Boston, and lots of others scattered around the country!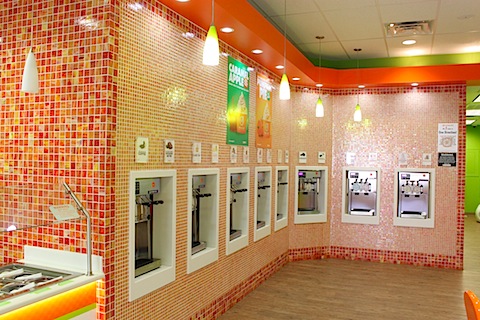 We went on a Thursday around 11:30 and lucky for us, we had the entire place to ourselves. Just one of the many perks of having "alternative work schedules." The place was immaculate and colorfully designed it was difficult to not want to stay there all afternoon and just hang out. If I was still 14 this is definitely where I would spend every night of my life. I imagine this particular location gets hopping on the weekends! The photo above is of all of the varieties of fro-yo that Orange Leaf serves including, of course, their Classic Tart, as well as new-to-me flavors such as Wedding Cake, Pineapple, Brownie Batter, Cookies & Cream, and Spoonberry.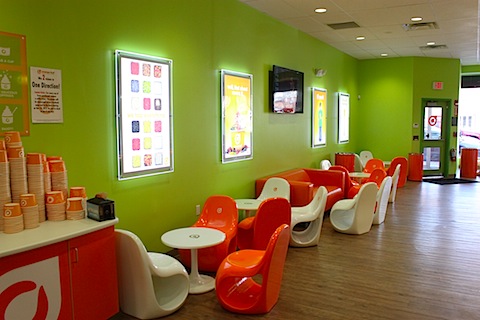 The toppings were plentiful, although I was bummed they didn't have yogurt chips or white chocolate chips which I always put in my fro-yo! But they did have lots of cereal (Capn' Crunch, Fruity Pebbles, and Cocoa Pebbles to name a few) and other candy options as well as a hefty selection of different flavors of boba… mah favorite!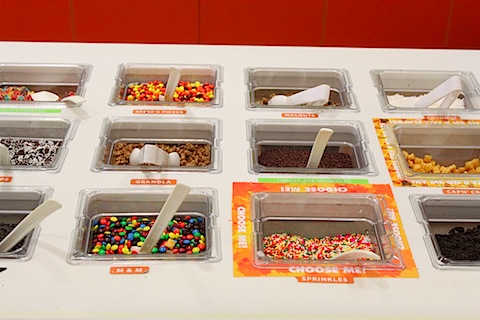 I always love trying out new frozen yogurt shops because they're all just slightly different. Whether it be the consistency of the fro-yo or the flavor choices or the toppings there's always something that makes each shop different and unique. The consistency of Orange Leaf's was a bit thinner than other shops I've visited. All of the flavors were definitely delicious and fun. And I absolutely love a self-serve frozen yogurt shop! There's something so satisfying about adding spoonfuls of toppings in and having full control over how much fro-yo you add in your cup. I tend to do mostly fruity mixes so that's what I stuck with this time. And I added a ton of boba and sprinkles 🙂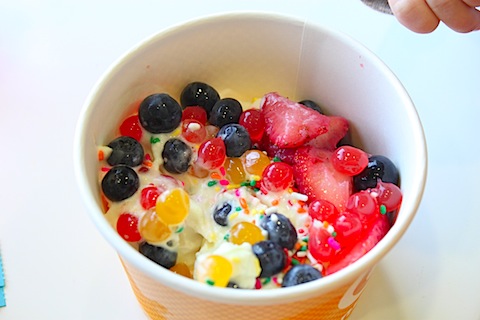 When I put my cup of fro-yo down, my little buddy grabbed my spoon and dug right in, so I hopped back up and got another spoon for myself so she and I could share it. CUTEST MOMENT OF MY LIFE. I adore Lil' C. And if there were yearbooks for tots, she'd win best dressed. And best hair. And best personality. Basically, best all-around. She is just the greatest invention.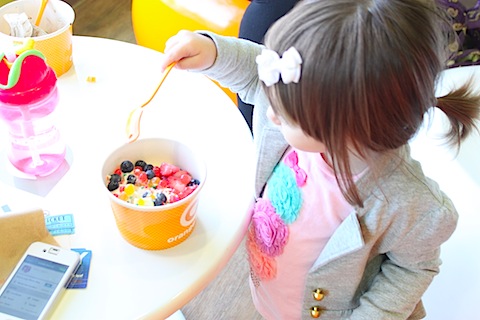 Especially when you put her in a big Orange Leaf fro-yo cup, hehe. 😉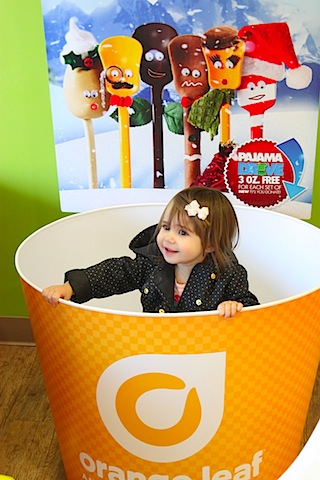 Long story short, Orange Leaf was lovely and I will most definitely be back. Which won't be difficult at all since they're growing quickly! Including an already existing one in my hometown of Andover, hooray!
What's your favorite fro-you spot?
————————————————————
Hope you all had a lovely Thanksgiving! I spent the day at my parent's house with my brother, aunt, uncle, lovely grandmother, and my two cousins. There really isn't anything better than sitting around and eating all day 😉
Especially when it involves homemade sangria, thanks to my aunt!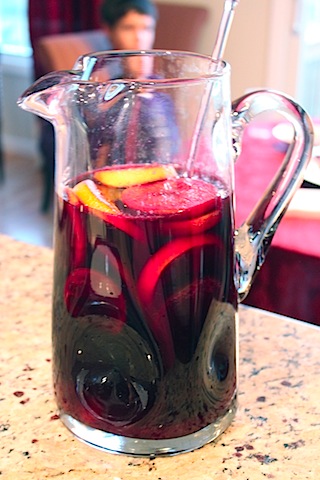 And my cutie pie cousin Sasha Fierce!!!! Sporting an argyle jacket… Such a lady.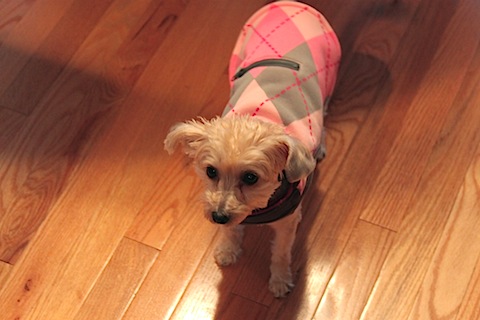 Me and my Gram with Sasha 🙂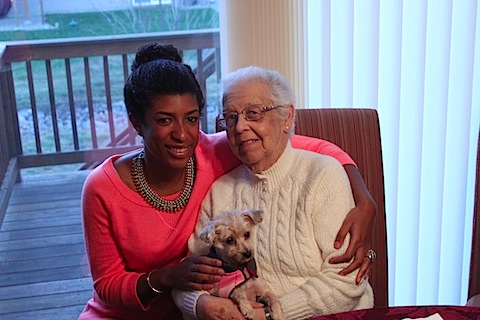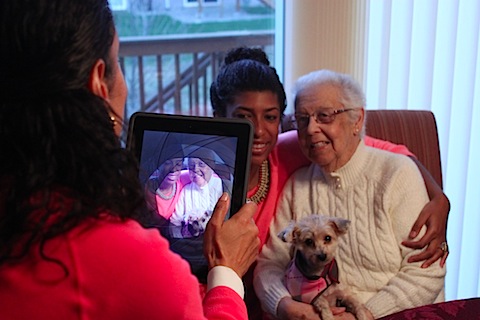 My uncle always carves the Butterball turkey… so profesh!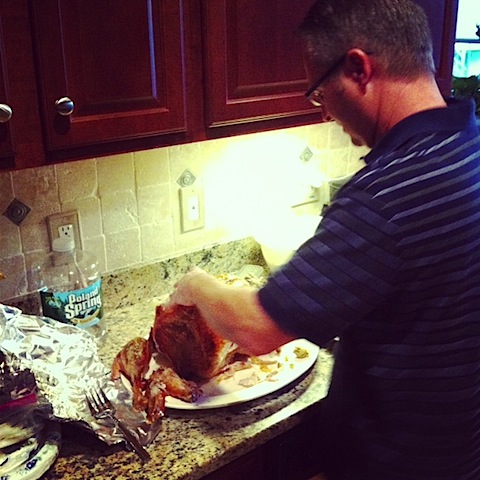 I'm 100% in my happy place when I eat this meal!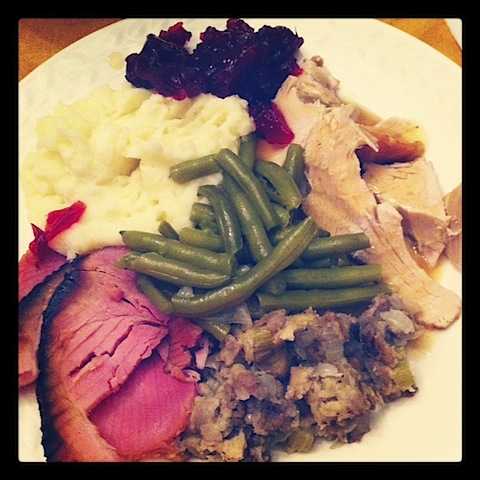 My aunt's famous lemon meringue pie. I'm pretty sure people have been brought to near tears when this pie doesn't make an appearance at family gatherings. It's that good.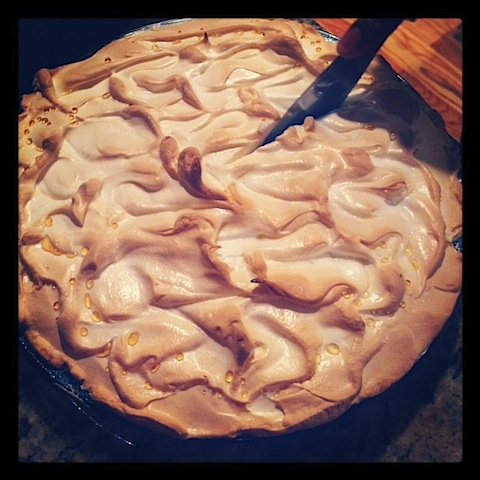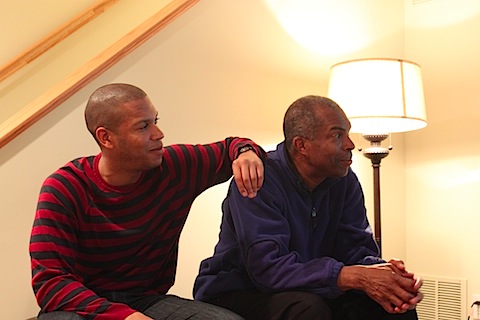 As per usual, there's lots of game playing! We normally play a board game but this year we used the Wii.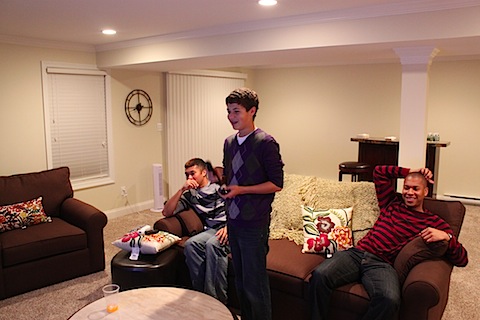 And FaceTime with my Grandma in NYC was such a treat! Love technology.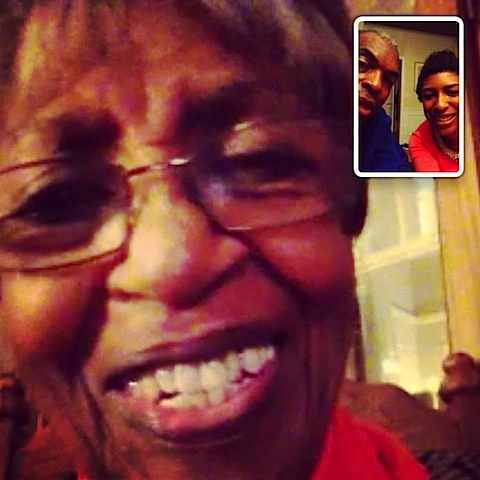 Again, hope you all enjoyed your Thanksgiving weekends! I can't believe it's already this time of year again. Remember the days when we were kids and time went by so slowly? I feel like I was JUST celebrating the New Year not long ago and here we are again! Buckle up 😉
[Chels]