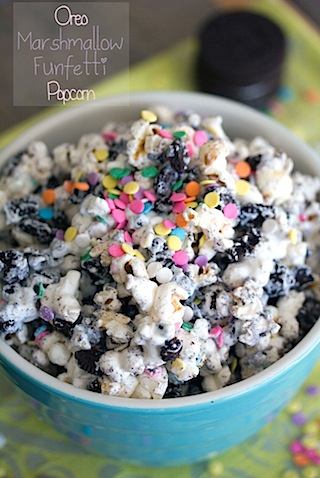 When I was in middle school, I set a bag of popcorn on fire in my kitchen microwave while preparing an after school snack before heading to dance class. Probably needless to say, my parents were not exactly thrilled that the entire house smelled like burnt popcorn for like a week. And that I almost burned the kitchen down. I actually think the microwave shorted out? Which is probably the only thing that really saved us. Middle school and I couldn't even handle the microwave… Ack.
I am so happy to say that I have come a long, long way since my middle school days. I now make popcorn on the stovetop, which would have been a serious danger back in the day. Canola oil and direct heat? Let's just say, I never would have been left alone again. And though I may or may not have set a kitchen towel on fire a couple weeks ago (hey, I thought the burner was off when I threw the towel on the stove; honest mistake, guys), I haven't actually caused any serious damage, aside from a hole burned into my towel.
I warned you there'd be more sprinkles. But you came back anyway, eh? Smart move because really, this recipe is about SO MUCH MORE than sprinkles. They're really just there for looks. The real story is sweet and salty and everything in between. And by everything, I mean sprinkles, Oreos, and marshmallow. All piled into popcorn. Sprinkles and popcorn? Maybe not your typical perfect pairing, but they may be my new favorite thing in all the world. Also, perfect for Easter.
Can we talk about the fact that Wilton Candy Melts are also my new favorite thing in all the world? They sent me these Marshmallow ones, but then I bought 2 more bags at their headquarters this weekend (I also got their new Key Lime Candy Melts! And? They announced they're coming out with caramel apple melts in the fall… omg) because they're limited edition and I really don't know how I'm going to live without them. They taste like the filling in an Oreo. And what do you know, they pair perfectly with actual Oreos.
Oreo Marshmallow Funfetti Popcorn:
Print this recipe!
2 T canola oil (peanut oil works here, too)
1/3 C popcorn kernels
8 oz. Wilton Marshmallow Candy Melts (as an alternative, you could use Fluff)
6 Oreo Cookies
Sprinkles of your choice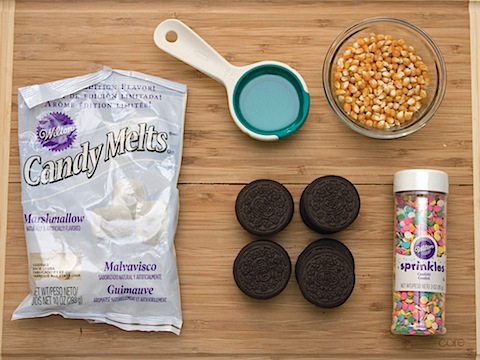 I generally always follow the popcorn instructions on my popcorn kernel bag so as to avoid any disasters. Those instructions tell me to put my oil and popcorn kernels in a large pot and turn heat to medium-high. When the first kernel pops, cover the pot and remove it from the heat for about 30 seconds.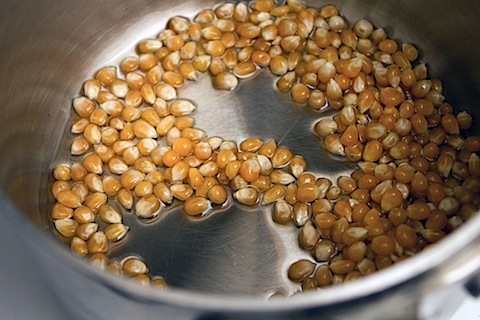 Then, put your pot back on the stove and once kernels start popping, vigorously shake the pot back and forth, keeping it on heat. Once popping slows, take pot off the heat and remove cover. Hurrah!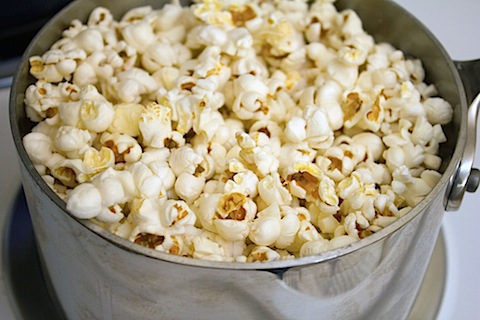 In the meantime, put your candy melts in a microwave safe bowl and put in the microwave for 1 minute at 40% heat. Stir mixture with a spoon and then repeat regimen at 30-second intervals, stirring in between each one, until fully melted. Hurrah again!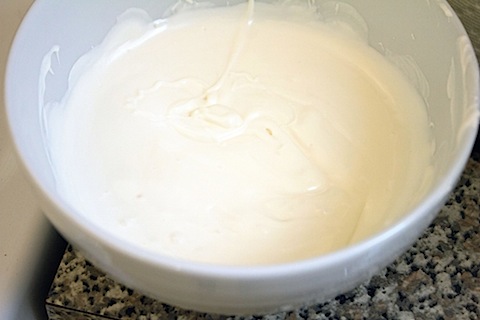 Put popcorn in a large bowl and drizzle marshmallow candy melts over it.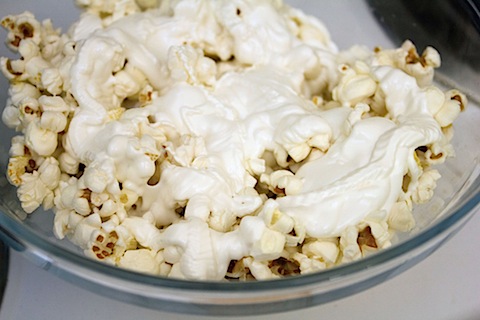 Then crumble Oreos over the top and sprinkle on plenty of fun sprinkles. Mix well.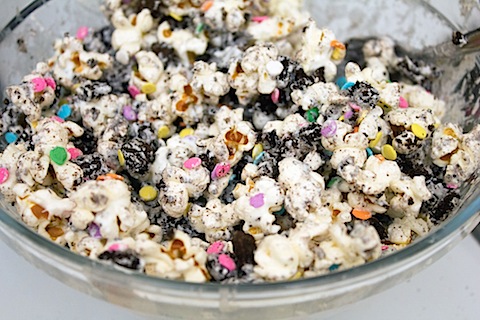 Serve in a giant pastel mixing bowl and top with even more sprinkles if you're into that kind of thing.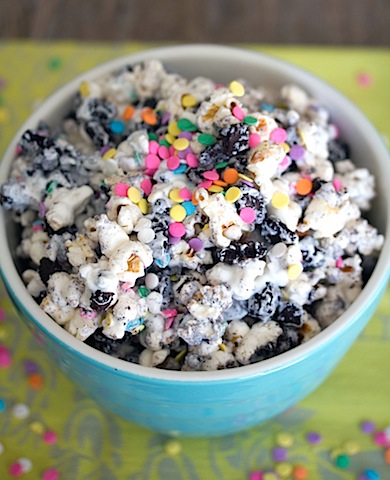 And you will never, ever eat savory popcorn again. OK, that's not true because sometimes when you're watching a movie you might crave a buttery, salty popcorn. Or perhaps one with extra tabasco and parmesan cheese (obsessed). But this dessert popcorn will shoot way up on your list of top popcorns in the world.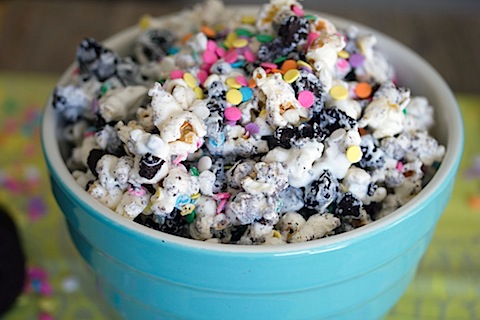 Because it's awesome. And pretty to boot.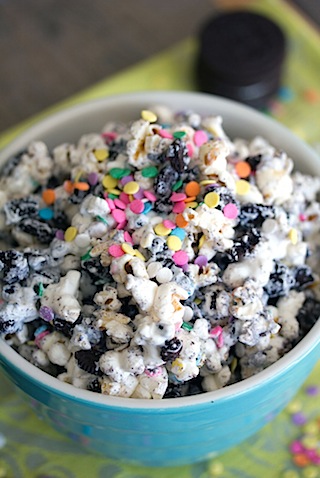 There isn't much that an Oreo cookie doesn't go with, but the Oreos COMBINED with the marshmallow candy melts made this so creamy and delightfully marshmallowy.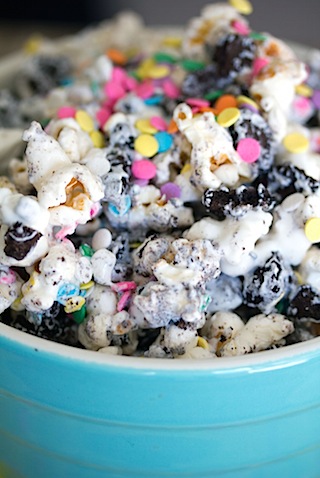 I ate  a lot of handfuls of this popcorn. Like, way too many. That's why I brought a big container to my favorite co-workers.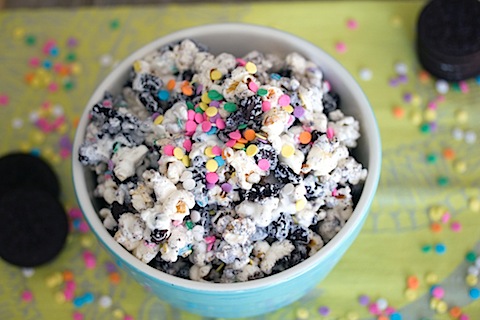 Then, a travesty happened. I placed the Tupperware between two of my co-workers' cubes and my they ate a few early morning handfuls before the container fell to the ground. This was the aftermath taken from Sammy's Instagram: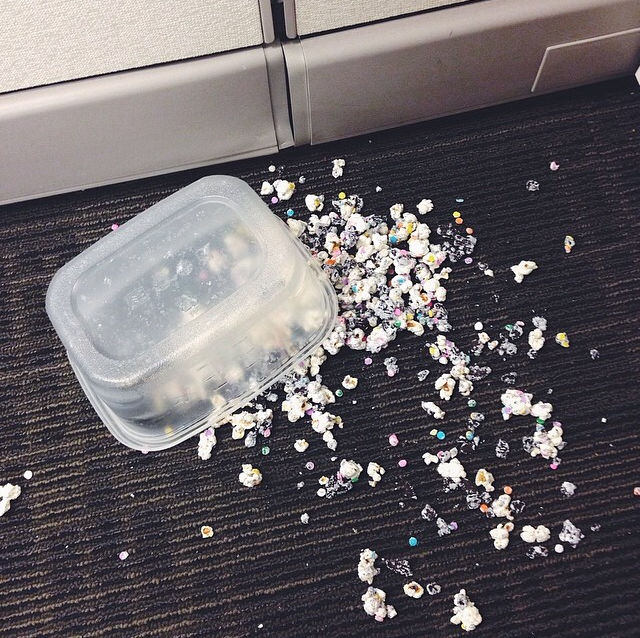 RIP Oreo Marshmallow Funfetti Popcorn. Guess I'll have to make you again soon, huh?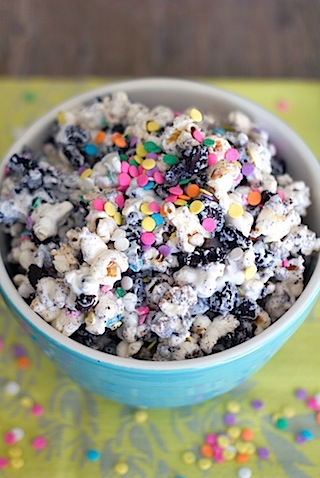 Tough life. But I think I can handle it.
What's the best popcorn you ever had?
[Sues]
CW By CorningWare giveaway winner!
I'm excited to announce the winner of my CW By CorningWare giveaway… Congratulations to Michaela who said, "This dip looks amazing and those dishes look great. MY favorite dip is a Bacon Maple Cheddar dip that is so good you could probably bathe in it!" I will email you ASAP so I can get you your prize… Also, bacon maple cheddar dip? Um, recipe please!