Did you tune into the Oscar Awards this Sunday night? While I generally always watch the big show, I've never actually had a full-on Oscar party. Until this year! Orville Redenbacher's asked me and Chels if we wanted to have some friends over to enjoy the Oscars, popcorn, and lots of other fun stuff. We obviously jumped at the idea! Or should I say we got popping? Sorry, that was lame 🙂
The party was meant for watching the Oscars and celebrating the new Orville Redenbacher's Pop Up Bowls. We were psyched to receive tons of these bowls in the mail to share with all our guests.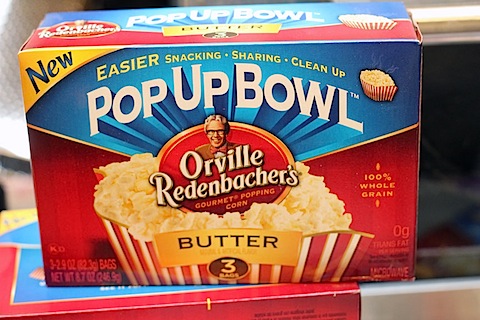 Of course, we prepared plenty of other treats to go along with the popcorn.
When each guest walked in, we made sure they received the signature champagne grapefruit cocktail that we made: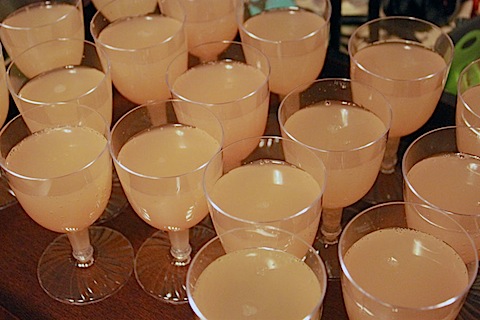 And we set our table with tons of appetizers: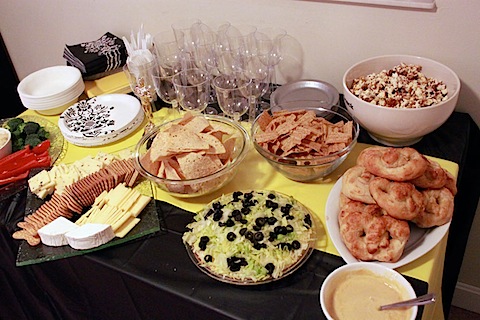 Including homemade soft pretzels with a honey mustard dipping sauce: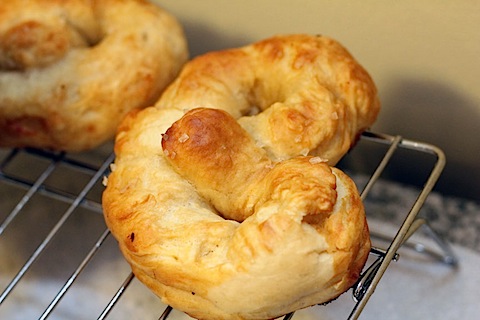 A lovely taco dip: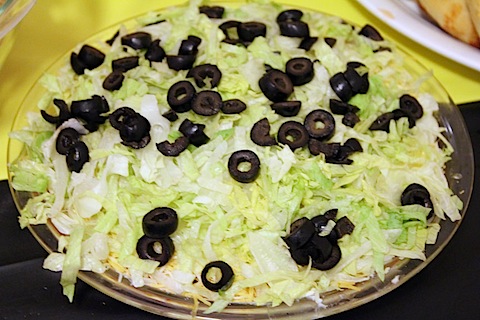 Our own bacon caramel popcorn: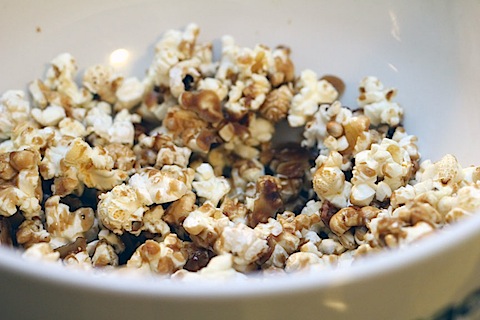 And, of course, a cheese plate. It wouldn't be a WANM party without a cheese plate! Or bacon popcorn 😉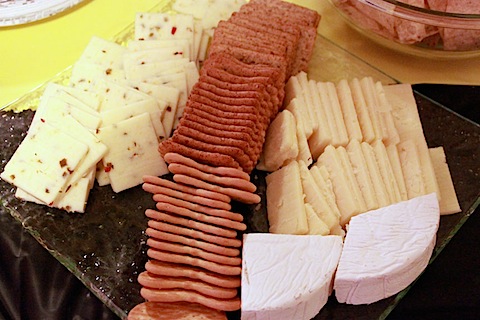 And don't forget the wine!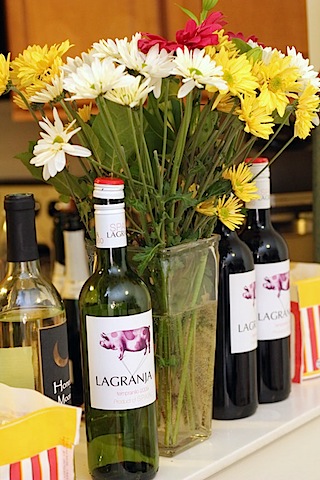 We had all our guests walk down the grand red carpet:
Becca of @BeccaJane and Girls' Pint Out: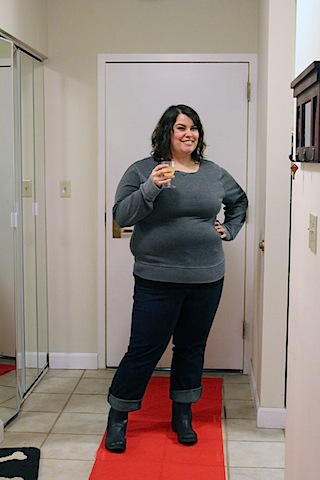 Ryan of @OhRyanKelley and Jen of @IAmJDanger: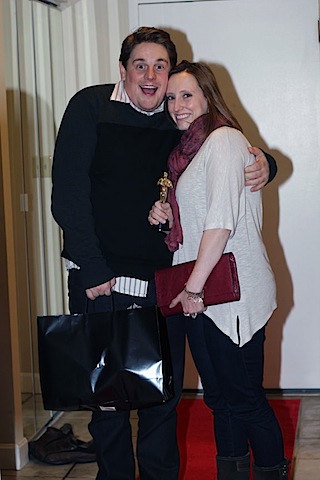 \
Steven of @Folkinz: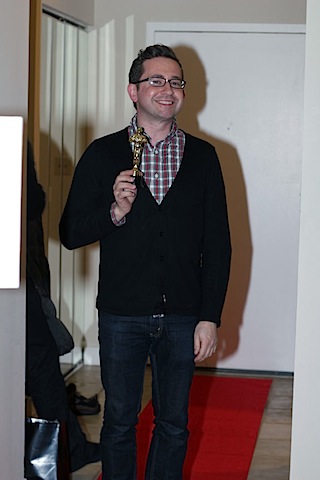 Erin and Mike: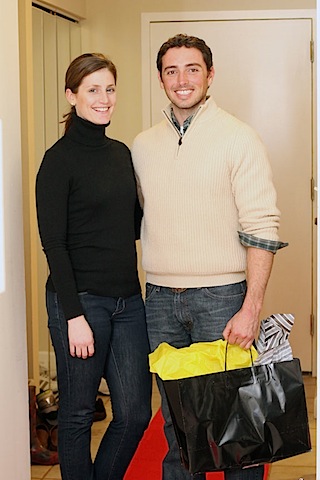 Katie and Libby: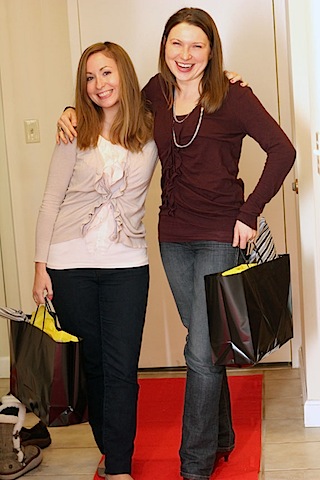 Janel of @DietitianJanel and Aaron of @AaronMFunk: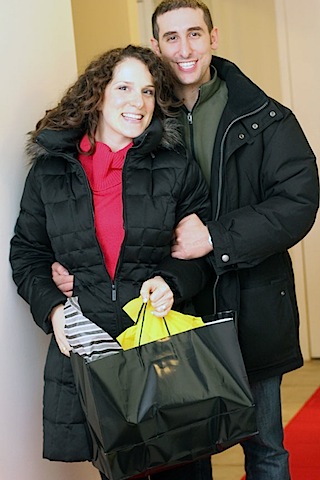 Beth and Adam: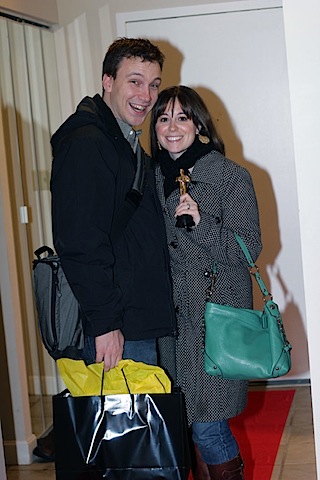 And, of course, us!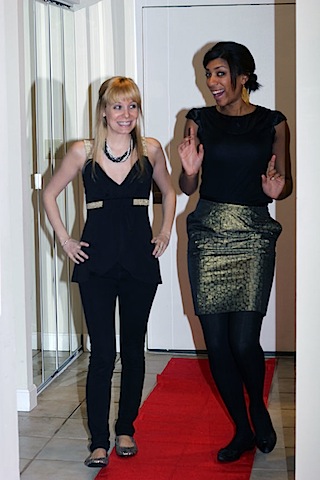 (I just realized that Chris was sadly not snapped on the red carpet… Despite the fact that he not only attended our party, but he played a huge part in making it happen, i.e. running our last-minute errands for us while we got things ready at the apartment).
After snaking on the appetizers for a bit, we brought out buffalo chicken mac and cheese: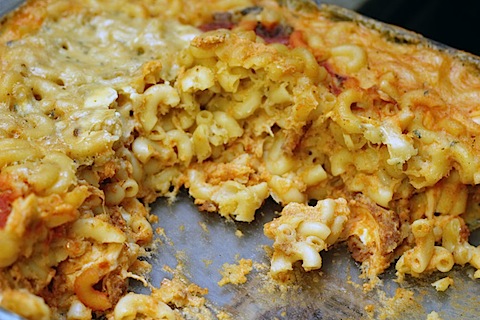 And some delicious vegetarian chili with sweet potatoes.
And for dessert, popcorn cupcakes!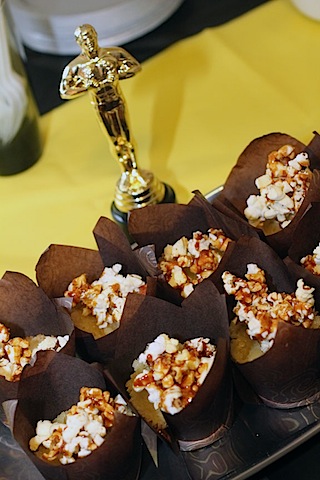 We also had beer cookies (that I'll be posting about soon!) and these amazing salted chocolate clementines that Janel brought. Perfect little bites of sweet and savory.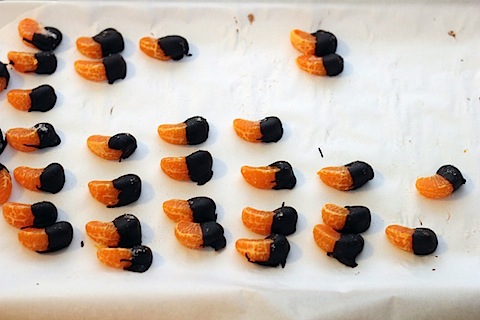 While chowing down, we sat down to watch the big show. I have to say, it was so awesome to be watching the Oscars surrounded by so many friends. In addition to watching the show and eating, many of us were also tweeting away. If you use Twitter then you know how much fun it is when there's an awards show going on!
We made sure to have plenty of movie theater candy for the show: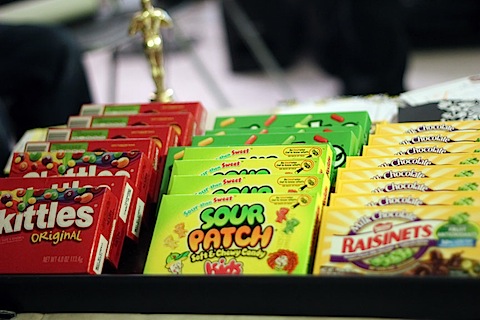 And feasted on lots of Orville Redenbacher's Pop Up Bowl popcorn! The newly designed "bag" is actually… a bowl, which makes sharing and enjoying your popcorn a whole lot easier. And, who are we kidding, it saves you the hassle of doing an extra dish! Perfect for entertaining!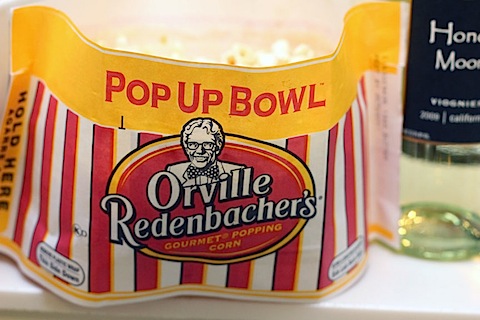 Orville Redenbacher's also provided us with an Oscar's Bingo game. It had us seriously paying attention to the show- and cheering for someone to fall, cry, make a political joke, thank God (which no one did!) etc.
Ryan and Jen's winning Bingo card. One of the squares was "Woman wearing a Tux" so thank goodness Anne Hathaway put that tux on: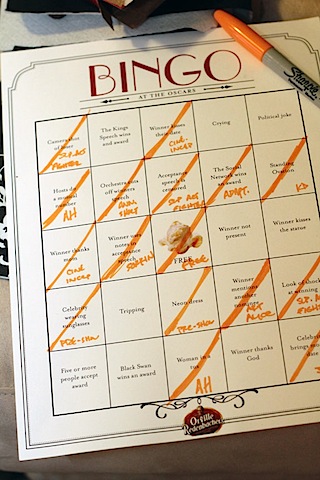 More shots of all our guests! We were going to have a formal "red carpet" dress code, but decided against it in favor for Sunday evening comfort.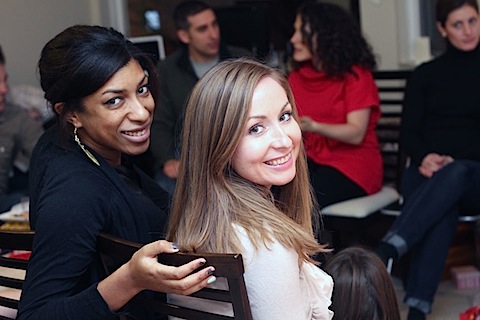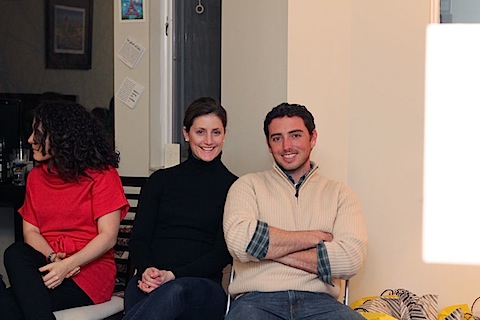 And we loved that we brought together so many different groups of our friends. We met Becca through blogging years ago (before WANM even existed!) and Steven through Tumblr almost 3 years ago.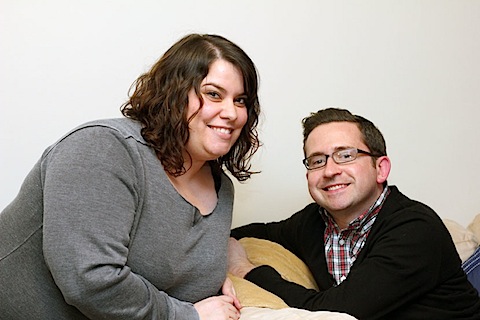 We met Janel through blogging, but it turns out my brother-in-law is in business school with her fiance, Aaron. And we have a ton of random connections!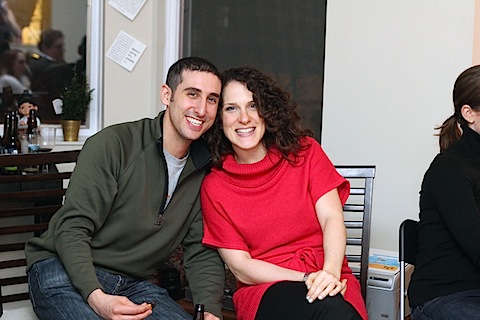 And I still love the fact that my sister and brother-in-law live right down the street from me and Chris.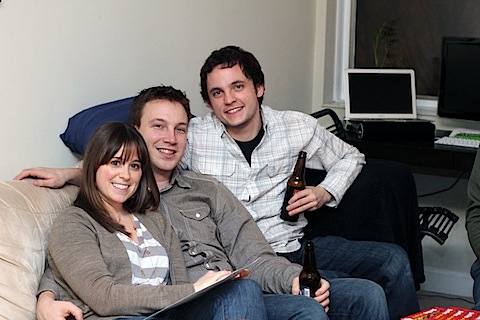 Of course, we've known Libby since elementary school 🙂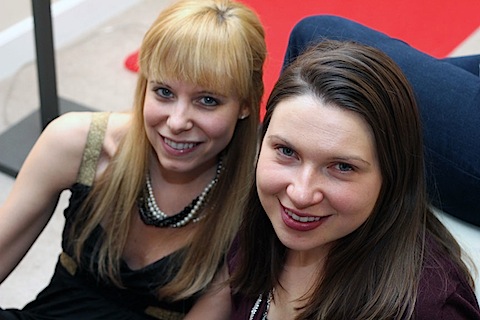 As our guests were leaving, we presented them with a fantastic gift bag: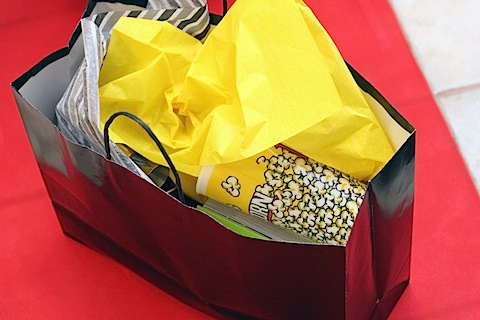 Featuring a beautiful stainless steel bar tool set and drink mix from Crate and Barrel, a cocktail-making book, Red Box coupon, popcorn cup, and an Orville Redenbacher's Pop Up Bowl! I totally miss the days of goody-bags at parties, so this part was fun.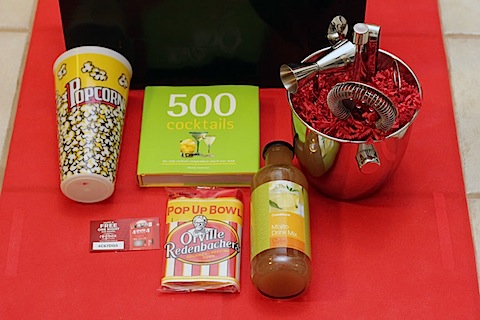 As the show winded down, things got a little wild and the Oscar "after party" ensued: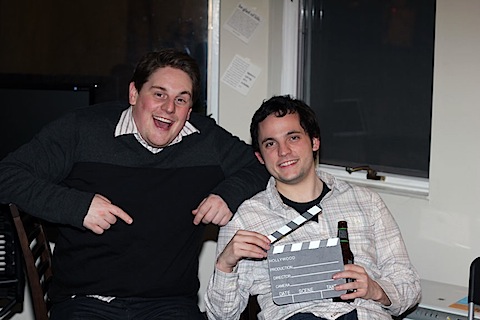 We had a bit too much fun with the little Oscar statue and director's board 🙂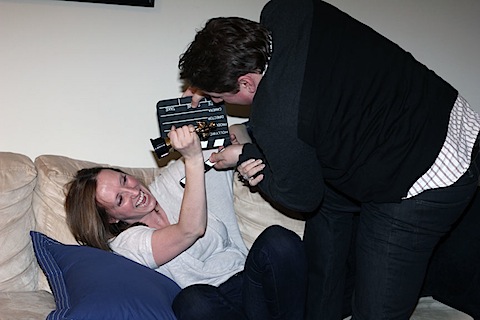 Steven was our guest who saw ALL the movies up for Best Picture and guessed almost every category correctly on the ballot. He is a movie-watching genius! It's so fun to watch awards shows with people who are really into it and knowledgeable, too!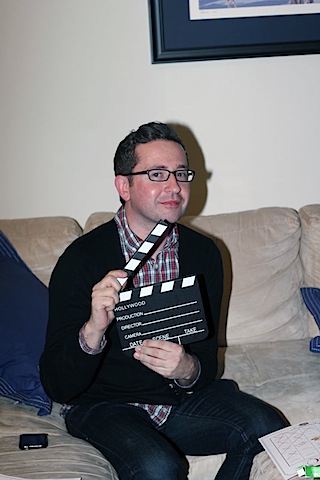 And then Chels and I had one of our typical photo shoots with our Pop Up Bowls.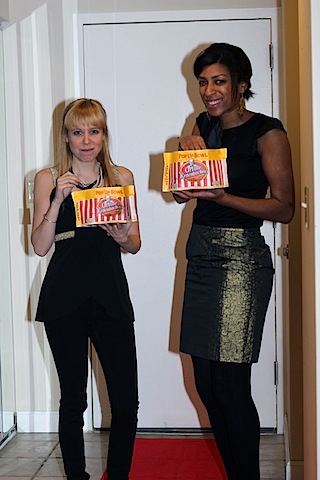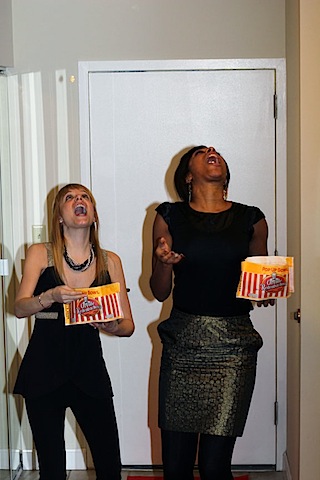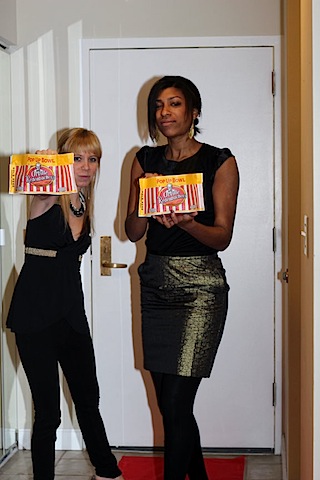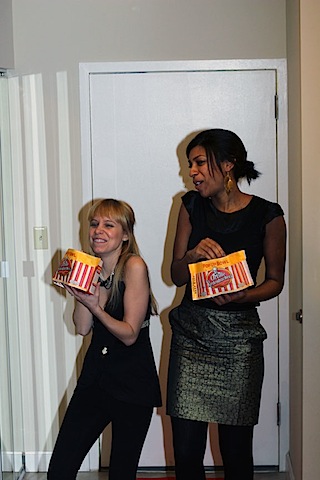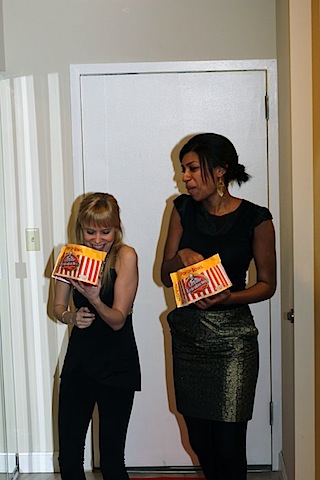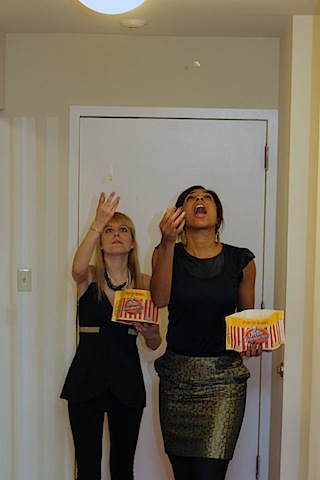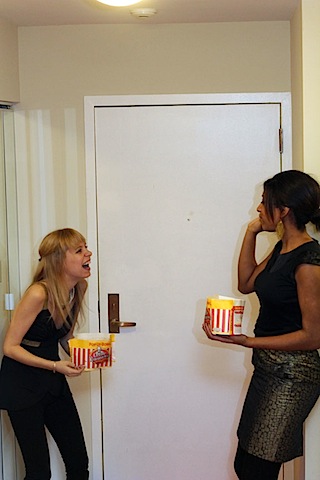 We had such an awesome Oscar party and have to give HUGE thanks to Orville Redenbacher's for sponsoring this for us. They did so much for us and helped us to have a delightful evening with some of our favorite people. And we can't thank them enough! And you have to admit, the Pop Up Bowls are pretty awesome.
Orville Redenbacher's Oscar Award Giveaway!
We really wish you could have come to our Oscar watching party. Luckily, Orville Redenbacher's is giving one of our readers their own Oscar Award swag bag! The Land's End tote bag will include lots of fun stuff for making cocktails and getting red carpet glamorous. Oh, and a $100 American Express card to boot.  Plus, plenty of Orville Redenbacher's Pop Up Bowls 🙂 You definitely don't want to miss this one!
To win the swag bag, just comment on this post about what your favorite Oscar Awards moment was. If you didn't watch, tell us why not. And be sure to tweet about this giveaway (using #Orville) for an extra entry! And for a third entry, become a fan of Orville on Facebook to keep updated on all things popcorn! Make sure you comment to let us know you tweeted and fanned Orville!
Be sure to leave your comments by Friday, March 4th at 11:59 EST to enter! Good luck! 🙂
[Sues and Chels]
Full disclosure: Orville Redenbacher's provided us with absolutely everything we needed to throw our Oscar Awards party, including compensation for food, drinks, and more. As you know, we never blog about companies or products we don't truly love no matter what they offer… so if you see it on WANM, you know we fully endorse it 🙂