In an effort to keep things positive, we have decided that every Friday we're going to share a few of our favorite things of the week. It will be a way for us to recap and reflect on the days past and a way for you all to see what we've been up to… and what we love! Enjoy!
Chels's Favorite Things this week:
Washington, DC – I actually went to DC the previous weekend, but I'm sharing it with you this week 😉
I went to visit my little brother, who's not so little anymore. He's working on Capitol Hill for the Summer and is pretty much a grown a man, as he wears suits everyday to the office… impressed! Where does time go? I flew down to our nation's capitol for a long weekend and enjoyed some great food, lots of jazz, and of course scenery!
Let me start by saying I brought a bag of this to my parent's house once and my mother told me never to bring it there again… basically because we ate the majority of it in one day. This popcorn is beyond addicting (in the best way possible!)
Whole Foods was having a deal this week (2/$6) so I, of course, bought 2 bags… why wouldn't I??? My favorite kinds are Aged White Cheddar and Original Kettle Corn. Their slogan sums up the wonderful flavors of each kernel: "Crunchy and Crispy, Sharp and Savory." Indiana, Popcorn also won "Best Snack Award 2008" from Shape Magazine… which only makes me want to eat more of it 😉 Let me know if you try it or have ever had it!

A forced sign of Summer
As many of you probably already know, we're in a bit of a (massive) rut, weather wise, here in New England. With temperatures in the 60s and semi-monsoon like rains it feels more like April or October, not the beginning of July. I'm expecting to wake up tomorrow morning and see snow on the ground… it really wouldn't even surprise me at this point! So the cure to all this gloom? Buy yourself some flowers and put them right next to something you love… in my case my KitchenAid Mixer 😉 At least there's something bright to look at whenever I step into my kitchen!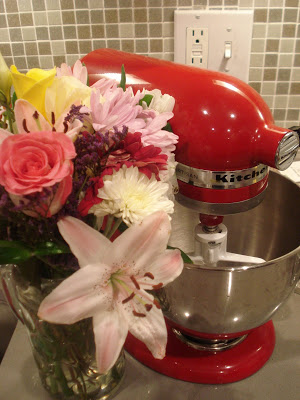 Sues's Favorite Things this week:
Magazines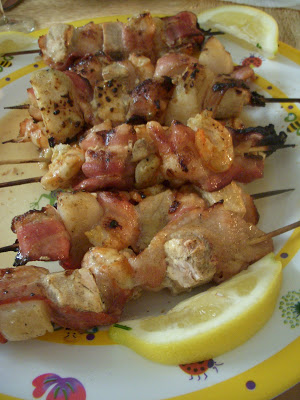 Tassimo
Whenever anyone even says "favorite thing" one word immediately pops into my head. Tassimo. My Tassimo is definitely one of my favorite things in life. See, I love coffee. But I'm horrible at making it. And since I work at home, having a full pot of coffee around is never a good thing for me. Because I will be drinking it allll day long (what? I never said I had self control). With my Tassimo, I get one perfect cup of coffee every day. And if I want another, I can always make another, but it's not sitting right in front of me.

Tassimo has tons of different coffee brands like Starbucks (whee!!) and Maxwell House and Gevallia and Seattle's Best. Now they just need to get Dunkin' Donuts. And steal Green Mountain away from Keurig. OK, my point is, Tassimo saved my life. And I'm major fan of it.
We're off to enjoy our 4th of July weekends now. We hope you all have a fabulous holiday filled with all your favorite things!
[Chels and Suess]