Chels' Favorite Things
Piattini Cafe and Gelateria
Last Friday afternoon I met up with my good friend and old-coworker Tarryn. It was a crisp New England fall day, so we strolled around Back Bay for quite some time, did some window shopping, and stopped in Piattini Cafe and Geletaria (224 Newbury Street, Boston), the sister to Piattini Wine Cafe, for a late lunch. I got the lasagna with tomatoes, spinach, and gorgonzola. It was the perfect thing to warm me up and was extremely tasty and satisfying!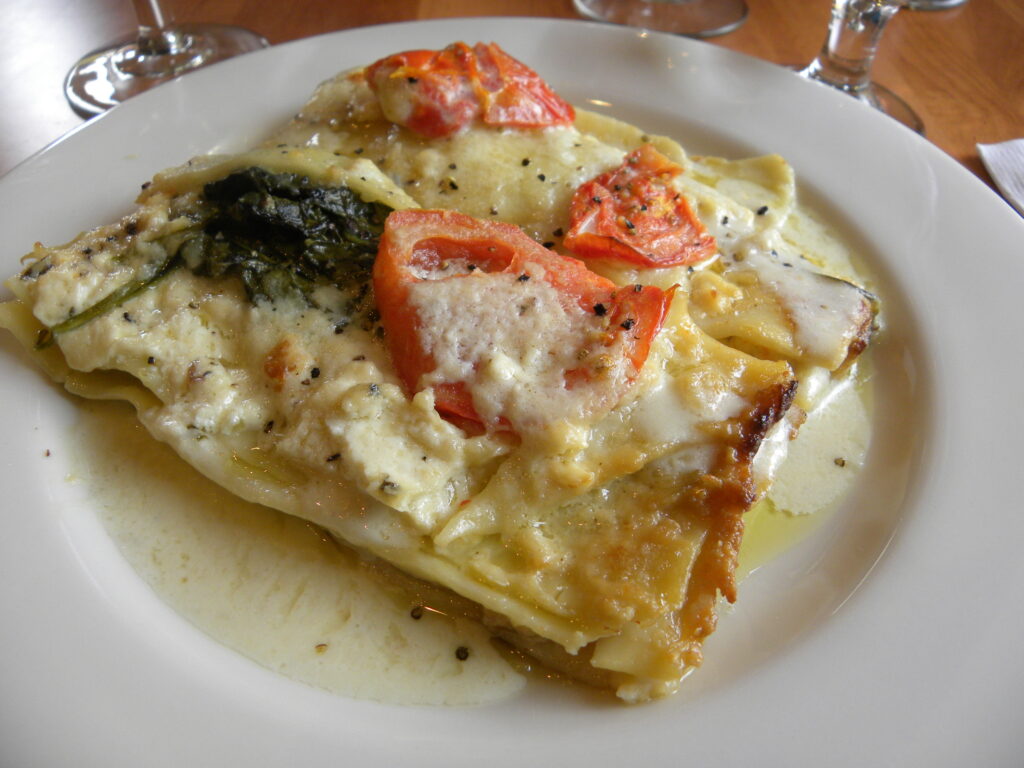 For dessert I, of course, had to get some gelato! I was in the mood for something fruity, but our waiter encouraged us to try samples of each variety. There were tons of options of gelato and sorbetto, and for every question we had about a flavor, the staff just happily gave us a sample and told us all about each. They were extremely helpful and I joked with them that if they gave me anymore samples I wouldn't have enough room to order one of my own! I ended up getting a small dish of their berry gelato which was filled with blueberries, raspberries, and every other berry. It was so smooth and fruity, just what I was looking for!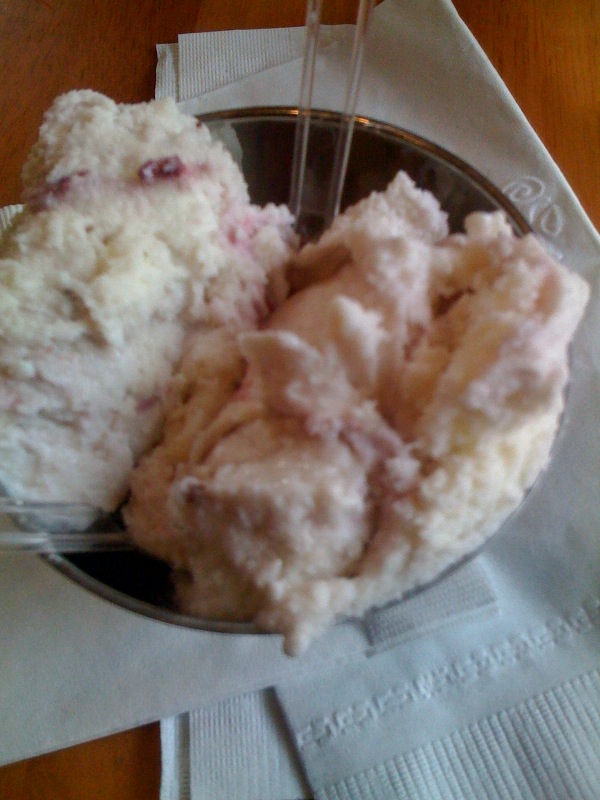 I'm definitely excited to come back here, there were lots of other great sounding options on the menu. The prices were great, the staff was all beyond friendly, and the food was yummmmm!
Funfetti Cupcakes
Okay… really. There's not a whole heck of a lot to say about these cupcakes and frosting because, they're perfect. It's my new roommate, Siri's, birthday so I decided to quickly whip these up while she's in class, hehe. They're dangerously good so I'm hoping to have lots of visitors within the next couple of days because I WILL eat them all in one sitting. When Kate and I lived together whenever these were in the apartment we'd make every excuse in the book as to why we were eating multiples in a row. HA.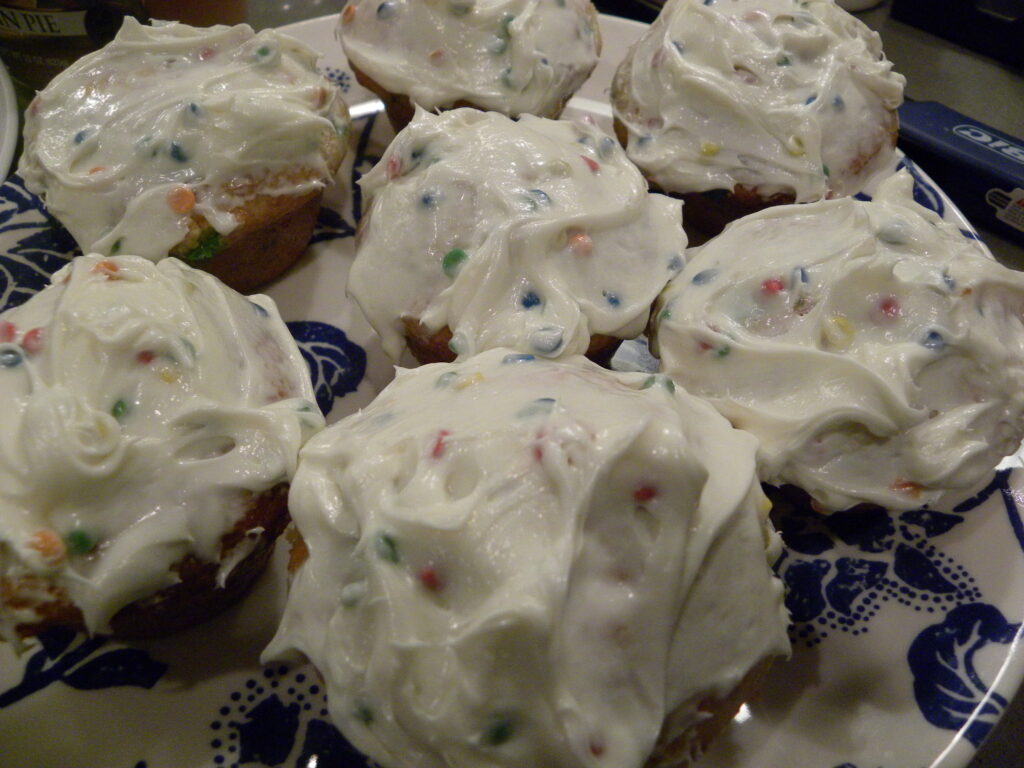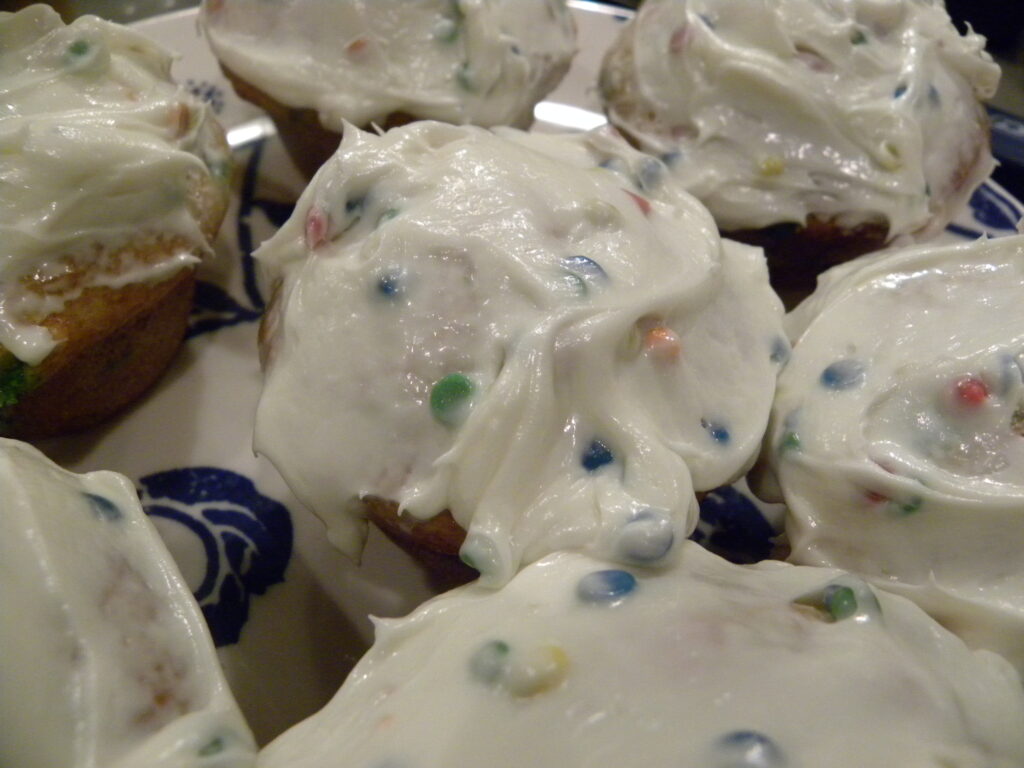 Sues's Favorite Things-

Cambridge Brewing Company's Great Pumpkin Festival
I LOVE fall and all things autumn. But for some reason, I'm just not a big fan of Halloween. Sometimes I feel like a party pooper, but I'm pretty sure it runs in my family (my mom and sister can't stand it either). And while I usually suck it up, dress up, and have fun anyway, this year I didn't have to. Chris and I decided to head over to the Great Pumpkin Festival at Cambridge Brewing Company. Pumpkins and beer are two things I definitely love about Halloween! And CBC had 21 pumpkin ales at their festival.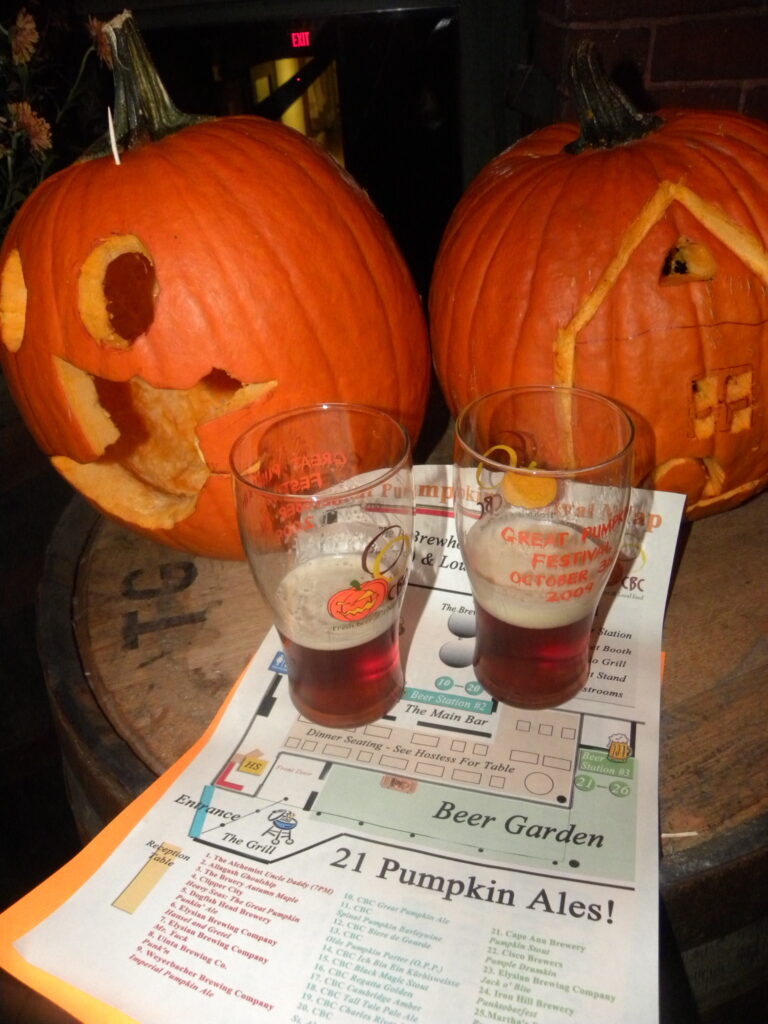 Upon arriving, we bought tickets and got to sample various beers in exchange for tickets. While I've previously had several of the beers (Southern Tier's Pumpking is my favorite!), there were a whole bunch I had never tried before. Those are the ones I focused on.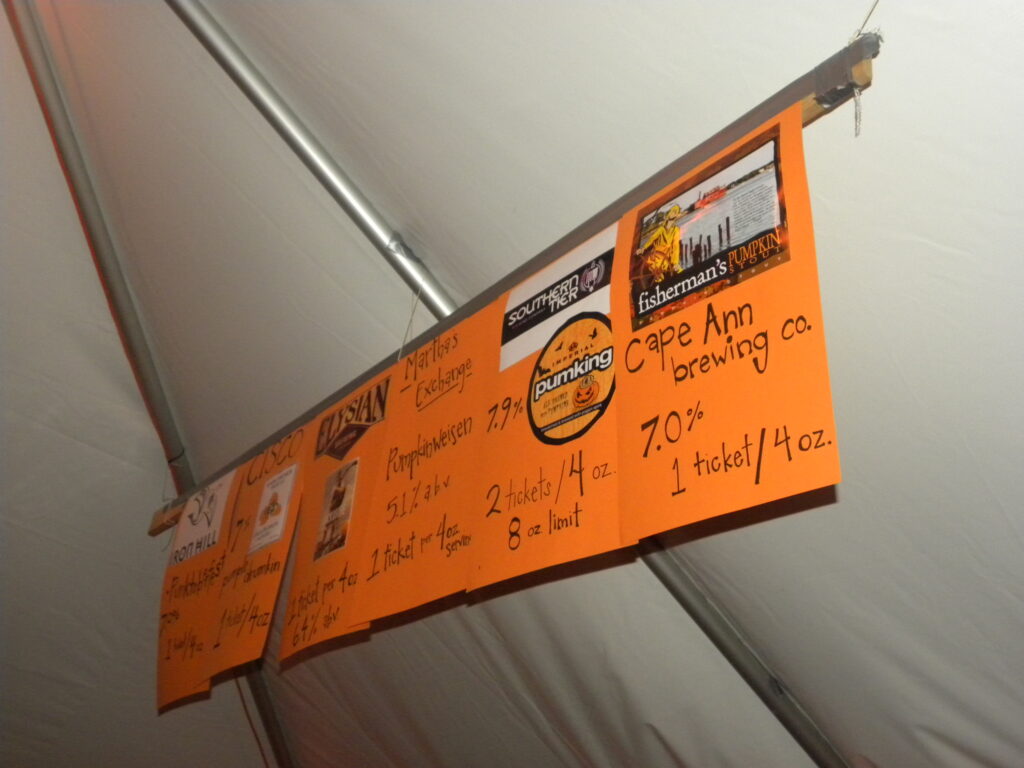 My favorites of the evening were Martha's Exchange Pumpkinweizen (how have I never heard of Martha's Exchange? It's in Nashua, NH!), Cisco Brewer's Pumpkin Drumkin, Spinal Pumpkin Barleywine, and The Bruery's Autumn Maple. But the best of the night was definitely Allagash's Ghoulship, which we were limited to 2 ounces.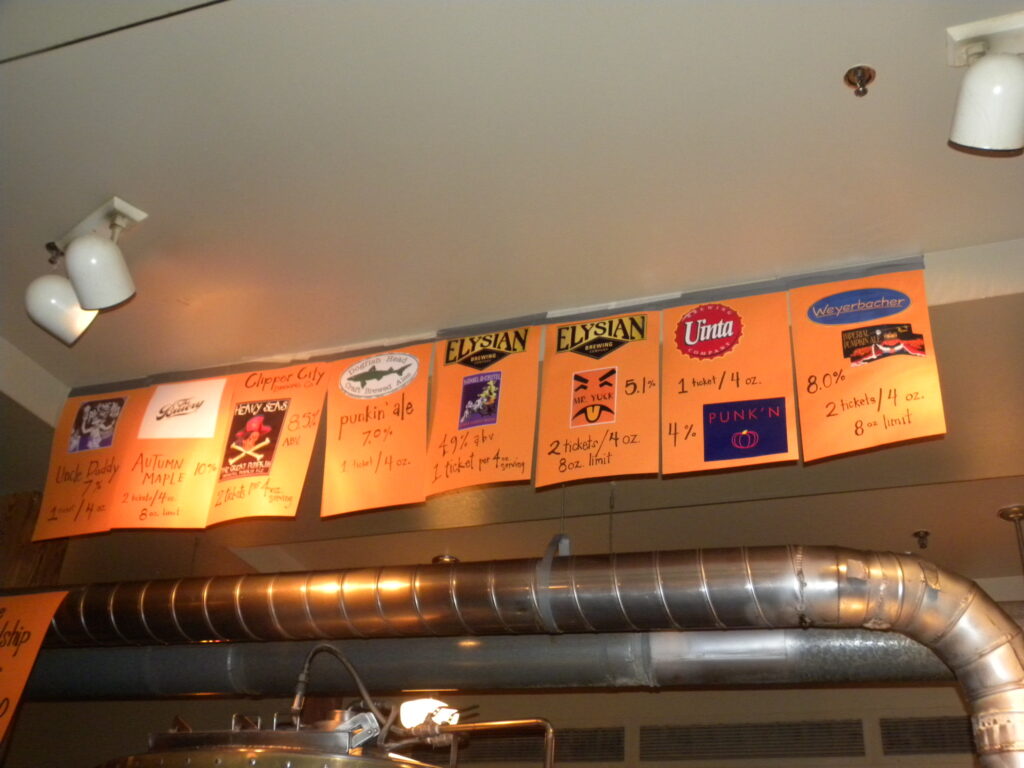 I've never seen so many pumpkin ales in my life and I loved every moment of it! The food at CBC was also pretty exceptional. Though you could sit down for table service, we ate from the grill. I had the Grilled Flatbread with Pumpkin, Raisin and Apple Chutney, Crispy Kale, Great Hill Bleu Cheese, and Duck Confit. OH MY GOD. This was absolutely out of this world! The kale was crunchy and delicious and the perfect touch. I could eat one of these every day.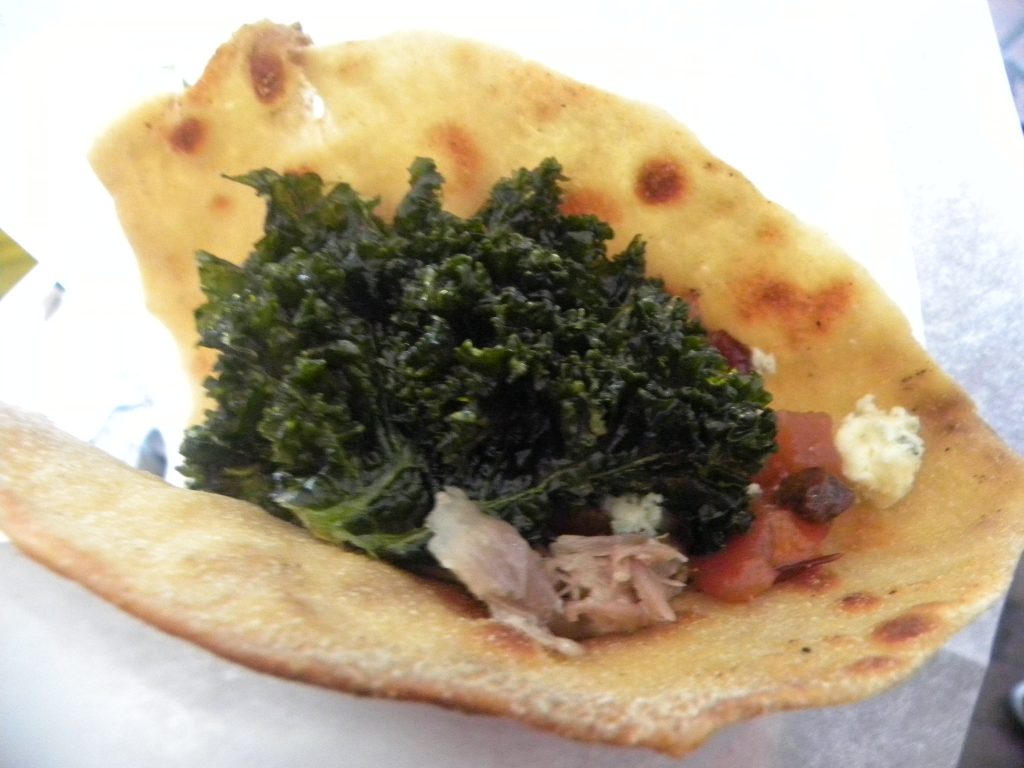 They also had all kinds of bratwursts. Chris had the Bauerwurst with Pumpkin Ale Braised Sauerkraut and Beer Mustard. Notice the pumpkin theme?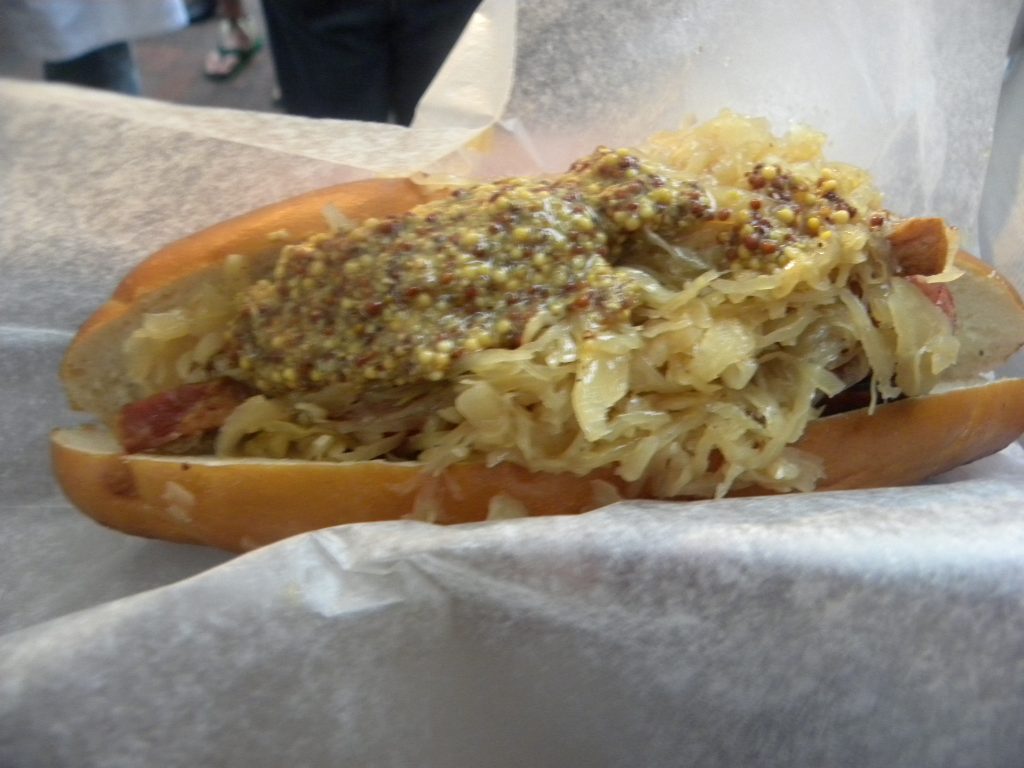 There was a great turnout at CBC; some in costume, which made for great people watching.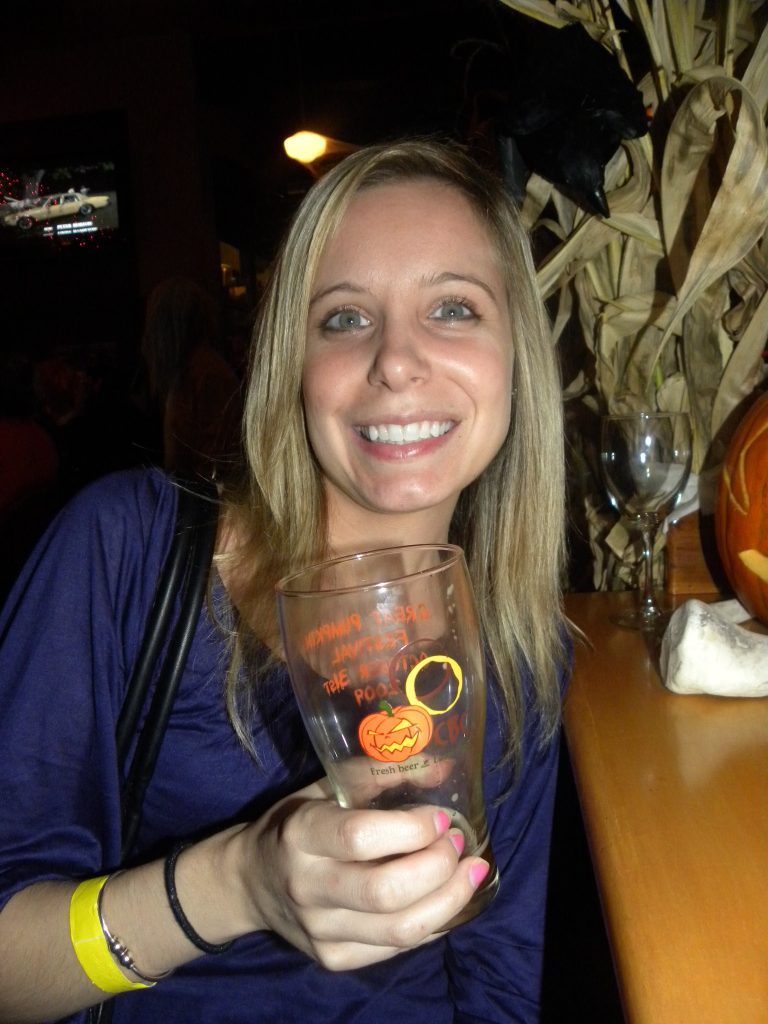 I love the glasses we got to take home too; perfect for pumpkin beer whenever I want!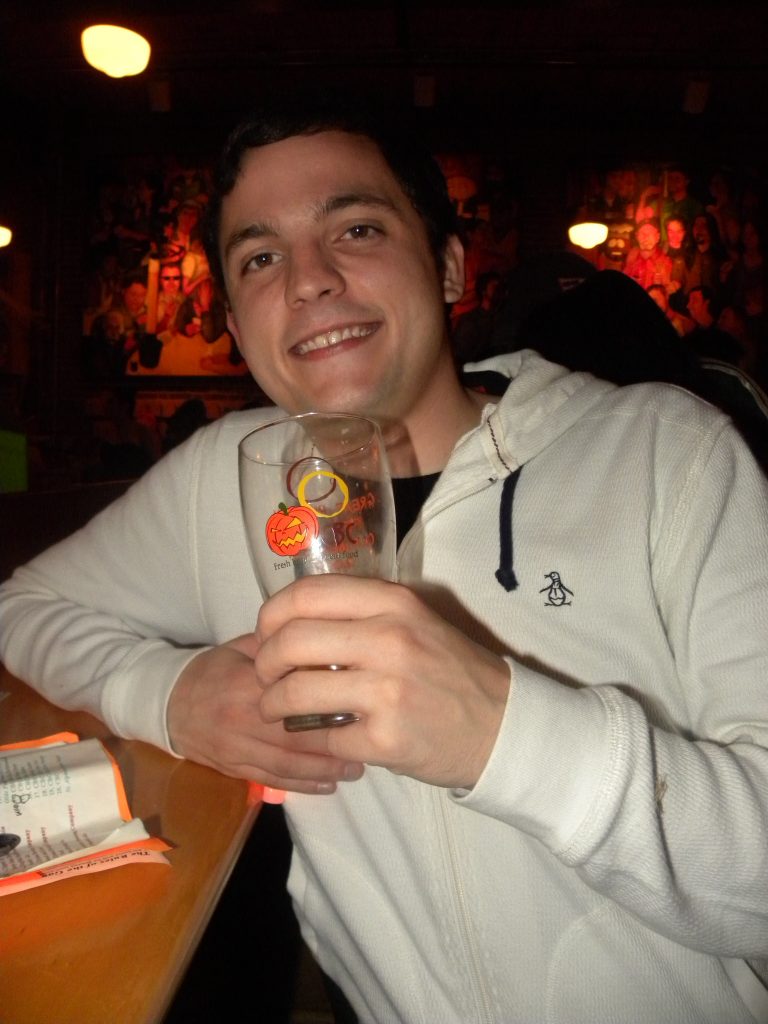 We also ran into the lovely Julia Rappaport who I totally should have taken a photo with! Anyway, it was pretty much my perfect way to celebrate Halloween. And if you live in the Boston area and haven't been to Cambridge Brewing Company yet, check it out. I feel like people don't talk about it as much as they should and I lived in the city for a longgg time before discovering it.
My mom's pear upside-down cake
My mom made a pear upside-down cake for dessert after our lobster dinner last night.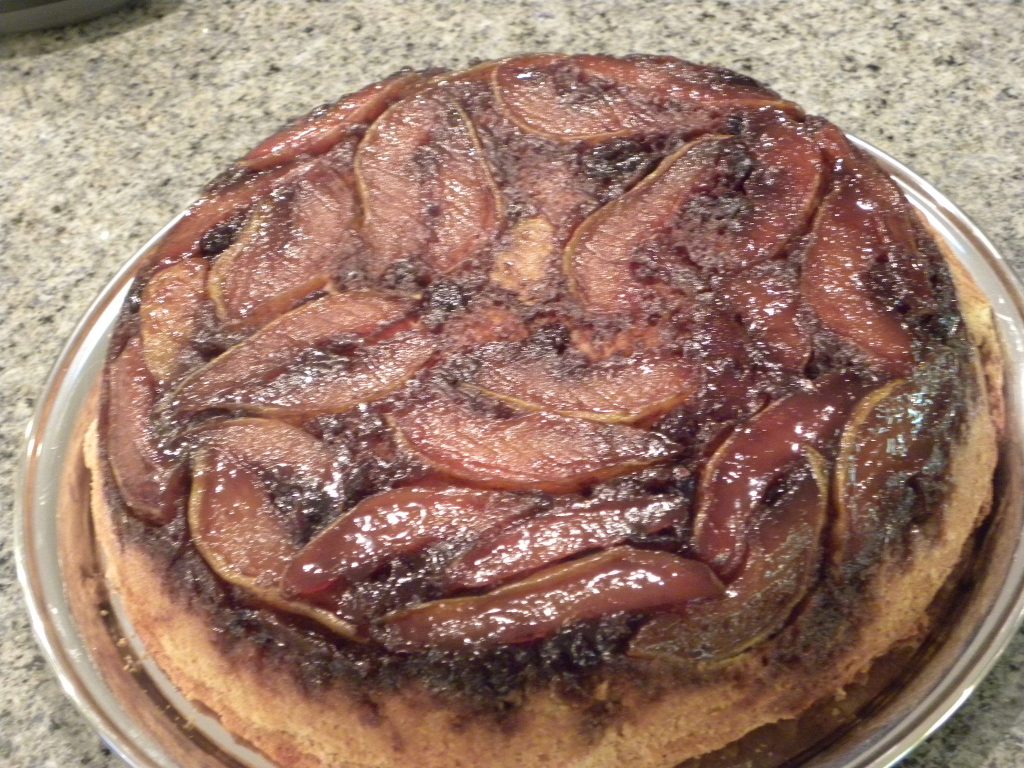 It was delicious and we decided that while it was a great dessert, it would have also been a nice breakfast cake. I always talk about wanting to bake with pears more often and I never do.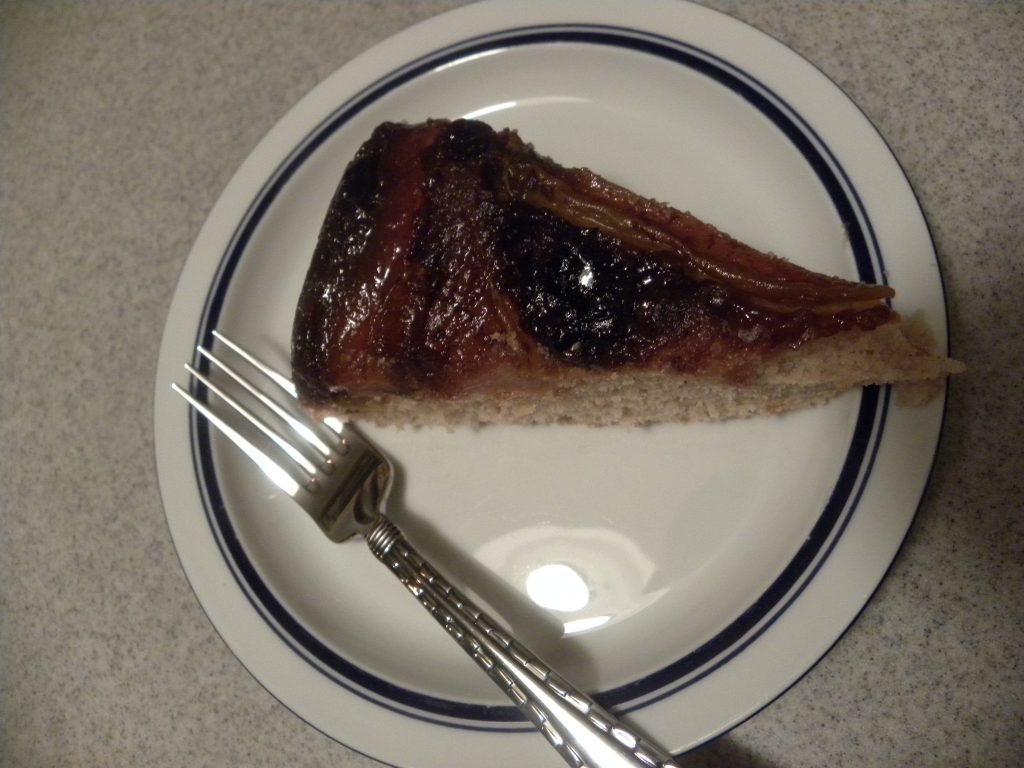 Also, I made a cheese platter and if I have one favorite thing in the universe, it's cheese platters!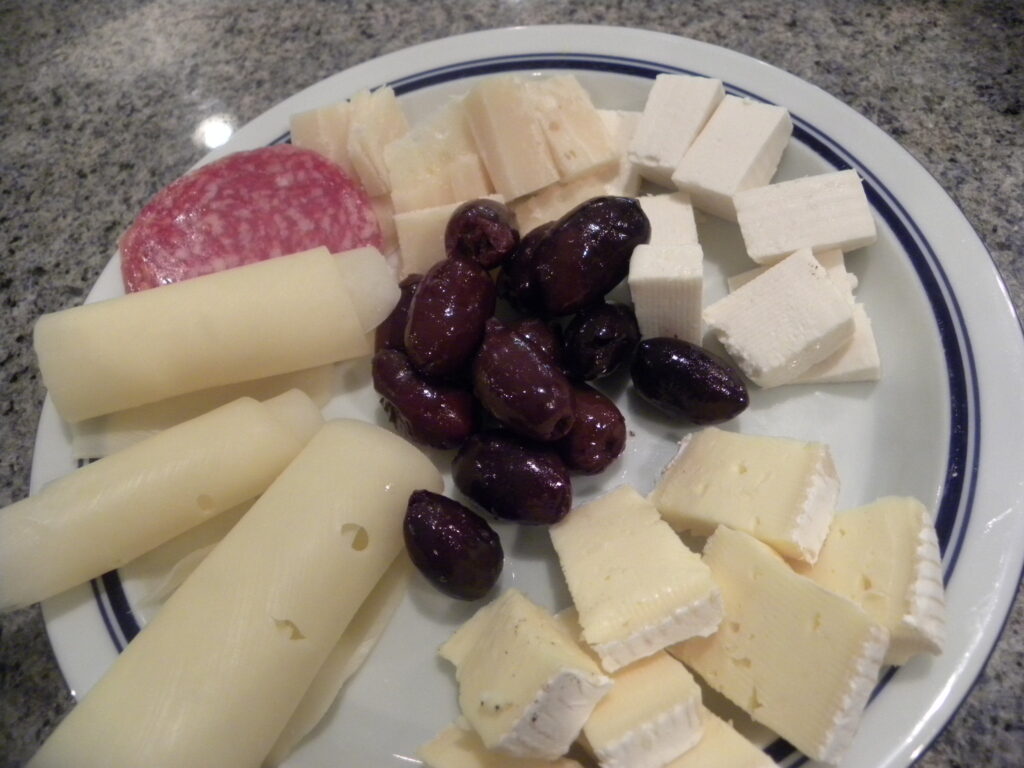 How2Heroes Hoedown (our shared Favorite Thing)
We failed to mention a couple weeks ago that one of our favorite things was the How2Heroes Hoedown! It was Sunday, October 18th and it was snowing in Massachusetts. Not surprising, because the weather here is often unpredictable, but it was not exactly what we wanted to see that early in the season, but what can ya do? So we made due and trekked out to Groton, MA to enjoy all that How2Hereos had to offer. They always throw great parties, so a little snow was not enough to stop us.
We all huddled up around the pig roast, which kept us all nice and toasty warm, and sampled some great food from Bokx 109, Rattlesnake Bar and Grille, The Herb Lyceum, Garden at the Cellar.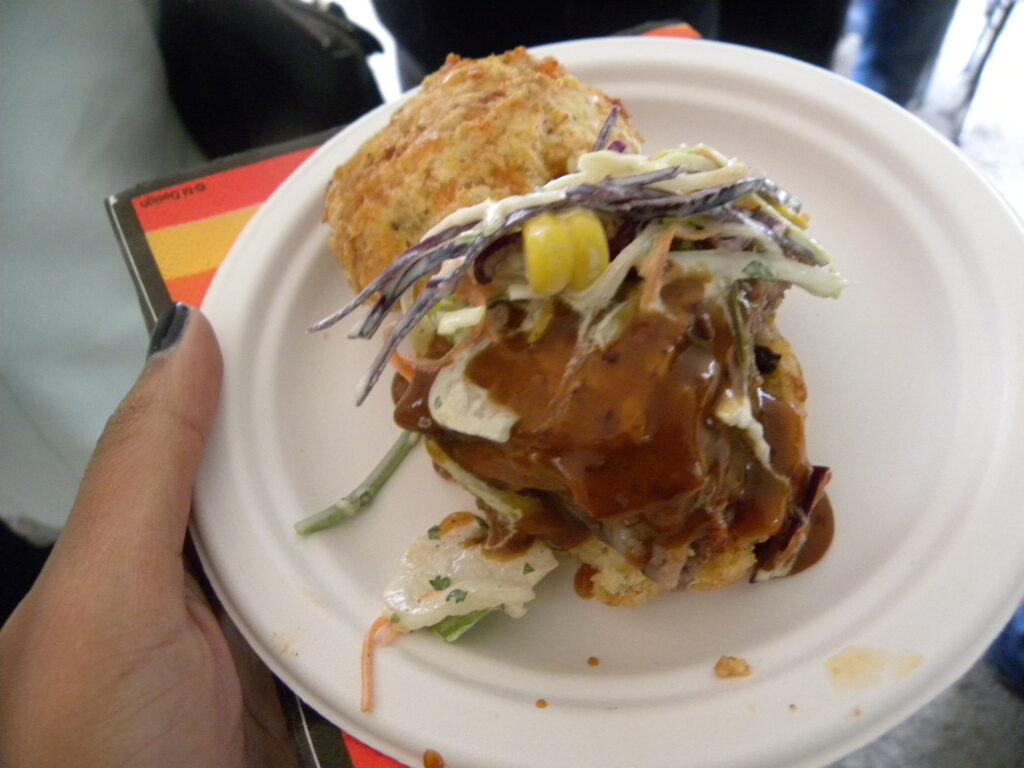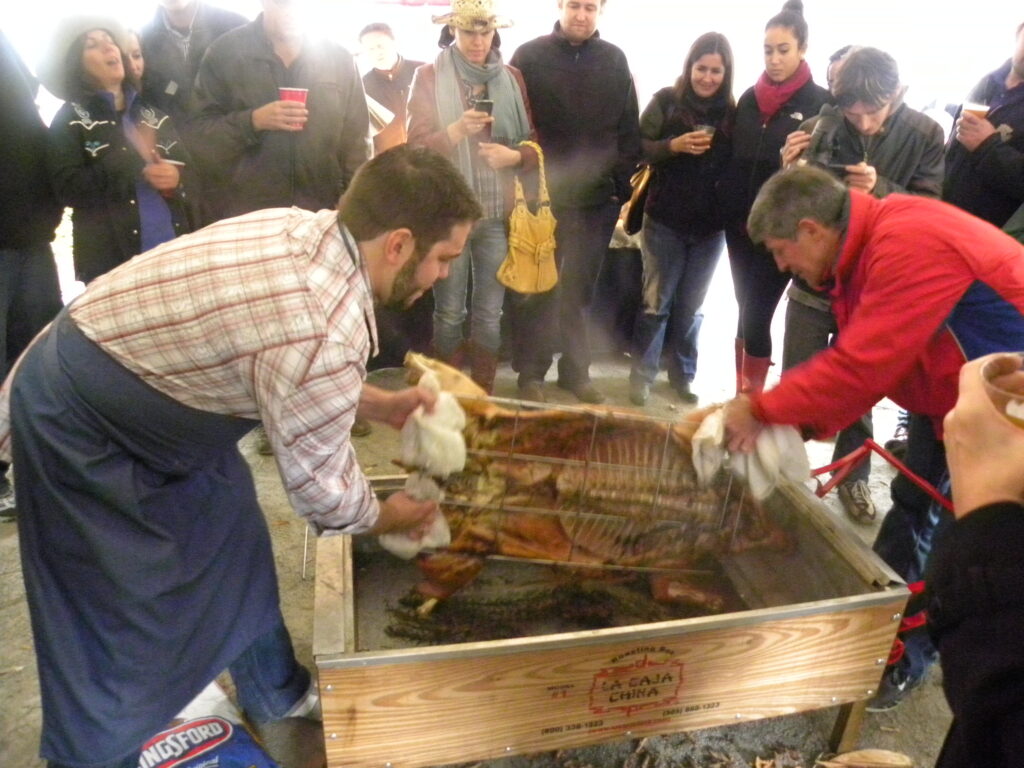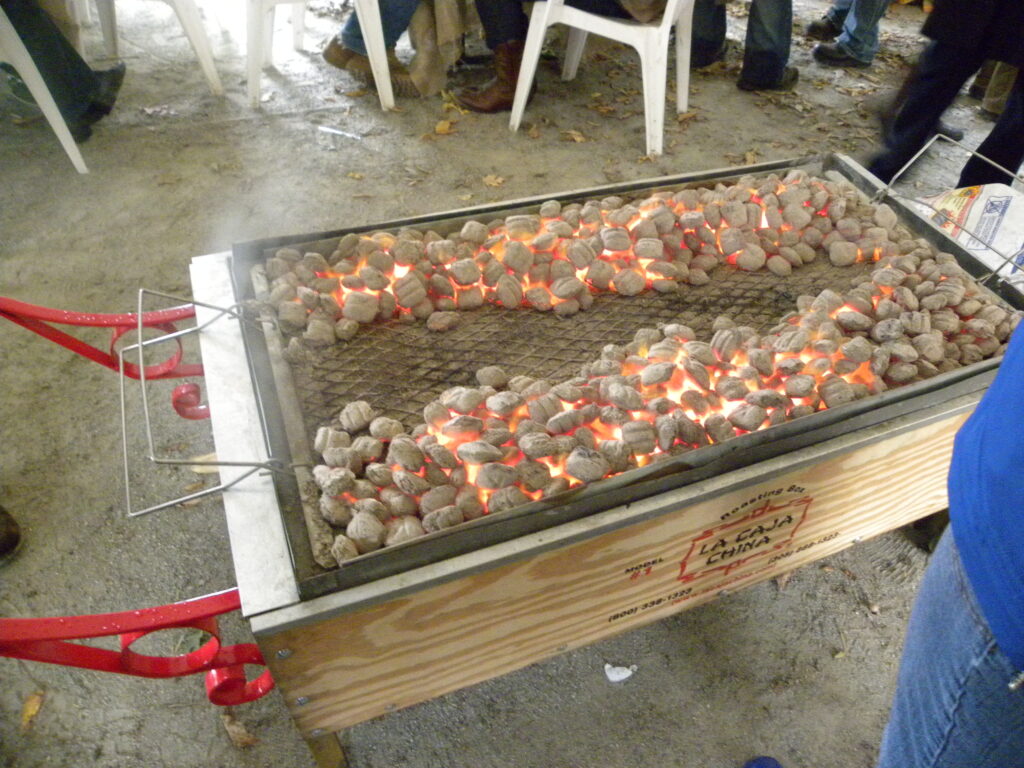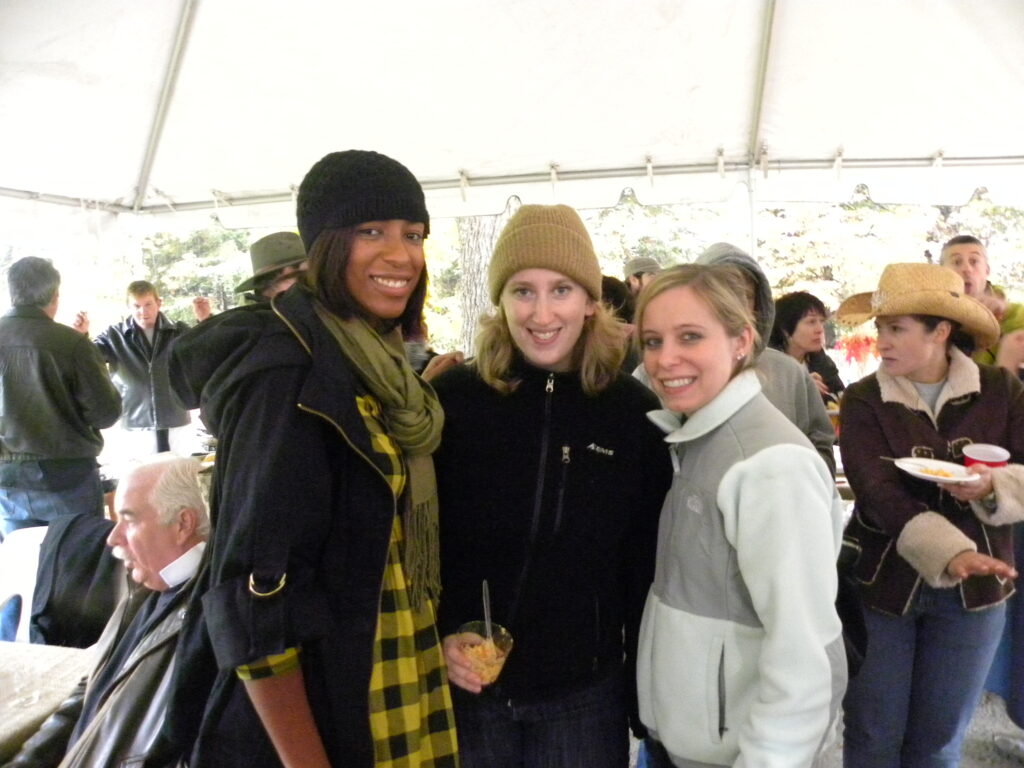 (We are not Martha with the lovely Jessie of How2Heroes!)
What this day taught us: Despite any weather condition, when you're surrounded by great food, wonderful people, and a pig roast to keep you warm, everything seems to work.
[Chels and Sues]