First of all, thank you SO much for all your Project Food Blog votes. We appreciate each and every one of them and we've both come to the conclusion that we have the BEST readers ever (OK, so we actually came to that conclusion long, long ago). We didn't want to overload our PFB road trip post with recipes, but so many people have been asking for them, that we decided to put them all in a separate post. Next time you go on a big shopping trip, whip these recipes up and bring them with you! Or serve them at your next dinner party because they're just that delicious!
Vanilla Date and Ginger Smoothie (serves 2):
• 1 C nonfat yogurt
• 1 C nonfat milk
• 1 C pitted dates
• 1/8 C candied ginger (more if you love ginger!)
• 1/2 t vanilla extract
• 2 C ice cubes
Put yogurt, milk, dates, ginger, and vanilla in the blender and puree until smooth.
Add ice cubes and puree until the mixture is thick and smooth.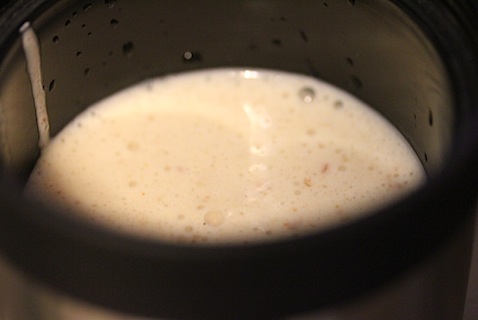 Serve! In your personalized WANM travel mugs if you have them. Which you probably don't. So any mug will do!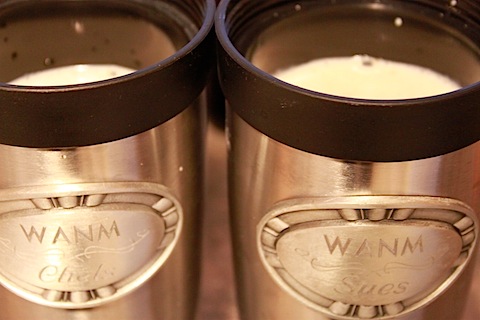 Creamy Cucumber Chive Cups (makes 24):
Adapted from Whole Foods
• 3 cucumbers
• 3/4 C low-fat cottage cheese
• 1/4 C nonfat plain Greek yogurt
• 3 T chives, finely chopped and divided
• 1/8 teaspoon freshly ground black pepper
• 3 to 4 dashes hot sauce
• 1/2 smoked salmon (use pitted kalamata olives if you don't like smoked salmon)
Cut off ends of cucumbers and peel 2 evenly spaced strips from each cucumber. Cut cucumbers into 1-inch slices and scoop out the seeds from the center of each slice (be careful not to cut through to the bottom).
In a food processor, puree cottage cheese, yogurt, 2 T chives, pepper, and hot sauce.
Spoon the mixture into the cucumbers and top with salmon. Chill for an hour or two before serving.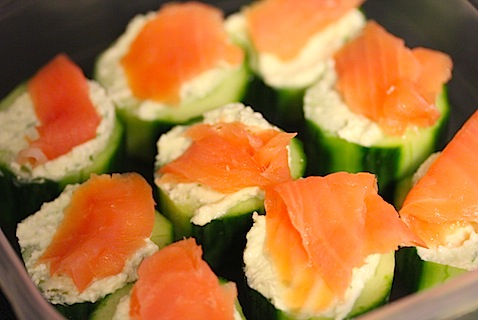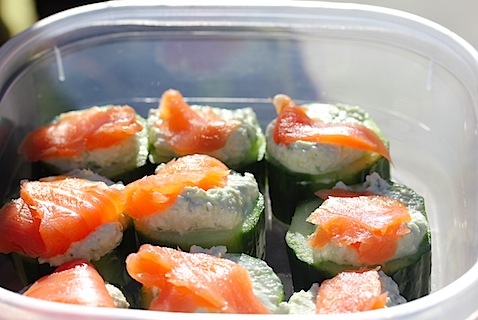 Curried Chicken Salad with Grapes (serves 4):
adapted from epicurious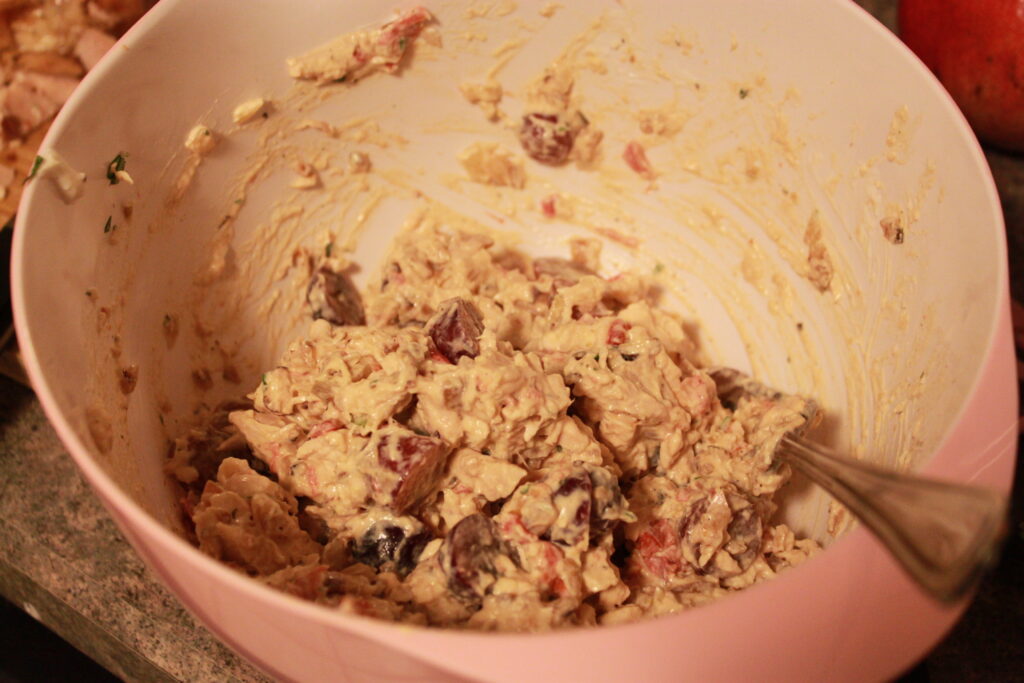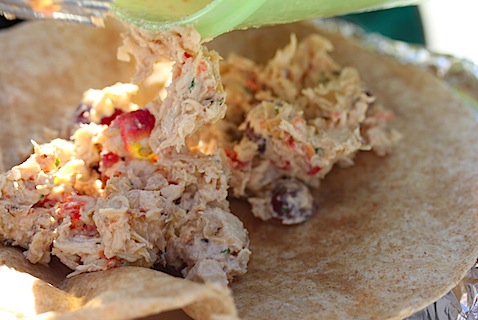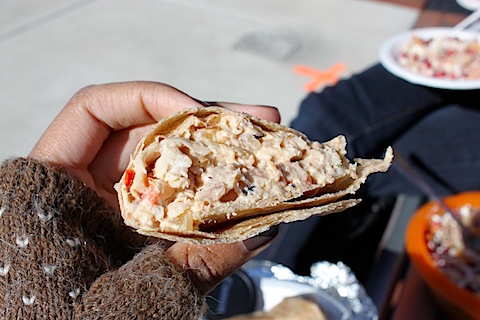 • 1 medium onion, chopped (1 cup)
• 1 tablespoon minced garlic
• 1 tablespoon minced peeled ginger
• 2 tablespoons vegetable oil
• 1 tablespoon curry powder
• 1 teaspoon ground cumin
• 2 medium tomatoes, chopped (1 cup)
• 1 cup plain yogurt
• 2 tablespoons cilantro
• 1 rotisserie chicken, meat coarsely shredded (3 to 4 cups)
• 1 cup red grapes, halved
Cook onion, garlic, and ginger in oil in a skillet over medium-low heat, stirring occasionally, until softened, about 5 minutes. Add curry, cumin, and 1 1/2 teaspoon salt and cook, stir for about 2 minutes.
Add tomatoes and cook over medium-high heat, stirring, until sauce is just thickened, about 5 minutes. Transfer to a bowl and stir in yogurt, cilantro, and chicken. Cool to room temperature.
Marinated Olives: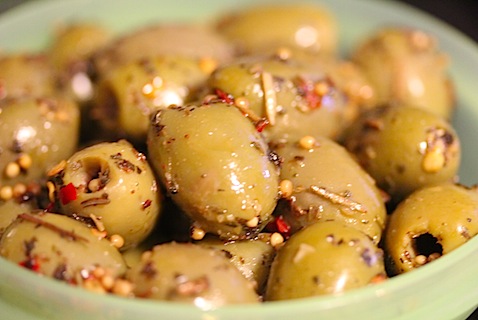 • 1/2 cup fresh tarragon leaves
• 1/4 cup fresh rosemary
• 2 cups drained green olives
• 1/2 cup extra-virgin olive oil
• 1/4 cup fresh lemon juice
• 1 tablespoons minced garlic
• 1 teaspoons fennel seeds
• 1 teaspoon mustard seeds
• 1 teaspoons dried basil, crumbled
• 1/2 teaspoon freshly ground black pepper
Chop tarragon and rosemary. In a bowl stir together all ingredients. Marinate olive mixture, covered and chilled, stirring occasionally, at least 6 hours and up to 3 days. Bring olive mixture to room temperature before proceeding.
To serve olives, transfer to a bowl with a slotted spoon.
Quinoa Salad with Pomegranate, Mango, and Goat Cheese with Apple Cider-Dijon Mustard Dressing:
• 3/4 C quinoa (uncooked)
• 1/4 C pomegranate seeds
• 1/2 C mango, chopped
• 1/2 C goat cheese, crumbled
• Salt and pepper to season
• 1/2 C apple cider
• 2 T dijon mustard
Cook the quinoa according to directions. Mix with pomegranate, mango, and goat cheese. Season with salt and pepper to taste.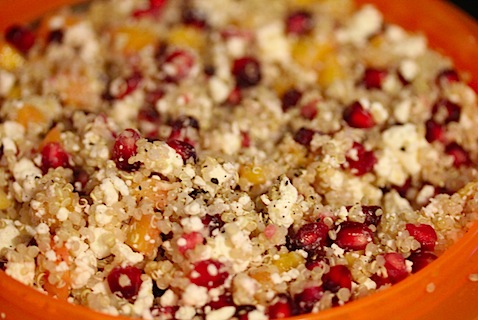 Lightly whisk apple cider and dijon mustard and pour over salad. Pour ahead and let it marinate or wait until you get to your destination to dress.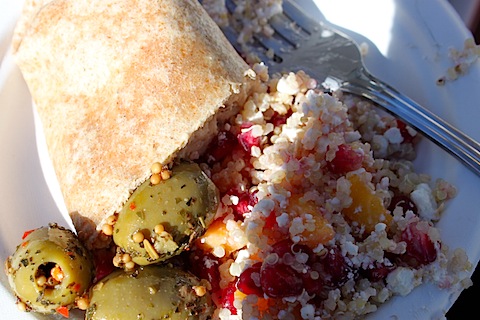 Cherry Orange Oatmeal Bars (serves 12):
Adapted from Whole Foods
• 3 C rolled oats
• 1/3 C smooth peanut butter (or any smooth nut butter of your choice)
• 1 C dried cherries
1/4 C pumpkin seeds
•1/2 C orange juice
• 1/3 C honey
• 1 t ground nutmeg
• 1/2 t salt
• 3 egg whites
• 2 T ground flaxseed
Mix together oats, peanut butter, cherries, pumpkin seeds, orange juice, honey, nutmeg, salt, and egg whites in a bowl.
Press firmly into a well-oiled 8-inch square baking pan. Bake at 350 degrees until golden brown around the edges, about 35 minutes. Let cool 5 minutes and then sprinkle flaxseed over the top. Cut into bars (or whatever shape you want!) when it's cooled completely.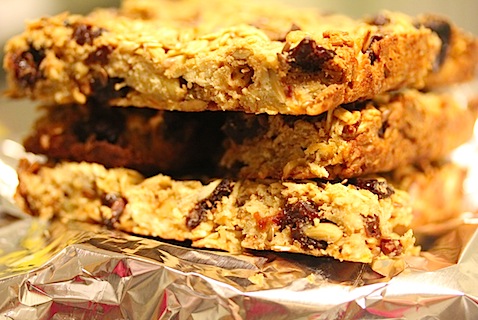 Snack on these when you're feeling low on energy and need a pick-me-up! Like when you see about 5 more stores you need to go into before you can go home.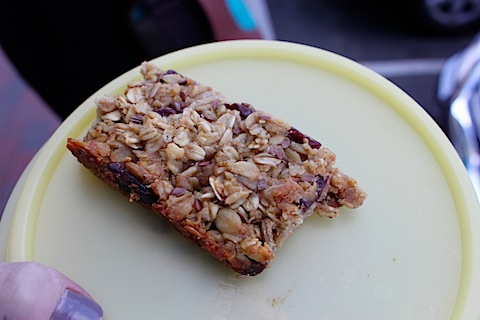 We hope these recipes get you through your next marathon shopping trip 🙂
[Sues and Chels]