This weekend, my friend Dustin and his roommate had an ugly sweater party with a bit of a Nordic theme. In addition to a couple Nordic-related desserts, Dustin asked if I'd being a hot appetizer and I decided I wanted to try something new. After perusing MarthaStewart.com for a bit, I came across the perfect recipe: Panko-Crusted Chicken Bites with Apricot-Mustard Sauce. They're basically chicken nuggets, only a whole lot healthier since they're just lightly breaded and baked, instead of fried. But really? I thought they were absolutely delicious and would choose to eat these over any fried chicken nugget any day. In case you're wondering, panko is also known as Japanese breadcrumbs and you should be able to find it in your grocery store, likely in the Asian section.
What you'll need for the chicken nuggets:
4 large boneless skinless chicken breasts (about 2 lbs), cut into 1 inch cubes.

1/2 C all-purpose flour

2 large eggs

1 1/2 C panko breadcrumbs (Japanese breadcrumbs)

2 T extra-virgin olive oil

1/2 C freshly grated parmesan cheese

Pinch of cayenne pepper

Salt and pepper

Non-stick cooking spray

1 C apricot jam or preserves

1/4 C dijon mustard

1 t thyme leaves, chopped
Sara came over before the party and helped me make them before we got all dressed up in our ugly sweater outfits. She cut up all the chicken, which is probably the worst job ever and the hardest part of the whole thing. Also quite impressive because I know Sara isn't the biggest fan of handling raw chicken. Anyway, she cut the chicken breasts into bite-size pieces.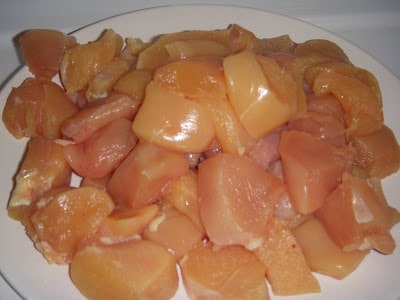 While Sara was chopping the chicken, I got out 3 mixing bowls. In one, I put the flour, salt, and pepper.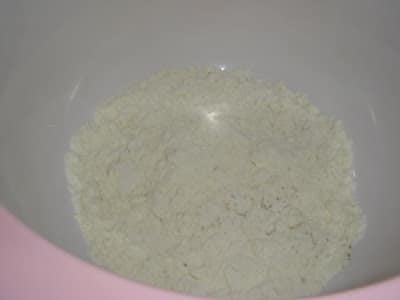 In another I whisked together 2 eggs and added 2 T water.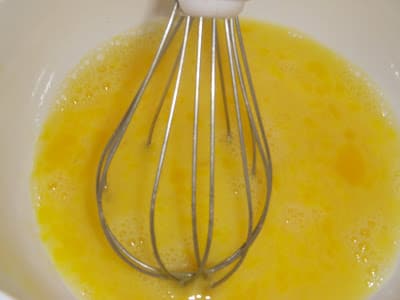 And in the third, I combined the panko, olive oil, grated cheese, and cayenne and mixed them together well.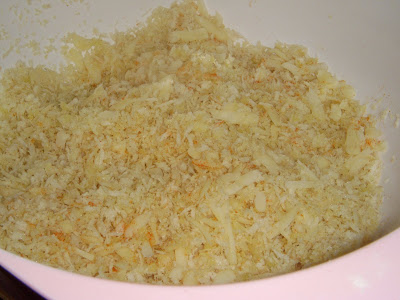 Then Sara and I started an assembly line of sorts. We put 1/3 of the chicken pieces into the flour and tossed until the chicken was well coated. Then we put the chicken in the egg mixture. And lastly, we put the pieces in the bowl with the panko and made sure each piece was completely covered in the breadcrumbs.

We placed the chicken on a wire rack sprayed with cooking spray, which was on top of a parchment paper-lined cookie tray. We repeated the process until all of the chicken was coated in breadcrumbs.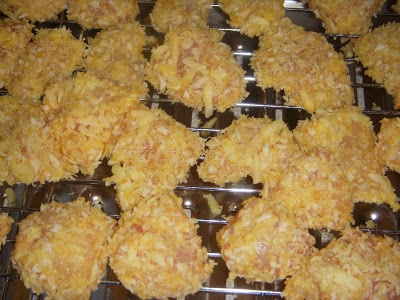 We placed the racks with the chicken into the oven at 375 degrees for about 20 minutes. When we removed it, the chicken was nicely browned and crispy.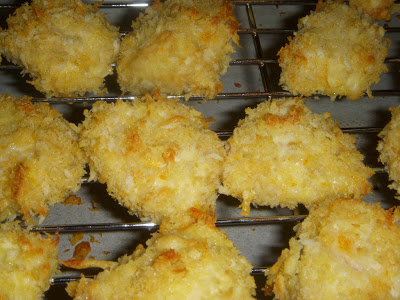 I admit I was a little sketched out by the accompanying sauce…apricot preserves and dijon mustard? Um OK. And then I made it and realized it was a more delicious version of honey mustard and actually complimented the chicken quite deliciously. And all you have to do is combine the preserves and dijon and then throw in some thyme.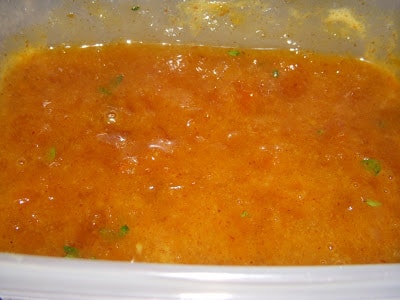 When we got to the party, we assembled the chicken on a couple of plates and added some toothpicks for serving; and by the end of the night, it was all gone!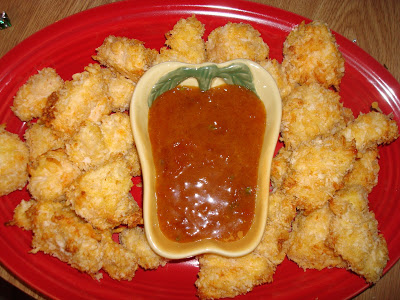 The party was a blast and there was tons of delicious food (note to self: Get Dustin's buffalo chicken dip to make for a future party. Amazing), awesome people, and Icelandic vodka. Sara and I had matching ugly sweater outfits and though there were tons of absolutely hilarious sweaters, I'm pretty sure Steven and Dustin probably had the best ugly sweaters of all. I can't wait for the next party!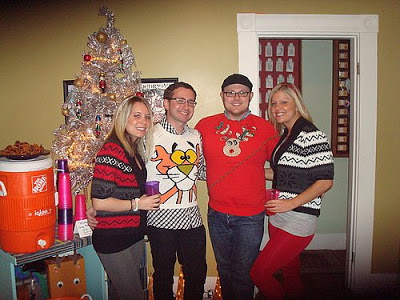 [Sues]