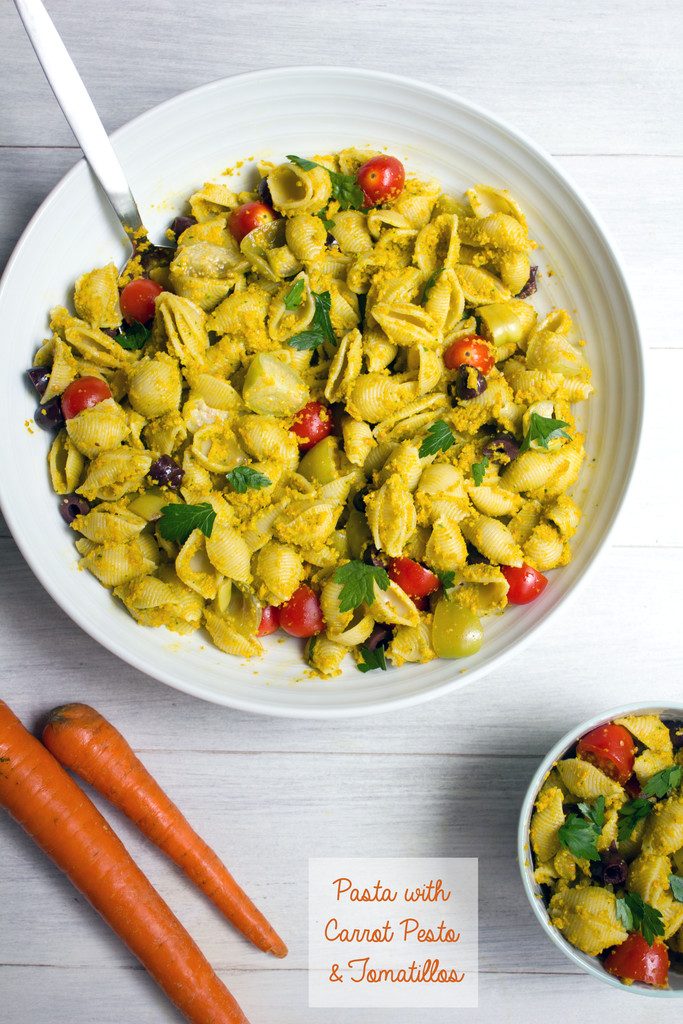 I am not what you would call a "math person." Sometimes I think I should be because I love a good black and white answer, which math generally always provides. But guess what's worse than not having a black and white answer? There being an answer, just one that you cannot for the life of you figure out. That's math for me. I somehow avoided calculus in high school and took a statistics class instead (much more my speed). When I learned I had to fulfill some college math requirements, I wanted to cry. "Take logic," my advisor recommended, "it's basically math with words." And she was right! I immediately fell in love with logic and went on to become a teaching assistant for the course, as well as taking additional coursework in it throughout school.
Logic really is the study of argumentation and apparently, I'm really good at arguing. Which in some ways makes no sense considering there's nothing I hate more than confrontation. But it also makes a lot of sense in that I can almost always see both sides of a story and could probably even make a solid argument for both cases, despite what my personal beliefs may be. I also LOVE pointing out fallacies to people's arguments, but usually only in my head. I think the straw man fallacy is my favorite because it occurs so often (especially in politics!) and often the arguers don't even realize they're doing it. Once you start noticing fallacies, it's enough to drive you crazy. But OK... enough nerd talk for now (we all have our thing, right??).
When it comes to food, I'm not the most logical person. I mean, if I were being logical, I'd tell you that pesto is a combination of basil, pine nuts, garlic and olive oil, with some parmesan cheese mixed in. But in today's post, I'm telling you that I made pesto... With carrots. There was no basil in sight (parsley instead!) and no pine nuts (cashews instead!). I'm not quite sure how this would look in logic proof form. To be honest, I kind of forget how to do logic proofs, but I'm contemplating taking an online course to brush up. Would that make me totally lame?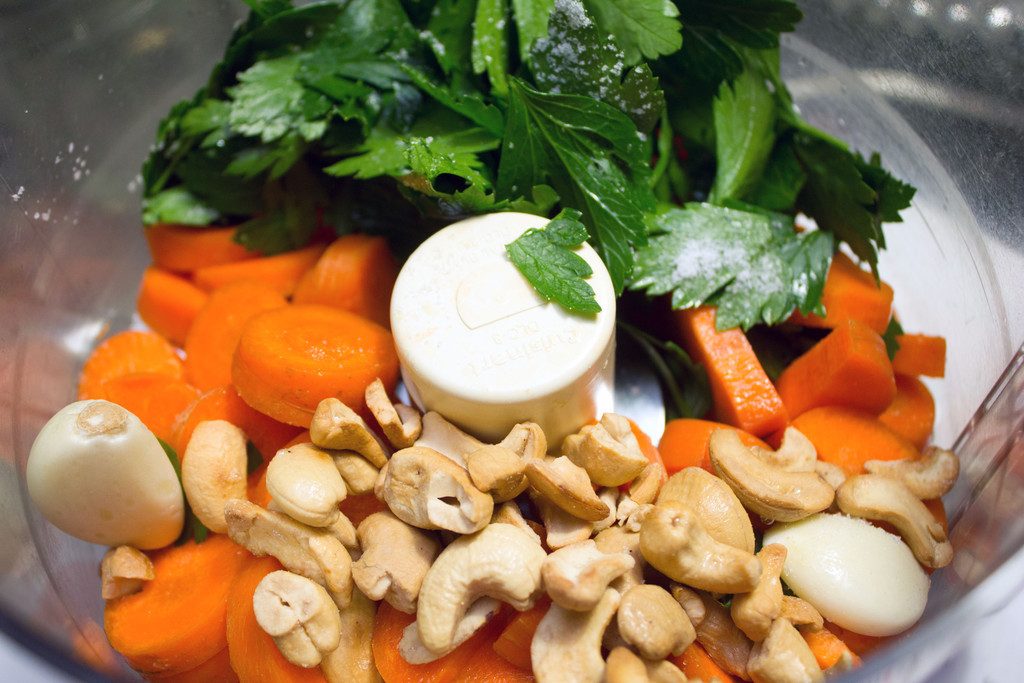 I recently decided that pesto is my favorite food to make. I was talking about the basil variety... But now the carrot variety is close behind. There's something that's just so satisfying about blending all the ingredients together. The Food Network magazine recently featured pesto with over 50 different ways to make it. Carrot was one... as were beet-hazelnut, pimiento cheese, smoky mushroom, and so many more. That's enough pesto inspiration to last for the next five years!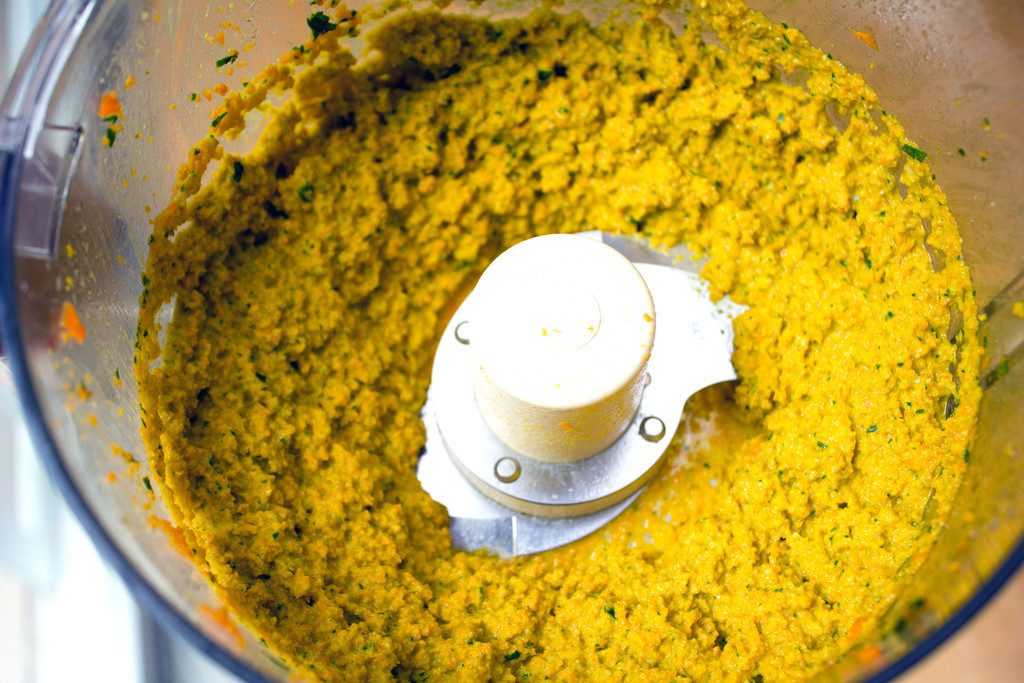 I do admit I missed the summery fragrant basil while blending this together, but if you know me, you know I'm pretty parsley-obsessed, too. Oh, and I didn't even talk about the tomatillos here yet since I was too busy nerding out about logic. I've been buying tomatillos lately like they're going out of style.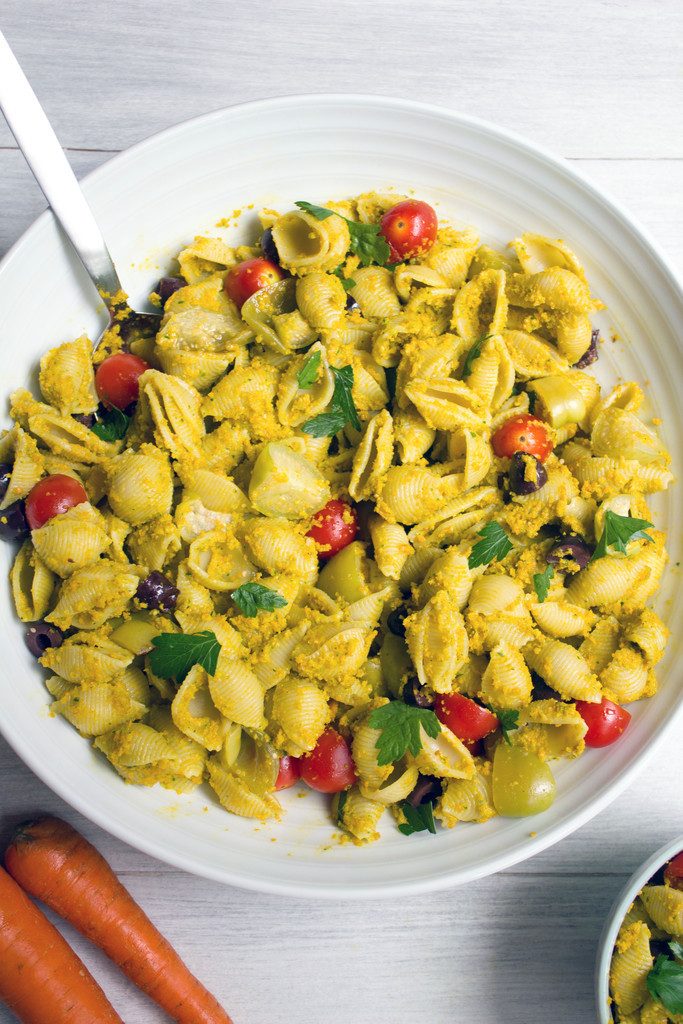 And it's funny because every time I buy them, the cashier says, "what is this? People never buy these." So, now I'm pretty confident that I'm solely responsible for keeping tomatillos in stock at my supermarket. I love the tart, kind of fruity taste and think they lend a super unique spin to a lot of classic dishes. They're especially delicious when roasted.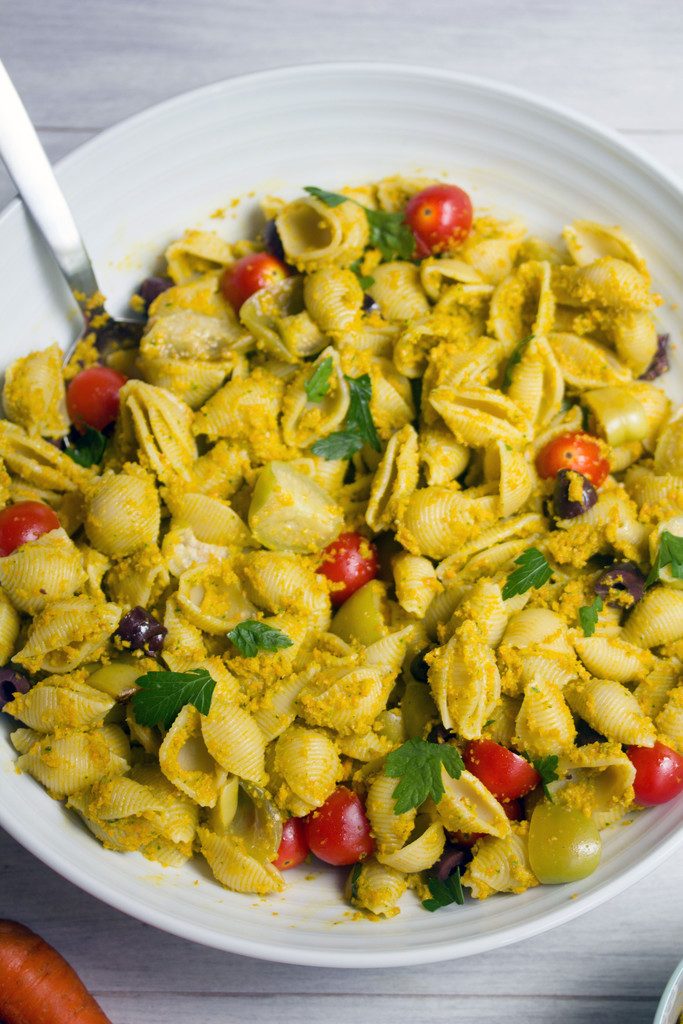 I wanted some "real" tomatoes in this dish, too... Believe it or not, tomatillos are actually not "green tomatoes;" they're very different. And kalamata olives... I could put olives in everything and be happy. I know lots of people don't like them and you can obviously leave them out, but man, please give olives a chance.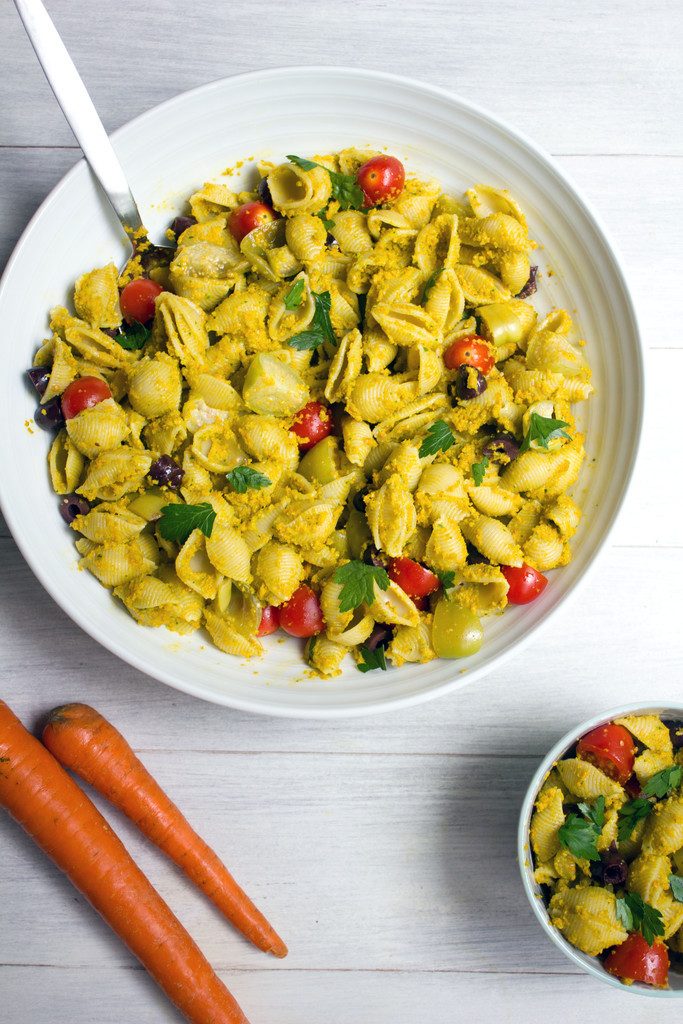 I highly recommend using shells or orecchiette for the pasta since one of the best parts about this carrot pesto is when it gets into the nooks and crannies of pasta. I mean, sure pesto is great on spaghetti or penne, but once you put it on shells, you'll never go back.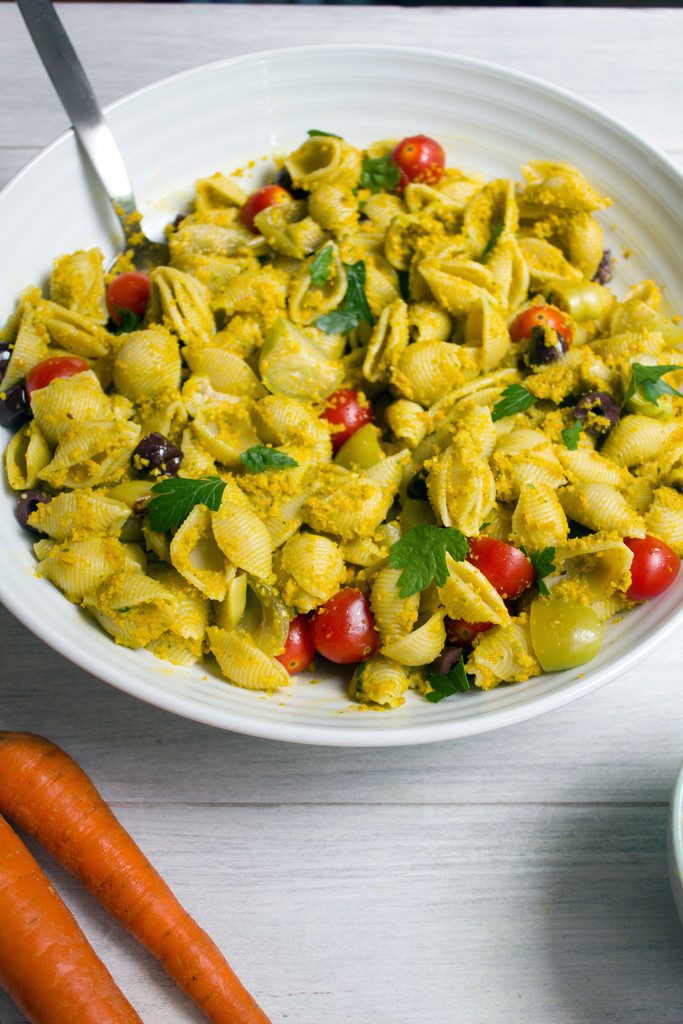 And now I shall spend the rest of my life whipping up alternative pesto recipes. On that note... Do you think anyone has done a dessert pesto before? OK, I just Googled it and YES, it's been done. Many times. I guess my dreams of being a pesto innovator are now dead.
What's the craziest, most illogical kind of pesto you've made?
Pasta with Carrot Pesto and Tomatillos
Pesto may be traditionally made with basil, but this carrot pesto will have you questioning all your previous pesto preconceived notions. Tossed over pasta with roasted tomatillos, tomatoes, and olives and you have a complete meal.
Print
Pin
Rate
Ingredients
6 to

matillos

1

lb.

medium-sized shells or orecchiette

1

cup

halved grape tomatoes

¼

cup

halved kalamata olives

Carrot Pesto

recipe below

Chopped parsley

for garnish
Carrot Pesto:
1 ½

cups

chopped carrots

½

cup

parsley leaves

2

cloves

garlic

⅓

cup

toasted cashews

½

tsp

kosher salt

½

cup

extra virgin olive oil

½

cup

grated parmesan
Instructions
Pre-heat oven to 400 degrees.

Remove husks from tomatillos and run under water, gently scrubbing to remove any stickiness. Dry well and place on parchment paper-covered baking sheet.

Bake at 400 degrees for 7 minutes.

Once cool enough to touch, place tomatillos on a cutting board and chop.

Bring a pot of lightly salted water to a boil and add pasta. Cook until al dente. Drain and move pasta to a large bowl.

Add chopped tomatillos, halved grape tomatoes, and halved kalamata olives to bowl with pasta and toss to combine.

Add carrot pesto to pasta and toss until well-coated.

Sprinkle chopped parsley over top.
Carrot Pesto:
Place chopped carrots, parsley, garlic, cashews, and salt in a food processor and blend until pureed.

With the food processor still running, slowly pour in extra-virgin olive oil until combined.

Remove to a separate bowl and stir in parmesan cheese.
Share a Photo of Your Finished Recipe!
Mention @wearenotmartha and share a photo if you've made the recipe!