So, there's this place in New York City. A place I've never been. A place that I dream about sometimes. It's a place that's all about peanut butter. Yes, peanut butter again. Shut up. at least I've stopped talking about pumpkin for a few posts. Anyway, for you lucky NYCers, Peanut Butter & Co. is in Greenwich Village and you should go right now. For me. Sadly, for all the times I've been to NYC, I've never been. I have a serious weakness for peanut butter. And this? This is the best.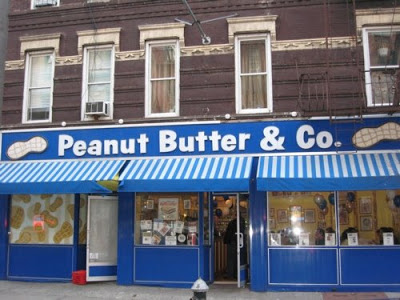 I had heard of Peanut Butter & Co. but didn't think much of it until Sara gave me a jar of their Cinnamon Raisin Swirl for my birthday (yes, friends buy me peanut butter for my birthday) and about a week later, we took a little trip to the Christmas Tree Shop where we both majorly stocked up.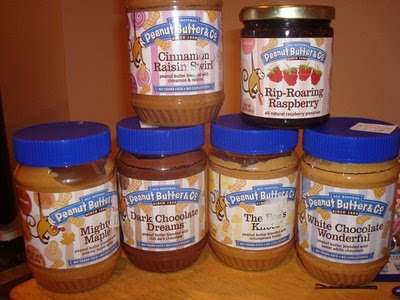 The above is Sara's picture, but mine is basically the same except for the fact that I got 3 Cinnamon Raisin Swirls (oh my god, amazing). But they also have flavors like dark chocolate (amazing), white chocolate, honey, maple, spicy, and crunchy. Allegedly, they also sell this stuff at some Stop and Shops and Whole Foods, but at Xmas Tree Shop? It's $2.99. Don't you just love a bargain? Um, yes. You can also buy it on the Peanut Butter & Co. website for $6.00.
If you even like peanut butter just a little bit, you will immediately become obsessed with Peanut Butter & Co. (what? I can't be the only one with a major obsession for peanut butter). You have to love them. Their wesbite address is ilovepeanutbutter.com. How cute? And I seriously want to call them just so I can dial 1-866-ILOVEPB.
I mean, if you know me, you know how greatly I dislike monkeys, but I desperately want all of Peanut Butter & Co's gear though it involves monkeys. Want: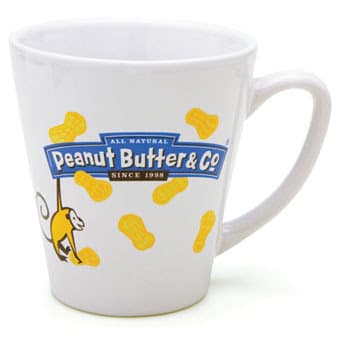 And wait. I think I just fell in love a little more. One of the shop's featured sandwiches is made with crunchy peanut butter and pumpkin butter. Umm, any NYCers want to drop one in the mail for me? Or how about their peanut butter BLT? If you're gonna try it, Peanut Butter & Co. is probably the place to try it.
Something tells me I'll be needing another trip to the Christmas Tree Shop very soon. Or maybe just a trip to NYC's Greenwich Village. Anyone else in?
Peanut Butter & Co.
240 Sullivan St. in Greenwich Village
New York City, NY 10012
[Sues]