As you probably have already noticed, I'm kind of obsessed with peanut butter. More specifically, I'm a huge fan of Peanut Butter & Co. peanut butter. So, when Sara (my fellow peanut butter obsessor) told me about a holiday recipe contest Peanut Butter & Co. was holding, we immediately decided to enter. Now, what to make? Something unique and delicious. Somehow, while walking to my apartment, Sara came up with the ultimate idea: Peanut Butter S'mores Bread Pudding. It's still a mystery how exactly this just popped into her head, but I'm pretty sure this sets her future as an expert recipe creator.
The only rule of the contest was that the recipe must include at least a 1/2 cup of Peanut Butter & Co peanut butter; any flavor. Obviously not a problem. Sara and I chose the Dark Chocolate Dreams peanut butter.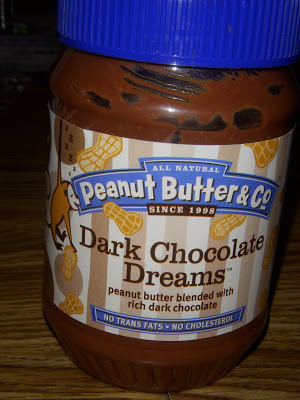 Neither of us had made bread pudding before, but we knew the basic ingredients involved, so we just jumped in to see what we could come up with.
Here's what else you'll need to make our Peanut Butter S'mores Bread Pudding:
10 slices of hearty bakery style bread, slightly stale (we used a thick honey oat bread from When Pigs Fly)

9 standard size graham crackers

2 cups mini marshmallows (we used big ones and cut them up, but mini would be better)

1 1/2 cups Dark Chocolate Dreams Peanut Butter and Co. peanut butter (obviously we used more than the 1/2 cup guideline)

1 cup heavy whipping cream

1 12 cups whole milk

2 eggs

3 egg yolks

1/2 cup granulated sugar

2 t vanilla extract
Pre-heat your oven to 350 degrees. Then, in a 8×8 baking pan, layer your bread to cover the bottom of the pan. We used 5 slices, but it obviously depends on the size of your bread. You may need to cut pieces to fit.
Then layer your graham crackers to fit over the bread.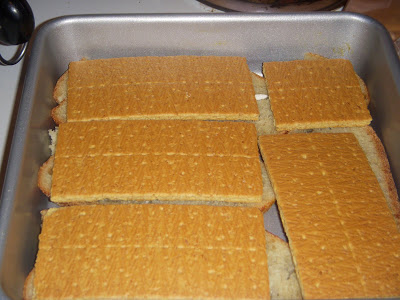 Spread 1 cup of your mini marshmallows over the graham crackers.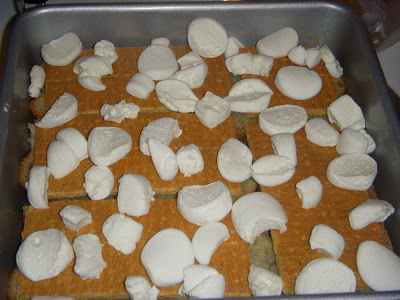 Meanwhile, in a small saucepan, heat your peanut butter over low heat to liquify it, taking care not to burn it.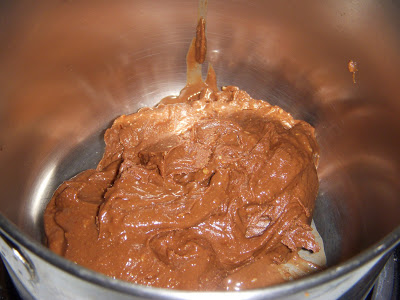 In a separate mixing bowl, whisk cream, milk, eggs, egg yolks, sugar, and vanilla extract until combined. Then slowly add the liquified peanut butter to the mixture, while whisking. Don't worry if some lumps form.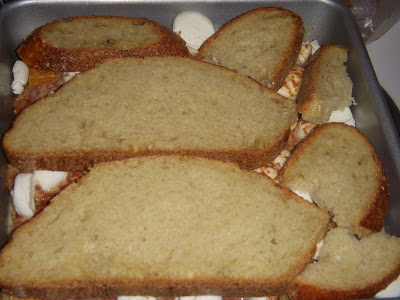 And pour the remainder of the liquid on top of this.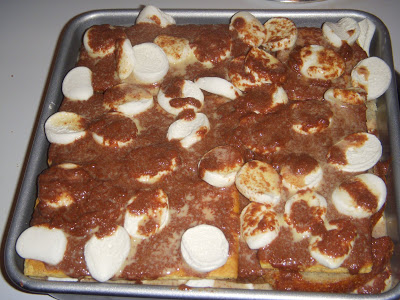 Put in the oven at 350 degrees and bake for about 45 minutes.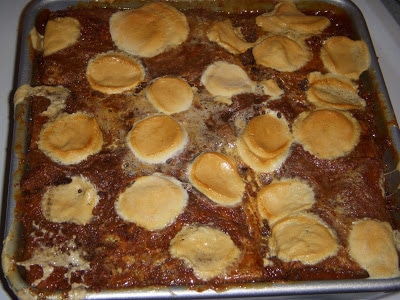 When it's done, cut the bread pudding into square and serve. We were pretty impressed by our first bread pudding efforts. It was perfectly gooey and chocolatey, with a nice little unique touch of peanut butter. We had to restrain ourselves from eating the whole pan.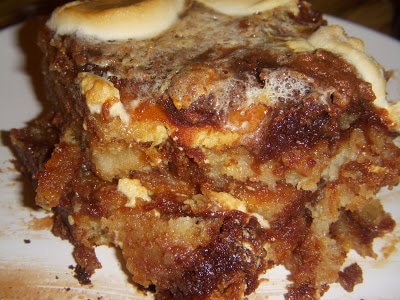 And guess what? Sara and I won the recipe contest!! Considering neither of us have won anything of note in our lives, we are pretty excited about this. Now, not only do we have an amazing bread pudding recipe, it's also award-winning. Can we write this on our resumes or something? Yes?

Here's what the fabulous people over at Peanut Butter and Co. sent us for our winning recipe: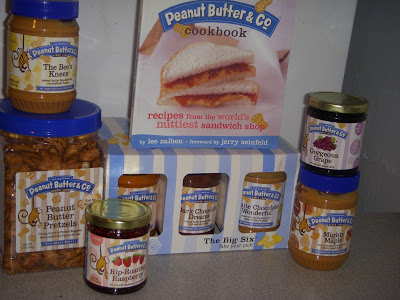 Now we have enough peanut butter to last us another few weeks at least.

I think my next goal will be to create an entire meal using all 8 of Peanut Butter & Co's peanut butters. Sara, I think I'm gonna need you to help me out here.

[Sues]