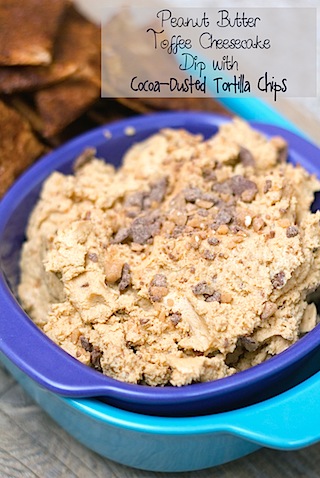 Isn't dip just the best? I mean, I'm not even really sure there's such thing as a bad dip. We've got taco dip, spinach artichoke dip, queso dip, buffalo chicken dip, french onion dip. I could go on. Dip is just everything. Plus, where there's dip, chips are often close behind. I could eat dip every day for the rest of my life and be happy. I could probably eat dip for every meal of every day for the rest of my life and be happy (and maybe kind of large, too). Breakfast, lunch, dinner, and dessert. And snacks, too. I think I've got lunch, dinner, and snacks covered with savory recipes already. And with this recipe, I now have dessert covered. Now, I'll just need to work on breakfast. Don't worry because my wheels are already turning... A day full of dip will soon be mine!
This blog post is about more than dessert dip. Though you'll definitely want to stick around for the Peanut Butter Toffee Cheesecake Dip with Cocoa-Dusted Tortilla Chips. But you probably want to know about the giveaway, too, right? I'm giving away a two pieces of the new CW by CorningWare nesting dishes. They come in super fun and bright colors and are perfect for dip. And other things, too. Like mashed potatoes, and casseroles, and vegetable side dishes. But dip beats veggies every time. Unless those veggies are spinach and artichokes and they're covered in cheese and cream and breadcrumbs.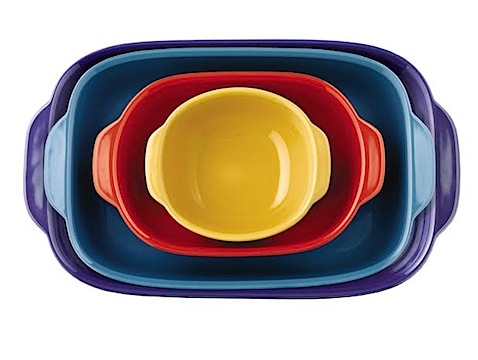 I mainly decided to make a dip because there was a dip on the CW by CorningWare website and I was instantly obsessed with the fact that they nested two of the dishes together- one with dip and one with chips. If given the choice, I'd have peanut butter in every single dessert (second place goes to toffee) and thus this dessert was born.
Peanut Butter Toffee Cheesecake Dip with Cocoa-Dusted Tortilla Chips:
Print this recipe!
12 oz. low-fat cream cheese (Neufchatel), softened
1 C peanut butter
⅓ C brown sugar
⅓ C Chocolate Heath Bar pieces, plus more for topping
Cocoa-Dusted Tortilla Chips (see recipe below)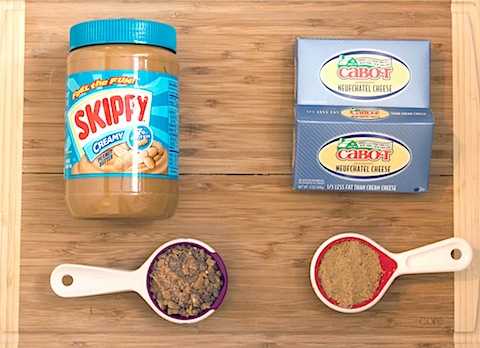 Whipping this dip up is easy peasy. Put cream cheese, peanut butter, and brown sugar in a stand mixer with whisk attachment and blend together until smooth.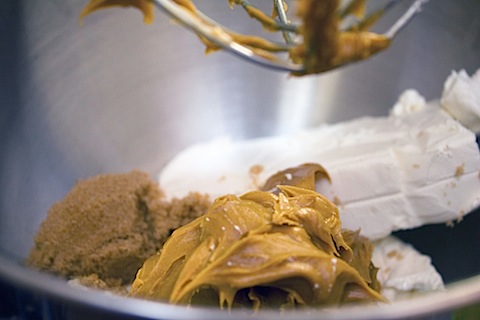 Or put ingredients in a large bowl and use a hand mixer. If you don't have either, use a lot of elbow grease! Stir in Heath Bar pieces.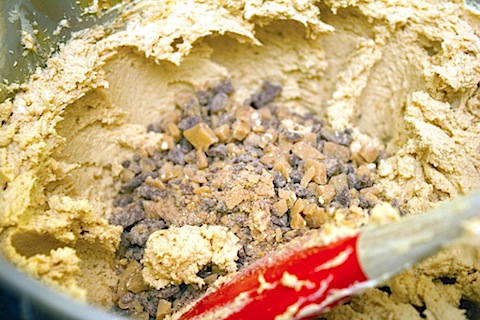 Spoon into a bowl and chill until ready to serve. That's all you do. But now you're going to need some dippers, right? I suppose you could just get some Nilla Wafers or Teddy Grahams (do those still exist?) and dip those. Or you could make cocoa-dusted tortilla chips. Again, I promise that they're super easy and quick.
Cocoa-Dusted Tortilla Chips:
Print this recipe!
4 6-inch flour tortillas
½ stick butter, melted
¼ C sugar
⅛ C cocoa powder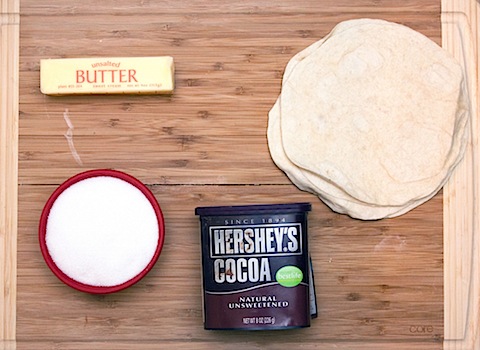 Pre-heat oven to 350 degrees. Cut tortillas into 8 triangular pieces each.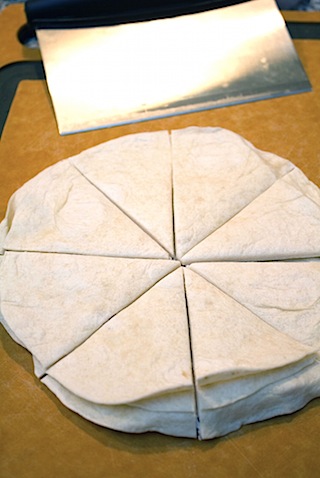 In a small bowl, combine sugar and cocoa powder.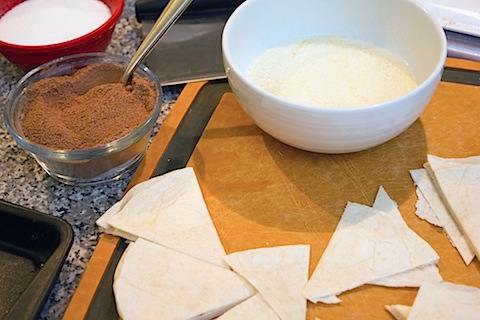 Brush tortilla pieces with butter. Sprinkle with sugar/cocoa powder mix. Flip tortillas and repeat with other side.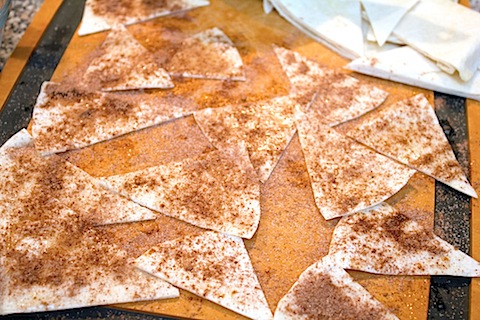 Place on a baking sheet and bake for 6-8 minutes until nice and crispy.
Then you're good to serve up the chips next to the dip. See how easy it is in the new CorningWare dishes?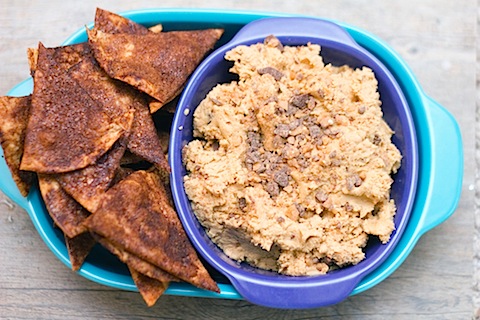 I love how they fit together so perfectly. And the awesomely fun springlike colors that add a little pizazz to the table.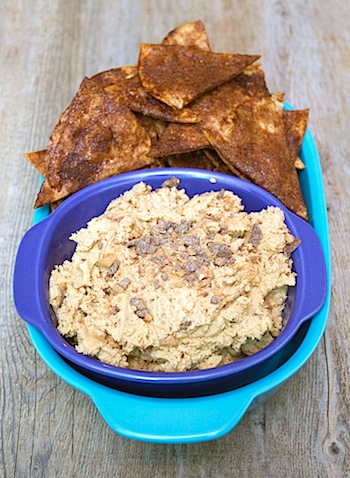 Ohhh and the dip. Perfectly creamy, peanut buttery, with little touches of chocolate toffee. All of my favorite things together in one dessert.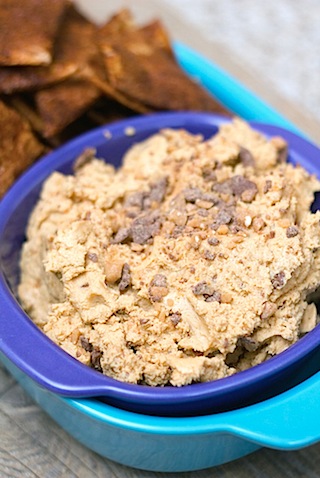 You might think chocolate and tortilla chips would make a weird combination. But they don't at all. Not when there's lots of butter involved. And sugar, too. Duh.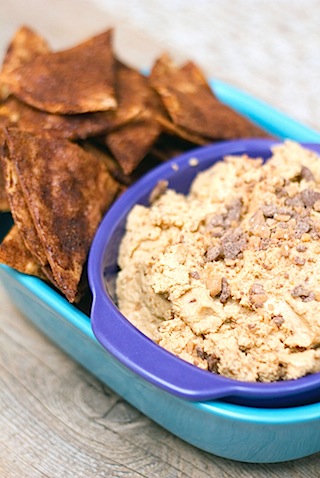 OK, let's win some CW By CorningWare. I'm pretty excited that they'll store away nice and easy as they all fit together (I need all the storage help I can get in my overflowing apartment kitchen). Also, bonus points for the fact that they can go in the oven, microwave, and dishwasher. You can definitely expect these dishes to show up on my blog again and again.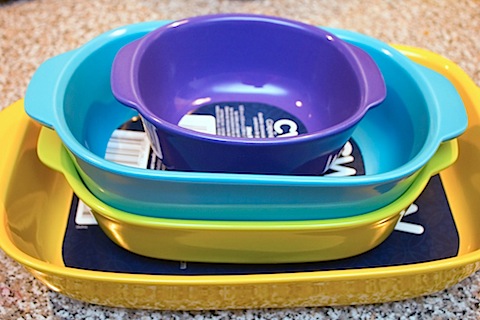 And I'm giving you a chance to have them in your life, too! All you have to do is leave a comment on this post letting me know your favorite dip for a chance to win two CW By CorningWare pieces. Comment by 11:59 p.m. on Friday, April 11. Must be a U.S. resident to win.
And guys, I'm so serious about creating an entire day of dipping, from breakfast to dessert.That means my day will probably involve a whole lot of cheese. I'm perfectly OK with that.
[Sues]