This afternoon we were invited to enjoy a free lunch featuring Pepperidge Farm Deli Flats along with the opportunity to interview Bethenny Frankel, celebrity chef, author, and Real Housewives of New York City superstar. Bethenny was promoting her new cookbook The Skinnygirl Dish (Easy Recipes for your Naturally Thin Life) and she also created some sandwich recipes using the Deli Flats so we were excited to do some taste testing!
The afternoon started with a car picking us up at my apartment around 11:30ish to take us to the Prudential Center in downtown Boston. Car service is delightful 😉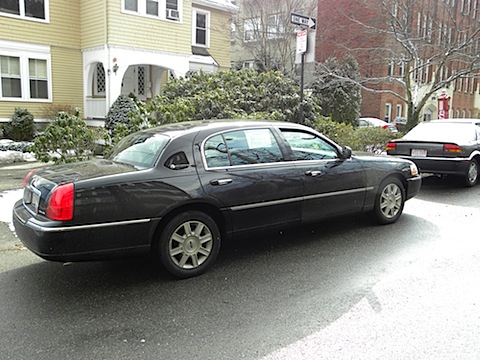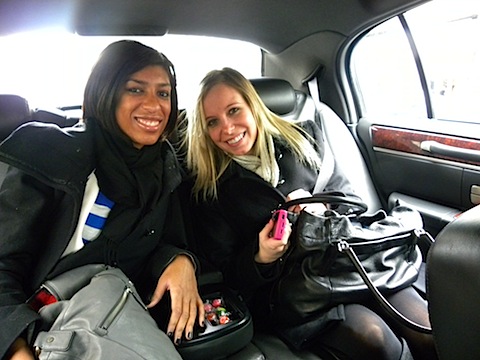 Once we arrived at the Bridge Court at Prudential, we hung out for a while, talked with Pepperidge Farm's PR team, and watched them get setup for the event. Carts of the sandwiches were rolled in, people decked in Pepperidge Farm t-shirts were there, and the crowds starting coming in masses! The timing couldn't have been better. There are tons of offices located at the Prudential Center so everyone was out and about in the mall on their lunch break. I love watching how quickly lines form for free food... people don't mess around when a free sandwich is involved!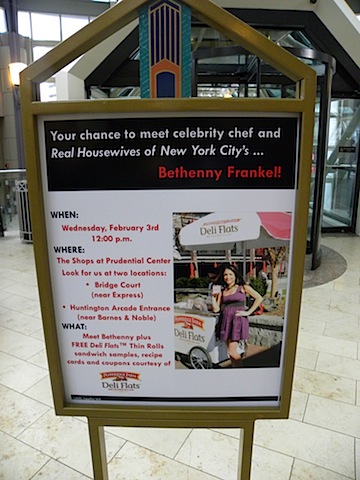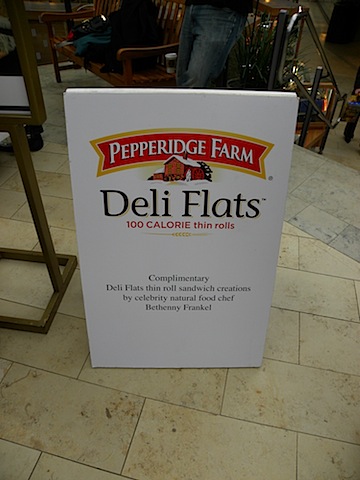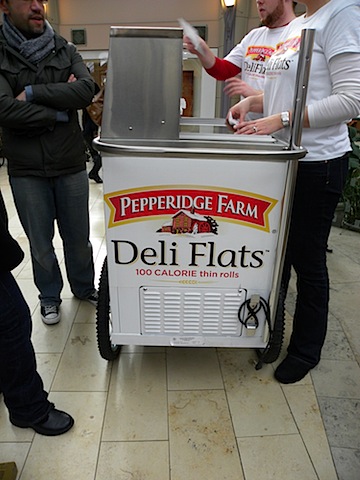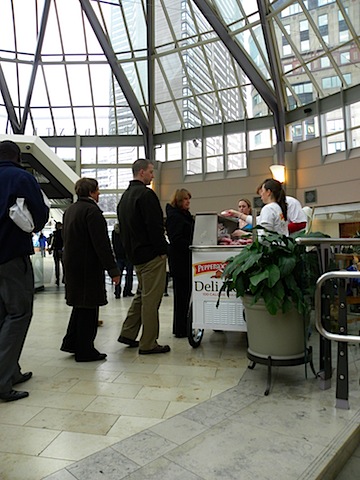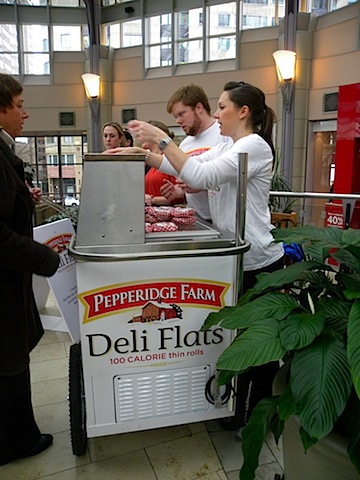 Check out the line! Everyone must have been huuuungry 😉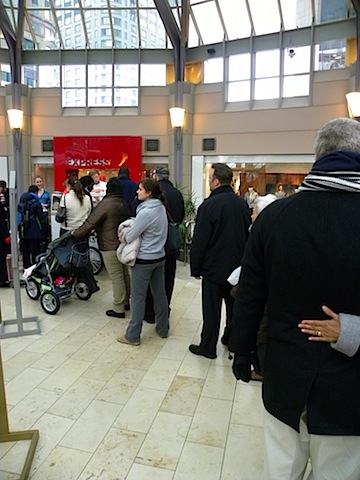 The Deli Flats come in a few varities, as well. 100% Whole Wheat, 7-Grain, and Whole Grain White.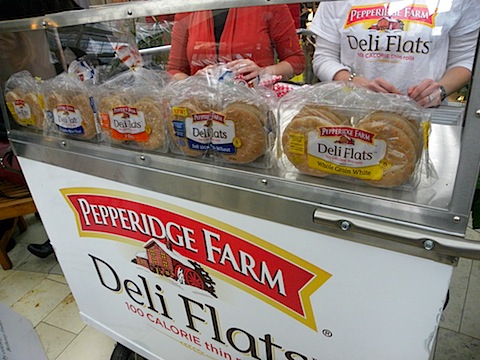 The Pepperidge Farm Deli Flats are only 100 calories and all of the sandwiches offered were under 200 calories. These weren't just your little hardly-filled sandwiches either. They were hearty and completely satisfying, filled with heaps of veggies, spreads, and even cheese. The three sandwiches Bethenny created are Pesto Turkey (pesto sauce, mayo, deli turkey breast, tomato, baby arugula), Mediterranean Vegetarian (eggplant, red pepper-flavored prepared hummus, crumbled feta cheese), and Grilled Chicken Club (mashed avocado, refrigerated fully-cooked grilled chicken, bacon, tomato, red lettuce). I got the Grilled Chicken Club, Sues got the Pesto Turkey, and my sister (who is a huge Bethenny fan so I obviously invited her to come along!) got the Mediterranean Vegetarian. We all thought our sandwiches were terrific and the Deli Flats were delicious! My sister and I even went out and bought some after the event 😉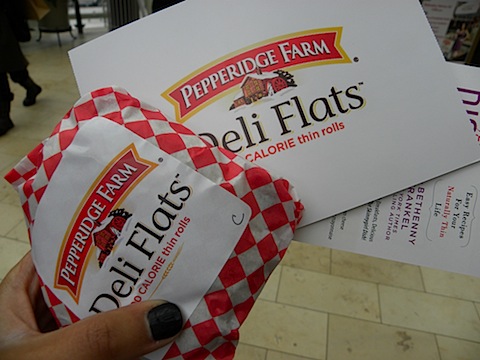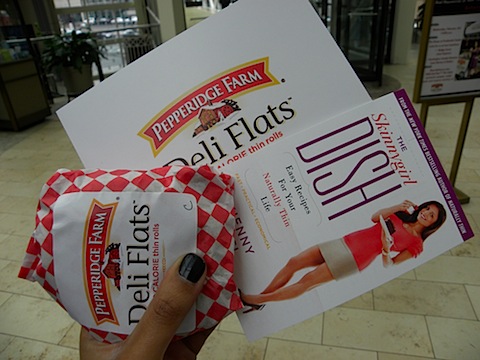 Grilled Chicken Club: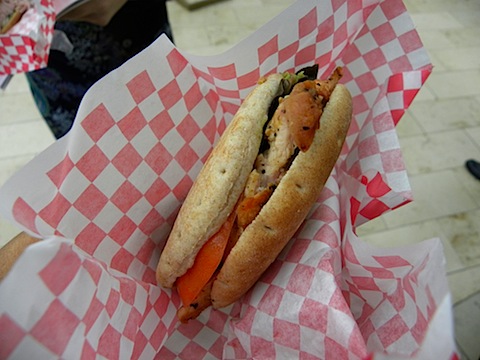 Pesto Turkey: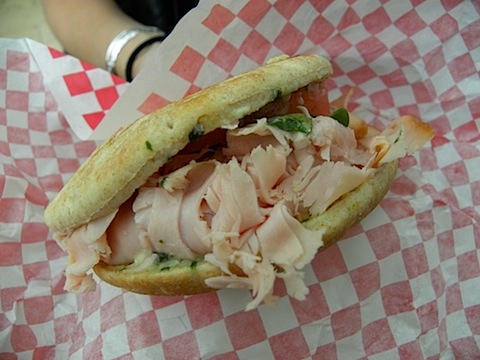 We were also given coupons for the Deli Flats along with recipe cards with all of the sandwiches Bethenny created, which we will definitely try to make on our own! My sister ran to Barnes and Nobel to pick up a couple copies of Bethenny's new cookbook, too.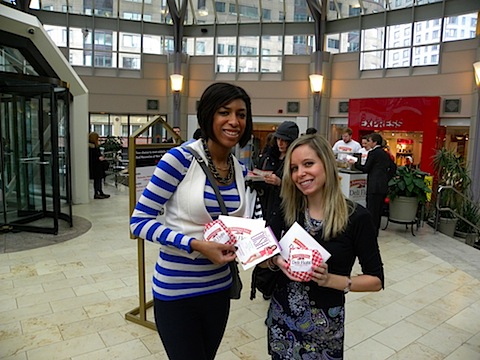 She can't contain her excitement! 😉
My old co-workers Tarryn and Melanie even came by! They both tried the Mediterranean Vegetarian Sandwich and enjoyed it!
Then it was time to interview Bethenny! Since she is a celebrity-chef, hilarious, and was also on Martha Stewart's Apprentice we were excited to chat with her and ask some questions.
What was the best thing you learned from Martha Stewart? Martha doesn't have anyone do anything that she hasn't already done or tried herself. We thought this was an extremely valuable point... to try everything before you expect others to be able to do it. That way there aren't any unrealistic expectations and you know the task is doable.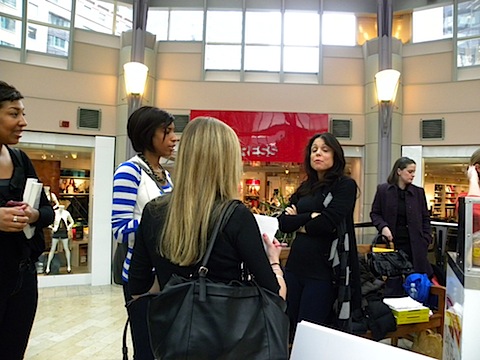 What is your favorite New York City Restaurant? STK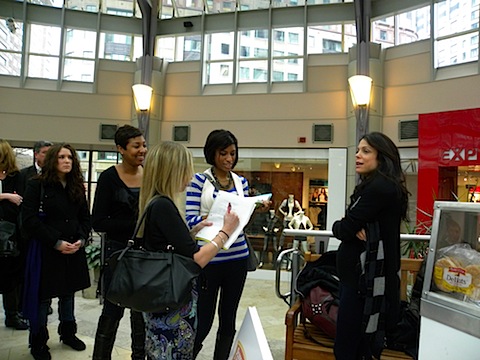 What are your favorite items to serve your guests while entertaining? My crab cakes and my spinach artichoke dip. People rave about it! Also my baked chicken wings. They're breaded and are great for entertaining since they can sit out for a while. I used to cook them all the time for Dennis Leary. Check out the video of Bethenny making her chicken wings on Access Hollywood!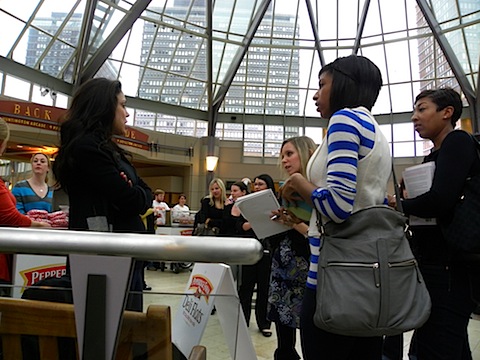 How do you incorporate healthy living into your entertaining? I only do healthy. I don't do "taste-free" or "fat-free". Bethenny explained that there are many ways to make healthy foods without sacrificing taste which is, of course, very great to know. Her new cookbook is filled with flavorful and healthy recipes!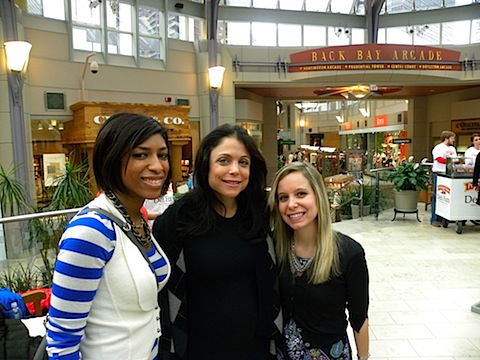 What is your favorite healthy dessert to make? My Not-So-Red Velvet Cupcakes.
How do you incorporate healthy living into your busy schedule? Bethenny explained how she has been on 14 planes in 10 days (woah!) and says a lot of healthy living has to do with planning and making smart decisions. You have to plan ahead and not allow yourself to "starve". Running in and out of airports and gas stations proves to be a challenge for some, but Bethenny says that you can still eat healthy even in a gas station. You don't always have to settle for the heavy/greasy/high calorie foods that can often be found on the road. Selecting snacks like pretzels, some crackers and a slice of cheese, nuts, biscotti, or animal crackers are some ways to survive on the road.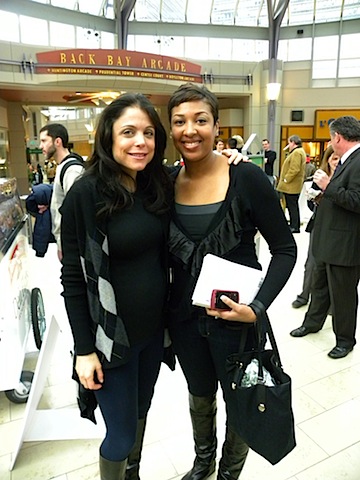 After the interview we hung out with the Pepperidge Farm team a little more, chit-chatted, and watched the crowds...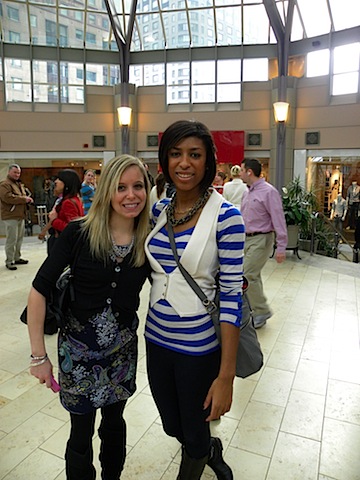 ...And made time to goof around a little bit. Sues needed to be a little taller so I gave her a lift 😛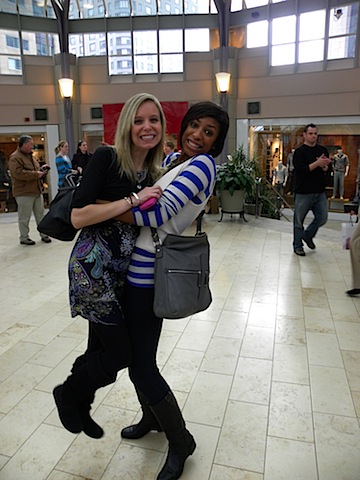 Des posing with her new book!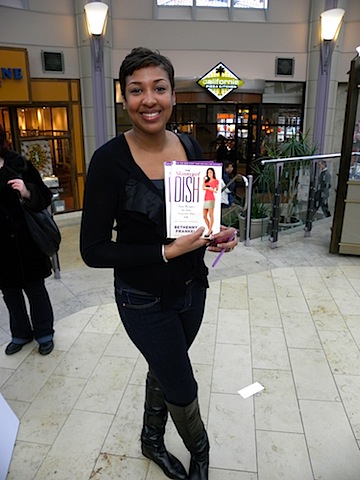 We are not Martha with Bethenny's new cookbook!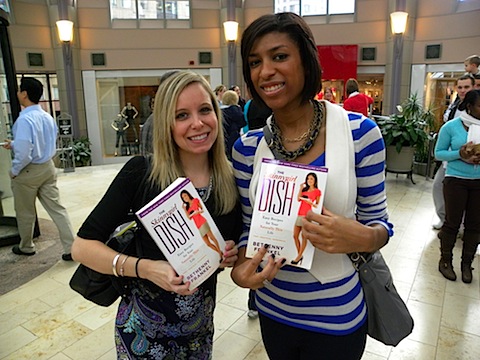 This was such a fun time! Thank you so much to the Pepperidge Farm team for inviting us out and giving us the opportunity to interview Bethenny! The new Deli Flats proved to be a huge success... all of us Bostonians seemed to love them!
After the lunch and interview my sister and I headed out to do some grocery shopping. Both of our dinners tonight were recipes in Bethenny's cookbook... we just couldn't wait to try some out! More to come on that!
[Chels and Sues]