This post should alternatively be titled "the easiest appetizer ever." Because, um, it is. But you also might want to throw a "and the most delicious" in there too. Because, um, it is. I went to my parents' house for Easter and wanted to bring along the ingredients to make a somewhat easy appetizer. I also happened to have a jar of pesto sent from Mezzetta I'd been meaning to use. So when I saw a recipe for pesto cheesecake over at Confessions of a Bake-aholic, I was sold. Cheesecake that's not the usual dessert cheesecake, but is more of a dip with pesto mixed in? Sign me up!
This was such a ridiculously simple recipe, I almost felt like I wasn't doing enough. And as my sister pointed out, I could have made my own pesto; but I had the beautiful jar from Mezzetta already. And in the end, everyone loved the recipe so much, not to mention nobody could guess how easy it really was. Love that!
Pesto Cheesecake:
1.5 C crushed sesame crackers
1 stick of butter, melted
1 C ricotta cheese
4 oz. feta cheese, crumbled (tomato basil or Mediterranean is best)
8 oz. cream cheese, softened
2 eggs
1/4 C pesto
1/3 C sour cream
Crackers or veggies for serving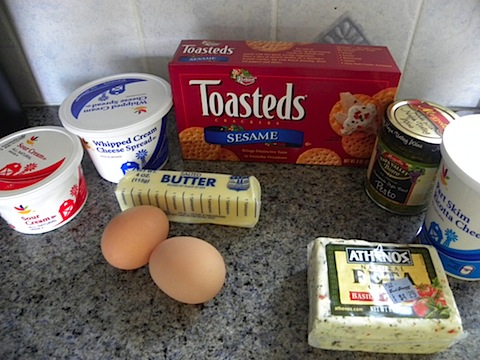 The recipe only called for one cup of crushed crackers, but it just didn't seem to be enough to fill the pan properly so I added another half a cup. I also added a bit more butter than the recipe called for to get 1 stick.
Mix the cracker crumbs with melted butter.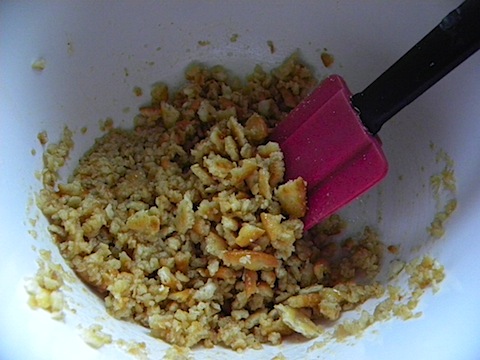 Press into the bottom and 1 1/2 inches up the side of a 9 1/2 inch spring form pan. Seriously, if you don't have a spring form pan (or a whole set of them), you need to remedy that. They make life so much easier.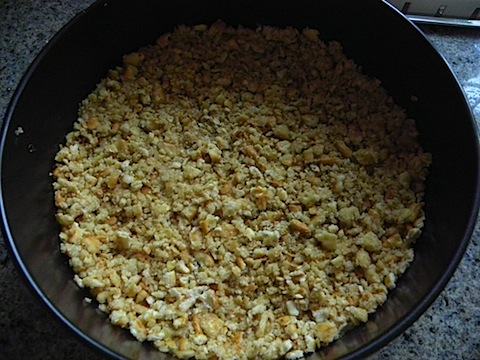 Now you're ready to mix the cheeses. Beat the ricotta, feta, and cream cheese in a medium bowl until creamy.
Then add the eggs one at a time and beat well after each addition.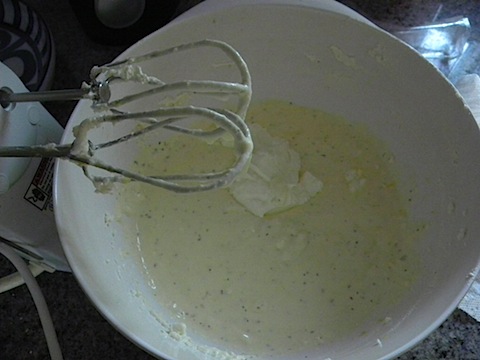 Stir in the pesto and sour cream.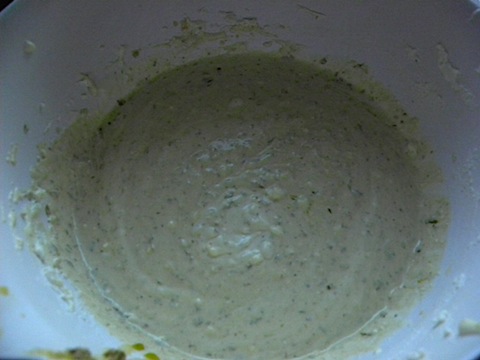 And pour the mixture over the crust.
Pop it in the oven at 350 degrees for about 35-40 minutes, until the top starts to brown and the center is almost set.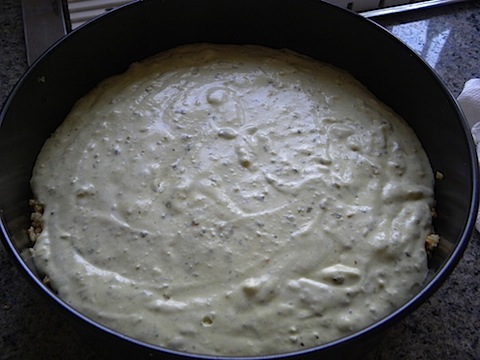 Let it cool on a wire rack for about 30 minutes. Then loosen the sides from the pan with a knife and let cool for another hour.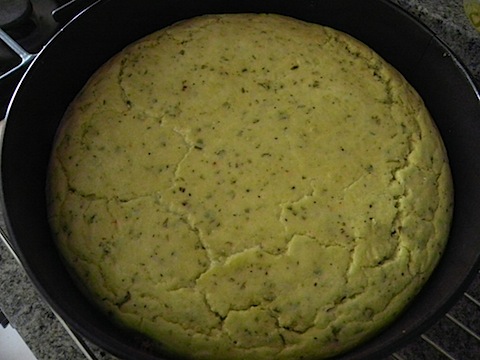 And then? And then you're supposed to cover it tightly and stick it in the fridge for at least 4 hours. FOUR hours! Here's where I cheated. Because we were hungry. I only put it in the fridge for 2 hours. And guess what? It was perfect. The important thing is that the "cheesecake" sets. And it needs to cool to do so. But 2 hours was enough for me.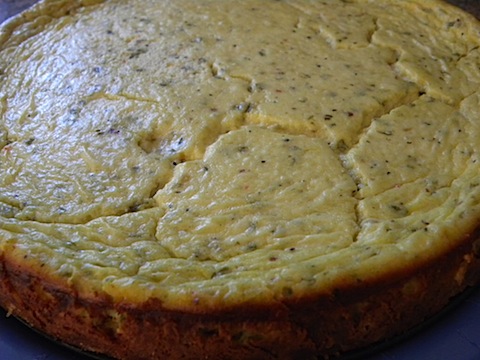 Doesn't it kind of look like a real cheesecake? Well, besides the delicious flecks of pesto.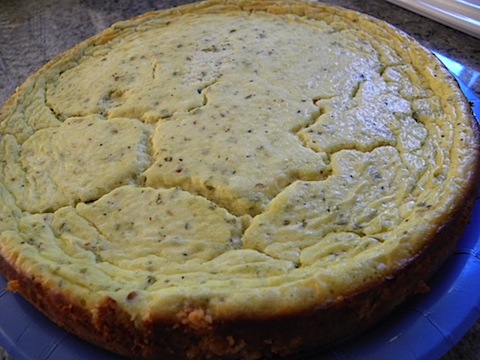 The recipe said to serve it with crackers, but we all agreed that that was a little repetitive given there were crackers in the crust. I served it with celery too and a whole selection of veggies would have been nice. But you could also make this cheesecake as more of a dip without the cracker crust.
Doesn't it look a little like quiche?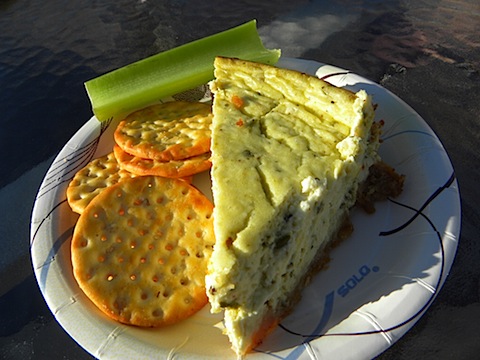 I was thrilled by how much everyone loved this. Between the 6 of us, we probably could have eaten the whole thing, but we still had a whole big Easter dinner to look forward to.
I really think the pesto made this "cheesecake," but if you don't like pesto, you could always make without. Or add whatever you like. I think chopped up sundried tomatoes would also be fabulous.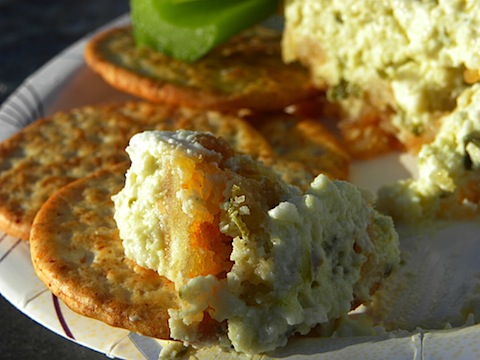 This really is the perfect appetizer to bring to your next party or gathering. It literally took no time at all to prepare– Just make sure you give it ample time to sit in the fridge. It's fun and a little bit different, and most importantly, amazingly delicious (and oh so creamy!).
I brought Mitzi to my parents' to celebrate Easter with us and she was loving the warm weather. Check out her adorable glitter bunny rabbit bandana! She managed to find a few crumbs from the appetizer, too.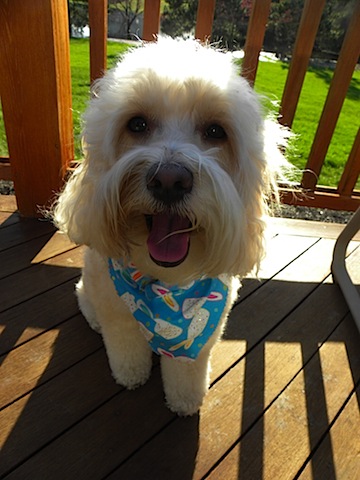 We ate the pesto cheesecake on the deck and spent lots of time "admiring" the new backyard pond.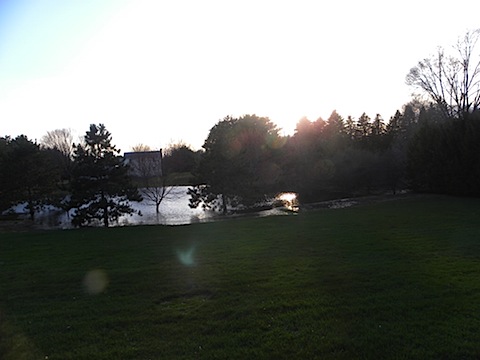 This pond was definitely not here the last time I was visiting my parents in Andover. Maybe it will stick around for summer and we can get some good swimming in? It's kind of pretty…. If you can look at it without thinking about a flooding basement, too.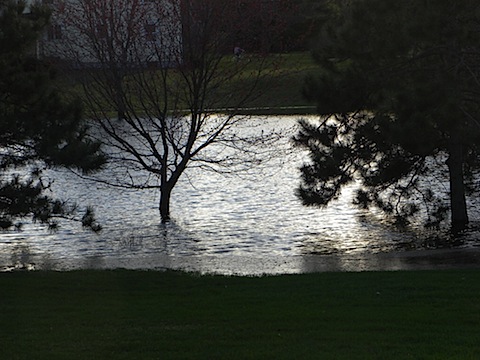 We're continuing to love this amazing weather here in Boston; hope it's pleasant wherever you are too!
What's your favorite simple appetizer to bring to parties?
[Sues]