Because it's Valentine's Day, I feel the need to touch briefly on my love of all things pink. Including kitchen accessories.
Some people think if kitchenware is colored, it must be cheap and not very professional. But, in fact, some of the highest-end brands of cookware make their products in pink. You just need to make sure you choose your brands carefully. Cuisinart? Yes. Le Creuset? Yes. KitchenAid? Yes. My theory is, I highly enjoy cooking…and I highly enjoy pink; so why not combine two loves and make cooking even more enjoyable? My pink cookware brightens the kitchen up…and in many cases, helps cure breast cancer. Can't argue with that.
Here are a few of the things on my pink kitchen accessory wish list: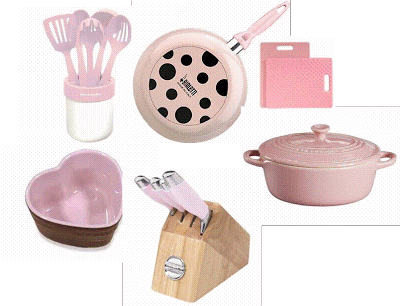 (left to right, top row) KitchenAid Cook for the Cure 6-Piece Utensil Set, Bialetti Light Pink Polka-Dot Fry Pans, Architec Original Gripper Cutting Board, (left to right, bottom row) Le Creuset Pink Heart Ramekins, KitchenAid Cook for the Cure 5-Piece Cutlery Prep Set, Le Creuset Pink Petite Oval Casserole.
If you can't stand pink, stay out of my kitchen 🙂
[Sues]