Some day I shall cook polenta the way it was mean to be cooked. The way Bill Buford describes it being cooked in Heat . I'm the kind of person where once I read something, I can't get it out of my head. So, when I read Heat and learned that you should never ever use instant polenta, I started frantically wondering what I'd do with my package of instant polenta in the pantry. Throw it away? Keep it until it spoiled? Use it and not tell anyone? Shhhh.
But then I remembered. We are not Martha. Nor are we Bill Buford. Nor Mario Batali. And guess what? Even though, Batali taught Buford to never use instant polenta, he still recommends it in all of his recipes. Because it's the easy thing to do. And sometimes easy is good. Especially when you're looking for a quick and simple appetizer. Like I was.
Some day I shall cook polenta the way it was meant to be cooked. But I'll save it for a day when I have 3+ hours. Yes, polenta should be cooked for 3+ hours. But, on the positive side, no constant stirring is needed. When Buford accounts one of his early polenta cooking lessons, he recalls the polenta speaking to him:
It asked: You wouldn't knowingly stick your hand in an active volcano, would you?
Of course not, I answered.
Go away, then, it said. Do something else. I am not temperamental like risotto. Go on: cook the rest of dinner.
Now I know one thing for sure, instant polenta never speaks to me. But simply letting polenta bubble and do its thing on the stove without having to keep constant guard? Even I can handle that. But when you don't have the time and are simply making polenta rounds (and not a big bowl of comfort in the form of polenta), I think instant is just fine. Everyone will just be happy you're not using polenta from a tube. Baby steps here.
Polenta Rounds with Caramelized Onion, Mozzarella, and Prosciutto (makes about 13):
Print this recipe!
• 2 C chicken broth
• 2 C milk
• 1 C instant polenta
• ½ C parmesan cheese
• 1.5 C chopped onion (plus, ½ T butter and ⅓ C brown sugar for caramelizing)
• 6 oz. mozzarella
• ¼ lb. prosciutto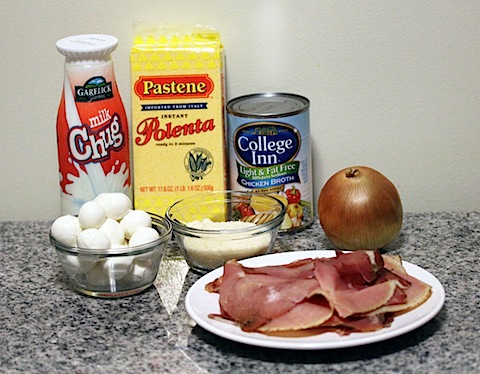 So, like you probably gathered, if you're using instant polenta, it's super duper easy and quick. Simply bring the chicken broth and milk to a boil in a large saucepan. Whisk polenta in to the liquid and immediately turn down the heat to low. Cook polenta for about 3 minutes, stirring it a bit. Mix in parmesan cheese. Add in some salt and pepper, too.
Immediately pour polenta into 9 x 13 pan and let sit for about 3 hours to firm up. I made my polenta the night before and covered it well before hitting the hay.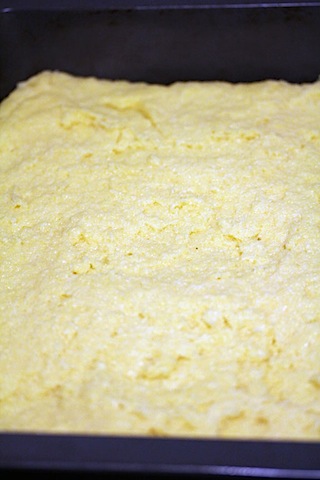 Now, onto the toppings. Caramelize your onions with ½ T butter and the brown sugar over medium heat.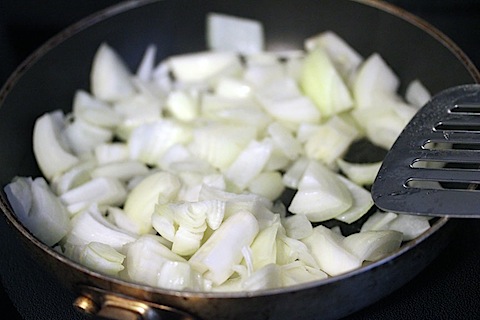 Caramelizing onions is one of my very favorite things to do, no lie. There's just something about it that makes me feel so comfortable. Happy. Stir every now and then until onions are browned.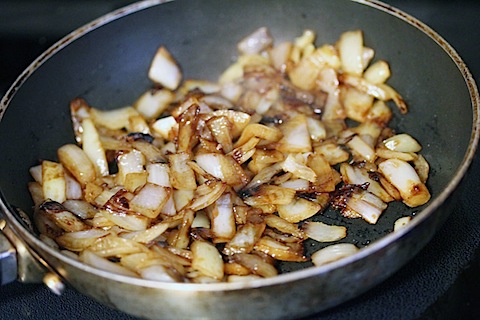 While your onions are caramelizing, cut rounds out of your polenta. I used a biscuit cutter with 2.5" diameter, but think the rounds might have been even better if they were a bit smaller. Bite-sized!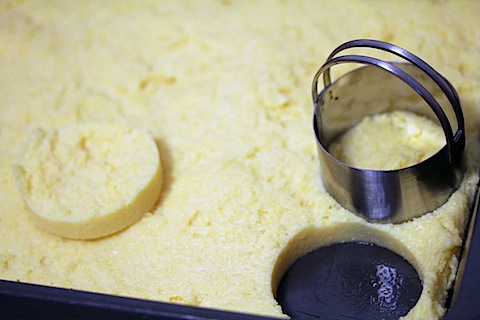 \
Arrange your rounds on a serving dish. I used the Wilton Armetale tray my Aunt Judy and Uncle Hal gave me and it was perfect because I could stick the entire tray in the oven. You could also put your polenta rounds on a cookie sheet for now, until serving.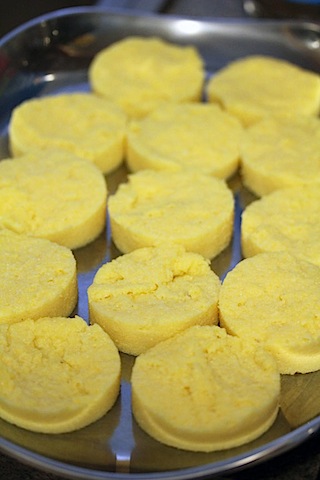 When the onions are done, layer them on top of the polenta rounds.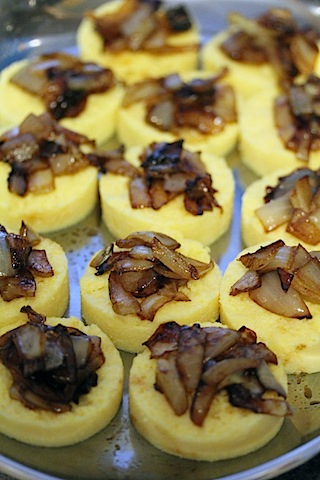 Then top with mozzarella. I used little mozzarella balls, so I simply halved them and put two halves on each polenta bite.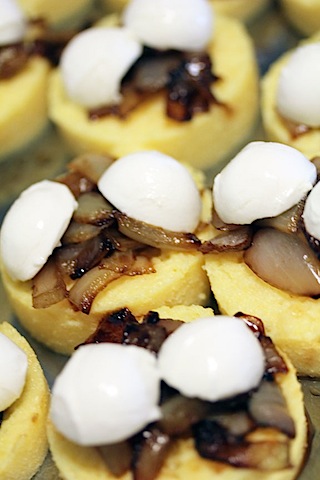 At this point, I stuck the tray in the oven (at a low temperature) to melt the cheese a little bit. This is totally optional.
Then I layered some prosciutto on top.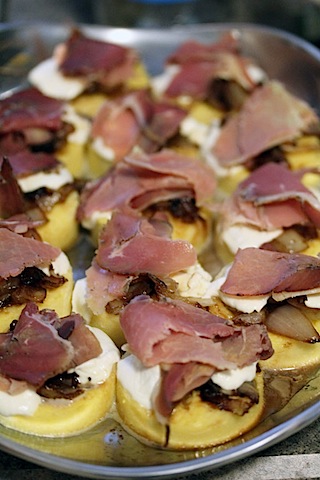 Yum. Some of my very favorite things all hanging out together. Does life get any more beautiful than that?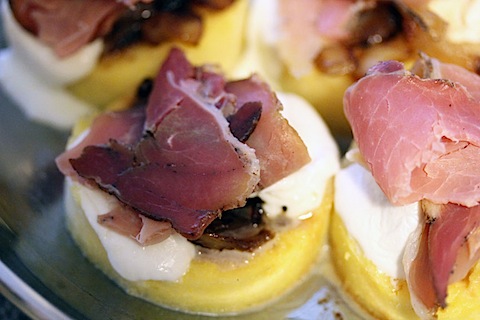 And that's all there is to it. I traveled with these to my parents' house, so before serving, I stuck them back in the oven to warm them up again.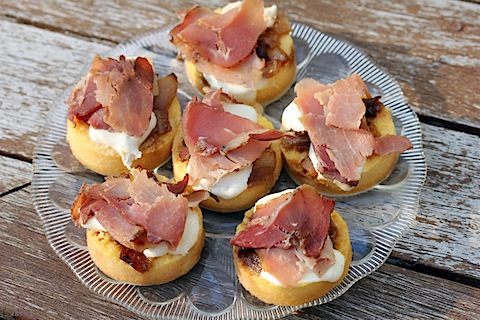 You can make polenta rounds and layer them with literally anything you choose.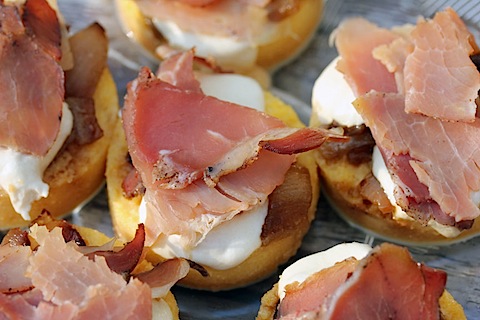 But I'm pretty sure caramelized onion, mozzarella, and prosciutto is the perfect combination. Everyone enjoyed these little appetizers and I see a lot more polenta in my future.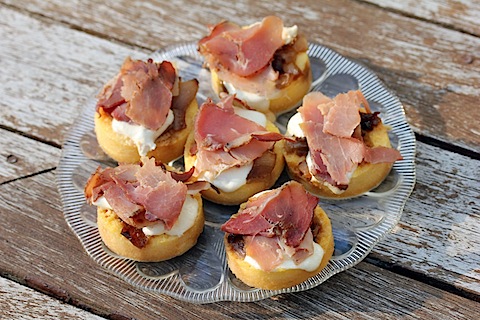 We went to my parents' house to celebrate my brother-in-law, Adam's, birthday. I made the appetizer and my sister made this absolutely amazing peanut butter chocolate cake.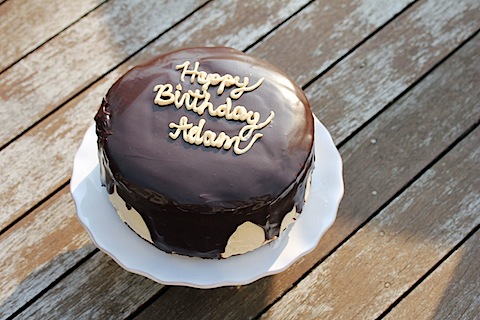 It was seriously heavenly. The recipe came from Smitten Kitchen and I encourage you all to try it out if you have any chocolate and peanut butter fans in your life. I've got lots of them. I am one.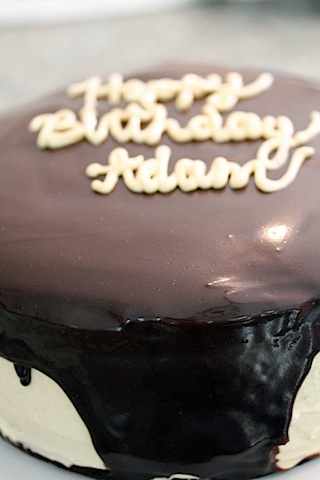 My mom and dad cooked an incredible birthday dinner for Adam, complete with beef tenderloin (with a blue cheese cream sauce):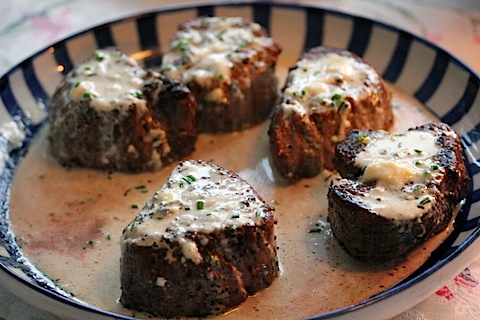 My mom's beer-battered onion rings: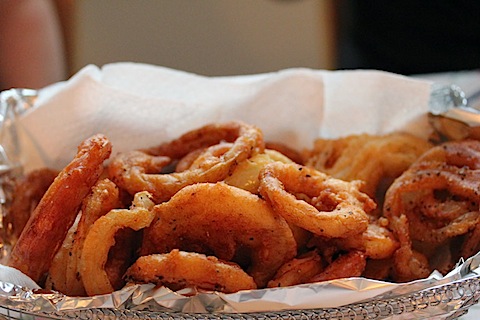 Roasted tomatoes and asparagus: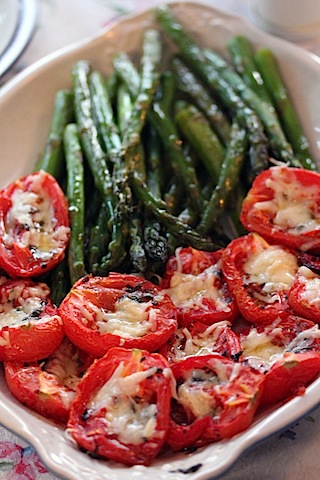 And super beautiful fiddleheads that my dad prepared: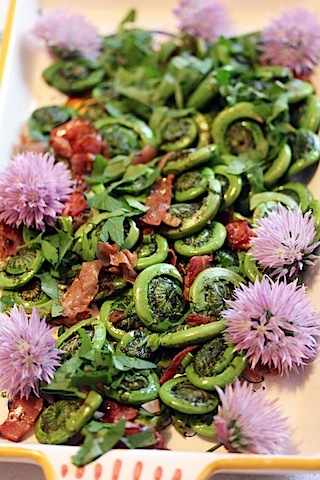 Best dinner ever?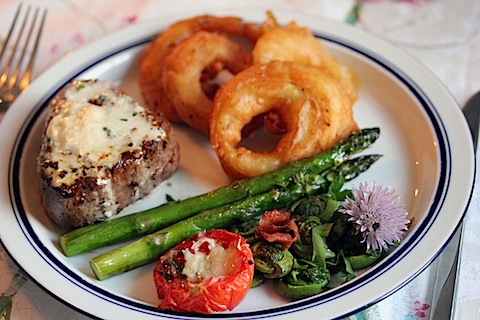 YES!
In addition to Adam's birthday, Chris was celebrating the fact that it's finally time to drink one of his favorite beers again.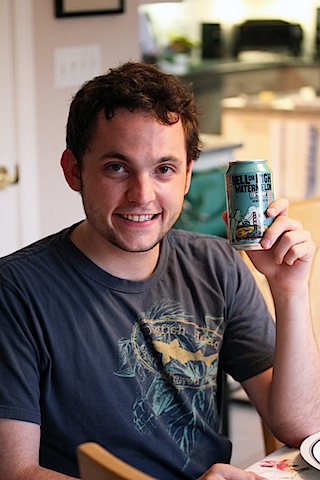 Hell or High Watermelon from 21st Amendment Brewery.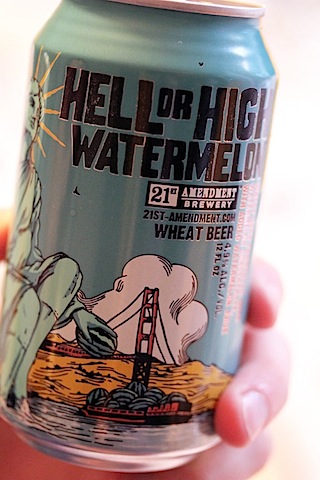 The birthday boy and his wife!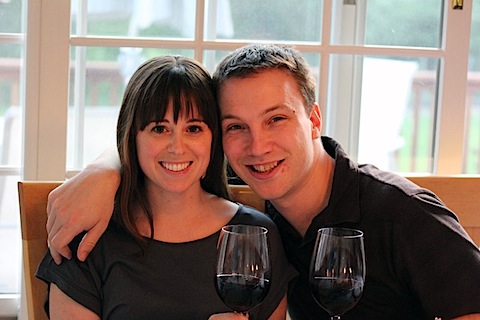 And, of course, the grand finale of the meal: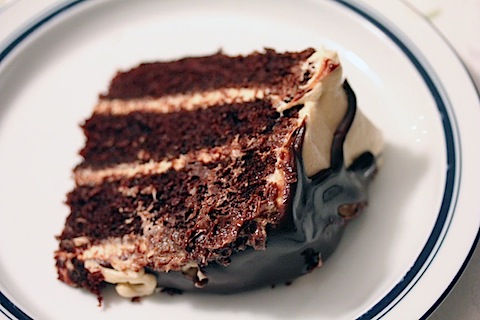 And that was only the start to a fabulous long weekend. The entirety of Sunday was spent wandering around the Wrentham Outlets, doing some major sale shopping. OK, wandering isn't quite the right word since the place was packed and we almost died looking for a parking spot. This was shopping as a sport at its best, but in the end, we were totally triumphant and returned home with a ridiculous amount of shoes. And on my glorious Monday off, I had lunch with my aunt, mom, and sister. And hung out by the pool with Chris. Now that's what I call a successful weekend. It's back to the grind, but at least it's a short week 🙂
If you could top your polenta rounds with anything, what would it be?
[Sues]