If I didn't like cupcakes and cheese so much, there are two things I could live on. The first, you all know, is ginger. And the second is pomegranate. Admittedly, it would be a strange diet. But one full of antioxidants. And while I might be seriously lacking protein, I'd be happy (especially if much of that ginger was candied ginger... I guess it might be odd to eat it all raw).
Pomegranates remind me of my dad because I swear he started eating them long before they got trendy. Also, I grew up listening to him recite, "The hardest fruit upon this planet/Is easily the pomegranate" from Ogden Nash (In case you're wondering, he's also the poet who came up with "Candy is dandy/But liquor is quicker"). Behold the lovely pomegranate: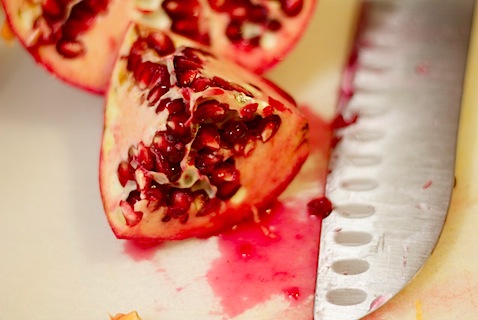 I don't even recall how I stumbled upon this recipe; all I know is when I saw the words pomegranate and ginger, I knew it was a go. Of course, I changed it up a little and the result was mind-blowinly flavorful and awesome. I would make this over and over and over again.
Pomegranate-Ginger Pork Chops (serves 3):
• 4 oz. POM Wonderful Juice
• ½ C sugar
• 1 T cornstarch
• 1 t red pepper flakes
• 3 T light soy sauce
• 3 t ginger, minced
• 3 t garlic (3 cloves), minced
• 1 lb. boneless pork chop
• 1 whole fresh pomegranate, opened with seeds removed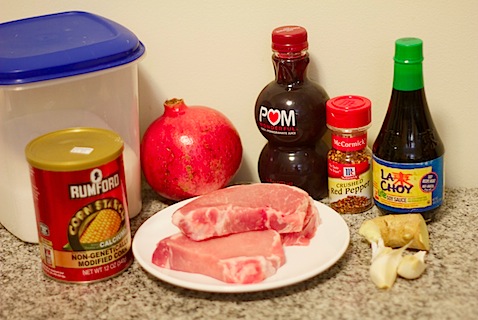 Every time I make pork, I claim I never make pork. But I guess that's false. Last time, I had a whole conversation with Pork on Twitter. Because that's where we're at in 2010.
The original recipe called for pork tenderloin, but I used boneless pork chops instead. You can use whatever meat you want. Honestly, this would be good with chicken and would probably be amazing on some sort of beef. It's also quite easy and basically consists of two simple sauces and the meat. It's great for a quick but high-quality weeknight meal.
To begin, in a medium-sized saucepan over medium heat, mix together the pomegranate juice, sugar, cornstarch, and red pepper flakes. Simmer over medium heat until a thick syrup forms.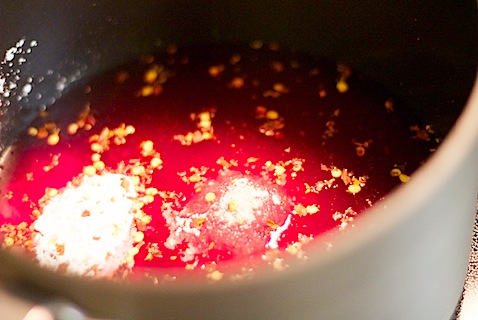 Set the syrup aside.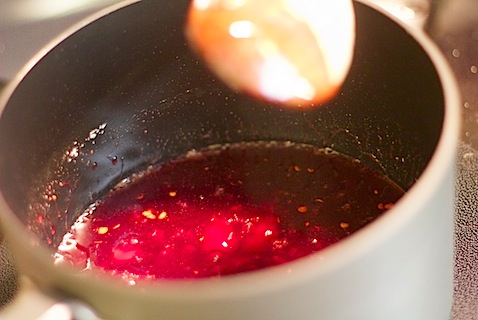 In a little bowl, mix together the soy sauce, ginger, and garlic and set aside.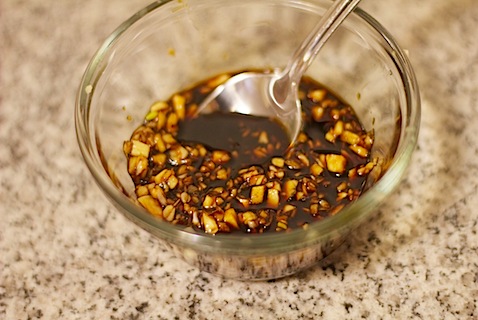 At this point, you might want to open your pomegranate if you haven't already. Here's a guide for what I think is the best way to open in. Some day maybe I should make a video.
I just think pomegranates are the prettiest fruits in the world. Especially when the juice isn't sprayed all over your clothes. And face.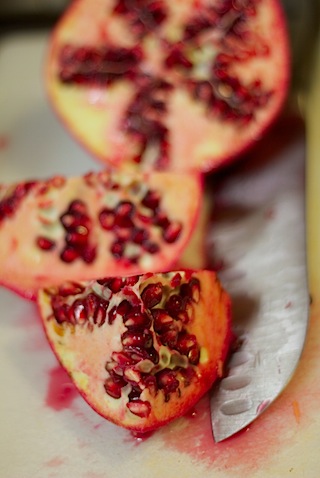 So, yes, always open the pomegranate in a bowl of water... in the sink. Unless you've been wanting red walls. And what a pretty red it is.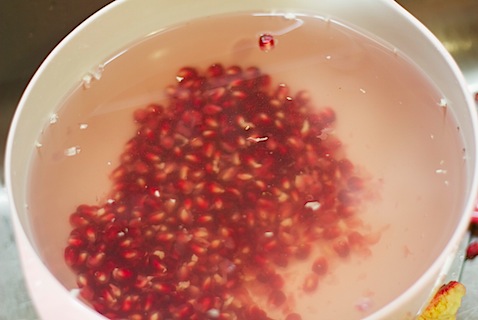 OK. Now, add some olive oil into your frying pan and put your pork chops into the pan.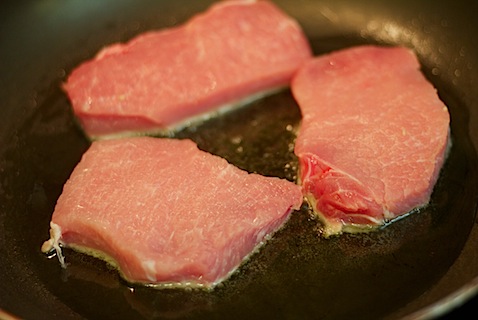 Spoon some of the soy-garlic-ginger mixture on top and cook for about four minutes. Then flip them, add some more sauce on and cook for another four minutes.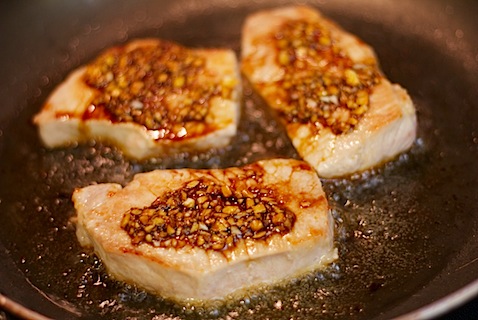 Remove the pork chops from the pan. Turn off the heat and add the syrup mixture in. Stir for a couple minutes to thicken and scrape up any pork bits.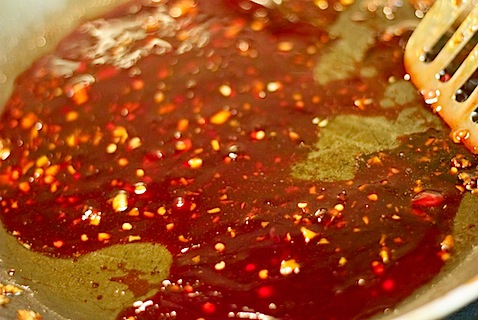 Spoon the syrup over the pork chops.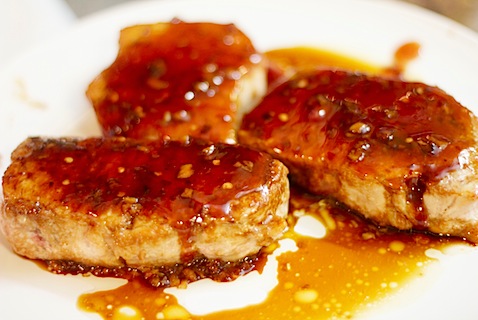 And sprinkle some pomegranate on top.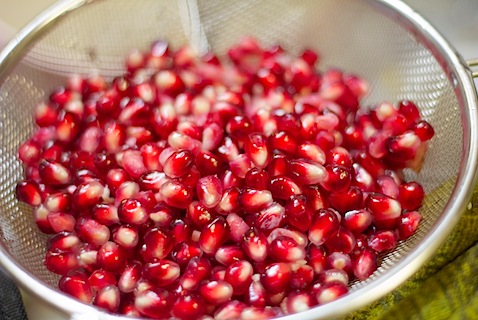 Like so: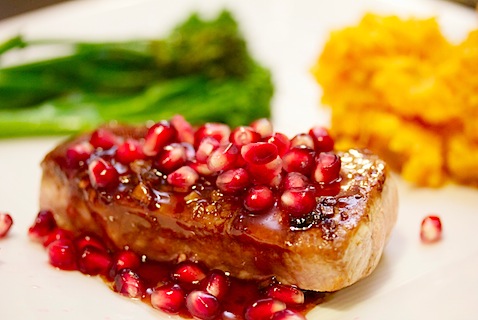 I served my pork chops with mashed maple sweet potatoes and aspiration. Never heard of aspiration before? I hadn't either. I actually went to Whole Foods to pick up some asparagus. But then I saw what I thought was broccolini. Even better! But when I picked it up, I read that it was "aspiration." Which I guess is some sort of broccoli-asparagus hybrid.
It was delicious, but I wish it were called asparagini or something. Aspiration just sounds like a horrible way to die.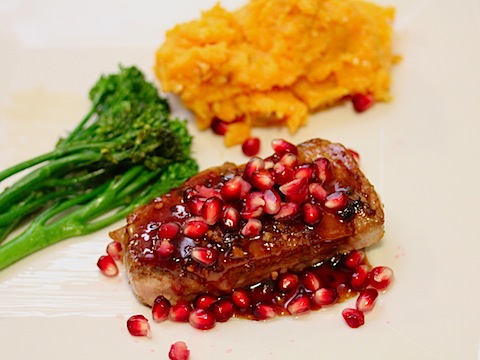 But this was most definitely one of the most flavorful ways I've ever prepared pork. Not one, but two totally complementary sauces! The soy-garlic-ginger sauce added an incredible rich, deep flavor. While the pomegranate syrup added a sweet touch. Plus a delightful crunch!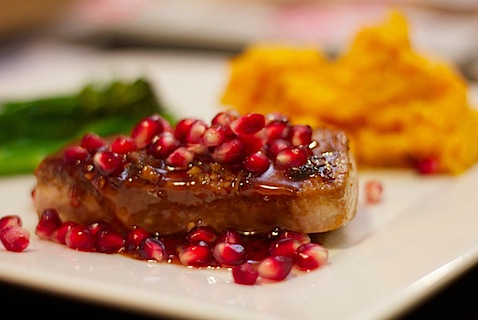 Quick, delicious, and I think kind of impressive. I mean, I'd definitely serve this to guests. All you'd have to do is double up the amount you make and it would be super easy to make this for a crowd.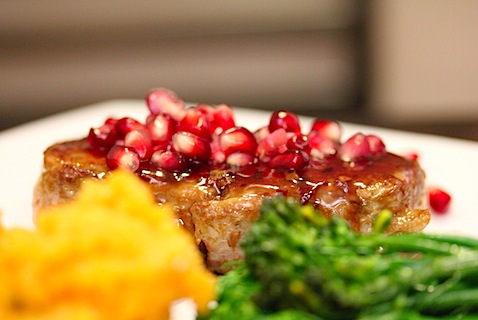 Another meal, another confirmation that pork really isn't boring. And I really do enjoy it. Go figure. Also, some more confirmation I could live on pomegranate and ginger... If a little meat were involved. And maybe some cupcakes. Speaking of, can you imagine a pomegranate-ginger cupcake? Looks like I know what my next cupcake flavor is!
Oh, and in other news, happy birthday to Chris! My favorite person and always willing recipe tester-- even when I try to force things like beets, peas, and cauliflower upon him. Today will be beet, pea, and cauliflower free just for him 🙂
Are you a fan of pomegranates? What do you like to make with them?
[Sues]