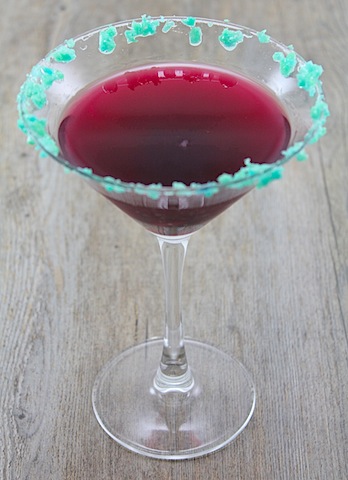 Happy New Year! If you're looking for a last-minute cocktail that is all about celebrating, we have it! In our second post for Sierra Mist Natural, we were assigned to make our own cocktail (or mocktail… But… Yeah 🙂 ) recipe. Since we wanted it to be all about celebrating for New Year's, we knew we wanted to involve the childhood candy favorite Pop Rocks. So we decided to rim our martini glasses in Pop Rocks and mix up a delicious concoction involving vanilla vodka and pomegranate juice with pomegranate arils. And Sierra Mist Natural, of course. If you think vanilla and pomegranate sounds like a weird combination, you need to try this! It's basically like pomegranate and cream 🙂
Pop Rocking Pomegranate Vanilla Martini (makes 2):
1 package Pop Rocks
3 oz. vanilla vodka
6 oz. pomegranate juice
¼ C pomegranate arils
2 oz. Sierra Mist Natural, plus more for rimming glass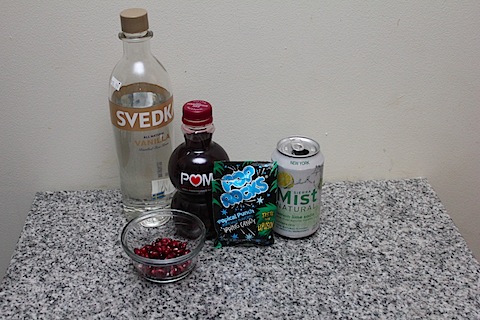 Start by rimming your martini glass with the Pop Rocks. We used Sierra Mist to get the Pop Rocks to stick. We poured the Sierra Mist in a bowl.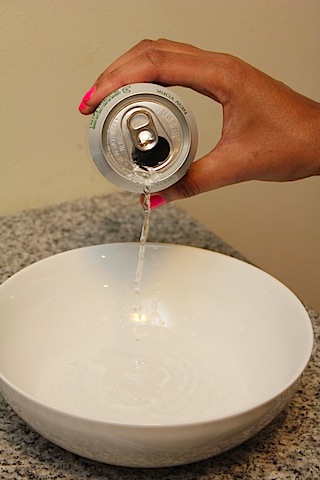 Dipped the martini glass in the bowl.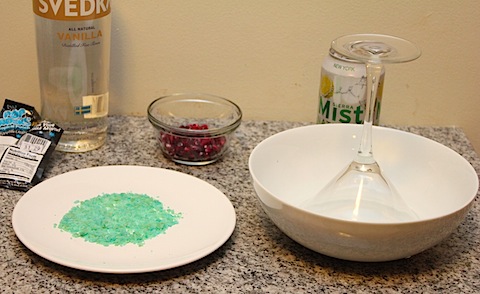 And then dipped the martini glass on a plate of Pop Rocks (warning: this will make all kinds of interesting noises as the rocks start popping!).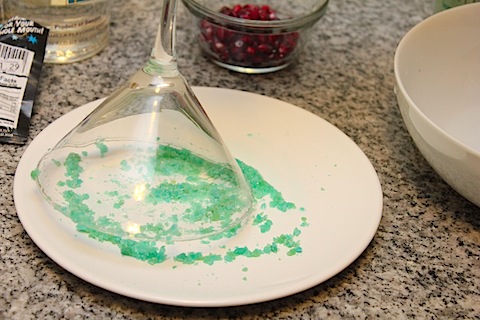 In a cocktail shaker filled with ice, mix together pomegranate juice and vanilla vodka.
Spoon some pomegranate arils into the martini glass.
And pour the mixture over them.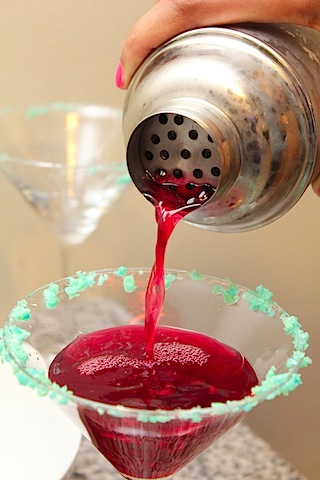 And then top with Sierra Mist Natural.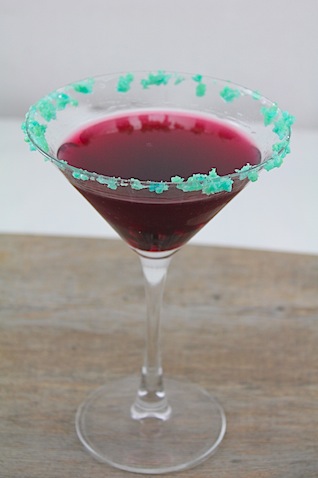 And you're ready to celebrate! If you've never had a martini with a Pop Rocks rim, you're missing out. It's a little bit strange at first… But makes for a totally fun cocktail experience. And perfect for New Year's Eve! I'm pretty sure Pop Rocks should be involved in every type of celebration.
I think I'm now obsessed with the Pomegranate/vanilla combination! And the little bit of citrus sparkle from the Sierra Mist Natural added a little lightness that was just right to mellow out the pomegranate juice. I'll definitely be making this one again.
Sierra Mist Giveaway!
Now we want to give you a chance to win big! To win a Sierra Mist Natural holiday gift pack, including a shaker, drink garnish/sugars, party glasses, and a $50 Amex gift card, all you have to do is comment on this post and let us know what your favorite cocktail or cocktail recipe is (using Sierra Mist Natural, of course!). Let us know by 11:59 p.m. on Wednesday January 4, and we'll pick a winner at random!
And while you're at it, don't forget to like Sierra Mist on Facebook. And if you want to check out the cocktails we made for our first Sierra Mist post, head here!
Happy New Year!!
[Sues]
Disclaimer: Sierra Mist provided us with product and compensation to participate in this campaign. But as always, all opinions are our own and we wouldn't share this with you if we didn't truly believe in it!