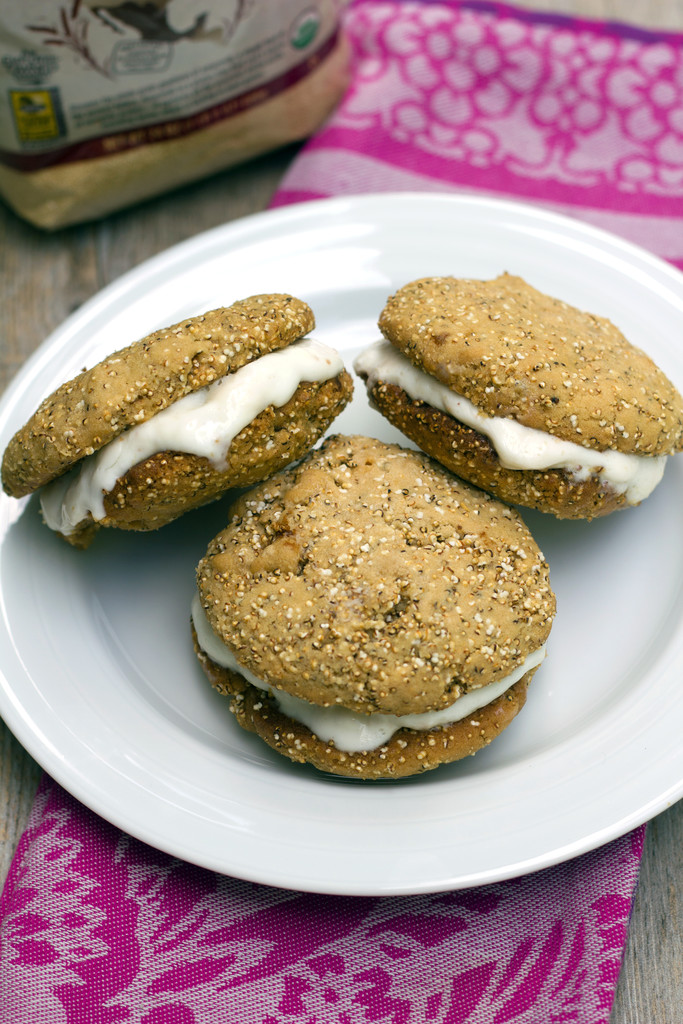 September is probably my favorite month in life. The fact that it's my birthday doesn't hurt; neither does the fact that my birthday falls on National Coffee Day (see? It was meant to be!). The month is also half summer and half fall, which means the best of both worlds. Apples and pumpkin start to become available, but tomatoes, corn, and watermelon can still be found. Honestly, I challenge you to find me a better month. Oh, and it's also National Whole Grains Month! As a Whole  Grain Ambassador for the Whole Grains Council, I'm thrilled to be participating in the Make the Switch campaign, encouraging anyone and everyone to try utilizing whole grains in recipe favorites.
I was especially excited about this campaign because it gave me the chance to try a new-to-me whole grain… amaranth! Have you heard of it? Here are a few of the awesome things I learned about the grain:
Amaranth was a staple food of the Aztecs and didn't really start to create research interest in the U.S. until the 1970s.
The grain contains three times the average amount of calcium and is also high in iron, magnesium, phosphorus, and potassium. It's also the only grain that has Vitamin C!
It contains more protein than many other grains, at 13-14%. One study found that the protein in amaranth, "is among the highest in nutritive quality of vegetable origin and close to those of animal origin products."
Amaranth has shown potential as a cholesterol-lowing whole grain in several studies.
It's naturally gluten-free
You can pop it. Yes, you can pop amaranth.
Can someone please tell me why we aren't all eating amaranth on a regular basis?? Or maybe you already are and for some rude reason,  you chose to keep this grain a secret from me for so long?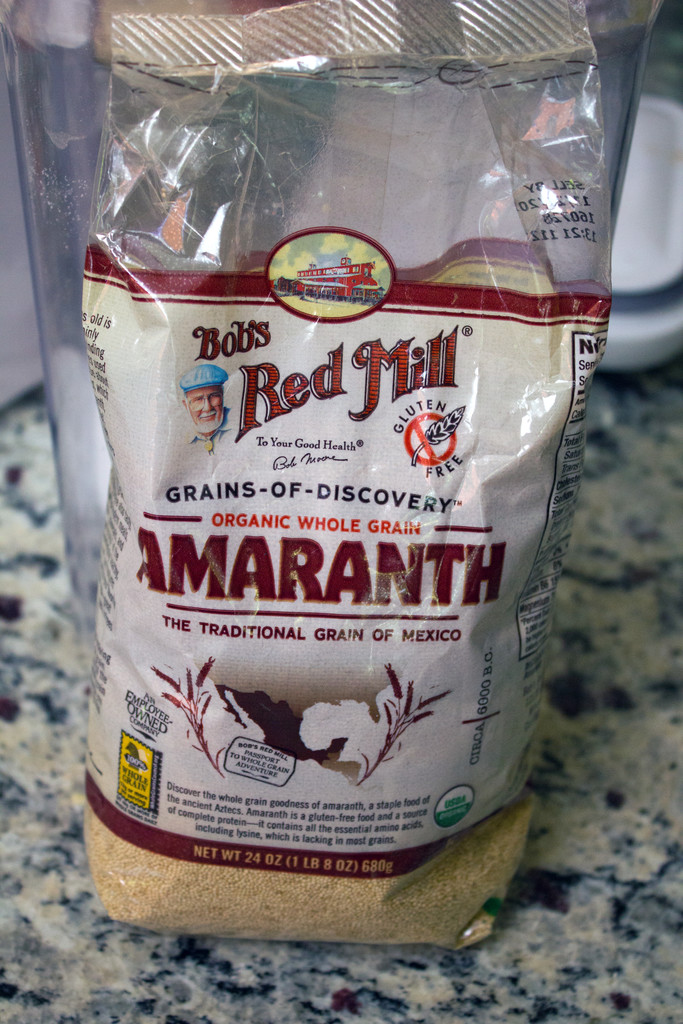 While I was incredibly excited about all the health benefits of amaranth, I admit that I really just couldn't wait to see what popping it was like. I immediately decided I'd be using popped amaranth in my recipe and decided cookies would be perfect. But not just any cookies… cookies that would be the basis for ice cream sandwiches. But not really ice cream sandwiches… More like frozen yogurt sandwiches.
Amaranth Frozen Yogurt Sandwiches (makes about 24 cookies, or 12 sandwiches):
Print this recipe!
1/3 cup amaranth
1/2 cup (1 stick) butter
1 cup whole white wheat flour
1 teaspoon baking soda
1 teaspoon salt
1/4 cup granulated sugar
1/2 cup packed brown sugar
1/2 cup peanut butter
1/3 cup peanut butter chips
1 batch maple toffee frozen yogurt (see below)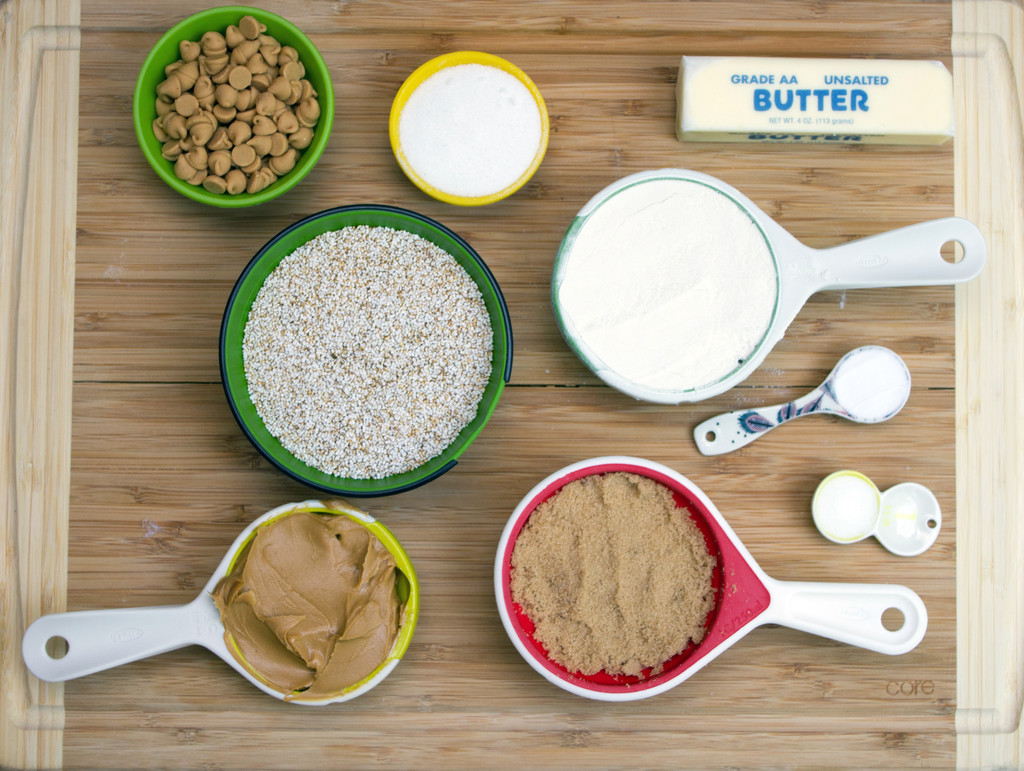 Pre-heat oven to 350 degrees.
And then start by popping the amaranth. This part is pretty cool (In my totally nerdy opinion of cool I guess). You pop this pretty much how you would popcorn, except without any added oil.
Heat a medium-sized saucepan over medium heat.  Once heated, add 1 tablespoon of amaranth to the pan and immediately cover with lid. Shake pan back and forth and listen for popping. The amaranth should be fully popped within 15 seconds and you'll want to take the pan off the heat and remove popped amaranth to bowl before it burns. Repeat with the rest of the amaranth.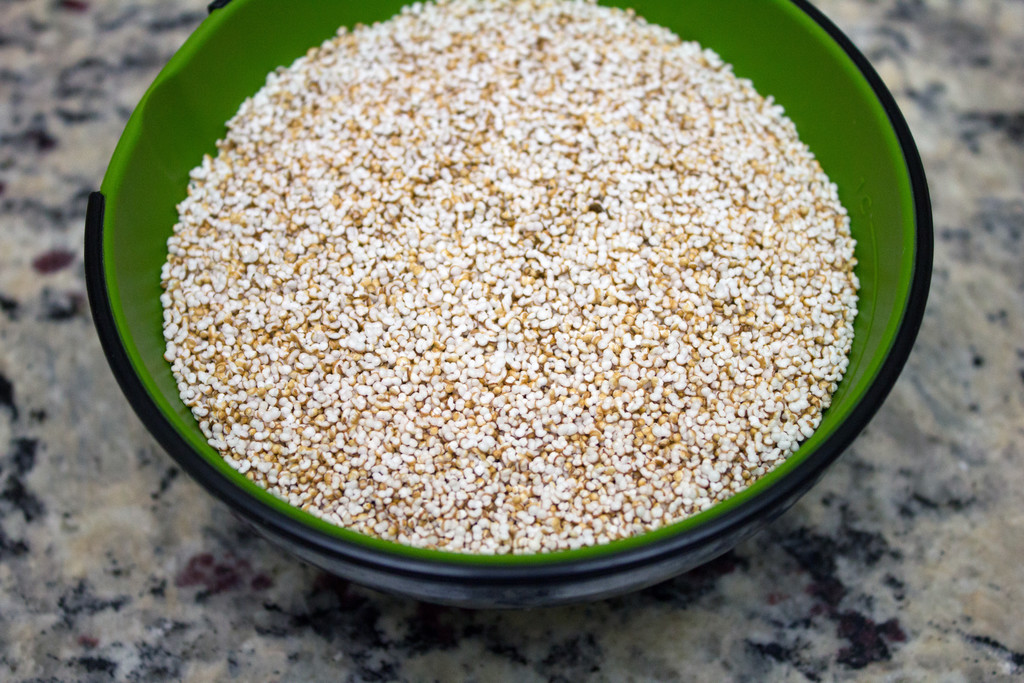 You can see that the amaranth is a little bit bigger and pouffier than before it was popped. This make take you a couple tries as it's really easy to burn the amaranth. And you don't want to be taking the cover off the pan before it's done as the amaranth will legit pop all over your kitchen!
Now, In a medium bowl, whisk together the flour, baking soda, and salt. Set aside.
In a stand mixer (or in a large bowl with a hand mixer), cream together the butter and two types of sugar. Add the peanut butter and blend together.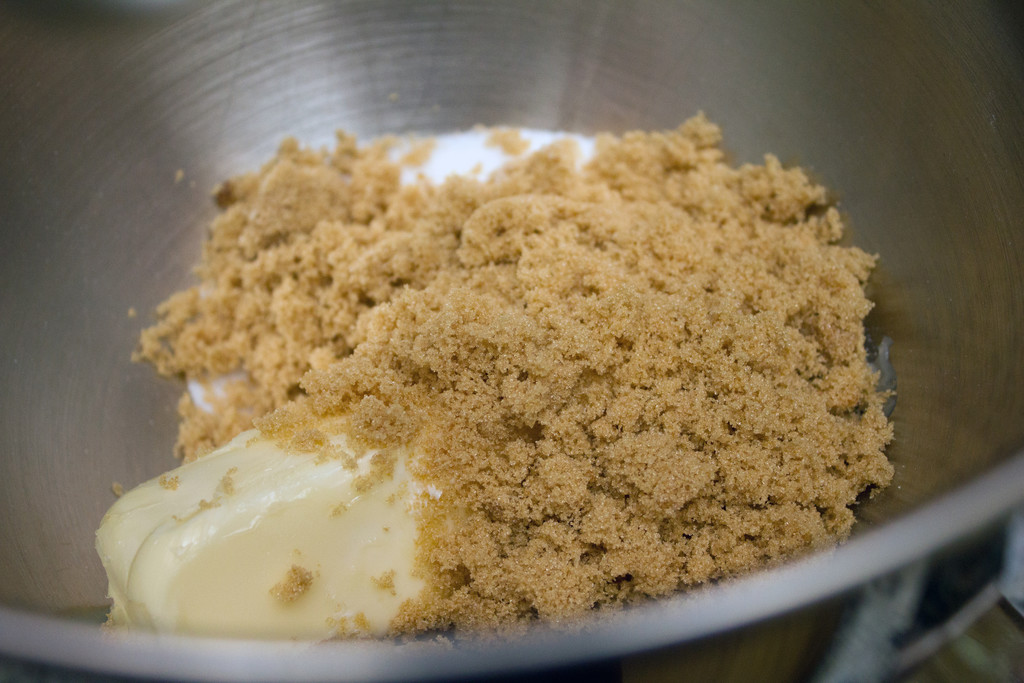 Mix in the flour mixture until just combined (taking care not to over mix). And then stir in the popped amaranth and peanut butter chips with a wooden spoon.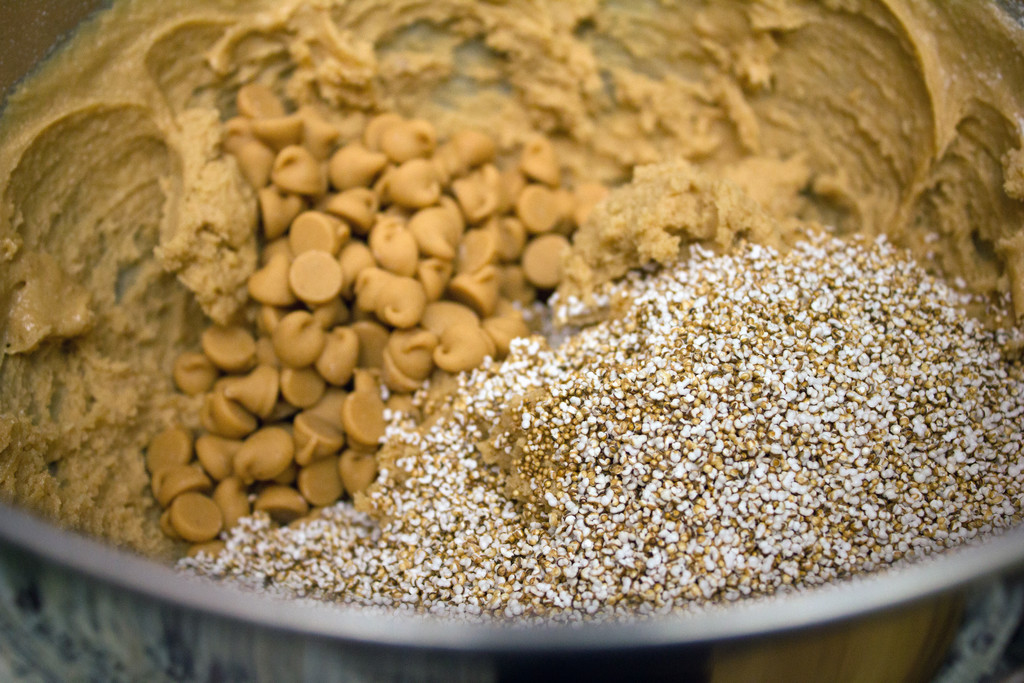 Roll a tablespoon of dough into a ball and drop onto a parchment-lined baking sheet. Flatten into disk. Repeat until all dough is used. You should have about 24 disks.
Bake at 350°F for about 10-12 minutes, until cookies are just starting to brown around edges. Remove from oven, let cool a bit on tray, and then move to a wire rack to cool completely.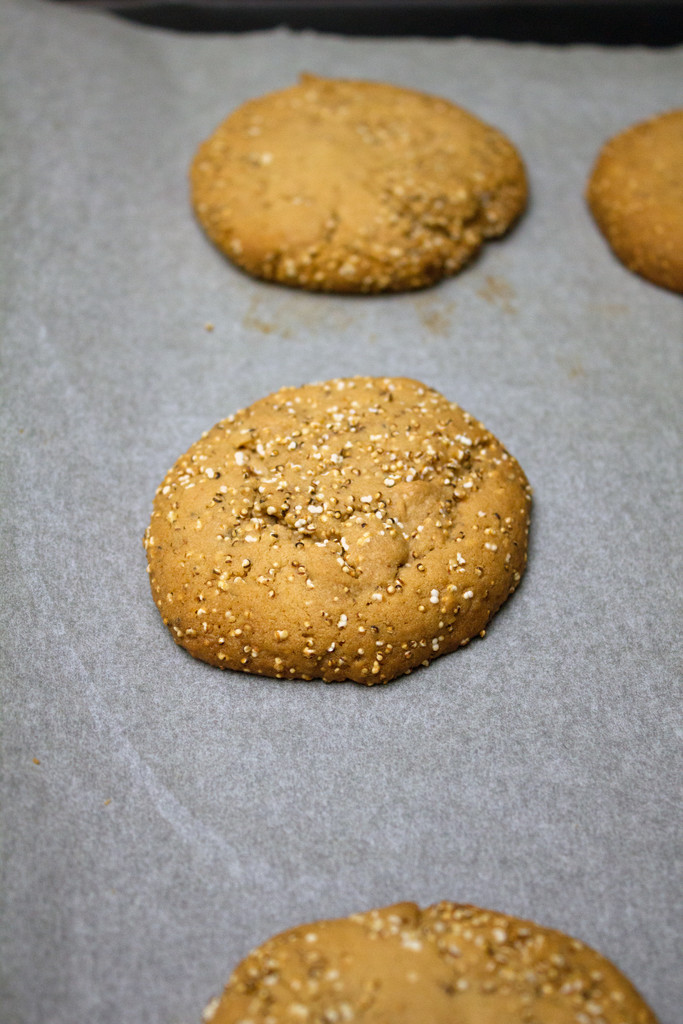 Maple Toffee Frozen Yogurt:
Print this recipe!
16 oz. Greek yogurt (nonfat will give you an icier yogurt, while 2 % will be creamier)
2 tablespoons granulated sugar
1/4 cup maple syrup
1/4 cup toffee bits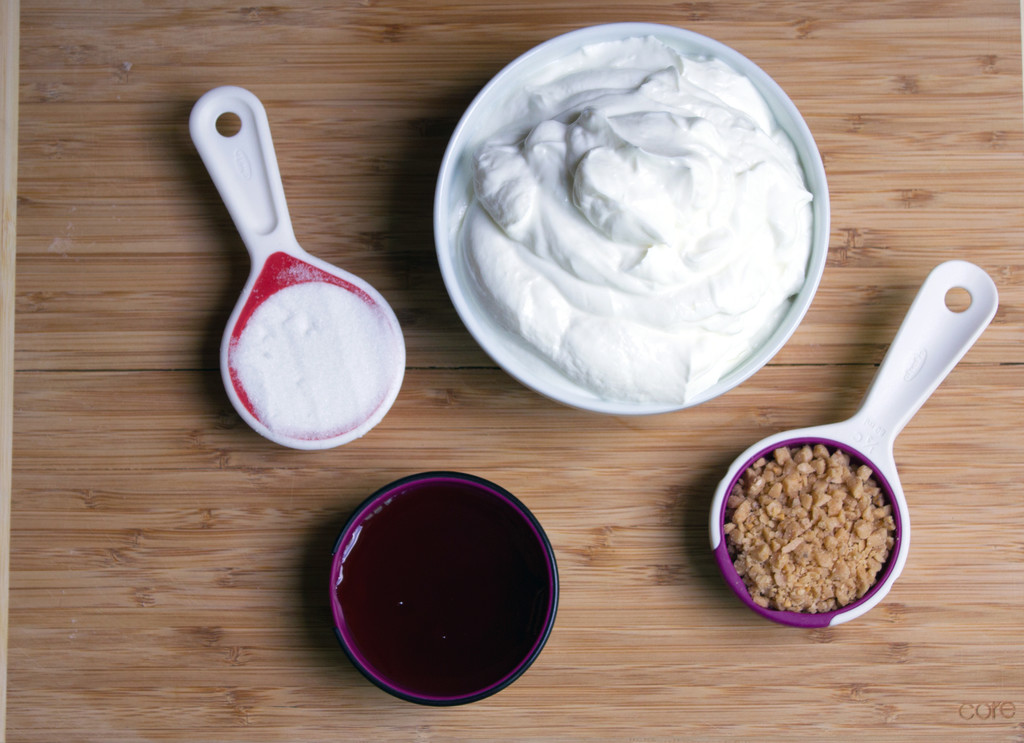 While the cookies are cooling, make your own maple toffee frozen yogurt. Start by mixing together Greek yogurt, sugar and maple syrup in a large bowl until well combined.
Place mixture in the drum of an ice cream maker and churn according to manufacturer's instructions.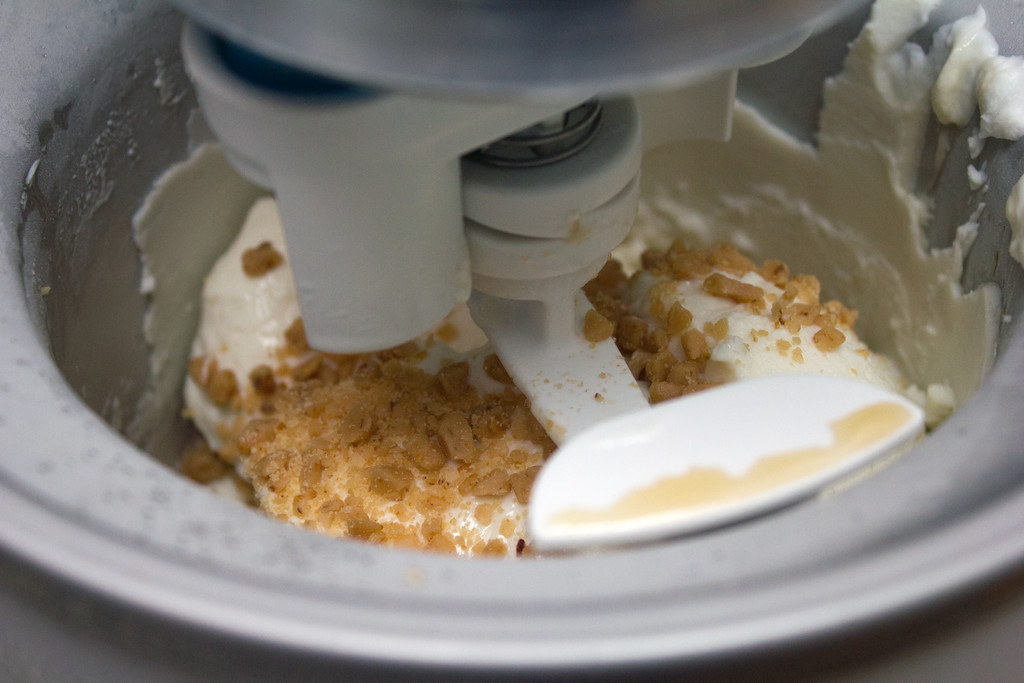 When yogurt is almost done churning (about 20 minutes), add in toffee bits and churn for a few more minutes.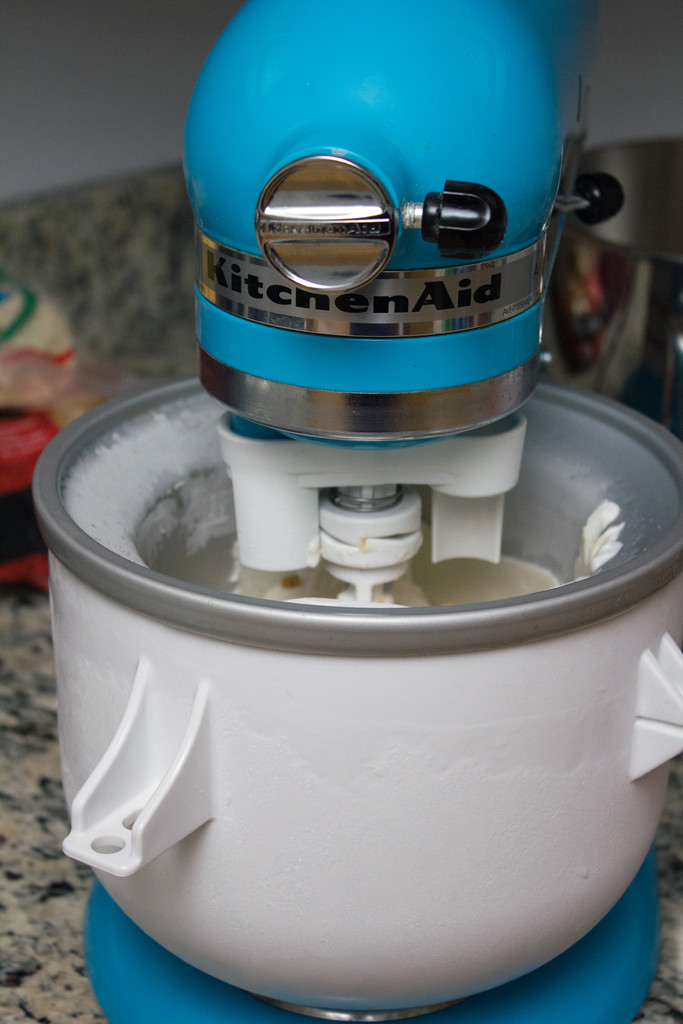 Remove frozen yogurt mixture to a container with an airtight lid and let freeze for at least two additional hours.
When cookies are fully cooled and yogurt is fully frozen, place a small scoop of frozen yogurt on one cookie and top with another cookie.
Store sandwich cookies in freezer until ready to enjoy.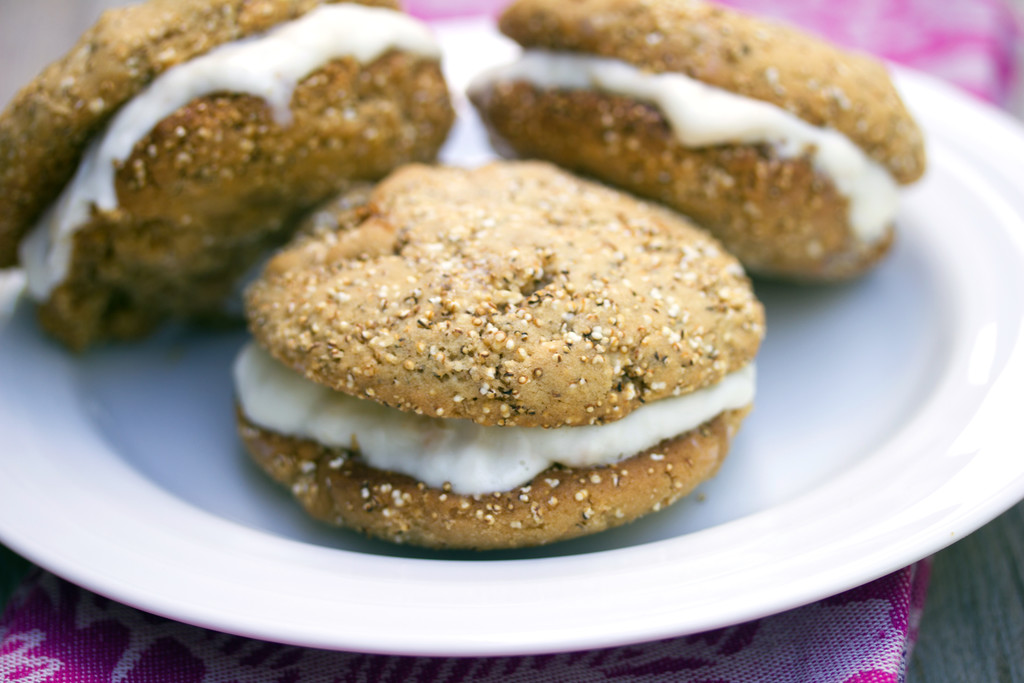 Obviously, ice cream sandwiches (even when made with frozen yogurt!) are always a good idea… But with these cookies? Let's just say that Chris claimed these are some of the best cookies I've ever made. And he had never heard of amaranth.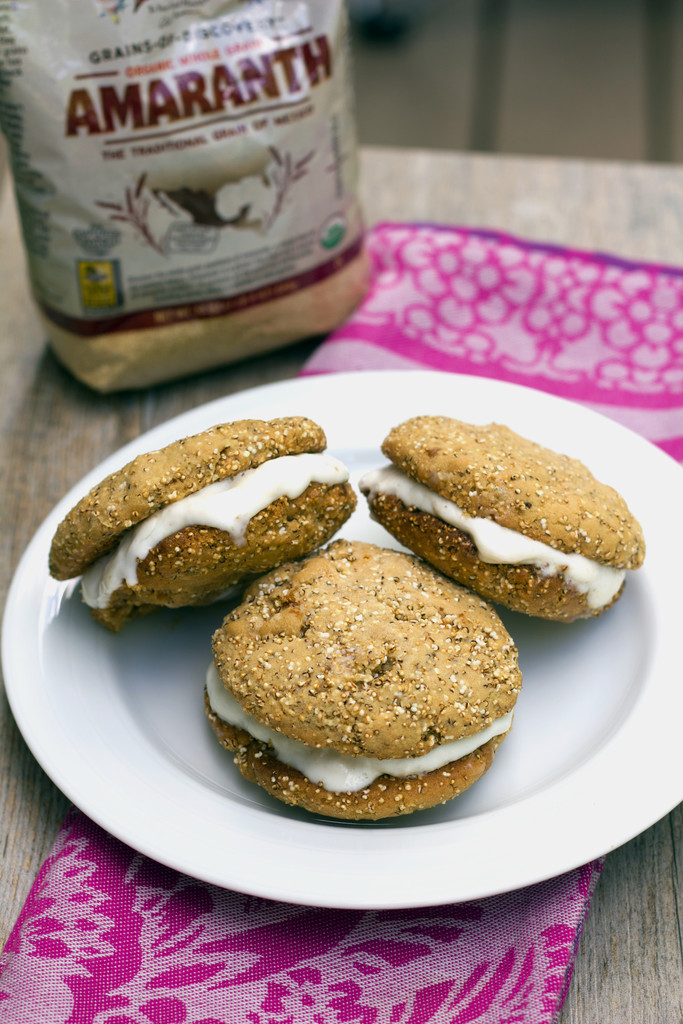 First of all, I think that if you're nervous about substituting your regular ingredients for whole grains, try it in recipes with peanut butter first. Peanut butter helps bind ingredients together and keeps many baked goods moist and tasty. I couldn't believe all these grains made such a perfect cookie, but they did!
The popped amaranth added a really interesting texture that I was a huge fan of. A little bit of crunch. Kind of like popcorn, but much tinier.
I can't even tell you how excited I am to have this new whole grain in my life. Hooray!
If you want to see more fabulous recipes from Whole Grain Ambassadors, head over to the Whole Grain Council's website. I'd also LOVE if you voted for my recipe in the Make the Switch campaign. You'll even have a chance to win $500!
Have you ever had amaranth before?
[Sues]