I don't make pork very often. There's not really a reason why; "the other white meat" just doesn't pop into my head on a daily basis. And to be honest, pork can feel a little bit boring to me. So, when I do make pork, I know I really want to jazz it up. And when I want to jazz meat up, I'm usually pretty sure a couple cheeses stuffed inside does the trick. And this case? The trick was done. Thank you for the inspiration, Giada De Laurentiis.
Boneless pork chops may be my new best friend and this recipe came out so tender and juicy. Do you know what I learned, though? From Wikipedia? Pork is actually NOT a white meat! It's not! Pork is actually a red meat. It makes me wonder if the pork campaigns would be more successful saying "Pork is the healthy red meat" rather than "the other white meat." Things to consider.
Pork Chops Stuffed with Sun-Dried Tomatoes and Spinach:
2 T olive oil
2 cloves garlic, minced
6 sun-dried tomatoes, diced
1 (10 oz.) bag of frozen spinach, thawed and excess water squeezed out
½ t salt
½ t freshly ground pepper
¼ t dried thyme
¼ C (2 oz.) goat cheese
⅓ C reduced-fat cream cheese
4 (4 oz.) center-cut pork chops
1 ½ C chicken broth
½ lemon, zested
2 T lemon juice
2 t dijon mustard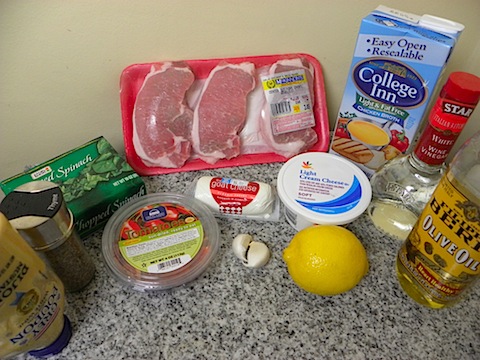 This recipe is totally simple simon too. The most important thing is making sure you take your spinach out of the freezer to thaw and drain as much water as you possibly can from it. There's only a little bit of chopping involved in the recipe... Chop up the sun-dried tomatoes and mince your garlic (if you had a garlic zoom, it would be easier... duh!).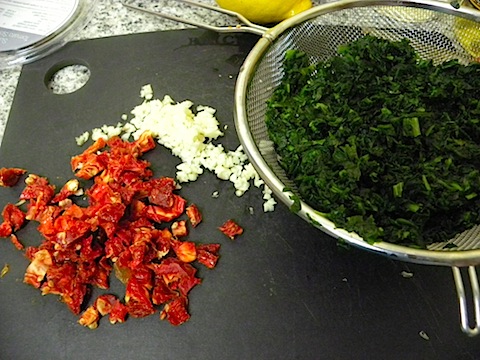 Warm 1 T of the olive oil in a medium saute pan over medium heat. Add the garlic and cook until fragrant (YUM), about 1 minute. Then add the sun-dried tomatoes, spinach, salt, pepper, and thyme. Cook until combined, about 2 more minutes.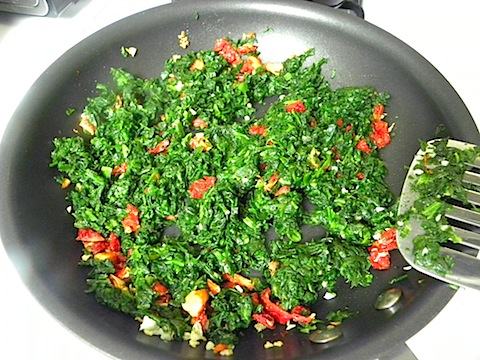 Transfer mixture to a medium bowl. Add the goat cheese and cream cheese and stir to combine.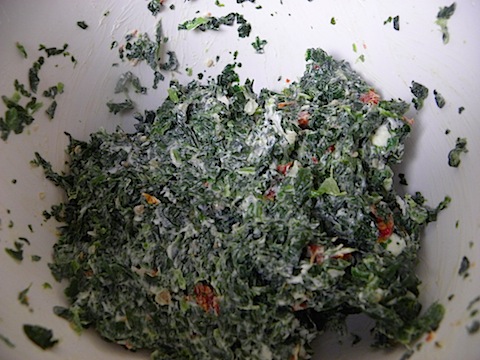 Now, using a sharp knife, cut a pocket into the thickest portion of the pork chop and stuff them with the spinach mixture. The recipe says to use ¼ of the mixture for each (for 4 pork chops). I only had 3 pork chops, but I stuffed them FULL and still had tons of leftover spinach mixture.
The recipe also says to close the pork around the stuffing. But my pork chops were stuffed so full that I couldn't properly close them. No big deal. The more, the merrier. Season with salt and pepper.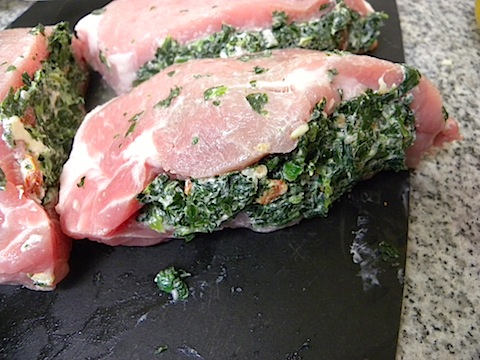 Warm the remaining 1 T olive oil in a large skillet over medium heat. When the pan is hot, add the pork chops.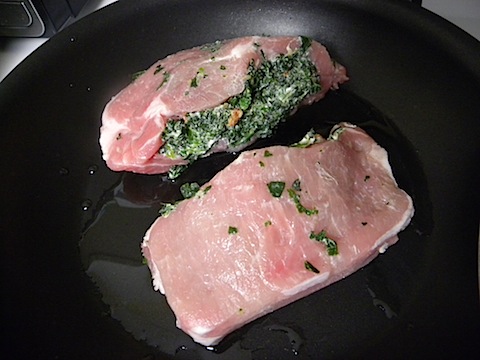 Cook until golden and cooked through-- the recipe said this will take about 4 minutes per side. But mine took about 6 minutes per side. Make sure you have a spatula on hand to help prevent the filling from falling out (especially if you didn't close the pork around the stuffing).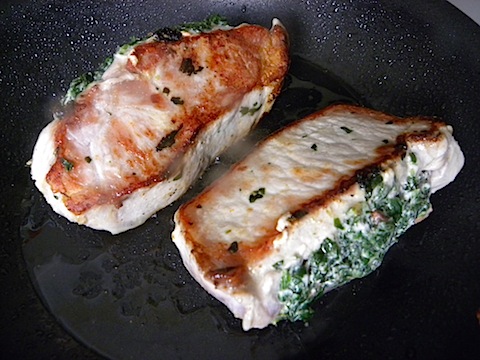 Transfer the pork to a side dish and tent with foil to keep warm.
In the meantime, combine chicken broth, lemon zest, lemon juice, and mustard in a small bowl. When your pork is all cooked and transferred, add the chicken broth mixture to the skillet over medium-high heat. Scrape the brown bits in the pan (YUM) as the chicken broth simmers.
Reduce the broth by half, about 8 minutes.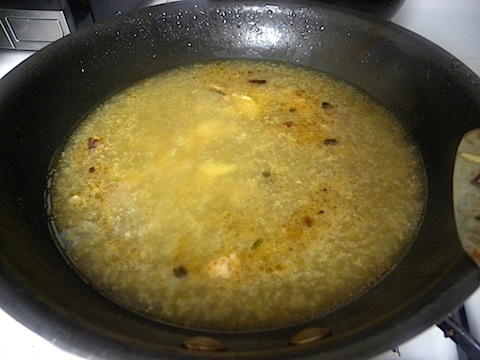 Spoon over the pork and serve! I served some green beans on the side.
I'm pretty sure it's incredibly difficult not to love this dish. I mean, spinach, goat cheese, and sun-dried tomatoes? Stuffed into a pork chop? Pork is no longer boring.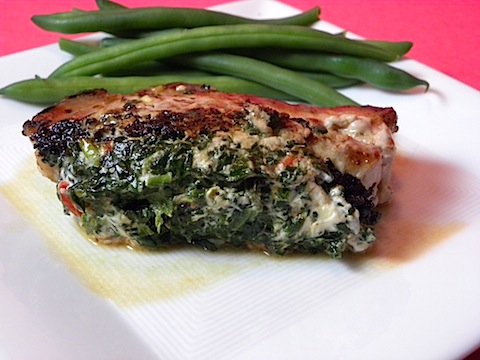 You know, now that I've had this dish, I've decided I don't care what color meat pork is. Just that it's delicious.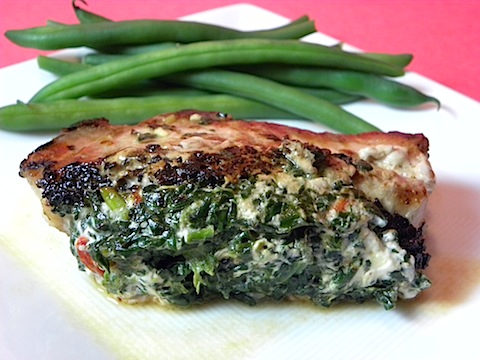 By the way, pork is on Twitter now! I know, right? Who isn't on Twitter these days? I could probably find every one of the ingredients in this recipe on Twitter. Goat cheese? Hello! (OK, I just looked and there is a guy named goat cheese, but he's not the goat cheese). Cream cheese, however, is on Twitter. Alright, Alright, I'm stopping now.
In conclusion, make this. And follow all your favorite foods on Twitter.
How do you prepare pork to make it "the most exciting meat"?
[Sues]