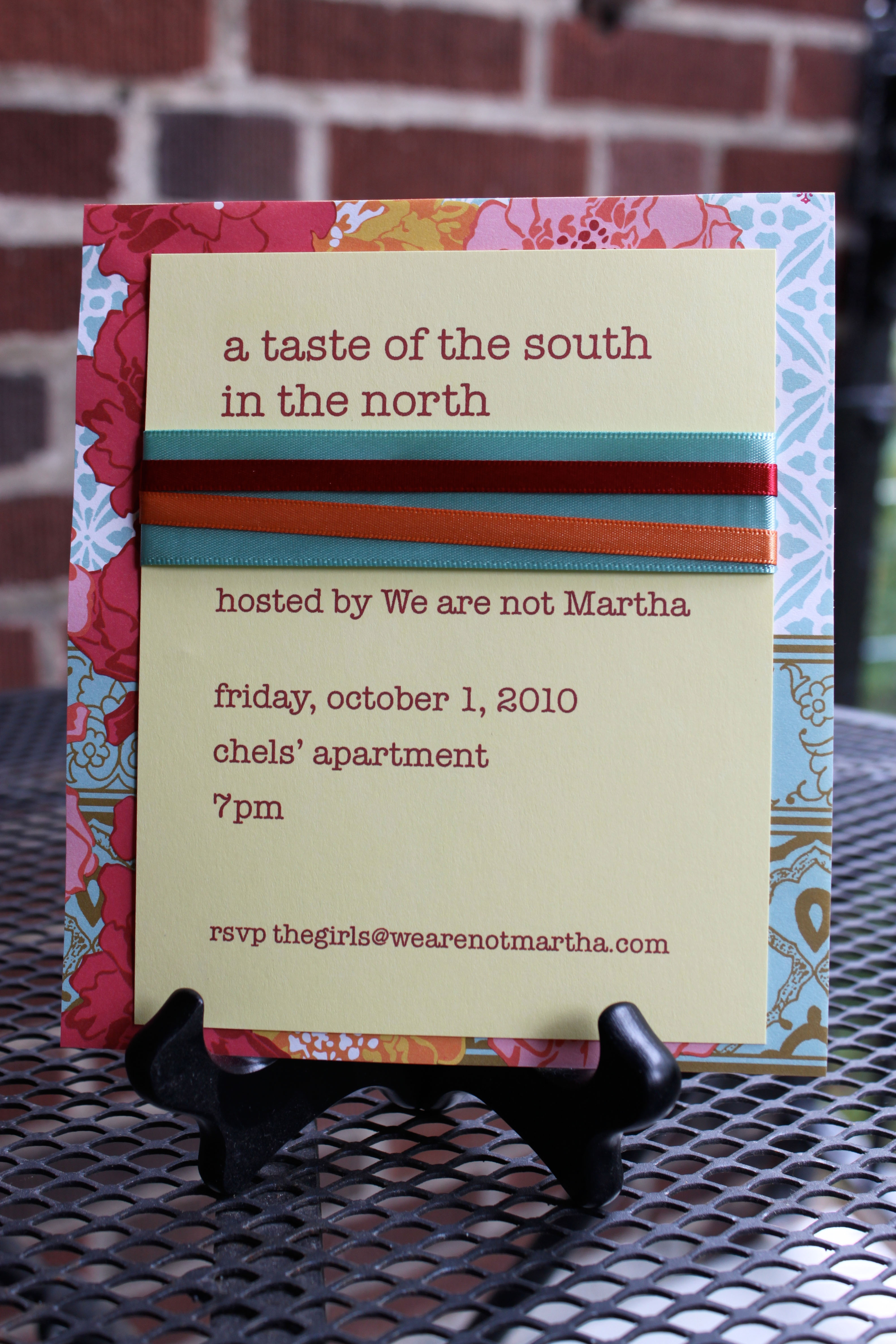 Sometimes it doesn't feel like there's enough time in our busy lives for luxury. So, when we sat down and talked about ideas for Project Food Blog's Luxury Dinner Party (challenge #3), we determined luxury simply means relaxing and enjoying good food with our closest friends– something we don't get to do often enough.
Our city apartments aren't quite what you'd describe as luxurious. They're comfortable and we've done a fabulous job of making them our own. And during this time in our mid-20s, neither of us would dream of living anywhere else. But living in the city means making some sacrifices. Like not having huge kitchens. And not having a dining room with a long table for fancy dinners. But since we both love to entertain, we've adapted to our living spaces quite well. Our dinner parties are not generally traditional, but at the end of the day if there's a table (or 2) filled with homemade food, friends crowding your couches eating and laughing, and a kitchen piled high with dirty dishes, you can consider it a success.
Northerners through and through, we decided to introduce our friends to some new flavors. Flavors from the South. We chose to cook up a Southern dinner, adding little exotic twists and flairs where we felt appropriate. We threw on our plaid shirts, boots, and a little country music and got to work in the kitchen.
But first, we made lists. Because we've entertained a good amount, we know how important lists are. Right after we determined our menu, we made a list of all the ingredients involved. And then we color-coded it according to items we'd be using more than once, items we already had in our kitchens, produce, baking items, refrigerated items, and condiments.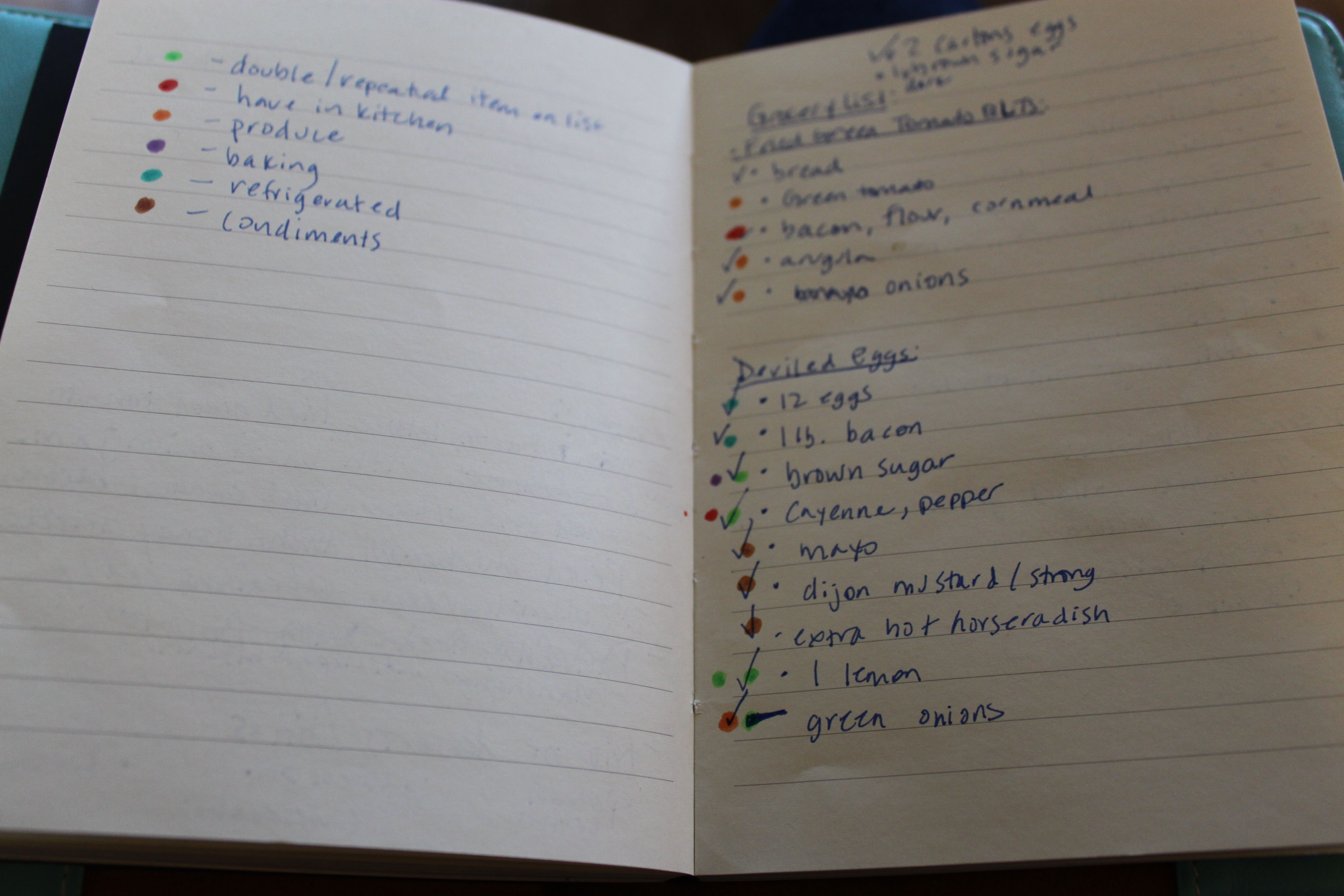 This saved so much time in the grocery store as it was super easy to get everything on the list without running back and forth through the store.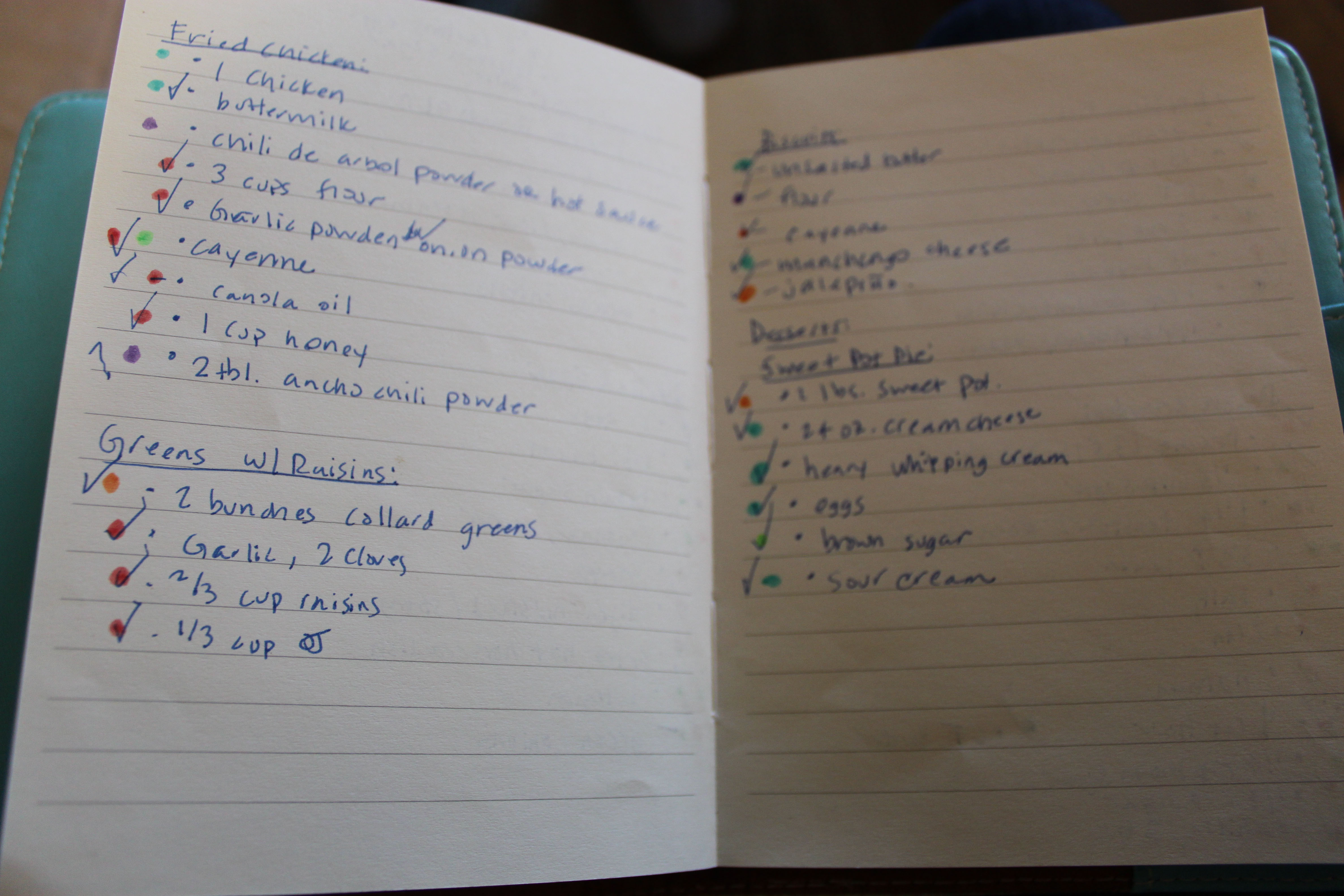 And when we started cooking, we knew we had everything we would need for the entire evening. No last-minute trips to the corner store!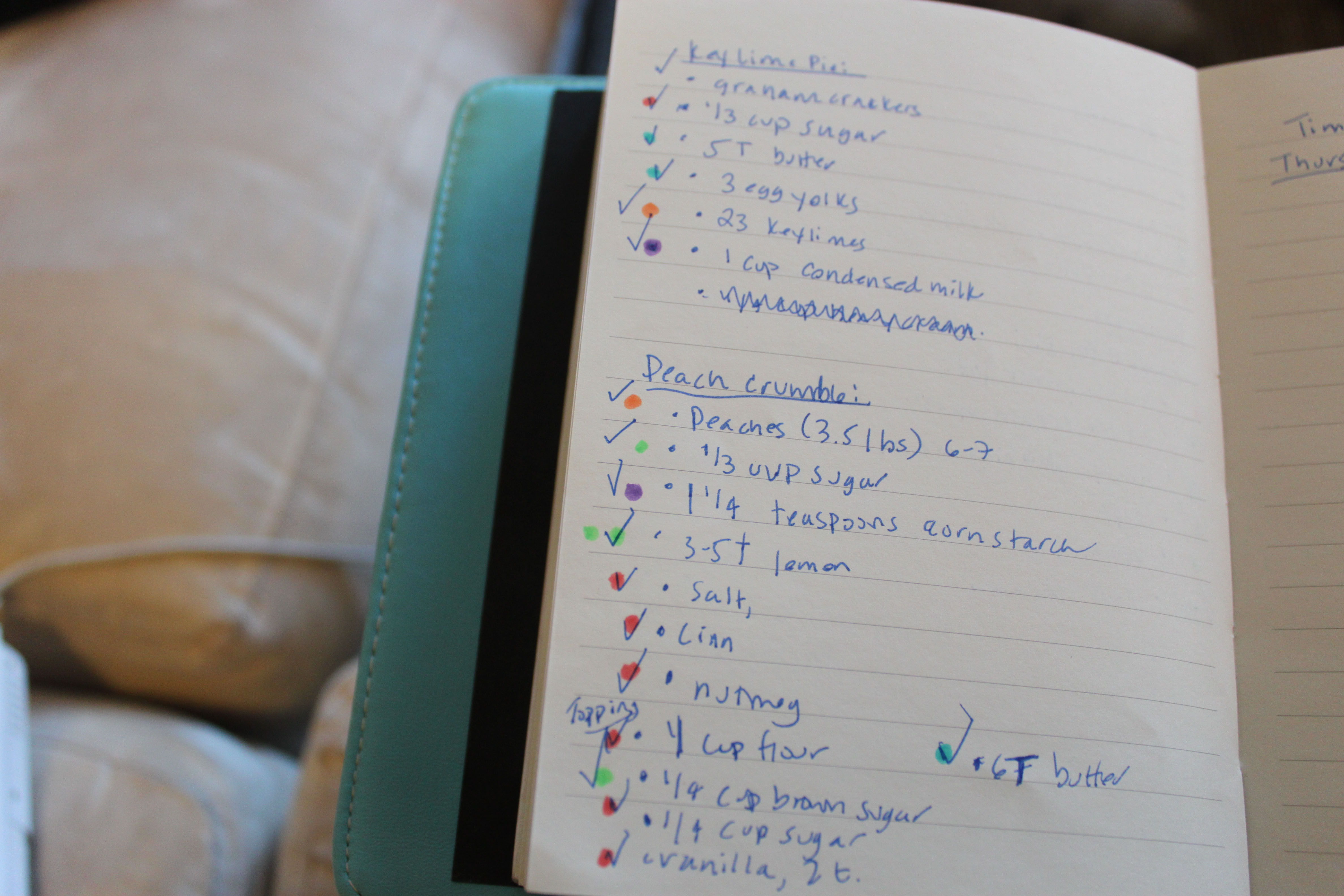 Before we started cooking, we lined up our bounty of dishes. Because who wants to have the main course ready to go only to realize you have no platter for it? Organizing your serving dishes before you start cooking will help you feel so much more relaxed while cooking. We think this is especially key if you live in a small apartment where you might store your dishes in mysterious places (what? nobody else has a box of dishes in their bedroom closet?).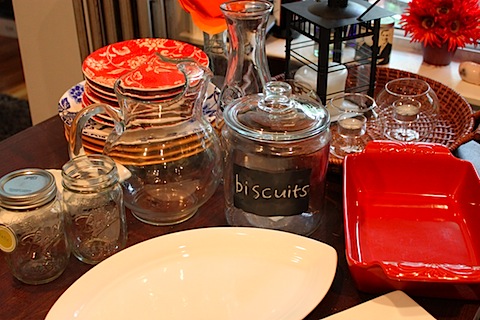 If you decide to design your own printed materials for your dinner party, we suggest picking a color combination and carrying it throughout. When we spotted this marigold paper, we instantly thought of a sunny day down South. We used the paper for our wall-mounted menu board and made sure to incorporate the colors throughout the evening in our dishware and decor.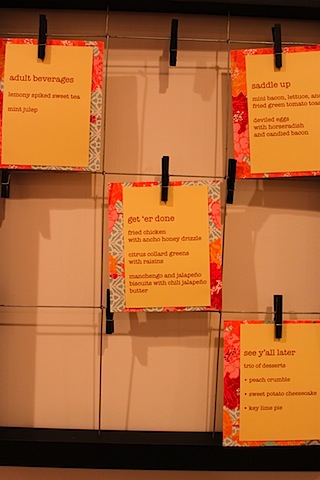 Instead of sticking with traditional course titles (appetizer, entree, etc.), we decided to have a little fun and gave each course a Southern twang: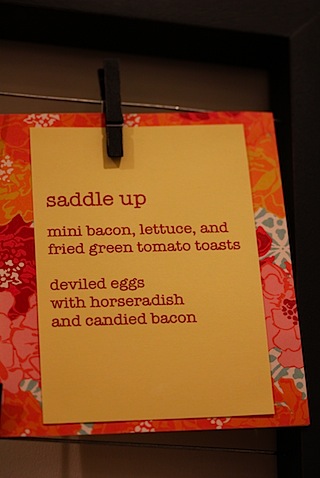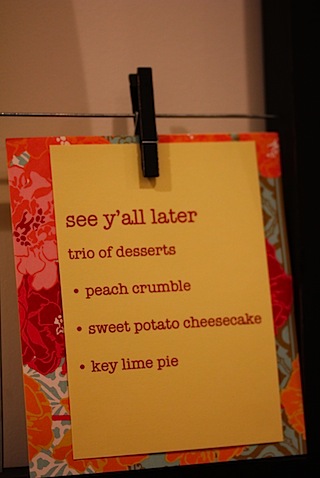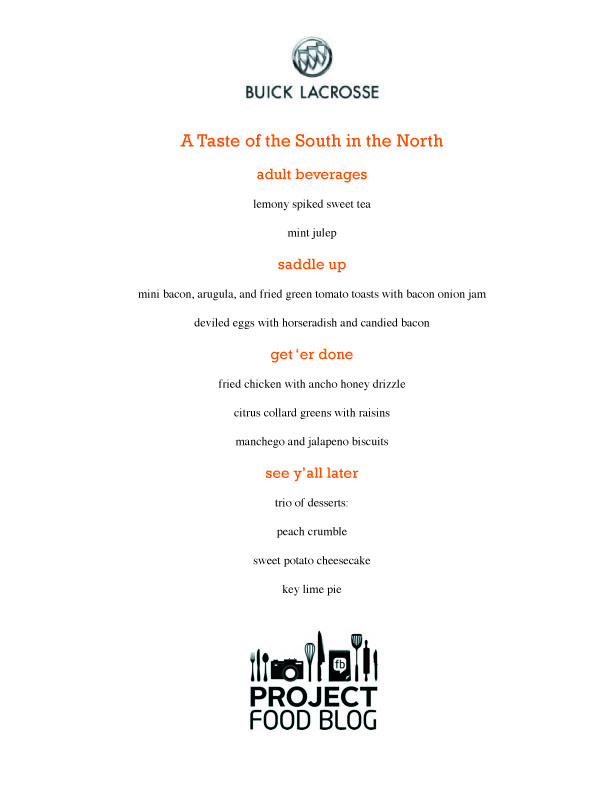 To us, it's always important to bring in decor that relates back to your theme. We wanted our guests to be comfortable and at home while attending our dinner party, so we tried to keep the mood warm and cozy.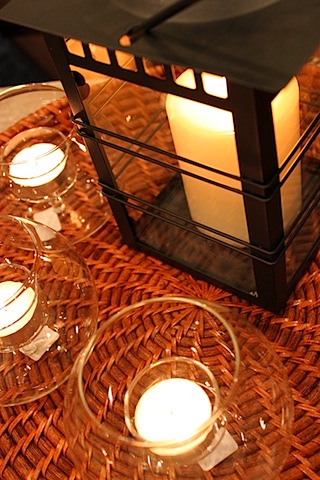 Drinks, of course, are essential. And should be ready upon your guests arrival. Especially if you're still bustling around finishing up last minute touches in the kitchen. Drink in hand, spot on couch, and your guests will be good for at least 10 more minutes.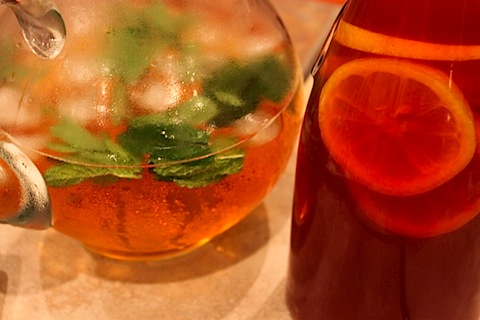 Our Southern theme inspired us to try two new drinks. We sipped on mint juleps made with a mint simple syrup and Kentucky bourbon and a Spiked Lemony Sweet Tea, made with orange pekoe tea, rum, and plenty of lemon and sugar.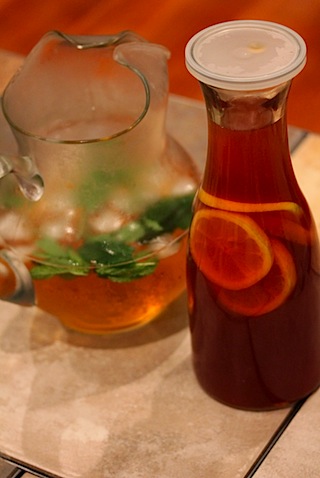 If you don't have a dining room and lots of space for a beautifully set table, you need to count on the little touches instead. We decided mason jars would be perfect for serving the sweet tea and mint juleps in. To prevent guests from confusing their beverages with someone else's, we designed personalized rim-tags and attached them to the mason jars.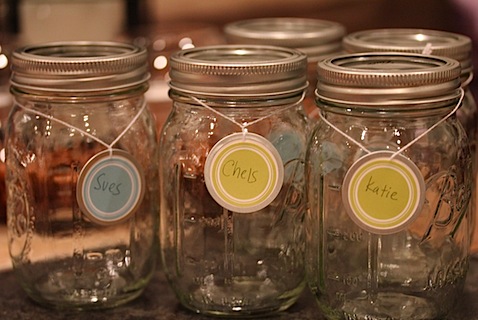 At the end of the night, we simply rinsed the jars and gave them to our guests as party favors.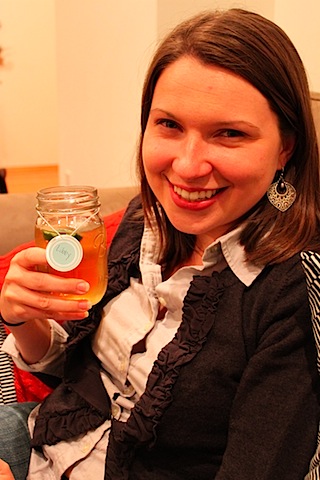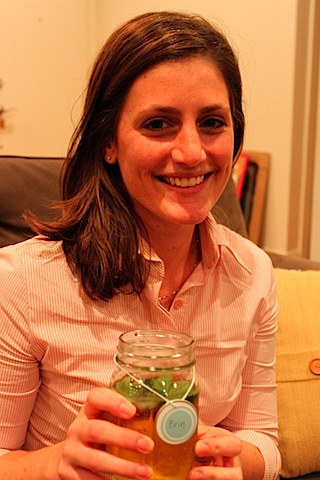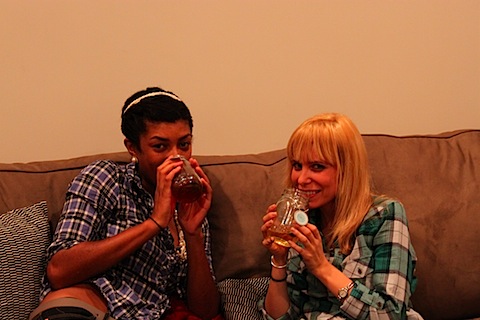 When your guests ask you what's for dinner, refuse to tell them and say, "Check the menu!" Especially when your guests are people you've known your whole life.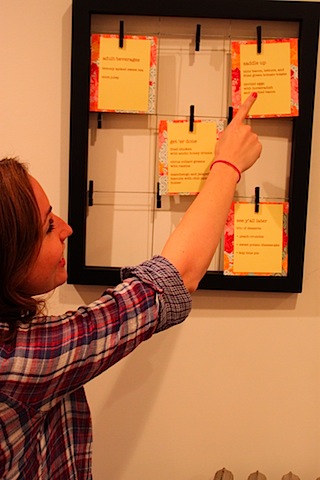 And if you, as the hostess, can't remember what you're serving, you can always check the menu, too 🙂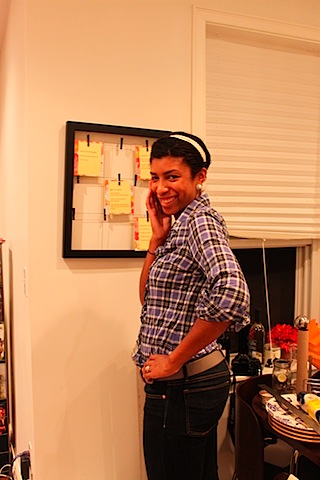 We started our guests off with a few hors'dourves to nibble on while enjoying their drinks. We served mini double-smoked bacon, arugula, and fried green tomato toasts with bacon onion jam.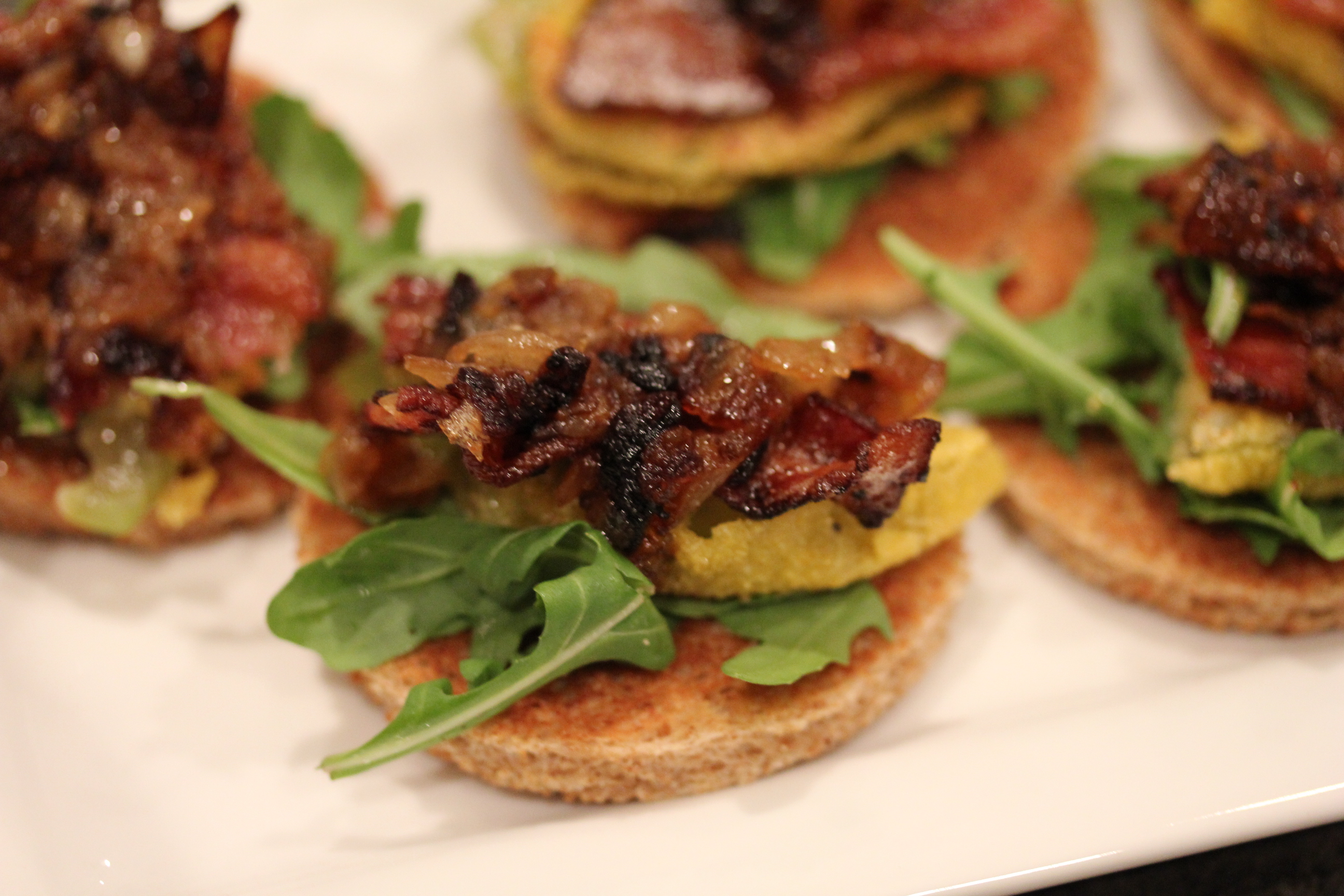 Fried green tomato BLTs are a popular sandwich in the South and we thought the onion bacon jam would be the perfect way to top off the toasts for an extra punch of unique flavors.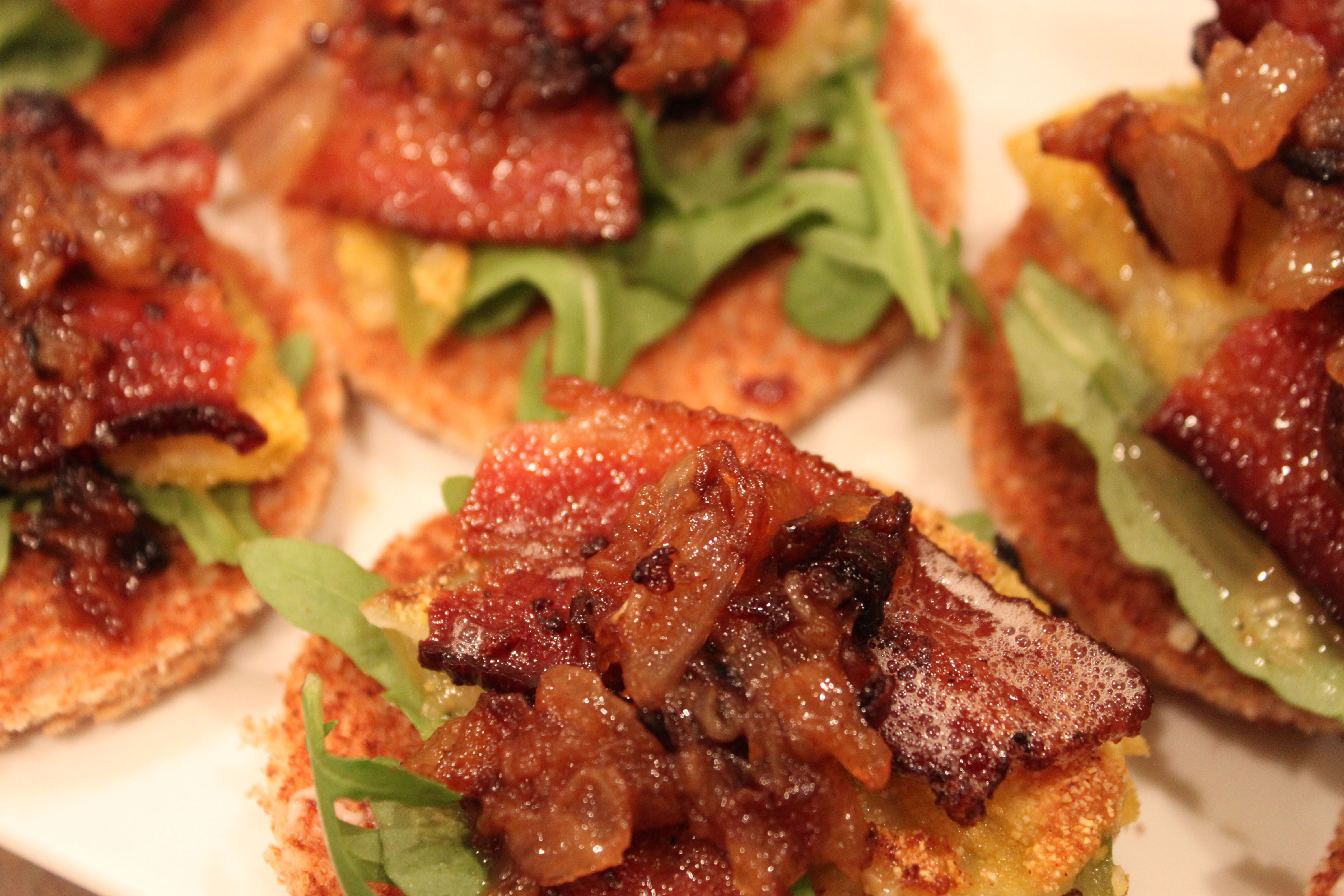 We knew we were going to include deviled eggs on the menu, but wanted to make them more current. So, we decided to do deviled eggs with horseradish and candied bacon.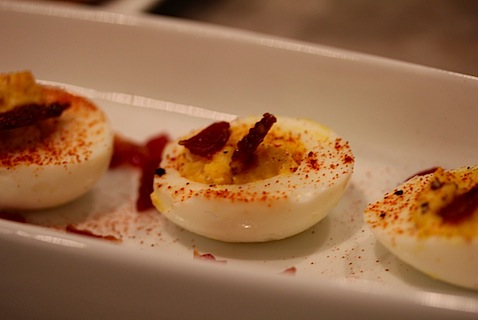 To candy the bacon, we coated the bacon in brown sugar and cayenne and baked it.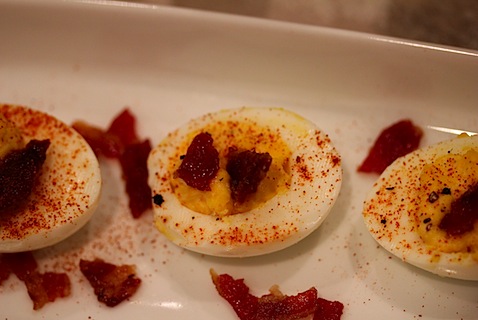 Everyone knows fried chicken is a traditional Southern entree, so it immediately came to our minds when thinking about our main dinner party dish. But could we make fried chicken even more exciting? We added lots of cayenne to the buttermilk batter and took a cue from Bobby Flay by drizzling some ancho-honey glaze on the finished chicken.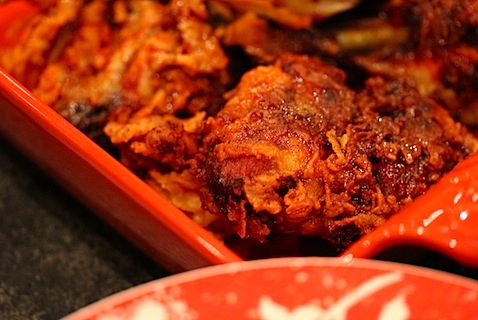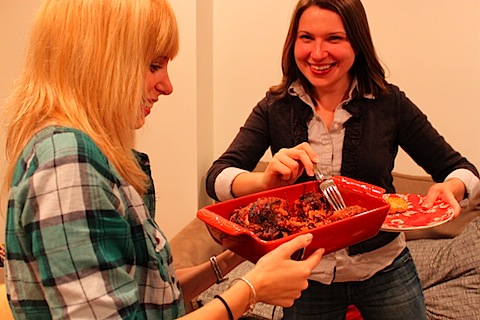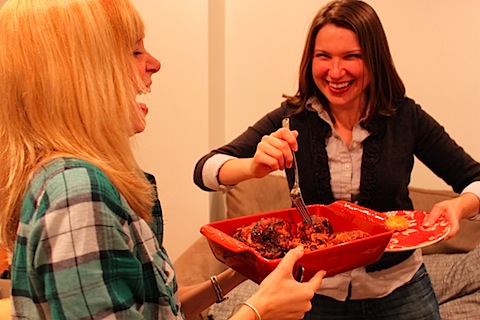 Collared greens are a traditional Southern side and we jazzed ours up with raisins, garlic, and lots of citrus.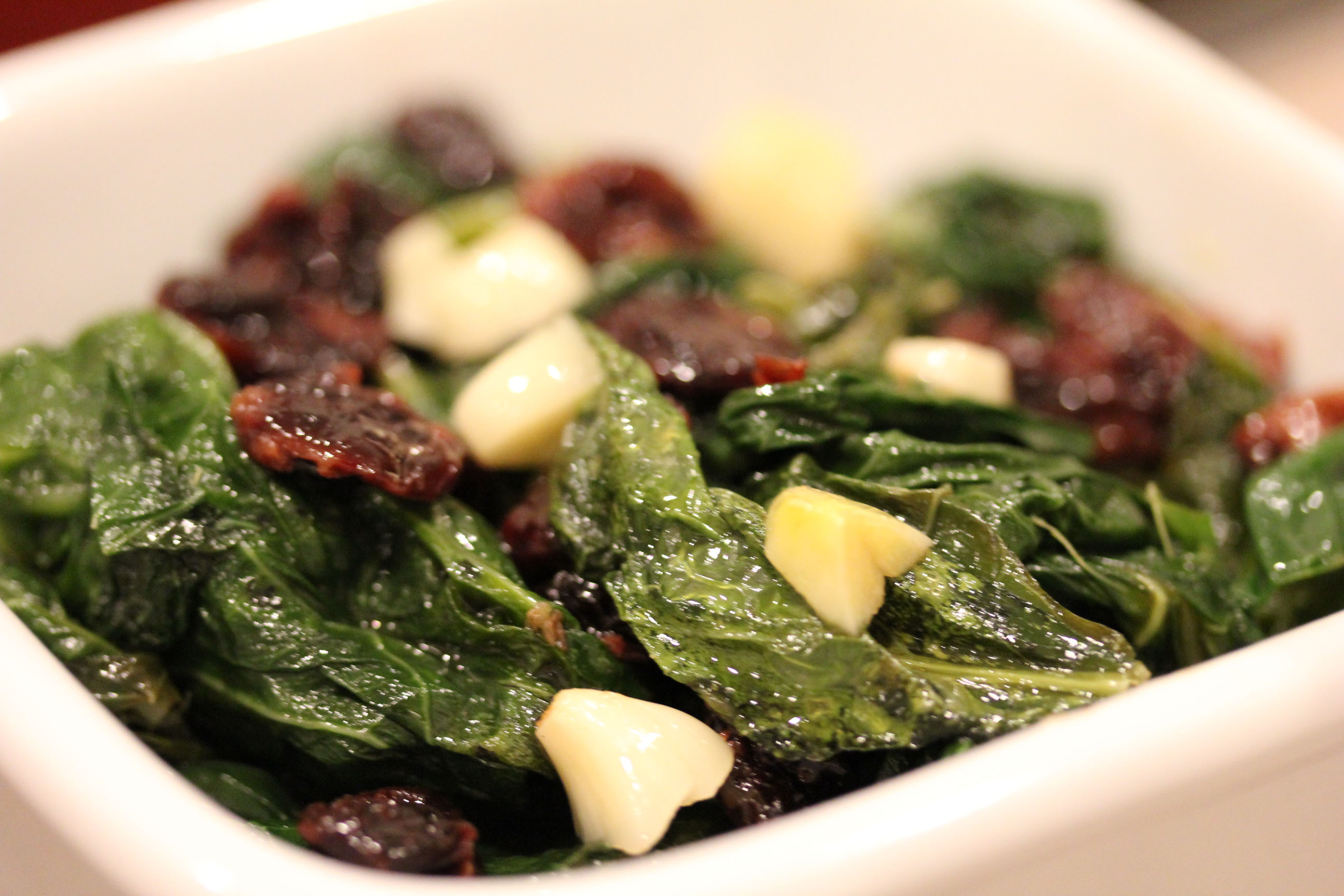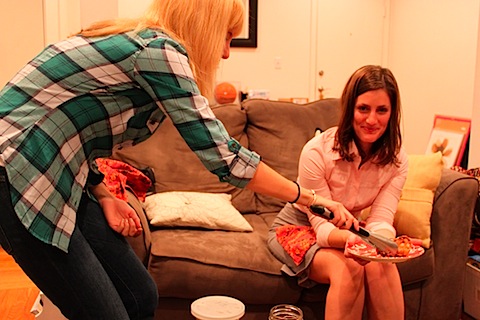 Although we're from the North, we know you can't have a Southern dinner without biscuits. We put a spin on the traditional biscuit by using manchego cheese, jalapeno, and cayenne. They were crispy, but flaky and deliciously spicy.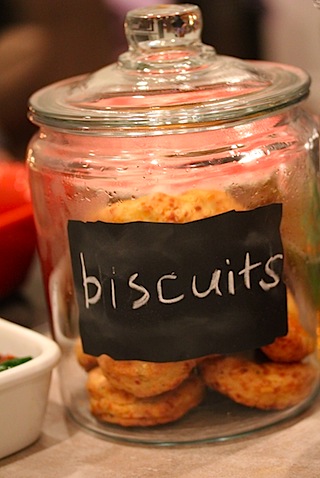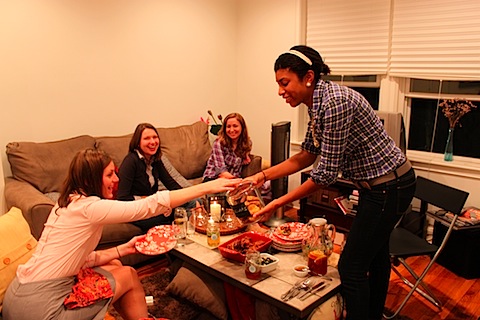 The whole shebang: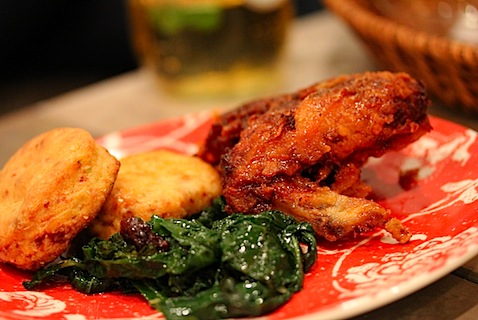 Another good tip when playing hostess is to serve the meal slowly, so your guests will still have room for dessert.
And this is one dessert your guests will want to have room for. Actually, three desserts.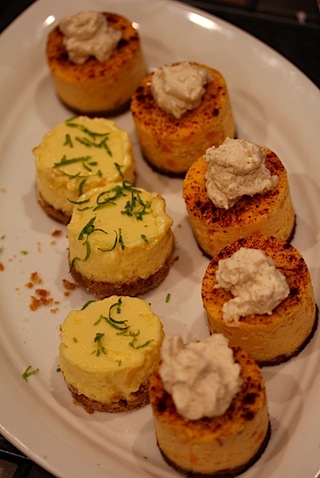 We served sweet potato cheesecake with maple whipped cream, key lime pie, and peach crumble.
We baked the cheesecake and key lime pie in square baking dishes, but used biscuit cutters, so we could serve the desserts in a mini, bite-sized form.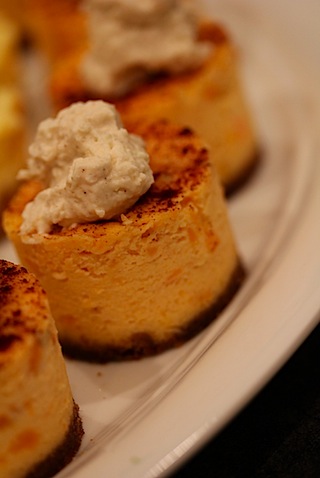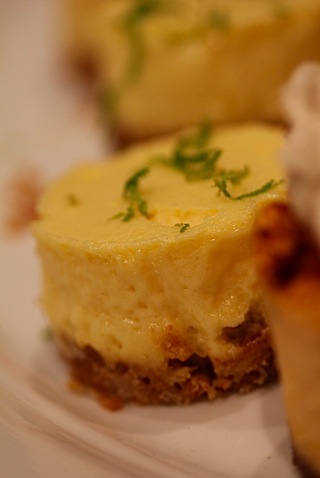 One more benefit to the slow-paced meal is that your friends have time to put their feet up and unwind after a hectic week.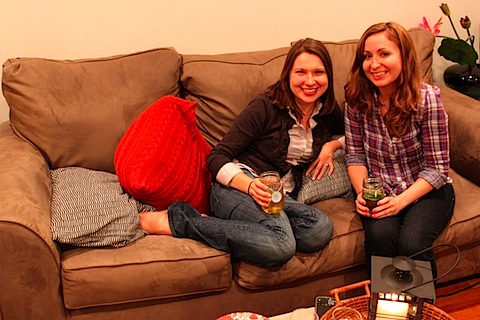 Luxury for us is casual, relaxing, and comfortable. It's not about limiting ourselves to the kitchen or stuffy dining room table. We open up the doors to our home and encourage our guests to act as if it's their own.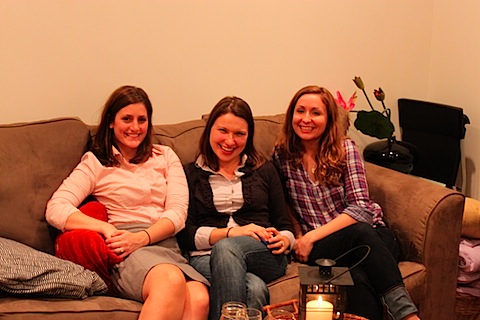 You see? Our small apartments may have forced us to adapt to a different kind of entertaining, but it's a kind that's much more us anyway.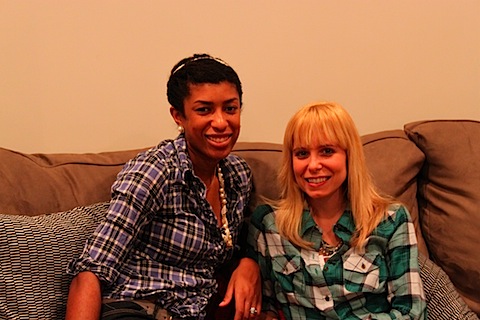 Oh, right, and once your guests leave, don't forget to enjoy another one of those adult beverages and reflect on the evening.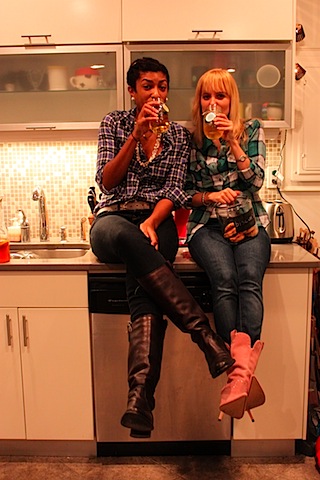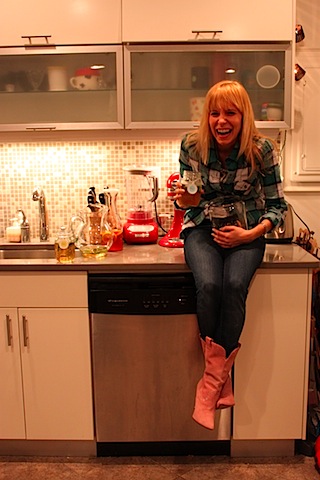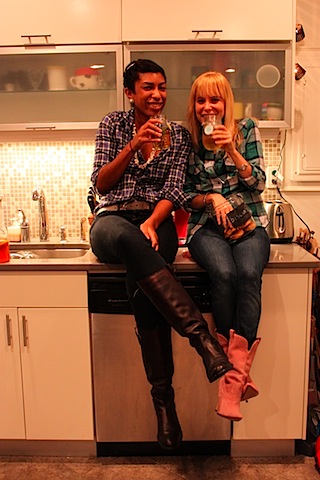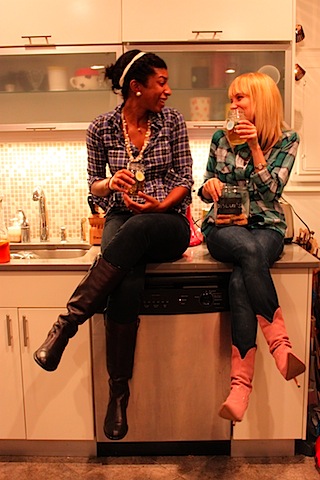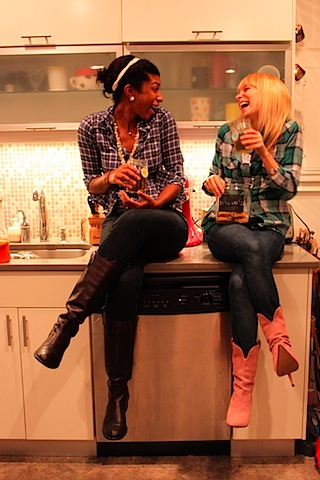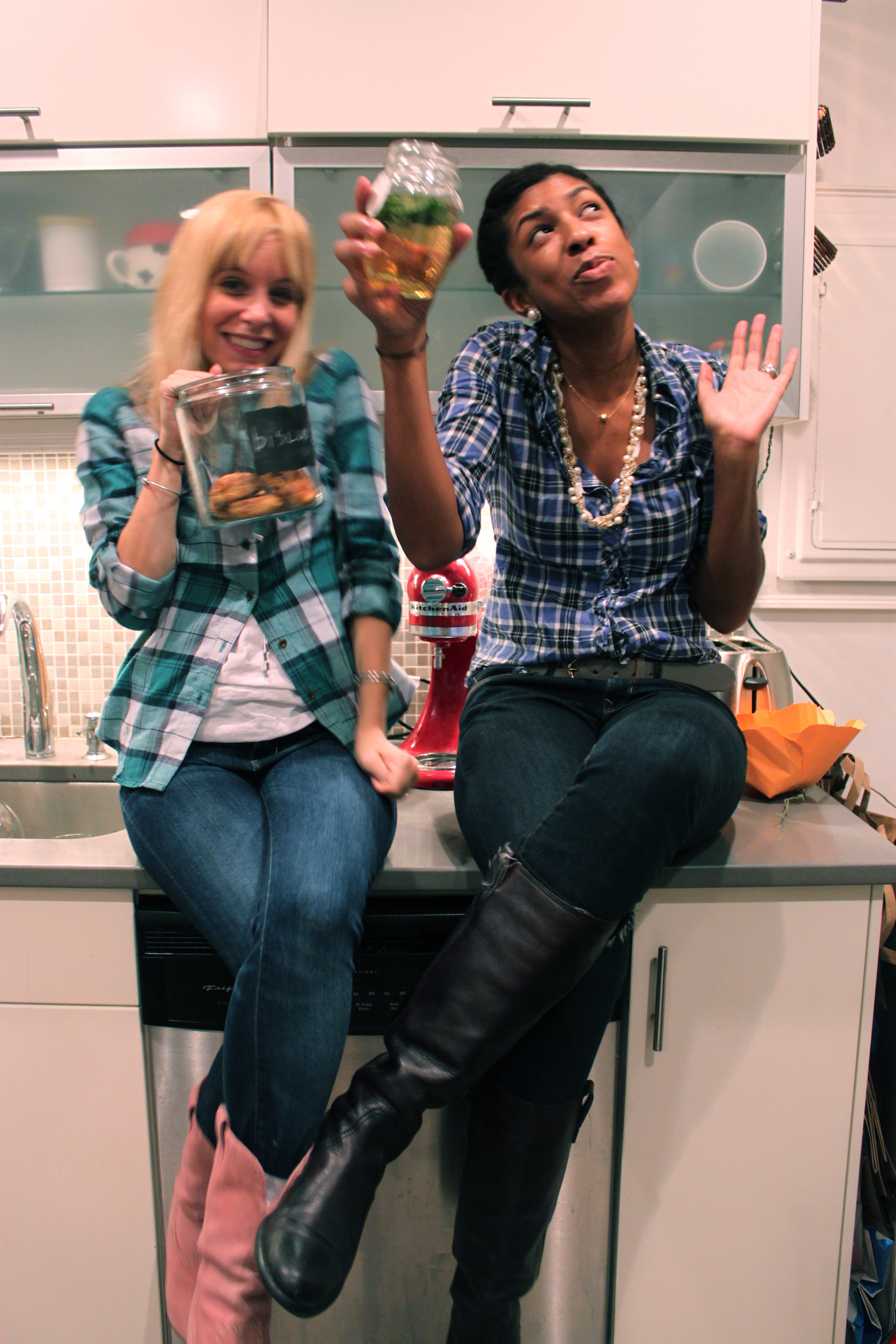 If you want to RSVP to our luxury dinner party, voting opens tomorrow. We really appreciate all your votes and support!
Thanks y'all! Hope to see you at another one of our dinner parties soon 🙂
[Sues and Chels]