Eggs. For many people they're a go-to staple to create an easy meal. For others, they're almost impossible to perfect. This 4th Foodbuzz Project Food Blog Challenge calls for us to create a step-by-step recipe post. Well, that's what We are not Martha is all about. Every time we cook something, we take numerous photos to document each phase of the process. From the beginning of our blog, we decided since this is a learning process for not only ourselves but our readers as well, what better way to document exactly how a recipe evolves then with step-by-step photos? We've all followed a recipe at one time or another and thought to ourselves half way through, "Now, I know this isn't supposed to look like this!" We've always believed that showcasing the development of a recipe is a great way to get acquainted with how something "should" look and to have a bit of a comparison, especially when you're still learning. Since we've been doing step-by-step photos for a while, we knew we had to do something a bit different for this challenge.
So, we decided to tackle a few egg techniques that are notorious for being a little bit tough, along with some brunch staples; and then incorporate them into a full meal. And, of course, we made sure to wear our comfy clothes while we cooked since we were preparing a multi-course brunch! 😉
MAYONNAISE
Our friend Lilly, who is a culinary professor, recently told us a story about how she taught her students how to make mayonnaise. From scratch. Not only did she speak passionately about how good fresh mayonnaise tastes but she went on to say how moved her students were by the process. We were immediately intrigued. After-all, most of us are used to going to the grocery store and grabbing a bottle or jar of mayonnaise off the shelf and not really thinking twice about it. But then we read the ingredient list Lilly gave us and compared it to the ingredient list on the back of a store-bought bottle. Did you know that to make your own mayonnaise, all you need is egg yolks, vegetable oil, vinegar, lemon, sugar, and salt? So simple! There is a bit of technique involved in actually making it, but that's what we're here for…  to show you how to make it, step-by-step.
Mayonnaise:
• 3 Egg yolks
• 1.5 t fine salt
• 1 t sugar
• 2 T lemon juice
• 3 T white vinegar
• 3 C vegetable oil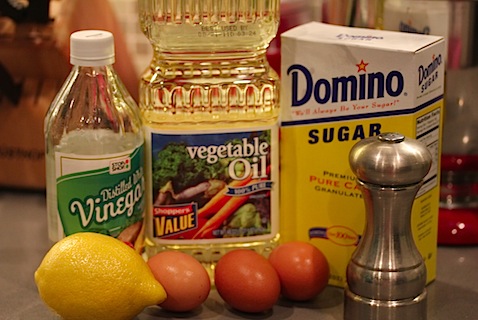 First you need to separate the 3 egg yolks from the whites.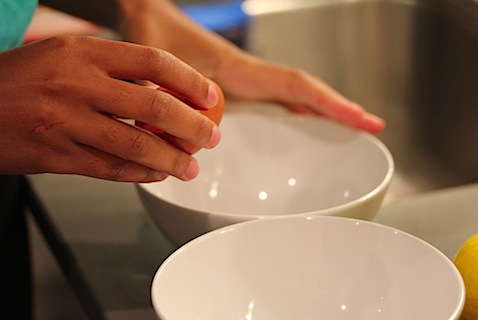 We learned that the best way to do this is with your hands, rather than transferring the yolk from one side of the cracked shell to the other. Yes, you'll get egg whites all over your hands but it's worth it.  You'll be amazed at how proficient separating egg yolks with your bare hands really is. It might just become our new hobby.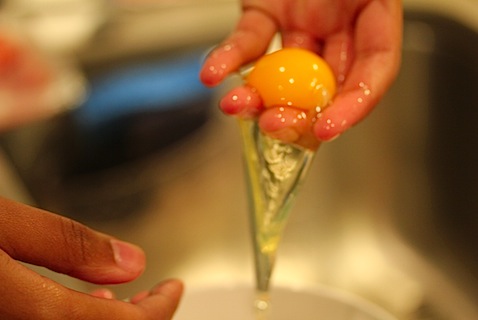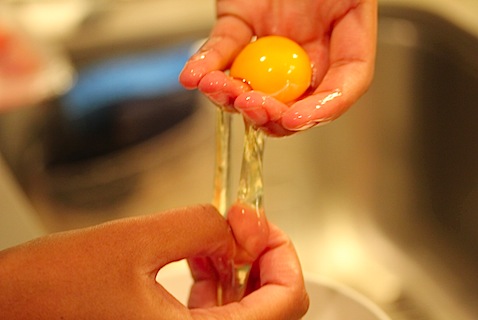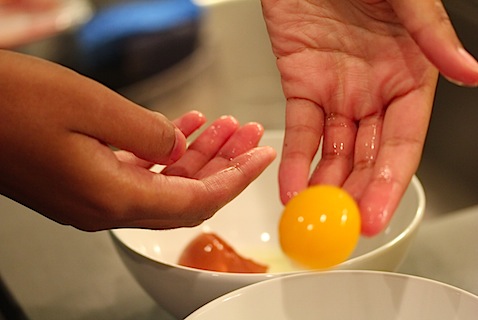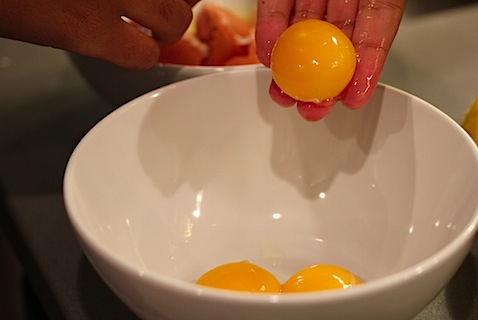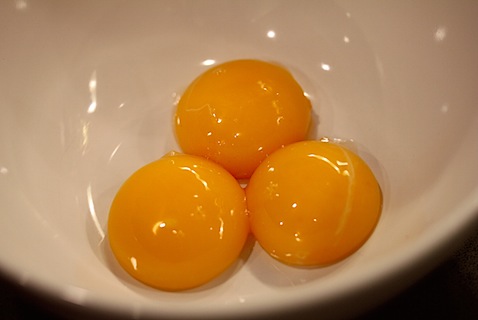 Add the 1.5 t salt.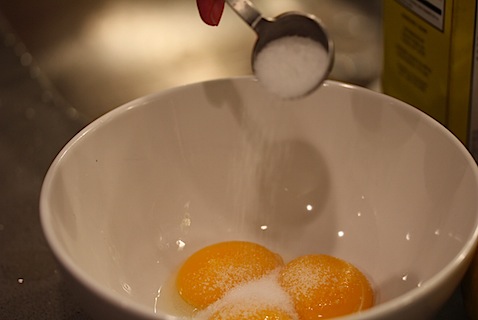 And the 1 t sugar.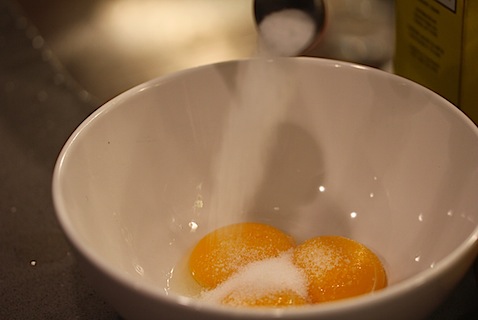 Mix the 3 T vinegar and 2 T lemon juice together.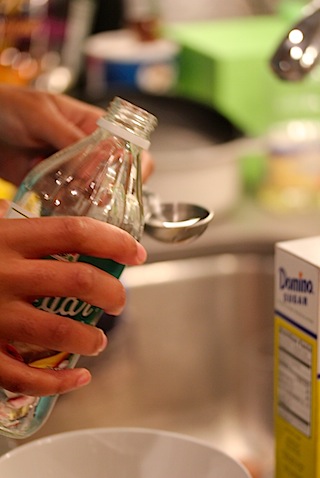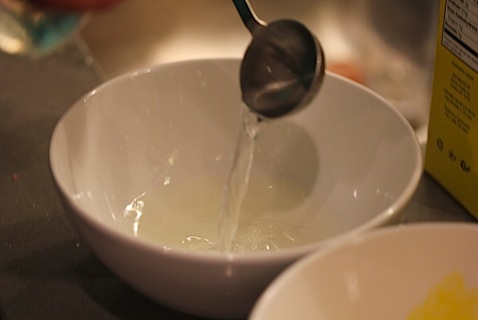 Add half of the vinegar/lemon juice mixture to the yolk mixture.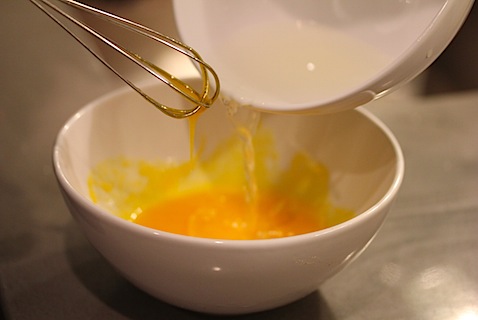 Begin to whisk until light and fluffy.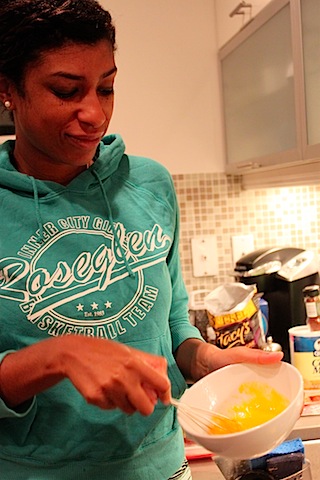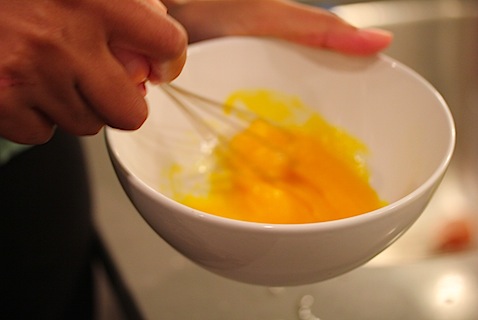 (Whisk like you've never mixed before….)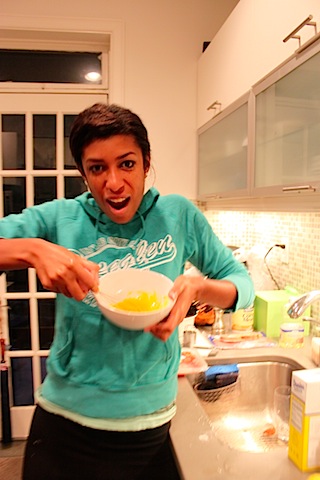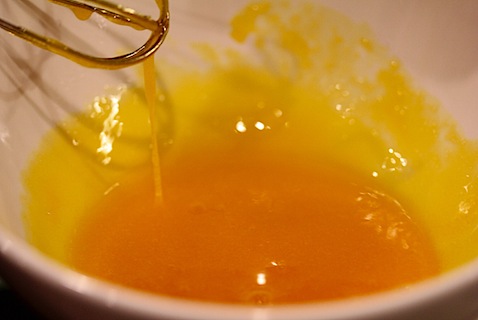 Add oil one drop at a time and continue to whisk, until emulsified. This takes some time and a little arm strength, so be patient…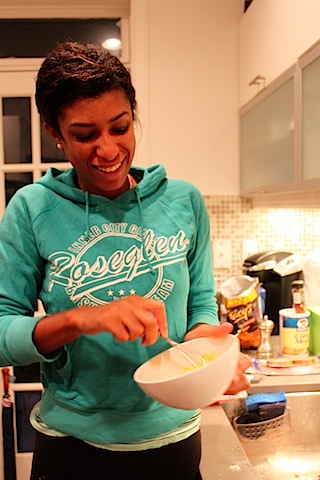 Or have someone add the drops of oil while someone else whisks… Teamwork at it's best!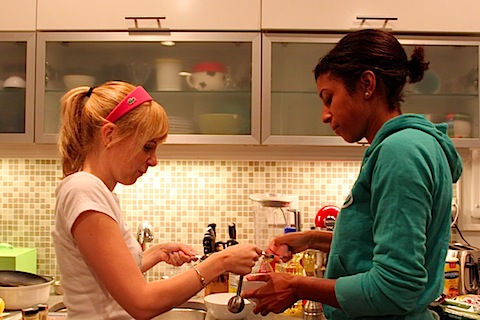 Once half of the oil is mixed in add the other half of the vinegar/lemon juice mixture and whisk a bit more.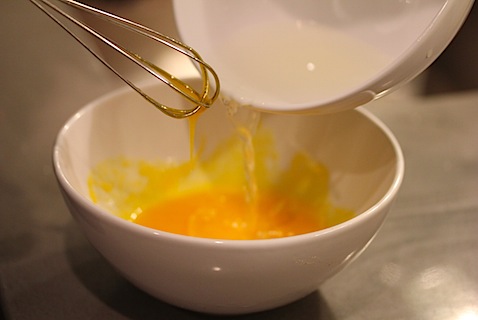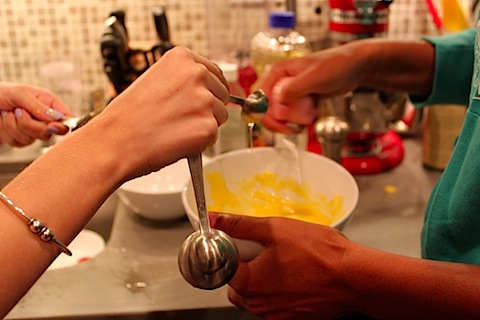 And add the rest of the vegetable oil, too!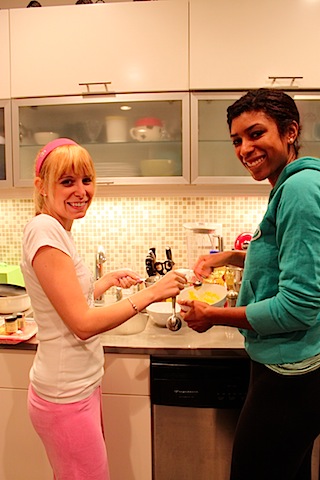 Now that it's fully emulsified you can stop whisking.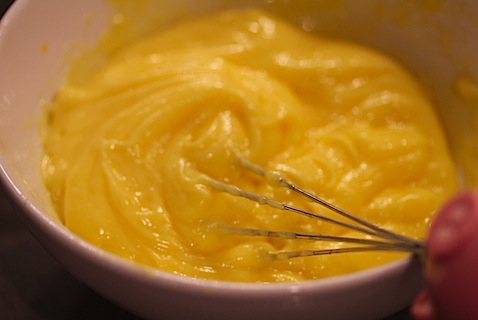 And you can put a dollop on your finger to taste!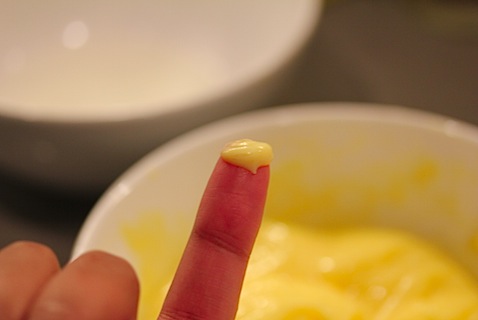 Season with salt.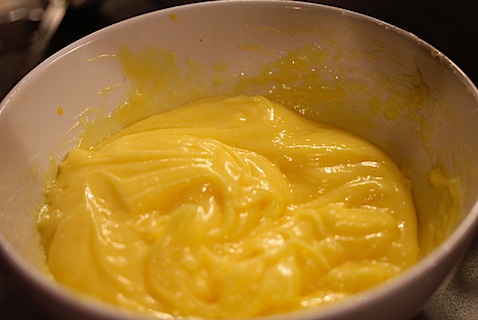 Never going back to the bottled stuff again. Ever.
HOLLANDAISE:
Hollandaise sauce is another one of those brunch staples that you hear scary things about. It's easier just to buy that little packet at the grocery store, right? No! It's actually not difficult to make hollandaise at all. You just can't be afraid of a little (OK, a lot) butter. But when have we ever been afraid of a little (a lot) butter? We used Julia Child's recipe and thought it was pretty perfect.
Hollandaise Sauce:
• 3 egg yolks
• 1 T water
• 1 T freshly-squeezed lemon juice
• 6-8 ounces very soft, unsalted butter (1.5-2 sticks)
• Salt
• Freshly ground white pepper (just use black if you don't have white!)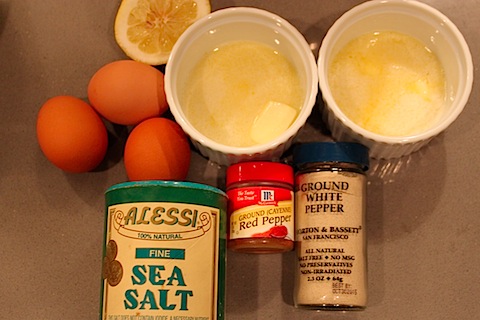 Just like with the mayonnaise, separate the egg yolks from the whites using your hands. Make sure you put the yolks in a heat-proof bowl.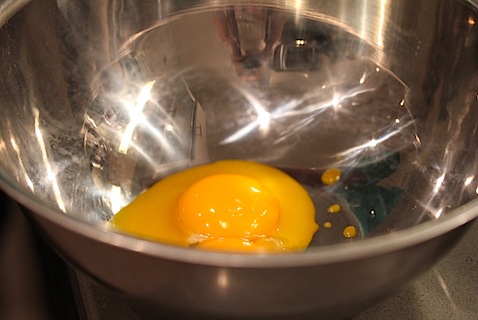 Add 1 T lemon juice to the egg yolks.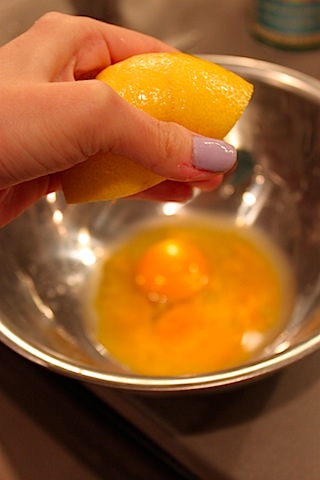 Also add in 1 T water.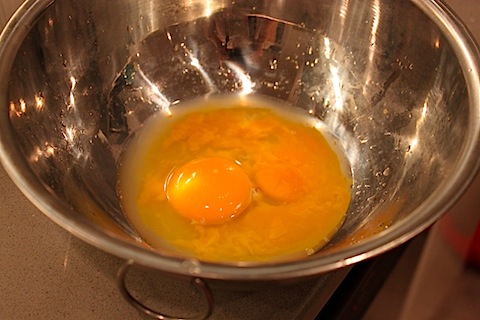 Whisk until thick and pale.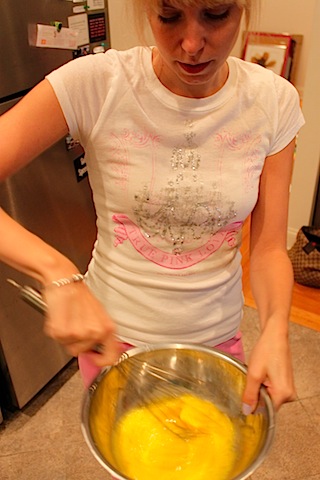 Now, set up a double broiler using a pot and your heat-proof bowl, filling the pot about half way with water and bringing to a boil.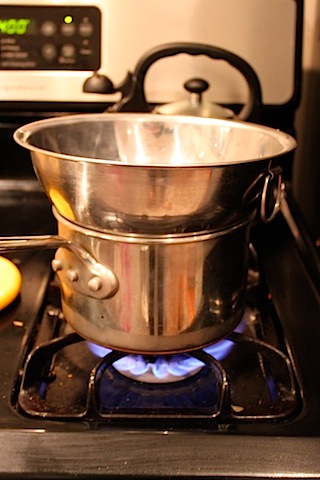 Bring the heat down to low and continue to whisk, making sure you get the bottom and insides of the bowl, where the egg could overcook. You can move them off the heat for a little bit if you think they're turning too much into cooked eggs. Then move them back on.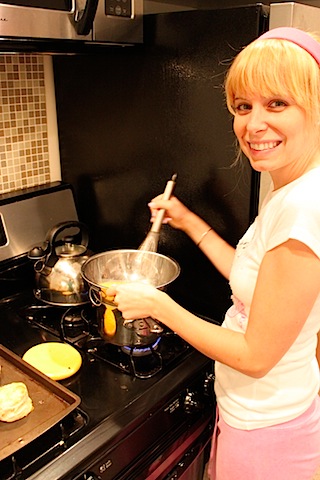 The eggs should become frothy, increase in volume, and thicken.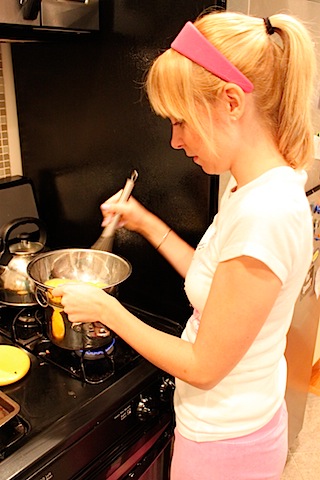 When you can see the bottom of the heat-proof bowl through the streaks of the whisk, remove from the heat.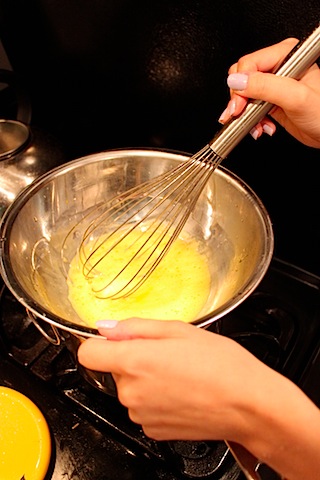 Eggs should be thick and smooth.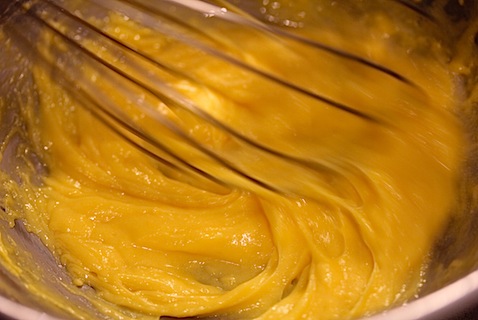 By spoonfuls, add the soft butter, whisking constantly to incorporate the butter into the egg mixture.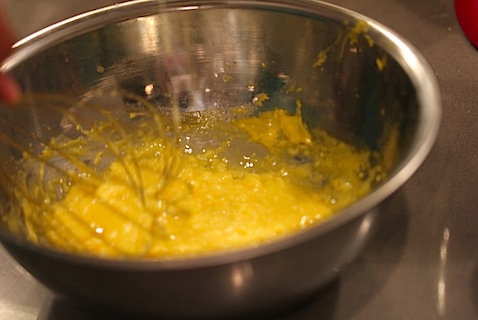 As the emulsion forms, you can add more butter in at a time.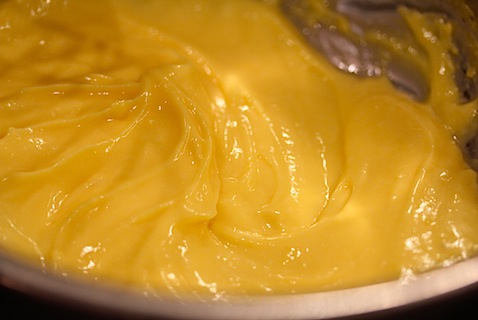 Remember to keep whisking.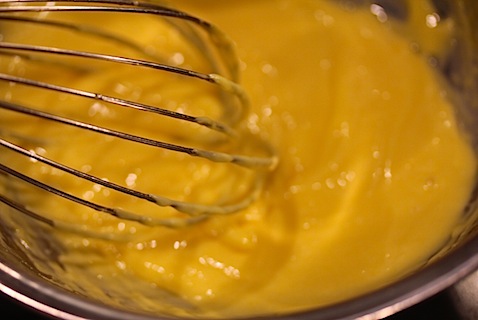 And keep incorporating the butter in until it's at the consistency you want.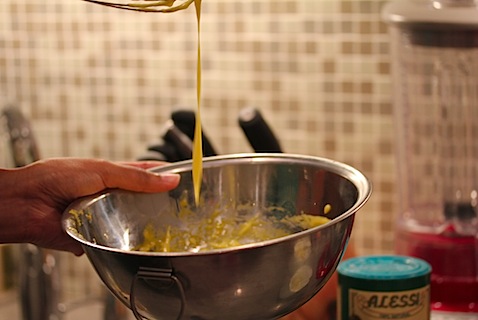 You might end up only using 6 oz. of butter, or you might use all 8.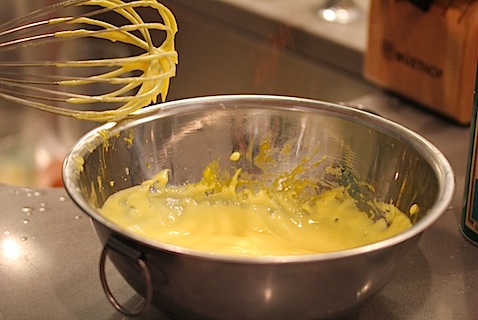 Add in the salt, pepper, and some cayenne.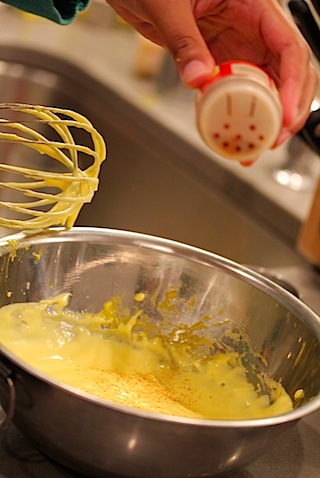 And whisk to combine.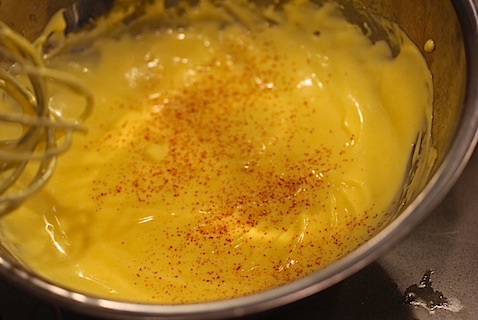 Add more lemon if needed.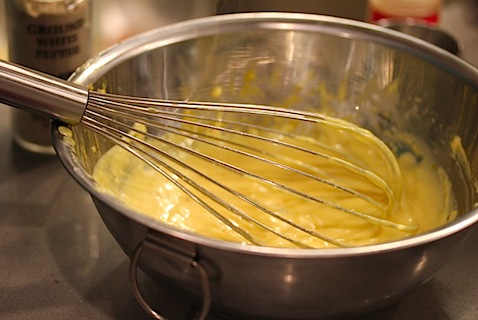 Make sure you serve the hollandaise lukewarm. If you let it sit out, it might start to thicken up too much and you'll need to whisk in more warm butter.
POACHED EGG:
We both love poached eggs. But for some crazy reason, neither of us had ever poached our own. Perhaps we were just a bit intimidated by the process. After all, cracking an egg and dropping it into a pot of water just seems messy. But once you try this, you might want to poach eggs all the time. It's extremely easy and actually quite fun to watch!
Poached Eggs:
• Eggs
• Water
Fill a pot of water to a depth of about 2 inches. Bring to a boil.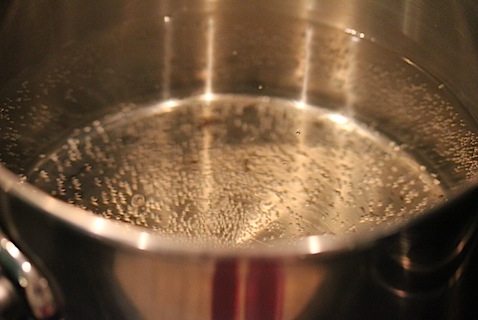 Crack egg into a ramekin or bowl.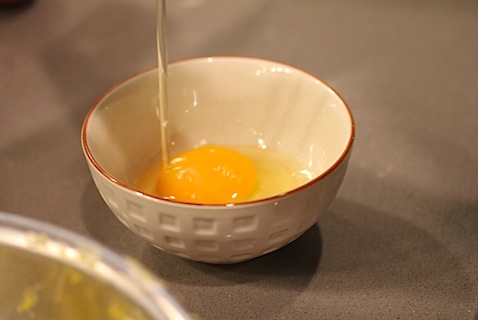 Once water is boiling, lower to a simmer. Then carefully slide the egg from the bowl into the water.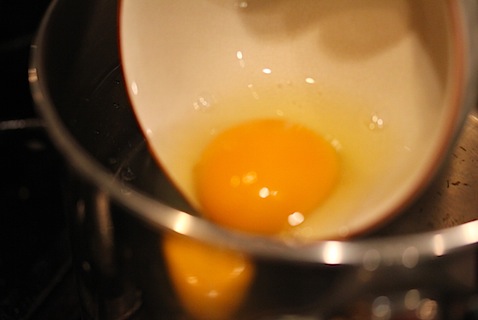 Carefully!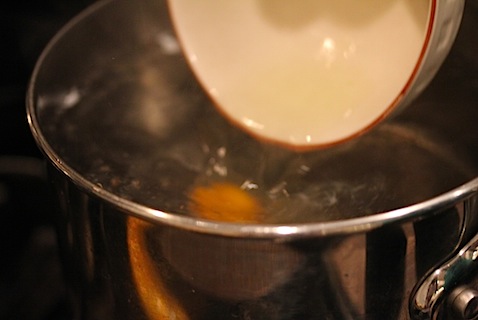 It's kind of a pretty sight. You can do more then 1 egg at a time depending on the size of your pot, but for your first time, we recommend sticking with one!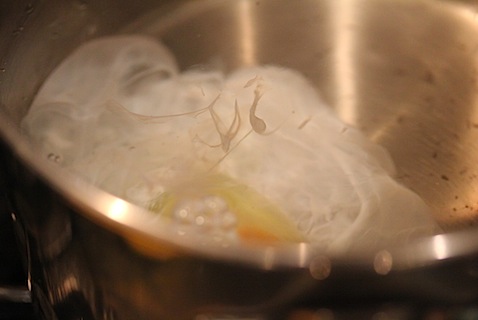 Let it sit in the water for about 3 minutes.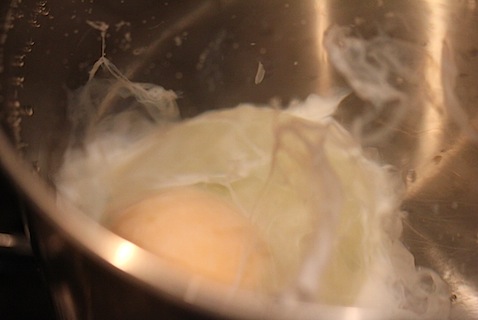 And then remove with a slotted spoon. To test it, press the thickest part of the white with your finger… If it's firm to the touch, you're good to go.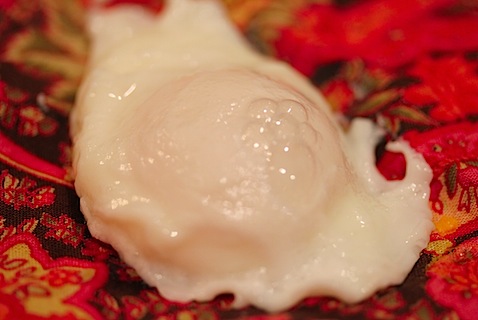 FRIED EGG:
Frying eggs is also key to enjoying a good brunch. It's pretty simple and a good place to start if you're just getting into eggs.
Fried Eggs:
• Eggs
• Olive oil
Set heat to medium heat. Add a teaspoon or two of oil to a skillet.
Crack egg directly into pan.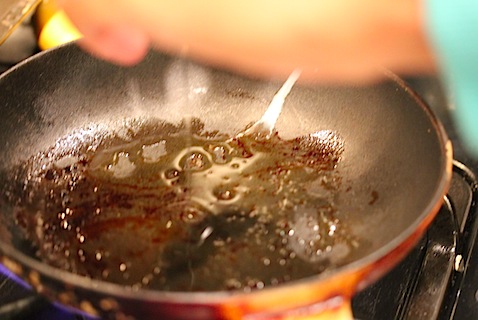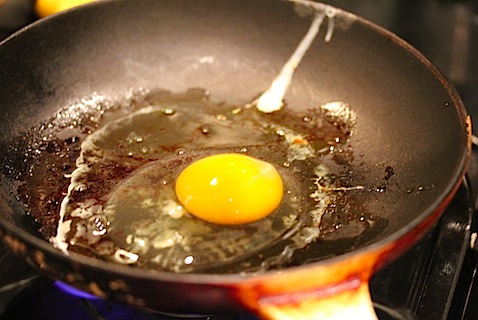 Once the egg has been cracked allow it sit in the skillet and do it's thing. You'll know when it's cooked when the edges have just started to curl and the whites have begun to set.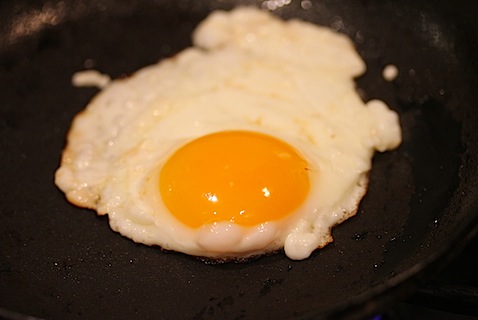 And because you can't just have eggs at brunch!
As delicious as eggs are, your brunch guests might be expecting a little something more when they arrive for brunch. And let's be honest, even you are going to be craving some carbs and, of course, an adult beverage. 😉
BISCUITS:
While we both love traditional eggs benedict, we really love it when it involves biscuits instead of English muffins. Biscuits can, so perfectly, add an additional layer of texture and, well, butter. So, of course, we decided to bake some homemade biscuits instead of simply purchasing English muffins. They're quick, easy, and allow you to get your hands in some dough.
Biscuits:
• 1.5 C all-purpose flour
• 1.5 T sugar
• 1.5 t baking powder
• 1/4 t salt
• 1/4 t baking soda
• 1/2 stick cold, unsalted butter
• 3/4 C well-shaken buttermilk
• 1 egg for brushing biscuits
First, put the 1.5 C of flour into a large mixing bowl.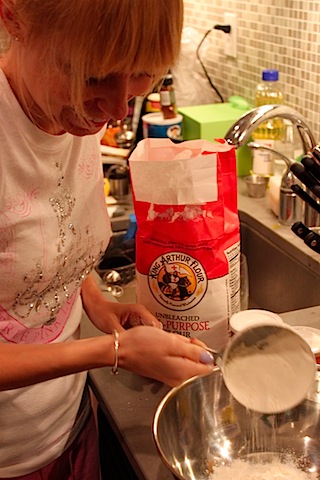 Then add in the 1.5 T of sugar.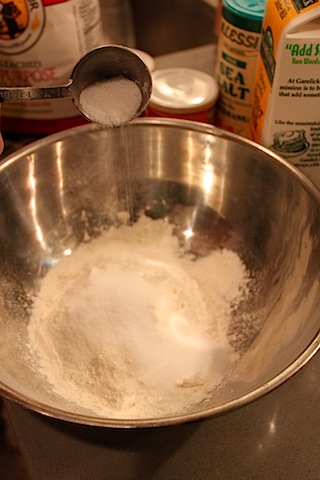 And the 1.5 t of baking powder.
And the 1/4 t of salt.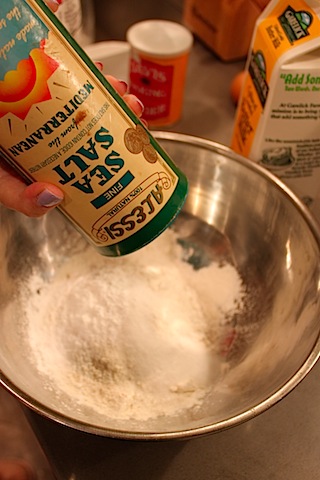 Also add 1/4 t of baking soda.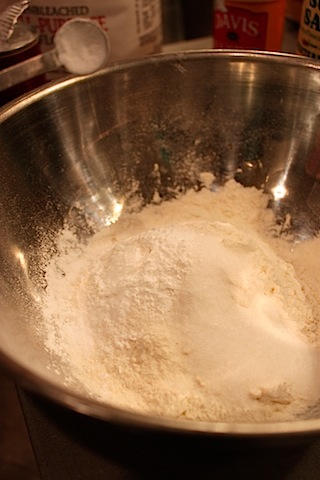 And whisk it all together.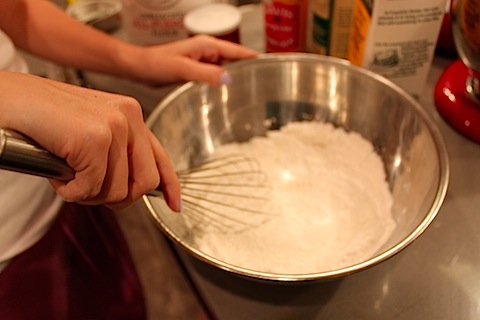 Set that aside while you cut your cold butter into 1/2-inch cubes.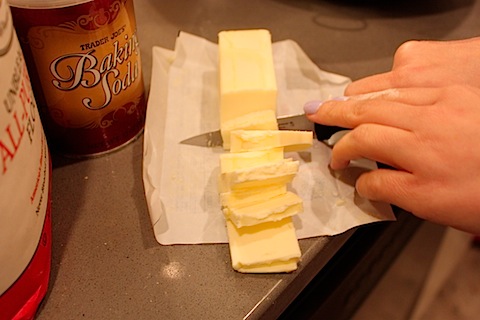 Then add the butter to the flour mixture.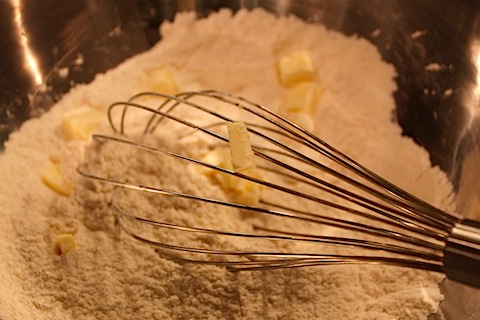 And blend it with your hands.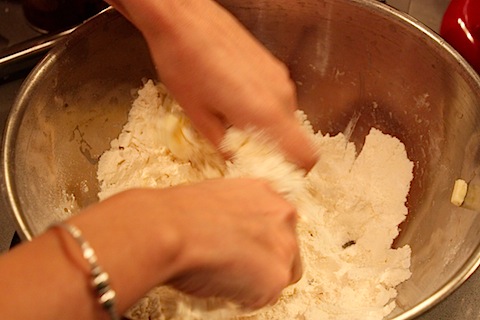 Blend the butter until it resembles coarse meal.
You could also use a pastry blender, but working dough with your hands is fun. To us at least 🙂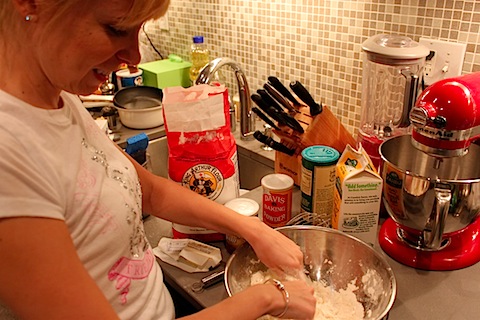 Pour in your 3/4 C buttermilk.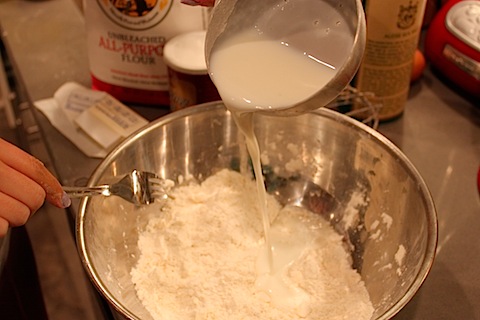 And stir it with a fork until dough just forms.
Dough will be moist, but not wet.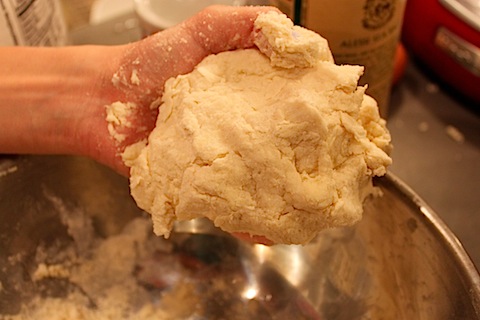 Take the dough out of the bowl.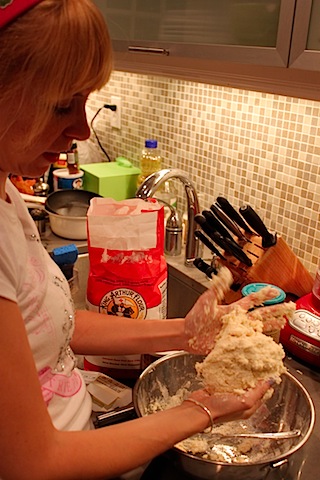 And flatten it a bit on a well-floured surface. We were going to use a rolling pin, but then decided we wanted out biscuits to be thick (so we could cut them in half for the benedict), so we  simply flattened the dough a bit.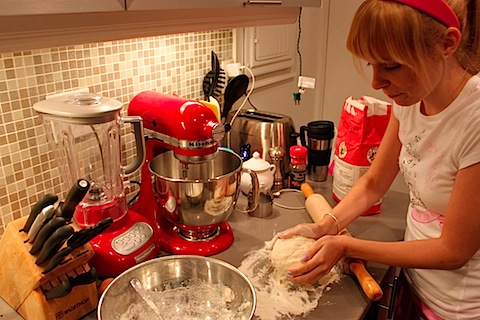 And use a biscuit cutter to cut the dough. If you don't have a biscuit cutter, a drinking glass will work fine.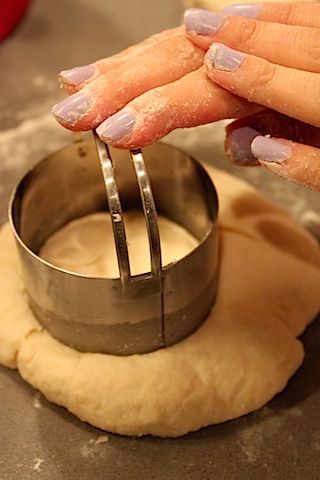 Pre-heat your oven to 425 degrees.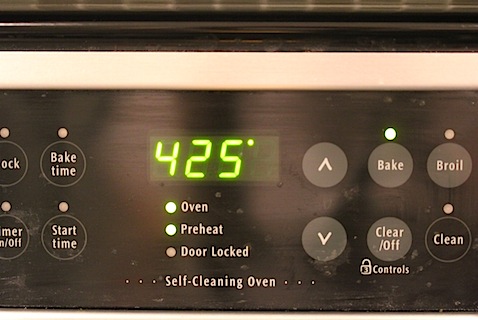 And put biscuits on an ungreased cookie sheet.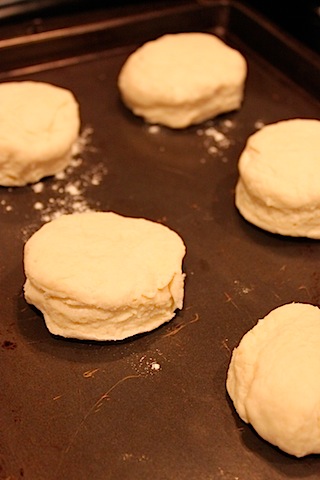 Brush the tops of the biscuits with an egg (that you crack and whisk a bit).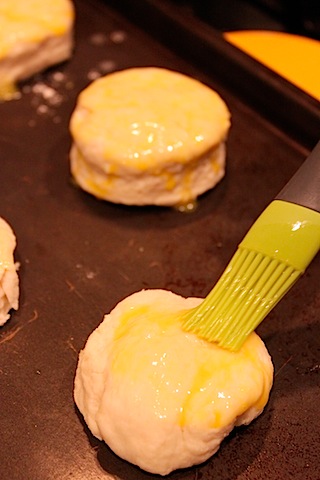 And pop them in the oven.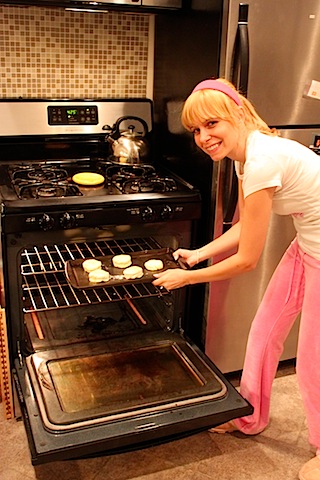 Bake until pale golden, about 12-15 minutes. These biscuits were near perfection. Ridiculously flaky, golden, and beautiful.
BACON (oh, delicious bacon)
If you're new to We are not Martha you should know this one thing. We're all about the bacon (and cupcakes, but that's another story for a different time). We've always loved bacon but Sues' dad makes the best bacon in… we're just gonna say it… the entire world. The fact that we're sharing this recipe with you is a pretty big deal 😉
Three simple ingredients is all you need.
Bacon:
• bacon (obviously)
• fenugreek seed
• black pepper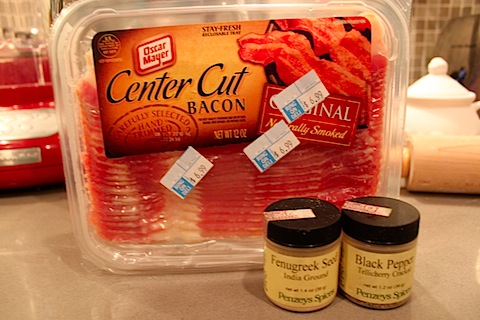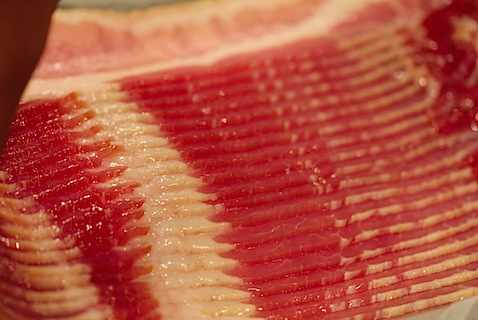 Preheat oven to 400 degrees. Line a rimmed baking sheet with foil and place bacon in a single row. Sprinkle with fenugreek and black pepper.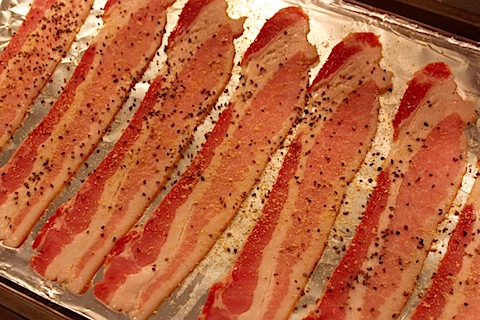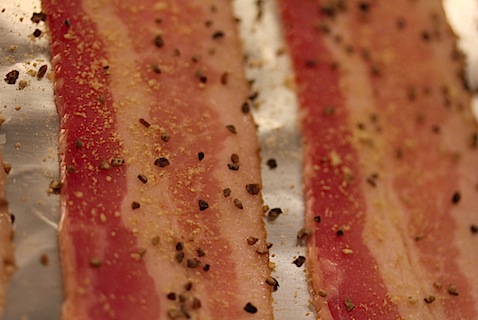 Bake for about 15 minutes, until bacon is crispy.
The best part about baking bacon? No splatter, easy cleanup, and…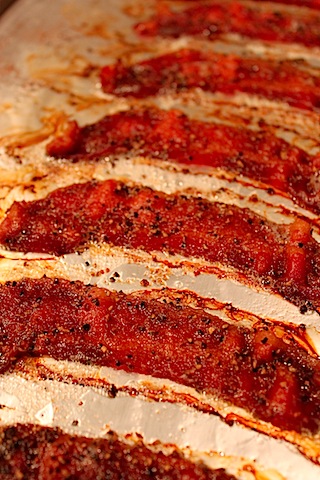 … the bacon doesn't shrink!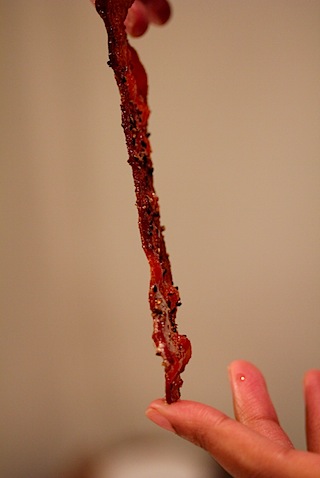 Chomp!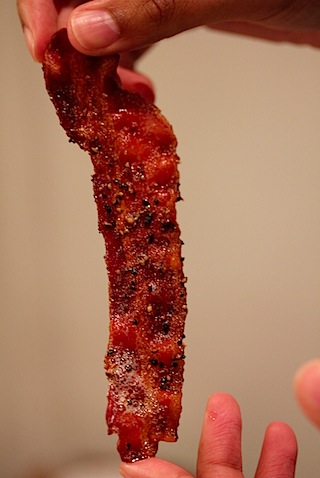 BLOODY MARY:
Because every good brunch needs a tasty drink. And Bloody Marys are the perfect addition to brunch. But while many of us love Bloody Marys, do we really even know what goes into one? Could we make them on our own? Well, we should be able to because this info would come in handy for waking up thirsty on a Sunday morning. Here's the recipe for our perfect Bloody Mary.
Bloody Mary (Makes 1 drink):
• 2/3 C top-quality tomato juice (V-8 is fabulous, especially the lower sodium variety)
• 2-3 oz. top-shelf vodka (depending on how strong of a drink you want!)
• 1 t prepared horseradish
• 6 shakes Tabasco sauce
• 1 t Worcestershire sauce
• Juice of 1/2 large lime
• 1/4 t cayenne
• 1/8 t sea salt
•  1/8 t freshly-ground black pepper
• Celery stalk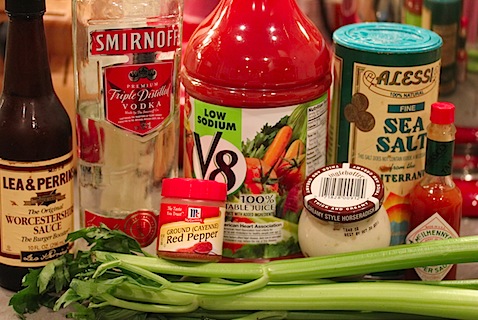 Whoops, we forgot to photograph the lime!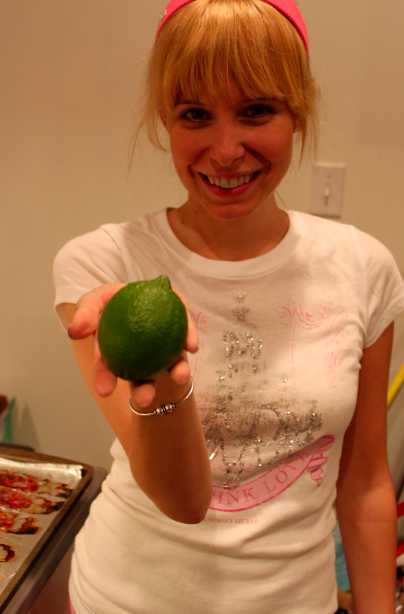 Pour 2/3 C tomato juice into a glass measuring cup.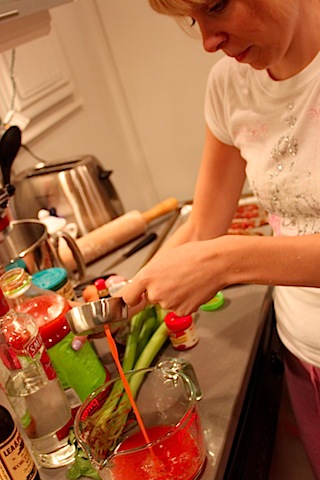 Then add 2-3 oz. vodka.
Spoon in 1 t horseradish. Well, you can add more if you like it hot, hot, hot!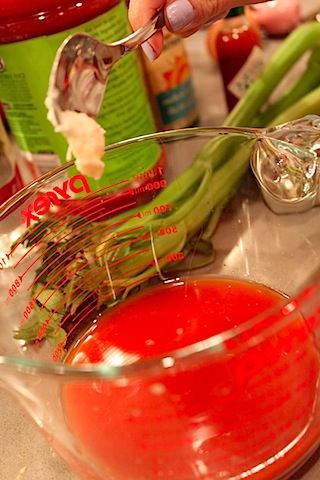 Then get your 6 shakes of Tabasco in.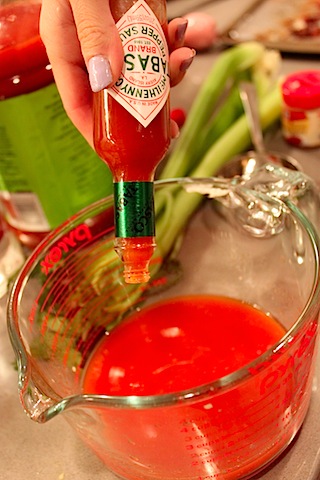 Add the 1 t of worcestershire sauce, too.
And squeeze half a lemon into the mix.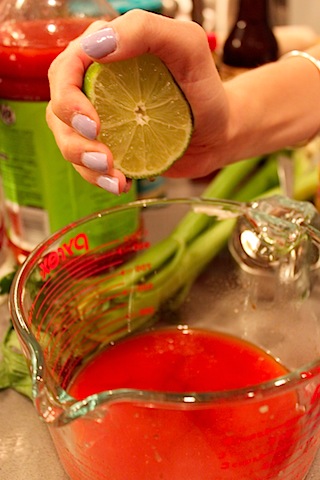 Then sprinkle the cayenne in.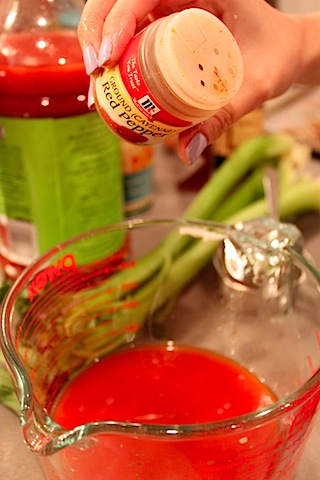 And some sea salt.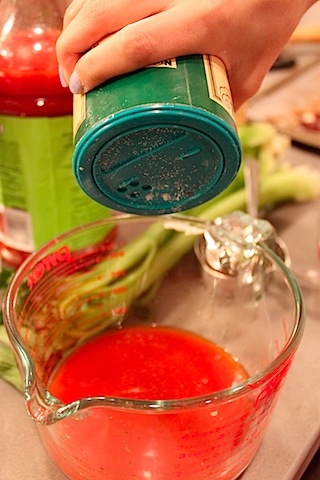 And black pepper, of course.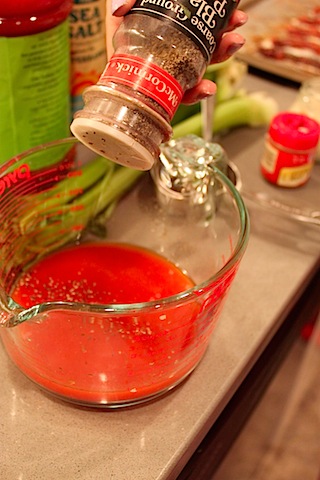 Pour into a glass over ice and add a stalk of celery.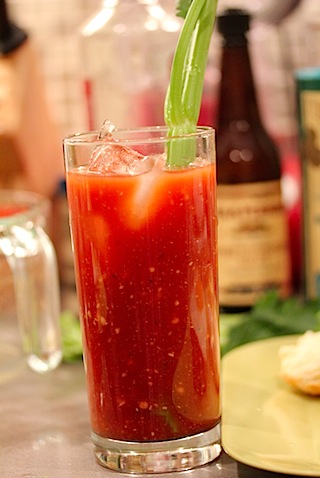 CONSTRUCTION: AKA: How we turned our eggcelent (har har!) creations into a full-on brunch…
The homemade mayonnaise, the fried egg, and the baked feungreek dusted bacon were used to build a BLT and fried egg open faced sandwich.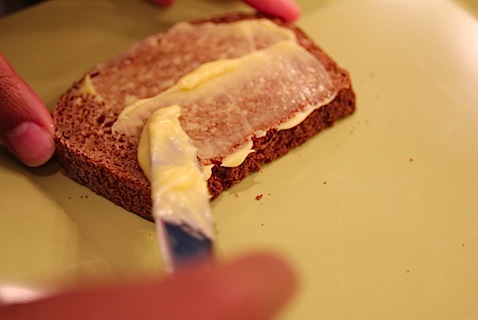 Because of bacon's popularity (and deliciousness), you've probably noticed BLTs popping up on more and more brunch menus lately. And the fried egg on top truly gives it the breakfast appeal.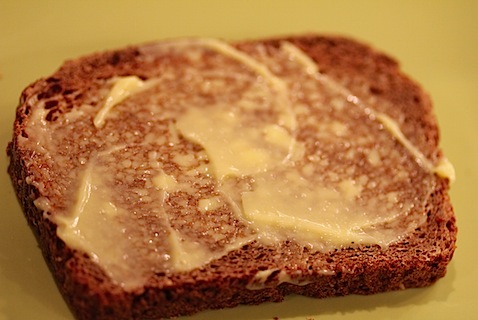 We always love the kick from arugula instead of plain old lettuce.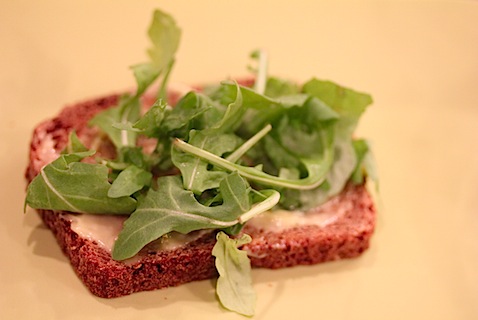 And the bacon was cooked to crispy perfection with the perfect amount of extra flavor from the spices we used. We added on a tomato, of course.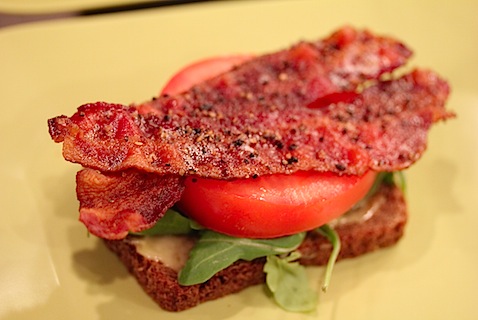 And the fried egg went right on top.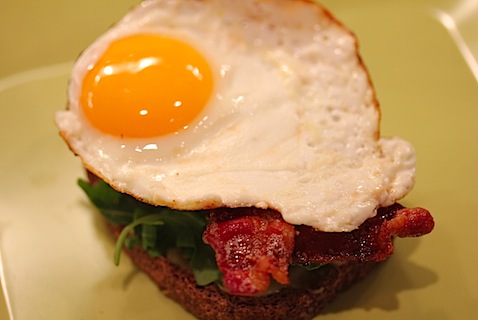 But the homemade mayonnaise is what really took this to a whole new level. It tasted just like mayonnaise but noticably much fresher. Could this sandwich be heaven?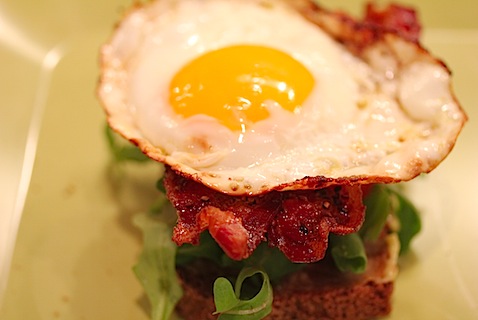 The poached egg, hollandaise, and biscuits were used to create none other than Eggs Benedict.
We also added on a slice of Canadian bacon.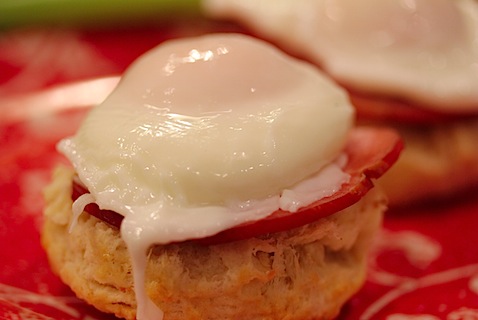 And some chives sprinkled around.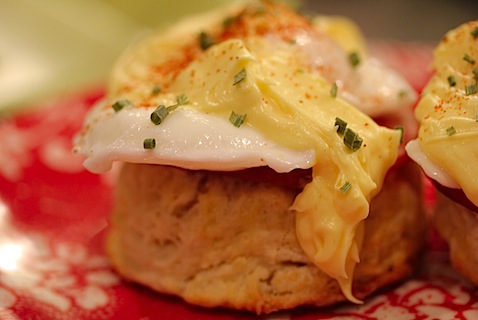 Yup, it was a "close your eyes with each bite while smiling" kind of dish. The homemade biscuits helped transform this dish into a much more wholesome benedict. You'll never want your benedict on an English muffin again. This we can promise.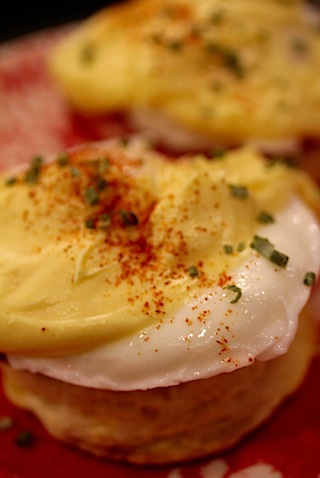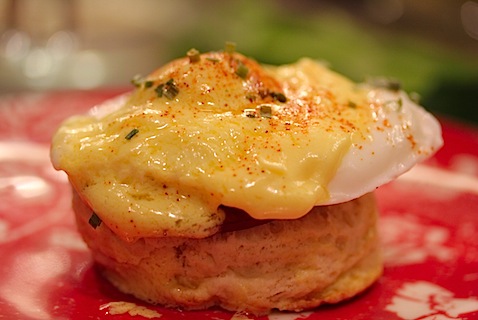 Watching the yolk pour out of a poached egg makes the process completely worth it 🙂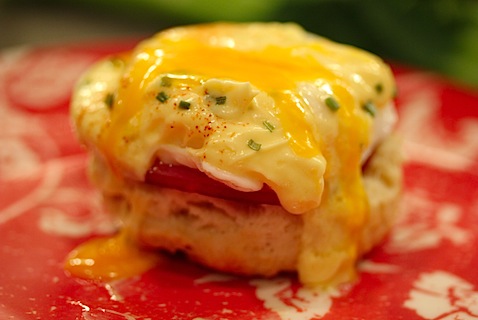 Give this dish to someone who's skeptical about eggs benedict and we guarantee you'll change their mind.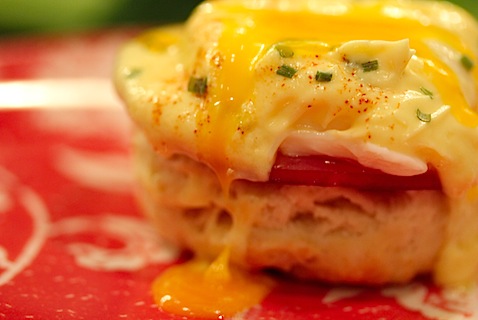 And we also bet you'll want to make hollandaise every day for the rest of your life. Your arteries might not love you, but your taste buds will certainly be thanking you!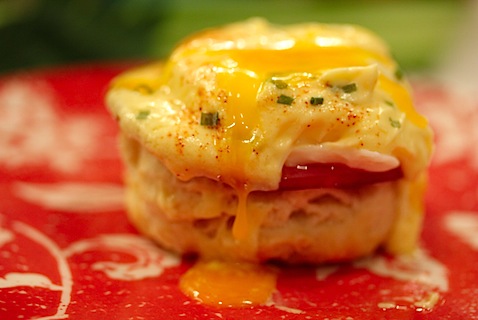 The Bloody Mary was just plain enjoyed. It had the most wonderful spicy kick to it, without being too overwhelming on the senses. Definitely great for a morning pick-me-up. Or afternoon refresher. Or evening relaxer. You know, or all of the above.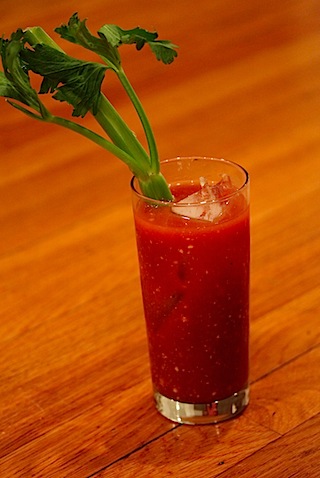 Another reason we love brunch? We don't actually have to put "real" clothes on and can remain in our comfy slippers. And did we mention Bloody Marys are totally acceptable at any time of day? Because they are.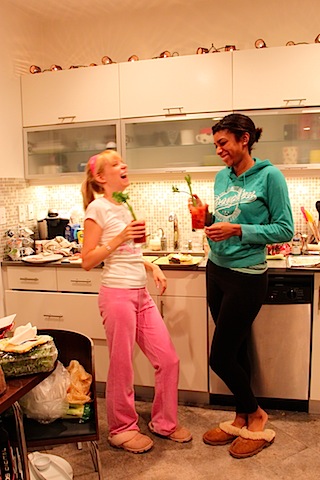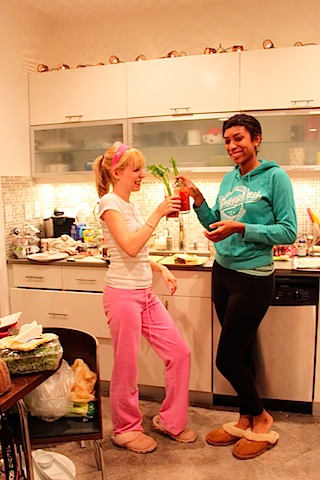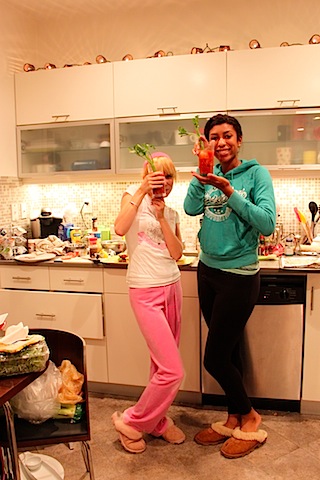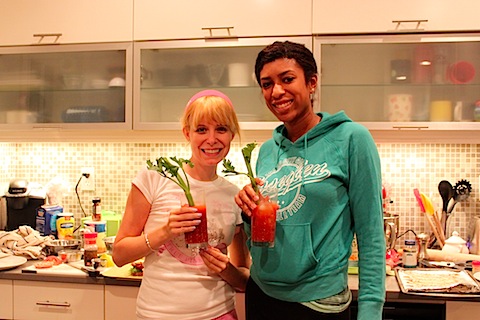 We hope that we helped make eggs a bit more approachable with our step-by-step tutorials. Brunch is one of our very favorite meals and a fear of eggs will never scare us off again. And eggs shouldn't frighten you either- As you can see from our step-by-step tutorial, they're easy to work with. And if you buy a dozen, you'll always have a few back-up eggs in case things don't go your way on your first few attempts!
Oh, and we hope you make your own mayonnaise sometime soon. We promise you will not regret it!
And we'd be totally eggstatic (we just can't stop) if you decided you want to vote for us to advance to Challenge #5 in Project Food Blog. We're having a blast with these challenges and would absolutely love to continue. Thank you so, so much for all your support. You're eggstraordinary! (told you!)
And we're done with the cheesy egg jokes. Promise.
[Sues and Chels]