What's better than sitting down to a piping hot pizza? Well, Thanksgiving dinner, maybe. It's getting close to one of our very favorite times of year and clearly Thanksgiving dinner is on our minds. And when we heard Project Food Blog challenge #5 was to come up with our own remix for a pizza, we started to imagine ways to turn a pizza into our favorite holiday.
Let's face it, the various dishes involved in Thanksgiving dinner go together so well that you don't even mind when they get all "touchy" with each other on your plate. In fact, you might even take your fork and pick up a little bit of turkey, some stuffing, sweet potato, and cranberry all at once. And when the holiday's over, you still find yourself ordering Thanksgiving sandwiches whenever you see them. At least, we do.
As with most creative processes (or experiments) a brainstorm session is key and a great starting point to get all of your ideas out in one place. After spending many hours bouncing ideas off of one another we somehow came to the conclusion that instead of doing a traditional pizza, we wanted to play around with two rings of dough, one representing an "entree" and the other representing dessert. Once you finished the entree ring the dessert would be fully exposed for you to enjoy. We thought the idea was unique and creative but since it was a complete experiment we wanted to see how it look before we purchased all of our ingredients and got in the kitchen. Chels designed a simple inspiration board/"pie" chart (get it?) of some ingredients we were interested in using. Originally we were planning on leaving the top of the dessert ring exposed but we thought it would add such a nice touch to add a lattice top and really separate the two components!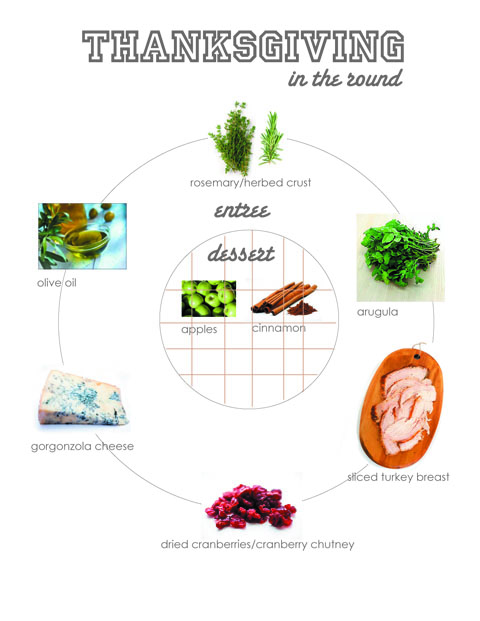 For this recipe, we didn't line up our ingredients to take a photo at the start. Like we mentioned, it was a major experiment for us and we just wanted to go where the pizza took us instead of being restrained by an exact recipe. And while you're more than welcome to follow our recipe exactly, we also encourage you to add your own Thanksgiving favorites to your pizza. The more personal the better!
For both the outer and inner rings we used a traditional pizza dough, but seasoned each differently to better distinguish between the main course and the dessert. Let's start with the entree dough. Of course, we followed the recipe for our very favorite no-knead dough (which we actually have memorized by now!).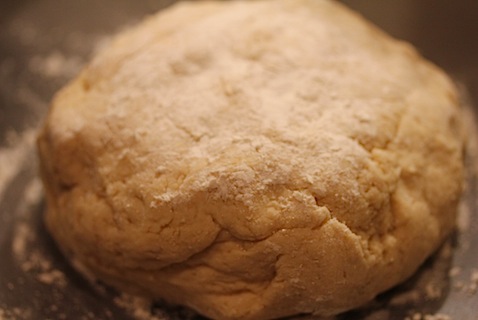 We broke up a large amount of dough for our entree pizza (make sure to save some for the dessert pizza!) We added rosemary, sage, and Bell's seasoning, making sure to work it into the dough. We were SO pleased with the results of this... the dough tasted almost exactly like our favorite stuffings.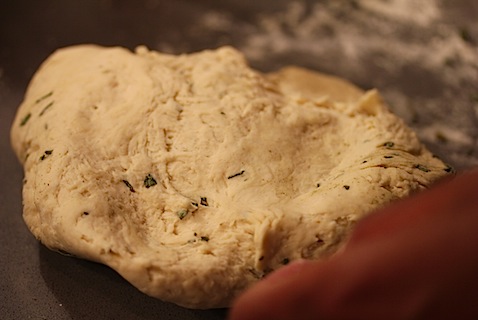 Then we rolled the dough out.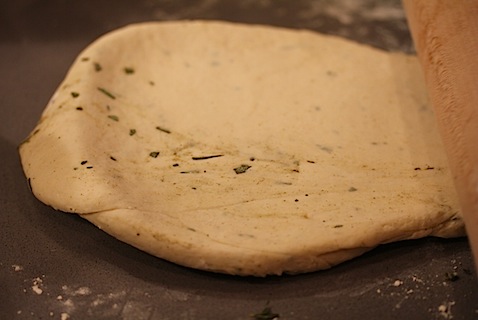 And cut a circle in it just the size we wanted the inner dessert pie to be.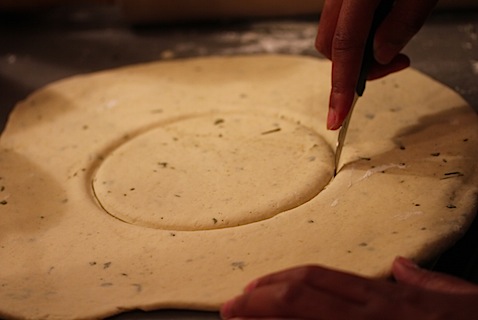 We removed the circle of dough and set it aside... We wouldn't be using this for the dessert pie since it was already seasoned with the savory herbs. You can also use this piece to extend your outer ring if necessary.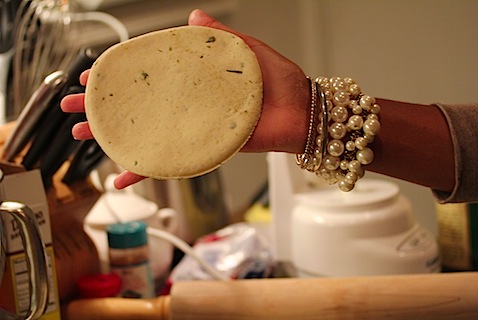 Now we had our outer entree ring.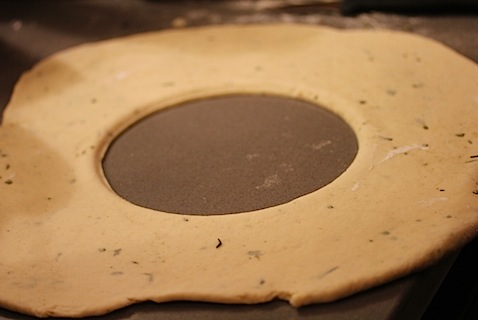 Which we lightly brushed with olive oil.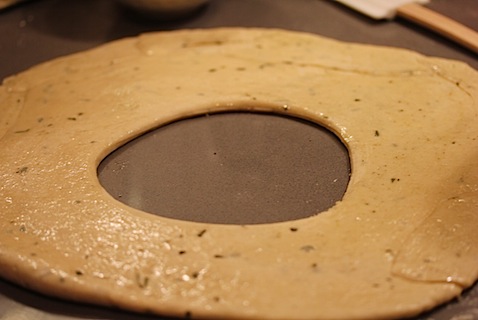 For the sauce component of our pizza, we decided to make a cranberry chutney using fresh cranberries.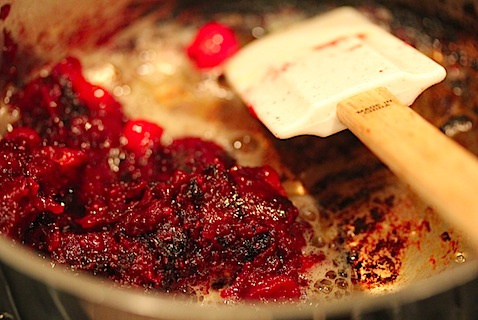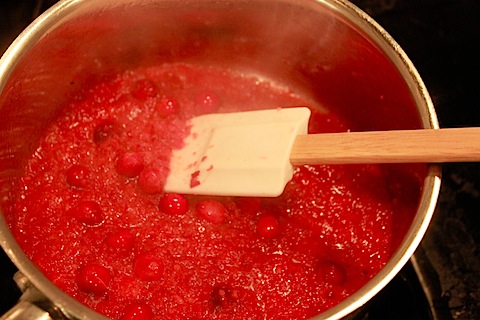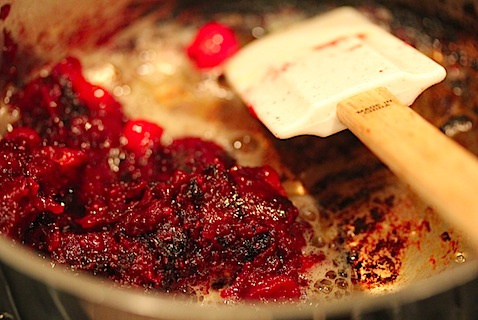 We lightly brushed the cranberry chutney on the outer ring.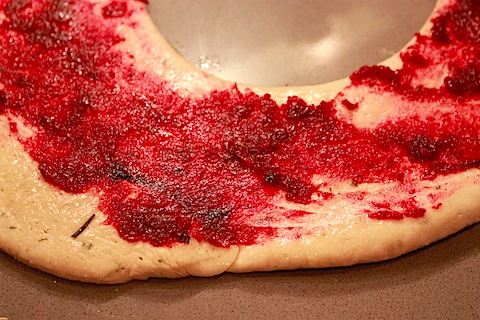 And sprinkled some gorgonzola cheese over the top.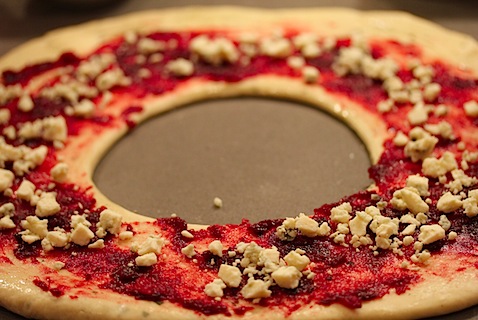 We added some arugula for a bit of green. Which looked like a Christmas wreath and only gave us more ideas for the future 😉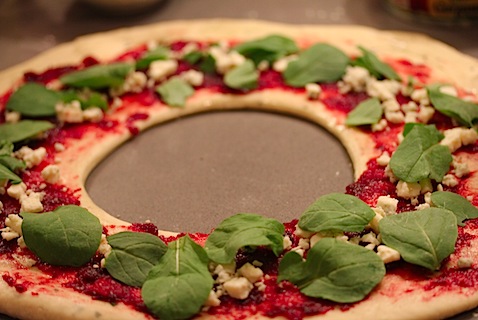 And, of course, plenty of sweet potatoes and turkey (We cooked a small turkey breast ahead of time)! A little seasoning of salt and pepper, too!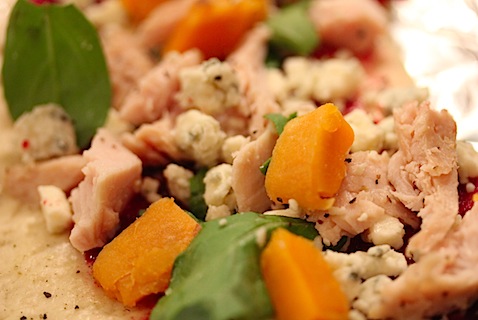 At this point, we had quite the Thanksgiving dinner scene going on in the kitchen!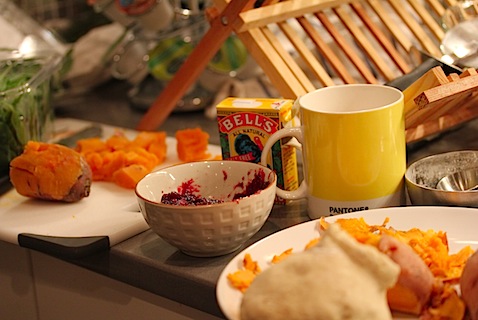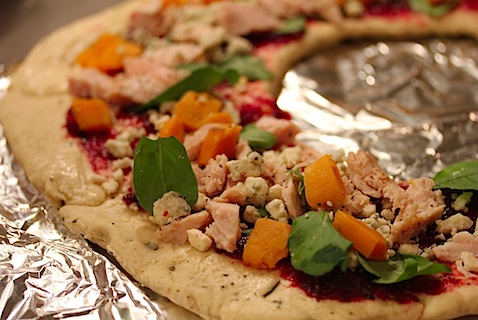 We baked the outer ring for about 15 minutes in a 500 degree oven. At this point prepare for your home to smell just like Thanksgiving 😉
-----------
Every good Thanksgiving dinner includes pie, especially a classic apple pie! We used the same pizza dough recipe, making our pie a true "pizza pie." But this time we added cinnamon and nutmeg to the dough to give it a sweet touch.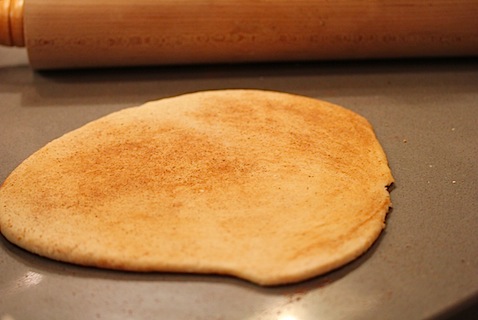 We cut the dough in a circle that would fit the center of our outer pizza ring. We saved the remaining sweet dough because we knew we wanted to make a lattice top for the pie.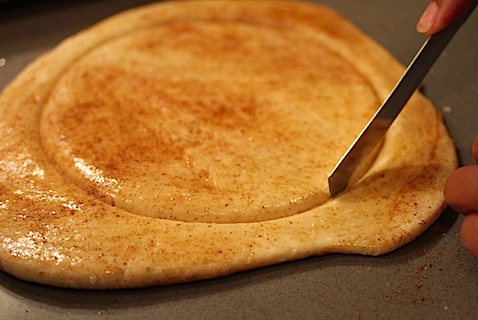 We prepared our apple pie filling.
Apple Pie Filling:
• 2 apples (we used granny smith)
• ¾ C apple cider
• 4 T fresh lemon juice
• ¼ C sugar
• 3 T corn starch
• 2 t cinnamon
• 1 t nutmeg
First we peeled, cored, and sliced the apples. Then we tossed them them in the lemon juice and sugar.
In the meantime, we combined sugar, cornstarch, cinnamon, and nutmeg in a saucepan over medium heat. We added the apple cider and brought it to a boil. Then we added the apples, stirred for a minute, lowered to a simmer, and covered for about 5 minutes.
The apples thickened up quite nicely. YUM!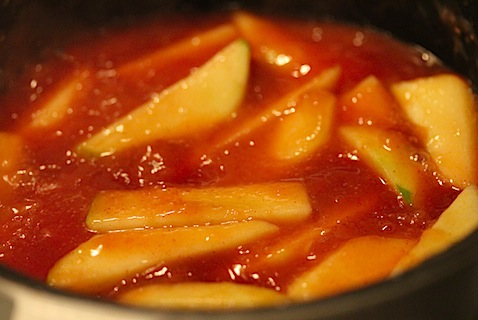 We generously topped our mini pizza pie round with the apple pie filling and dried cranberries.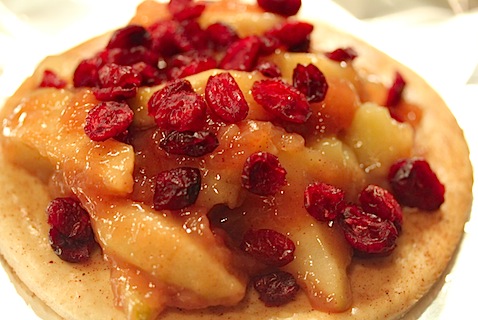 We rolled out the leftover sweet dough and cut it into strips for the lattice top.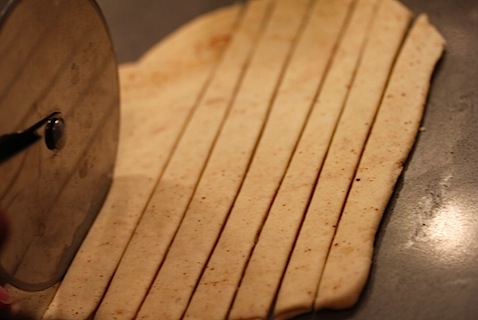 And gently wove the dough to create the pie's top. We also brushed the lattice with some melted butter.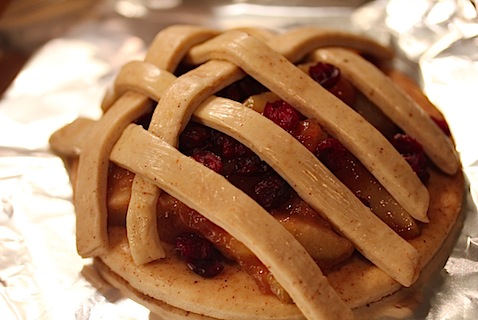 We then sprinkled the top with some more cinnamon and nutmeg.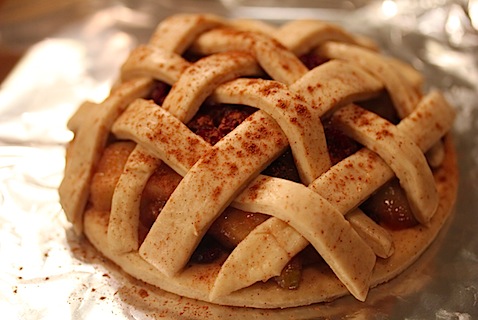 And baked for about 10 minutes at 500 degrees.
Once the pie was finished baking we assembled our Thanksgiving Pizza! We gently lifted the outer ring and placed it over the inner ring so it would essentially make one pizza and have a nice snug fit.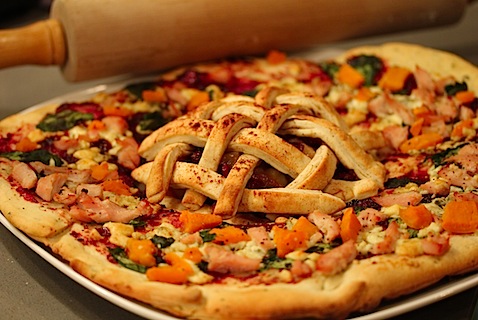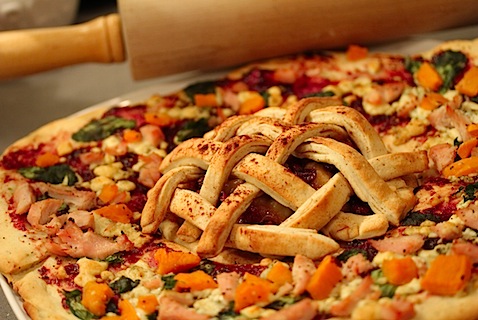 We always take things to new heights in the kitchen... especially when it comes to getting a good food photo 😉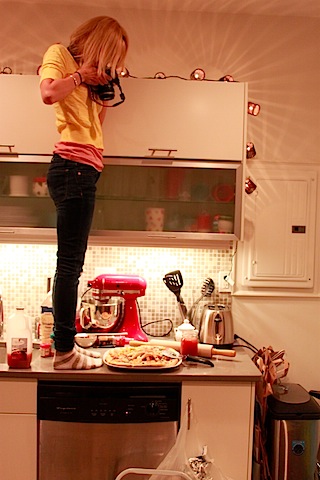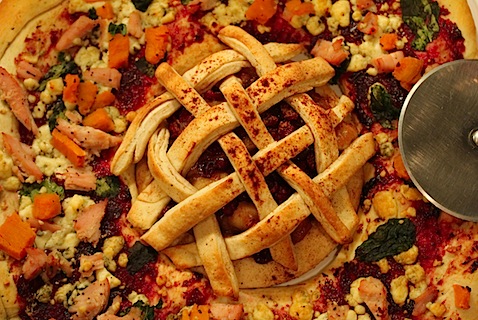 With most kitchen experiments there's always the moment of truth. We know traditional Thanksgiving foods go well together but how would it all taste on a pizza? With an apple pie in the center?
We cut our slices...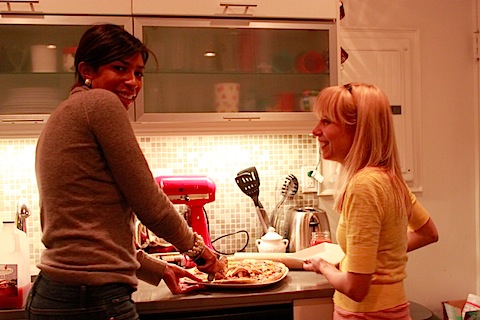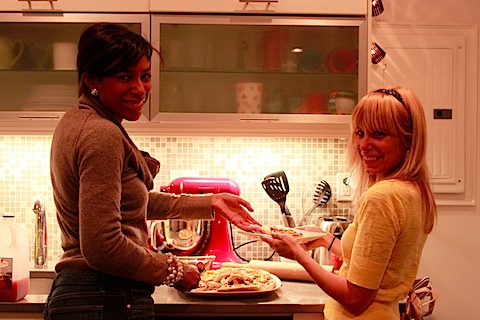 Inspected our work...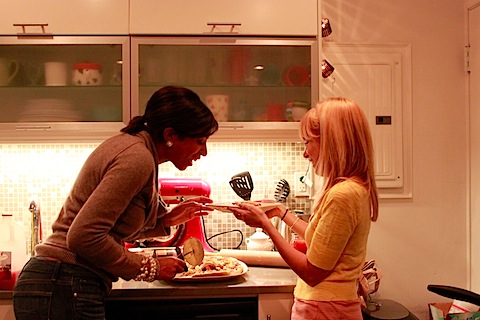 Tried to sneak a couple of bites...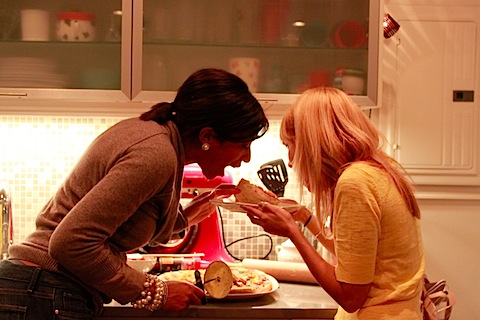 Finally dug in...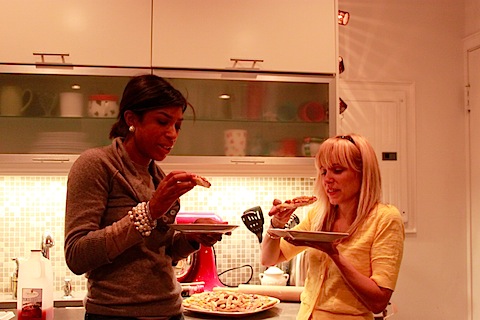 Savored each bite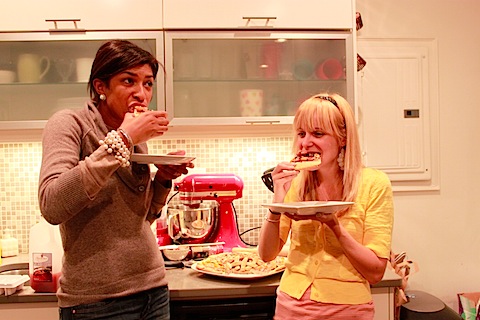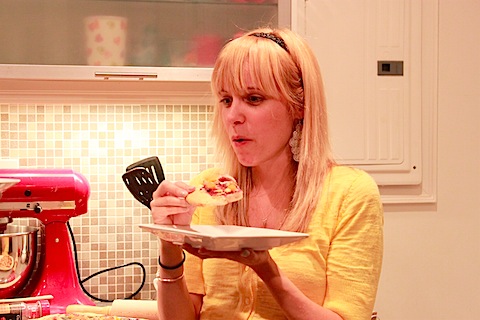 Liked it so much that we inhaled another piece...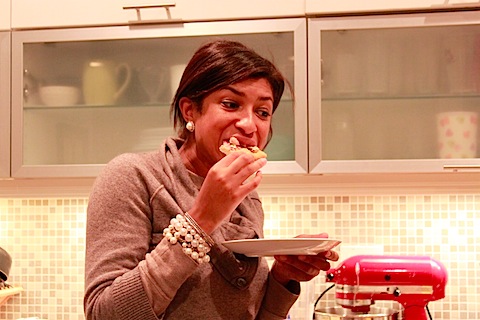 And proudly showed off our masterpiece...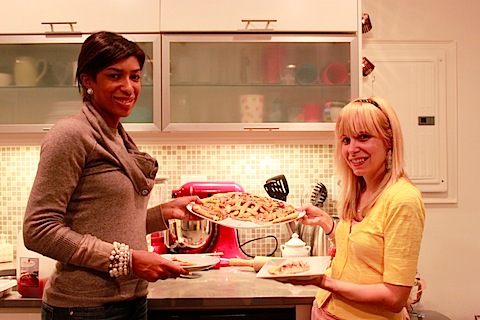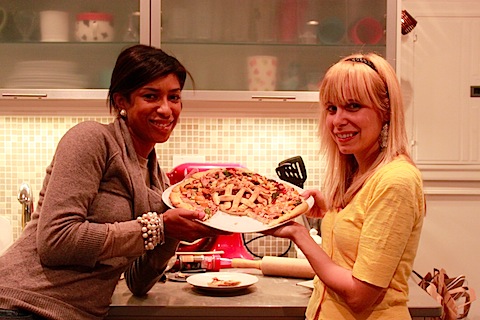 While sipping spiked apple cider. Naturally.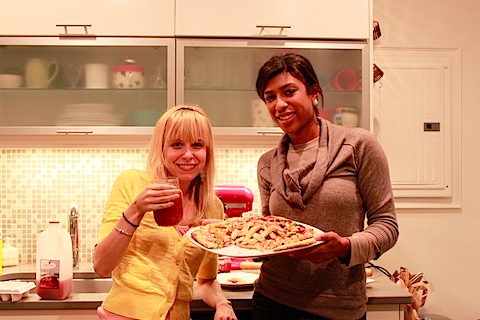 Thankfully there were leftovers.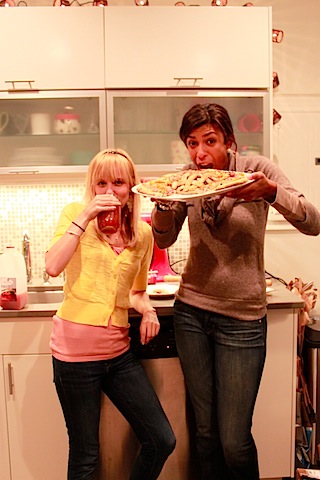 And speaking of leftovers. We think making this pizza with your Thanksgiving leftovers this year is a brilliant idea! We also think there's a chance we might make a few hundred of these, freeze them, and start shipping them out for a frozen Thanksgiving pizza year round. Because that would be heavenly for all of us. The pizza honestly tasted exactly like a Thanksgiving dinner. Which not only has us even more excited for the actual holiday, but it also has us super happy to know we can make this pizza year round! And the apple/cranberry pie dessert was a definite bonus.
If you would attempt to make this pizza with your leftovers (or buy one of our frozen ones, hehe) please vote for us! Voting opens tomorrow, October 18th!
[Sues and Chels]