When it comes to shopping we know two things. The first is that we're both really, really good at it. And the second is that when you're participating in an all-day shopping event, you need fuel to forge on and plow your way through racks of clothes. On Saturday afternoon the two of us decided to take a mini road trip to an outdoor shopping venue in Massachusetts (
Legacy Place
). The weather was a bit brisk, but we figured we'd squeeze in one last outdoor shopping day before the freezing New England temps and snow hit!
The issue with all day shopping is once you visit a few stores, try clothes on, and walk around, you're tired and hungry in no time at all. We decided for our Project Food Blog Challenge #6, to plan a lunch to fuel us for a day of shopping. Another reason we decided to pack our own lunch is because the food at shopping venues and outlet centers is either not so healthy and leaves you feeling "blah" or really expensive and leaves your wallets feeling empty! We wanted to keep our energy levels up and save our money for clothes 😉
So, we hit the grocery store the evening before our shopping outing and bought some of our favorite high-energy ingredients.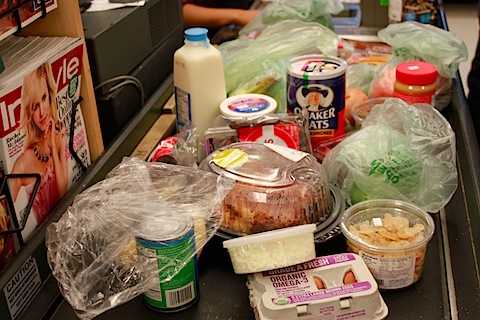 And we got cooking.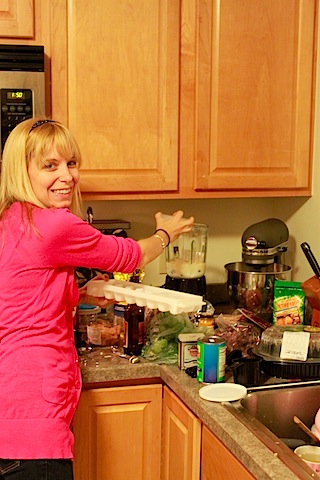 Bright and early the next morning, we packed up our food in our favorite colorful Tupperware.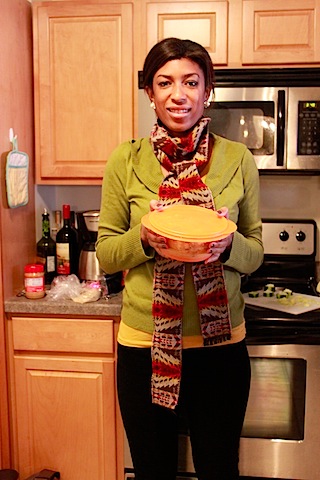 Poured our smoothies into our personalized WANM travel mugs that Chels' aunt gifted to us for our 2 year anniversary party!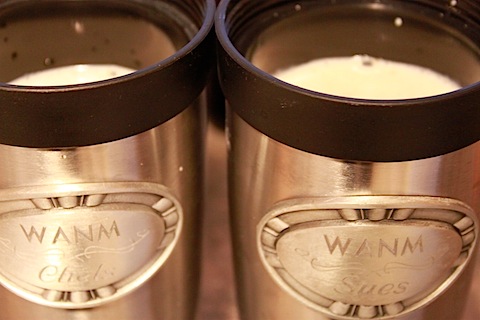 And packed everything into our Project Food Blog cooler.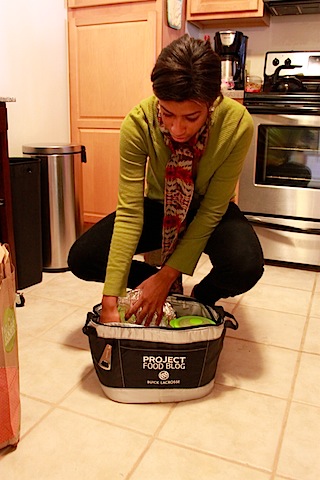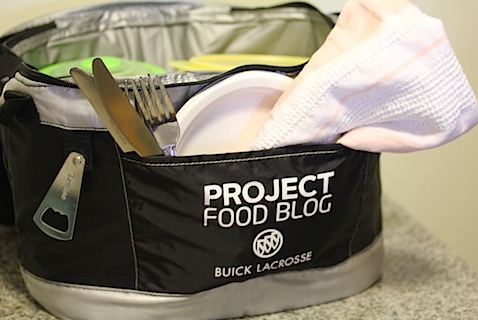 It was the perfect fit!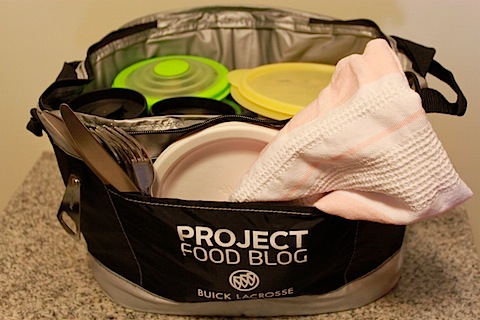 And we were ready to hit the road!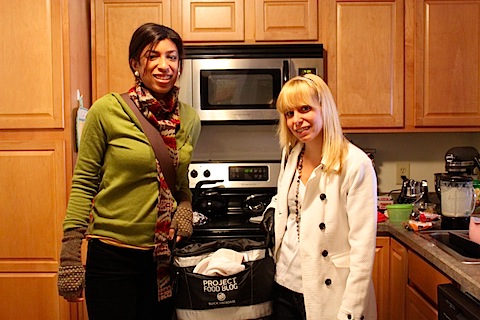 Like, really, really ready. Time to shop… bring it!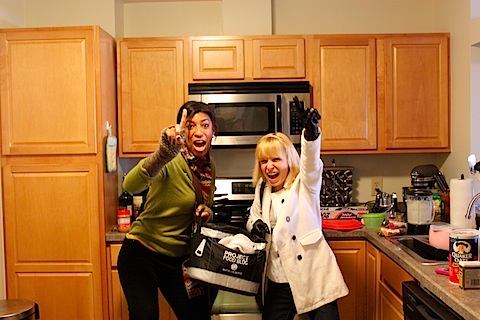 We have to say, we absolutely loved that the cooler had two side handles on it and was insulated to keep all of our food nice and cold.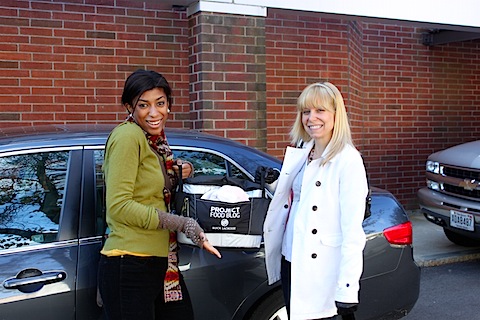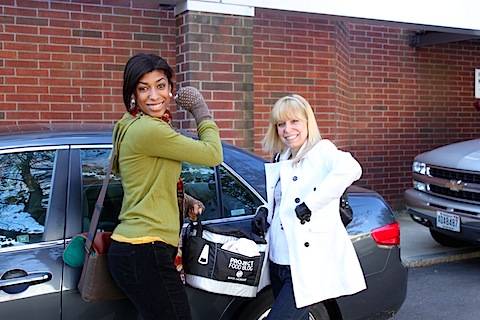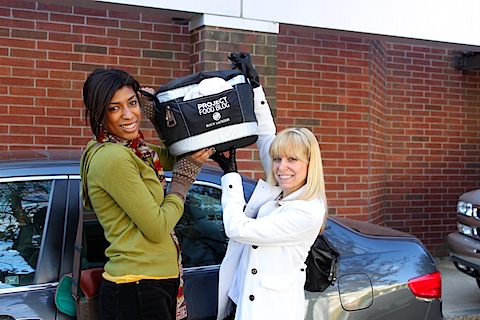 Let's get this road trip started!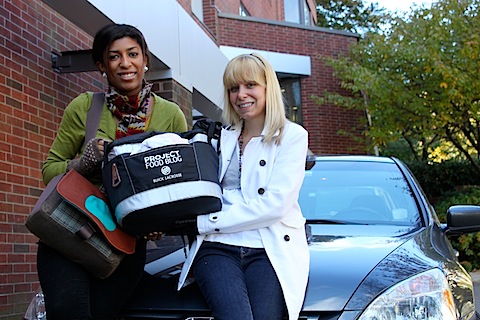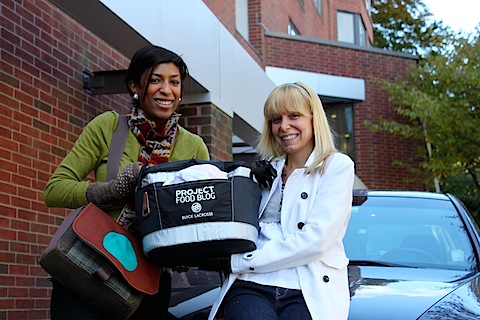 Of course, we wanted to start our day full of shopping off right, so we whipped up some vanilla date-ginger smoothies.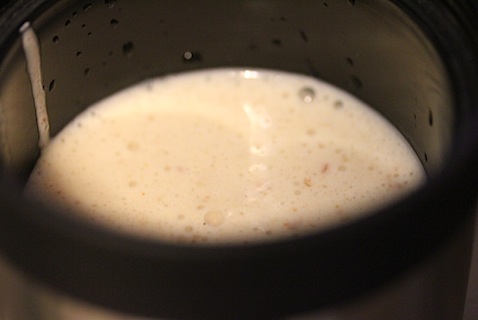 And once we got in the car, we didn't bother waiting long before breaking out the smoothies. They were the perfect start to our day. Early morning shopping trips, of course, require lots of energy!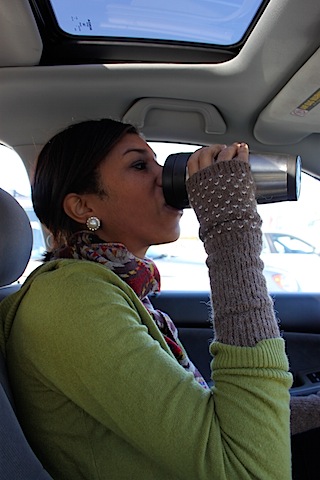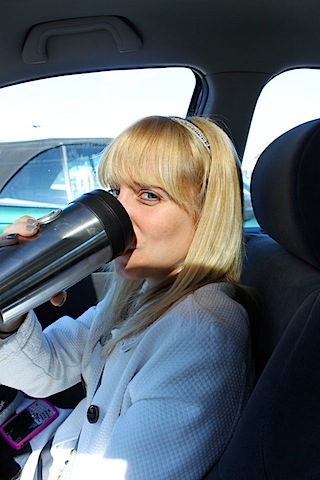 When you're on a road trip, make sure you take time to enjoy the foliage 🙂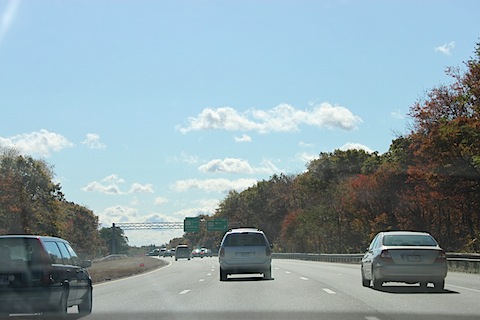 cue heavenly music…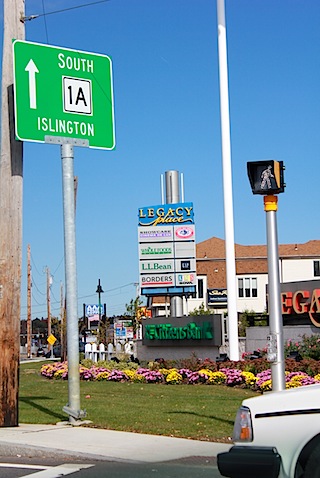 We had arrived at our shopping destination! Between Anthropologie, Lululemon, Urban Outfitters, The Paper Source, William Sonoma, Free People, the Apple Store, and H&M, we hardly knew where to start.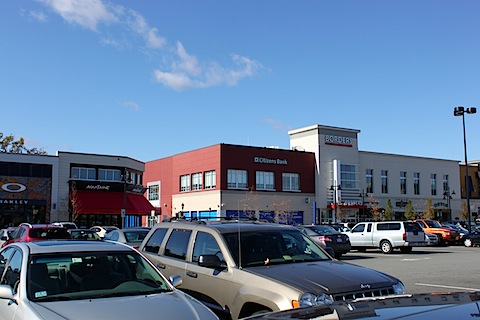 Perfect Saturday afternoon?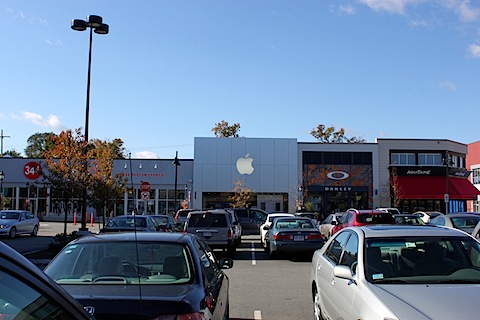 Neither one of us had been shopping at Legacy Place before so we decided to take a stroll around to devise our plan of attack. Once we figured out which stores we wanted to go to we got shopping!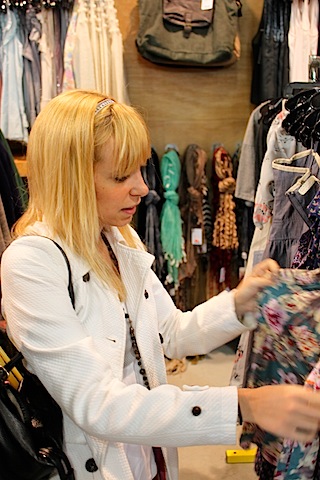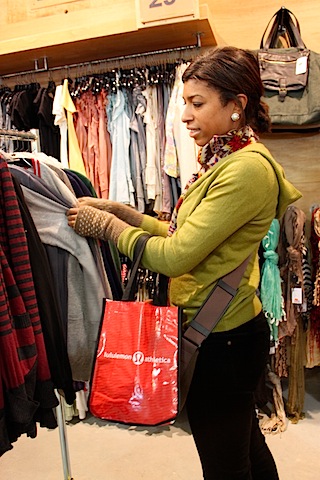 After a couple hours of shopping, we were definitely worn out, so we decided to take a break from walking around to enjoy our lunch. There were lots of benches but we wanted to make sure we found one in the sun since it was a bit chilly.
We started with an appetizer of super refreshing creamy cucumber chive cups with smoked salmon. And since they're bite-size, they were perfect for eating outside. In fact, they were so delicious, we actually made them again for a party we had this afternoon 😉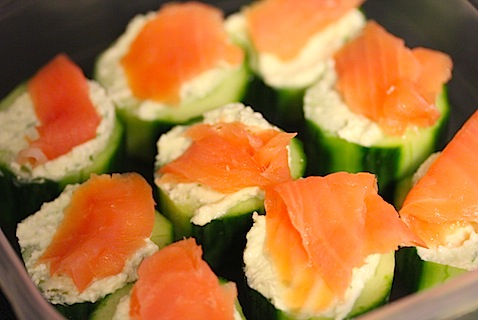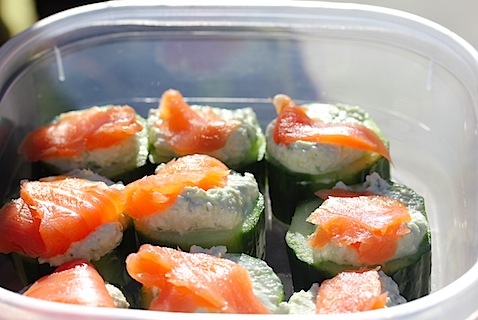 For our entree, we made a curried chicken salad with red grapes. This was the perfect salad to add to a whole wheat wrap to make a filling sandwich. The grapes added a nice hint of sweet and some crunch, too!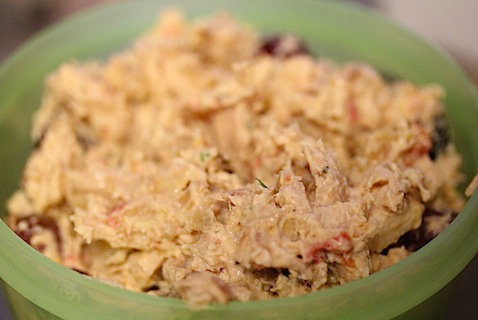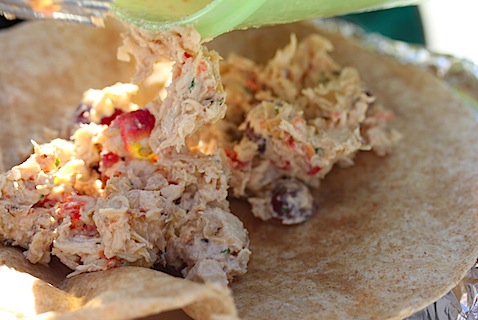 Tasty!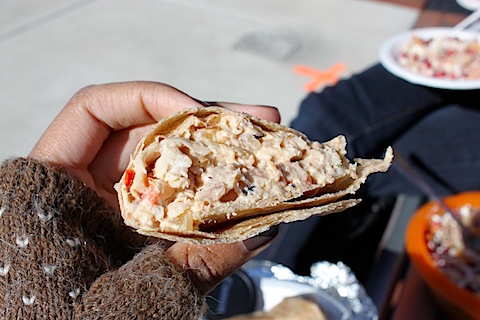 For a little salty treat (plus heart health! ;)), we also packed some Green Olives that were marinated in good olive oil, thyme, garlic, rosemary, and crushed red pepper flakes for an easy-to-eat side. The olives are also great for snacking on while walking around.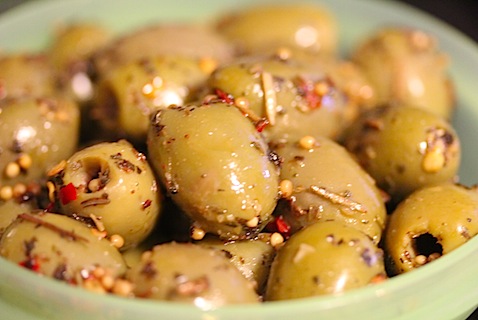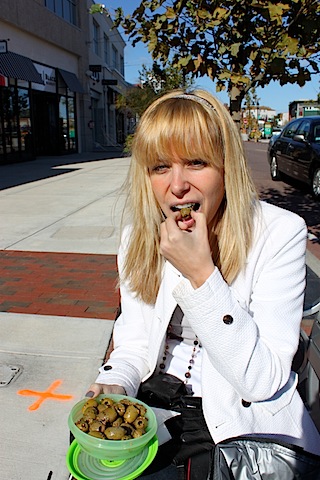 We also enjoyed a quinoa salad with pomegranate, mango, and goat cheese with an apple cider-dijon mustard dressing. When planning our road trip, we automatically knew we wanted some sort of salad with quinoa because of its high levels of complete protein.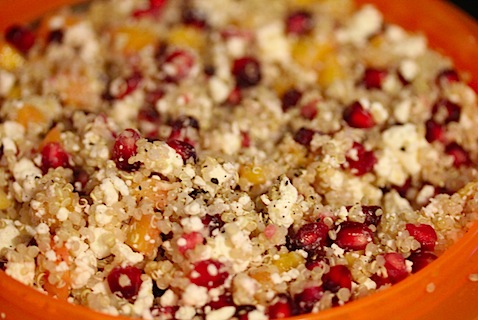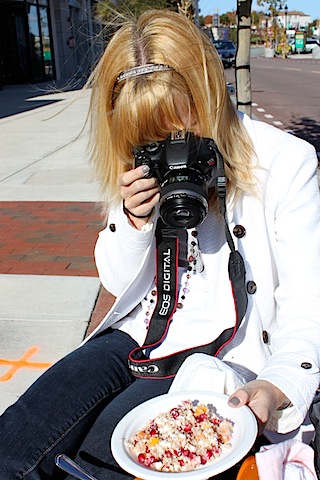 The perfect shopping power meal!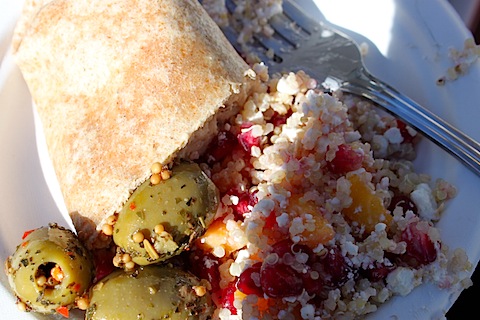 We loved being able to sit and eat our lunch at our leisure, in the sun. No waiting for a table to be ready, no being tempted by cheeseburgers and french fries, and no hefty bill at the end of the meal.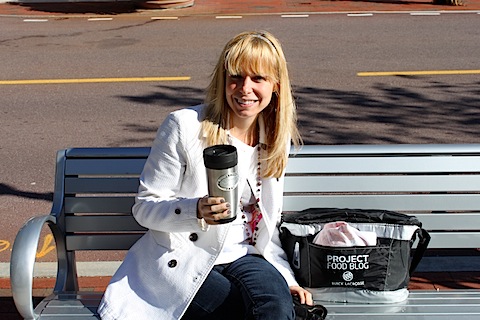 Plus, when we were done eating our high-protein, energy food, we were ready to get some more shopping done! Instead of being ready for a nap.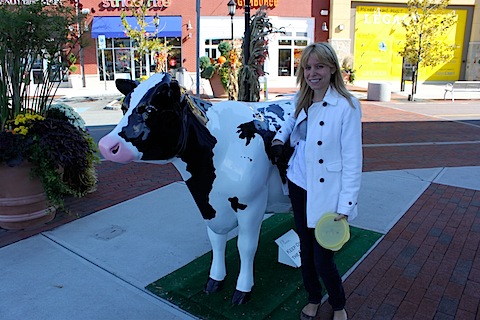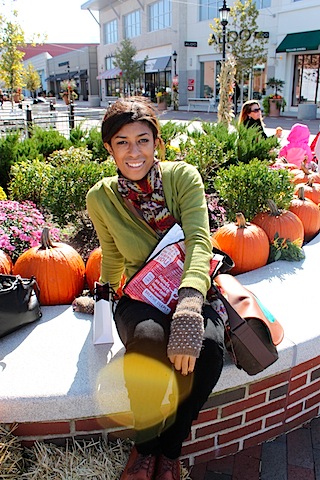 When eating in a restaurant, you often feel pressured to get dessert… especially when you have a craving for something sweet. But after a full meal, you're not always ready for dessert. So, we packed ours separately and indulged after we did a bit more shopping. We wanted dessert to help power us through the rest of our shopping trip and not weigh us down. So we made cherry orange oatmeal bars with pumpkin seeds and flax.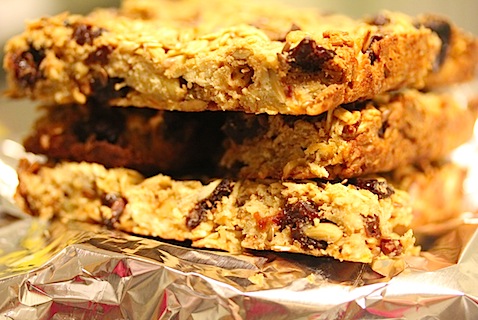 Perfect for snacking on while you contemplate your next stop.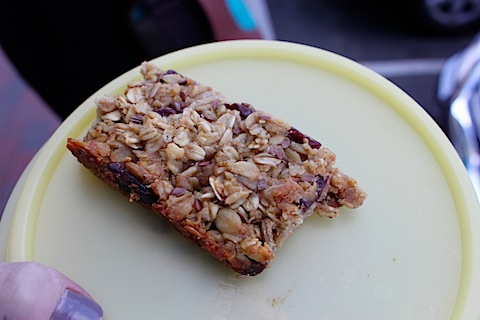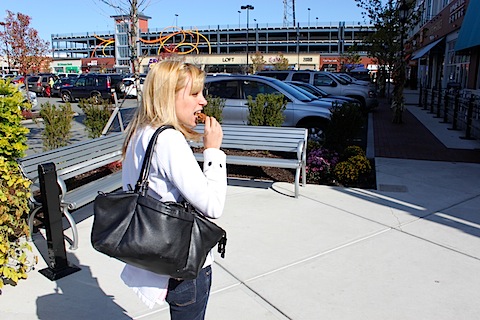 If you feel the need to run (or jump) to the next store, just make sure you chew well 🙂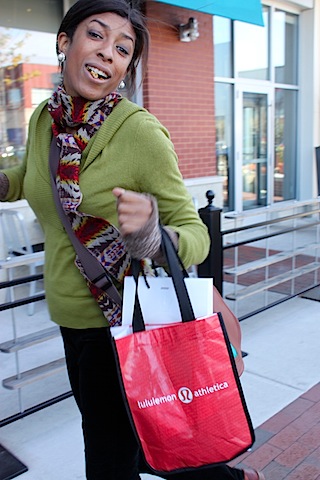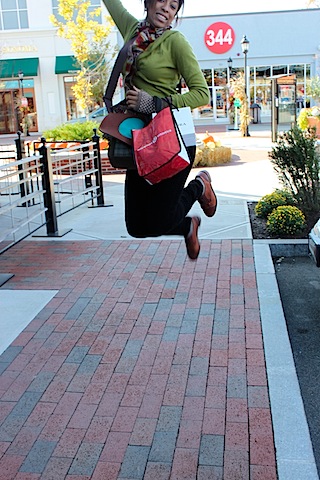 We successfully spent an entire day shopping and felt perfectly fine after. And because we made sure to eat a balanced-meal, we weren't ravenous when we got home.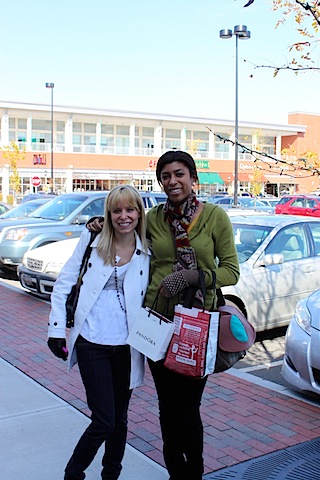 With the holidays coming up, you'll likely be spending some long days shopping. Next time you go, make sure you pack a healthy, energy-filled lunch. You'll thank yourself when you get home and realize you successfully got a gift for everyone on your list. Or just filled your own closet with brand new clothes!
Thank you for coming on our road trip with us! If you want to vote for us to move on in Project Food Blog, you can do so starting on Monday morning at 9 a.m. The next challenge is a video challenge and we'd love for you to really meet us 🙂 Thank you so much for all your support so far!!
[Sues and Chels]