Put your pie away. Just kidding, don't really. I love pie. Like a lot a lot. And I'll gladly help myself to some any time it's available. But fall is about so, so, so much more than pie. And cobbler. And crisps. And even apple cider doughnuts (hard to believe, right??). Just because it's already too freaking cold for campfires (at least here where I live in New England), but I'm not really ready to give up on s'mores. I'm never ready to give up on s'mores. So, I'm not.
I recently discovered that cookie s'more are about 14.9% better than graham cracker s'mores. Which is saying a lot considering I'm a huge fan of the good 'ole traditional s'more. I bought a bag of pumpkin spice marshmallows at Target because I just couldn't resist. I've been buying way too many exclusive candies and baking sweets from Target lately because I can't resist. My pantry is seriously filling up, so I decided I needed to jump on some recipe creation. Marshmallows just equal s'mores to me and so, these Pumpkin Gingersnap S'mores were born.
Where you'd traditionally have a graham cracker, you have a pumpkin gingersnap. Add in some pumpkin spice marshmallows, milk or white chocolate (your choice!), caramel sauce, and toffee, and this is like no other s'more you've had before.
Please tell me you can get with me on this. I could eat pumpkin gingersnaps non-stop from now until forever.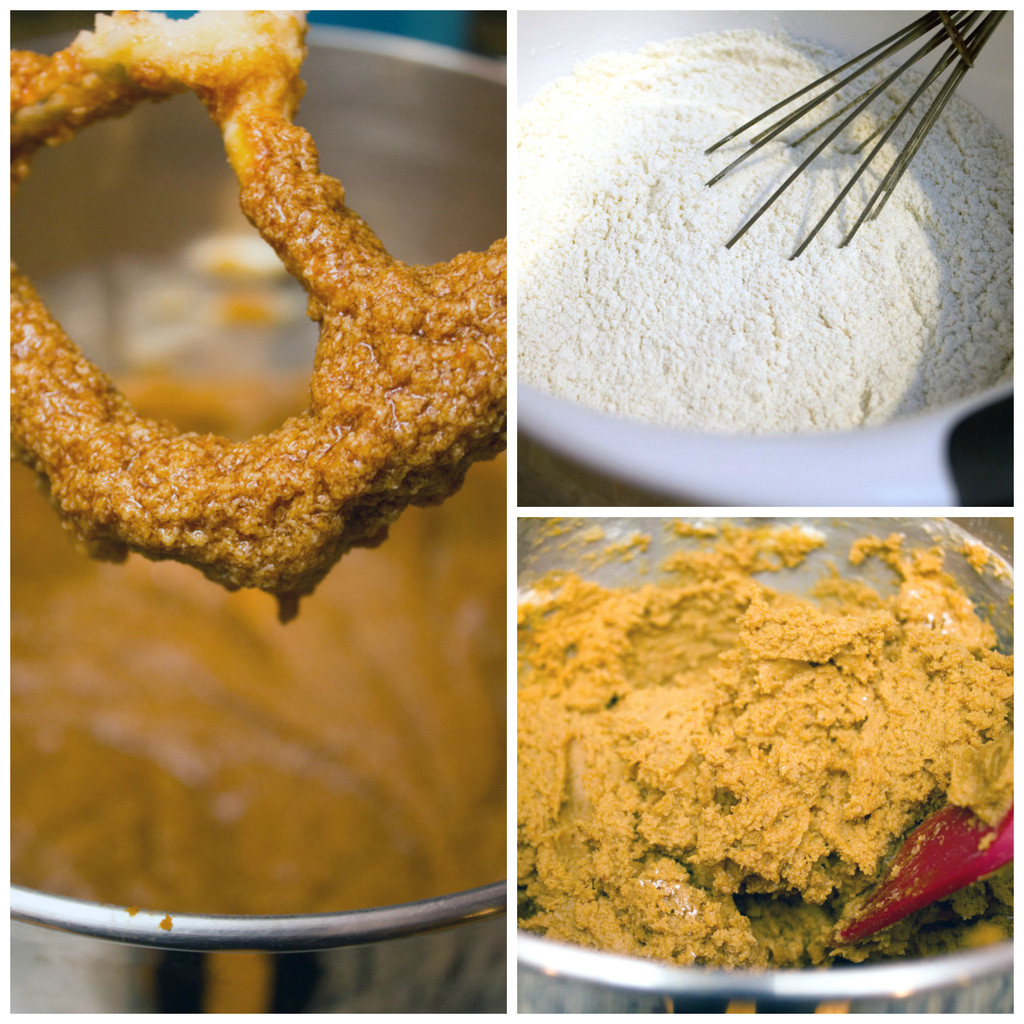 Actually, I could probably just eat that batter. Obviously all cookie dough batter is amazing, but there's something about gingersnap dough that makes me extra happy. And all kinds of holiday-ish.
But the cookies are cool, too, especially because you dip them in more granulated sugar before you bake them.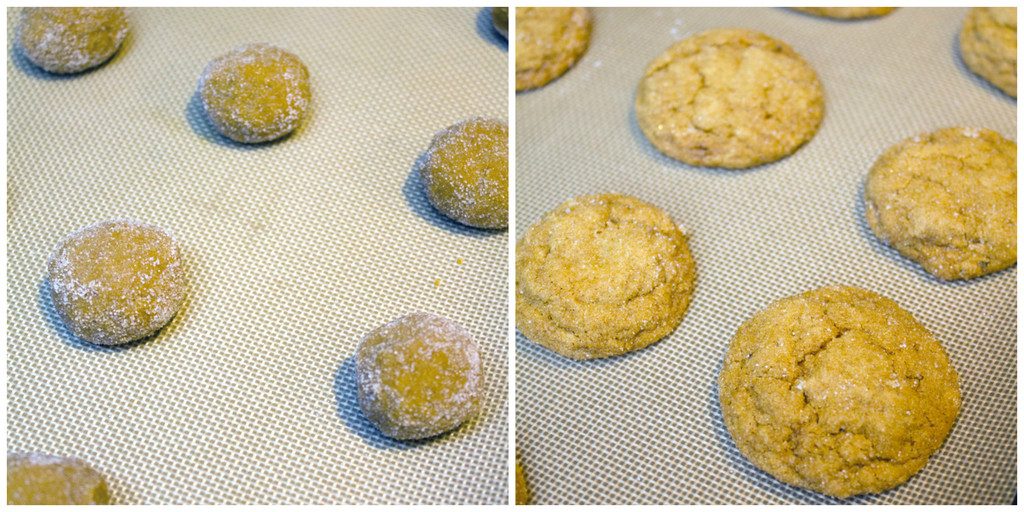 Those pumpkin marshmallows are super cute and way too tasty. In retrospect, I probably added one too many to each s'more.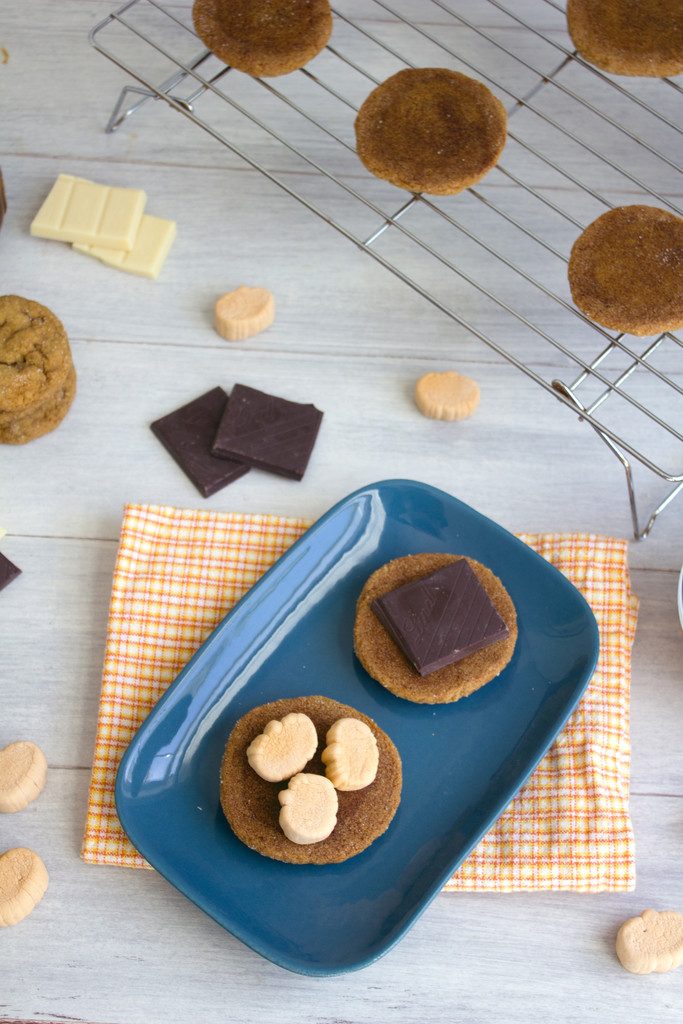 Let's just say these s'mores didn't end up being the neatest thing in the world. In fact, they may just have been my messiest dessert ever.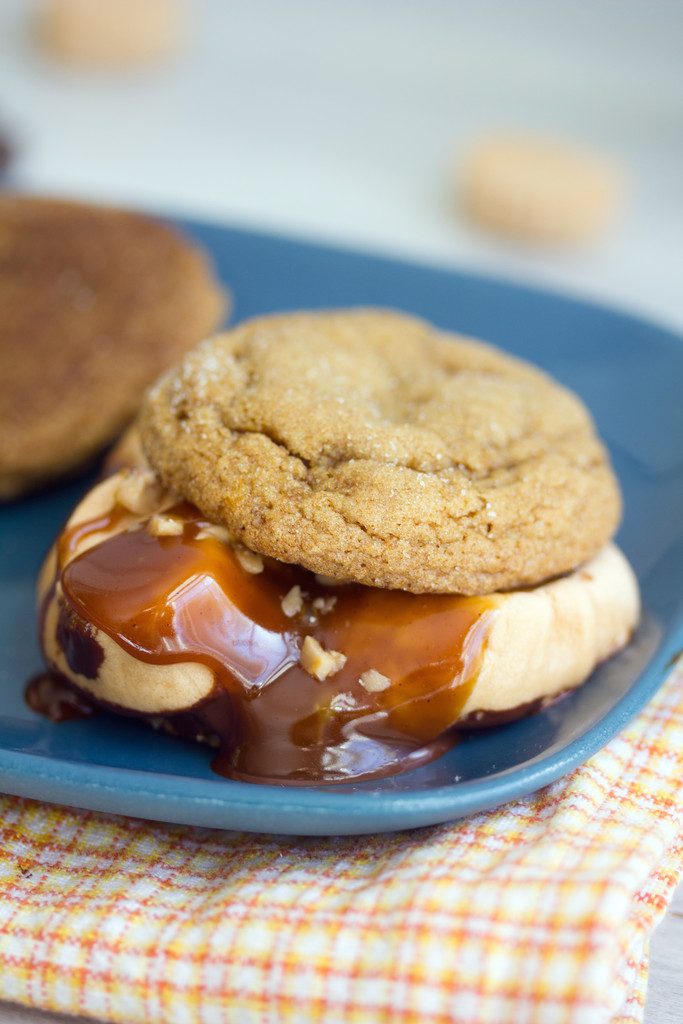 A fact I am entirely OK with. Honestly, there's not a whole lot I would change abut these bad boys. How can you really go wrong? Check out all that caramel and toffee! Plus, while messy isn't always better, it can od made me proud of this here little dessert.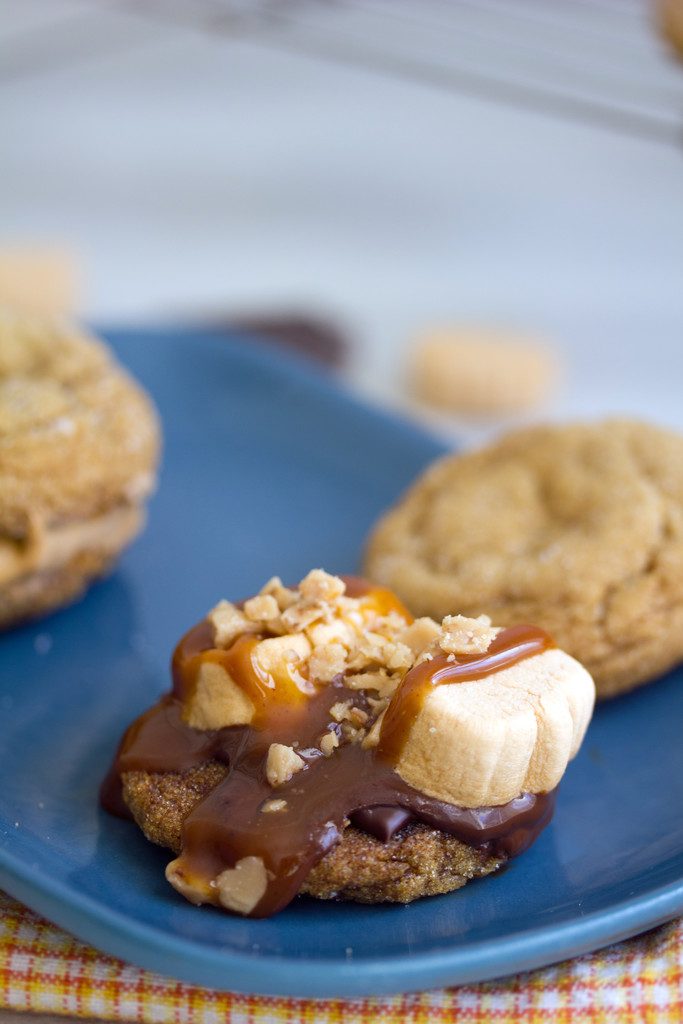 I have a love/hate relationship with white chocolate…. Sometimes I can't get enough and sometimes it's just way too sweet for me. I always like milk chocolate (and dark chocolate even more!). I really thought white chocolate went perfectly with these cookies s'mores… But I couldn't resist making some with milk chocolate, too.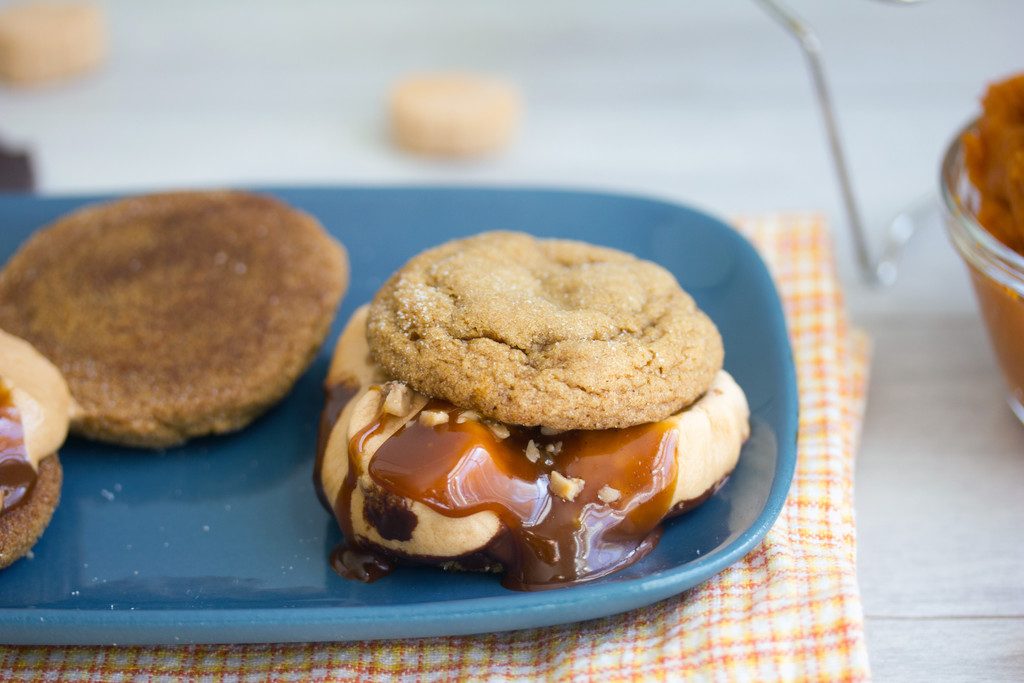 Nope, you can't go wrong. Technically, you wouldn't even be going wrong if you were eating the "plain" pumpkin gingersnaps alone, but it just wouldn't be quite as fun. And the marshmallows? It's a good thing I needed them for this recipe because I was starting to spend all my free time "trying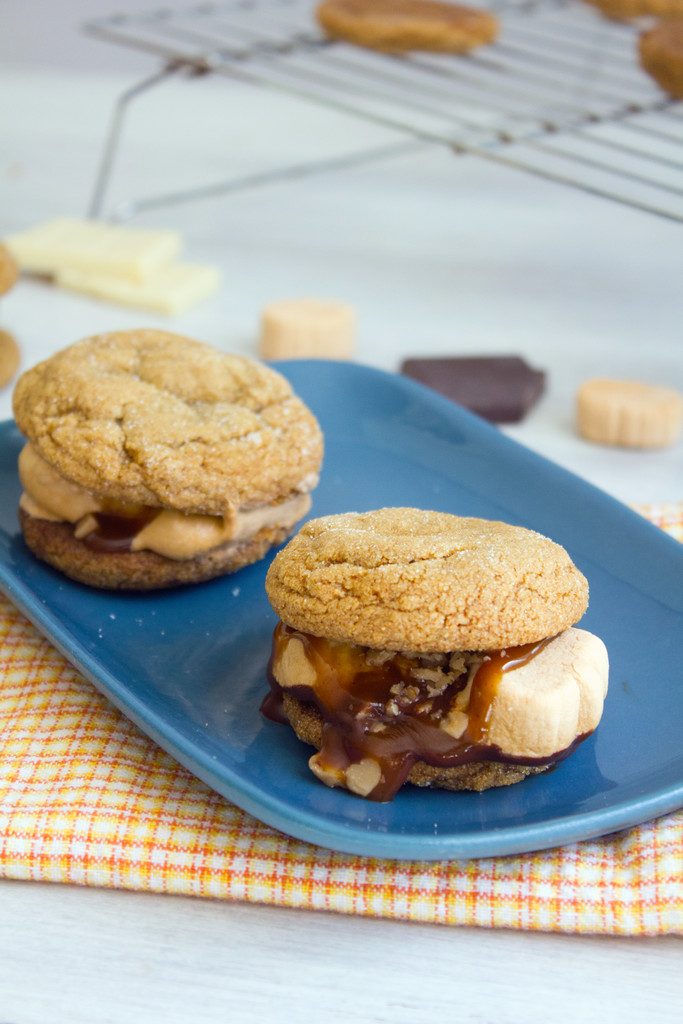 I've probably told you this before, but I strongly recommend whipping up a batch of the caramel and just storing it in the fridge. Then, when you get an urge to make something like this, you'll have a major element all ready to go. Or you know, when you get the urge to eat caramel with a spoon. Which surprisingly happens way more than you'd think.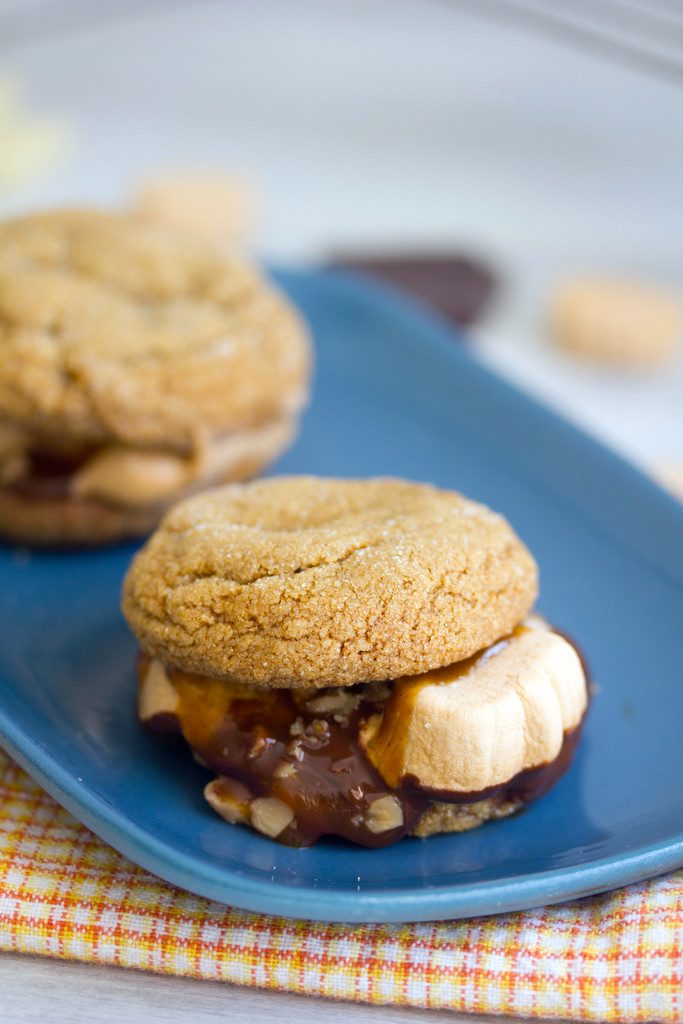 Who needs campfires anyway? I mean, I don't even like camping. I'd so much rather eat a pumpkin gingersnap s'more than I would a traditional one. Especially if it means I can be snuggled up on my couch... I'd choose snuggled up on my couch over most things in life really. Wouldn't you?
What's the makeup of your ideal s'more? Cookies, graham cracker, type of chocolate? Tell me all!
📖 Recipe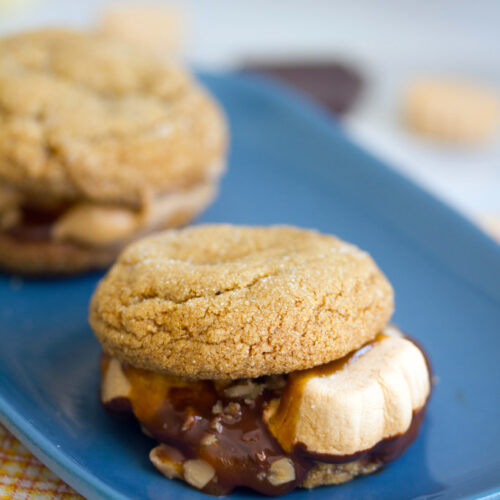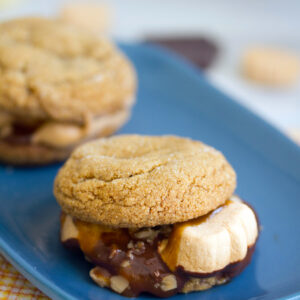 Pumpkin Gingersnap S'mores
Traditional graham cracker s'mores are always welcome, but when it gets too chilly for campfires, consider these Pumpkin Gingersnap S'mores instead. Pumpkin gingersnaps, pumpkin spice marshmallows, chocolate, caramel, and toffee make for the perfect s'mores!
Print
Pin
Rate
Ingredients
48

pumpkin gingersnaps

recipe below

48

Pumpkin Spice Marshmallows

20

oz.

white or milk chocolate bars

or a mix of both

Caramel sauce

recipe below

½

cup

toffee pieces
Pumpkin Gingersnaps:
¾

cup

butter

room temperature

1¾

cups

sugar

plus more for dusting cookies

1

egg

½

cup

pumpkin purée

½

cup

molasses

3½

cups

all-purpose flour

1

Tbsp

baking soda

1

Tbsp

ground ginger

¼

tsp

cinnamon

¼

tsp

ground cloves

¼

tsp

salt
Caramel Sauce:
½

C

granulated sugar

3

T

butter

cut into pieces

¼

C

+ 1 T heavy cream

¼

t

salt
Instructions
Set oven to broil.

Place half of pumpkin gingersnap cookies upside-down on one foil-lined baking sheet. Place the other half of cookies upside-down on a second foil-lined baking sheet. Place two marshmallows on top of the cookies on one sheet. Place a small piece of chocolate on top of the other cookies.

Place the cookies topped with marshmallows in oven on broil for about 2-3 minutes, until marshmallows are toasted. When only 1 minute remains, place second baking sheet with chocolate topped cookies in the oven to let chocolate get melty.

Drizzle caramel sauce over marshmallows and sprinkle toffee bits over.

Put marshmallow and chocolate cookies together to create sandwiches.
Pumpkin Gingersnaps:
Pre-heat oven to 350°.

In the bowl of a stand mixer (or in a large bowl with a hand mixer), cream together butter and sugar until light and fluffy.

Add the egg, pumpkin purée and molasses and mix until combined.

In a separate large bowl, whisk together flour, baking soda, ginger, cinnamon, ground cloves, and salt.

Pour flour mixture into wet mixture and mix together until just combined.

Put dough in refrigerator for at least 20 minutes.

Scoop tablespoons of dough, roll in extra sugar, and place on parchment-lined baking sheets about 1 inch apart.

Bake at 350° for about 7-10 minutes, until cookies are just starting to brown at edges.

Let cool in pan for a 5-10 minutes before moving to rack to cool completely.
Caramel Sauce:
In a medium saucepan, heat granulated sugar over medium heat. Stir frequently with a rubber spatula until sugar turns into a smooth amber-color liquid.

Stir butter into sugar. The mixture will bubble quite a bit. Stir for about 1 minute, until the butter is completely melted.

Stir the cream into the mixture and let it come to a boil.

Remove the saucepan from the heat and stir in salt. Pour the mixture into an airtight container like a mason jar or bowl. Store in fridge until ready to use.
Share a Photo of Your Finished Recipe!
Mention @wearenotmartha and share a photo if you've made the recipe!