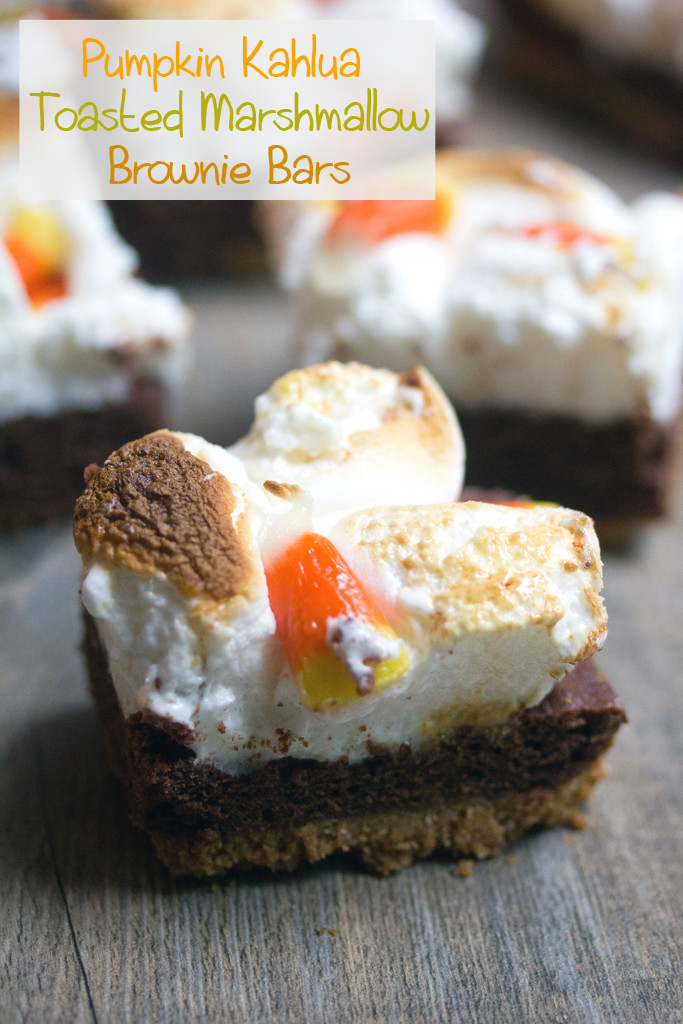 When I was 8 years old, I sat on the floor of my bedroom and wrote a story about best friends who swapped identities and tricked all of their friends and family. At the time, it was a masterpiece and set to be published (hardcover, obvi). Re-reading it now, I'm pretty sure I was morphing the Parent Trap and Freaky Friday together in a really bad re-telling. In 2nd grade, I wrote my first book report and my teacher commented on it that a summary is not an entire re-telling of the book (Mr. Popper's Penguins, by the way). I figured a "report" meant I was supposed to report on every detail and so, I did. In 3rd grade, I took my first writing class and wrote about a raindrop's journey through the water cycle, illustrations included. In 4th grade, I won a prize for writing a lengthy piece about family car trips to Buffalo that basically detailed the books I read in the backseat, the naps I took, and the rest stops we went to. Riveting stuff. I majored in English; I mastered (is that a word?) in writing and publishing. And I wrote constantly in my free-time… Which means I have LOTS of embarrassing journals for every stage of my life. Maybe someday I'll show my children. But I might still be too embarrassed.
Now, I write a blog and fall asleep at 9:00 p.m. with my laptop on my lap (on a good night). To be fair, I do spend a large amount of time writing at my day-job, some of which is creative content (but most of which is analytics reporting and client emails…zzzzz). If I could add 5 hours onto every week, I think I'd spend at least 2 of those writing. But something tells me a free time fairy isn't going to visit and add hours to the week within my lifetime (but please?). So for now, I'll be content writing about the food I'm cooking and baking and sharing it here. And maybe dreaming a little bit about retirement when I'll spend every day on the beach with a cocktail in one hand and a pen in the other.
At the moment, I'll settle for a cocktail in one hand and my laptop in my lap. OK fine, in the fall and winter, a cocktail infused brownie bar in one hand may be more appropriate. Of course, there are about 5 million drinks I can imagine making with this Pumpkin Spice Kahlúa that the brand so kindly sent me. Mainly, I just want to sip it with some milk. But I also want to infuse it into every fall treat known to man, which is why I came up with these Pumpkin Kahlúa Toasted Marshmallow Brownie Bars. With candy corn. And a ginger graham cracker crust.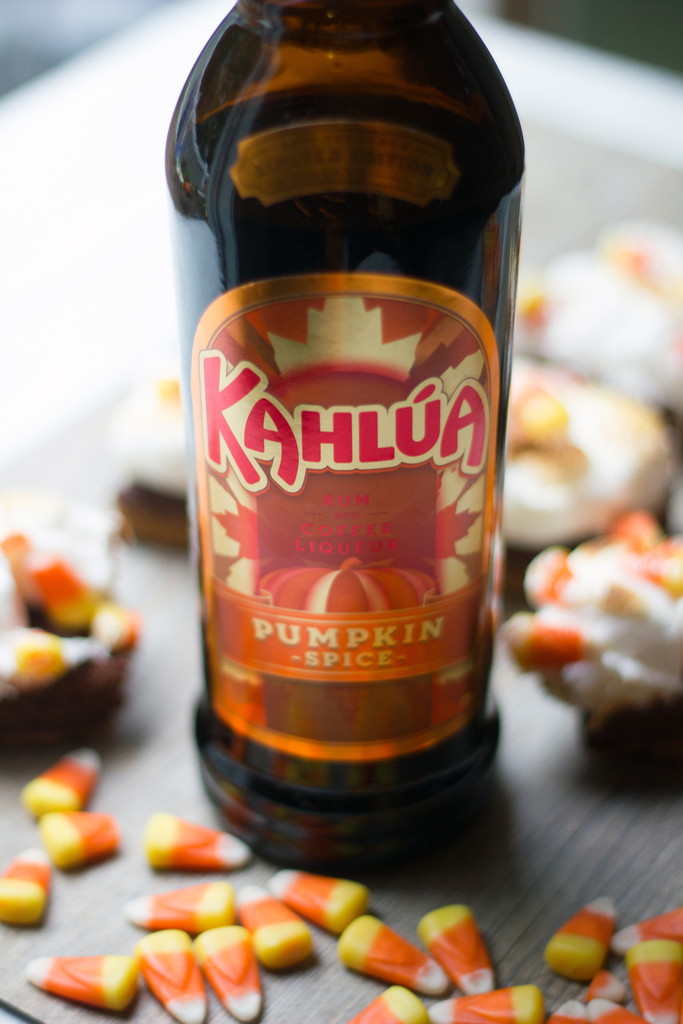 Pumpkin Kahlua Toasted Marshmallow Brownie Bars (makes about 16 bars):
Print this recipe!
Ginger Graham Cracker Crust:
9 whole graham crackers
2 Tablespoons sugar
½ T ground ginger
5 T butter, melted
Brownie Bar Middle:
1 ¼ C all-purpose flour
⅓ C unsweetened cocoa powder
¼ t baking powder
¼ t salt
2 large eggs
¾ cup sugar
½ cup

Pumpkin Spice Kahlúa

3 oz. dark chocolate
3 T butter
Marshmallow Topping:
30-35 regular-sized marshmallows
¾ C candy corn
(Pre-heat oven to 350 degrees)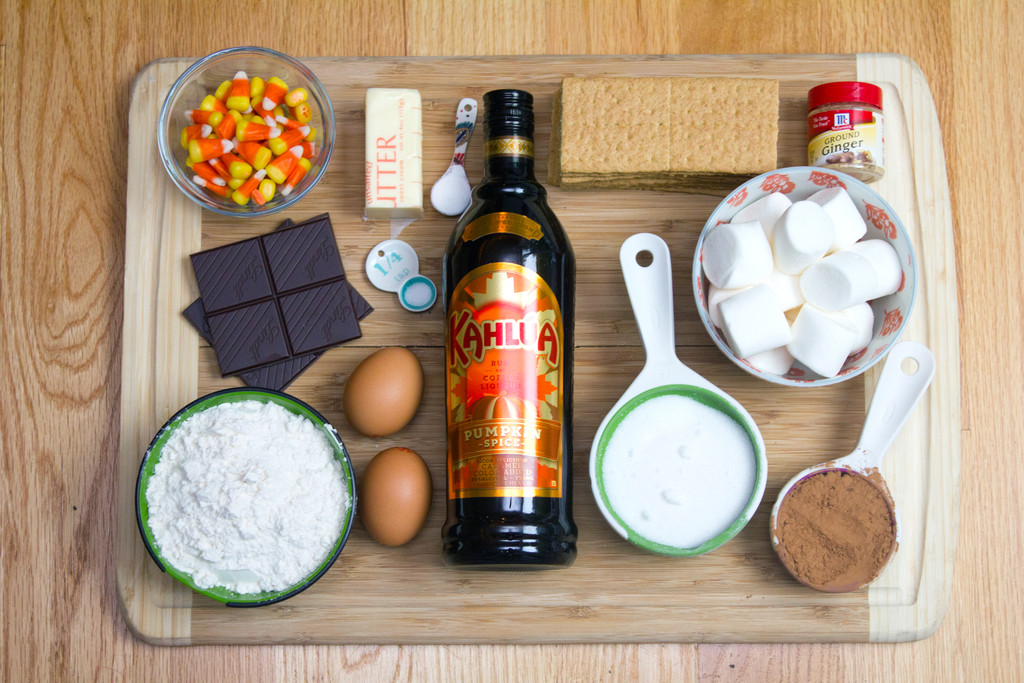 Did you even know Pumpkin Kahlúa existed? It makes me so happy that it does. Coffee liqueur is already one of the best things ever, but adding some light touches of pumpkin spice? Yessss.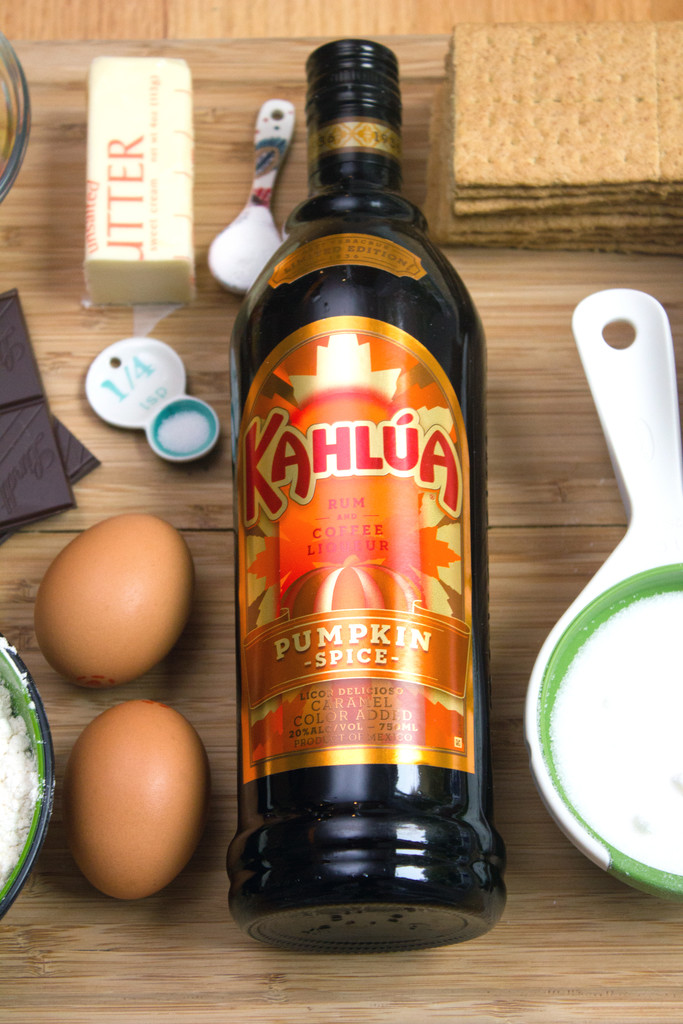 These bars do have three components to them, but they're a pretty easy undertaking. Start with the ginger graham cracker crust. Put graham crackers in a food processor and pulse until crackers are ground into fine crumbs.
Pour them into a bowl and mix with ground ginger, sugar, and melted butter.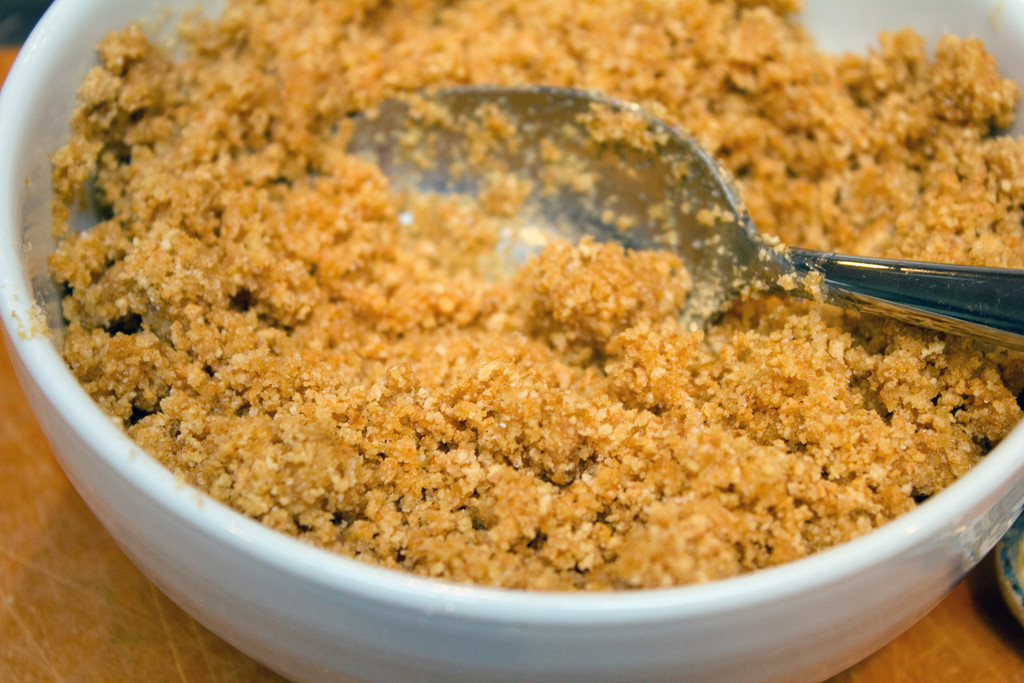 Spray a 9x9 baking pan with cooking spray (or brush lightly with melted butter) and press graham cracker crumbs into the bottom of it.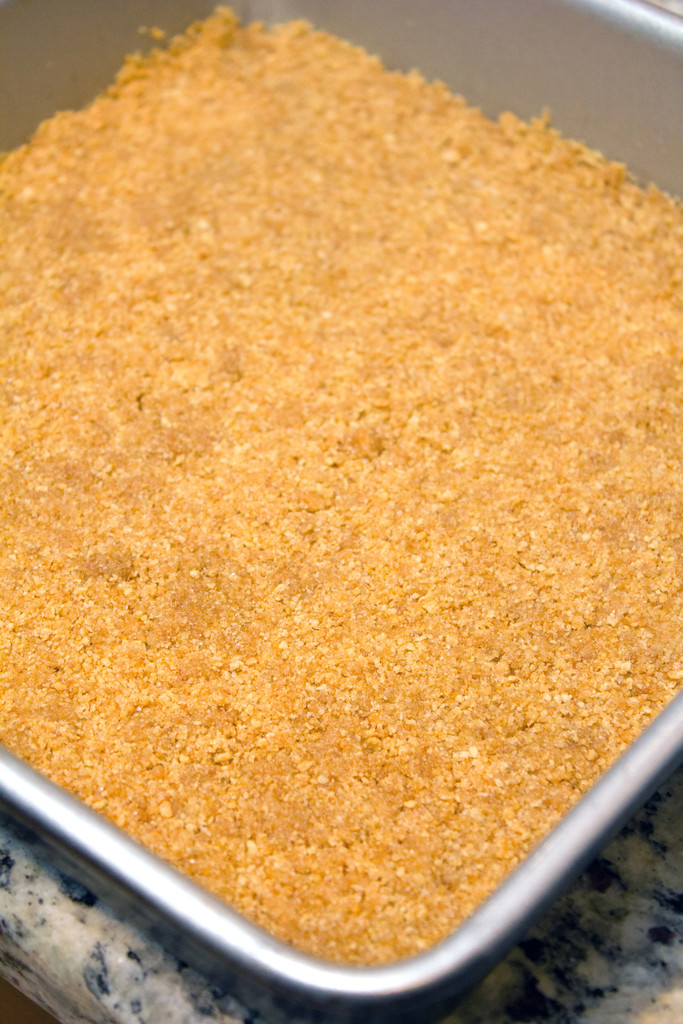 Bake at 350 degrees for about 15-18 minutes, until crust is just starting to brown along edges.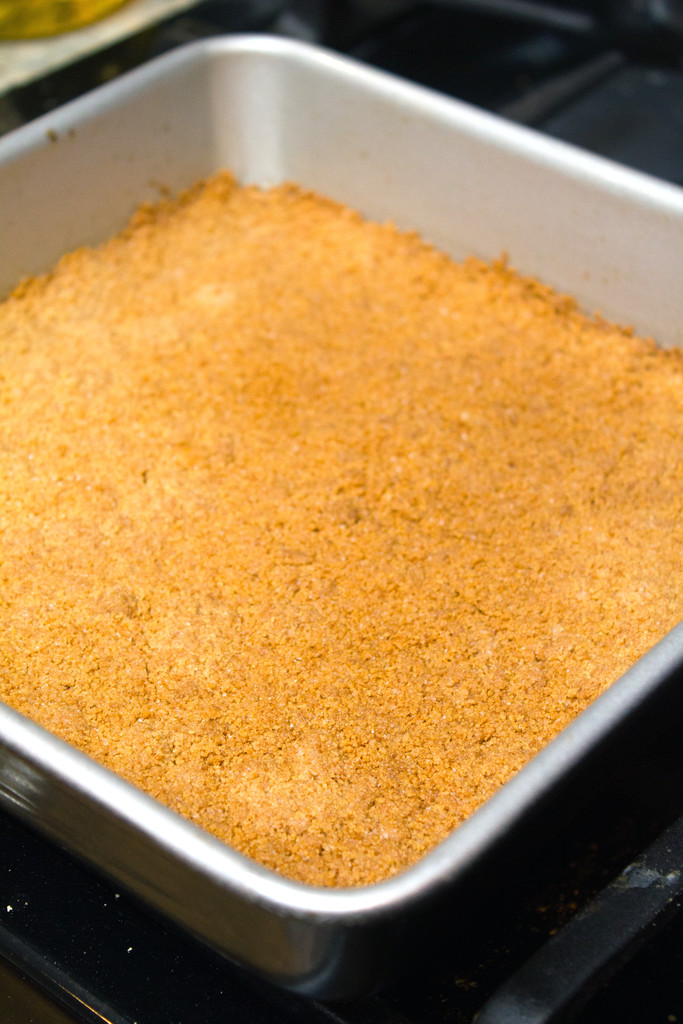 While the crust is baking, prepare the brownie middle. This is where the Pumpkin Kahlúa comes into play.
Whisk together flour, cocoa powder, baking powder, and salt in a medium bowl. Set aside.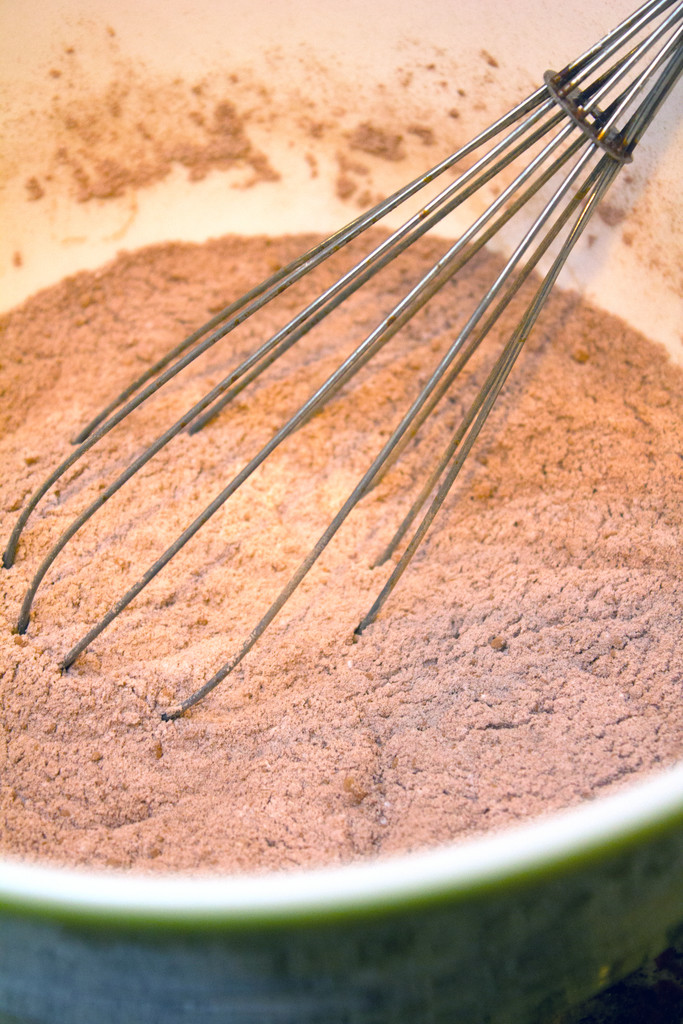 In another medium bowl, whisk together eggs and sugar until well-combined. Then whisk in Pumpkin Kahlúa. Set aside.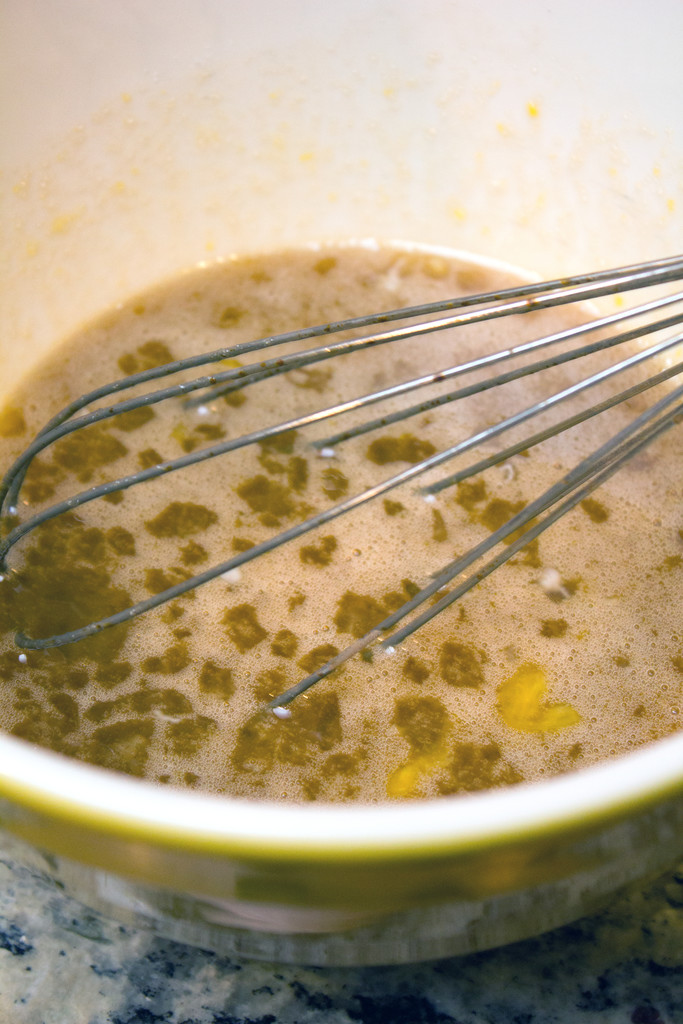 In a double broiler or a large heat-proof bowl set over a saucepan of simmering water, add chocolate and butter. You can use chocolate chips, but I never really like the way they melt and prefer to use a high-quality chocolate bar. For this recipe, I used Lindt's 70% Cocoa Bar.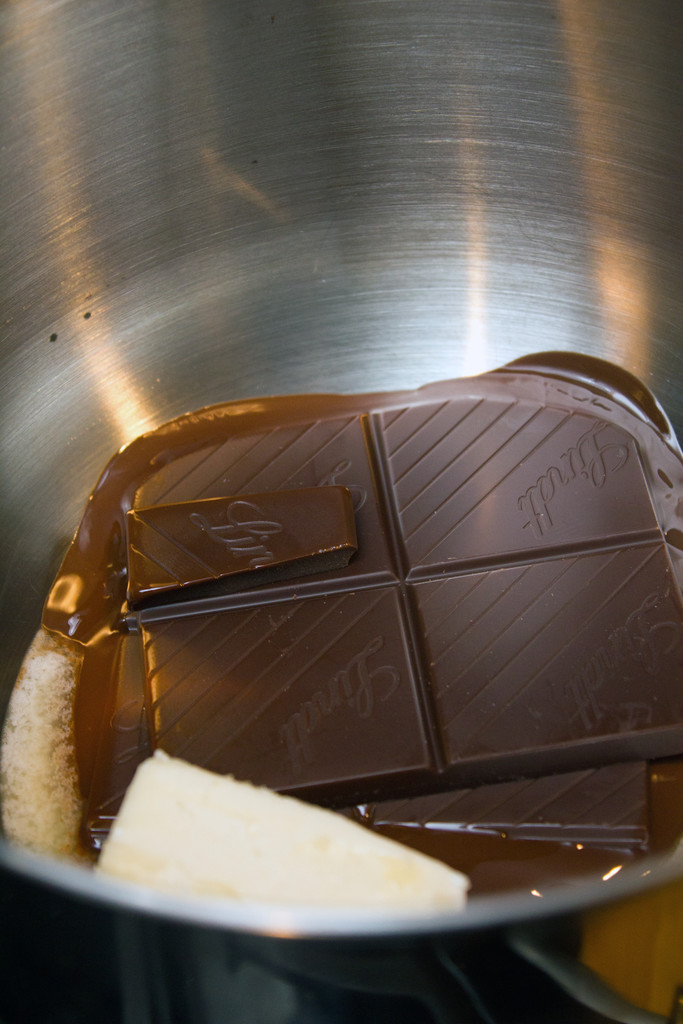 Once chocolate is melted, remove from heat and let sit for 5 minutes. Then, slowly stir the egg/Kahlúa mixture into the chocolate mixture, until well-combined.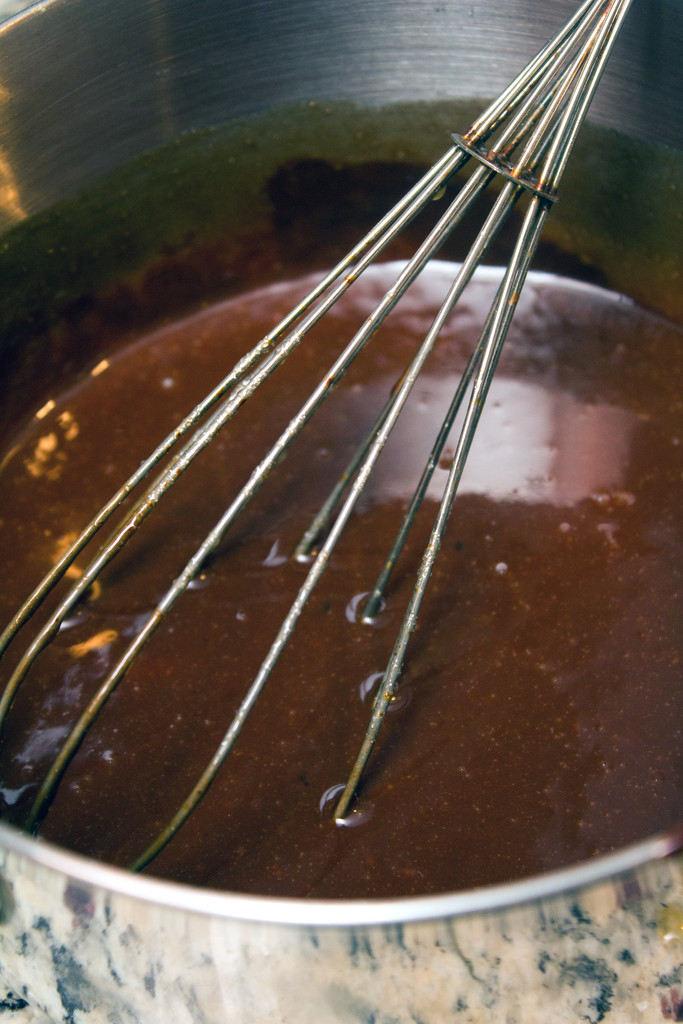 With a rubber spatular, fold the flour/cocoa mixture in, taking care not to over mix.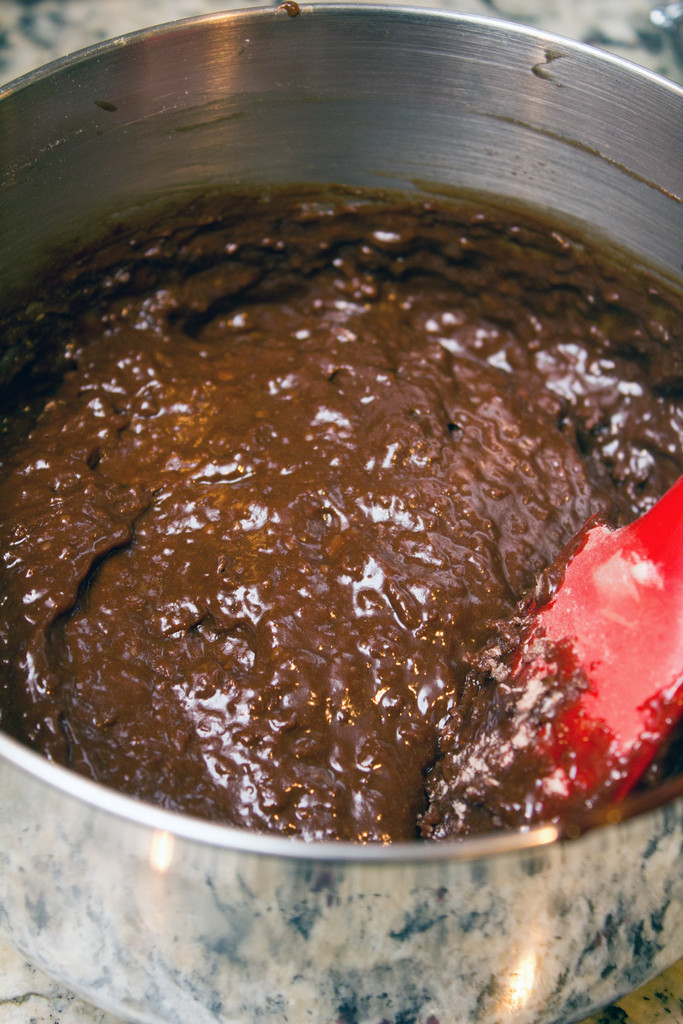 Pour brownie batter over the top of the top of the graham cracker crust.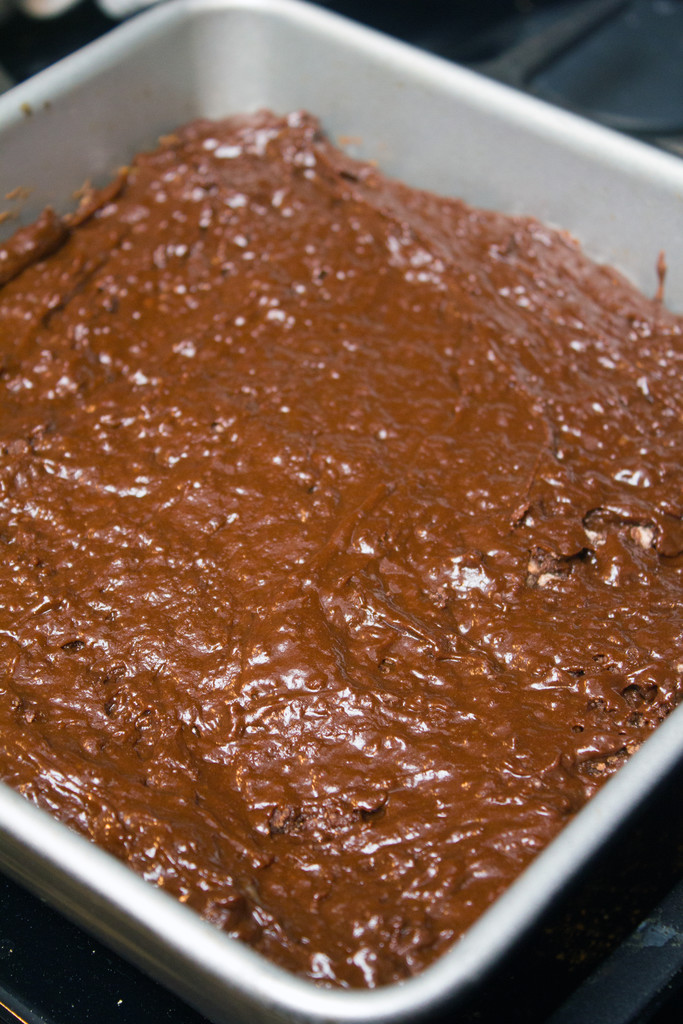 Put in the oven at 350 degrees and let bake for 20-25 minutes until brownie is cooked through.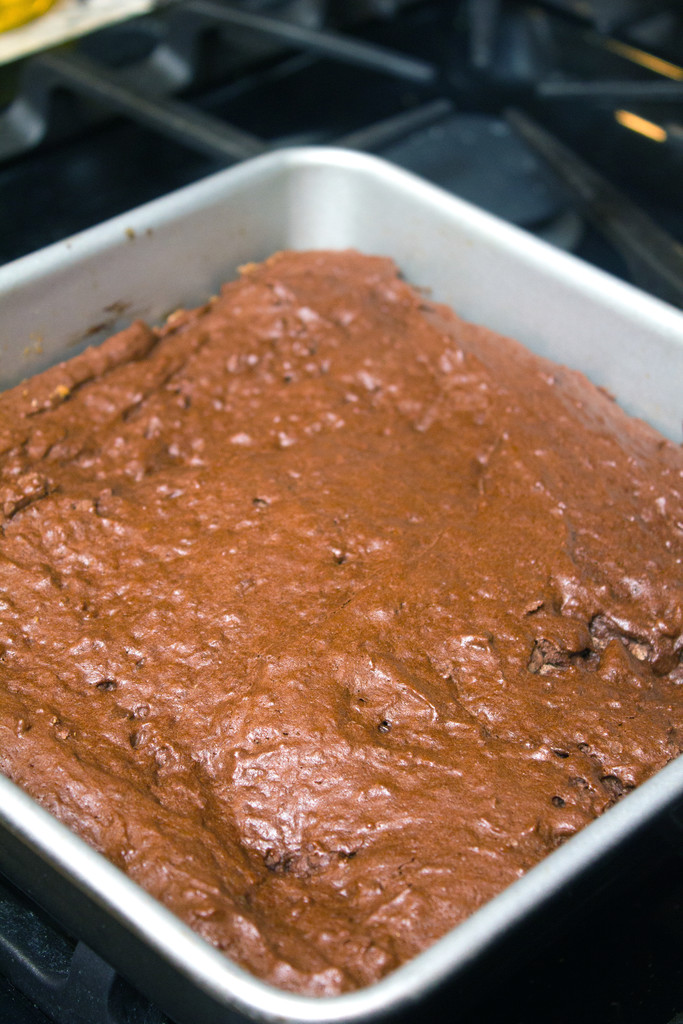 Remove from oven and immediately top evenly with marshmallows. Sprinkle candy corn on top of those.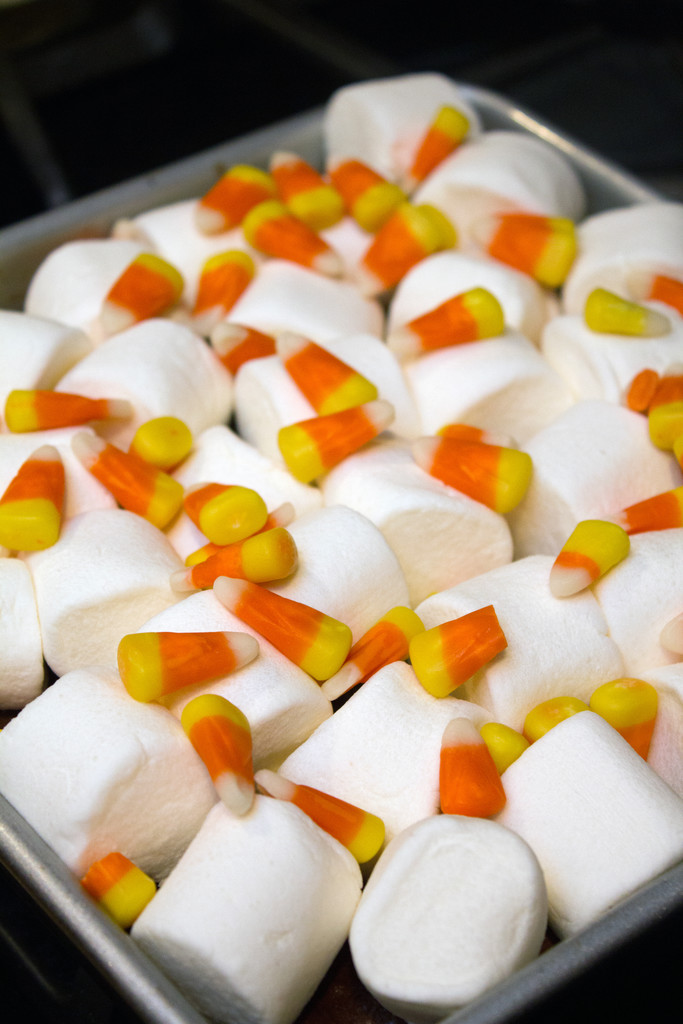 Turn oven to broil and broil for about 1-2 minutes. Watch the brownies closely as you don't want the marshmallows to burn too much. There's a very fine line… I caught mine just in time!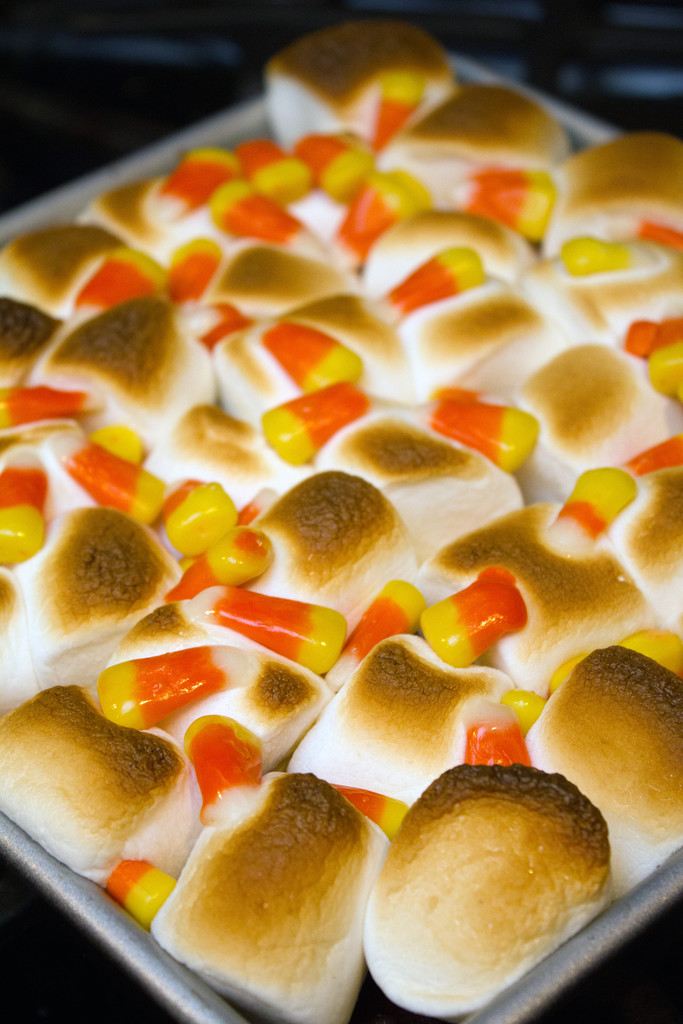 I recommend letting cool fully before removing from pan and slicing.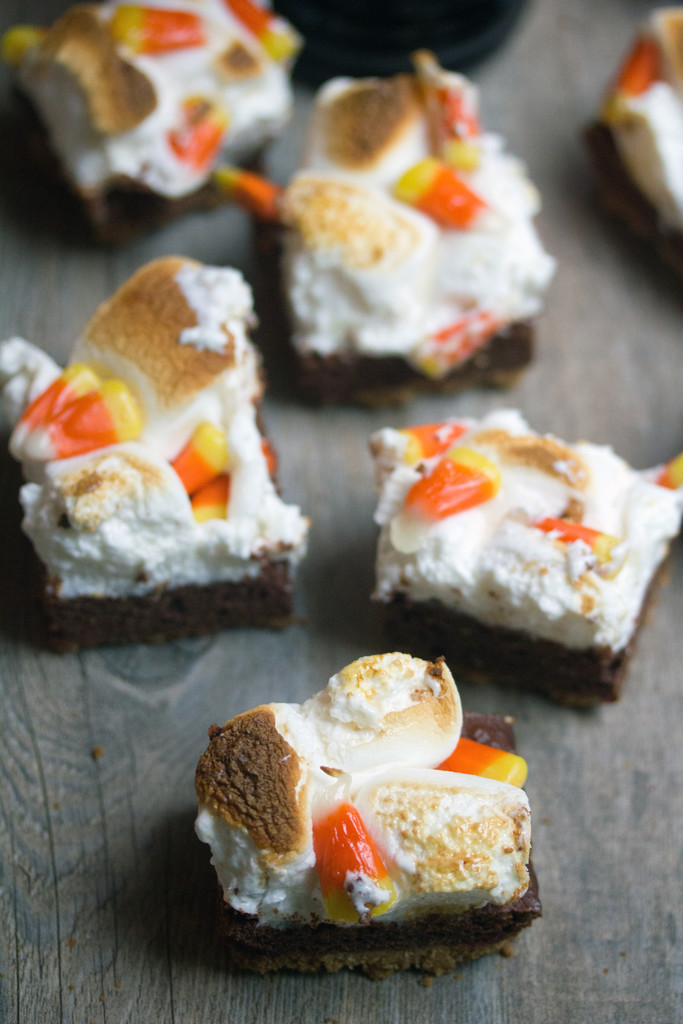 I can't decide which part of these brownies I like best. Honestly, stop asking me. I can't answer. OK, I'll try.
The marshmallow topping speaks for itself, right? It legit looks like clouds. Clouds that got a little bit too close to the sun and got slightly charred and then had candy corns rain down upon them (I'm not sure how clouds have something rain down ON them, but it has been a long time since I wrote about the water cycle…)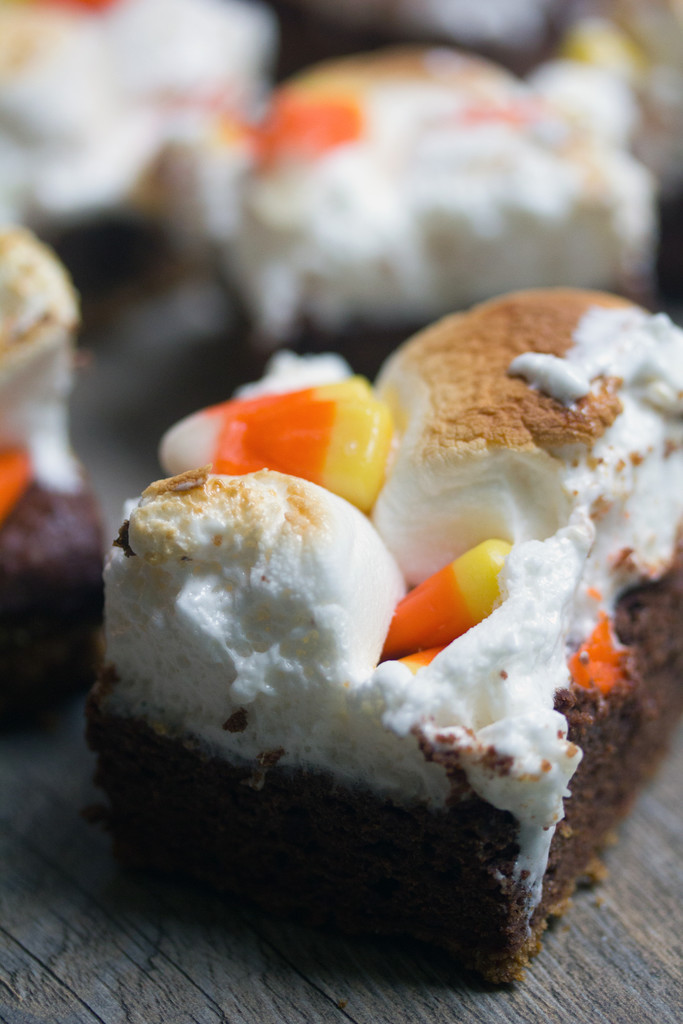 Even if you're not a big candy corn fan, I hope you can at least kind of sort of get in the spirit for the month of October. I've certainly been known to overdo it on candy corn (ahem, a cocktail… ahem, ice cream), but I tried reallyyyy hard not to overdo it here.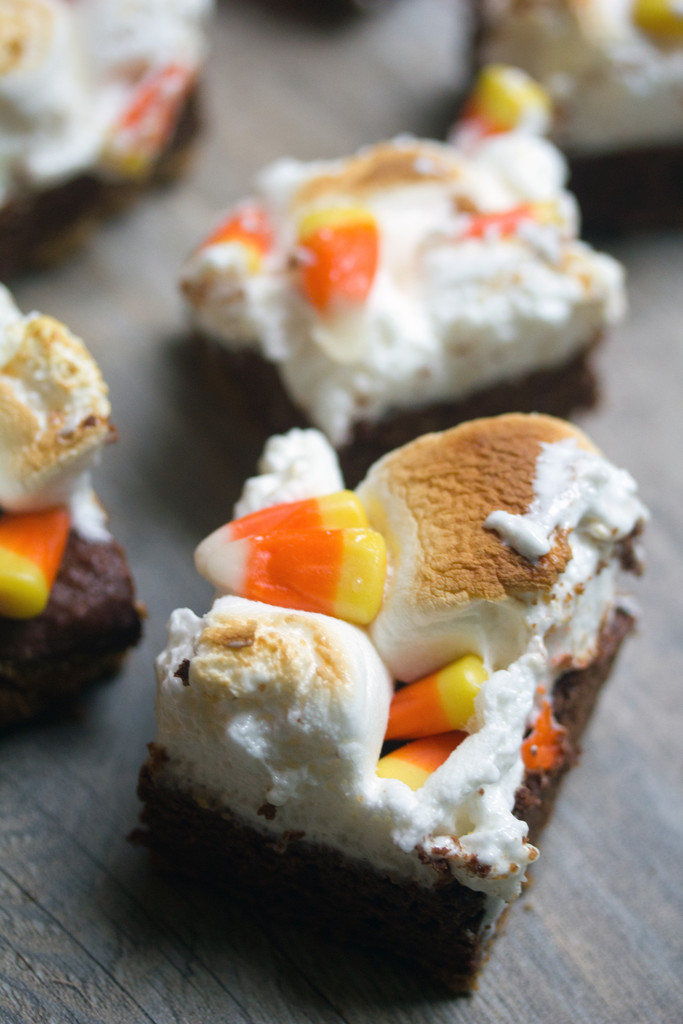 OK, want to talk about the brownie middle? Let's do it. It was definitely a flatter, denser brownie and not all ooey-gooey like I prefer brownies to be on their own. But it worked well with the gooey marshmallow topping and didn't overpower the whole bar. Except, you could really taste the Pumpkin Kahlúa. Like a lot. Sometimes I'm weary of using liquor in desserts because the taste completely disappears… But not this time.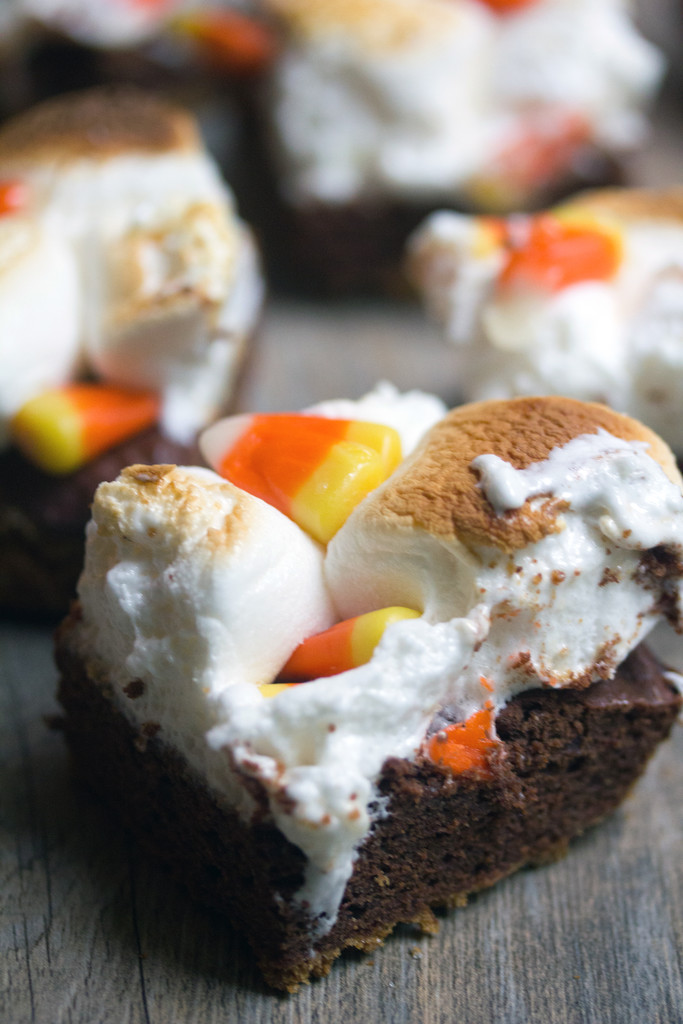 It was a little bit more Kahlúa than it was pumpkin, but still highly enjoyable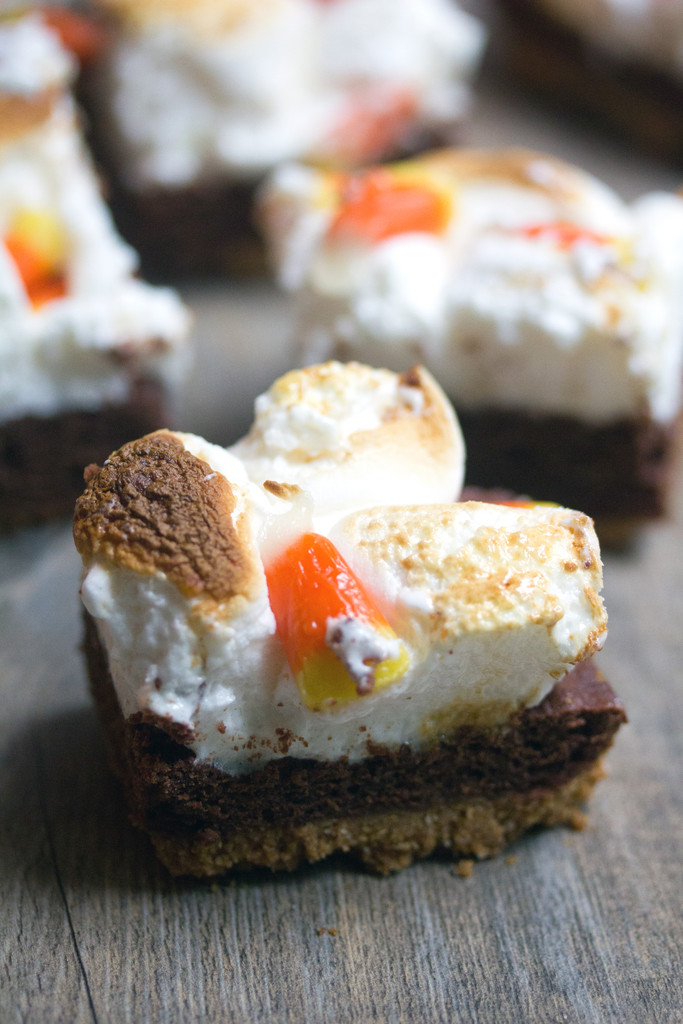 And complemented the ginger graham cracker crust so well. I thought about doing an actual gingersnap crust, but wanted a little of the honey graham flavoring, along with a real ginger taste and I'm so glad I did it this way.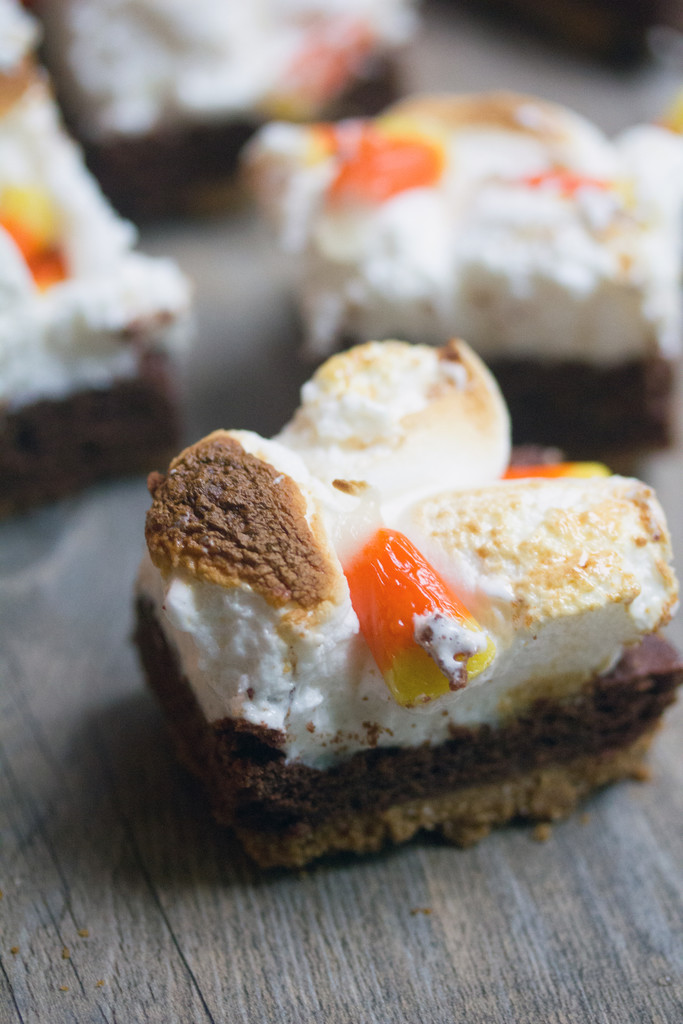 The challenge was taking a bite that incorporated all three elements of the bar. Somehow, I managed.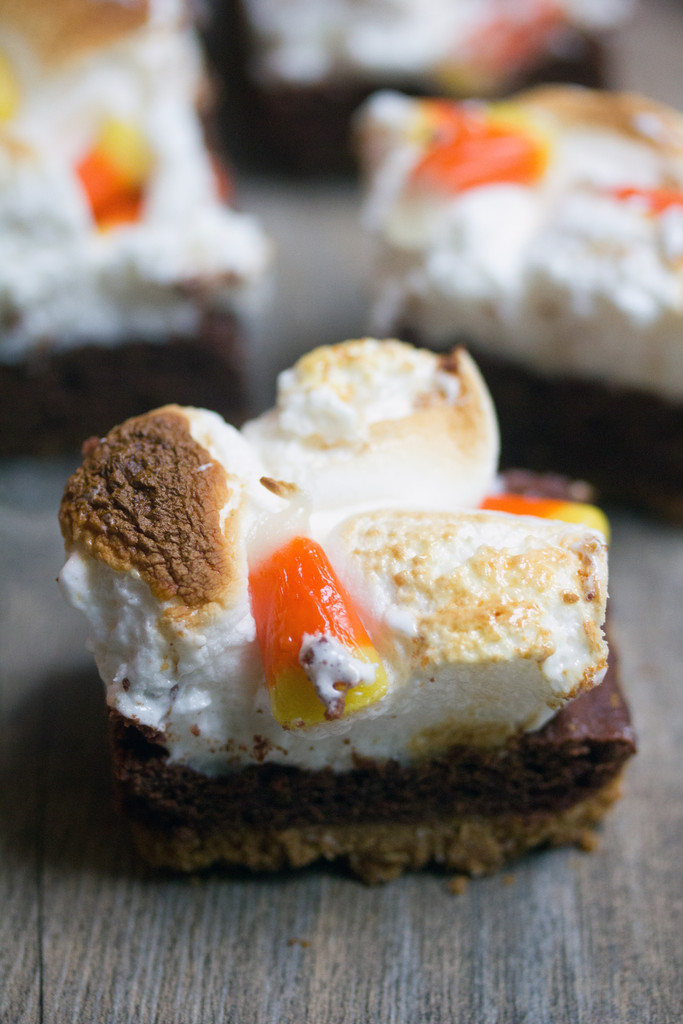 But I told you that I refuse to pick a favorite. It wouldn't be fair. Let's all just get along.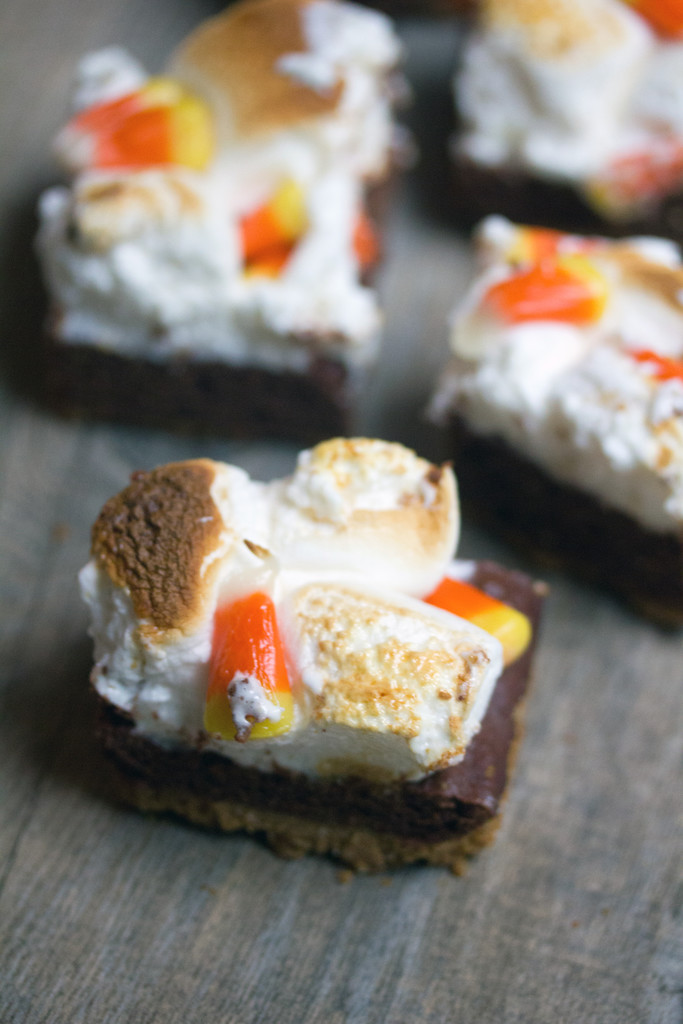 Ahhh, happy fall. On that note, I can't decide if I should stay true to tradition and create another ridiculous candy corn concoction this year. Or if I should just grow up and call it a day with these. There are still a few weeks left until Halloween, so I'll have to play it by ear. And see if that free time fairy ends up showing herself. Then again, I could probably use that free time to finish emptying the boxes in our house that we never unpacked. Or, you know, maybe sleeping. Meh.
What would you do with an extra 5 hours in your week?
[Sues]