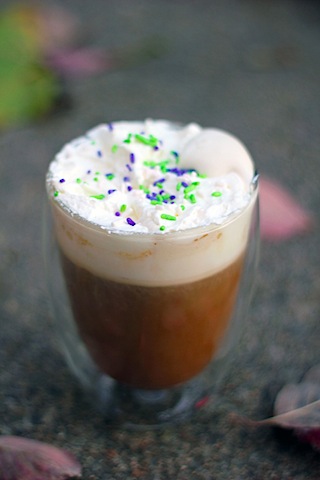 Don't get me wrong; I love a good pumpkin spice latte. But do you ever feel like there's something lacking? No? Just me? OK. Just work with here, pelase. Anyway. It's Friday, so something is definitely lacking in your pumpkin spice latte. Yes, you. This is the kind of beverage you'll want to sip on straight through the holidays. It's festive and flavorful and give you that warm tingly feeling that actually has you appreciating the fact that you're too cold to leave your living room. You *might* even turn the heat in your home down a bit so you can enjoy the full beauty of this drink.
I used a pretty generic coffee (Market Basket FTW!) because I figured I was doctoring it up quite a bit and didn't want to use my precious Starbucks coffee (seriously that stuff gets me through the day!). I also used maple syrup to sweeten it up a bit since the pumpkin puree doesn't have much sweetness and adding plain old sugar just didn't seem right. And maple syrup adds a bit of a fall touch! I wasn't sure exactly what kind of liquor to use, but then I realized that when I think of a "warm me up" liquor, it's definitely whiskey. More specifically, Irish whiskey. Yup.
Pumpkin Spice Latte with Whiskey (serves about 4):
Print this recipe!
3 C strongly brewed coffee
1 C 2% milk
1 C pumpkin
2 t pumpkin pie spice
1.5 T maple syrup
4 oz. Irish Whiskey
1.5 C heavy cream (if you want whipped cream topping)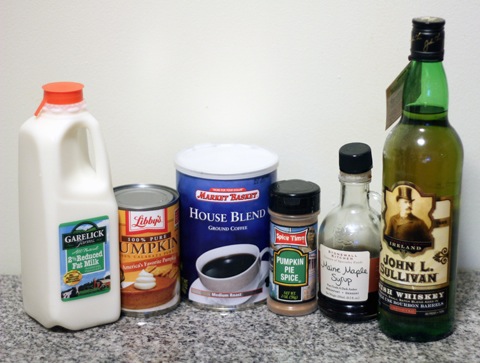 Like most of my drink recipes, this is a really easy one, involving 4 basic steps. Well, 5, if you haven't brewed your coffee yet. So, do that. Ready? I'm waiting... OK.
Step #1: Mix the brewed coffee, milk, pumpkin puree, pumpkin pie spice, and maple syrup in a medium-sized saucepan over medium heat. Stir gently until the pumpkin puree becomes liquid and the mixture is heated to a temperature that feels like the perfect hot beverage drinking temp.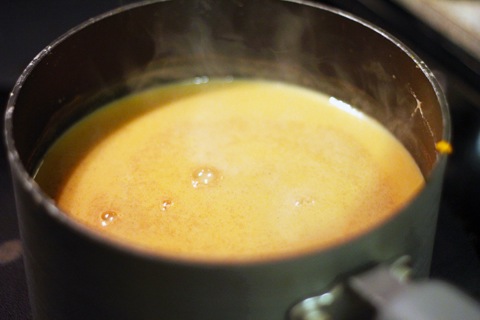 Step #2: Pour whiskey in glass or mug. Easy!!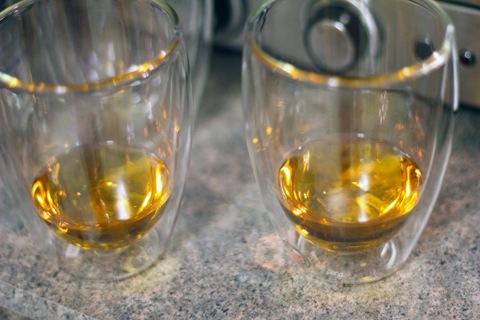 Step #3: Whip the cream. If you want it. I have to say, I'm a staunch whipped cream refuser on my lattes. In general. But when I can whip it up myself and it's nice and light and airy, I'm game. Especially since it adds a pretty touch to an otherwise kind of bland looking drink. And froth! Froth!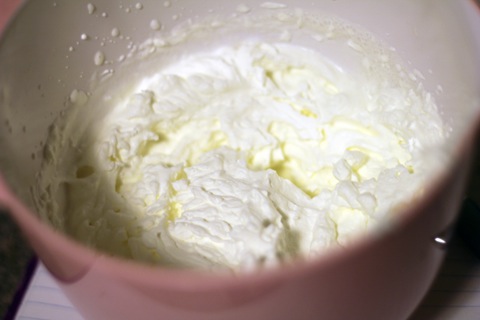 Step #4: Pour the coffee/pumpkin mixture in the glass or mug with the whiskey and top with whipped cream. And any other sprinkles or fun festive paraphernalia you can think of.
And done. Well besides the drinking part. But I'm pretty sure you don't really need any instructions for that one.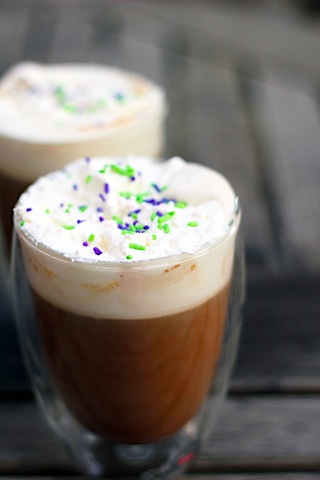 If you do, feel free to give me a call. I offer trainings. For a small fee.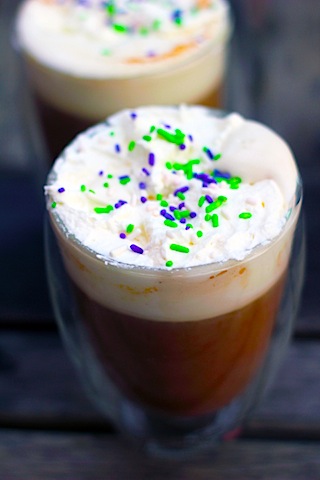 There really is something about a hot alcoholic beverage on a cool fall day. I honestly think you need something like this from time to time to get you through the cold months. Amiright?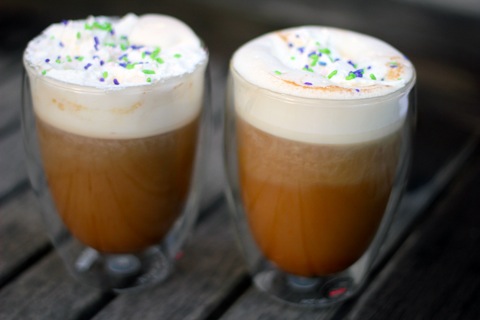 Honestly, if you're not into whiskey or you're skipping out on Cocktail Friday, you could sip this concoction right up without the alcohol. I'm not really a huge fan of the pumpkin spice lattes in most coffee shops because I don't love sugary syrups, so I think this is a better option. It's much more natural-y tasting and when it comes to pumpkin, that's important.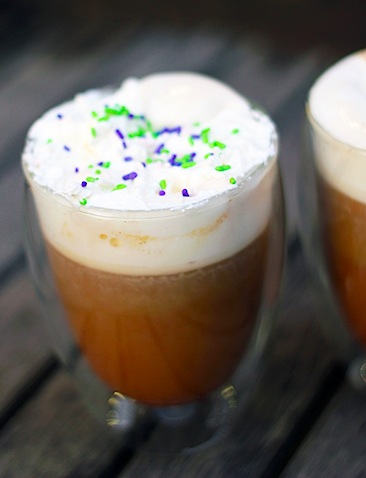 In other fabulous cocktail news, I'm happy to announce we're contributors on the brand new Gojee Drinks! If you haven't explored Gojee yet, you must! It's pretty fabulous and I'm incredibly honored so many of my Cocktail Friday concoctions made it on there! I will cheers to that 🙂
Happy Cocktail Friday! I hope you all have fabulous weekends!
Are you a fan of coffee drinks? With alcohol included?
[Sues]