Mini Pumpkin Spice Cheesecakes are the perfect single portion desserts made even better with Pumpkin Spice Oreo bottoms and a pumpkin candy topper.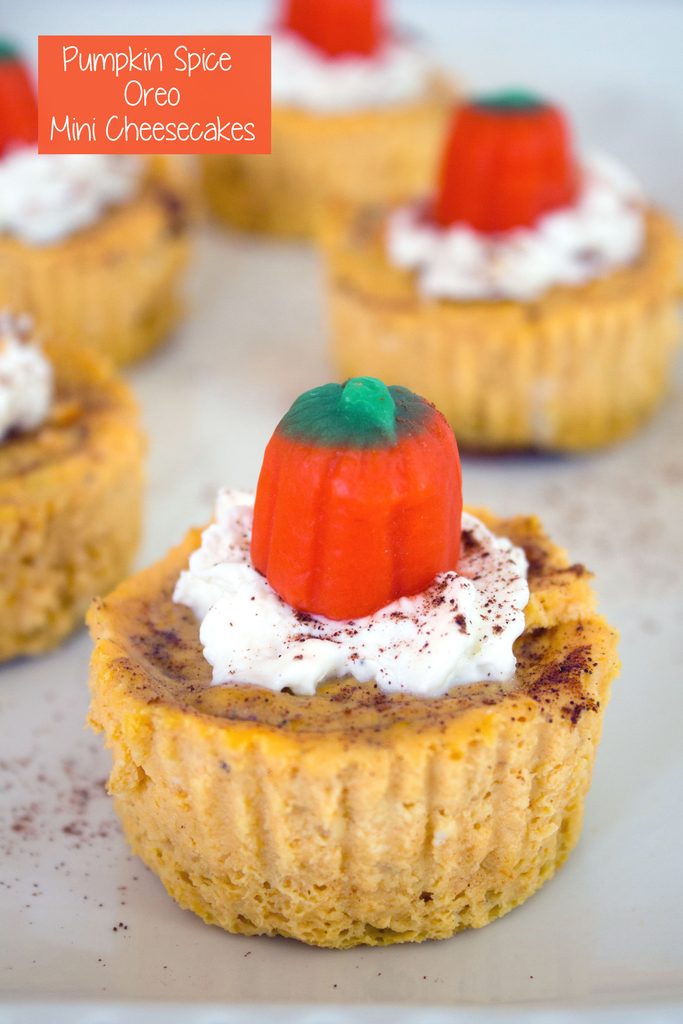 I probably tell you every year that Halloween is my least favorite holiday. But you know, the older I get, the more I come to appreciate it to the point where I'm feeling pretty OK with Halloween this year. This is probably due to the fact that I am not really being forced to participate for pretty much the first time ever. We're not having our usual team costume contest at work and instead are just bringing in candy to office trick-or-treat... Which is more than fine with me! And our friends who throw an annual Halloween party have deemed it a 20s party, which means I can put on my sequin dress, curl my hair, and call it a night. Happy Halloween to me.
But I will still never turn down the chance for Halloween candy and pumpkin goodness. And probably if you forced me to put on a costume to obtain said candy and pumpkin dessert, I would do so. But begrudgingly. And since I'm an adult and all, I can eat all the candy and sweets I want, whenever I want. While wearing pajamas if I want. Which is pretty much par for the course for me.
As the pumpkin spice obsession has progressed, I've become far pickier about what pre-packaged items I enjoy, but I will forever love Pumpkin Spice Oreo cookies. They're seriously dangerous for me and probably should not be kept in my house. It's a good thing they're only around for a short time and relatively difficult to find.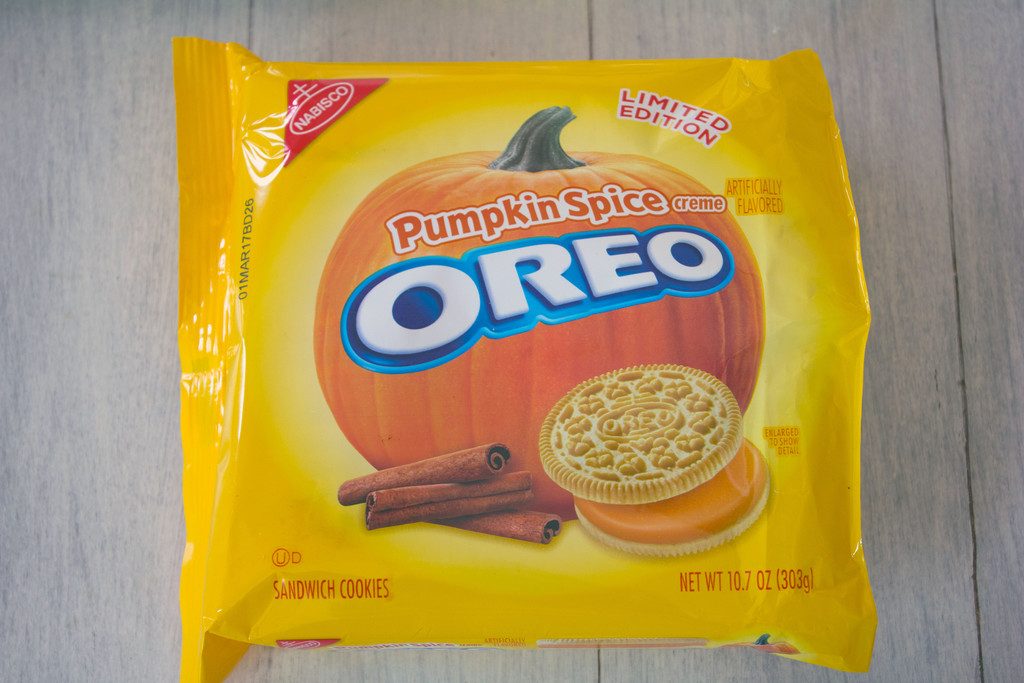 Instead of gobbling up an entire package of them in one sitting this time around, I decided to make Pumpkin Spice Oreo Mini Cheesecakes. Annnd now I can gobble up an entire batch of mini cheesecakes in one sitting instead. Mission accomplished.
PUMPKIN SPICE OREO MINI CHEESECAKES RECIPE
I love mini cheesecakes because they're perfect for bringing to parties and events without having to worry about slicing up a cake. Simply place them on a platter and they're ready for grabbing and eating.
These little treats all involve a pumpkin spice Oreo cookie, pumpkin spice cheesecake filling, whipped cream, and a candy pumpkin on top! The cheesecake filling is very easy to whip up.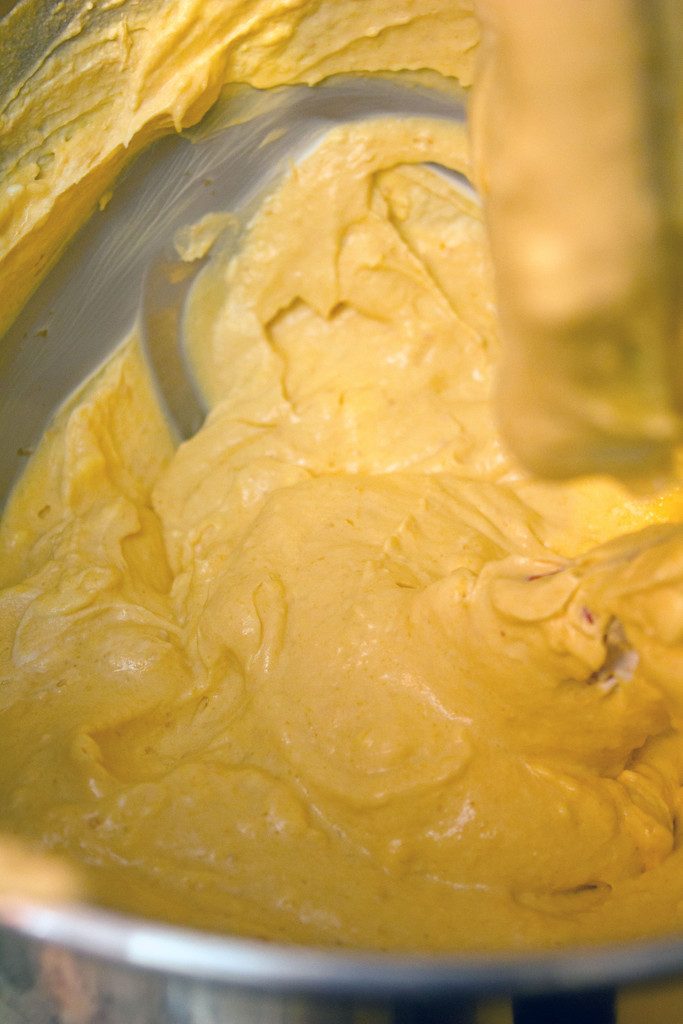 I was going to create a Oreo cookie crust, but then decided to just drop the cookies in the bottom of a cupcake paper in a muffin tin. Way quicker and easier!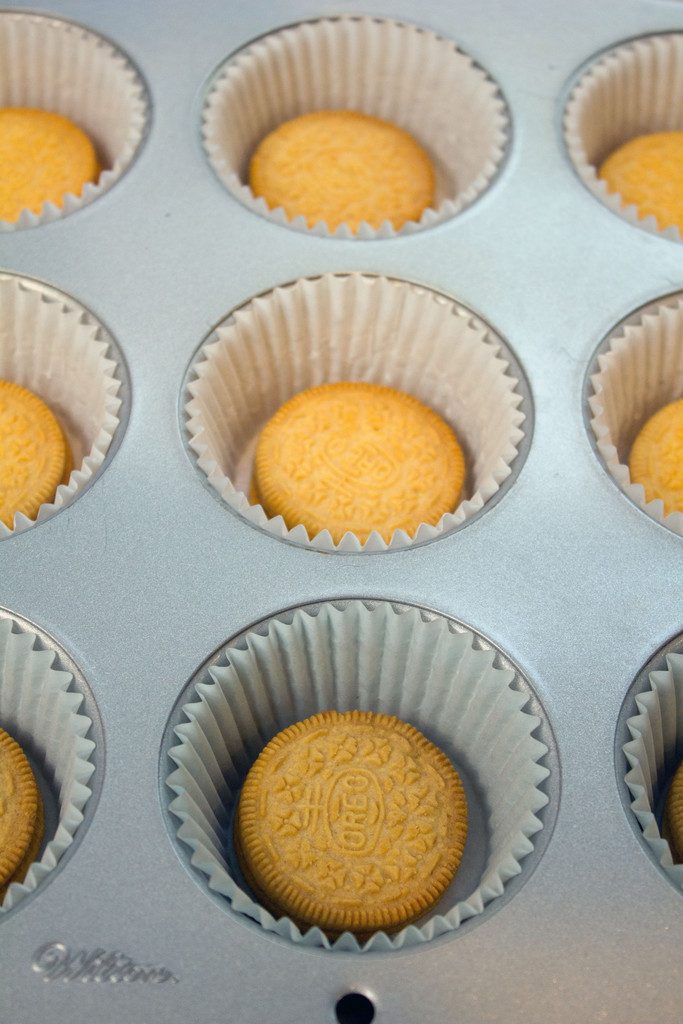 Top with the filling, bake for 20 minutes, let cool, and then top with whipped cream and pumpkins. Plus a little extra cinnamon.
Give me a few of these on Halloween and I am a happy girl. Although, if I received these at a house while I was trick-or-treating, I'd be totally weirded out. I have issues accepting homemade food from many people and I'm pretty sure you learn at age 4 not to accept home-baked treats or really anything unwrapped from a stranger's house. I do, however, admit that this would be tempting.
These are perfectly portioned, which is both good and bad. Good because one is probably the recommended dessert serving size. And bad because you'll probably want at least three and then you'll feel piggy eating three little cheesecakes. But not so piggy that you'll turn them down.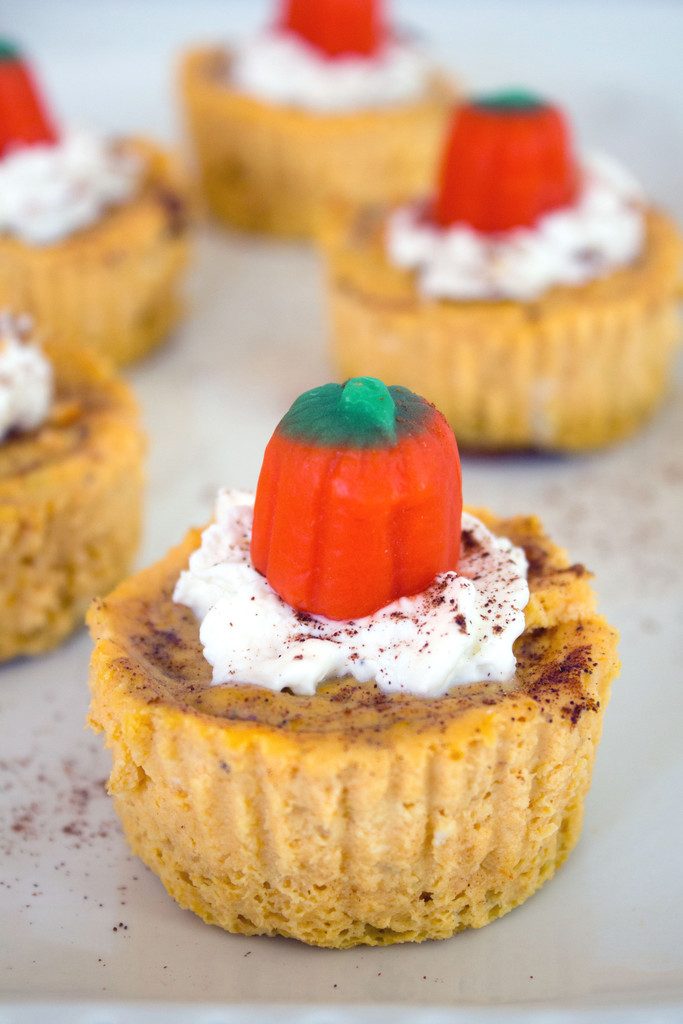 Being an adult is weird, isn't it? You're finally at an age where you can eat whatever you want, whenever you want. But you're also at an age where you understand nutrition and health and why you shouldn't eat a muffin tin full of mini cheesecakes or your entire Halloween candy stash. It just isn't fair.
If you like cheesecake, you'll definitely be into these pumpkin spice Oreo mini cheesecake bites. The cookie crust ends up a bit more cake-like since it's not a pre-baked crust; but it complements the consistency of the cheesecake quite well. You can tell it blends right in!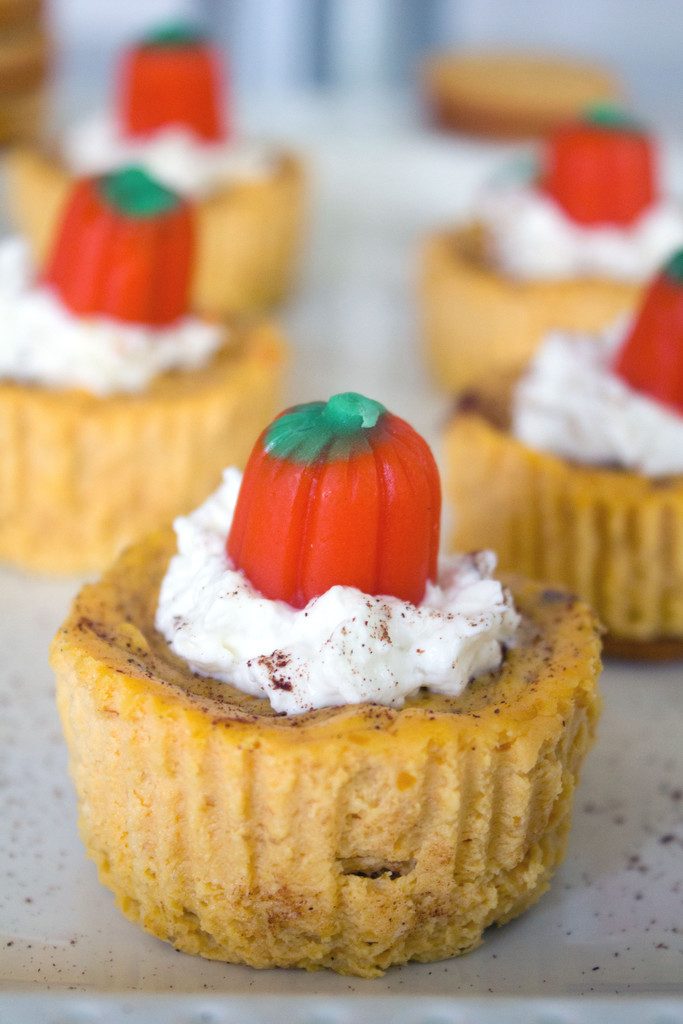 And you'll be happy to know that I still had plenty of Pumpkin Spice Oreo cookies left over after making these.
I know you were worried. I'm considering stocking up before they're gone for another year (I mean, if they even come back next year... What if they don't?!), but I also know I may turn into a child and lose my self control. And with a whole 'lotta candy coming in this weekend through Monday, I definitely do not need any additional ways to tempt myself.
Do you have self control around desserts and candy?
If you love combining Oreo cookies and mini cheesecake as much as I do, check out my Cinnamon Bun Oreo Cheesecake Bars and my Strawberry Shortcake Cheesecake Bars. I'm also obsessed with these Blackberry Cheesecake Oreo Brownies from Domestically Blissful!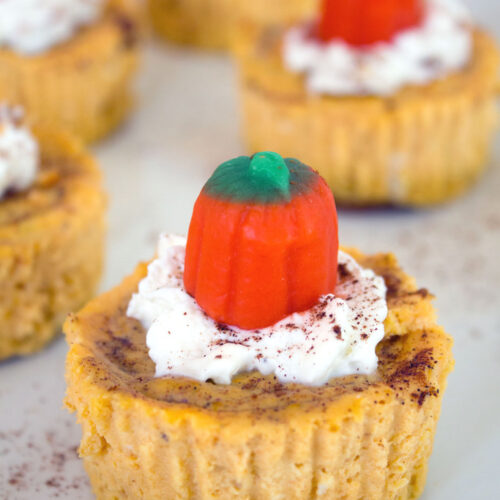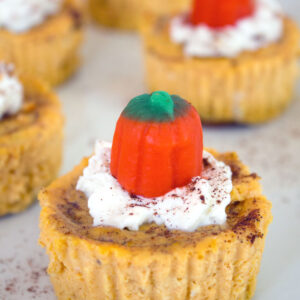 Pumpkin Spice Oreo Mini Cheesecakes
Mini Pumpkin Spice Cheesecakes are the perfect single portion desserts made even better with Pumpkin Spice Oreo bottoms and a pumpkin candy topper.
Print
Pin
Rate
Makes:
12
mini cheesecakes
Ingredients
12

Pumpkin Spice Oreo Cookies

16

oz.

cream cheese,

softened

¾

cup

pumpkin puree

¼

cup

sour cream

2

large eggs

¼

cup + 2 tsp

granulated sugar

2

tsp

cinnamon

¼

tsp

salt

1

cup

heavy cream

12

mini candy pumpkins
Instructions
Pre-heat oven to 325 degrees.

Place 12 cupcake papers in muffin tin and put a Pumpkin Spice Oreo cookie in the bottom of each.

In the bowl of a stand mixer or in a large bowl with a hand mixer, beat cream cheese until creamy.

Add pumpkin puree, sour cream, eggs, ¼ cup sugar, cinnamon, and salt to mixer and blend until well combined, scraping down sides of bowl in the process.

Pour batter equally among 12 cupcake tins, filling them almost to the top.

Bake at 325 degrees for about 19-21 minutes, until cheesecake is set. Be sure to remove from oven before cracking occurs.

Let cool to room temperature before removing from muffin tins.

In a separate, clean bowl of your stand mixer with whisk attachment or in a large clean bowl with a hand mixer (note: it helps if the bowl is chilled), beat together heavy cream and 2 tsp sugar until medium peaks are formed.

Top cooled mini cheesecakes with dollop of whipped cream and a mini candy pumpkin.
Share a Photo of Your Finished Recipe!
Mention @wearenotmartha and share a photo if you've made the recipe!