Quinoa is one of those foods I would eat every day if I could. I mean, there's SO much you can do with it. Remember when I made it for breakfast? Since I work from home, I pretty much snack all day long. Especially if I don't have any actual meal-time stuff around. It can get bad.
So, I thought some sort of quinoa salad would be perfect for my lunches, and one big batch of it would last a week. Quinoa is super filling and satisfying. Which will hopefully keep me away from chips. And cookies. And Cheez-Its. OK, I'll stop now. There are SO many quinoa salad recipes out there, but I found this one for Quinoa and Black Bean Salad from Epicurious.com and was sold.
Quinoa and Black Bean Salad:
1 1/2 C quinoa
1 1/2 C cooked black beans. rinsed it canned
1 1/2 T red-wine vinegar
1 1/2 C cooked corn (I used frozen, but for fresh, use about 2 large ears)
3/4 C green bell pepper, finely chopped
2 pickled jalapeno chiles, seeded and minced
1/4 crushed fresh coriander, finally chopped (I used the spice, rather than fresh)
For the dressing:
5 T fresh lime juice
1 t salt
1 1/4 t ground cumin, or to taste
1/3 C olive oil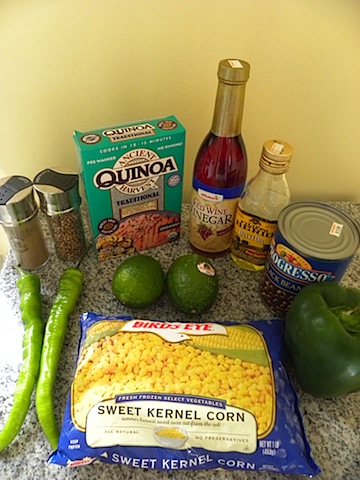 The recipe I followed wanted me to wash my quinoa in at least 5 changes of water (le sigh, can you say time-consuming?) and to steam the quinoa. But you know what? I bought already rinsed quinoa and ended up following the cooking directions from the box. Because they were quicker and easier and I know I like it cooked that way.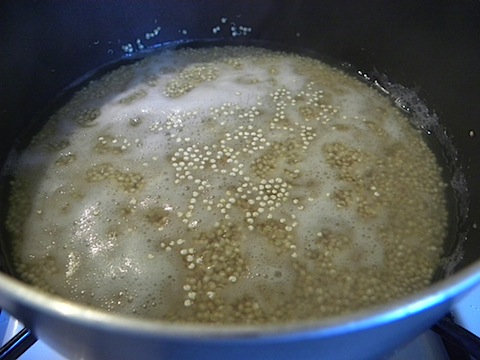 Oh delicious quinoa; there is just so much I could do to you.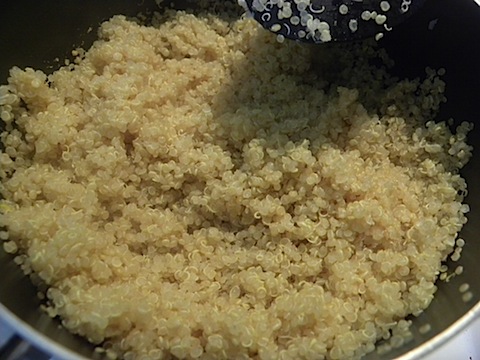 I also cooked my corn since I was using frozen.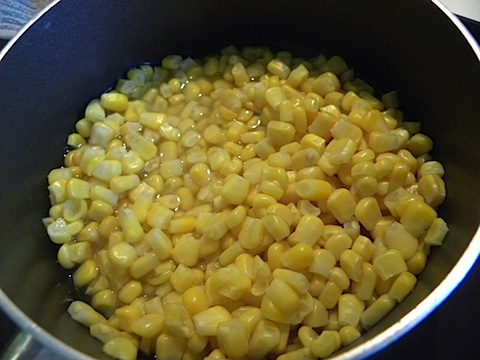 I rinsed my black beans. And mixed them with the vinegar and salt and pepper.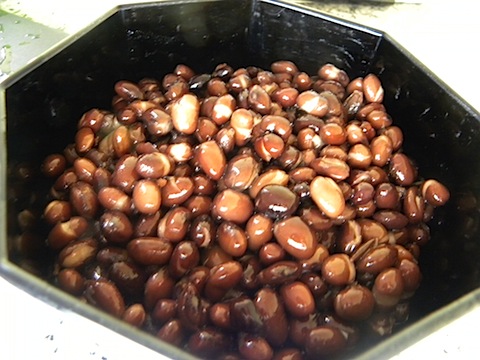 Then I cut up my bell pepper. I also cut up a "spicy long pepper" because the grocery store was out of fresh jalapenos.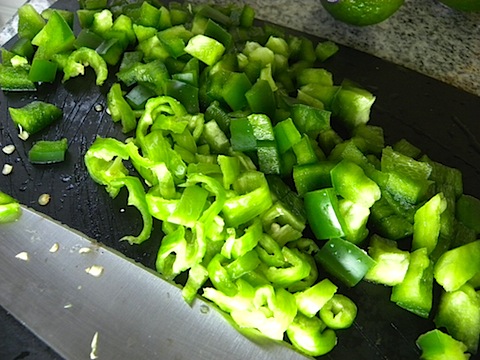 But then I managed to find a jar of pickled jalapenos, which is what the recipe called for anyway. So I chopped up a few of those and added them in. I LOVE spiciness, so I was excited for the extra zing.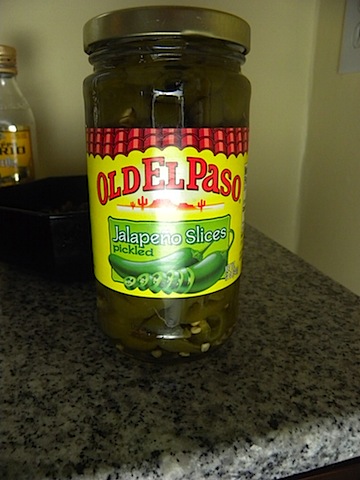 From here, it's easy. Add the quinoa to a bowl. Along with the corn, peppers, black beans, and coriander.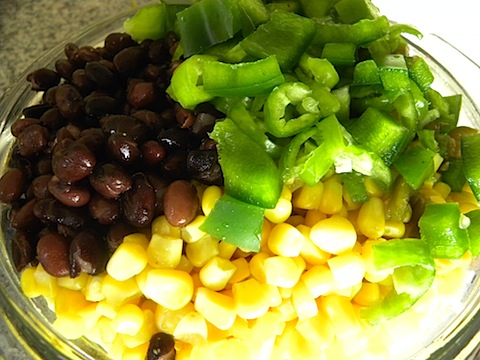 Now make the simple and delicious dressing. Just whisk together the lime juice, salt, and cumin. Add the olive oil in a stream, whisking all the while.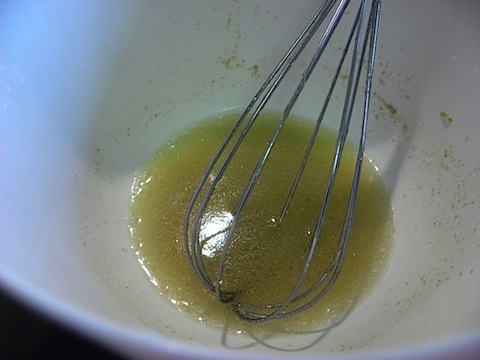 Drizzle the dressing over the salad and toss well. With salt and pepper!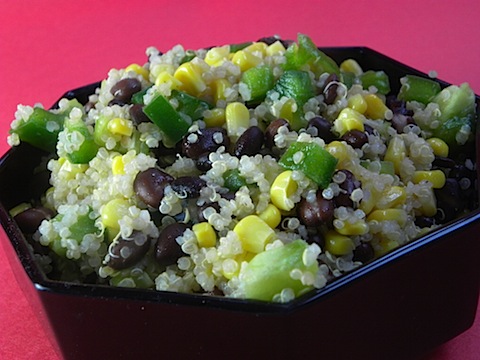 This salad was absolutely lovely. It wasn't spicy hot per say, just had a little bit of cool bite to it. And the citrusy dressing also had a nice bite to it. This would totally be the perfect hot day summer salad, but it works for a freezing cold winter day, too.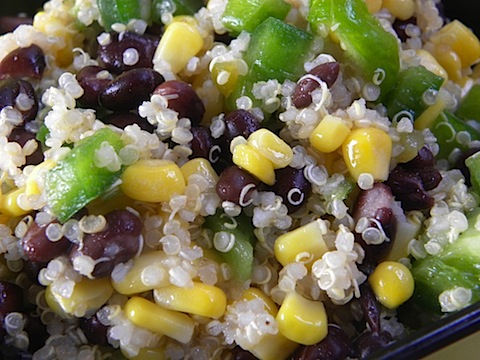 This salad only got better the longer it stayed in the fridge. No lie! The flavors all melded together. Plus, when I ate a bowl of it for lunch, I was actually full AND satisfied for the rest of the afternoon. It was like a quinoa miracle!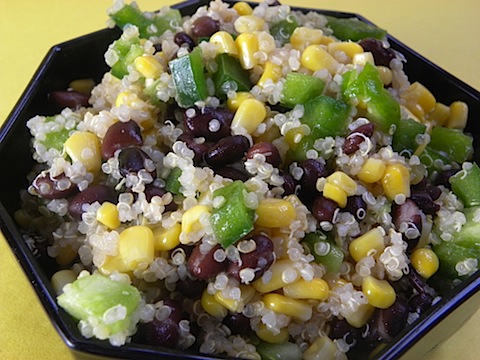 In case you're sitting there wondering what's so good about quinoa (Keen-Wa), let me tell you a few facts. First of all, it's often considered a grain, though it's actually related to leafy green vegetables like spinach. It's a "complete protein," meaning it contains all 9 essential amino acids. It also contains lots of fiber and is filling, but easy to digest. And it's delicious, too! What more could you ask for? You're totally greedy if you think that's not enough.
I've already eaten the whole batch of this salad and am already craving more. Do you guys have any favorite quinoa recipes? I'd love to try some new ones and I want your help! I'm thinking I need to make a new quinoa salad/recipe every week! It's a great way to curb the snacking AND get other veggies in as well. Maybe I'll even start my own quinoa fan club because clearly I am obsessed. I swear, you will be too if you're not already.
[Sues]