While there aren't many foods I absolutely won't eat, I cringe when it comes to anything with artificial raspberry flavoring. It's funny because I absolutely love raspberries, but I don't think there's anything worse than the fake flavoring. The absolute worst is raspberry vodka. Ugh! I would probably never buy a raspberry muffin for fear it would be all imitation-tasting, but when I saw a recipe for Raspberry and Dark Chocolate Muffins, I knew I needed to make them. While it called for fresh raspberries, they were nowhere to be seen in my grocery store, so I grabbed some frozen ones, which are a fine substitution. These are the perfect Valentine's Day muffins!
The combination of fresh raspberries (OK, or frozen) and dark chocolate makes me super happy. The recipe was written in the metric system, which was tough because I never really paid attention in school when we were supposed to be learning all of that. Thank goodness for Google! I'm going to write it out how I did it because I think the muffins came out just lovely. Also, the recipe called for super-fine sugar, but Shaw's didn't have that either, so I used regular and had no issues.
Raspberry and Dark Chocolate Muffins (Makes 12 smaller ones or 9 large ones):
2 C flour
1 1/2 t baking powder
1 C sugar (granulated or super-fine)
1 3/4 sticks unsalted butter (14 tablespoons)
3/4 C plain yogurt
1/2 C water
2 eggs
3.5 oz. dark chocolate, roughly chopped
5 oz. raspberries (fresh or frozen)
2 T granulated sugar
Powdered sugar for dusting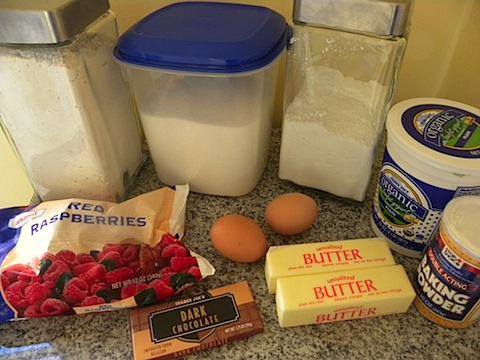 Combine flour, baking powder, and sugar in a large bowl and make a well in the center.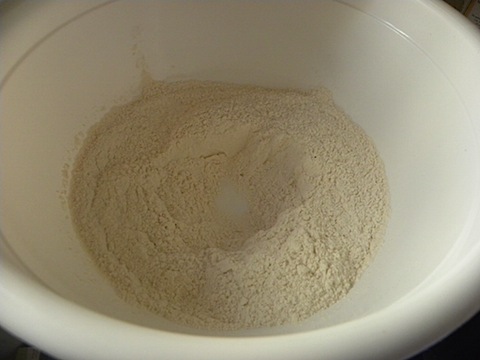 Melt butter and remove from heat. Stir in yogurt and water. Then add the eggs, stirring well afterwards.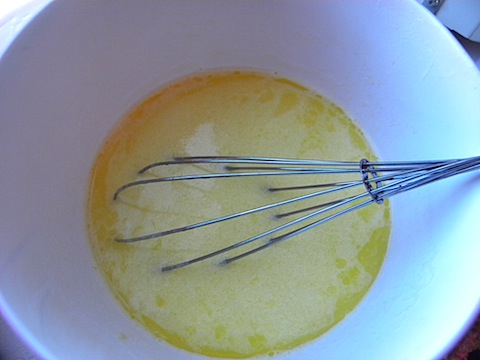 I had a little Mitzi under my feat the whole time. I spent about 5 days with her and think I'm going through separation anxiety without her now! I don't think she left my side (but mostly my lap) for the entire 5 days I was with her. Isn't she adorable?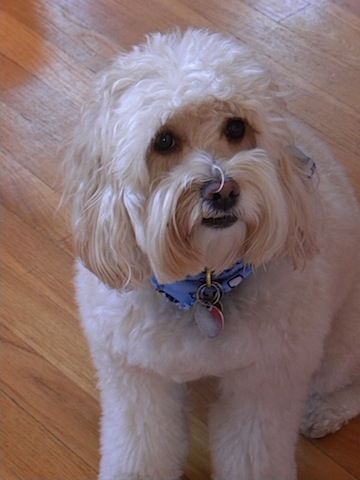 Pour the wet ingredients into the well in dry ingredients and stir to combine. It's OK if there are lumps. There probably will be.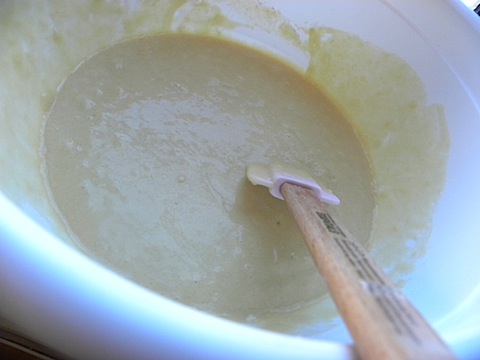 Chop up your chocolate. I used these awesome little chocolate bars from Trader Joe's that came in a 3-pack. It ended up being a little over 3.5 ounces, but when is too much chocolate a bad thing?? Especially when it's dark chocolate!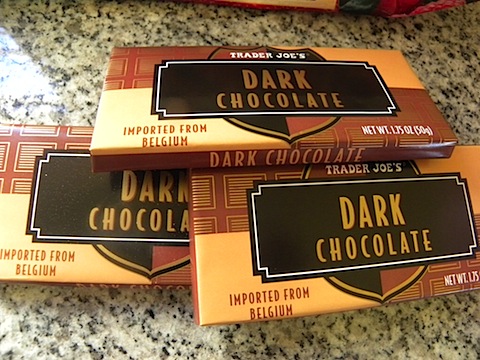 YUM.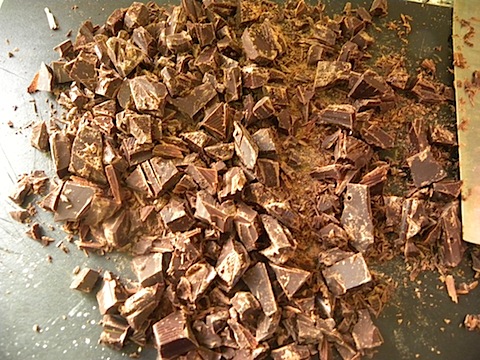 Now, fold the chocolate and raspberries into the batter.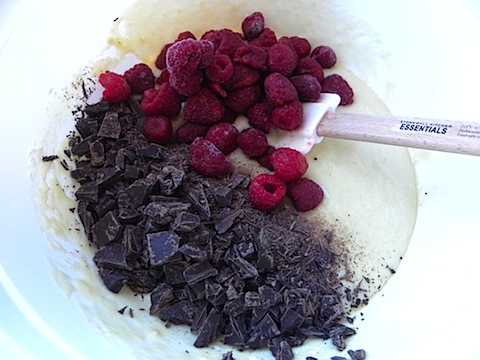 Stir it all together.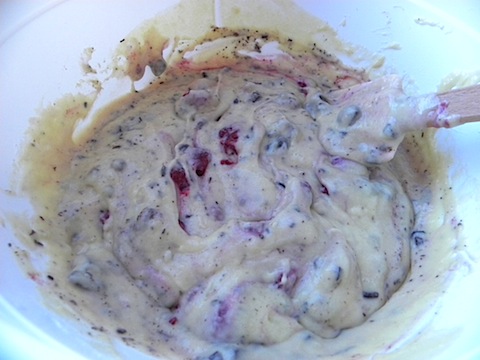 And put into prepared muffin tins. I had a muffin tin, but only had cupcake papers, so my muffins are a bit smaller (the recipe ended up making about 12, but it will be less if you actually make them muffin-size).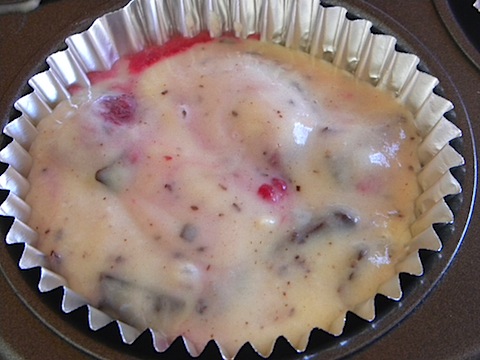 I filled the tins almost to the top and that seemed to work well. Also, sprinkle some granulated sugar on top of the batter before popping into the oven.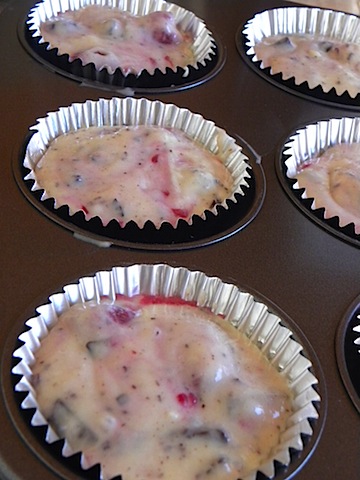 Bake at 375 degrees for about 30-40 minutes.
And serve! On a Valentine's Day plate, if you have one. Sprinkle the muffins with a little powdered sugar too, if you like.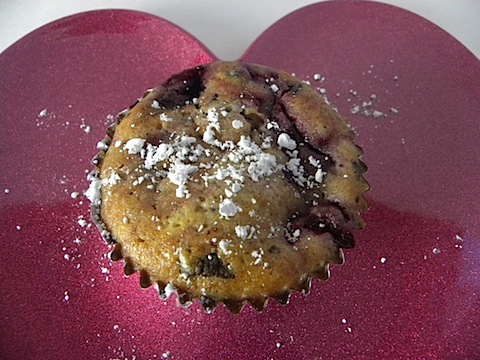 These are the perfect muffins for waking your honey up on Valentine's Day. Or making for friends and family. Or for just eating the entire batch yourself. What? Raspberries are fruit and dark chocolate is healthy, right? I brought my muffins home with me to greet my sister and Adam home from Hawaii! And we've been nibbling on them all week.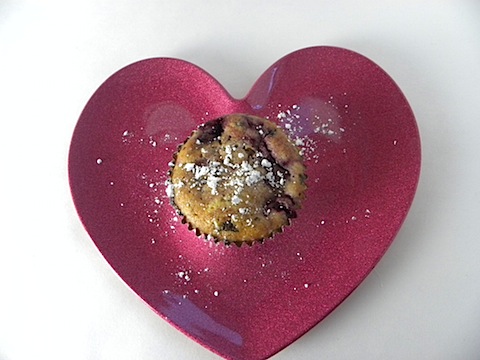 They're best right out of the oven when the chocolate is all melty and gooey. But you can also pop them in the microwave for a few seconds if you're eating them later. And they still taste fabulous cold as well!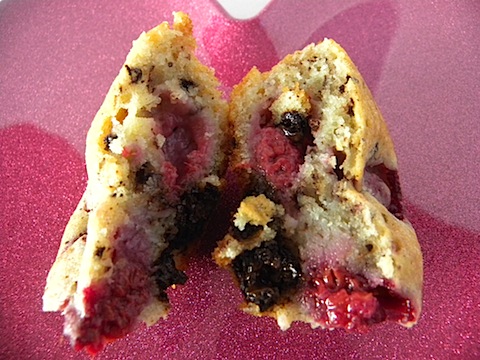 This muffin is such a lovely combination and you'll have a tough time finding someone who wouldn't like it. I absolutely love these muffins for Valentine's Day, but would gladly eat them the whole year through.
[Sues]