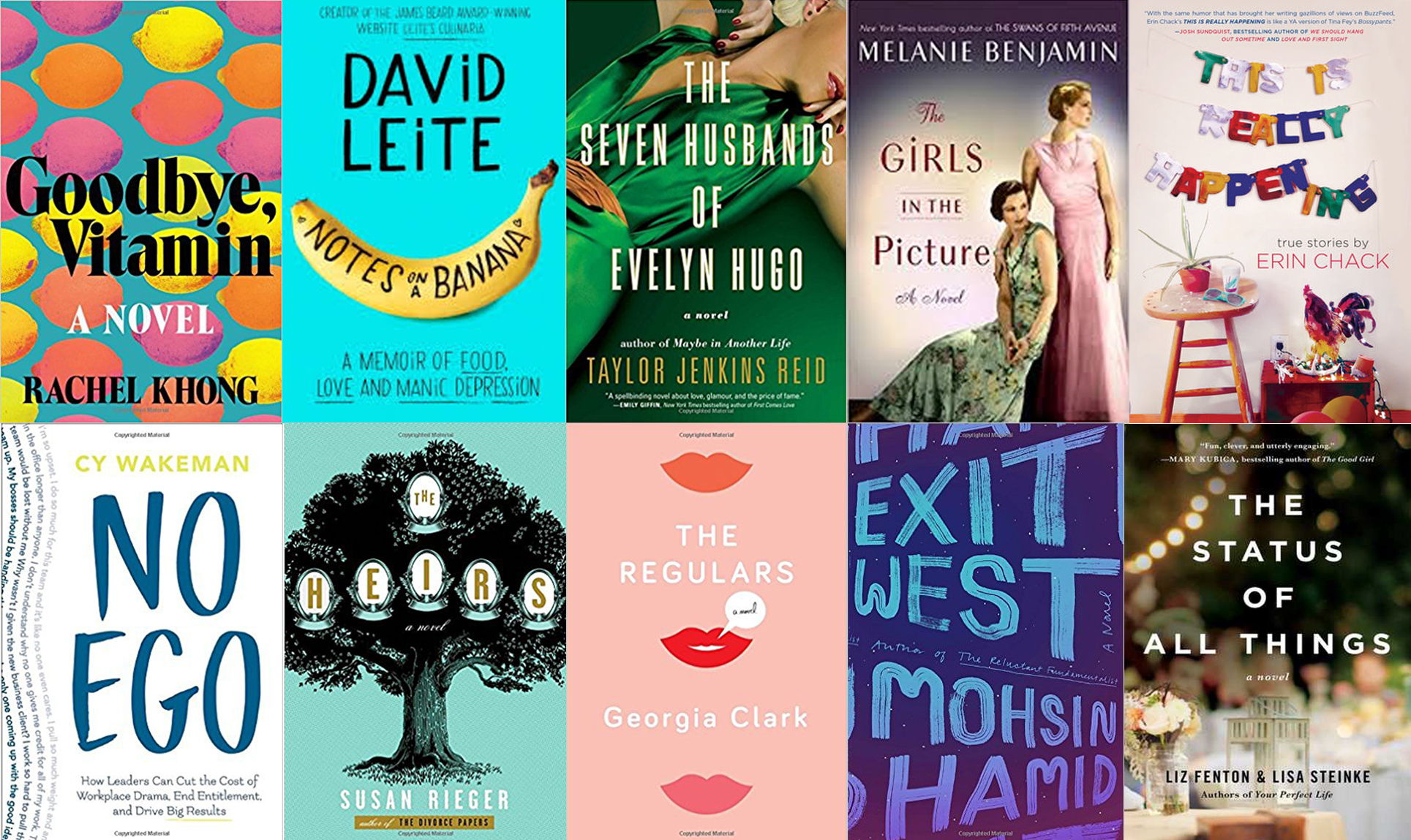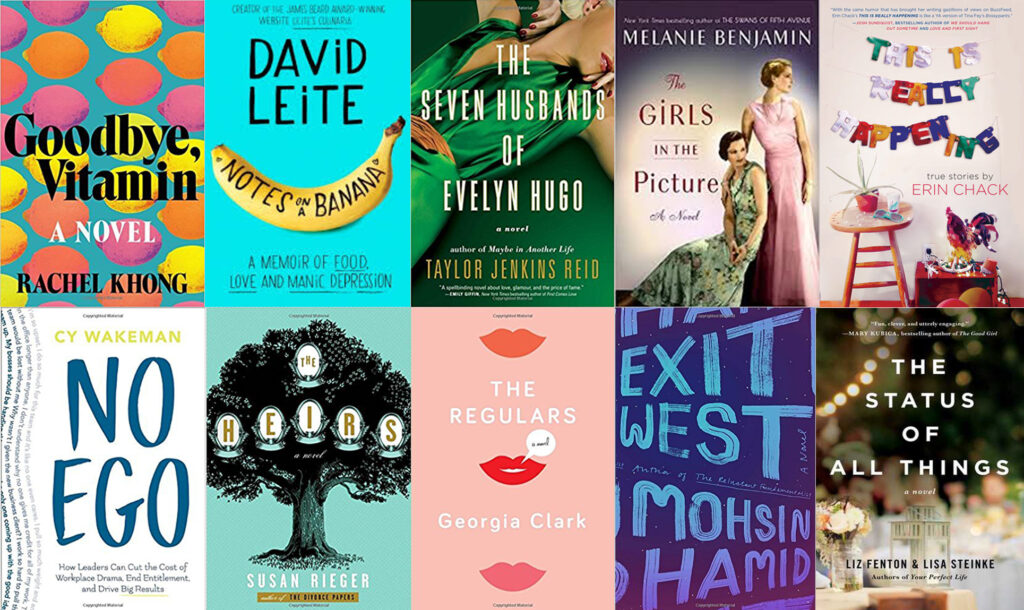 Hello and happy almost October! I feel bad that I'm just now catching you up on my August reading, but the good news is that there are some really good picks in here that are definitely not just beach reads. Actually, I think that this is probably favorite month of reading so far in 2017! But fair warning, I also have had a really awesome September and am already excited to share those reads with you.
I'm not going to beat around the bush and will just get right into it today. So, here's what I read in August… See the end of this post for links to other months in 2017, too, to get some ideas for even more books for the remainder of the year. I can't even believe I've already posted eight months of reading and only have four to go!
Just an FYI that links to some of the books below and my Book of the Month link are affiliate links (meaning that at no extra cost to you, I will earn a commission if you click through and make a purchase) and some were gifted to me by their publishers. Thank you so much for supporting WANM!
Goodbye, Vitamin by Rachel Khong: This was one of my Book of the Month picks and I really liked it. 30-year-old Ruth breaks up with her fiancé and decides to move home for a year when her dad's alzheimer's disease begins to progress. That summary sounds a bit heavy, right? But the book is written with the perfect balance of seriousness and humor, making it a highly enjoyable read.
Notes on a Banana by Davie Leite: I had been anxiously waiting for this one! I met David Leite years ago at a BlogHer Food event and really enjoyed hanging out with him (he writes the food blog Leite's Culinaria in case you didn't know) and have always really looked up to him as a writer (and cook, of course). While his memoir mainly takes place before his food blog days, it covers how he became obsessed with food, his journey to understanding his mental health, and his own personal discoveries in love. If you've ever found comfort in food, you'll love this book, too.
The Seven Husbands of Evelyn Hugo by Taylor Jenkins Reid: One of my favorite books of the year! This is another Book of the Month Club for me (BOTM is killing it lately!) and was, in my opinion, pretty different from anything else I've ready from Taylor Jenkins Reid. Evelyn Hugo is an aging Hollywood star who decides to tell her life story to a young journalist. Each chapter of the book is centered on one of her seven husband's, but there are some definite twists that will make you want to keep reading and reading. This book also has some of the highest reviews on Amazon that I've seen in a long time.
The Girls in the Picture by Melanie Benjamin: Two women in early Hollywood books one right after the other and another book that I really, really enjoyed. This one takes place in super early Hollywood, beginning in 1914 when silent movies were just coming out (and were considered scandalous by some) and is about screenwriter Frances Marion and actress Mary Pickford. I had never heard of either of these ladies, but when I was done reading this book, I found myself Googling them to learn more. These women were such trailblazers in the industry and world in general and I love that this book was all about them instead of Charlie Chaplin or Douglas Fairbanks (who also play roles in the book). (I received this book through Amazon Vine)
This is Really Happening by Erin Chalk: I'm always a bit skeptical of people who write memoirs at such a young age, so I wasn't sure how I'd feel about this 20-something BuzzFeed writer's memoir. But Erin has definitely had enough life experiences to tell an interesting story from her perspective. She was diagnosed with cancer at 19 and is able to put her lighthearted take on it without minimizing the disease. Some of the chapters I could have done without and I do wish we learned more about her job at BuzzFeed, but overall I thought this was a very entertaining quick read. (I received this book through the publisher).
No Ego by Cy Wakeman: One of these books is not like the others.... OK, so I got this book through Amazon Vine and thought it would be a good read to gain perspective in my management role at work. I had pretty mixed feelings on it, but overall thought it was an interesting perspective that made me look at things in a different way. Wakeman's take is that workplaces are way too concerned with the wants and needs of employees, even when those employees aren't fully committed or accountable and argues that you should weigh employee needs based on their accountability. There's nothing I hate more than entitlement and ego (and drama!) and I saw a lot of sense in her perspective, but I felt like it was super idealistic and that she had no balance or understanding that employee satisfaction is important. (I received this book through the publisher)
The Heirs by Susan Rieger: I love family dramas, so I was excited for this book. The synopsis reminded me a little bit of "The Nest," in that it's a family drama... But I admit that I did not love "The Nest" nearly as much as I thought I would. Luckily, I did enjoyy this novel about a recent widow and her five grown sons who are learning their dad may not have been the person they thought he was. It's definitely a more slow-moving book, but that didn't bother me as I was intrigued by the details and wanted to keep reading on to learn more. My biggest problem with it is that the five sons were kind of indistinguishable to me and I had to keep looking back to remember who they were. (I received this book from Blogging for Books)
The Regulars by Georgia Clark: I had really high hopes for this one, but honestly didn't like it very much. I felt like it was super cheesy and incredibly unrealistic, which caused me to have trouble getting into it. It's about a group of girlfriends who discover a potion you can drink to make you pretty. It basically turns you into someone completely different for a few days... Which I felt should have caused so many more problems than it did in this book (imagine if you just disappeared for weeks at a time?? And a "new" person moved into your home??). Obviously these "regular" girls learn lots of lessons while they're pretties (I'm sure you can guess what they are), but that just wasn't enough for me. I'm probably too much of a realistic thinker to enjoy a book like this, but it seems that some people really loved it, so definitely decide for yourself!
Exit West by Mohsin Hamid: This book is so incredibly relevant and important right now. It takes place in an unnamed country, but one in which daily bombings and violence is occurring. Saeed and Nadia, just beginning their relationship, decide to flee together and leave their home. Unlike novels where you learn about refugees' long and perilous journeys, Saeed and Nadia simply enter new lands through magic doors. At first I was majorly thrown off by this, but then realized that Hamid wouldn't be able to tell the story he wanted to tell if he had to focus on those details. How they got to these places wasn't important to the story, but what happened to them emotionally was. Ayelet Waldman's New York Times review sums this book up nicely: "It was as if Hamid knew what was going to happen to America and the world, and gave us a road map to our future… At once terrifying and … oddly hopeful."
The Status of All Things by Liz Fenton and Lisa Steinke: This book is pretty much the opposite of the one above and way more lighthearted and fun. It's quick and simple and definitely a little silly, but if you're in the mood for that, this book will fulfill. The story focuses on jilted bride Kate who discovers after being left at the altar, that the statuses she's putting up on Facebook are actually coming true. She has the opportunity to go back and try to make her relationship work again, but as you can probably guess, she learns a lot about herself (and how things are portrayed on social media) in the process.
Here's What I Read in January
Here's What I Read in February
Here's What I Read in March
Here's What I Read in April
Here's What I Read in May
Here's What I Read in June
Here's What I Read in July