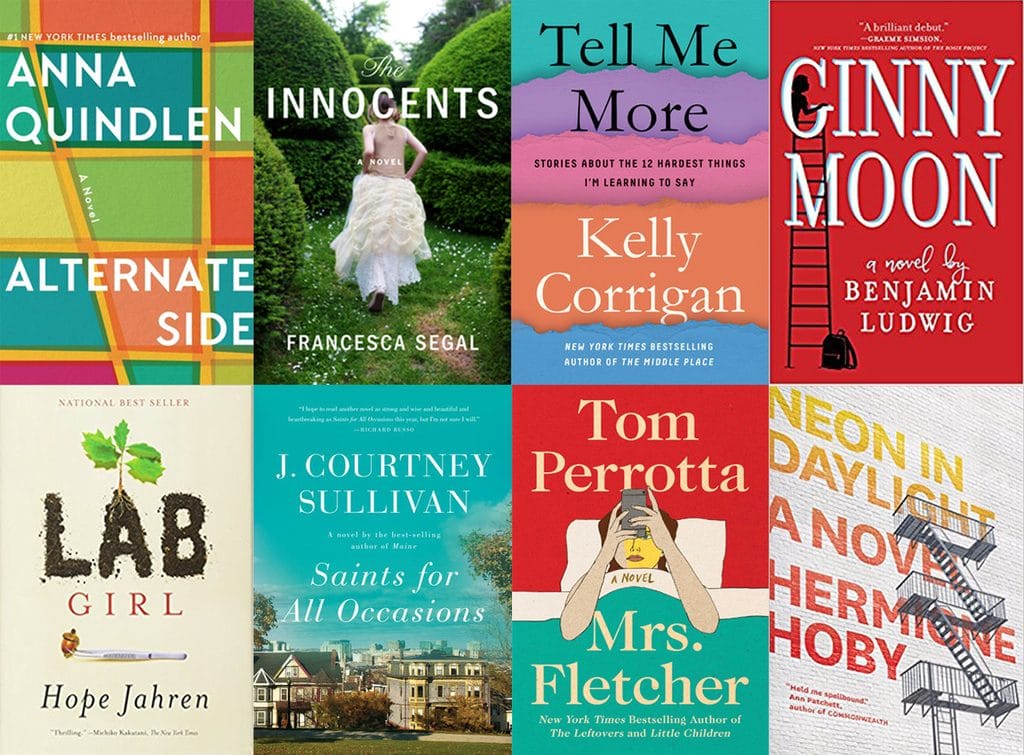 And with this post concludes an entire year of reading! I'm more than thrilled with how many books I read in 2017 and hope I can keep some of the momentum up in 2018. Since I started working from home and lost my train commute, it's definitely been a bit tougher to get reading time in, but I'm doing my best. I'm trying to get more active on GoodReads, so follow me over there if you want! In this post, I'm sharing everything I read in December, but I think it's also worth talking about my absolute favorite books from 2017. Here's my top 4 (because I couldn't choose just 3!):
#1: Little Fires Everywhere by Celeste Ng
#2: The Seven Husbands of Evelyn Hugo by Taylor Jenkins Reid
#3 The Tea Girl of Hummingbird Lane by Lisa See
#4: Home Fire by Kamila Shamsie
The best thing is that my top 4 books are so completely different from each other and I gained something completely different from reading each of them. I just read and am loving this Chicago Times article about setting reading resolutions, but making sure that you have intentions when doing so. I'm on the same page with the author in that I read to learn about places, people, and times that I'll never be able to experience and to understand more about the world around me. He says, "Set some reading goals, but also try to be aware of why you're setting them. I don't want to read more because I'm chasing a number, but because I know what I'm missing out on if I read less." That's why I love writers like Lisa See who takes me to China and shows me a little bit about the lives of girls growing up under a Communist regime. Or Kamila Shamsie who uncovers parts of the immigrant experience that I've never considered before.
One of my reading goals for this year is to step out of my box and read some books I normally wouldn't. There are SO many books I'm dying to read and not enough time in the day, so sometimes it's tough to make myself read a book not on my "to be read" list, but who knows what I'll discover if I just do it! Do you have any reading goals for 2018?
OK, let's finish up 2017 with the books I read in December! (Just an FYI that the links to all of the books in this post are affiliate links meaning that at no extra cost to you, I will earn a commission if you click through and make a purchase. Thank you for supporting WANM!).
Alternate Side by Anna Quindlen: As a longtime fan of Anna Quindlen, I was so excited to get an advanced copy of her new book from NetGalley. One of the things I really love about Quindlen is that while her books are usually about family (and mainly marriage) dynamics, they're all are so different and you never really know what you're going to get. Alternate Side is about a married couple living on a neighborhood street in the Upper East Side of Manhattan where people are paying good money to live and parking is at a premium. Everything begins to change after an incident occurs in the parking lot and nobody can seem to agree who was at fault. The book starts off slowly and I had a little trouble getting into it, but then I was suddenly hooked. Quindlen brings up some current day issues, but in a completely new context, also pulling it neighborhood dynamics. As usual, she explores marriage, this time examining how much can change over the years. This will definitely be another hit for Anna Quindlen! (I received the ARC of this book through NetGalley)
The Innocents by Francesca Segal: OK, I really enjoyed this book, but the characters totally drove me crazy! Adam and Rachel are a newly engaged couple in their late 20s who have known each other forever, due to growing up the same close-knit Jewish community. Rachel is that "perfect" girl, but kind of perfect to the point of annoyingness; I couldn't get Rachel from Glee out of my head the entire time I was reading the book. When Rachel's troubled cousin Ellie comes to town (she's basically the opposite of Rachel), Adam has to make some tough choices about what he really wants in life. I was sucked into this one and found it super entertaining, but like I said, was frustrated by some of the decisions the characters made... I wanted to jump into the book and shake Adam a time or two!
Tell Me More by Kelly Corrigan: This book is being released this week, so get excited! In some ways, I don't understand how Corrigan has so much awesome material going on in her life to keep coming out with memoirs, but then I realize it's not that her life is necessarily more exciting than anyone else's; its just that she knows how to write about it in an appealing way. I love the concept of this book in that Kelly took 12 phrases she's trying to learn to say that are difficult for many of us (like "no," "good enough," "I love you," etc.) and writes a chapter on each. There's definitely a heavy focus on loss and parenthood (two things I don't have much experience with) and some chapters were more engaging than others, but overall, I loved reading about Corrigan's life experiences and found ways to relate to many of them. And the chapter in which she shares a letter she wrote to her friend on the anniversary of her death had me in serious tears. (I received the ARC of this book through NetGalley)
Ginny Moon by Benjamin Ludwig: I had NO idea what Ginny Moon was about before I picked it up; I just knew I had been seeing tons of people reading it. It's the story of a 14-year-old autistic girl living with a family who recently adopted her. In some ways, it's a heavy read, but it's made lighter by Ginny's lovable personality. However, I also found it to be highly stressful as Ginny's main goal throughout the novel is to get back to her abusive birth mother for reasons that will be uncovered as you read. She makes decisions that will make you want to yell, "No, Ginny, stop!!" Her adoptive parents are also really frustrating at times (but it's also tough to imagine how you'd act in their position). Overall, this is a really good read... And since I read it, I find myself saying (in my head) "Well, dang!" one of Ginny's signature phrases, all the time.
Lab Girl by Hope Jahren: This one has been on my list for a while and I finally picked it up. So different from what I normally read, but I heard it was good and figured I'd learn something new in reading it. Science was definitely one of my weaker subject areas in school, but one that I so wished to be good at, so I'm always impressed by people who go into careers in the sciences. If you go into a science career AND are a incredible writer? Man, I am jealous! This book was a wonderful mix of memoir and education on trees and plants. I loved following Hope's story, her relationship with lab partner Bill (can Bill please write a book now??), and how the plant world changed her. My eyes were also opened to how little our country is willing to spend on discovery sciences and how difficult life can be for scientists because of this. Also? I definitely want to go out and plant a tree now (one of Jahren's points is that every year, at least one tree is cut down in your name and to compensate for that, you should plant a tree in return. Imagine if everyone did this?).
Saints for All Occasions by J. Courtney Sullivan: Another author I've read everything from and who always surprises me with the breadth of her subjects and writing style. Her newest novel follows two sisters coming from Ireland to live in the U.S. in the 1950s and bounces back and forth between their new lives in America to 50 years later as they're both dealing with serious decisions they made in the past. It's a book about the relationships of siblings and how decisions you make when you're young and secrets you keep throughout your life can drastically change these relationships. Despite not having a religious upbringing, I loved the details of Catholicism and how they played into the decisions characters made. I also love that the book mainly takes place in Boston as I had a really strong picture of the characters and their surroundings in my mind. This book is vey different from Courtney Sullivan's Commencement (if that's what made you fall in love with her), but a great read that I've heard a few people compare to Colm Toibin's Brooklyn (also a movie).
Mrs. Fletcher by Tom Perrotta: The only way I can really describe this book is to use millennial speak and call it "so extra." But seriously. You know Tom Perrotta from books like The Leftovers and Little Children and while Perrotta's voice is definitely still there, this book is different than his others. I feel like as if he was like, "screw it, I made it; I'm going to write whatever I want." And he did. It's a little outrageous and kind of raunchy, but it's also super fun. The book details the lives of a few different characters, but mainly focuses on Eve and her son Brendan. Eve is a single 40-something, newly empty-nester who is rediscovering herself. She somehow finds herself somewhat addicted to online porn (I told you it's "extra"!) and questioning a lot of things about her sexuality. In the meantime, her son is struggling to keep his super popular bro-like reputation as a freshman in college and is learning his hard partying misogynistic personality isn't as cool as he thought it was. The book doesn't have great reviews, likely because it's a bit more outrageous than Perrotta's past works and I'm sure it offended some but while I definitely shook my head through some of it (in some parts, I felt like he was adding in subplots just to make things as crazy as possible), I thought it was an overall fun read.
Neon in Daylight by Hermione Hoby: I picked this book up from Amazon Vine, mainly because of the description and fun cover, and ended up with mixed feelings about it. Another book taking place in New York City, this one is about Kate, a Brit who comes to NYC to escape her life in England. She accidentally becomes friends with Inez, a recent high school graduate who lives with her dad and makes money by meeting up with men on Craigslist for some "interesting" activities. She also meets Bill, Inez's dad (though she doesn't know it at the time), a has-been author, and begins something of a romance with him. My problem with the book is that I didn't truly enjoy any of the characters and didn't feel invested in their lives at all. However, Hoby is an incredible writer and her descriptions of the city really capture its energy and will likely ring true for anyone with a connection to NYC... And that could make this a worthy read for you! (I received the ARC of this book through Amazon Vine)
Believe it or not, that's a total of 112 books in 2017, which I'm pretty sure is the most I've ever read in any year ever. Be sure to check out my previous lists of reads from the rest of 2017 for tons more recommendations! I'll be continuing this series in 2018, unless I decide to start another blog for them, an idea I've been playing around with for a bit, but haven't made any serious moves on just yet.
In the meantime, happy reading in 2018!!
Here's What I Read in January
Here's What I Read in February
Here's What I Read in March
Here's What I Read in April
Here's What I Read in May
Here's What I Read in June
Here's What I Read in July
Here's What I Read in August
Here's What I Read in September
Here's What I Read in October
Here's What I Read in November