If you're looking for a good book to read, you've come to the right place. This post is part of my monthly "What I Read" series, featuring the books I read in the previous month with lots of recommendations for you! All of these book pair perfectly with donuts, cookies, pasta, or pizza... And always a glass of wine.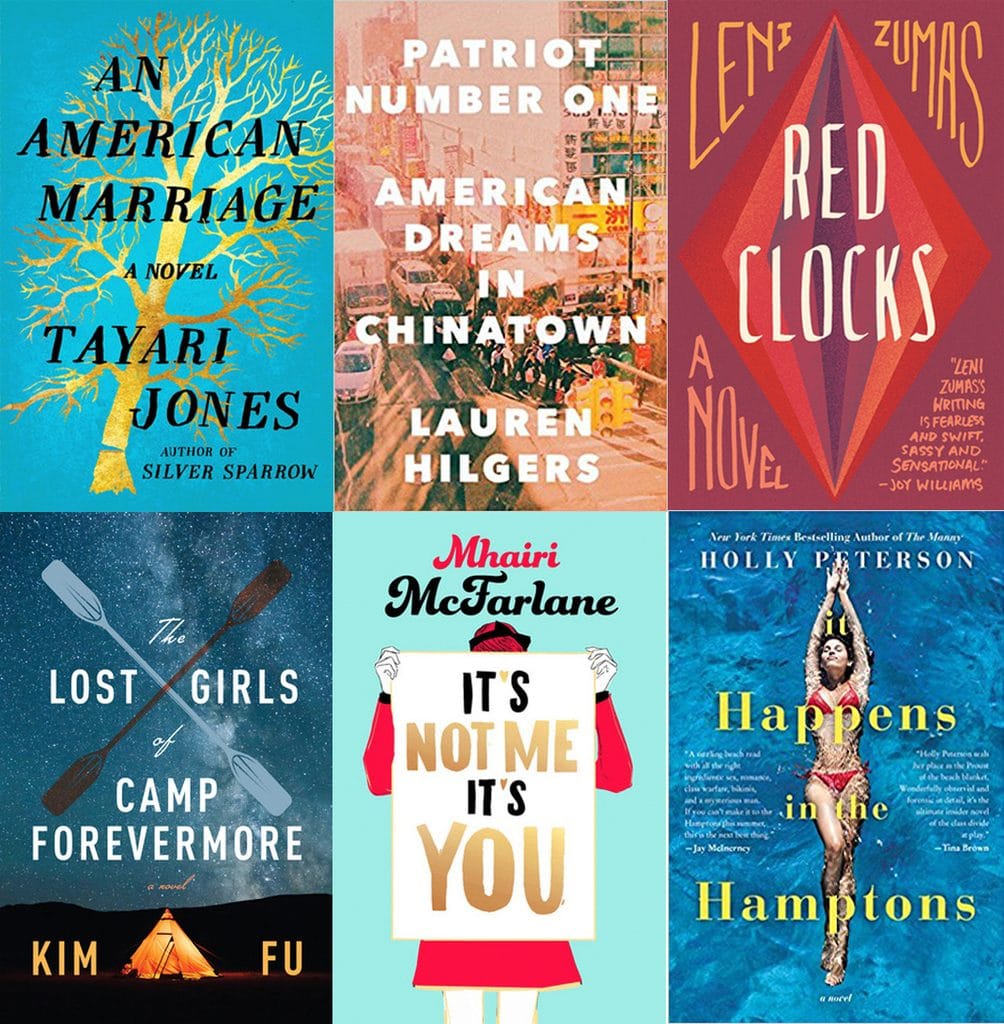 Am I the only one who's constantly sad that I'll never have enough time in life to read all the books that I want to read?? And I say that as someone who reads A LOT. But every day, my "I NEED to read this book!" list gets longer and longer. And that's not even counting the fact that there are lots of classics I still want to read and tons of favorites that I'd love to visit again. Life is hard, I know. While I love discovering lesser known books and "sleepers," I also always want to stay on top of the best sellers and books that everyone is talking about. One way to do that? Follow along with celebrity book clubs.
While I'm sure some people consider them ridiculously basic and mainstream, I think celebrity book clubs can be pretty fabulous and was excited to see a story about them in Entertainment Weekly. Though they're certainly not the most effective book clubs (way too many people in them and tough to have genuine conversation), they're getting people excited about picking up books and in some ways are making reading "cool" for people who otherwise may not think it is. If Reese Witherspoon and Emma Roberts are telling people to read a book, they will!
Obviously these clubs are amazing for the authors chosen and can lead to bigger and better things... Like the fact that Reese (and Kerry Washington) will be turning Celeste Ng's Little Fires Everywhere (one of my favorite books of 2017) into a miniseries. Woo hoo! So, while I'm not a crazy celebrity book club participator, I do follow along and look to see what books they're picking each month. A bonus is that they often get exclusive author interviews, videos, and live chats... Something smaller book clubs may not get to do.
I also think it's partly impressive and partly a travesty that that entire article was written without any mention of Oprah. I mean, as basically the original celebrity book club leader, I feel like she deserved a little shout-out.
And with that, it's on to my reviews of the books I read in February. This is definitely a shorter list than in previous months, likely due to the fact that the month was a bit shorter, but also super busy. Hopefully I can get back on track soon! I also want to point out that in honor of Women's History Month, these reads are ALL written by female authors! I actually didn't do that on purpose, but I'm kind of thrilled by it.
Just an FYI that links to some of the books below and my Book of the Month link are affiliate links (meaning that at no extra cost to you, I will earn a commission if you click through and make a purchase) and some were gifted to me by their publishers. Thank you so much for supporting WANM!
An American Marriage by Tayari Jones: Speaking of Oprah... You've probably heard of this book by now because of the fact that she chose it for her recent book club selection (so did Emma Roberts of Belletrist). This is a powerful and moving book about a couple newly married that is torn apart after the husband, Roy, is sent to jail for a crime he didn't commit. His wife, Celeste, stands by him and waits for his return, but as she does so, she starts falling in love with her best friend from childhood. Obviously there are a lot of mixed emotions and decisions that must be made throughout the book. While you're reading it, you know people will be hurt and that there's no "right" answer and, of course, you'll be wondering "what would I do?" in this situation. Though a totally different writing style, this book reminded me a bit of the crazy emotions I had while reading Taylor Jenkins Reid's One True Loves. It also made me think a lot about both racial injustice and love and marriage. There is just so much to this book that I think everyone can relate to on some level, even if you've never been in anything close to a situation like Roy and Celeste. By the way, this was my one of my February Book of the Month selections... BOTM is another way I discover awesome new books that people are going to be talking about!
Patriot Number One: American Dreams in Chinatown by Lauren Hilgers: I'm inexplicably attracted to books about the Chinese immigrant experience. I blame Lisa See. I picked this one up on Amazon Vine because I liked the premise of it, but I didn't even realize it was non-fiction until I started reading it. It tells the story of Zhuang Liehong who is largely responsible for starting the historic protests in his China village of Wukan. He and his wife Little Yan move to Flushing, NY, in an effort to find a better life (and to avoid Zhuang's eventual likely arrest in Wukan). It's hard for me to talk about this book without writing ten paragraphs, but I love that it gave me an eye-opening look at the Asian immigrant experience in our country. Not only do we follow Zhuang and Little Yan, but we're also introduced to additional "characters," like Karen, whose mother forces her to move to America after college because she thinks life will be so much better. The book is nonfiction and modern (the events in the book take place mainly between 2011-2016) and though it's not a "political" book at all, it's very relevant given our current political atmosphere. I honestly miss Zhuang, Little Yan, and Karen and am dying to know what they're up to now. Would it be creepy if I went to New York to find them?? (totally kidding, I swear!) Patriot Number One's official publish date is March 20, but you can pre-order it now!
Red Clocks by Leni Zuma: Oh man, this book is scary. It's a dystopian novel, but one that is so creepily close to being real that it kind of freaked me out. Basically, the book takes place in an America where abortions are illegal, IVF is illegal, and adoption is only legal for married couples (the government slogan is "It Takes Two"). In some ways, the writing was a little too experimental/postmodern for me, but I loved the premise of the book so much and Zuma's writing style, that I let it slide (read: some people might say this book is too "weird"). The story follows five different women with intersecting stories, but all in different places in their life, dealing with issues of adoption, abortion, fertility, and just plain womanhood in general. It's not an easy or light book, but the characters will likely pull you in and also put a little fear in you, like "could this actually happen??" It's being compared to The Handmaid's Tale, which makes a lot of sense in that it's a scary dystopian book about the future for women, but it's also very much its own story. And considering March is Women's History Month, I think it's the perfect pick for this month. Red Clocks was my January Book of the Month selection!
The Lost Girls of Camp Forevermore by Kim Fu: This is another book I picked up on Amazon Vine after hearing a ton of praise for it. It actually didn't seem like a storyline I'd be super into... I'm not a big summer camp plot type person (I mean, if that is a type), mostly because I still have nightmares from my summer camp days (LOL). But I heard such good things, I figured this was worth a read. And while the novel does revolve around the summer camp experience of five girls, most of the book does not take place at summer camp and is more about how the girls' experiences before and after their traumatic camp incident affected them. Each girl's story is incredibly different and some will likely resonate with you more than others, but I was pulled in by each of them and they each helped me understand why the girls acted the way they did at camp and why their lives went in the directions they did after camp. I'm just glad this book didn't exist before I attended summer camp since the canoe trip to a remote island (the incident in this book takes place during this trip) was my least favorite part of camp.
It's Not Me, It's You by Mhairi McFarlane: I added this book to my must-read list simply because I loved the sound of the description and thought the cover was cute. I think it was on my list for about two years before I finally got my hands on it and yes, it was everything I thought it would be. It's a very cute, slightly nerdy story with a main character you'll have a hard time not falling in love with. When Delia's life starts falling apart (she proposes to her boyfriend and finds out he's cheating on her, she isn't happy at her job, etc.) she moves from Newcastle to London to be with her best friend. She gets a job at a majorly sketch PR agency, begins an online friendship with an internet troll, and starts drawing comics once again. This isn't a super deep book, but it's light and cute and probably what I needed to break up some of my heavier reads this month. It looks like Mhairi has written some other highly reviewed books (some of which are super inexpensive on Kindle right now!), so I might have to check more of them out.
It Happens in the Hamptons by Holly Peterson: OK, so I definitely should have saved this book for a summer beach read. I have no idea how it made it onto my "must read" list, but it looked juicy and fun, like the perfect chick lit. And while it certainly was juicy and fun, I have to say that it was probably a little too trashy for my liking. I'm not a prude at all, but I felt like some of the writing was a bit gratuitous and almost crossed a line. This is not a girl power book at all and I was almost surprised it had a lady author (welp, goes Women's History Month!). That said, it's one of those books that you can fly through, it's super light and breezy, and the story is actually quite engrossing. It centers on Katie Doyle who travels from the Pacific Northwest to the Hamptons for the entire summer at the invite of a man she just met. She she arrives, she realizes that her new "boyfriend" is rarely around, so she takes to exploring the area by herself, meeting people, and immersing herself in the Hamptons lifestyle. There are lots of extravagant details about the lives of these Hamptons residents, but also some squeamish details and language that I thought was a little unnecessary. In any event, I would just save this book for a hot day on the beach with a glass of rosé and consider it a guilty pleasure.
And onto March reading!! I picked up several fabulous books from Amazon Vine that I'm waiting for and still haven't picked my March Book of the Month since I literally want all of them (aside from the one I've read already). Help?? I can pick two since I have an extra credit, but I'm still stuck!
What have you been reading lately?