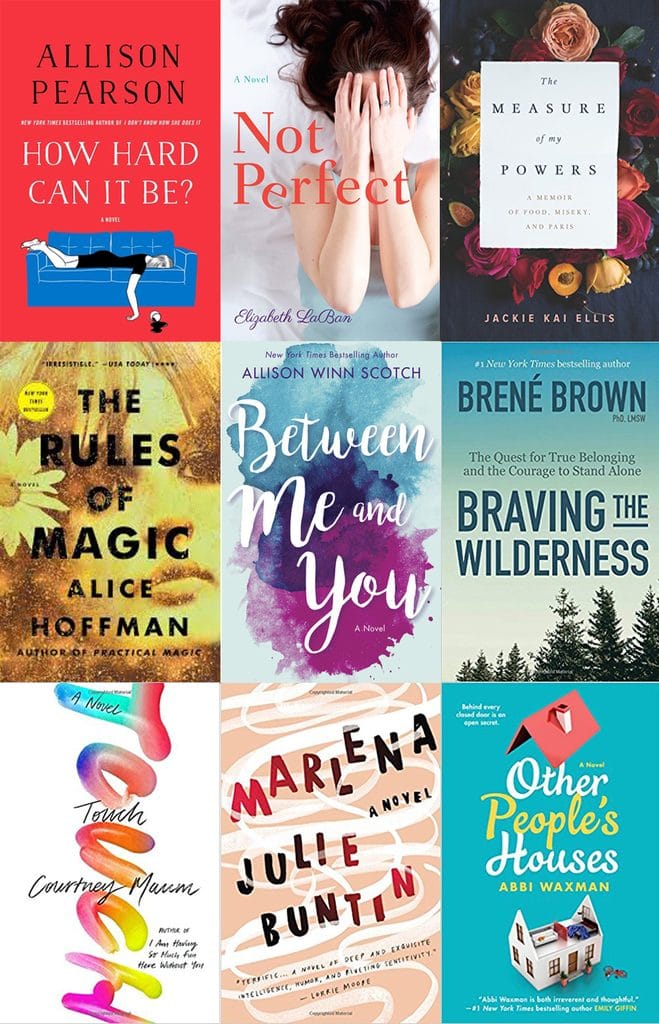 Are you the kind of person who remembers every word you read or do you suffer from serious lapses in memory almost immediately after putting a book down? I have to admit that I have horrible retention and sometimes have to look book titles up to remember if I read them at all, much less what they were about. Chris is the exact opposite and remembers seriously every little detail about books. We were watching The Circle last week ago (based on the Dave Eggers book) and he was bringing up every little from the book (that we both read about 3.5 years ago) and even commenting on how supporting actors didn't look like they were described in the book. I was just sitting there like, "uhhh what was the book about??" I mean, sure I remembered the general idea of it, but I forgot about the majority of the details and certainly didn't have pictures of any of the characters in my head.
Sometimes I feel really bad about this, so I was happy to see this Atlantic article talking about how this happens to lots of people and how our reading memory is often more about the experience and less about the actual details of the book. Lots of times we remember where we were and what we were doing while reading a book, but not necessarily the plot. And it's true that I do remember where I was when I was reading The Circle (and how much I could relate to parts as I was working in social media at the time). It's because our memories have limitations and the "forgetting curve" is steepest during the first 24 hours after we read something. Unless we're going back to study the material, it's not likely details will stick with us. Of course, reading more slowly helps with this and I think this is partly why I'm always reading multiple books at once in attempt to not rush through each one (though I'm sure that adds a whole other layer of complication). Writing about the books I've read in my monthly blog posts certainly helps me remember a lot of what I read and I always have many favorite books that I think about A LOT and that will never leave my brain. Do you typically remember what you read?
Anyway, on to my reads from the first month of 2018! I had an amazingly successful January of reading, mainly due to the fact that it was freezing outside and I had little desire to leave my house and also because I read a few page-turners and shorter books.
Just an FYI that links to some of the books below are affiliate links (meaning that at no extra cost to you, I will earn a commission if you click through and make a purchase) and some were gifted to me by their publishers. Thank you so much for supporting WANM!
How Hard Can It Be By Allison Pearson: When I picked this up from NetGalley, I had no recollection of having read the prequel, I Don't Know How She Does It (because... my brain). It wasn't until I started reading about Kate Reddy that it hit me that I already knew her! I Don't Know How She Does It was a crazy popular book, written in 2003, but made even more popular after a movie based on it and starring Sarah Jessica Parker came out in 2011. I admit I forgot much of the story's premise, but as I read How Hard Can It Be, much of it came back to me. Kate is a little bit older in this book and dealing with troubles in her marriage, raising two teenagers, and being forced back to work as an "older" woman. Obviously not a whole lot that I can personally relate to, but still, it's hard not to fall in love with Kate and be cheering for her. In some ways, she's like a cross between Bridget Jones and Shopaholic Becky Bloomwood (this book also takes place in the UK), but more mature and relatable. There were some parts of Kate's character that I felt were a bit exaggerated and bugged me a bit (much like with Bridget and Becky!), including the fact that her family and colleagues take serious advantage of her and she rarely sticks up for herself. But overall, this was a really fun read!
Not Perfect by Elizabeth LaBan: I was so excited to receive this book from the author's publicist as I knew Elizabeth LaBan from The Restaurant Critic's Wife, which I read last year (her husband is actually a food critic in real life!). Her new book has some mixed reviews, but I'm happy to say I loved it! It's definitely a little quirky and in some spots unrealistic and frustrating, but at the same time, one of those books that I just couldn't put down. Tabitha's husband has gone missing and she's left to take care of their two children on her own, rapidly running out of money to the point that she's stealing just to get food on the table. Throughout the book, we're wondering what the heck happened to her husband as we watch her work to care for her children, keep her secret, and struggle with her morality. The book caused me a little anxiety, but I needed to keep reading on to find out what would happen to Tabitha. And even though I didn't particularly like her, I now kind of miss her. Also, if you read this book and watch This Is Us, tell me that you couldn't get This Is Us's Toby out your head while reading about the Toby in this book!
The Measure of My Powers by Jackie Kai Ellis: You know if it's a food memoir, I'm definitely going to read it. When I saw this book being compared to Eat, Pray, Love, I was a little bit skeptical (though have I mentioned I'm OBSESSED with Elizabeth Gilbert now? She's seriously the best) and I have to say I wish publishers would stop using that comparison! Yes, this is a book about food and love and life. And Ellis does do some traveling, which in many ways is connected to her relationship and love for food. But other than that, it's nothing like Eat, Pray, Love and I feel like it's doing this book a disservice to make that comparison. OK, rant over. Ellis's memoir is incredibly honest and you can tell this probably wasn't an easy book for her to write. I especially loved seeing her fall in love with cooking as a child and getting the chance to actually see some of the recipes she was cooking from a young age. I was intrigued by the unraveling of her marriage, but felt like something was missing and I honestly couldn't understand what her husband brought to the marriage and why she fell in love with him in the first place (I'm sure this is deeply personal and hard to get other people to understand). But overall, this is a fabulous read if you are passionate about food and cooking and love reading about other people's relationship with food. It also made me want to go back and read all the MFK Fisher I can find! I got this book through the Amazon Vine program and it's officially out on March 6.
The Rules of Magic by Alice Hoffman: OK, full disclosure that Practical Magic must be the only Alice Hoffman book I haven't read (I have NO idea why not) and I've also never seen the movie. But I was attracted to the premise of this book, as well as the cover and the fact that Reese Witherspoon chose it as her Hello Sunshine Book Club pick back in October. So, when I saw it as a Book of the Month Club pick a couple months back, I grabbed it. And omg I loved it. I obviously can't compare it too much to Practical Magic since I haven't read that yet, but I can tell you that it's the prequel and tells the life story of the aunts in the book/movie, Franny and Jet. In some ways, it's a a really sad book, filled with despair and disappointments. It does not make being a witch sound appealing at all. But on a brighter side, it's also a book about family and love and overcoming adversity. I'm in love with Franny, Jet, and Vincent and can't wait to get my hands on Practical Magic now.
Between Me and You by Allison Winn Scotch: I was lucky enough to also receive this book from the author's publicist and I loved it from the start when I learned the title was taken from Brandon Flowers song. You may know the author from her other books like In Twenty Years and The Theory of Opposites. I love the premise of this book- Tatum and Ben meet after college, when they're both starting out in their careers, Tatum as an actress and Ben as a screenwriter. This book takes us through their relationship and marriage and explores the trouble they start to have as they begin to find different levels of success at different times. In some ways, I loved that the story jumps back and forth in time because it reveals details at the best times. But in other ways, I found this totally confusing since the jumps are all over the place (I had to keep trying to remember what had happened when). But overall, it's an engaging story and the kind of book that makes you realize how much people can change over the years, which is both eye-opening and majorly scary.
Braving the Wilderness: The Quest for True Belonging and the Courage to Stand Alone by Breneé Brown: Yes, I read a non-fiction book! Haha clearly I'm more attracted to fiction, but I actually bought this book a few months ago because I had been hearing good things and loved the premise of it. Then, it sat on my shelf until Reese Witherspoon announced it was her January book club pick and I decided it was time to read it! Brown explores how we can all have the courage to stand up for ourselves and our beliefs, while also finding connection with others, especially in the heated times we're living in. There were lots of good bits to her book and I find myself changing my thought process often now, especially when people are using "dehumanizing" language or jumping to conclusions about a person based on just a little information. One of my favorite quotes from the book is, "People are hard to hate close up. Move in." But I also couldn't help thinking that this book was really just written for privileged people whose biggest worry is other people not liking us and who aren't really putting ourselves in real danger when we speak up. In some ways, I don't really blame her because she obviously wrote it from her own point of reference, but I feel like she could have done more to recognize this. Still, this book was worth reading for me as I feel like I gained a lot of valuable insight from it.
Touch by Courtney Maum: This book has been on my must-read list for a while now, but only because I LOVED I Am Having So Much Fun Here Without You. I legit had no clue what it was about before I started digging in and I have to say the premise was a little bit weird, but also a little too real. Sloane Jacobsen is an incredibly successful trend forecaster who just started consulting at a technology company to help determine what will come next in tech. However, she's starting to realize that people are becoming overloaded with technology and are craving human interaction and touch, a theory that her new workplace isn't really a fan of. Complicating things more is the fact that she's in a longterm relationship with Roman Bellard, a "neo-sensualist" who is predicting the death of "penetrative sex" (LOL). Obviously Sloane has some tough decisions to make. I enjoyed the book and thought it had a kind of The Circle feel to it, but it wasn't my favorite read of all time and in my opinion, definitely not as good as Courtney's first book.
Marlena by Julie Buntin: This is also a book that I picked up without having any idea of the premise. To be honest, I totally thought it was going to be a book about an Italian girl because I thought that was spaghetti on the cover (can't believe I shared that embarrassing fact with you!). It's actually a really powerful book about 15-year-old Cat who moves to an extremely rural town in Northern Michigan with her mom and brother and starts hanging out with the girl next door, Marlena. Cat is a "good girl" with good grades, no boyfriends, etc. Marlena is definitely a wild child, having had a tough childhood, with friends and family who sell drugs and make meth. Cat immediately falls in love with her and gets sucked into her world. We know from the start of the book that Marlena dies after about a year of friendship with Cat and the novel jumps around from present day with Cat as a 30-something still dealing with the death of her friend and back to the past where we see the events leading to Marlena's death. It's definitely not a light read and it pulled me into a world I know next to nothing about, but that's one of my favorite things about reading... Exploring worlds I'll never (hopefully) be in.
Other People's Houses by Abbi Waxman: This is another early release that I got through NetGalley (it's officially out April 3) and another focused a lot on parenthood. It's centered on Frances Bloom, mom and do-gooder who runs the daily neighborhood carpool to school and works to hold the neighborhood together. When she walks in on her neighbor having an affair with a younger man, she starts to realize she should stop involving herself in other people's business as much as she does. But that's easier said than done, especially when so many people are counting on her. I thought there were lots of funny moments in the book and also a few emotional ones... But I have to say, it also made me pretty thankful I don't live in a neighborhood like that (the gossip is out of control!). This was an entertaining read that moms of school age kids will likely especially enjoy, though anyone will get some laughs out of it.
I'm thrilled I got 2018 off to such a great start, though I admit that February is going quite a bit more slowly (it's also the shortest month!)
What's the best book you read in January?