If you're looking for a good book to read, you've come to the right place. This post is part of my monthly "What I Read" series, featuring the books I read the previous month with lots of recommendations for you! All of these book pair perfectly with donuts, cookies, pasta, or pizza… And always a glass of wine.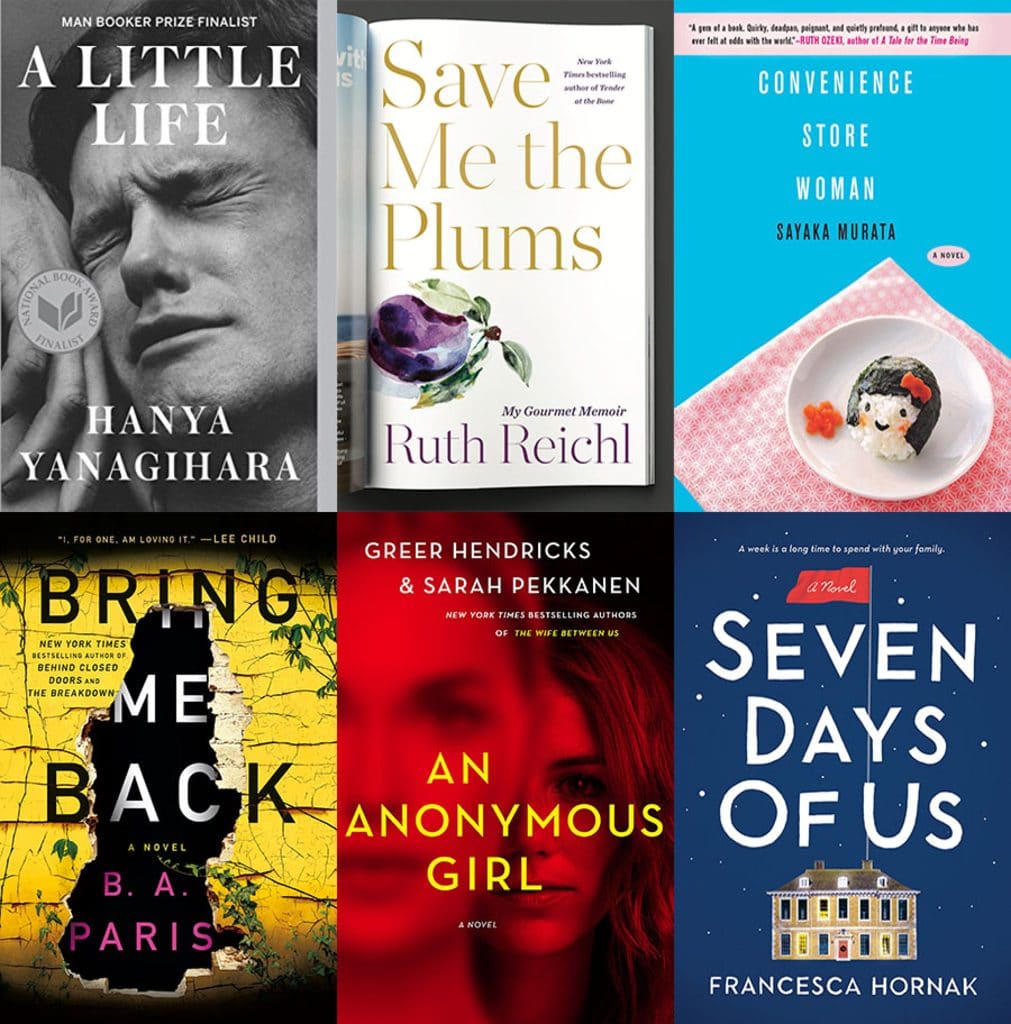 Hello and happy 2019! I realize it's already midway through February, but this is my first book review post of the year, highlighting everything I read in January, so I'm saying Happy New Year! It was a great kick off to the year for me... I definitely read fewer books than in a typical month, but a lot of that is because one of my reads was super long.I also had a couple of books that I didn't love, but I have to say February is making up for that so far!
Before we jump in, I have to ask if you've ever heard of silent reading parties? This article made me laugh because they sound a little bit ridiculous. But also probably a really good idea for getting focused reading done. It's so easy to get distracted when I'm reading at home because there's always a million things I need to and/or want to be doing. I guess if I were at a silent reading party, I'd be forced to actually just read?
But there's also something that feels a bit strange about going to hang out with people and not talking to them; just reading. It actually reminded me of a girl I used to be friends with in elementary school. She was a nice girl, but I wasn't that interested in a friendship with her... However, she had a huge bookshelf that was filled with every Babysitter's Club and Sweet Valley Twins and High book ever written. Sometimes she'd invite me over and I'd go and ask her if we could just read. And we'd just sit in her room and silently read books. How terrible is that?? She also let me borrow books all the time and I definitely held on to that friendship longer than I should have because of her books. So, I guess in a way I have been to a silent reading party? Also, I still feel a little guilty about this.
Anyway, now that I shared my shameful childhood admission with you, let's talk about what I read in January and my newest book recommendations for you! If you want to use me for my books, I promise I won't mind...
Just an FYI that links to some of the books below are affiliate links (meaning that at no extra cost to you, I will earn a commission if you click through and make a purchase) and some were gifted to me by their publishers. Thank you for supporting WANM!
A Little Life by Hanya Yanagihara: OK, this was the beast of a book that took up much of my month. But it was SO worth it. However, warning to everyone... this book is not for the faint of heart. It is probably the heaviest, most emotional, difficult to read book I've ever read. I read this along with a bunch of Instagram friends and we had a group chat about it and I'm so glad I did because this is the kind of book you'll want/need to talk about. Honestly, I feel like anything I write about this book won't do it justice (I'm not even going to attempt a plot summary because it will be impossible), so just know that this book is an absolutely beautiful take on friendship, love, and pain. Also know that I have to give about 50 trigger warnings, as there is a lot of sexual abuse, child abuse, self harm, suicide discussion, etc. Wow, I just made the book sound so appealing, right? But there's so much beauty in the book that even though I had to put it down several times due to the heavy subject matter, I fell in love with it and wanted to keep reading and reading. Side note- if you watch Queer Eye, you've probably seen Antoni wear a shirt that says "Jude & JB & Willem & Malcolm" and that shirt is an ode to A Little Life. This interview with Antoni is fantastic, but if you're planning to read A Little Life don't read the interview until you're done as it contains some spoilers!
Save Me the Plums by Ruth Reichl: This is the book I've been waiting forever for Ruth Reichl to write. And if you mostly read my blog for the food, something tells me you'll love this one, too. I've read all of Reichl's books and her memoirs always hit home for me, but Save Me the Plums is all about her time at Gourmet magazine. From her decision to join Gourmet as Editor-in-Chief, to working at the magazine, making hiring decisions, making risky changes, etc. I was fully immersed in her story. But for me, this book really just solidified the fact that Reichl is an amazing person and someone absolutely anyone would want to work for. I admire her leadership skills so much and think the world would be a better place if more managers took a page from her book. If you ever read Gourmet or just love food magazines in general, this book will suck you right in! Same Me the Plums' official pub date is April 2, but you can pre-order it now. (thanks to NetGalley for my copy of this book!)
Convenience Store Woman by Sayaka Murata: This is a short little novella and can likely be read in just a couple hours. It's about Keiko, a quirky girl who doesn't quite fit into "normal" society. She starts working in a newly opened convenience store during college and 18 years later, she is still working there. She knows she wouldn't fit in anywhere else and since she knows the convenience store like the back of her hand, she is great at her job. This book is really about the rules of society and how it looks at a 30-something-year-old woman who isn't married and works at a convenience store. I loved the commentary on society, but I almost felt like the book was too short and could have been built into so much more!
Bring Me Back by B.A. Paris: I had been hearing so much about this book that I had to pick it up. It wasn't my favorite thriller of all time (I feel like I have really high thriller standards), but it intrigued me enough to keep me reading. It's about a guy named Finn whose girlfriend, Layla, goes missing. We hear details of what happened the night she went missing, but it isn't clear what happened to her or if Finn was involved in her disappearance (he's a bit of an unreliable narrator). Flash to ten years later and Finn is engaged to Layla's sister... But suddenly little signs start happening that make them think Layla may be back. I actually liked the fact that this book had me guessing so many different things and then the ending wasn't at all what I expected. However, I also felt like so many things in the story didn't feel totally realistic. For some reason, I haven't read B.A. Paris's Behind Closed Doors yet, but I've seen people rave about it, so I'll definitely pick it up!
An Anonymous Girl by Greer Henricks and Sarah Pekkanen: This is another thriller that wasn't totally up my alley (I told you I have high thriller standards!). But I kept hearing about it everywhere and had to pick it up. Struggling NYC makeup artist, Jessica, deceives her way into participating in a psychology study about morality to make some extra money. She becomes Subject 52 and after answering various questions about morality, she is asked by Dr. Shields to perform various tasks. But the doctor starts making her do strange things and Jessica realizes there's something more to this study. I just really disliked Dr. Shields and felt like her character was a bit unrealistic. She's creepy, but in a sort of eye-rolling way. I also didn't feel enough happened in the book. It's almost like the authors came up with the concept for the book (which is a great one!), but just didn't really know where to go with it. I know great thrillers are really hard to write, but this one just didn't hit home for me. (thanks to NetGalley for my copy of this book!)
Seven Days of Us by Francesca Hornak: This book has been on my must-read list forever and I couldn't wait to pick it up. For some reason, I had a totally different idea of what it was about (I thought it was about a royal family? No idea why), but I still thought it was a cute and enjoyable book. After Olive comes back from treating a highly contagious disease in Liberia, she and her family are forced to stay quarantined in their house for a week over the Christmas holiday (until they could be sure she hadn't contracted the disease). Olivia is not only coming to terms with being back home in the UK after an extremely difficult time in Liberia, but she's also newly in love but unable to see her boyfriend as he is also in quarantine. Olivia's sister Phoebe has just gotten engaged to her not-so-great boyfriend George, her mother has just discovered she has cancer but has not told anyone, and her father has just learned he has a grown son from a previous relationship who is coming to visit him. So, yes, there is A LOT going on! Like I said, it was a fun story, and my only issue with the book is how many ridiculous coincidences there are in it. I don't mind a coincidence here and there that help to tie a story together nicely, but this felt a little ridiculous with so many people "just happening" to meet. I couldn't help but roll my eyes at some points by how convenient everything was. But overall, it's a cute and light book!
And that's my 2019 so far! Like I said, I already have a lot of reallyyyy good reads from February to share with you when the month is over. Now I need to find some silent reading parties so I can get some serious reading done!
What have you been reading so far this year?