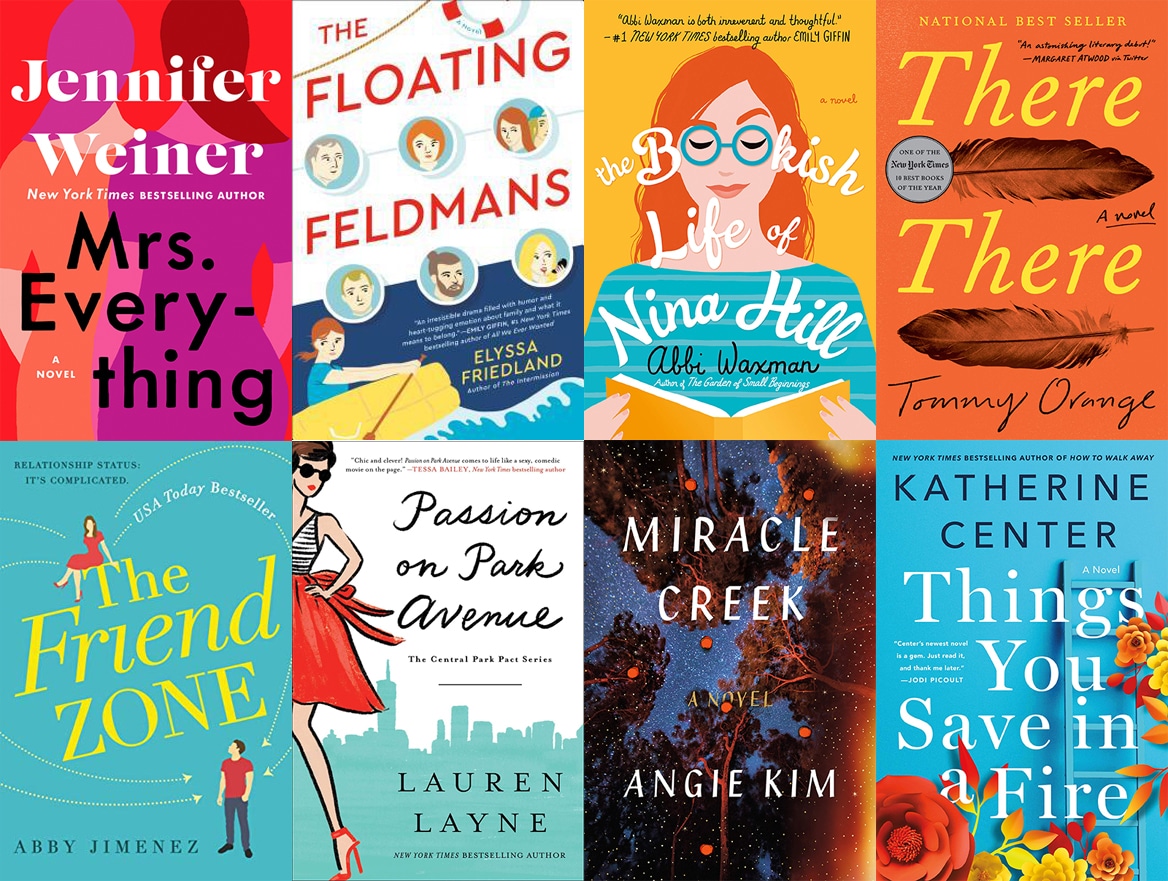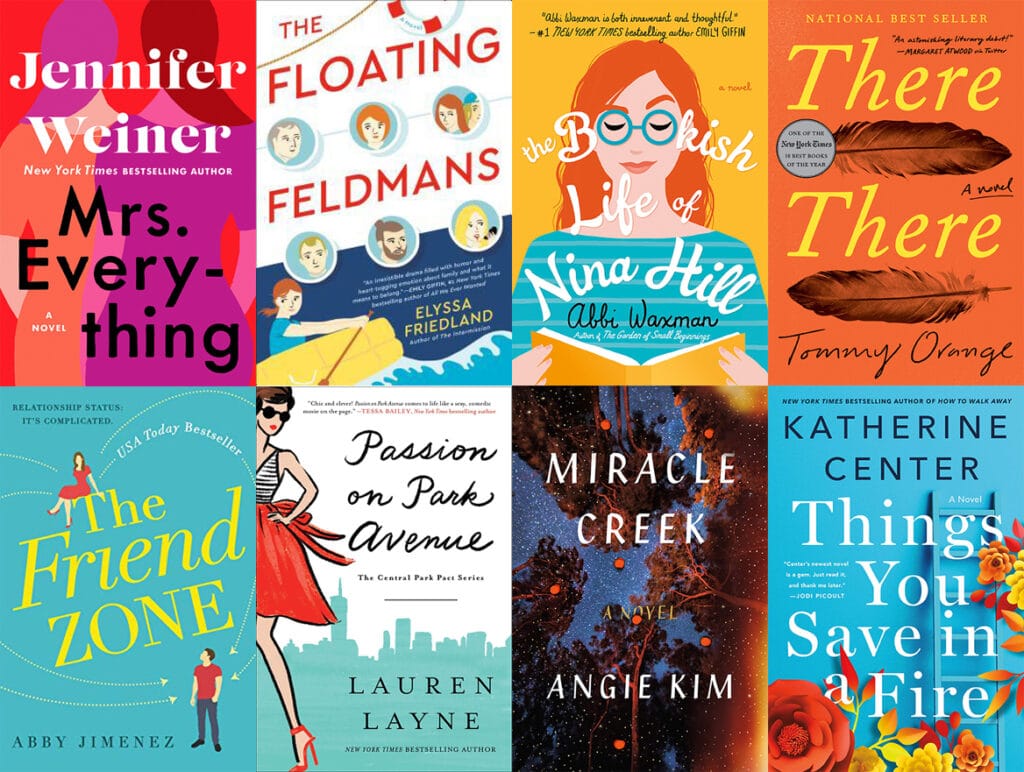 I can't even believe how fast the summer is flying by. Not to mention, the entire year. We're seven months into 2019, but this post is really my halfway point in books since it features everything I read in June. The other day, I went through all my 2019 reads and determined that so far, I've had a reallyyy good year of reading. Over on my book Instagram, I compiled a book stack featuring my top 10 books so far in 2019 and I've read so many good ones that it was actually difficult to decide!
By the way, if you're interested in getting more book recommendations (I mean, if mine aren't enough for you!), definitely head over to Instagram and follow some of the many book lovers there. It kind of feels like a sort of underground world where everyone is as obsessed with books as I am and I absolutely love it. It's definitely convinced me to pick up some books I either wouldn't have heard of or wouldn't have thought to pick up. I recommend checking out the hashtag #bookstagram to find some good people to follow (but obviously follow me over there, too!)
Anyway, onto everything I read in June. We still have all of August for fun summer reads and most of these books fit the bill pretty well! Just an FYI that links to some of the books below are affiliate links (meaning that at no extra cost to you, I will earn a commission if you click through and make a purchase) and some were gifted to me by their publishers. One was from the Book of the Month Club, which I highly recommend if you'd like the chance to pick a new book every month; it makes a great gift, too (you can sign up with my affiliate link here). Thank you so much for supporting WANM!
Mrs. Everything by Jennifer Weiner: Jennifer Weiner is one of those authors whose books I'll pretty much always pick up. They're usually good reads and highly enjoyable, but not mind-blowing or super memorable for me. I'm happy to say that her new Mrs. Everything is the best I've read from her and one that will definitely stick with me! The book starts in the 1950s and follows two very different sisters, Jo and Bethie, as they grow up in the Michigan suburbs. While the sisters have a relatively "normal" childhood; one that I'm sure many middle class white people in the suburbs at the time could relate to, they face a lot of hardships that really shape them and their futures. Younger sister Bethie has always been the "good kid," pretty, popular, and girly and likely to go on to marry and have a family as was the goal for so many girls at the time. Older sister Jo has a bit of a tougher time winning her mother's love as she's athletic and prefers to spend her free time protesting and acting as an activist for equality. She also knows early on that she's a lesbian, a fact that makes her "different," which is especially difficult during that time period. The book follows them throughout much of their lives and is a good reminder that, despite how far we've come (SO far since the 60s!), we still have so far to go. For me, it was a highly enjoyable read that I didn't want to put down. (thanks to the publisher for my copy of this book!)
The Floating Feldmans by Elyssa Friedland: What a fun book! I read Friedland's first book, The Intermission, last year and it was one of those books where I loved the writing, but disliked the characters/their situation so much that it was hard for me to get into. But since I loved the writing so much, I was really excited to learn she had a new book coming out and when I received it, I was immediately obsessed with the cover. Luckily, I also loved the book! If you're a fan of lighthearted family drama, definitely check this one out. Everyone in the Feldman family has at least one secret... And they're all embarking on a cruise together. What could possibly go wrong, right? The book begins right as the big blowup on formal night of the cruise is happening. But then it hops back in time to before the family embarks on the cruise. We get background on all the family members, including the grudges they're holding against each other, the things from the past they're still upset about, and most importantly, all the secrets they're keeping from each other. I don't want to give away any of the family member's secrets, but some of them are pretty big and some are just the ways in which they're hiding their true identities from their family. The Floating Feldmans would be a great vacation read... Especially on a family vacation if you want to feel a bit better about your own family's issues! The characters in this book may not all be totally lovable, but they're very realistic and I think you'll find at least a couple to connect with. (thanks to the publisher for my copy of this book!)
The Bookish Life of Nina Hill by Abbi Waxman: I've read books by Abbi Waxman in the past, but I'm happy to say this is my all-time favorite. It's so unique and fun and Nina Hill is such a lovable character who I found myself relating to in more ways than one. I think my favorite thing about this book is that it felt so "normal." As readers, we're just following along with Nina's daily life and getting to know her and her habits, friends, etc. When we join her, she's just learned her father has passed away. The thing is, she never knew a thing about her dad as her mom raised her on her own. And now she's learning she not only had a dad, but that she has quite a few siblings, nieces and nephews, etc. In the midst of dealing with this news, she's working at her bookstore job, attending trivia nights with her friends, and getting to know a guy who seems very interested in her. I've heard some people criticizing this book for having too many storylines, but that's what I love so much about it.... Because that's life! We don't often go through "one thing at a time" in our daily lives and things tend to keep moving on no matter what else is going on. I love that we get to join Nina in her daily life. Now that I'm done with the book, I seriously miss Nina Hill and wish I had more of her in my life! (thanks to the publisher and NetGalley for my copy of this book!)
There There by Tommy Orange: Everyone should read this book. It's such a powerful and important book and the kind that you want to pick up and read again immediately after finishing. At least I did. At first the book feels a little disjointed as each chapter focuses on a different character and almost feels like a series of short stories. But it doesn't take long to realize everyone is connected and that all of the characters are planning to travel to a powwow in Oakland, CA. Because there are 12 characters and some jumps in time, I definitely found myself flipping back and forth in the book a lot (I recommend a hard copy version of this book over electronic!). Each story is so unique, but they all focus on the Native American experience and especially what that means in this day and age. There's no way I can speak on the Native American struggle here without sounding completely uneducated, but Tommy Orange does a stunningly beautiful job of bringing it to life in all kinds of ways. It's important not to plead ignorance and for all of us to educate ourselves on our country's history, even if it's a difficult pill to swallow and even if it's filled with oppression and genocide; if only so we can be more compassionate today and learn from history's mistakes. In some ways, this book was difficult for me to get through, but I recognize the fact that much of this is due to the fact that I am often a "fast" reader who loves just speeding through a book. But this is the kind of book you really need to take your time on and fully immerse yourself in. It's also the kind of book that I liked a lot more once I was done reading it and had time to really digest it.
The Friend Zone by Abby Jimenez: The Friend Zone is the kind of book I like to pick up when I need something lighthearted and quick. I feel like I never absolutely rave over romance books, but this one is definitely getting some super high praise in the book world! The book alternates between Kristen and Josh's points of view, two characters who meet by chance at the beginning of the novel who also happen to have best friends who are marrying each other. Kristen has a boyfriend who's coming home from deployment in mere weeks, but she and Josh quickly grow close. Kristen has dealt with severe fibroids her whole life and is waiting to undergo a hysterectomy. Josh wants a big family. And thus, they can never be together. The problem? Kristen hasn't told Josh WHY they can't be together; just that they can't. The character development in The Friend Zone is great, if a little cheesy. Kristen is basically the "perfect" girl we always hear about, which made me roll my eyes a bit. She's beautiful, fun, confident, and not crazy at all (you know, like all other girls). She does seem like a great girl, but she started to drive me crazy with how she treated Josh after a bit. I understand it's hard to tell a guy you're infertile, but it just seems so unfair of her to string him along and then push him away. And if I had to listen to one more convo. about their relationship status with her giving him the cold shoulder, I was going to go crazy. But I did find myself totally rooting for these two and wanting them to be together. The chapters are short and snappy and I kept saying, "just one more!" and realized how late I was staying up. Be aware that the book takes a bit of a dark turn near the end and also that the ending could be triggering for some (people seem to either love it or hate it). (thanks to the publisher for my copy of this book!)
Passion on Park Avenue by Lauren Layne: This is another cute, light read. Definitely not mind-blowing or super memorable, but I'm sure I'll read the rest in the series when they come out. The book starts off with three women meeting in Central Park while avoiding the funeral of a wealthy man who died unexpectedly. The women happen to have something in common... One is the wife of the man who has passed away and the other two are the mistresses (none knew about the others). Instead of instantly hating each other, the women bond over their poor luck in relationships and vow to help each other avoid falling into similar situations in the future. One of the women, Naomi, is a self-made woman who has built a jewelry empire, but she still isn't able to fully let go of things from her childhood. When she moves in to an old money apartment building on Park Ave. that holds a lot of negative history for her, it's with the intention of proving herself to some of its residents. The only problem? One of those residents happens to have grown up into a pretty attractive and charming man. If you're looking for a beach read that's a little bit smarter than the typical chick lit and you love stories of friendship and falling in love, this could be a good choice for you! (thanks to the publisher and NetGalley for my copy of this book!)
Miracle Creek by Angie Kim: This book made it onto my top 10 of the year so far. It's been getting tons of praise and for very good reason. Miracle Creek is a courtroom drama centered on a case in which a mother and a young boy are killed in an explosion at a pressurized oxygen chamber in which they're seeking medical treatment. The woman on trial is the mother of the autistic boy who was killed. As you read on you'll see why it makes sense that she wanted her son dead. Or does it? The thing with this book is that as you learn about each of the people at the scene of the crime (the family that runs the oxygen chamber, various patients and their families, and protestors who are against treatments for autism), you'll find a way to blame them all. And in some ways? They all are guilty. Maybe not of setting the fire that caused the explosion, but of something related. I spent the entire book thinking I knew who was guilty and then suddenly switching my opinion. But the book is about so much more than just "whodunnit." It's about parenting, especially parenting of children with special needs, it's about the immigration experience and belonging, and it's about personal responsibility and justification for one's actions. I loved how Angie Kim was able to hit upon so many issues in a completely natural way. There were a few coincidences that I found a bit too convenient to the storyline, but I can see why they were written in so I didn't let them bother me too much. If/when you read Miracle Creek, please promise me you'll do a "deep dive" into the book (you know, like you're in the oxygen chamber... Sorry I couldn't help myself there!) instead of just reading it at a surface level. You'll get so much more out of it and it will likely stick with you for a long time.
Things You Save in a Fire by Katherine Center: This is another romance that's getting a ton of love on "bookstagram" and another than I enjoyed, but didn't go too crazy over. As far as romances go, it was really enjoyable, but romances just aren't the kinds of books that get me the most excited (haha sounds kind of contradictory, right?). Cassie Hanwell is amazing at her job as a firefighter and her work is her passion in life. Due to some events in her past (which we're not totally clear on right away),she's made herself pretty emotionally unavailable and absolutely refuses to let love into her life. When she's transferred from her Austin job to a fire department outside of Boston so she can be closer to her sick mom, she's stuck dealing with a team of guys who aren't exactly happy a woman has come to work with them. Except for one... A rookie firefighter who she's drawn to. Overall, this is a pretty standard romance, but I liked the firefighter spin and feel like Center does a really good job of letting us into the world of firefighters and showing us what firefighting life looks like, especially for women. Despite all her flaws, Cassie is a likable character and one I found myself routing for throughout the book. I'm happy I picked this one up and, like I said, I'll definitely read more of Center's books, but I wouldn't say this one was mind-blowing or life-changing for me. (thanks to the publisher for my copy of this book!)
Have you been getting a lot of summer reading done or do you tend to read less in the summer months? I feel like it can totally go wither way for people depending on what their schedules are like. I'd say I usually read a little bit less, but am generally pretty consistent from month to month unless I'm going on a beach vacation. I will be off on vacation soon, but since it's with my family, including my nephews who I don't get to see all the time, I'm not sure how much reading I'll actually get done!
If you're looking for more book recommendations, feel free to take a look at my other book review posts from so far in 2019:
What I Read in January 2019
What I Read in February
What I Read in March
What I Read in April
What I Read in May