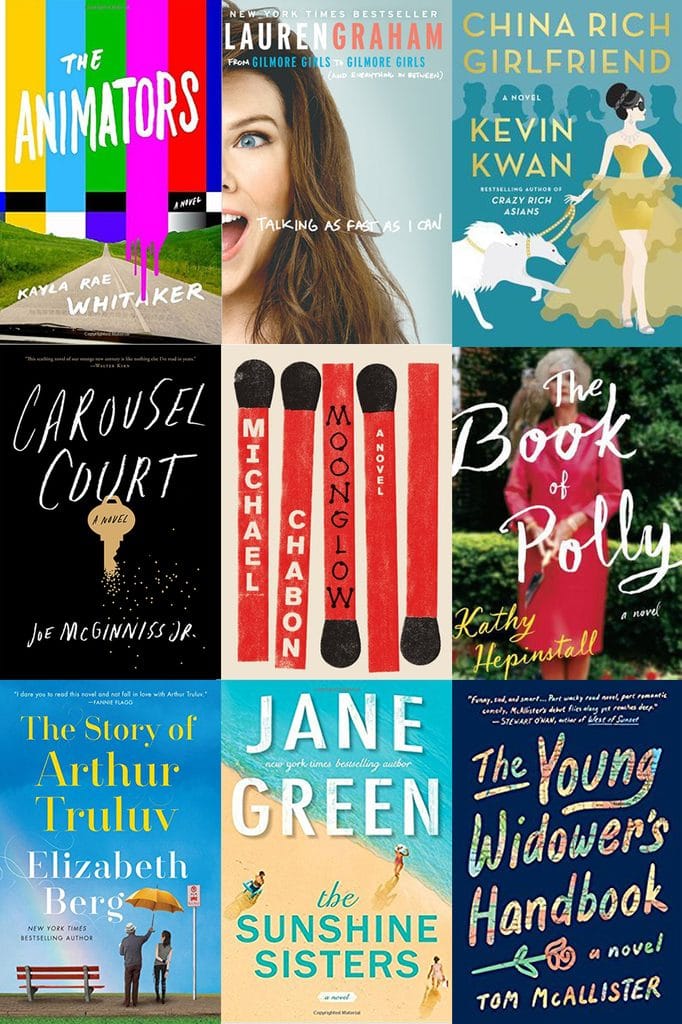 Happy summer!! I feel like there are two different reading philosophies most people have during the summer:
Hooray for summer reading! I'll finally have time in my busy schedule to catch up on my must-read list.
Whoa, summer is busy! I'm so go, go, go in summer that I don't have any time to sit down and read.
Which camp do you fall into? I probably read the same amount in summer that I read in other seasons, except that I tend to get A LOT more reading done if I take a week or so off from work for a beach vacation. When I was a kid... summer reading was my everything. The first day of summer, I headed to our public library and signed up for the summer reading program.
I can't remember exactly what the goal was (for some reason, I remember it being 100 books, but that seems totally crazy and unreasonable to me now), but whatever it was, I always met it by a lot. Which meant an ice cream social at the end of summer (so exciting!). Clearly, there was no regulation involved and I totally could have just written a ton of books on my list or read all picture books, but I was a super nerdy rule follower as a kid (still kind of am) and this would have never even occurred to me. I made it my goal to read a lot and I always did.
Do you have any reading goals set for this summer? Or a list of must-read book? I always have a running list going, but I'm also planning to add all of the books from Bon Appetit's 10 New Nonfiction Food Books to Read This Spring and Summer. I've been especially excited for Barbara Lynch's and David Leite's. I also got two books from this month's Book of the Month Club that I can't wait to dig into (if you use my link to sign up, you'll get 3 months for $9.99 each!): The Seven Husbands of Evelyn Hugo and The Identicals (new Elin Hilderbrand!!)
Just an FYI that links to some of the books below and my Book of the Month link are affiliate links (meaning that at no extra cost to you, I will earn a commission if you click through and make a purchase) and some were gifted to me by their publishers. Thank you so much for supporting WANM!
Here's what I read in May… See the end of this post for links to other months in 2017, too, and get some ideas for even more books to read this summer.
The Animators by Kayla Rae Whitaker: Despite not really liking the characters, I really enjoyed this book. Knowing nothing about animation, I thought the novel was a really awesome look into the life of a rising animator. The characters, best friends and business partners/creative partners Sharon and Mel meet in college and begin making movies together. They both come from semi-troubled pasts and have a lot to deal with throughout the book. This is one of those books I feel like I need to read again and would enjoy even more the second time.
Talking As Fast As I Can: From Gilmore Girls to Gilmore Girls, and Everything in Between by Lauren Graham: Guys, Lauren Graham is just the best. I never really even watched Gilmore Girls (just some episodes here and there) and still loved this book. It may have helped that I was a huge Parenthood fan, but honestly, I think Lauren is just a good writer who is naturally funny. Sometimes I feel like celebrity memoirs are too "try hard," but I laughed out loud so many times while reading this and it all felt so natural. Now I totally want to go back and binge watch Gilmore Girls!
China Rich Girlfriend by Kevin Kwan: I strongly suggest you read Crazy Rich Asians before China Rich Girlfriend, otherwise you'll likely be thoroughly confused throughout much of this book. I read Crazy Rich Asians a few years ago and even I had trouble remembering all the characters and their backgrounds (there are a lot of them!). But once I got into it, I really enjoyed it. The books are a fun look into the lives of super wealthy families in Singapore and China... A little bit ridiculous, but totally fun. Kwan also just came out with a third book, Rich People Problems, which I want to read ASAP while everything is still fresh in my mind.
Carousel Court by Joe McGinniss Jr.: This was probably my least favorite book of the year. Womp womp. Don't get me wrong, Joe McGinniss Jr. is an amazing writer... I just hated the characters so so so much that I really didn't enjoy reading ht ebook. Usually, I don't need to love the characters to like a book, but these people just seemed so despicable, weak, and unrelatable that everything they did frustrated me. But the book has some great reviews, so that might not be true for you. For a little background, it's a book that focuses on a husband and wife who have made really poor relationships (into their California home, their careers, other relationships, each other, etc.). It's a dark novel with drugs, sex, and manipulation involved and just really not for me.
Moonglow by Michael Chabon: I've always had Michael Chabon books on my "to read" list, but for some reason Moonglow was my first one that I actually read. To be honest, it probably wasn't the best pick as my first and I didn't love this one. While Chabon generally writes novels, this book is a kind of memoir focused on the author's grandfather, but a fictional memoir. I kind of felt like that was just Chabon's excuse for saying, "I want to write a book to honor my grandfather, but it's not going to be exciting enough... So, I'll do whatever I want with it and a call it fiction." The problem for me is that I still didn't feel like it was exciting enough. There were parts that I enjoyed, but the long passages on rocket scientists and numerous characters seemed to drag on and on.
The Book of Polly by Kathy Hepinstall: This was an adorable book! The plot centers on a mother and daughter relationship; Willow is a young girl with a mother who had her later in life and is a lot older than her friends' moms. I feel like the novel got off to a slow start and I wasn't totally in love with it in the beginning, but the plot comes together more as you read on. I absolutely loved Willow and thought her lies (and Polly's reactions) to them were the best part.
The Story of Arthur Truluv by Elizabeth Berg: I'm a big, big fan of Elizabeth Berg and have read pretty much everything she's written, beginning with when I was in high school. Her new novel didn't feel super "Elizabeth Berg" to me, but she still shined through and I absolutely loved it. It's a quick read about a high school girl and an elderly man and the relationship they form... That sounds so generic and boring, but it's the little details that Berg adds in that make this book so delightful. If you haven't read any Berg before, I recommend going back and checking out some of her older stuff (I first fell in love with her Katie Nash books, starting with Durable Goods). I think I'm going to go back and re-read a few since it's been so long since I read many of them!
The Sunshine Sisters by Jane Green: Meet your new summer beach read! I love me a little Jane Green just in time for summer and for me, this book didn't disappoint. Like most Green books, it's a a light-hearted book about relationships; this time about three sisters and their narcissistic actress mother. While I definitely consider Jane Green's books to be chick lit/beach reads, they also do deal with real and serious subjects and this one was filled with family drama and is a definite page-turner!
The Young Widower's Handbook by Tom McAllister: I feel bad not liking this book more than I did. While I enjoyed the overall premise (a man in his 20s dealing with his wife's very sudden death) and thought a lot about "what would I do??" in his situation, I felt like the book was kind of bland and the road trip he sets out on could have been a lot more fun. I was also super annoyed by the main character's personality; he drove me nutty and while I felt really bad for him, I also wanted to shake him a little bit.
Here's What I Read in January
Here's What I Read in February
Here's What I Read in March
Here's What I Read in April
Tell me what's on your reading list this summer and if you have a plan for reading more or less than usual over the summer!