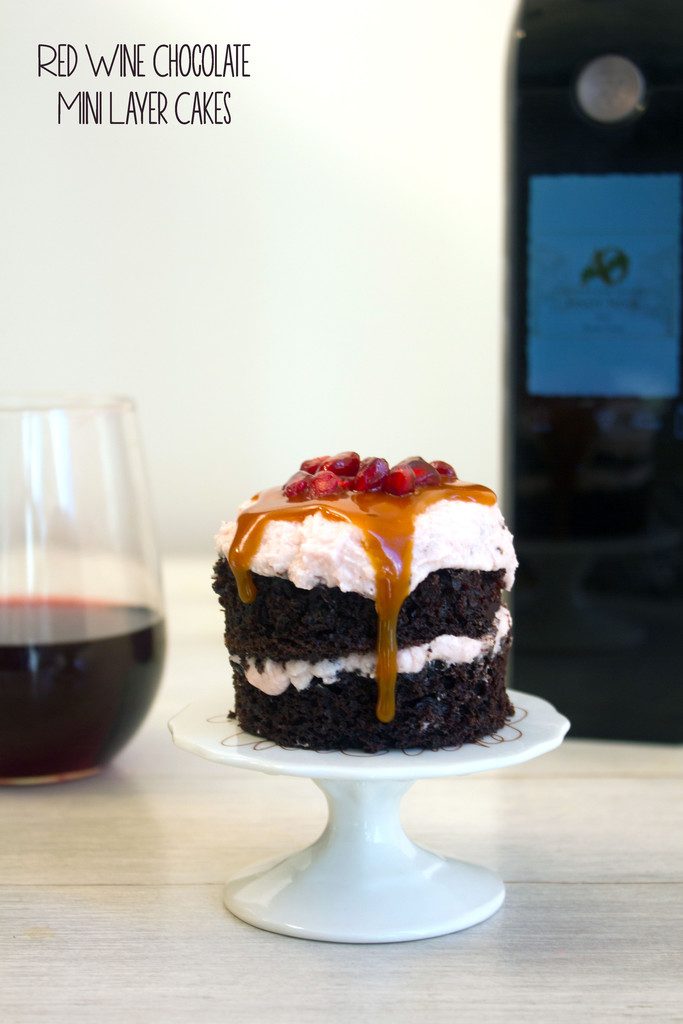 It's Monday, so let's talk about wine. Do you buy into the whole a glass of red wine a day is good for you? I do. 100%. But I don't always participate... Mainly because I'm a lightweight and more than one glass will have me passed out on the couch by 9:00 p.m. And I hate opening a bottle of wine for just one glass. I sadly end up wasting a lot of wine or drinking wine that's definitely been open too long and past its prime. Adding to that problem is the fact that even when I'm not in the mood for wine, I often need to crack open a bottle for a recipe. Usually risotto. Or red wine frosting. I sometimes use only a few tablespoons or a half a cup and end up wasting the rest, which is just plain sad. So, that's why I'm ridiculously excited about the sponsor for today's post... It's a product that I tried with a little bit of skepticism, but am now seriously obsessed with.
It's called Kuvée and it's a wine system that keeps bottles of wine fresh for up to a month after opening them. A month! (that's 10 days longer than the average bottle). Which means, you can open up a bottle of wine, have a glass, and not have to feel guilty if you can't finish the rest of the bottle the next day. And it also means you don't have to agree with your spouse or roommate about whether to open a bottle of red or a bottle of white. Open both! And then take your time finishing the bottle. Here's what the Kuvée looks like: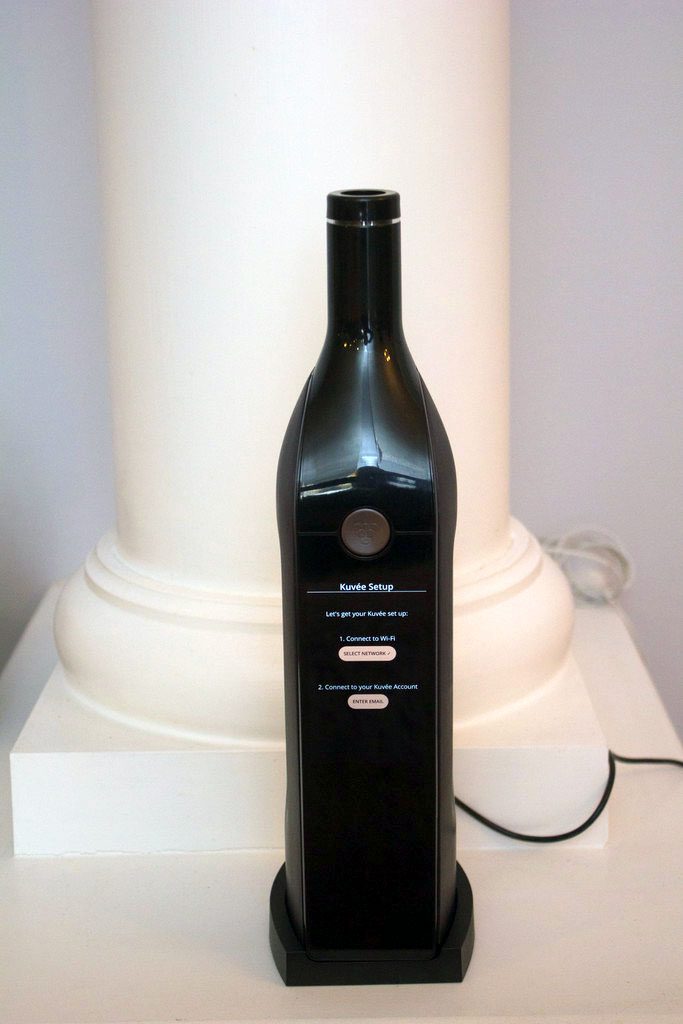 It connects to your Wifi network and provides you information about the wine you're drinking and lots more. You do have to special order the wine since a regular wine bottle won't work in the device, but the company is working with some of the best vineyards in California right now, with more to come. AND you can order the wine right from the Kuvée! I was thrilled with the selection they sent me.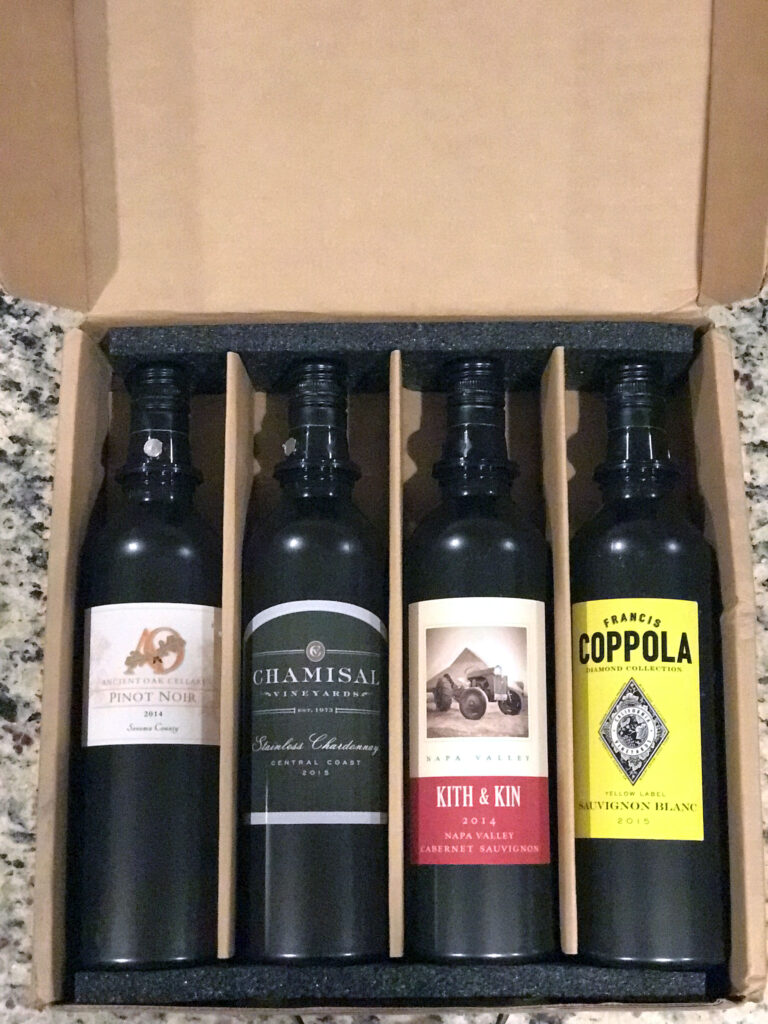 Here's a little bit about how it works... Please excuse my bedraggled appearance; I had just returned home from a long day of travel. And was clearly in desperate need of some wine!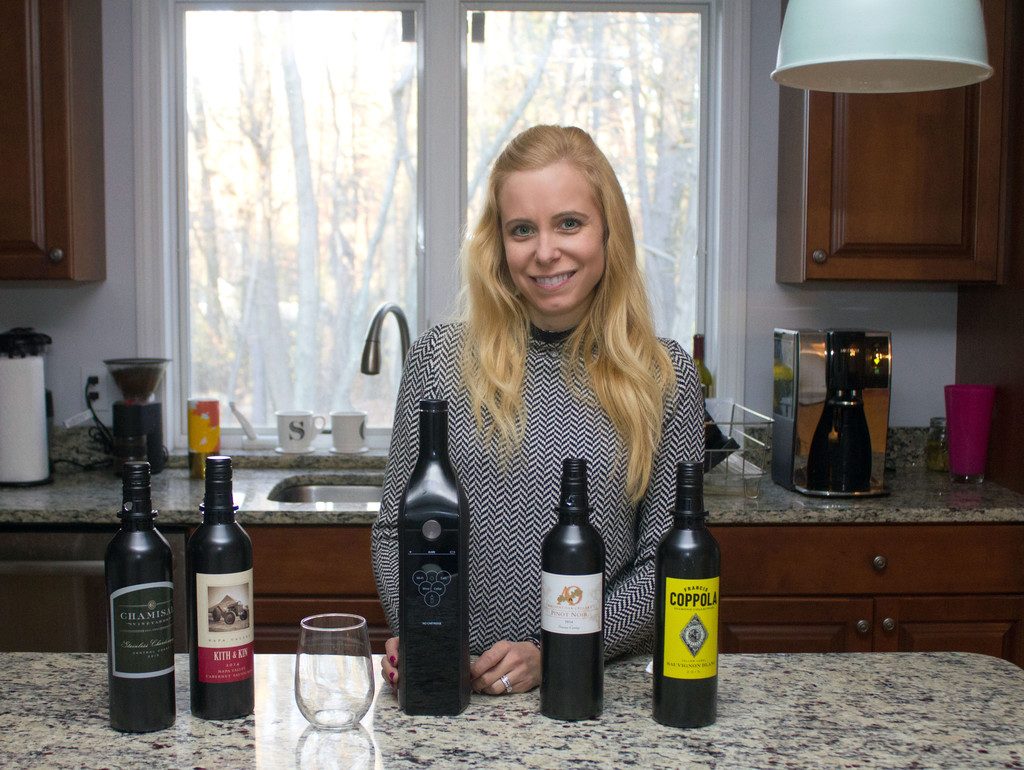 The Kuvée system fits right over the wine bottle.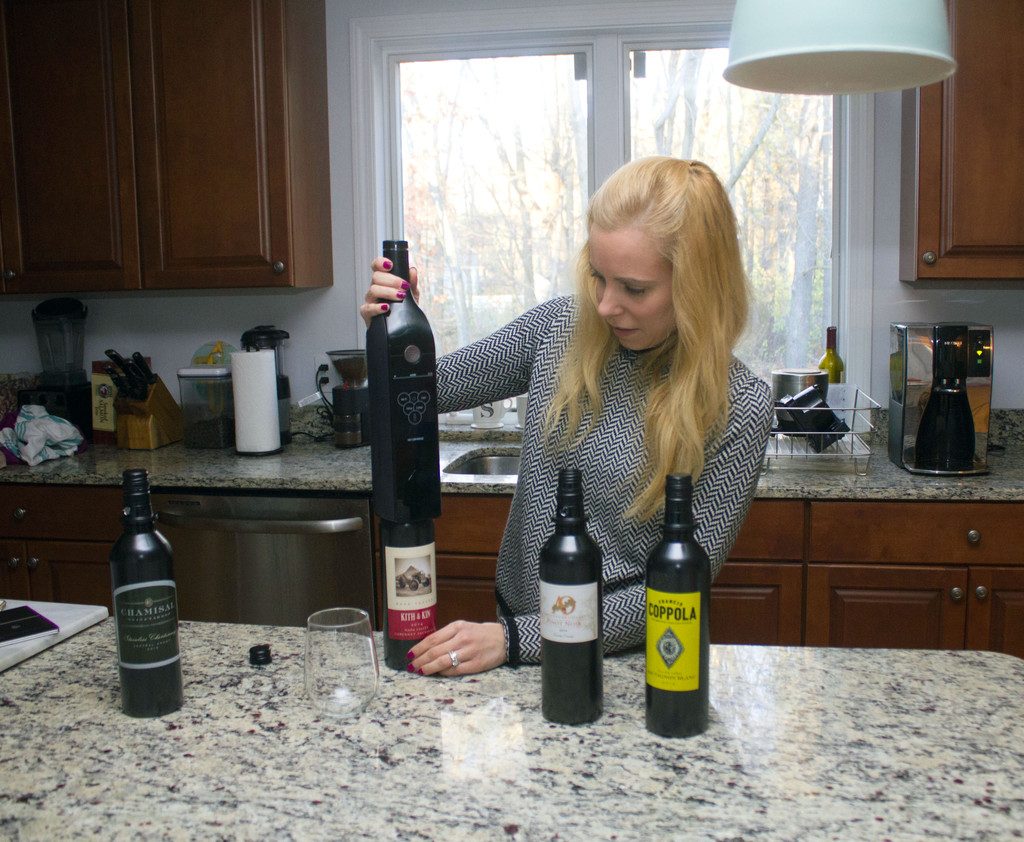 And the label instantly comes up on the device's screen. How cool is that?? The screen also shows you how much wine you have remaining in the bottle. V. important.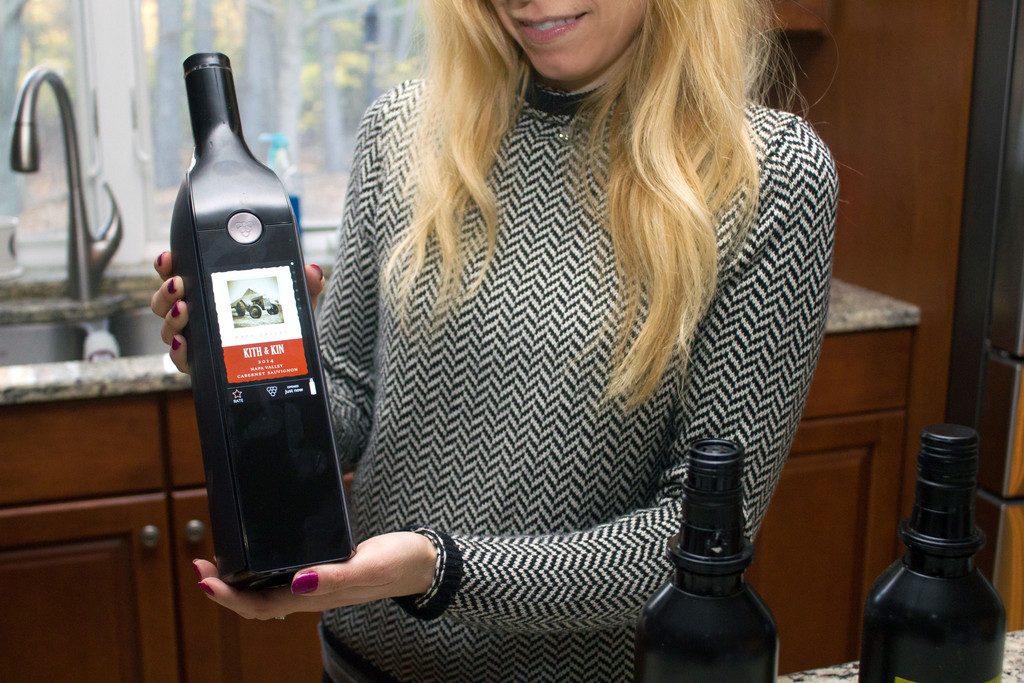 Start pouring! When you're done, you can remove the bottle from the Kuvée and pop another bottle in. So, yes, I've been taste testing all the wines they sent me and not worrying about finishing them right away. And while it's great for my own personal drinking use; it's even better for when you have a group of people over or are celebrating a holiday (you know, like Thanksgiving or Christmas). You can have a selection of wines available to your guests, let them pour what they want, and when your party ends and you have six half-filled bottles left, it's no big deal!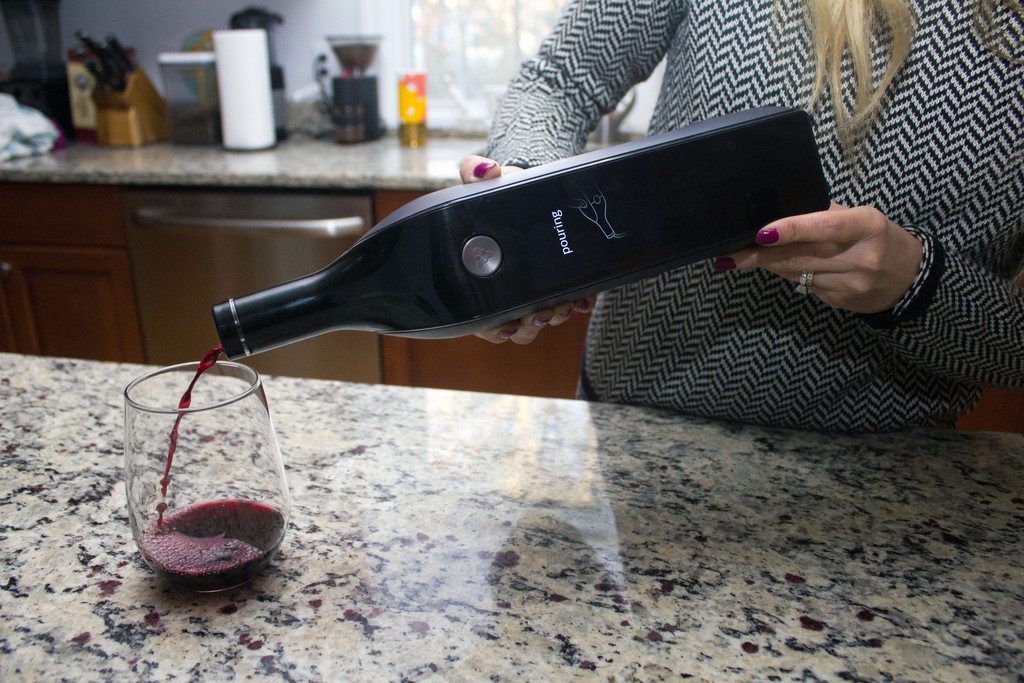 It also means that I got to make these mini chocolate cakes with red wine frosting and not worry about only using ¼ cup of red wine. I simply took the bottle out of the Kuvée and didn't worry about wasting the rest!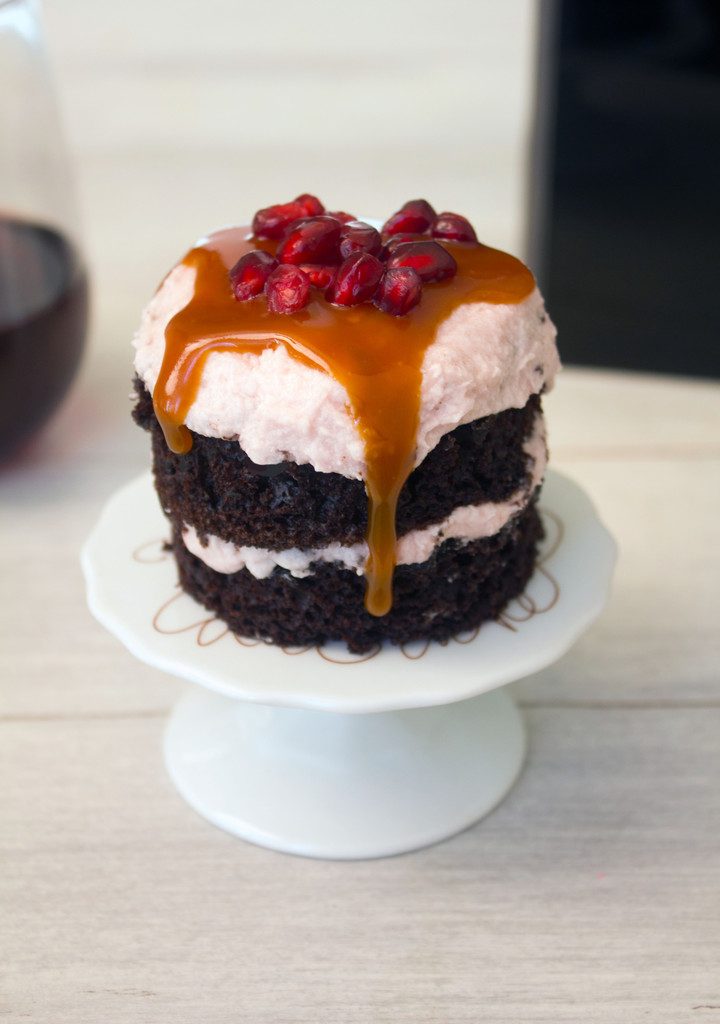 Though I have to admit, I did pour myself a glass of wine to enjoy along with these mini cakes. Because what goes better with chocolate than red wine?? Actually, that's another awesome thing about Kuvée; it gives you wine recommendations based on what you're eating! Hello, little personal sommelier!
What goes with chocolate, buttercream, caramel sauce, and pomegranates? Can't really go wrong with pinot noir, right? (does anyone else sing the song from Kimmy Schmidt whenever they hear "pinot noir"??)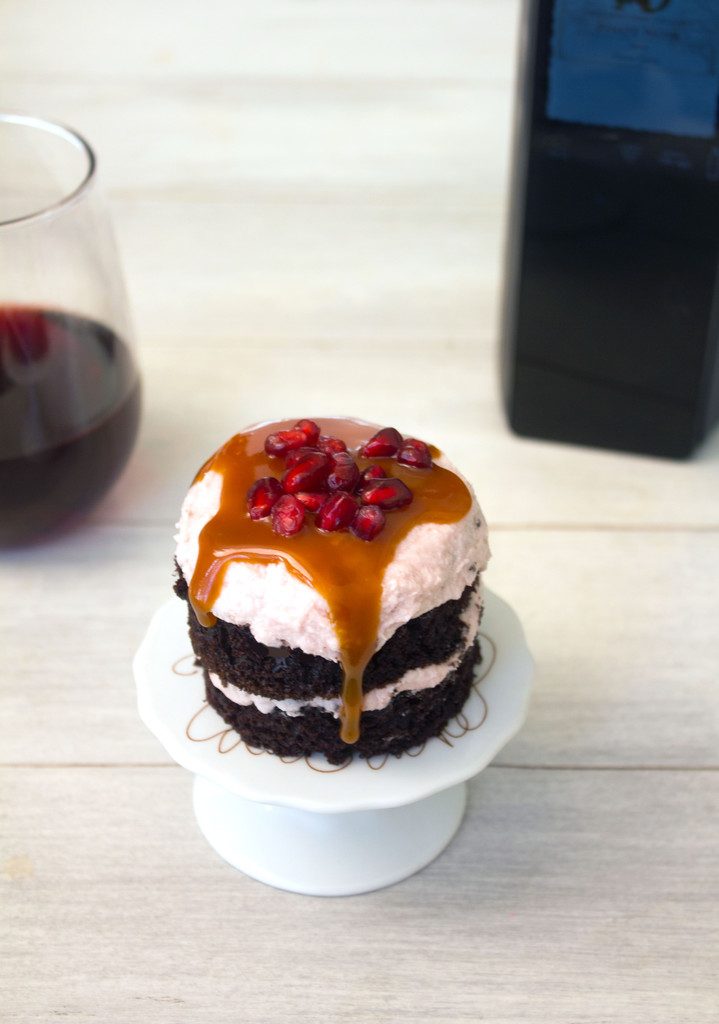 When I first heard about Kuvée, I wasn't sure how much use I'd get out of it; but after playing around with it for a couple weeks, I am all in. The wine is priced the same as regular bottles from the vineyards, too, so once you purchase the actual system, you won't end up spending any more money. And when I think about the money I'll save over the course of my wine-drinking life... Swoon!
I mean, I could have a bottle of red and a bottle of white reserved just for cooking and baking and pop them the system whenever I'm in need! Which means more chocolate cake. These little cakes were messy little beasts, but so perfect for a personal-sized dessert. When it comes to chocolate cake, neat and pretty isn't always the goal!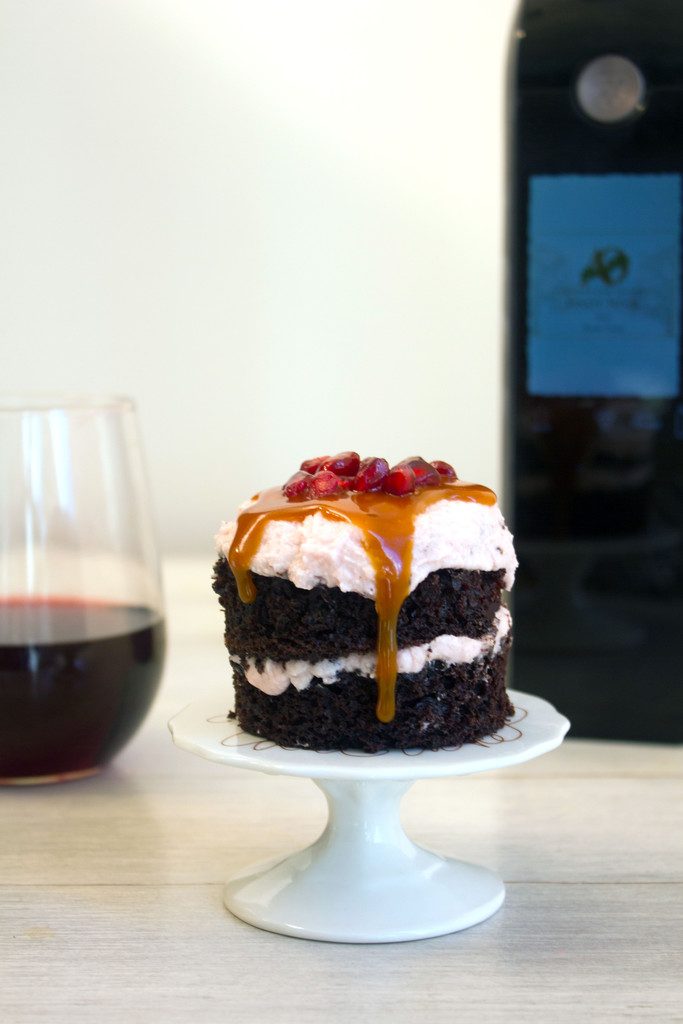 Chocolate cake, wine, and a short work week due to the best holiday of the year... I would say life is pretty darn good right now.
Kuvée is currently only available in Massachusetts and California, but it's coming to more areas soon! Definitely check out their website for more information and feel free to ask me any other questions!
Do you find yourself sadly wasting wine far too often?
📖 Recipe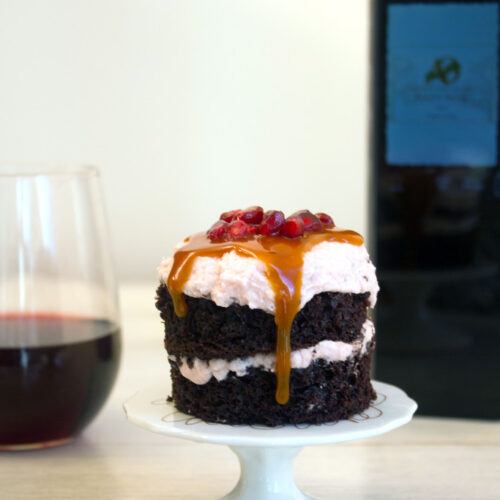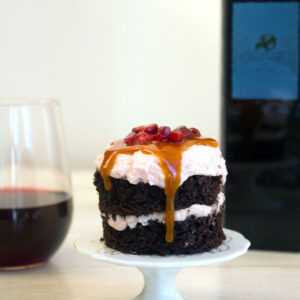 Red Wine Chocolate Mini Layer Cakes
What goes better with chocolate cake than red wine? Nothing! These mini layer cakes are coated with red wine frosting and drizzled with caramel sauce and pomegranate arils. Serve with a glass of red wine for bonus points!
Print
Pin
Rate
Ingredients
Chocolate Cake:
2

cups

unbleached all-purpose flour

1¾

cup

granulated sugar

¾

cup

unsweetened cocoa powder

2

tsp

baking soda

¼

tsp

salt

1

cup

water

¾

cup

buttermilk

¾

cup

vegetable oil

3

large eggs

1

batch red wine frosting

recipe below

½

cup

caramel sauce

recipe below

½

cup

pomegranate arils
Red Wine Frosting:
1

cup

2 sticks unsalted butter, room temperature

4½

cup

powdered sugar

1

tsp

vanilla

¼

cup

dry red wine
Caramel Sauce:
½

cup

granulated sugar

3

Tbsp

butter

cut into pieces

¼

cup

heavy cream

¼

tsp

salt
Instructions
Chocolate Cake:
Pre-heat oven to 350 degrees.

Coat three 9-inch round cake pans with nonstick spray. Line the bottoms of pans with parchment paper rounds and spray them, as well.

In a large bowl, whisk together flour, sugar, cocoa powder, baking soda, and salt. Form a well in the center.

In a separate medium-sized bowl, whisk together water, buttermilk, oil, and eggs.

Pour wet ingredients into the well created in dry ingredients and whisk until just combined.

Divide cake batter between three prepared pans.

Bake cakes at 350 degrees for about 20 minutes, until tester or toothpick inserted into cakes' centers comes out clean.

Cool cakes completely in pans on cooling racks.

Once cooled, use circle cookie cutter or biscuit cutter to cut our small rounds (I used a 3" cutter, but you can use any size you want).

Spread frosting on top of a cake round and top with another round. Frost top.

Drizzle caramel over the top of mini cake and top with pomegranate arils.
Red Wine Frosting:
In the bowl of a stand mixer or in a large bowl with a hand mixer, beat the butter until creamy.

Slowly blend in the powdered sugar, cup by cup until well-combined.

Mix in vanilla and red wine. If your buttercream is too thick, add another teaspoon red wine at a time.
Caramel Sauce:
In a medium saucepan, heat granulated sugar over medium heat. Stir frequently with a rubber spatula until sugar turns into a smooth amber-color liquid.

Stir butter into sugar. The mixture will bubble quite a bit. Stir for about 1 minute, until the butter is completely melted.

Stir heavy cream into the mixture and let it come to a boil.

Remove the saucepan from the heat and stir in salt. Pour the mixture into an airtight container like a mason jar or bowl. Store in fridge until ready to use. You may have to warm up before pouring over cakes.
Share a Photo of Your Finished Recipe!
Mention @wearenotmartha and share a photo if you've made the recipe!
Thank you to Kuvée for sponsoring this post! As always, all opinions are 100% my own, so please know that if I'm writing about something here, I mean every word I say!