In the heart of Boston's Back Bay, there is a restaurant called Rattlesnake… with a new chef (Chef Brian Poe)… who is brilliant, for he has created the most wonderful nachos in our city!
Nachos, though they may seem quite simple to make, really are quite a complex thing if you want to do it right ;). The cheeses need to be melted perfectly, chicken cooked to perfection all the while keeping the actual chip crunchy, light, and not leaving you feel like you need to take a nap after you eat (devour) them. There are some places that have tried really hard to get this right, and up until Saturday evening, I thought these places were the best. But while at Rattlesnake the other night, with Sara and Meg, we discovered you really can get a perfect plate of nachos that feel "healthy" but are still even more delicious than the ones that weigh you down.
The Nacho Mama's Nachos scored huge points, not only for the creative name, but because they had the perfect amount of refried beans, melted cheeses, avocados, olives, onions, tomatoes, cilantro, lettuce, and that perfectly cooked shredded chicken. There was just the right hint of salt on each and every chip, too. You know how normally with nachos the ones on the bottom are often really soggy and inedible… Rattlesnake's remained crunchy through the entire plate! We were all so fascinated and with every bite we basically starred at each other in awe 😛
Other huge recommendations:
• Grilled Cornbread (with Hatch chiles, bits of corn, Guadalajara butter, cotija cheese crumble) corn IN the cornbread… genius!
• The Conquistador BLT (with applewood bacon & chipotle mayo on grilled rosemary-olive bread)
• The Classic Tacos (with beef, verde rice, cilantro-lime crema, refried beans, iceberg, avocado & cotija cheese) These were really delicious but extremely spicy! Meg and I ended up giving our leftovers to the guys sitting at the table next to us so we wouldn't waste!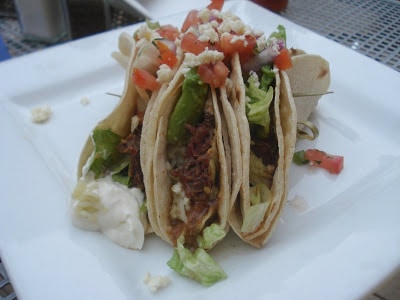 At the end of our meal Chef Poe came out and chatted with us as we gushed to him about how great all the food was. Now Rattlesnake isn't a fancy place, it's pretty casual and its the perfect place for after work or, like we did on Saturday, start the evening there. It's a great spot to go for really great food at really reasonable prices. Between the addition of Chef Poe and his creative cuisine, their popular roof deck, and wonderful nachos, Rattlesnake is really going in the right direction and I suggest you get there asap… there's a 100% chance you'll see me there 😉
[Chels]