When our friend Nichole heard we were heading to St. Augustine, she asked Melis to do her a HUGE favor and buy her some Chocolate Covered Ritz Crackers Stuffed with Peanut Butter from Savannah Sweets. She gushed about how delicious they were so Melis made it a point to stop in to buy some. Now, I'm not much of a peanut butter person at all (most likely because I never could eat it growing up) but as Melis, her mom, and I started talking about the ingredients, how the little Ritz cracker sandwiches were assembled, and the possibilities of all things dunked in chocolate, we quickly decided we would attempt to recreate them!
First, we went to Savannah Sweets in Downtown St. Augustine to test them out. Nichole was right… they were delicious! Heaping amounts of chocolate and peanut butter with a lovely crunch from the salty Ritz cracker.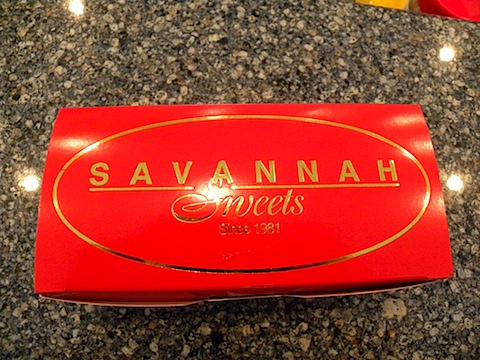 We, of course, had Will strike a pose with the box of chocolatey goodness from Savannah Sweets.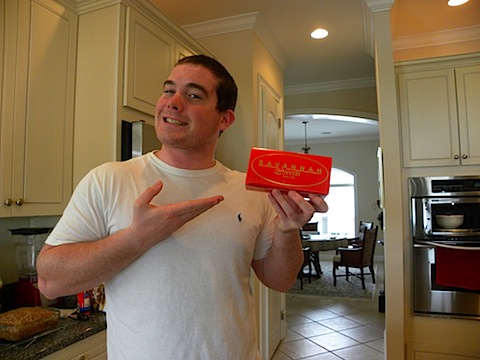 There was a house filled with people so we made a couple of trays. Here's what we used: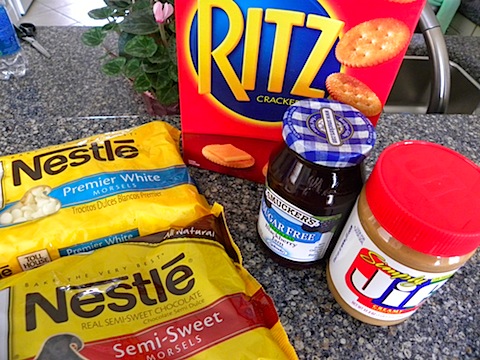 • 1 bag of white chocolate morsels (if you want white chocolate covered crackers)
• 1 bag of semi-sweet chocolate morsels
• 1 jar peanut butter (we used Jif Creamy)
• Ritz Crackers
• Wax paper lined plates
Here's what you do:
• Melt all chocolate. If you're melting in the microwave, make sure you use a microwavable bowl that is deep. If you're melting on the stovetop make sure you transfer the melted chocolate to a deep bowl. We realized this was important when it was time to dunk the crackers!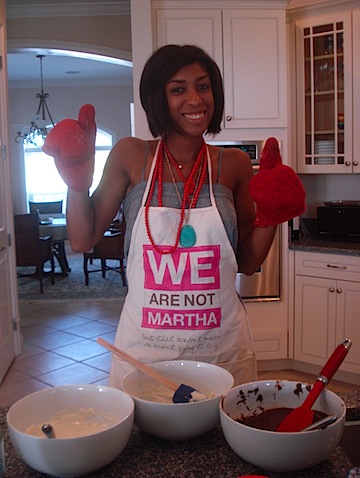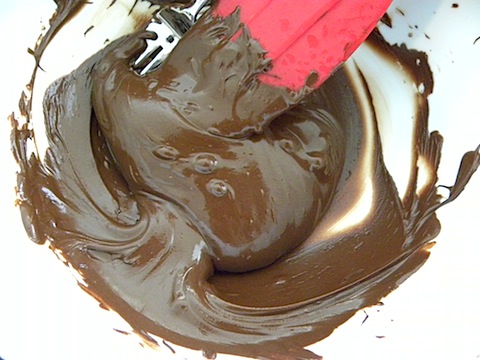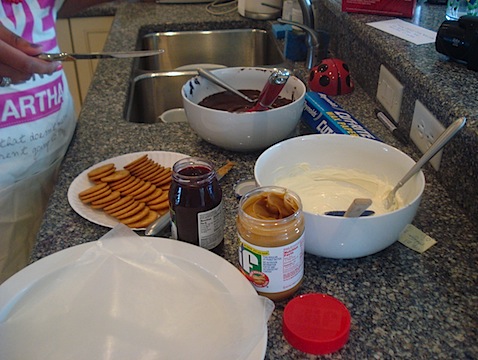 • Sandwich a generous scoop of peanut butter between 2 Ritz crackers. Sidenote… I'm very indecisive which is why I have 2 shades of nail polish on. Kinda think I'm gonna do this all Summer because it is FUN and rather fashionable, if I do say so myself 😉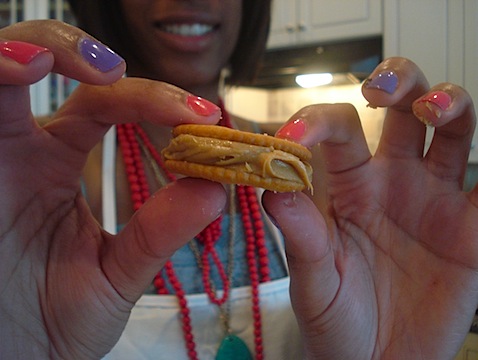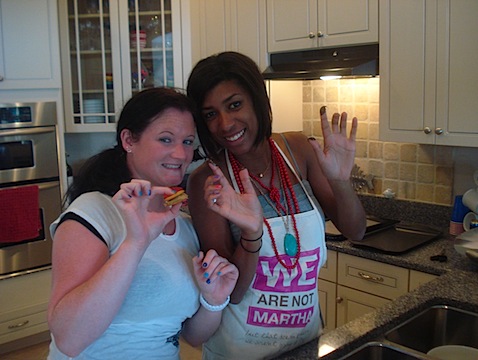 • DUNK each sandwich into the melted chocolate and place on wax paper lined plate. We even tried to do a little experimentation and add some jam into the sandwiches and marked them with white chocolate. We realized the jam wasn't sticking as well as it did with just peanut butter… every time we went to dunk the sandwiches in chocolate, jam would leak out all of over the place. We tried!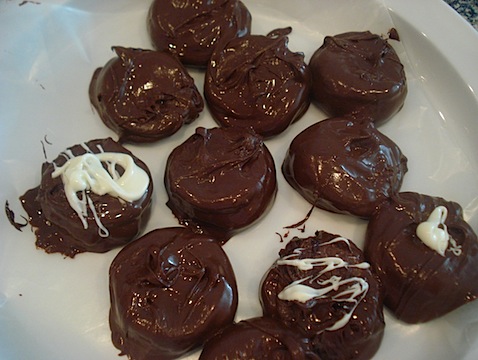 • After all of the crackers are covered and on the wax paper lined plate, place in the refrigerator until the chocolate has hardened and chilled. We let them chill for about 2 hours.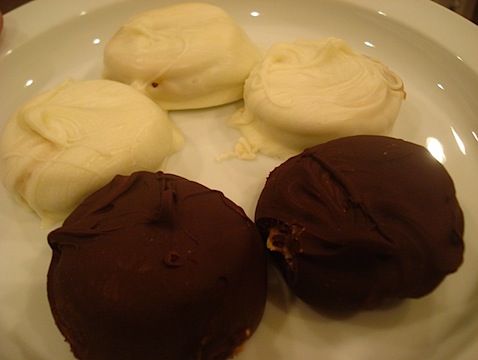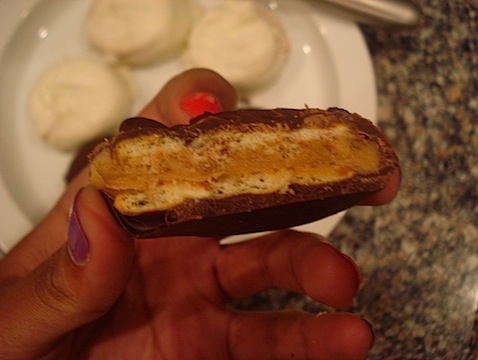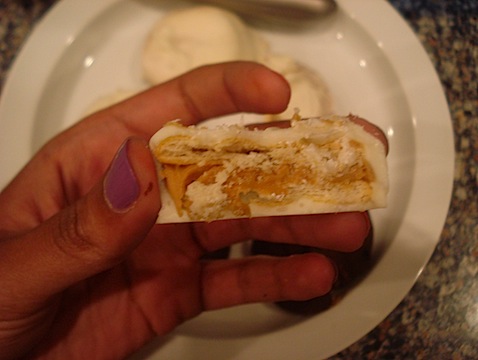 Not only were these so much fun to make but, not to brag, they tasted pretty much the same as Savannah Sweets!
After all of our sandwiches were made we realized we had some extra melted chocolate leftover. Why would we want that to go to waste?! So we raided the kitchen to find anything and everything we could cover in chocolate! We even joked that Melis' mom would walk in the house and we'd all be dunked in chocolate 😛
We dipped some Pringles, slices of banana, crackers, peanuts, and pineapples in chocolate and let them chill in the refrigerator. I highly recommend the chocolate covered pineapples… it was quite refreshing!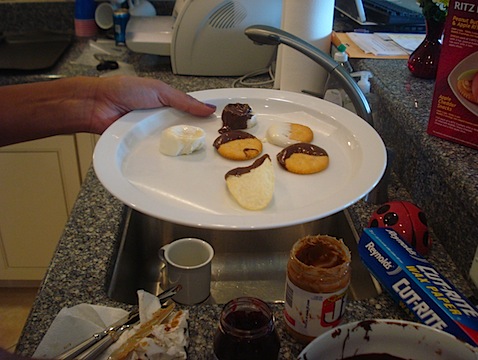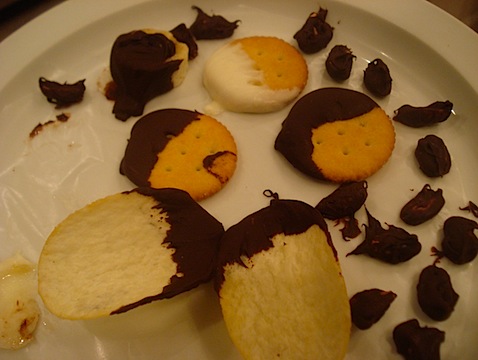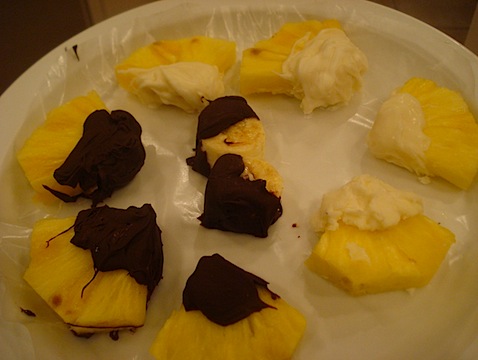 With the help of Melis' brother Sam, we decided to name these Ritz Peanut Butter Delights… because they are simply delightful. And also a fun and easy little activity to do with friends and family!
[Chels]