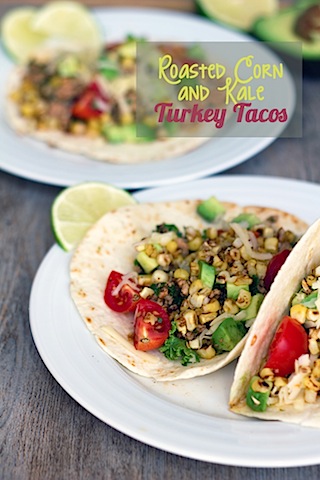 Want to know a secret? I make tacos a lot. Like way more than you need to know about. As in probably (definitely) way too much. But they are, without a doubt, my number one go-to meal of choice. I can make them in my sleep (well, probably. I've never actually tested this theory) because they're ridiculously easy. And they're arguably one of the best foods in the world. And you know what? I've never posted my typical taco recipe on this blog. Because though amazingly tasty, the recipe is really not that exciting. I make them exactly the same way my mom made them when I was growing up because why change a good thing? Sometimes simple is the best.
Except this time I did change it up a bit. I always make my tacos with ground turkey because it's healthier than beef and like I said, I eat tacos a lot. So, I still used Butterball Ground Turkey for these tacos- I used 93/7 for a leaner meat. (note: this post is part of my participation in Butterball's Turketarian program!)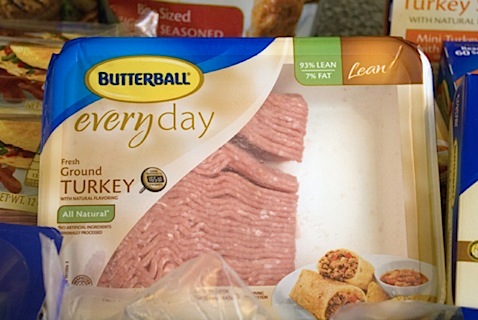 But I also included my true love kale instead of shredded lettuce. And I roasted up some corn to use as a topping. This ups the health factor AND the taste factor. And might even mean I can squeeze yet one more taco night into my meal planning schedule. I'm not even sure if that's possible, but I'm willing to try.
Roasted Corn and Kale Butterball Turkey Tacos (makes 8 tacos):
Print this recipe!
2 C corn, cut off the cob
1 lb. Butterball Lean Ground Turkey
1 T chili powder
1 t cumin
½ t garlic powder
¼ t dried oregano
2 C chopped kale
1 T finely chopped jalapeño
1 avocado, peeled, pitted, and chopped
½ C cherry tomatoes, quartered
½ C shredded cheddar cheese
6 small tortillas
1 lime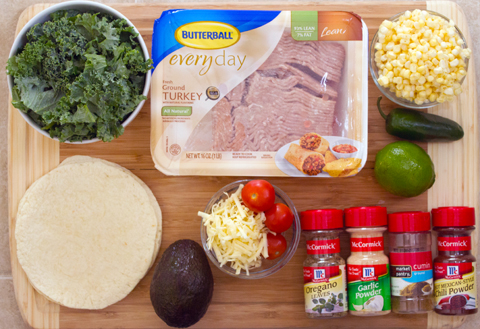 Start by putting your corn in a medium non-stick frying pan (don't use any butter or oil) over medium heat. Let it sit for a few minutes until it starts really cooking and getting a big charred.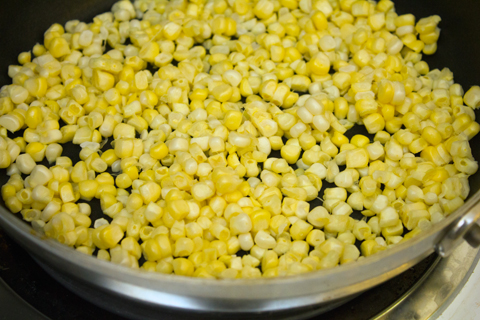 Then, give it a stir and let it sit again. You'll want to do this a couple time until the corn is browned to your liking.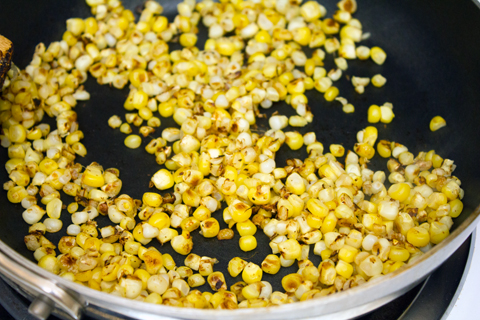 While corn is roasting, place turkey in a large saucepan over medium heat. Break up with spatula and cook until no longer pink.
Drain and return to skillet.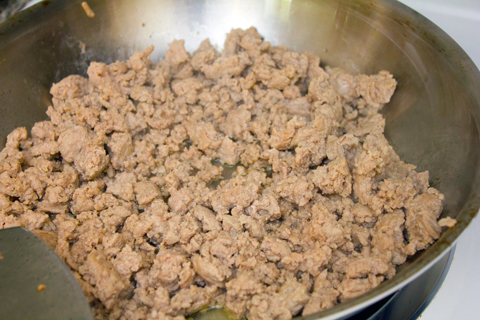 Once turkey is browned, add chili pepper, cumin, garlic powder, and oregano, along with ½ cup of water. Stir well, continuing to cook.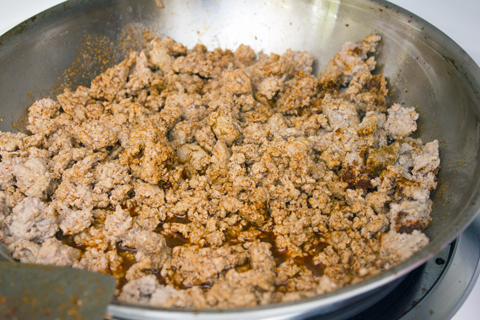 Add in your chopped kale and jalapeños and mix together.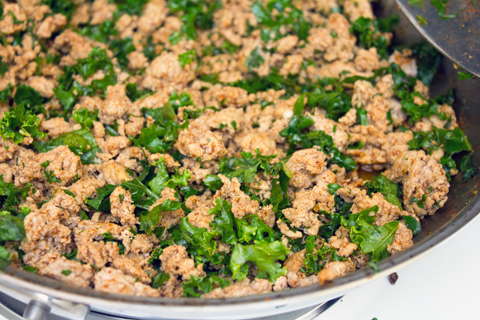 Chop tomatoes and avocado.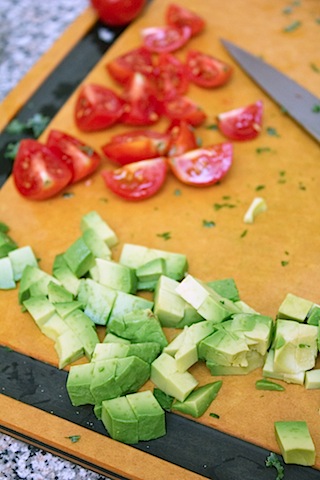 Once corn is done cooking, remove to separate bowl and spray the non-stick frying pan with a little bit of cooking spray. Place each tortilla in the frying pan and cook for about a minute on each side, so tortillas soften.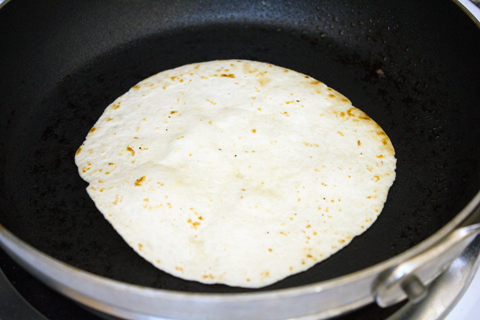 Now you're ready to assemble your tacos! Start by topping tortilla with ground turkey and kale mixture. Sprinkle with cheese and then layer with chopped tomatoes, avocado, and roasted corn.
Serve with lime wedges.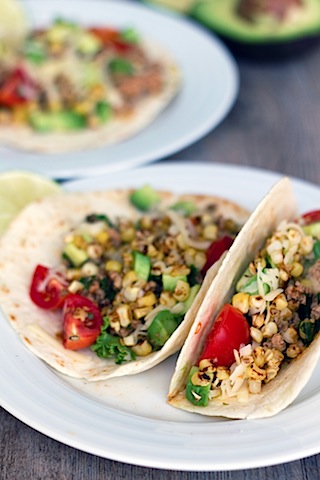 It's OK if you fill it up a little bit too much. The messier the taco, the better it is.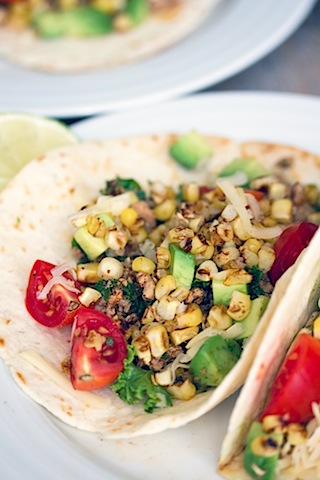 I'm obsessed with these for many reasons. a) they're different from my typical taco (and lord knows I need to switch it up!), b) I can feel good about eating them since they involve lean ground turkey, fresh corn, kale, and other veggies, and c) the flavor.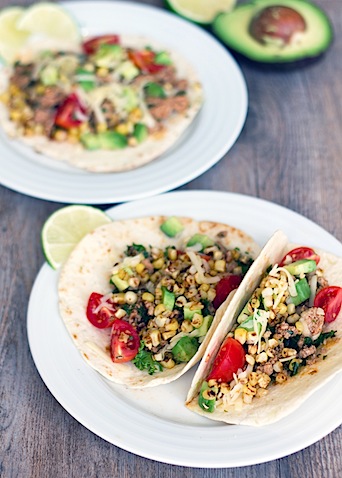 OMG the flavors. Start with the ground turkey, which despite being lean is already majorly flavorful. Add in the spices, the jalapeño, and all of the fresh produce and you will have no idea that these tacos won't mess up your entire healthy eating plan.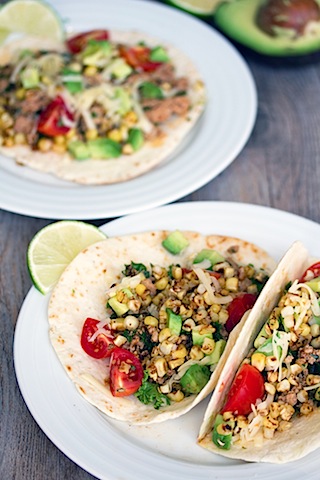 Perhaps this is my way of attempting to make myself feel a little less guilty about my excessive taco dinner planning.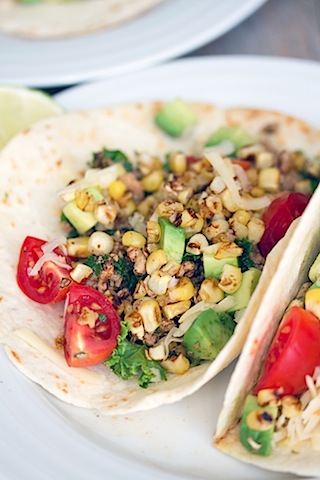 While fresh corn on the cob is best, you can certainly make this meal all year long with frozen corn. And, of course, there are about a bazillion different variations you could do. The important thing is the Butterball Ground Turkey and the spices. OK, you should totally roast that corn, too.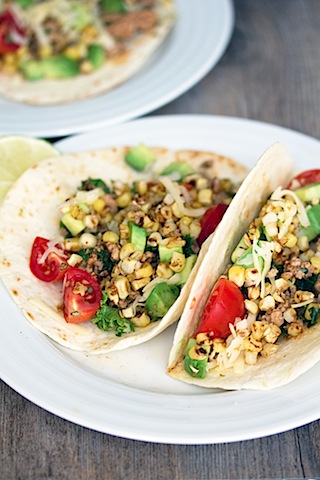 Whatever you do, I hope you have a taco night on your meal schedule. And I kind of hope you have it as much as I do. Stand proud.
How often do you make tacos? Do you make them with ground turkey?
[Sues]
Disclaimer: I'm currently working with Butterball and was compensated for this post. However, as always, all opinions are completely my own! I hope it's clear by now that I really am a Butterball fan and am psyched to be working with them once again!