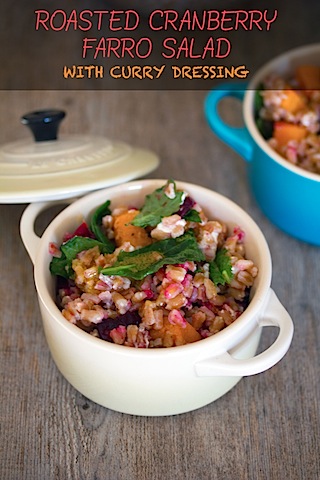 I told you the cranberry madness was far from over. Meh, as far as I'm concerned, it's still the holiday season and cranberries are still very much allowed. This time I decided to roast them because I wanted fresh cranberries in a salad, but I figured just popping fresh cranberries in, might make for a way too-tart salad. So, I put them in the oven for a few to roast them a bit and mellow them out. This resulted in a sweeter (but still nice and tart!) berry.
Oh, before I jump into the recipe, did you all have a good Christmas?? I had a glorious couple of days at my parents' house- lounging around, eating a lot, opening gifts, and just being lazy and relaxed. The absolute best kind of vacation in my mind!
And now I desperately feel like I need a detox. But I'm not exactly going to be getting one any time soon…. In just two weeks, I'm going to Napa and Sonoma for my very first time! And not only that, but Chris and I have reservations at the one and only French Laundry! I'm not quite sure I could be any more excited and every time I think about it, I want to yell with joy. The holidays certainly aren't over for me!
So, instead of going on any kind of detox, I'm just trying to sneak in healthier food whenever possible. My Vitamix has been pumping out the green juice and I'm going to attempt a carrot beet juice later today. But I'll still be snacking and treating myself (new year's dinner at Puritan and Company in Boston!) so as to not put my body into full shock when I sit down at the French Laundry. I'm just trying to be smart here.
This recipe, though? It's healthy without being all up in your face like "hi, I'm healthy; you must eat me now. DO IT." It's a bit more discrete than that. Thank goodness.
Roasted Cranberry Farro Salad with Curry Dressing (serves about 6):
Print this recipe!
2 C fresh cranberries

2 C Butternut squash, diced

2 T olive oil

1 1/2 C farro

2 C baby kale (or regular kale with ribs removed and chopped)

2 oz. goat cheese

1 t curry powder

2 t honey

1 t dijon mustard

2 T lemon juice

3 T extra virgin olive oil
(pre-heat oven to 350 degrees)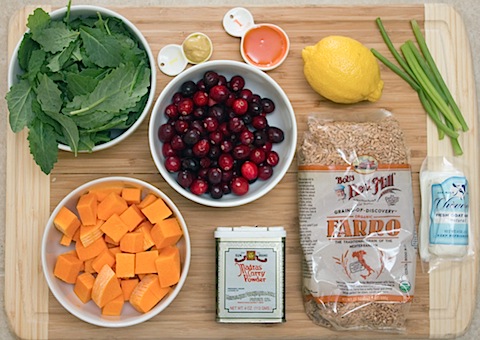 Toss cranberries and butternut squash in olive oil and place them on a baking sheet.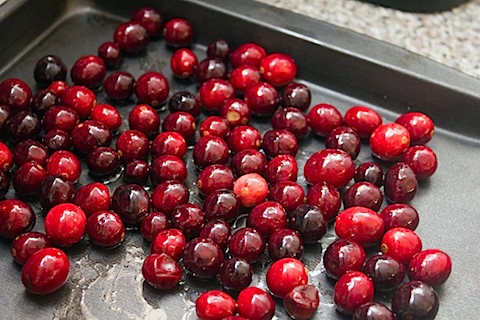 Don't mix them together as you'll need to remove the cranberries before the squash!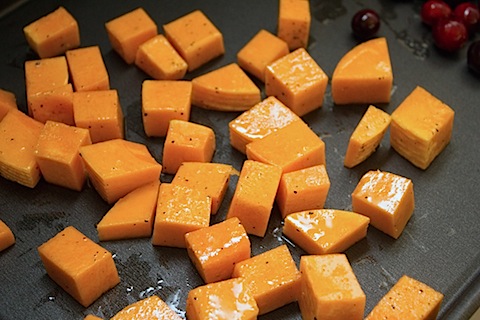 Pop in the oven at 350 degrees. Remove cranberries to a bowl after 10 minutes. Keep butternut squash in the oven for about 15-20 minutes longer, until tender.
They're almost kinda like dried cranberries, but still juicy and with their natural tartness. Fresh is always best!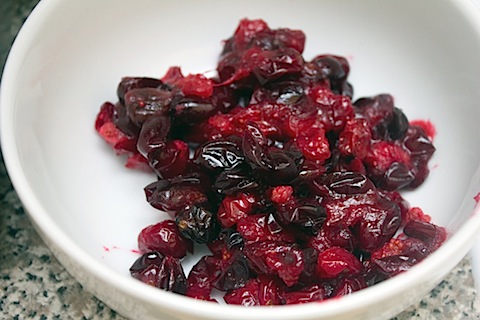 Prepare farro according to directions. I used 1 1/2 C dry to generate a nice big bowl of it.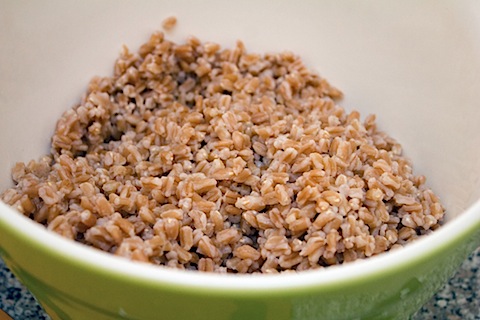 Add roasted cranberries and squash to the farro. And mix in kale and goat cheese.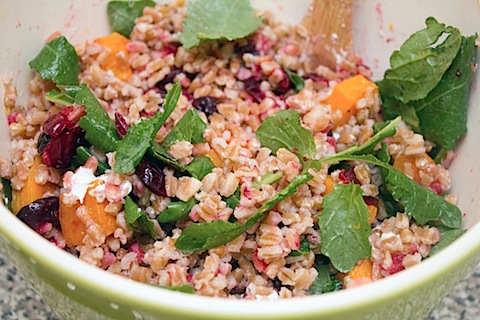 Whisk the curry powder, honey, dijon mustard, lemon juice, and extra virgin olive oil together in a small bowl.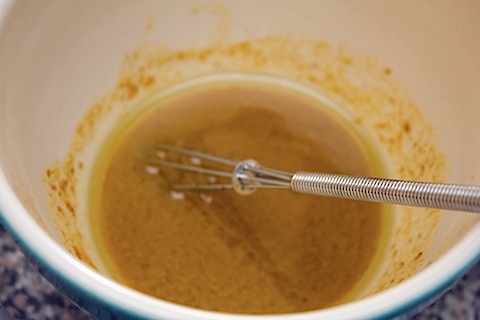 Pour the dressing over the salad and toss to coat.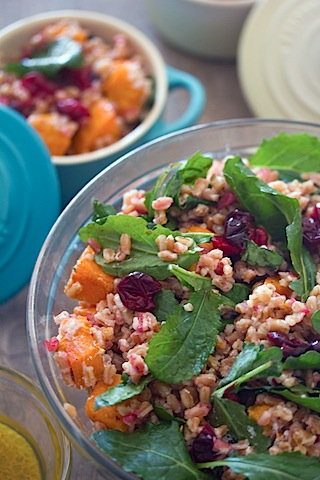 A healthy salad that most definitely doesn't make me feel like I'm eating healthy. Hoorah! Eat this with a big glass of green juice and you're basically the healthiest person in the world. Though green juice is most certainly a bit more in your face healthy.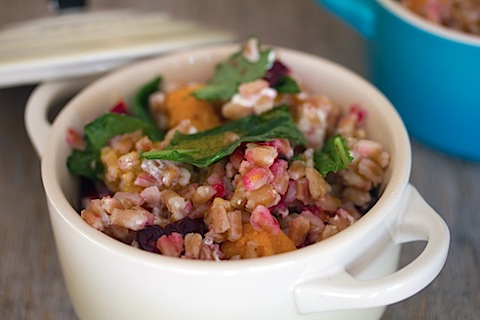 I'm absolutely obsessed with how the roasted cranberries turned this farro a pretty shade of red here. Kind of like beets might do? But not beets. My husband absolutely hates beets. Cranberries are way more palatable.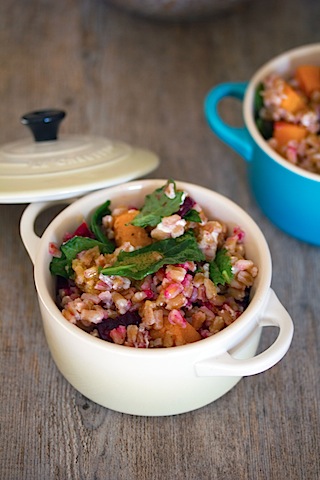 Speaking of, I made sugared cranberries the other day. And omg yum. I want to snack on them all day long. Aside from the sugar, they're super healthy. Oh, the sugar is 50% of the recipe? Whatevs.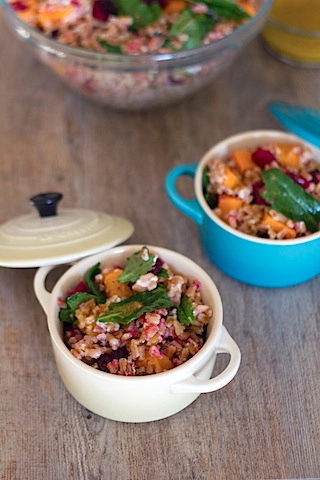 I brought this salad to work for a week straight and felt completely satisfied and happy after eating lunch. I think all the flavors are super fabulous, but the curry dressing is the perfect touch!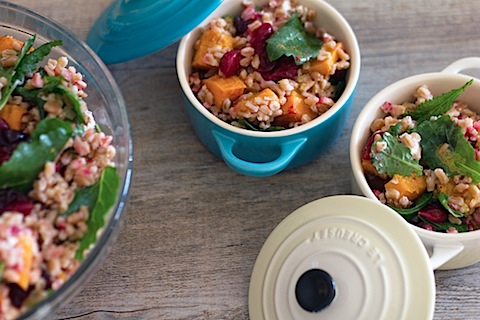 I don't let curry into my life nearly enough and that needs to change. Anyone have any must-make recipes involving it?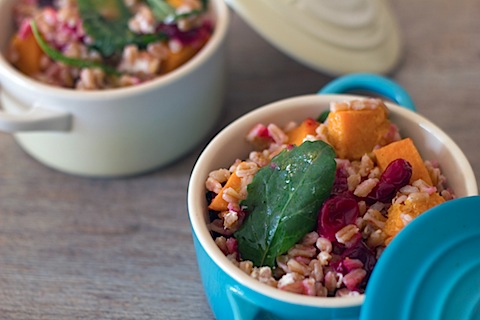 This salad was most definitely a winner and one I will be making into 2014, as well. If you're not big on farro, you could replace it with quinoa or really any other grain you choose! You could use feta cheese instead of the goat cheese, too. The options are legit endless!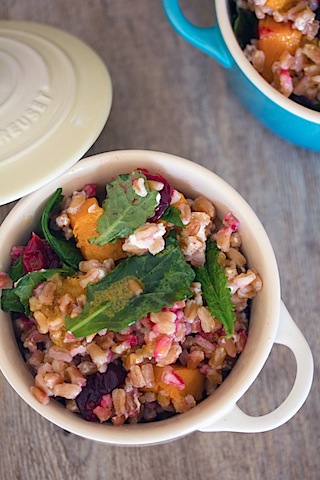 I know it's still December and I hope you're not mad at me for giving you a healthy-ish recipe before the new year. It's all about balance, right? Now I'll just have to go eat some leftover Christmas cookies and a tall glass of cold egg nog.
OK I'm going back to my serious Napa and Sonoma trip planning! I'm a little overwhelmed with all the options right now, but if you have any must-see recommendations, please let me know!
Are you having a happy holiday season?
[Sues]