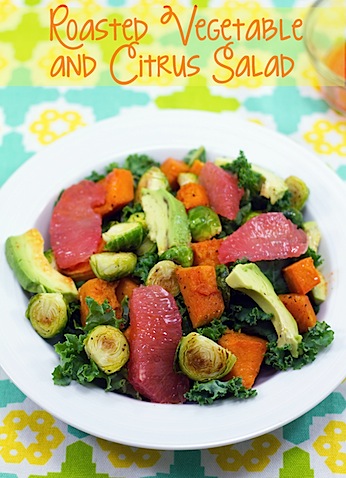 I'm not going to lie; sometimes I go a little bit wild in the produce aisle of my local Market Basket. Like really wild. It's like my own little version of Sunday afternoon Supermarket Sweep. I think it has something to do with the fact that each time I go grocery shopping I feel like I'm starting anew. The choices I make will be the choices I live with for at least an entire week. A whole 7-10 days. And thus, I end up throwing pretty much every vegetable and fruit known to man into my shopping cart. But then I get home and realize that just having nutritious food in my refrigerator does not automatically make me healthy (IF ONLY). And that many of these vegetables cannot be consumed without being prepared in some fashion (whole raw brussels sprouts and butternut squash? Probably not). And that they spoil. Quickly. So, after spending the week eating take-out and cookies, I end my week with a giant meal packed with all my healthy produce that I purchased on that aspirational Sunday afternoon when dreams were being made.
OK, it doesn't totally go like that. But I do usually end my week trying to pack in lots of fruits and veggies before they go bad. This Roasted Vegetable and Citrus Salad has been one of my favorite "eat everything in the fridge" concoctions in a while. And probably one of the healthiest. I also put Sriracha in the dressing, so there's that, too. Because this wasn't exactly a planned meal, I don't have an ingredient shot. But here's what went into my salad… Which I'm also deeming the flu fighter salad. Take one of these and one dose of my Honey Apple Bourbon Toddy and you're good to go. I think.
Roasted Vegetable and Citrus Kale Salad (serves about 4):
Print this recipe!
2 C diced butternut squash
2 C brussels sprouts, halved
1 pink grapefruit, sectioned
1 bunch kale, cleaned and trimmed
1 avocado
1 lime
2 T extra virgin olive oil
2 t Sriracha
I tossed my butternut squash in olive oil, sprinkled with salt and pepper, and roasted at 400 degrees for about 25 minutes.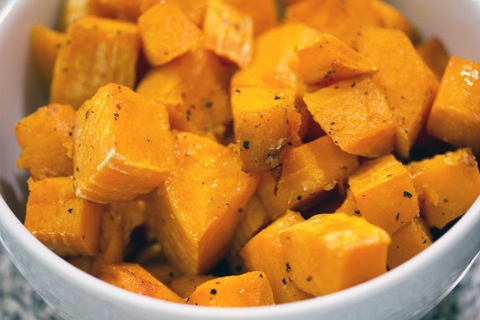 I also tossed my brussels sprouts in olive oil and salt and pepper and roasted them for about 15 minutes at 400 degrees, until browned to your liking.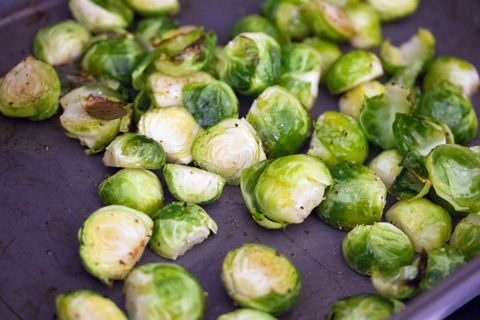 I sectioned my grapefruit utilizing the fabulous skills I learned in my Knife Skills class at the Cambridge Center for Culinary Arts a couple months ago. This tutorial is also pretty great.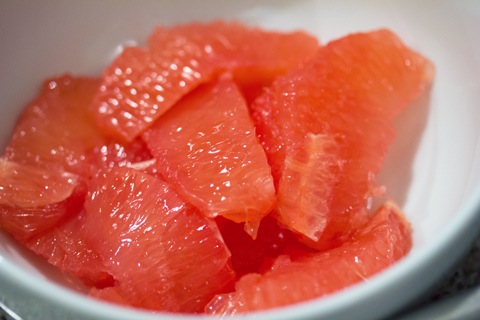 I peeled and pitted an avocado and sliced it up, as well. And filled a bowl with kale.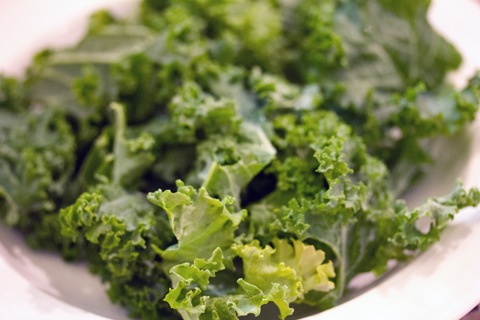 I piled all my toppings into the bowl.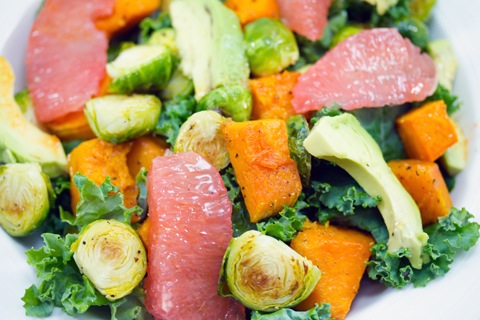 And mixed together the freshly squeezed lime juice, extra virgin olive oil, and sriracha in a separate small bowl.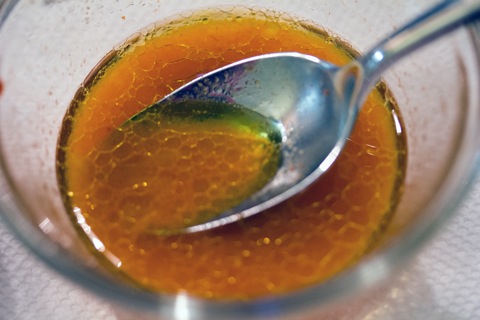 And drizzled it over the top.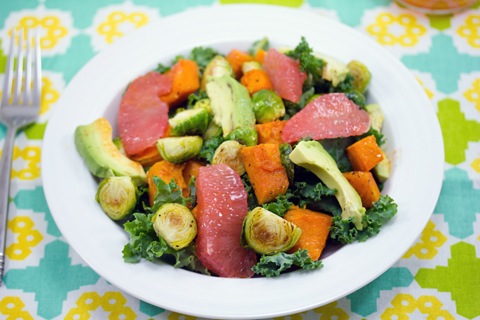 Before you even dig in, you'll start to feel healthy. Just the fact that all this produce made it from the grocery store to your shopping cart to your refrigerator to a bowl in front of you is HUGE. And will probably cure all kinds of ailments.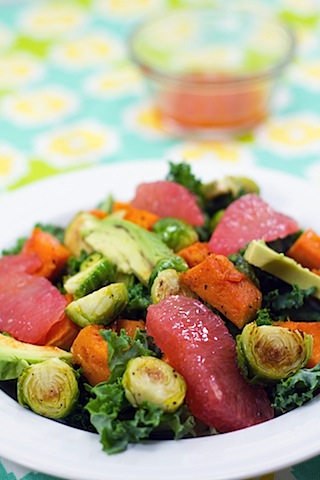 But taking a bite or two will get you even one step further, so dig in.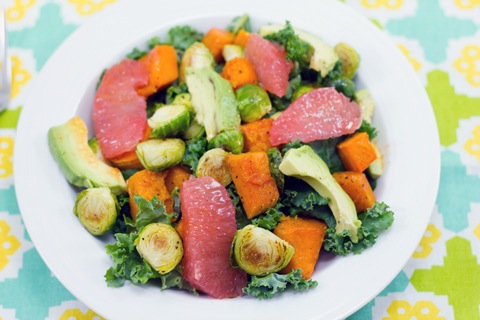 I'm not sure what my favorite part of this salad was, but I think it was seeing how many different elements of it I could get on each forkful. Also, any time you have pink grapefruit in a salad, I'm game. You could probably put absolutely ANYTHING in the salad and I'd be OK as long as I had some grapefruit. Also, if you're not a big "kale person," the lime Sriracha dressing will make you one. Try it.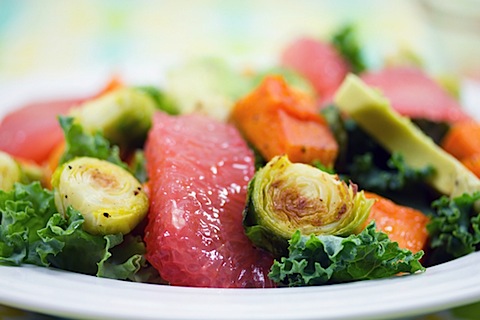 It's meals like these that make me feel OK with the fact that I go a little produce aisle crazy sometimes. The good stuff ended up in my belly and not in the trashcan so it was all worth it. I even brought a serving of this salad to lunch with me the next day with some kalamata olives and grape tomatoes thrown in for good measure.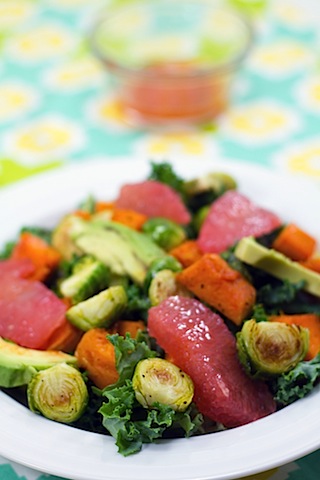 It might not be a hot steaming bowl of chili, but I do believe a salad packed with vitamins and antioxidants is one of the ultimate comfort foods. OK, so it's not going to warm me up in this 15 degree Boston weather, but it will make my body happy. And if you need warming up, just add a little extra Sriracha in.
What's your best "use everything in the fridge" meal?
[Sues]