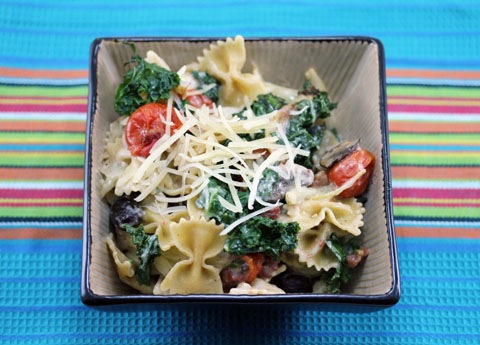 Summer weather lasted a grand total of 2.5 days here in Boston. Seriously. Last week it was 80 degrees. This week? 30-something. My body is confused and angry. But it is only March and that 80 degree weather was far too good to be true. Since winter is back, I decided to do something I didn't do nearly enough of this winter: roast vegetables. I've been craving them. I've also been craving roasted fennel. And pasta. But when am I not craving pasta? I figured a nice creamy sauce wouldn't hurt either. Does it ever?
Don't be intimidated by the long ingredient list. I made this after working all day and getting home at 7:30 p.m and it was actually quite speedy. Seriously! The reason it's so simple is because the vegetables don't require much chopping or prep. You basically toss them in some olive oil and salt and pepper and put them in the oven. Then you boil water for pasta, crisp your pancetta, and whip up a quick sauce. Plus, you can totally customize the recipe to you and use whatever vegetables you want. Or use no vegetables. And just have pasta with pancetta and creamy sauce. Trust me, no one here is judging.
Roasted Vegetable Pasta with Creamy Lemon Sauce (serves about 6):
Print this recipe!
1 fennel bulb, chopped (about 2 cups)
Extra virgin olive oil
1 C kalamata olives
3 cloves garlic, minced
10 leaves kale leaves
8 oz. mushrooms
1 C cherry tomatoes
3 oz. chopped pancetta
1 lb. whole wheat pasta
2 T butter
2.5 T flour
1/2 C dry white wine
1 C milk
1 lemon, zest and juice
3 T chopped parsley
1/4 C grated parmesan
(pre-heat oven to 400 degrees)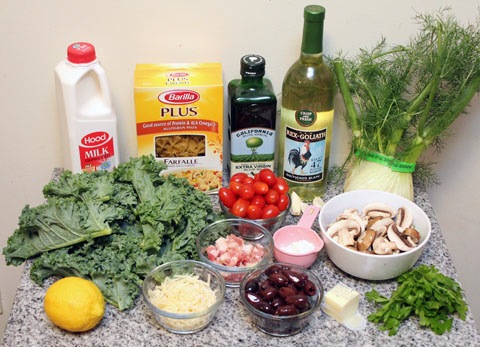 You can really start wherever you want, but I opted to start with the fennel. I chopped it all up and tossed it in a bowl with some extra virgin olive oil and a sprinkle of salt and pepper.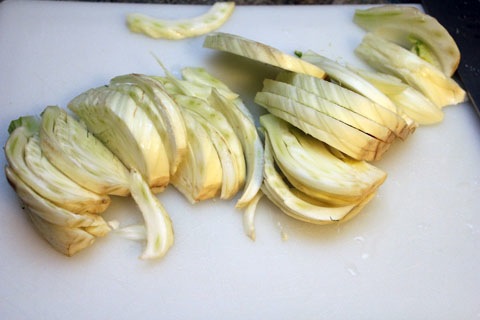 Then I put the kalamata olives in a bowl with the garlic and tossed those around.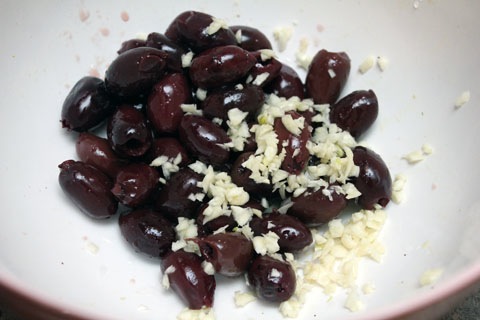 I placed them on a foil covered baking sheet. I opted to keep all my veggies separate on the baking sheets just because I wasn't sure how long they'd all take to roast and wanted to be able to easily remove one veggie if they were done.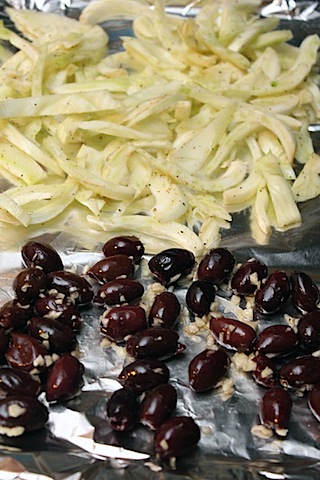 I washed the kale, tossed it in some olive oil and salt and pepper, and gave it a baking sheet of its own.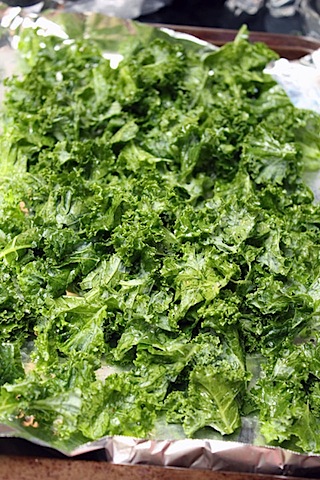 Then I tossed both the mushrooms and the tomatoes in a bit more olive oil and more salt and pepper and placed them on a foil covered baking sheet as well.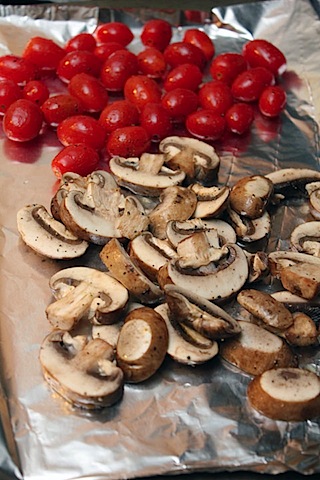 I popped all three baking sheets in the oven at 400 degrees and roasted away. My kale definitely finished first at around 15 minutes. Then came the fennel at 20. I gave the olives, tomatoes, and mushrooms about 25 minutes. But use your judgment and cook the vegetables to your liking.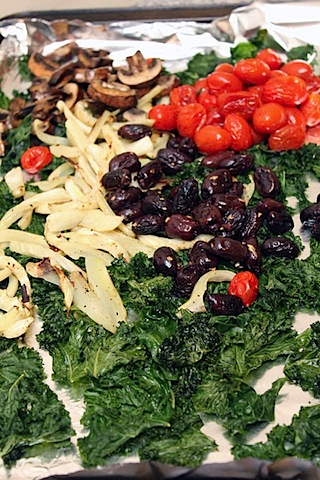 When the vegetables were almost done roasting, I started boiling my water for the pasta, too. I cooked the pasta until al dente and then drained.
Then I put my pancetta in a pan and cooked it on medium-low heat for about 10 minutes, until it started crisping up.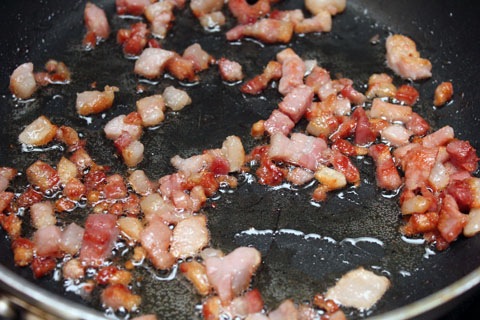 Onto the sauce! Melt your butter over medium-low heat (I used the same frying pan as I cooked my pancetta in). Then whisk the flour in until smooth.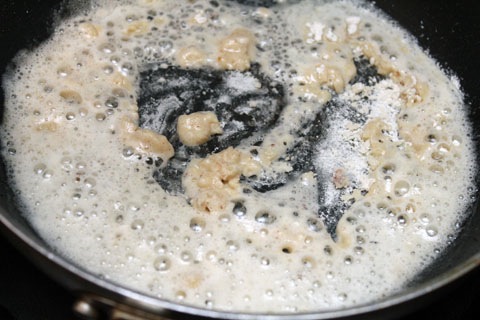 Add the milk and the wine whisking vigorously the whole time. Whisk until the mixture thickens up, which should only take a couple minutes. Whisk in 1-2 T zest from the lemon and squeeze the entire lemon into the mix.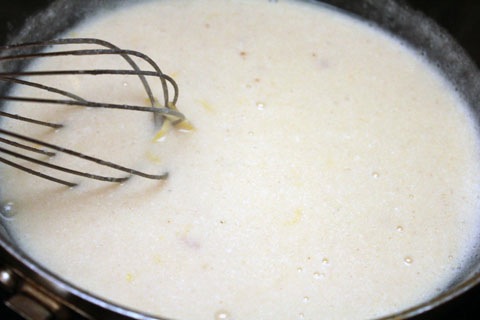 Then stir in the parsley and parmesan cheese.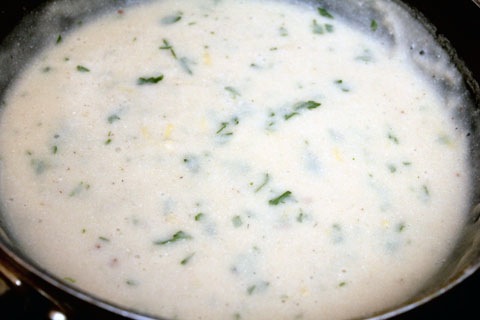 Now, in a giant bowl (much bigger than the one I used), toss together the pasta, vegetables, and pancetta.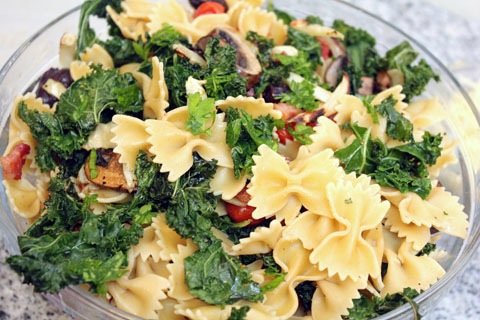 Then toss the sauce in as well.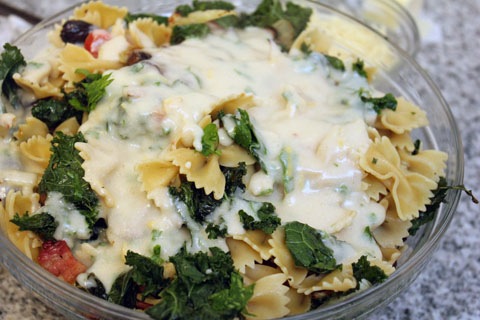 Serve with a bit more parmesan cheese if you desire. And when wouldn't you desire?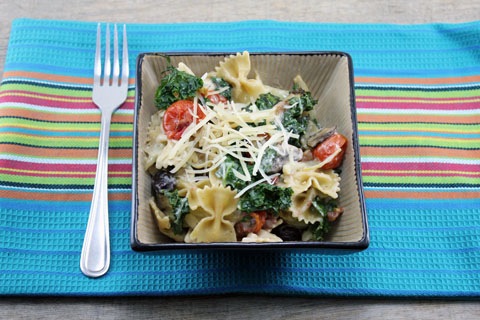 The sauce makes this feel like a total indulgence, but really it's not that much sauce for an entire pot of pasta. Plus, check out all those healthy and delicious vegetables. Kale immediately makes anything healthy. I believe that if you ate an entire ice cream sundae, it would be healthy so long as it was covered in kale. But maybe that's just me.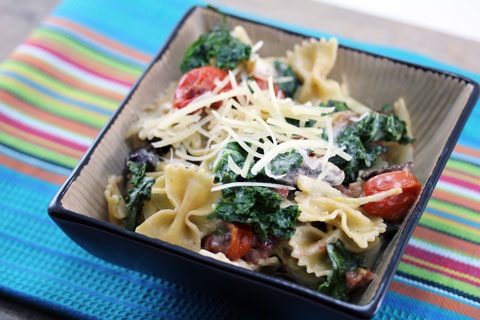 Just to be safe, I'd add a little kale to everything you eat.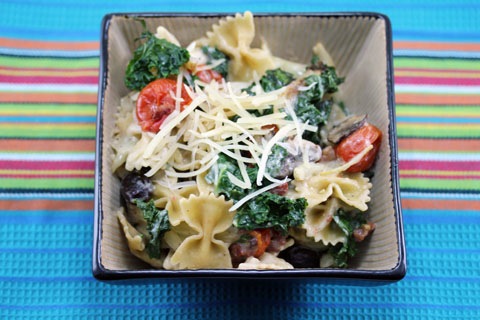 My favorite part of this dish? Too tough to decide and totally dependent on my current mood. Luckily, this recipe makes a bunch of leftovers. I can never get enough of the sharp taste of kalamara olives, but the burst from the cherry tomatoes and lemony notes from the sauce reminded me that summer isn't so far away, despite what the thermometer is telling me. Oh wait, I almost forgot about the pancetta. Pancetta packs a ton of flavor into everything it touches.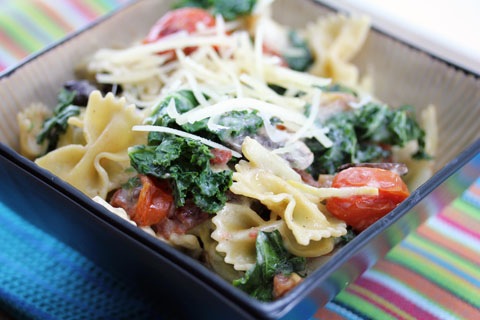 Next time I make a dish like this, I hope it's because I'm grilling the vegetables instead of putting them in my oven. Grilling season is so close I can taste it (no, it doesn't taste like charcoal or propane) and I'm planning on making the most of every second of it.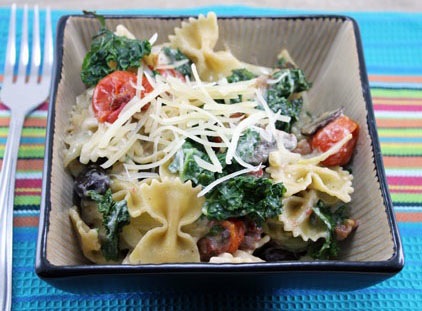 I hope you're all having happy hump days! Just a couple more before a glorious weekend, during which I'll be trying my wedding dress on for the first time in 7 months (in a size that actually fits me). I'm hoping I'll still love it… considering I haven't seen anything I like more in the past 7 months, I'm pretty sure I will! Tonight? Heading back to Chels's to finish the invites. So excited!
Are you dreaming about the weekend already?
[Sues]