Doesn't Yorkshire pudding just scream happy holidays to you? Just the name of it, even. I actually never had Yorkshire pudding growing up, but I am quite familiar with its relative, popovers. And the only time my family enjoyed popovers was on Christmas. So, when I was trying to decide how to use my brand new Le Creuset Tri-Ply Roasting Pan (sent to me by the lovely Colleen at Le Creuset's PR company. Swooon!) and I am across a recipe for Roaster Yorkshire Chicken, I was intrigued. And decided to give it a go. For the holidays. For Le Creuset. And for my tummy. The important things in life.
Whether or not you're interested in ridiculously delicious chicken (in pudding, for goodness sake!), make sure you check out the end of this post for an incredibly AWESOME Le Creuset giveaway, featuring a brand new french oven in your choice of color. The only thing that screams holiday cheer more loudly than Yorkshire pudding is a Le Creuset french oven gifted to you. Happy holidays!!
Roaster Yorkshire Chicken:
For the chicken:
• 1/2 C flour
• 1 t salt
• 1/4 t pepper
• 2 t fresh parsley, chopped
• 1 whole chicken (about 4-4.5 pounds)
• 1/8 C olive oil
For the pudding:
• 3 eggs
• 1 1/2 C milk
• 1 T fresh parsley, chopped
• 1 C flour
• 1 t baking powder
• 1 t salt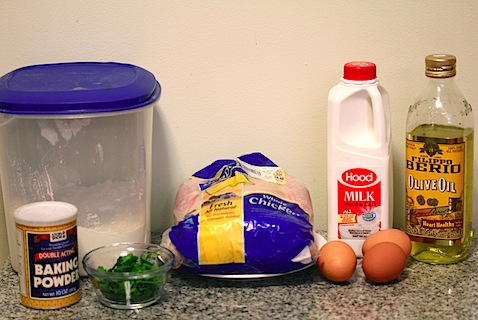 First things first, here's the beautiful Tri-Ply Stainless Steel roaster pan Le Creuset sent me. This is absolutely perfect for me and I definitely screamed out loud when I opened the package. Yup, it felt like Christmas morning! For some crazy reason, I don't already own a roaster (despite my intensive Butterball U training!). Now, not only can I roast my own turkey, but my own chicken, too. And that is precisely what I did.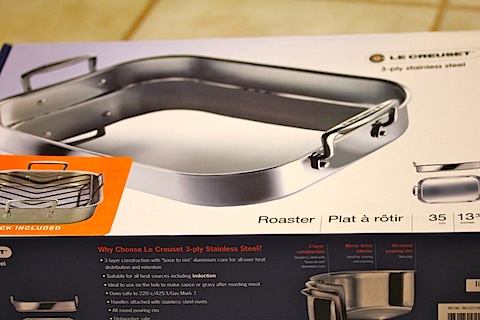 Seriously. I love anything Le Cresuet, but this roaster pan is the perfect addition to my kitchen collection. Isn't it purty?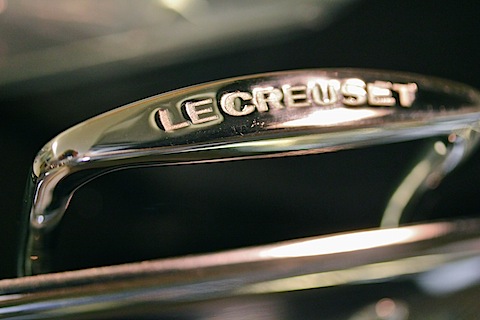 And now for a confession: I've never roasted a whole chicken before. It's one of the first things my dad taught me, but for some reason, I just never set out to do it myself. I've just always gone the easier chicken breast route. But now that I've done this, I realize that it's SO easy. Almost easier than chicken breasts. Especially when you have a pan like this.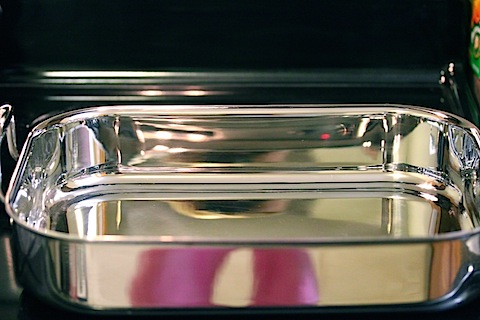 Even with the Yorkshire pudding part of this dish, it was insanely easy. I couldn't believe it. And now I might just have to roast a chicken every week (and the leftovers… Oh, the leftovers!).
First, pre-heat the oven to 400 degrees.
And add the flour, salt, pepper, and parsley to a big plastic bag. Put the chicken in the bag (after rinsing it) and toss to coat it with the flour mixture.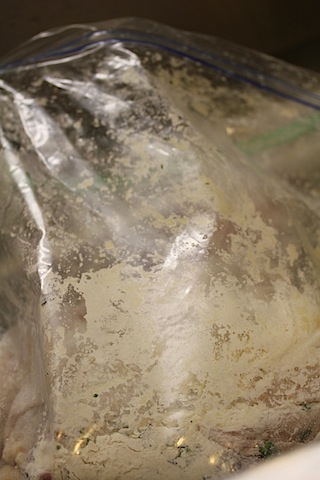 Take the chicken out of the bag (is that like taking the cat out of the bag?!) and put it breast-side up in your roaster pan. Only I put mine breast-side down. because I clearly wasn't thinking about what I learned at Butterball U. But that's OK, the world didn't end. Carry on then. (really, you can do it either way and some people actually say chicken is juicier when cooked breast side down. And some disagree. It's just easier to carve it if it's breast-side up. Like I said, carry on).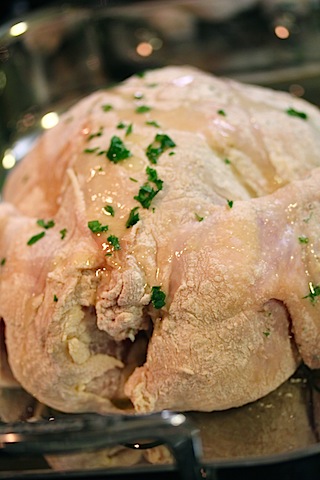 Drizzle the olive oil over the top of the chicken (the recipe called for 1/4 C, but that seemed like a lot, so I cut it down to 1/8 and that worked perfectly. You could probably cut the oil all out together, but this chicken was extra juicy…. plus, a little olive oil is a good thing!)
The recipe called for the pan to be covered, but since my Le Creuset roaster didn't have a cover, I proceeded to participate in a little tenting action. I just folded a piece of aluminum foil and put it over the top of the chicken.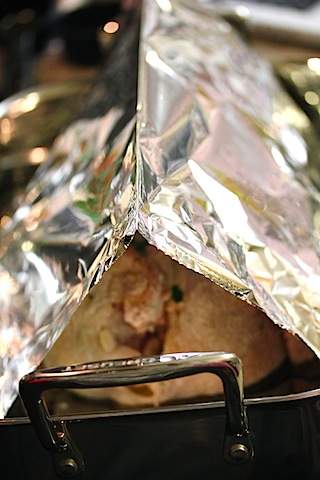 And then you'll want to stick the chicken in the oven for about an hour.
In the meantime, you can get going on on the Yorkshire pudding part of the dish (but first sit on the couch and have a glass of wine because you have a bit of time before you need the pudding batter). Whisk together the eggs, milk, and 1 T parsley, in a medium bowl until blended. Than add the 1 C flour, baking powder, and salt, and whisk until smooth batter has formed.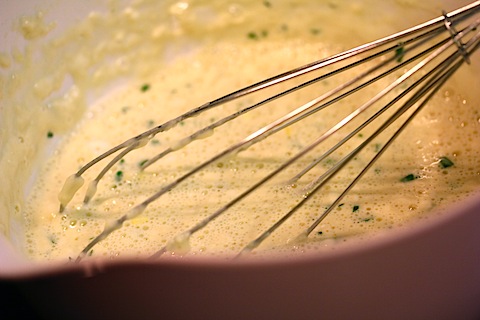 When the chicken has roasted for an hour, take it out of the oven and place it on a baking sheet. Pour the batter over the top, letting the excess run to the bottom of the pan.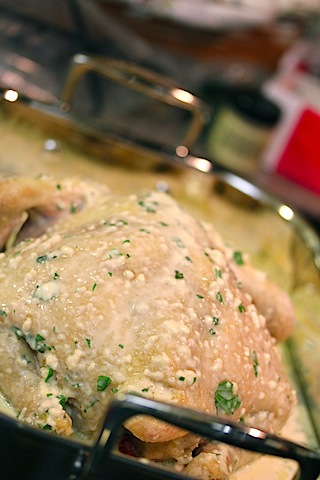 Put the chicken back in the oven and bake until the pudding is puffed and golden brown; about 20 to 30 minutes. Make sure the thickest part of the thigh registers at 180 degrees.
Boom: Perfect!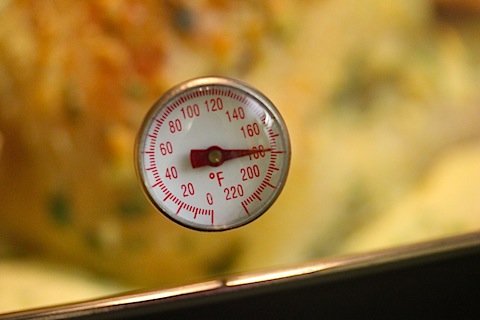 Check out that Yorkshire pudding!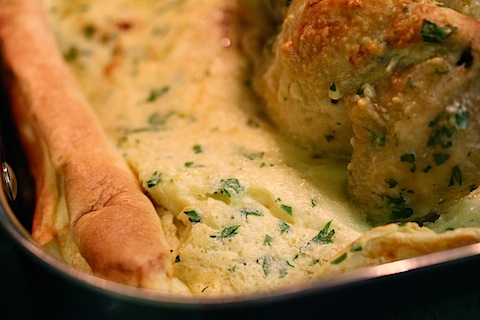 Side note: Yorkshire pudding is not, in fact, like figgy pudding. But I've never had figgy pudding either and now I'm feeling the need to make some (I do love figs!). Mostly so I can have my dinner guests sit around the table and sing "now, bring us a figgy pudding and bring it right now!" Is that so wrong?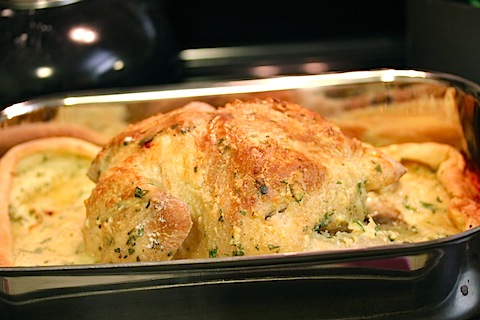 After I managed to carve the chicken (um, it wasn't a pretty scene. I need a knife skills/carving class ASAP), I served it with some of the Yorkshire pudding and some green beans.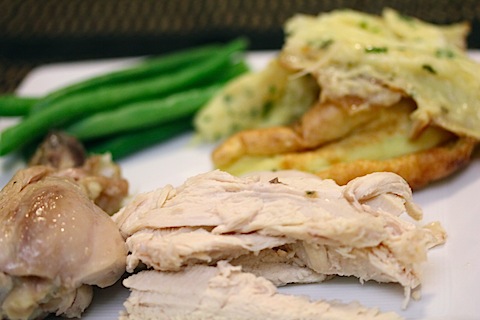 Perfect meal!! I was actually quite proud of my first roasted chicken. It was seriously tender and delicious. The pudding was indeed super similar to a popover and was a wonderful side dish to the chicken. I will definitely be making this again. It might even be my favorite new winter warmer dish.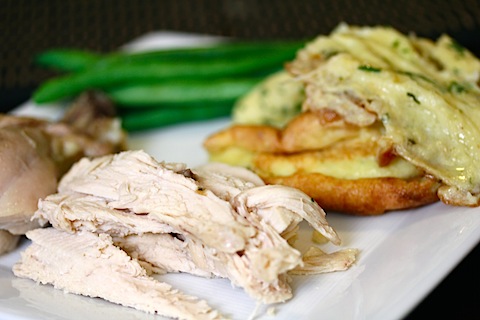 Also, have I mentioned how the aroma of roasting chicken makes your home feel like the most comfortable place on Earth? Especially on a cold Sunday evening. Especially when there is Yorkshire pudding involved.
On second thought, I might roast a little chicken every night of the week. Too much? OK.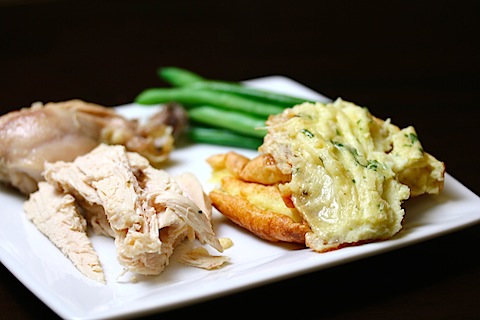 Also, thanks to Le Creuset again, Chels and I had the opportunity to attend Harvard's Science and Cooking Lecture Series with Chef David Chang of Momofuku fame.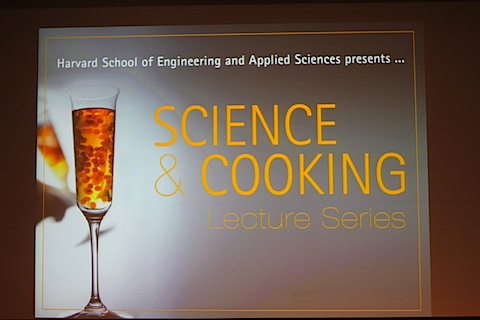 He gave an awesome presentation about how culinary errors are catalysts for innovation. He showed us how he makes his 45-minute ramen soup, pork bushi, and dried mushrooms.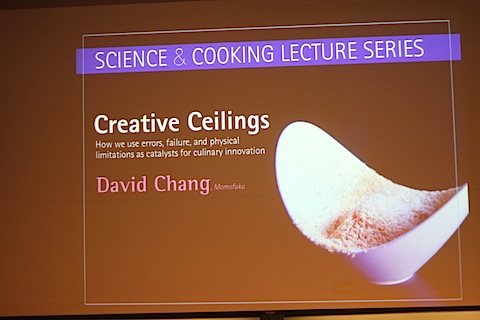 I thought David Chang was an amazing speaker; so incredibly modest about all his successes. And while he totally knew what he was talking about, he didn't come from a science background, which made me feel more confident about becoming more "sciency" in all things culinary some day, too. I know! Just saying "sciency" makes me sound like I belong at Harvard, right?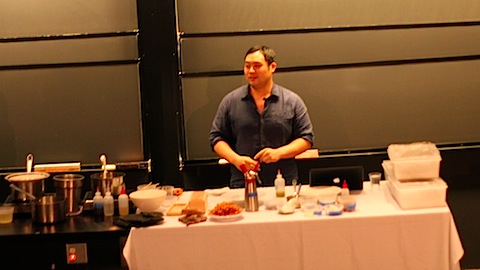 I would have also liked the recipe for his crack pie… But I don't think he wanted to give it out. (Thats OK, I found some impostor recipes. Bu-ha-ha-ha!)
Le Cresuet Giveaway!
Thank you for being so patient. Now, onto even better things (than a roasted chicken with Yorkshire pudding? Well, yes!) Do you love Le Creuset as much as we do?? Well, this could be your lucky day! Just in times for the holidays, we're teaming up with Le Creuset to give away one of their 4 1/2 Quart Round French Ovens, in the color of your choice! Is there any more perfect holiday gift??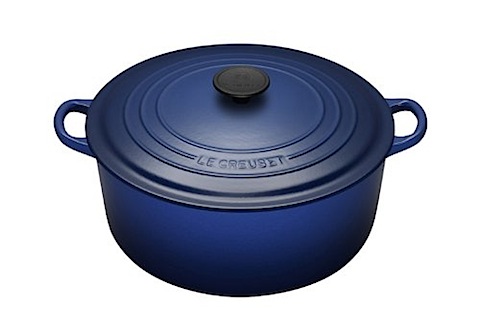 All you have to do is leave a comment on this post and tell me: Have you ever had Yorkshire pudding? How about figgy pudding?
For extra entries, you can tweet about this giveaway (we're @wearenotmartha, if you're not following us!) or blog about it on your own blog. Just make sure you leave new comments to get each extra entry.
We'll be picking a winner at random on Sunday night (Dec. 12) at 11:59 p.m., so make sure you enter before then! But I'm telling you, if you do make a mean figgy pudding, I might just make you come over "and bring me a figgy pudding!" That's all 🙂
Good luck!! And while I think Le Creuset is the best holiday gift ever, you can always check out my gift guide for the perfect gifts for food lovers for more ideas!
[Sues]