I've lived in Boston for 5 years now and still don't have a salon. You know, the salon I mean. The one I can call "my salon." The one I go back to over and over again and can't bear the thought of seeing someone else. A girl's relationship with her stylist is something special. I had one when I was in college in New Hampshire. I even drove the 1.5 hours back for a little bit after moving away. But I've been feeling for a while that it's time I stopped bouncing around from salon to salon in search of the one that's right for me.
When I heard about the new Rock Paper Scissors Salon on Newbury Street, I was immediately interested. Their mission statement was EXACTLY what I wanted to hear: "We talk to every client about their look and their lifestyle before deciding what comes next. We want you to be the best version of you." Every time I go into a salon, they say "what do you want?" I don't know! I want you to tell me what will look good on me! Oh and "Happiness isn't expensive so why should you pay a fortune to walk out the door happy? We hate not getting our money's worth. We know when to splurge and where to save." RPS believes in affordable services, so you can keep going back when you need/want to. So, I contacted the salon right away and when RPS saw WANM, they told me to come in to their newly opened salon and they'd be happy to show me what they're all about (disclosure: RPS offered to do my hair complimentary, but I promise my readers I would never ever write about something I didn't truly believe in… And I think the proof is in the pictures!).
Here I am before. My hair is BORING. My highlights are blah because it's so freaking expensive to get them re-done every time I need to (and my hair grows fast!). I spend at least $250 every time I go to the salon and as a freelance writer, well, that's just a big splurge for me that I can't handle every couple, or even few months.
Rock Paper Scissors concept is EXACTLY for people like me. They want you to come in as often as you need to. That's why their prices are lower than the typical salon. A haircut is $45. Which is super inexpensive for Newbury St. But what really got me was the prices for color. While I typically spend $175+ on my foils, RPS's start at $70 and only go to $105. Single process color starts at $36. Can you say holy moly?!
The salon is located at 163 Newbury St. and I could tell I was going to like it, simply from the outside.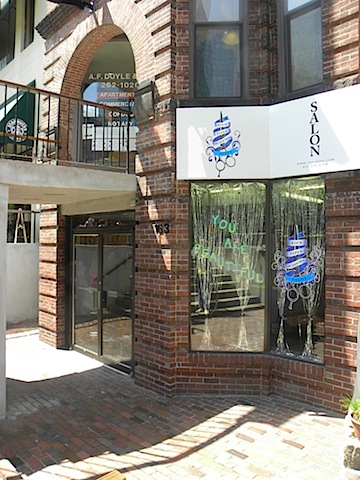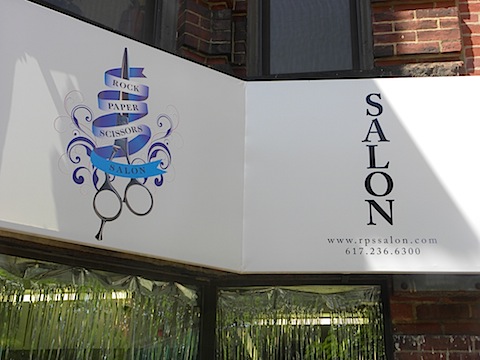 Inside the salon is fun and trendy… Definitely not stuffy at all. They have a sort of rock and roll theme, but it's not overwhelming at all.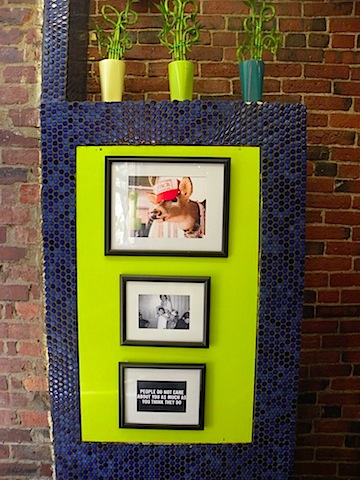 That bottom sign? It says "People do not care abut you as much as you think they do." Which is generally very true. And a good thing to remember when you're being overly-critical about yourself, especially when it comes to your appearance.
The colors of the salon are bright and cheery and I love the exposed brick!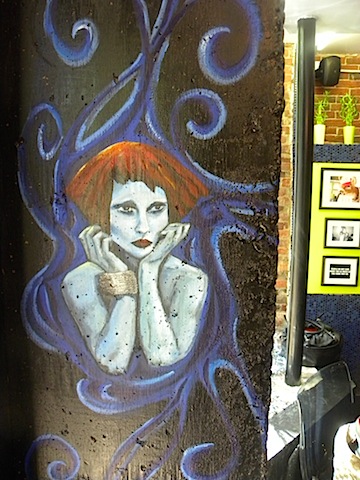 Samantha was my stylist and is a "blonde specialist." She actually spent a long time talking to me about what I wanted AND told me what she thought would look good on me. I brought in a photo to show her and she used it as "inspiration," but wasn't afraid to tell me what else she was thinking. I told her to run free as I trusted her pretty much right away (plus, her hairstyle was super cute!).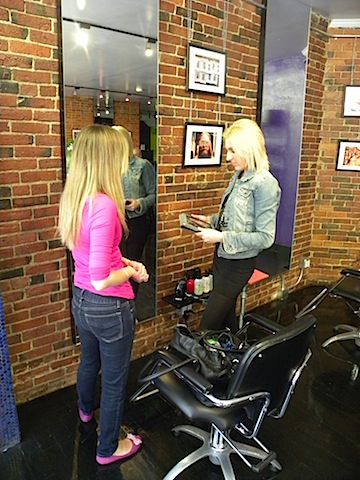 Even though Chels wasn't getting her hair done, she came with me to my appointment because she was also super excited to check out RPS. And she took all the AMAZING photos. (btw BARF, look at my gross hair from the back!).
Anyway, we got started on the foils right away.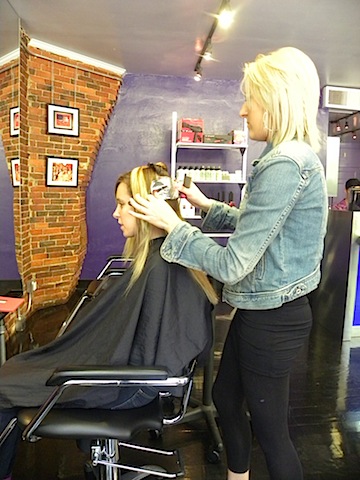 Getting foils is always such a weird experience! It seems so archaic, right?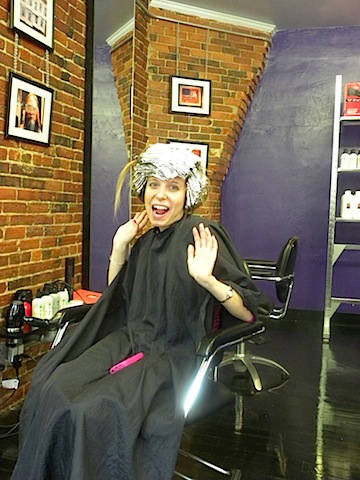 After the foils were done, Sammy washed my hair and put toner on it. I've been to A LOT of salons, and I've never had any that have spent such care on this part of the process. Usually they wash my hair and that's it. But I can already tell, a day later, how much a difference the toner made. When I got out of the shower this morning, my hair was SO soft, which was a nice change considering how dry it's been lately.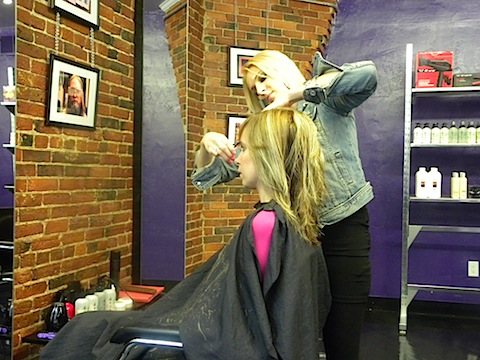 My hair was super dry and unhealthy, so I definitely did not mind getting rid of quite a few inches. I let Sammy cut and cut and style and style.
And? I'm like a whole new person!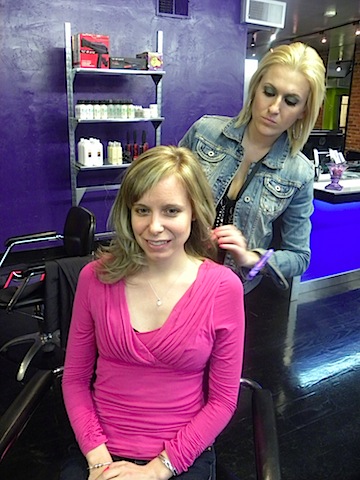 I always say I can tell a good stylist by what she does when you're out of the chair and on the way out the door. Samantha kept looking at my hair, touching it, and eventually she made me sit back in the chair so she could do a few more finishing touches. She wanted it to be perfect and cared enough to make it that way. I love that.
My color is SO refreshed and my head actually feels so much lighter!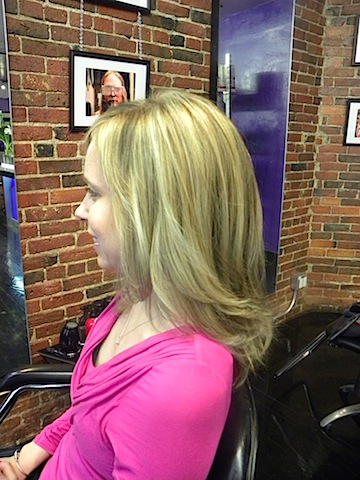 She also spent a lot of time showing me how to style it so I can actually do this on my own. And she even gave me tips for a more low-maintenance hairstyle so I don't have to dry and straighten every day.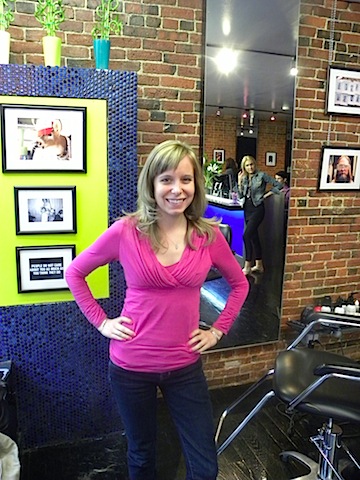 I'm obsessed with the back!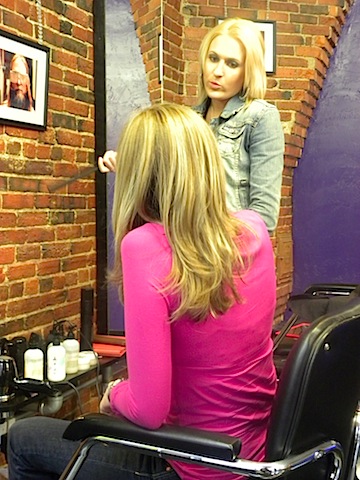 Chels took this lovely video of part of the process. Take a look if you like 🙂
The lovely salon manager, Tracey, and my stylist, Sammy. Thank you so much for everything, ladies!!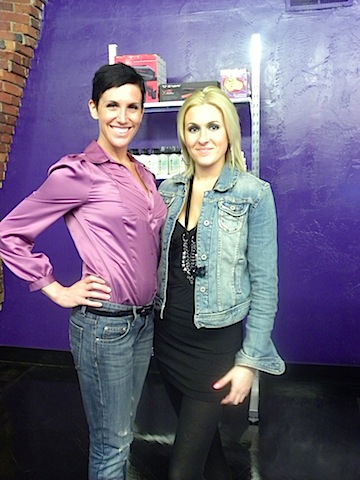 Needless to say, I am thrilled with my experience. And the fact that I got the Newbury St. salon experience, but at a much, much better price. Which means I can keep going and going and going. Seriously? I'm not going to cringe when I have to go back in 8 weeks because everything I got done will only run me $130 (!!!!!). At all other salons I've gone to (we're talking OFF Newbury), my haircut and foils run me about $250+. So in case you don't believe that I'm being totally honest here, I will definitely be going back to RPS and paying full price!
Giveaway!
One lucky We are not Martha reader is going to win a free haircut at Rock Paper Scissors Salon! All you have to do is leave a comment on this post telling us why you need/want a new hairstyle by Friday, May 14, at 11:59 p.m. Get extra entries by tweeting about this giveaway or blogging about it (just make sure you let us know!).
But that's not all. For all of our readers, if you call and schedule an appointment at RPS and let them know We are not Martha sent you, you'll get a free haircut with any color service. Let me know because I might join you!
I'm seriously excited about Rock Paper Scissors and they came along at EXACTLY the right time. Earlier in the day, I actually sent out a tweet about how I needed to find a good salon. And later that afternoon RPS came along. I finally found "my salon." And on Newbury Street, too! And? I can afford it!!
Rock Paper Scissors Salon
163 Newbury St.
Boston, MA 02116
617.236.6300
www.RPSSalon.com
Twitter: @RPSSalon
[Sues]