You might be surprised to learn how easy it is to make salt baked fish... And the results are an incredibly moist and well-seasoned fish with a gorgeous presentation!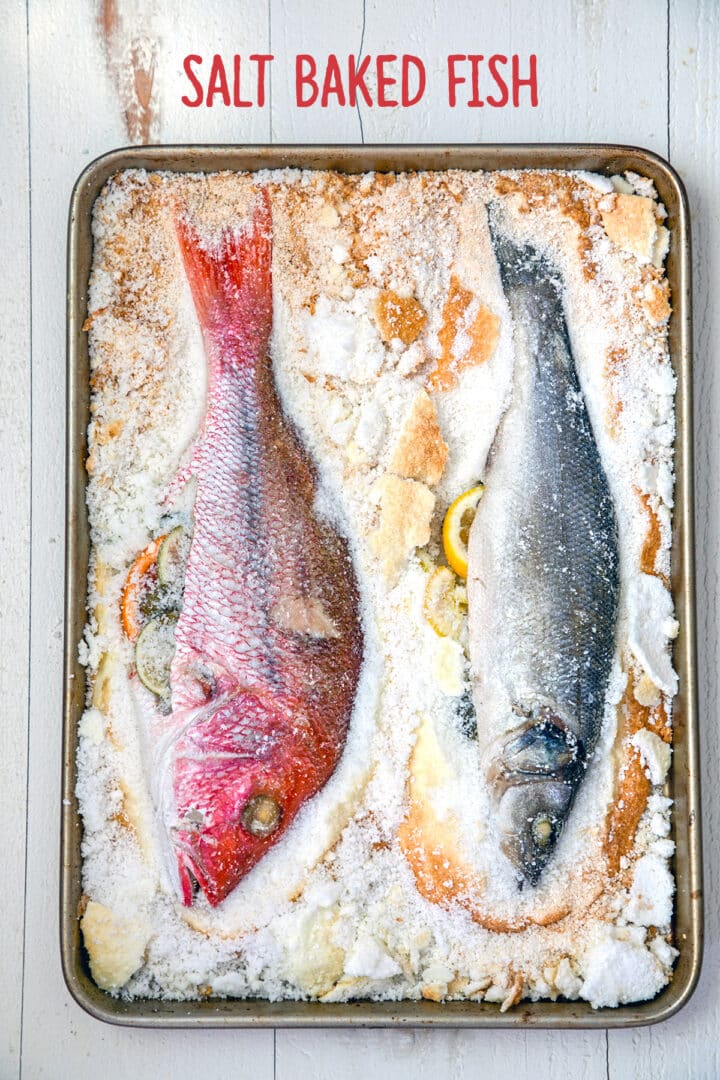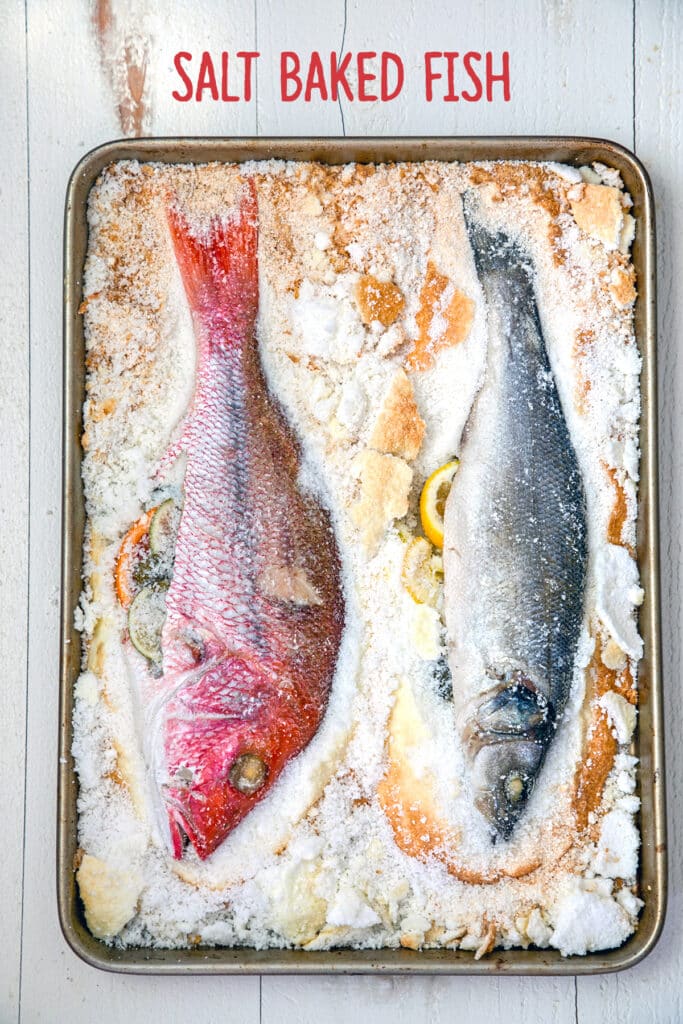 This post was originally sponsored by Morton Salt upon the launch of their Salting Sous Chef Alexa skill (which is no longer available to use). It has been edited to remove outdated information.
Jump to:
When was the last time you entered the kitchen just a little nervous for your next cooking or baking endeavor? That's exactly how I felt when I decided to tackle salt baked fish.
I had heard about the cooking method of salt baking fish and had seen beautiful photos of salt baked fish, but I had never even thought about doing it for myself. Now that I have? I'm here to tell you how awesome it is!
I've recently become slightly obsessed with salting my food (thanks in part to Samin Nosrat's Salt Fat Acid Heat) and I've been working to learn all about the different types of salt, when the best time is to salt food, how much salt to use, etc.
When I first saw that you could bake a whole fish in an encasement of salt, I thought it was a bit crazy. But after doing it, I'm now totally get it.
🐟 Why salt bake fish?
You may be wondering why the heck anyone would want to take a whole fish, cover it in salt, and bake it, right?
Well, besides the fact that it looks really pretty (obvi. quite important), the salt coating actually helps the heat of the oven cook the delicate fish evenly and gently without added cooking oils.
The end result is a super moist fish that's perfectly seasoned. And no, it's not overly salty because the fish's skin adds a layer of protection.
This technique is seriously awesome and I hope you'll try it out for yourself.
🛒 Buying whole fish
If you're like me, you're probably used to going to the grocery store and buying your fish already cut into filets. Working with whole fish can be intimidating if it's your first time, but you can have the fish monger do most of the work, so it's not as daunting.
Obviously, you'll first have to make sure your local store sells whole fish, but if not, you can likely call ahead and ask the fish monger to save some for you.
I recommend asking them to clean and gut the fish for you, too, so you don't have to do it yourself and by the time you bring it home, it's ready for you to get cooking.
This was my first time ever preparing whole fish and I couldn't get over how beautiful it was.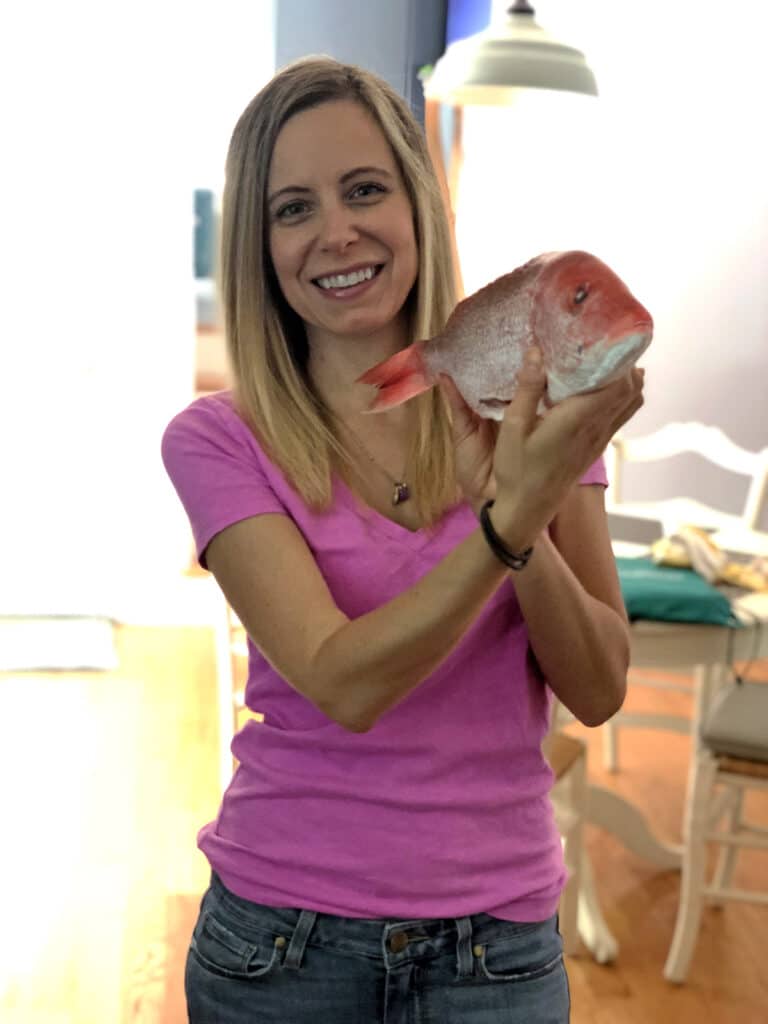 I got a 1-pound branzino and a 1.5-pound red snapper.
Sea bass, monkfish, or dorade would work well, too.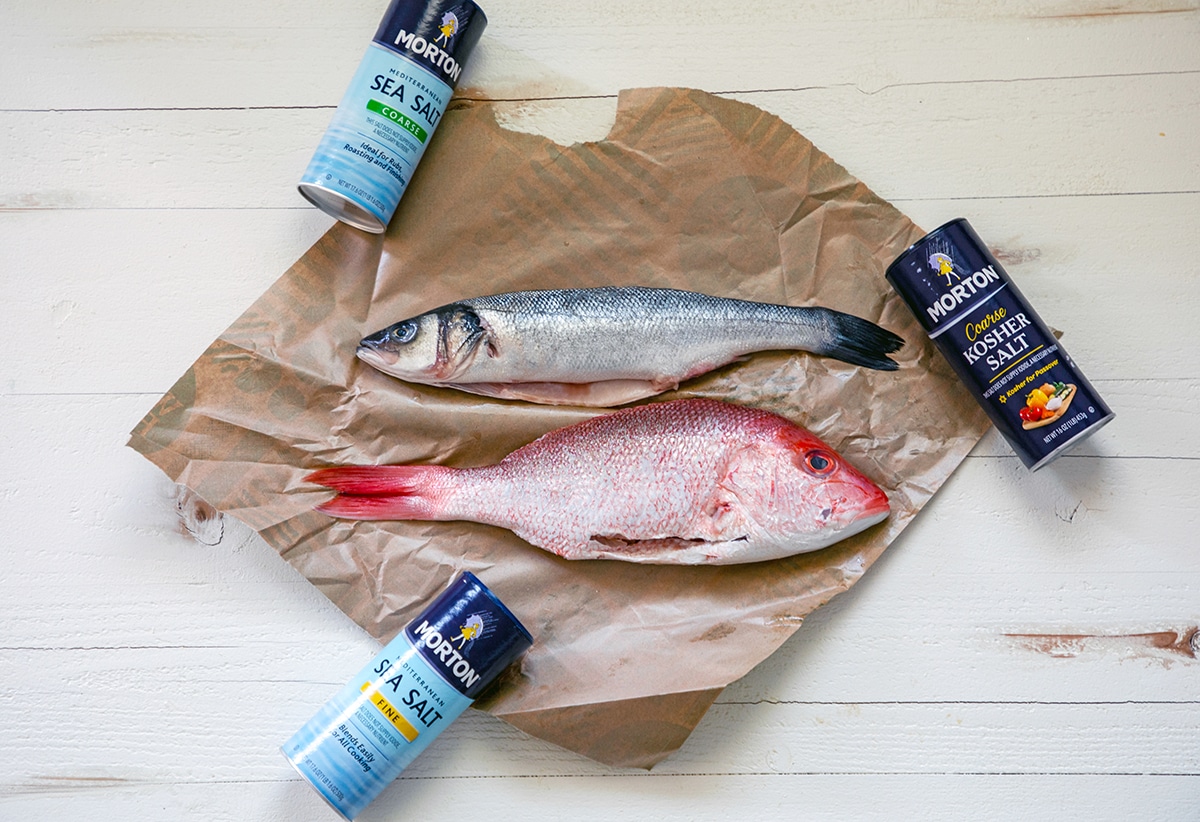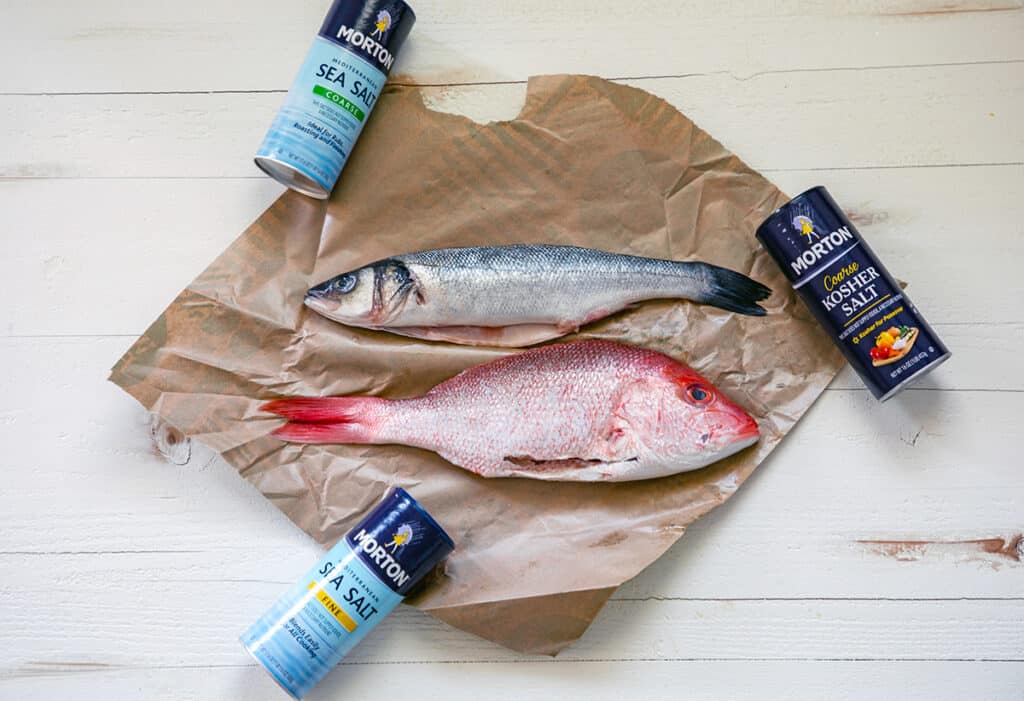 🗒 Ingredients
The main ingredients for salt baked fish are super basic, but there's lots you can do to add flavor and make the dish your own. Here's what you need for the basic fish (be sure to check out the recipe card at the bottom of this post for ingredient amounts and full instructions):
Whole fish like red snapper or branzino: I recommend 2-3 pounds, either 2 smaller fish or 1 large fish, cleaned and gutted
Coarse Kosher Salt
Egg whites
But you'll also want to stuff the fish with some tasty aromatics, including the herbs and citrus of your choice. See the next section for some ideas!
🍋 What to stuff fish with
Before salting and baking, you can stuff the cavity of the fish with anything you want, including fresh herbs, citrus, etc.. I experimented a bit and chose to use grapefruit slices, lime slices, and mint for the red snapper.
And for the branzino, I used onion, lemon slices, and parsley.
But you can feel free to get creative and use any herbs, spices, and citrus that you want! Other ideas include thyme sprigs, bay leaves, rosemary, cilantro, oregano, etc.
Because the fish monger prepared the fish for me, literally all I had to do was stuff it.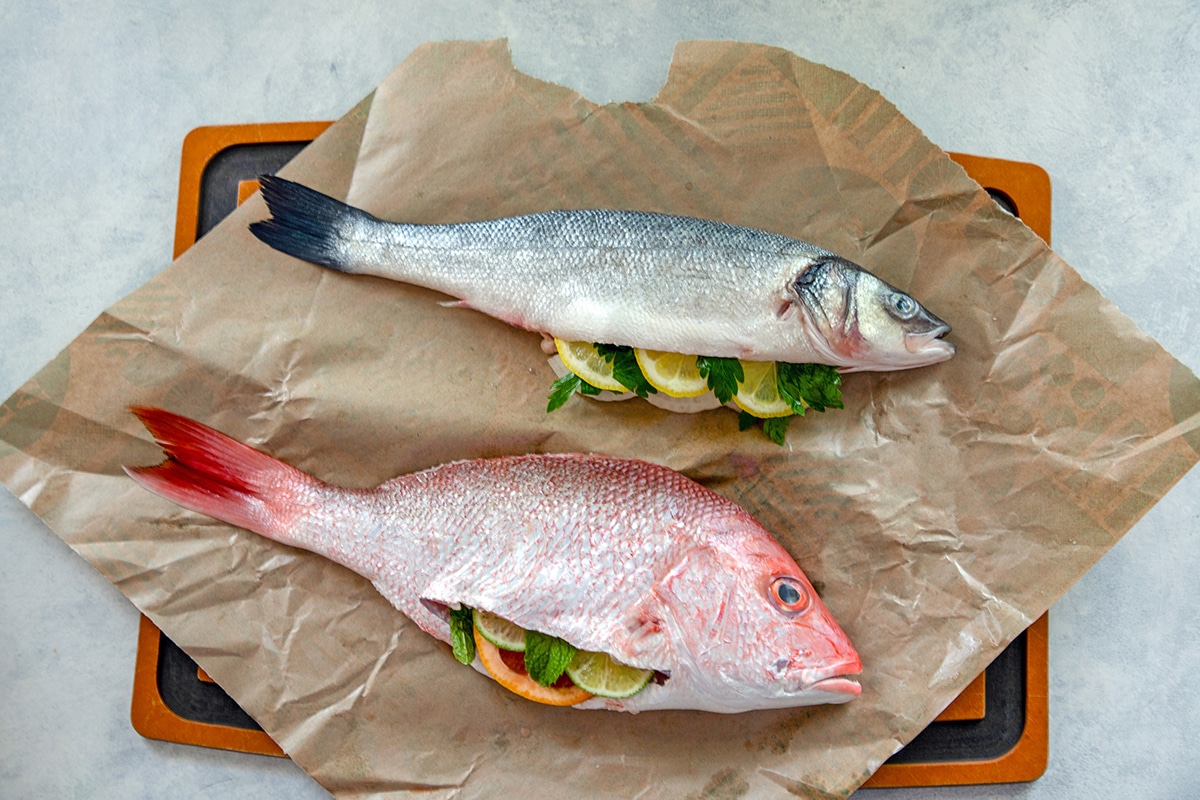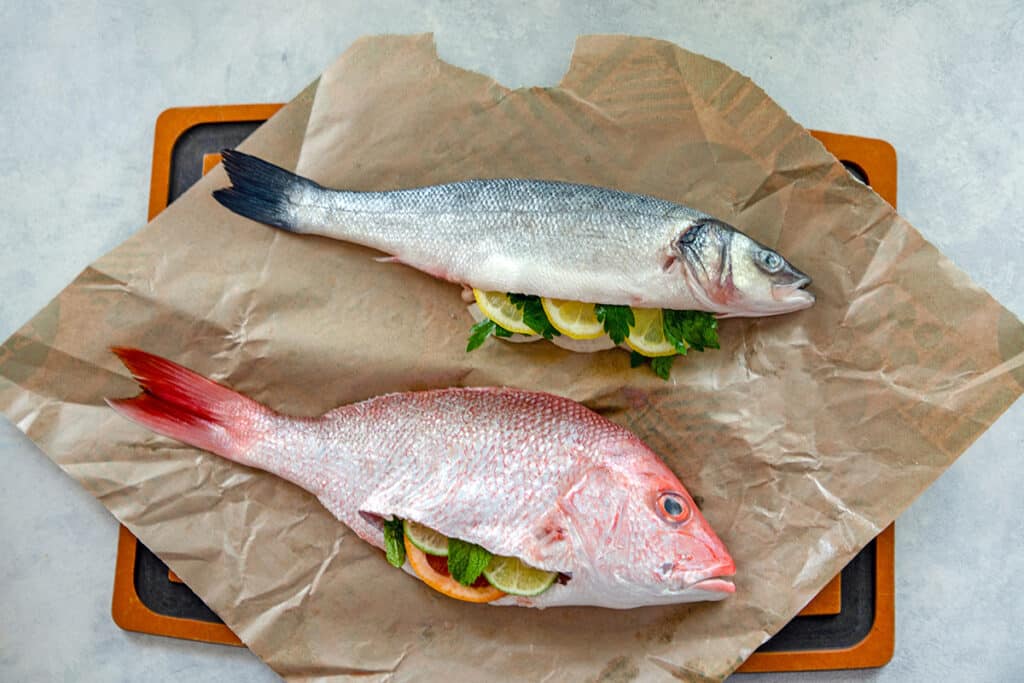 🧂 How to salt bake fish
Now it's time to get your salt mixture prepared. It consists of just coarse salt and egg whites.
How much salt and how many egg whites you need will obviously depend on the size of your fish, but for 2 ½-3 pounds of fish, you should find that 6 cups of salt (a 3-lb. box) and 6 egg whites worked well.
You'll want to mix the salt and egg whites together in a large bowl until the texture is like wet sand.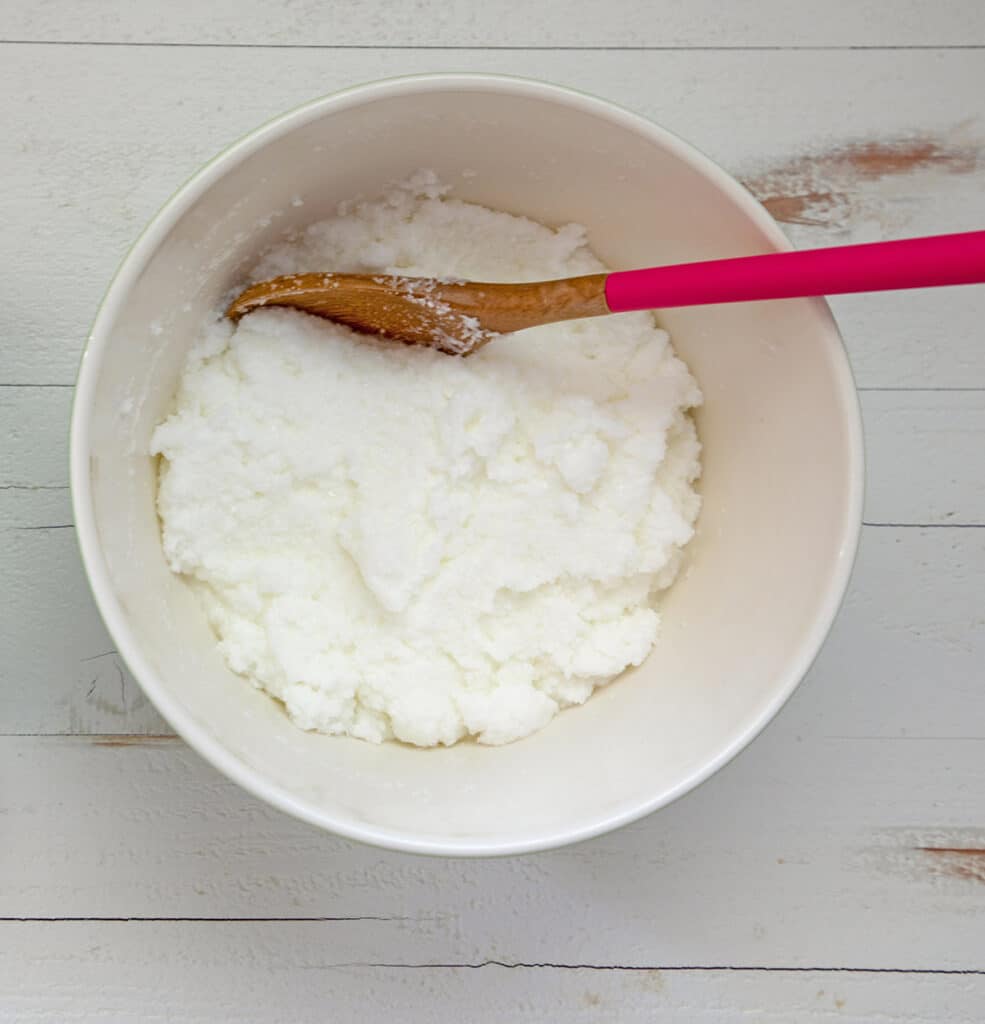 And then it's time to cover your fish in the salt mixture! I made a salt bed for each fish on a baking sheet and then continued using the mixture to coat each of the fish completely in an even layer.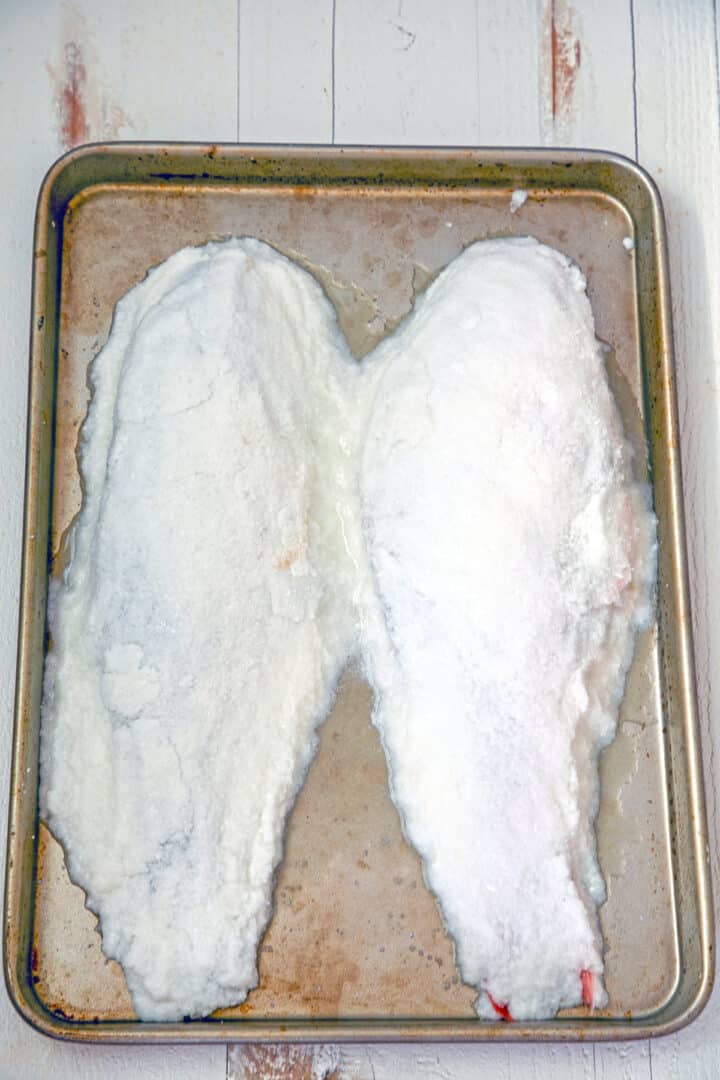 And bake in your preheated oven at 400 degrees for about 30 minutes, until the salt is starting to turn golden and the internal temperature is about 135 degrees on a thermometer.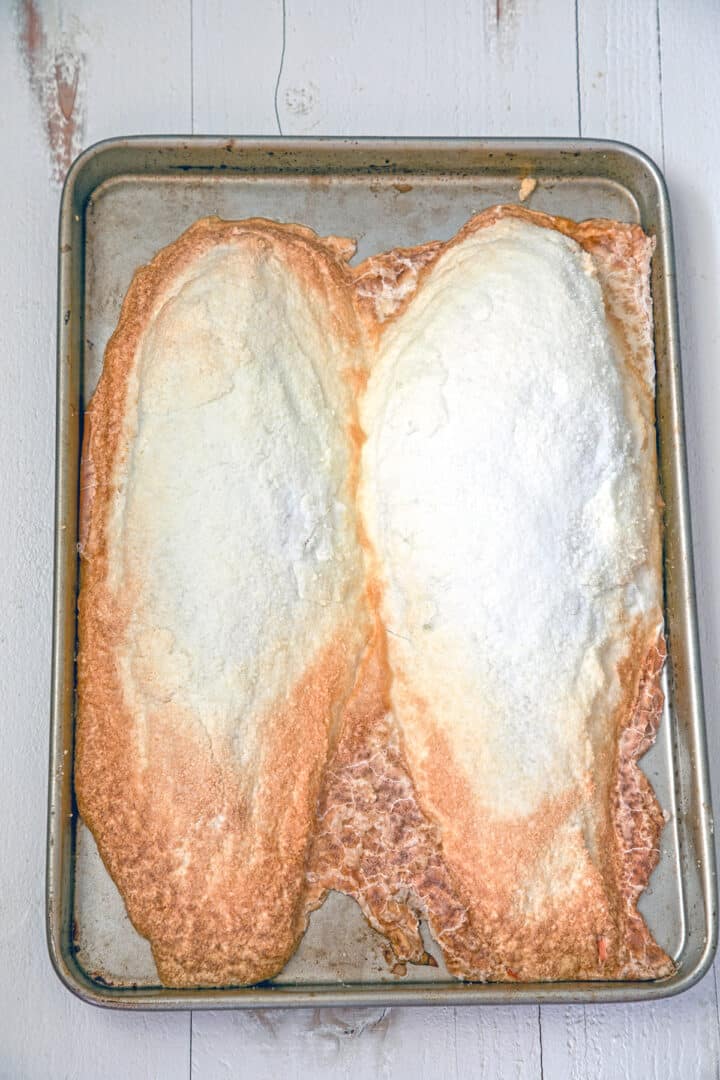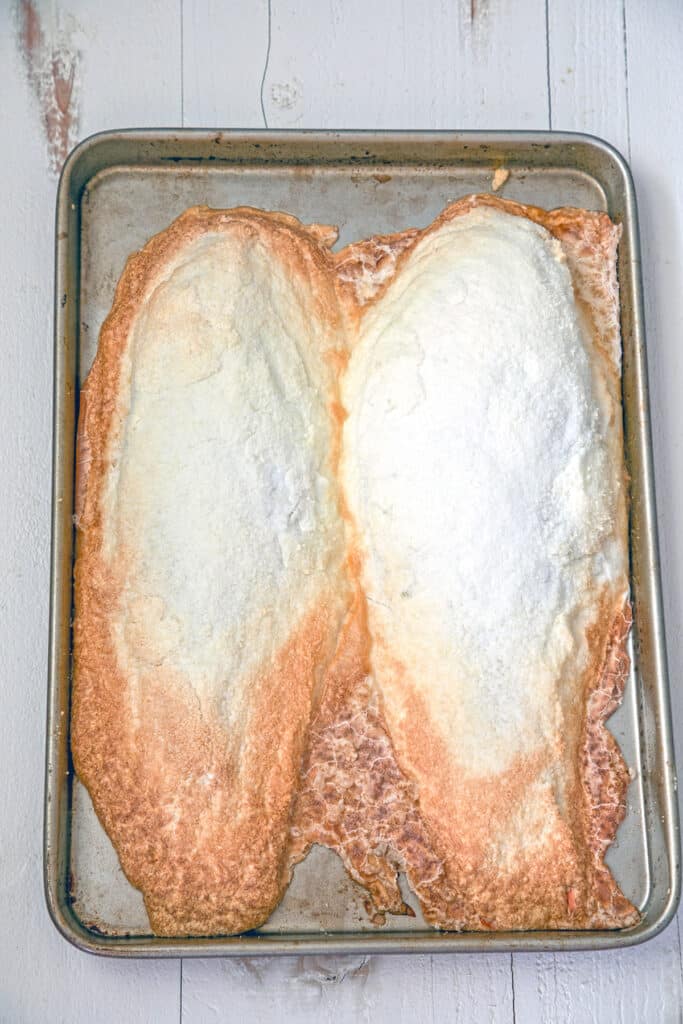 Let the fish cool slightly, for about 5 minutes... And then for the fun part!
Crack that salt crust off. You can use any kind of mallet for this; I used the kind you'd use for crabs at a crab bake.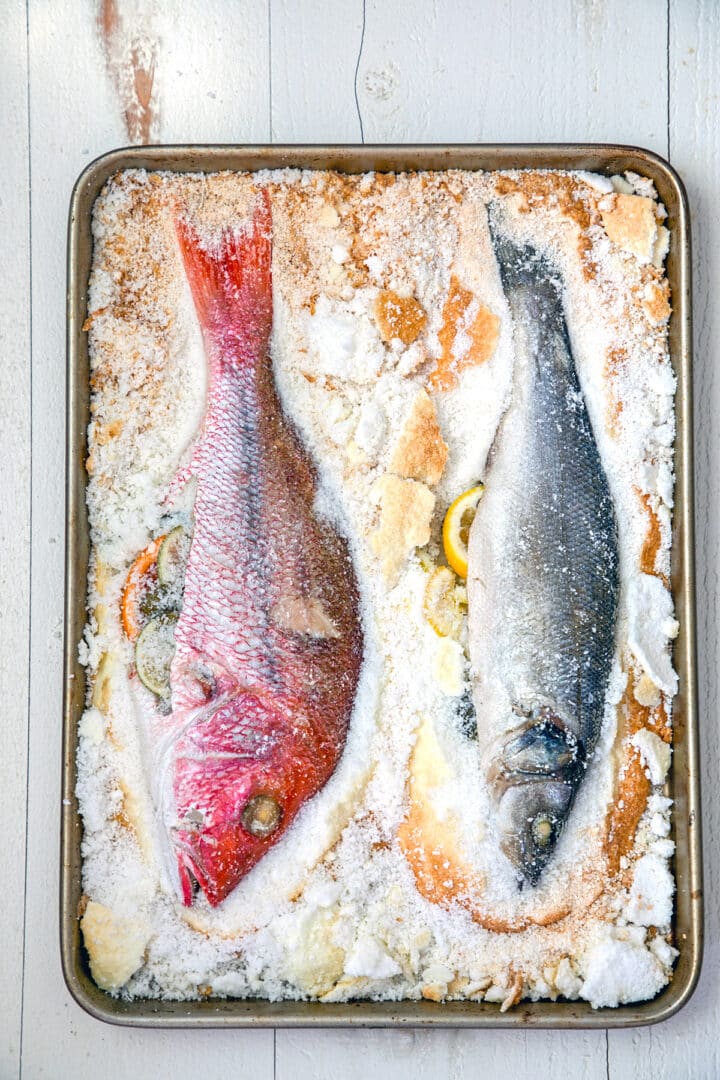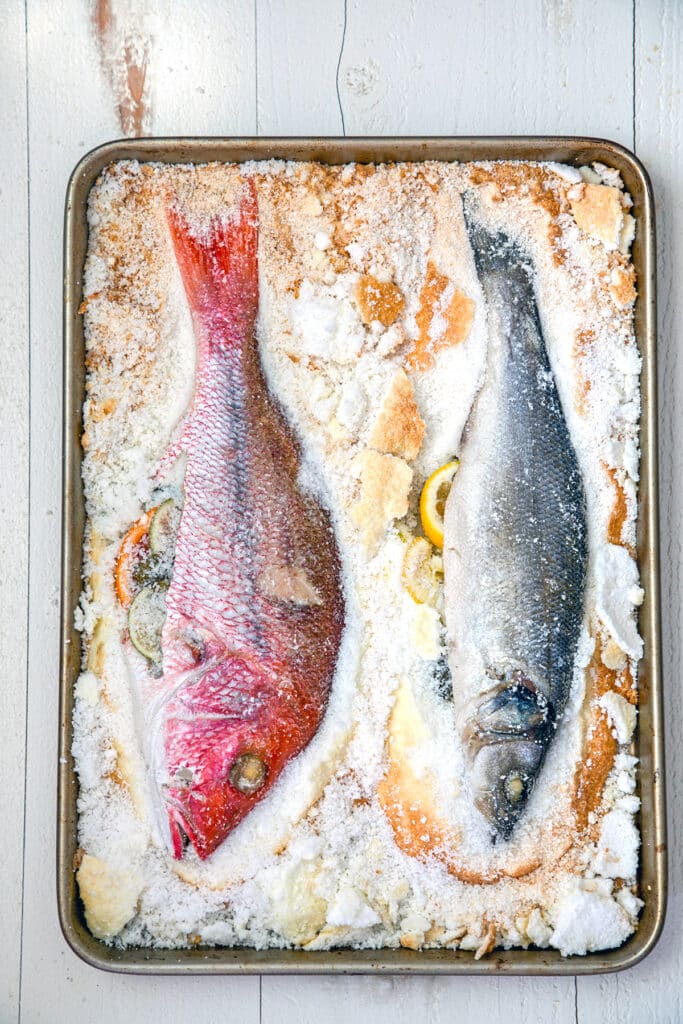 How you serve the salt-crusted fish is totally up to you. I just think it looks so beautiful on the baking pan like this and if you're having company, you may want to show it off to them like this.
In addition to the taste, one of the big benefits to salt baked fish is how stunning it looks when you chip the salt away.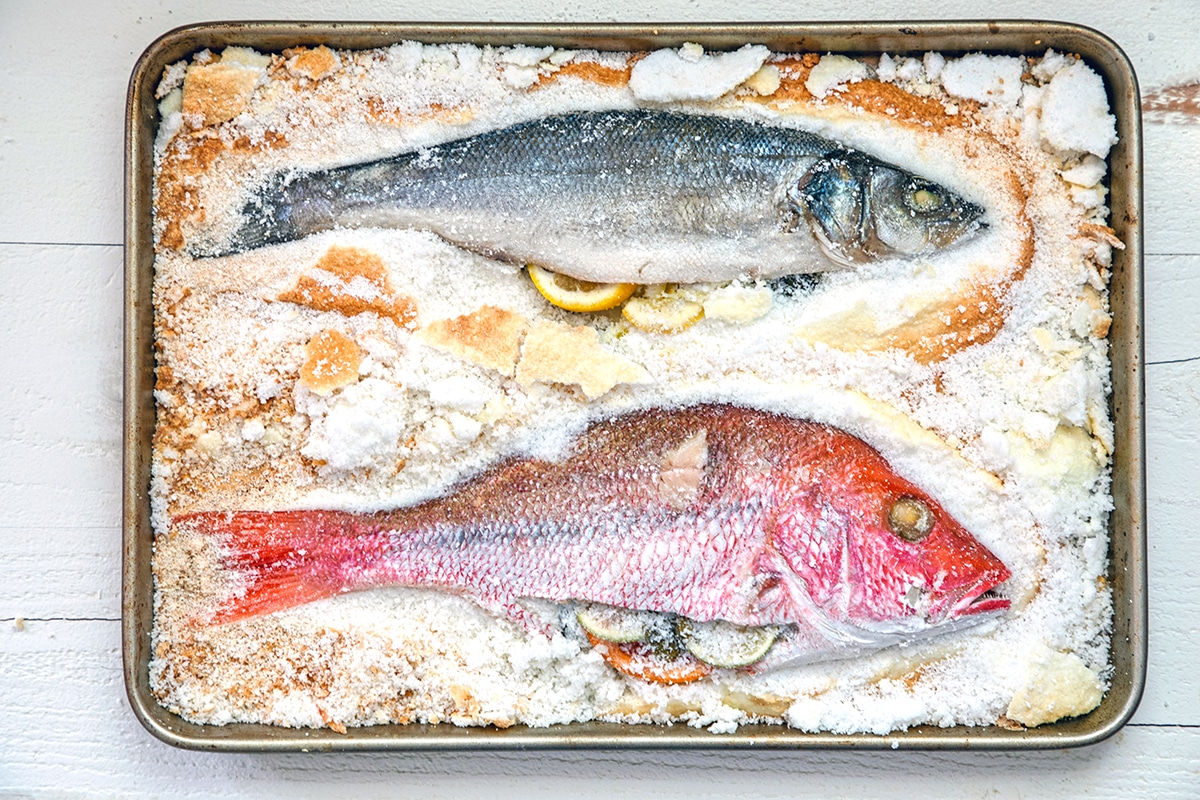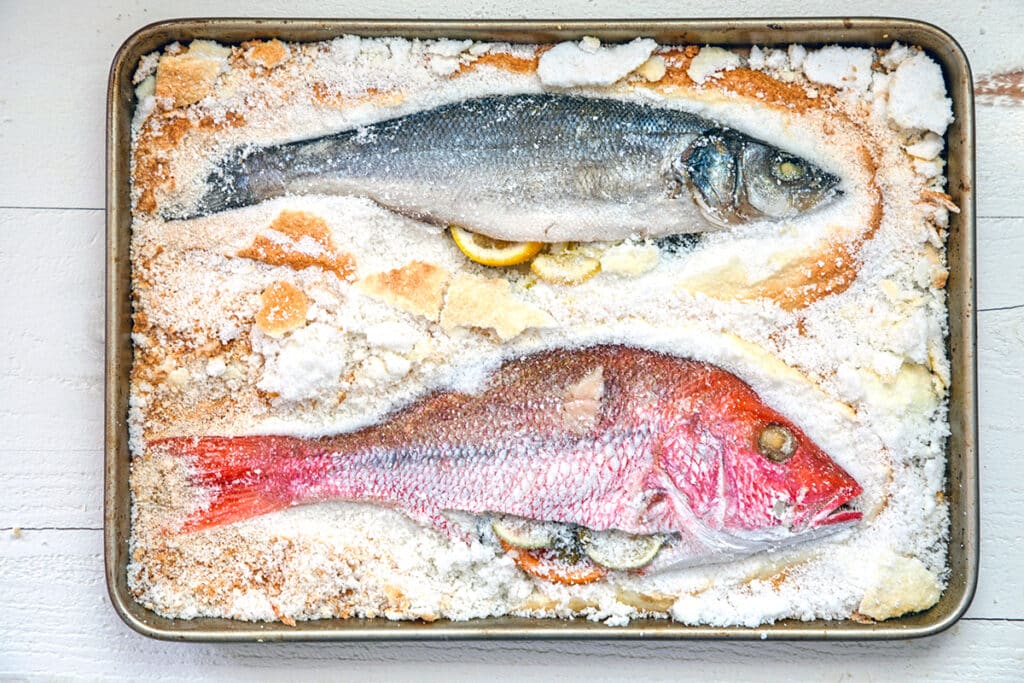 Of course, it's slightly awkward to serve an entire fish sitting in a bed of salt on a baking pan to your dinner party and after your guests go "oooh," they may be like, "OK, so what now??"
So after showing it off on the sheet pan in front of your guests and letting them get some pics for Instagram, you may want to remove the skin and filet it for them on a serving plate.
Guess what? Everything I heard about salt baked fish is true! I'm honestly not sure if I've ever had such a moist and well-seasoned piece of fish in my life. It was seriously melt-in-your-mouth perfection.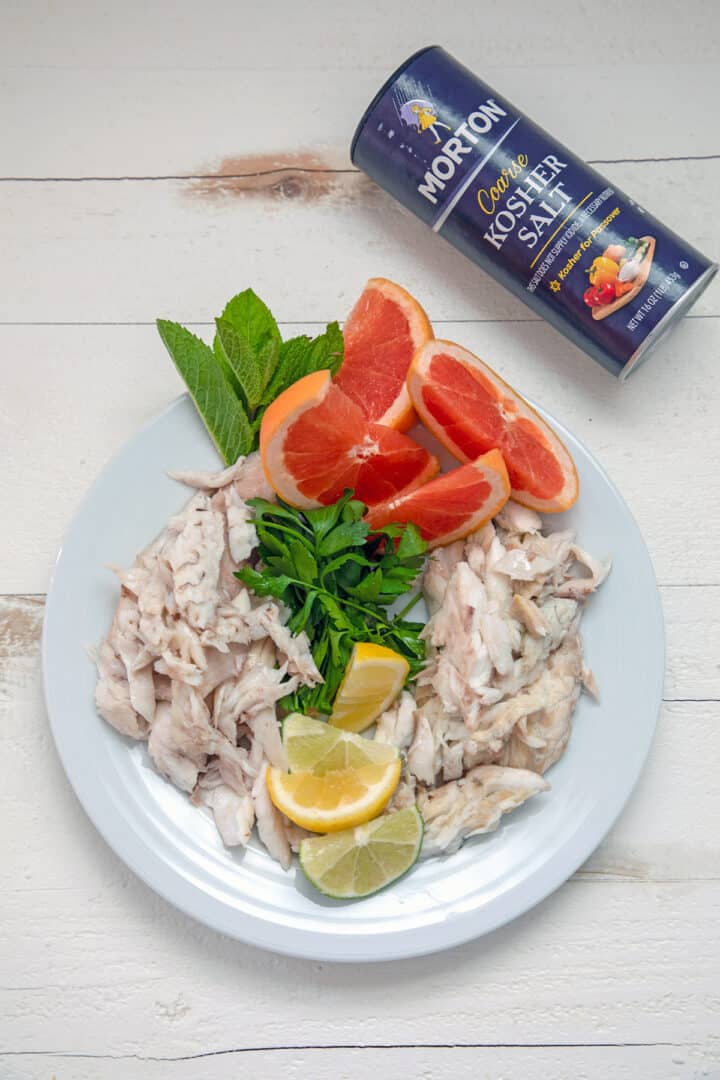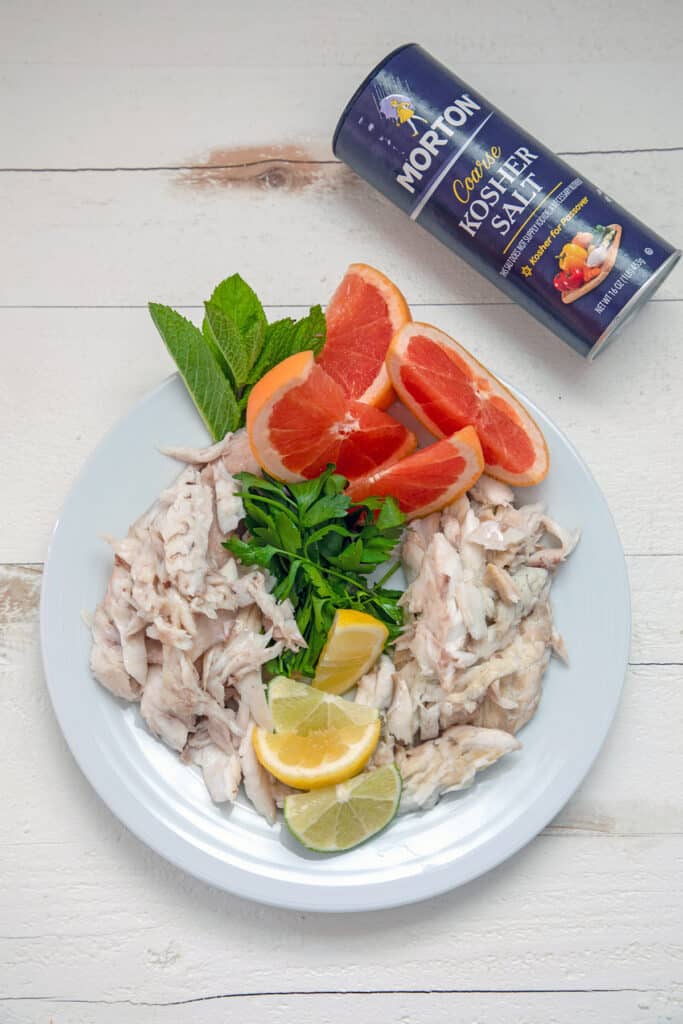 Who knew 3 pounds of salt and some egg whites could make for such a tender fish and a delicious meal?
And though I started off thinking this was going to be super complicated and time consuming, it ended up being an incredibly easy recipe, both in terms of prepping and baking.
But ridiculously impressive, right?
🥗 What to serve with
Salt baked fish really goes with anything you might serve with regular fish, from salads to vegetable side dishes, and more. Here are some ideas: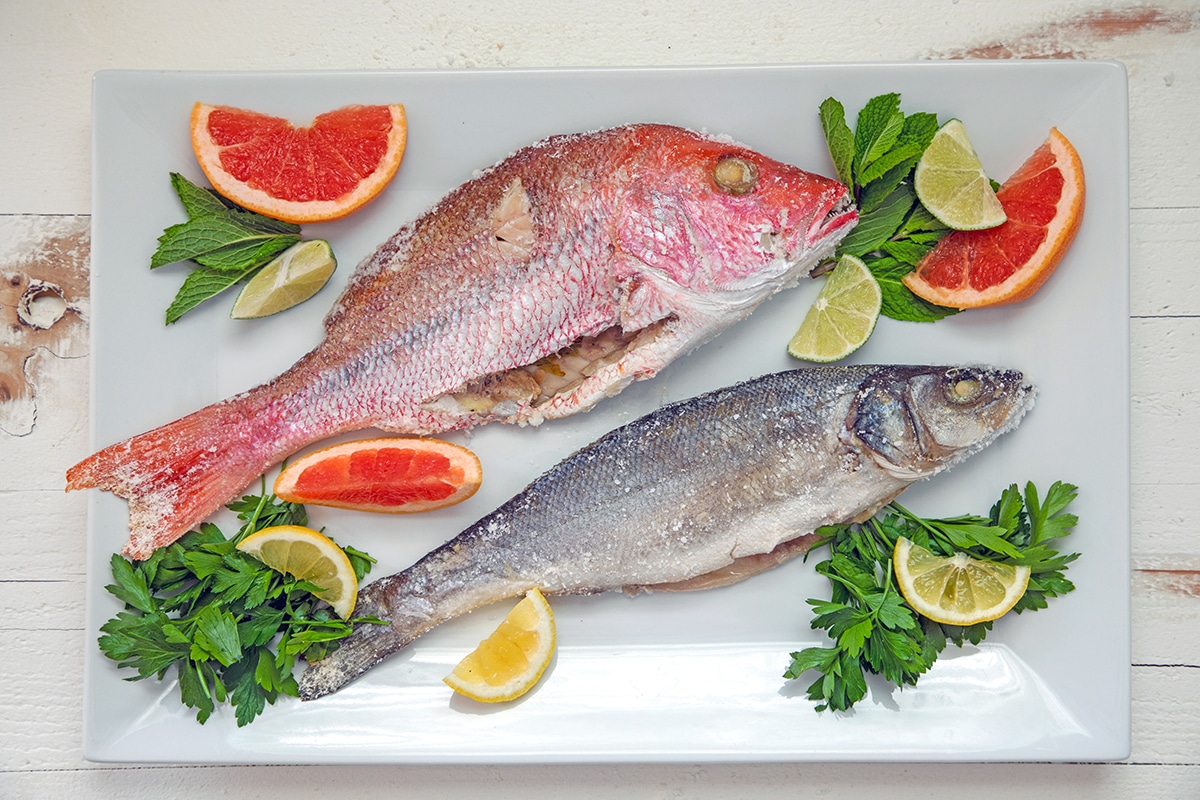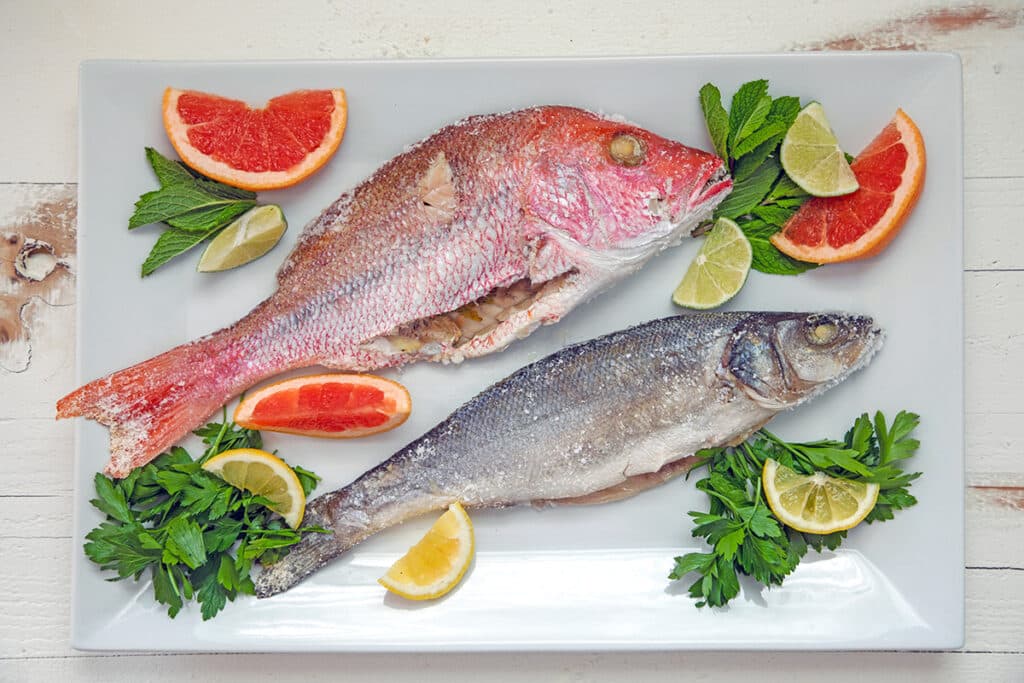 For more delicious fish recipes, check out my Grilled Mojito Swordfish and my Fresh Fish Tacos! But I think salt-baked is now one of my very favorite ways to enjoy fish!
Have you experimented with salt baking yet?
📖 Recipe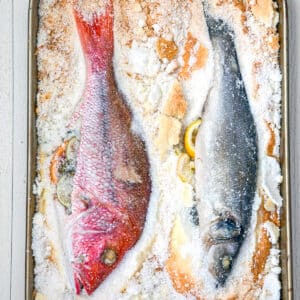 Salt Baked Fish
You might be surprised to learn how easy it is to make salt baked fish... And the results are an incredibly moist and well-seasoned fish with a gorgeous presentation!
Print
Pin
Rate
Ingredients
2-3

lbs.

whole fish like red snapper or branzino

(either 2 smaller fish or 1 large fish), cleaned and gutted

¼

grapefruit,

sliced into rounds

½

lime,

sliced into rounds

6-10

mint leaves

3 lb.

box

coarse kosher salt

6

large egg whites
Instructions
Pre-heat oven to 400 degrees.

Stuff fish with grapefruit slices, lime slices, and mint leaves (see recipe notes for alternative stuffing)

In a large bowl, mix together kosher salt and egg whites until mixture resembles wet sand.

Spread about 1 cup of the mixture on the bottom of a large baking sheet to create a "bed" for the fish. Lay the fish on the bed. Use the rest of the salt mixture to completely coat the fish, gently pressing down.

Bake fish for about 30 minutes (or until fish has an internal temperature of about 135 degrees). Remove from oven and let cool slightly, about 5 minutes.

Use a mallet to gently crack the salt coating away from the fish.

Serve fish as is or remove the skin and fillet before serving.
Notes
Alternative stuffing: You can also try using ¼ of a small onion, sliced; ½ lemon cut into rounds; and a small bunch of parsley. 
Feel free to get creative and use the herbs and citrus that sound delicious to you!
Share a Photo of Your Finished Recipe!
Mention @wearenotmartha and share a photo if you've made the recipe!
View web story for this recipe.