Last Thursday evening we were invited to attend the Sam Adams Brewery pre-open house event. This was good news for a couple of reasons. The first being the brewery is located in Jamaica Plain, which is literally only a handful of minutes from where we live, but for some strange reason, neither of us had ever visited. And the second reason being Sam Adams was partnering up with Batch Ice Cream, also based out of JP, and they would be hosting a beer and ice cream tasting.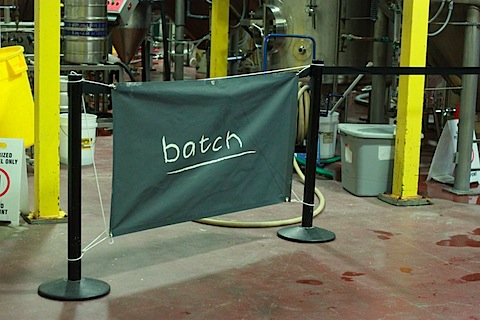 Batch isn't just your ordinary ice cream. You can actually taste the love in every bite. Founders Susie and Veronica use local and (mostly) organic ingredients. They don't believe in using artificial flavoring or colors, so with that said, every bit of flavor you taste in Batch ice cream, is natural. Including their own handmade caramel, using sea salt and butter from Maine. Need I say more?
The ice creams were paired with three varieties from Sam Adams' Summer Pack.
The first pairing was Sam Adams Boston Lager with Batch's Salted Caramel, which rightfully so, is their best selling ice cream. It reminded me of a Werther's Original Caramel but with a touch of salt. And in ice cream form, of course. The Boston Lager "uses only traditional brewing methods and the finest ingredients, including Noble hops. It has a perfect balance of malty sweetness and hop spiciness followed by a robust, smooth finish.".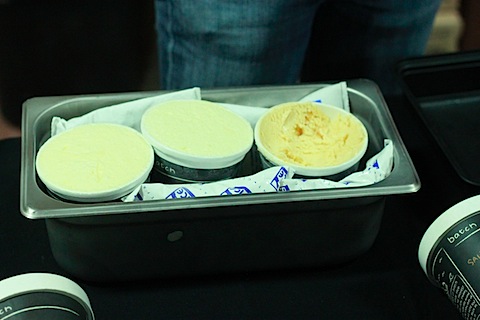 The second pairing was Sam Adams Rustic Saison and Batch's Vanilla Bean Ice Cream. This vanilla will most likely knock you off your feet and blow your mind at the same time. I've had my fair share of vanilla ice cream in my life, as most people have, and Batch's was unlike anything I've ever experienced. Smooth, perfectly sweet, and clearly not artificial at all. The Rustin Saison is one of Sam's new styles and is "incredibly complex and unique with floral, fruity, and estery flavors layered with citrusy hops and a slightly sweet herbal note." Perfect for a warm summer night.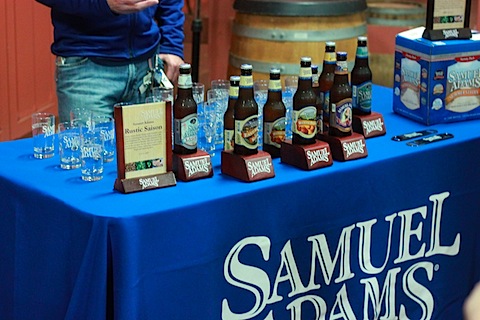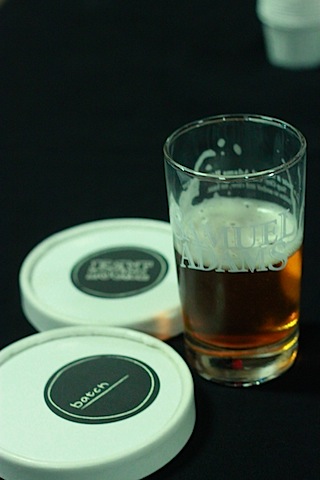 The last pairing was Sam Adams' East-West Kolsch and Batch's Ginger Ice Cream. Immediately after sampling the ginger ice cream, I thought it would be just delightful as dessert after a sushi dinner. It was light, pleasant, and refreshing. I'm going to have to make this happen immediately, actually. The East-West Kolsch is also refreshing, with "citrusy Alsatian hops and Southwest Asian Jasmine Sambac for a delicate floral flavor."
Including the three flavors mentioned above, Batch also serves several other crave-worthy varieties including:
Chocolate
Coffee
Cinnamon and Chocolate Bits
Mocha Chip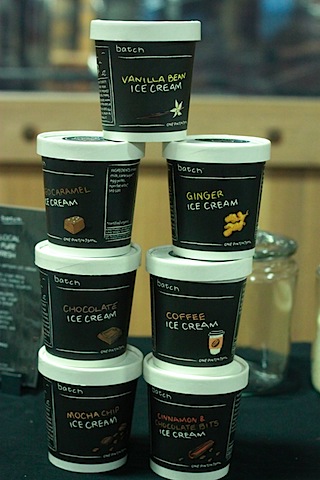 While we experienced the pairings, our tour guide, Seth, taught us all about the flavors and showed us around the brewery.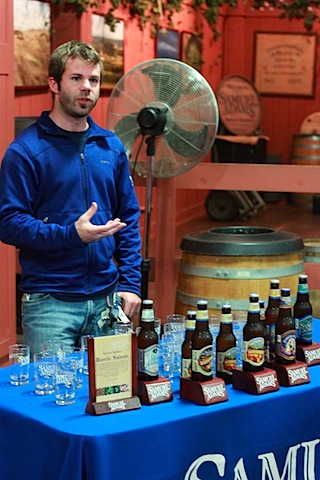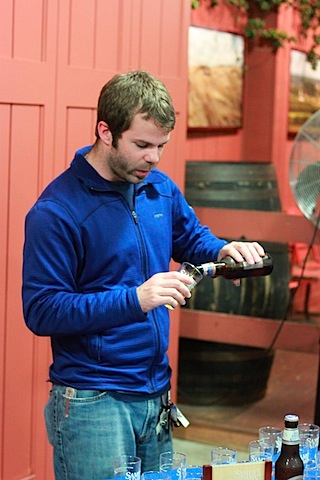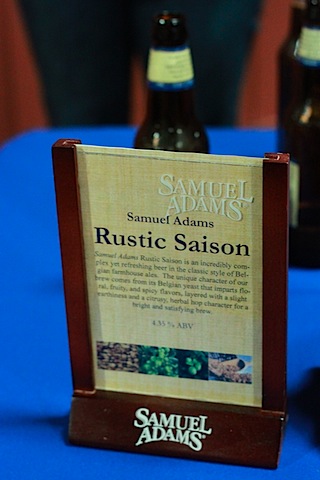 We even got a tour of the Barrel Room…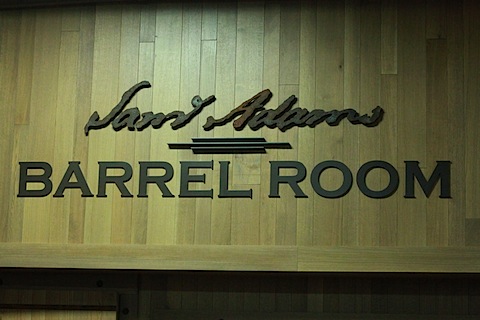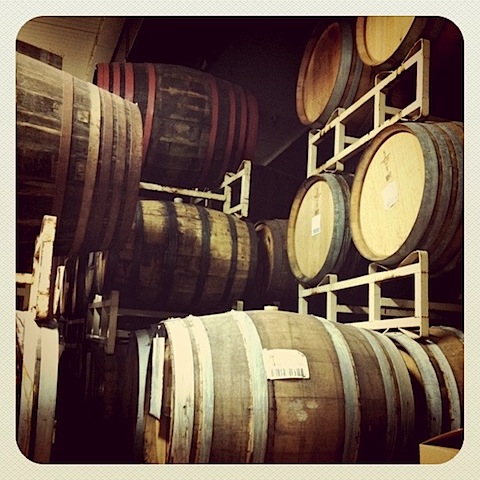 How neat is this table? I think I need it.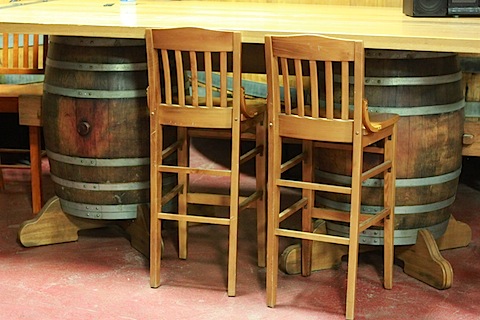 After the tour was over, the open house was opened to the public so we settled into one of the tasting rooms to relax and catch up with some of our favorite bloggers turned real life friends 🙂
Including the lovely Colleen of The Daily Craic and her brand-spanking new fiancee, Colin. Easily one of the cutest couples in America.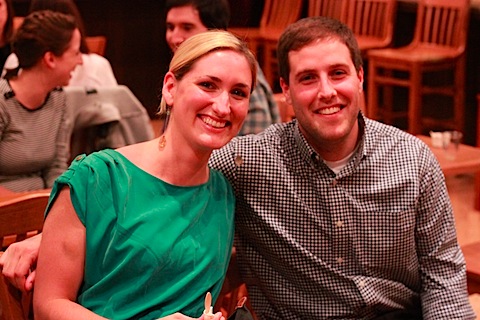 We also spent some QT with our darling, Becca, who also heads up the Massachusetts chapter of Girls Pint Out. Becca knows more about beer (and Anthropologie sales and Boston patios, since we're on the topic) then any girl I know. Which is exactly why we're friends with her 🙂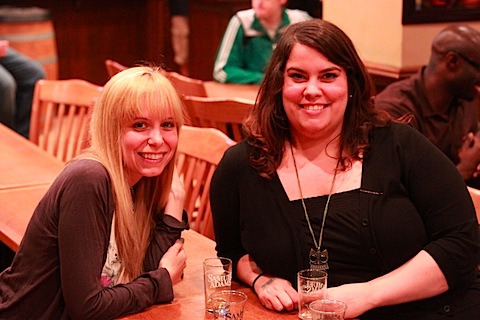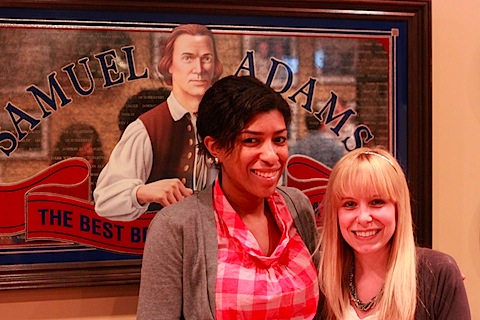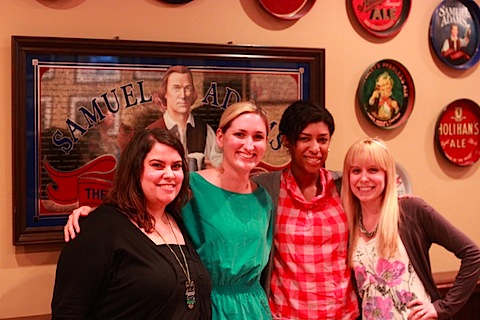 The funny thing about the Sam Adams brewery is for as long as I've lived in and around Boston, I had never once gone, until last week. I told my brother about it the other day and now he wants me to go with him and a couple of his friends this week. I have a feeling I might be spending some quality time here now. Especially since it's so close to The Haven, where my favorite hamburger resides 😉
Looking for Batch Ice Cream? They can be found throughout the Boston area at some local food shops, farm stands, and also Whole Foods. If you're looking for an exact location you can visit their Where to Find page. And don't forget, if they don't carry it at your favorite store, request it!
Samuel Adams Brewery
30 Germania Street
Boston, MA 02130
617.368.5080
[Chels]