I am a sucker for Girl Scout cookies. I mean, I was a Girl Scout (Brownie and Daisy) for a long time and cookie-selling time was the absolute best. My mom was always the "Cookie Mom" meaning we got all the cookies to our house first, which I thought was the coolest thing. My absolute favorite Girl Scout cookies are Tagalongs (obviously. Peanut butter), but Samoas come in a close second. So when I saw a recipe for
Samoas Bars from Baking Bites, I immediately had to make them.
Cookie Base for Samoas Bars:
1/2 C sugar

3/4 C butter, softened

1 large egg

1/2 t vanilla extract

2 C all purpose flour

1/4 t salt
3 C shredded coconut (I used sweetened because it's all I could find)

12 oz. chewy caramels

1/4 t salt

3 T milk

10 oz. dark or semisweet chocolate (I used chocolate chips)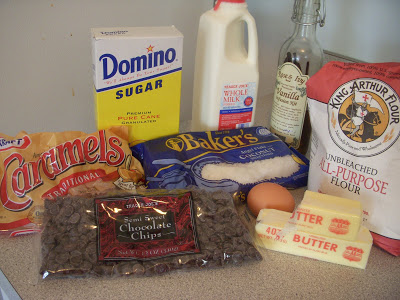 First I sifted together flour and salt in a bowl. In a separate, large bowl I creamed together the sugar and butter until fluffy. Then beat in egg and vanilla. With my mixer on low speed, I slowly beat in the flour mixture. The dough was crumbly, but the recipe assured me that was OK.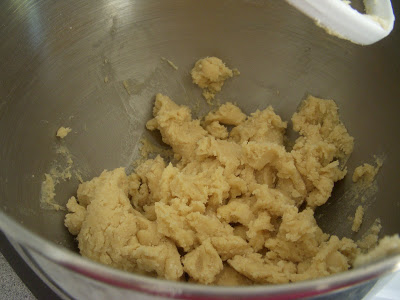 I was supposed to line my 9×13 inch baking pan with parchment paper, but I discovered I was out so I just sprayed the pan with a little bit of cooking spray. I poured the dough into the pan and pressed it down into an even layer.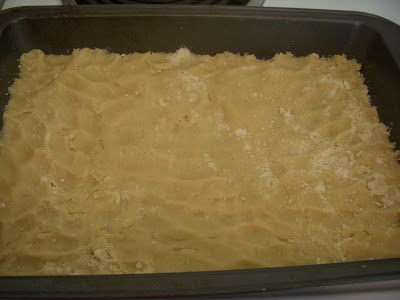 I baked at 350 degrees for 20-25 minutes, until it was set and the edges lightly browned. The I had to let it cool completely.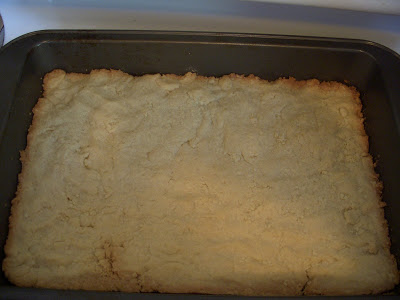 I was supposed to spread the coconut on a parchment paper lined baking sheet (one with sides, so the coconut didn't slide out and into my oven!). But since I didn't have parchment paper, I just put it right on the pan and it didn't seem to make much of a difference. I put the coconut in the oven at 300 degrees for about 20 minutes; making sure to stir it around every 5 minutes, so it toasted evenly.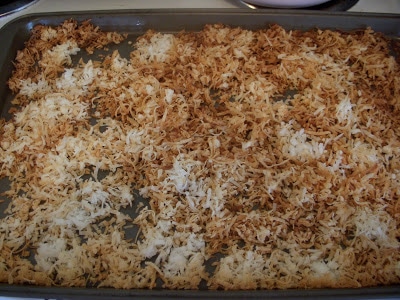 Unwrapping the caramels is the biggest pain of this recipe! Next time I might just make my own, since
I discovered how easy that is.
But I unwrapped them all and put in a microwave safe bowl with milk and salt. I cooked it on high for 3-4 minutes, making sure to stop the microwave and stir it every so often.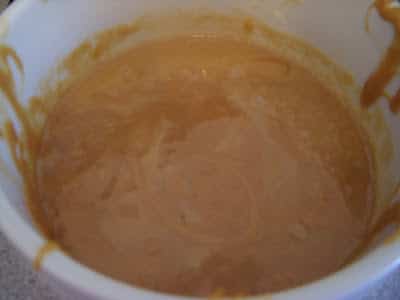 When it was all melted, I folded the coconut in and poured the mixture over my cooled shortbread, spreading into an even layer with a spatula. Again, this has to cool fully. I popped mine in the fridge to speed it up. When it was ready, I cut it into 30 bars using a pizza cutter. A pizza cutter is definitely the best option since the bars were pretty hard and difficult to cut through.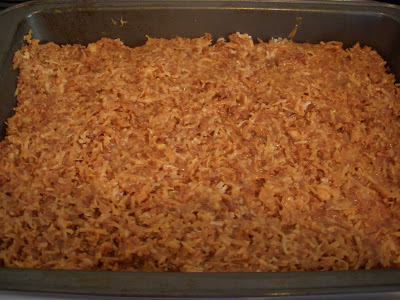 Then I melted my chocolate in the microwave (stirring it as it cooked so it wouldn't burn!). Then I dipped the base of each bar into the melted chocolate. It was a bit difficult because the bars were delicate and tended to fall apart as I pulled them up from the chocolate. I ended up spooning the chocolate on many of them. I also put the bars chocolate-side up so the chocolate wouldn't come off. Make sure to save some chocolate to use as the drizzle.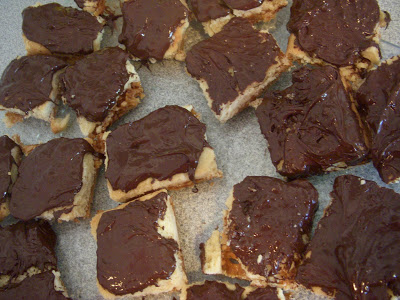 Then I waited for them to cool. Again. I told you these takes time. I popped them in the fridge again. Now you're ready to drizzle the chocolate! I didn't want to dirty a pastry bag, so I used a plastic bag. A word of advice if you're using a plastic bag: Use a high-quality plastic bag. The store brand ones kept bursting and chocolate went everywhere. All you need to do is cut a tiny tip of the corner off the bag and then fill it with chocolate and squeeze it out in a zigzag pattern.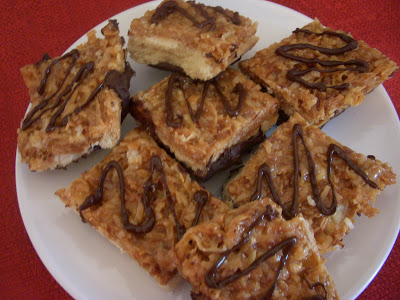 They kind of look like Samoas! They tasted a lot like them too, though not perfect. They were a little too shortbread-y for my liking and next time I might put a little more chocolate on the bottom and sides.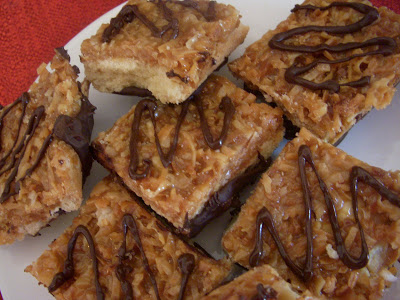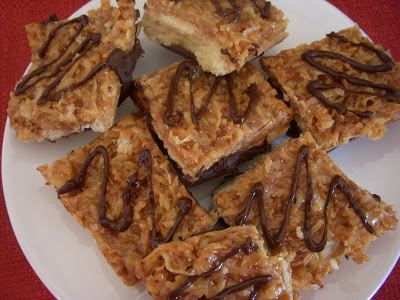 I took some with me when Chels and I went to visit my sister and future brother-in-law at their house in Fairhaven. It was the perfect 80 degree April day and their house just happens to be a 1-minute walk from the beach. Literally. You can see the water from their house. Homemade Girl Scout cookies, the beach, family, and friends…. Does life get better? Nope, not really. Almost made me want to become a Girl Scout again.