A few weeks ago we, along with some other Boston bloggers and media, were invited to attend a party on the patio of Sam's, a restaurant located in Louis Boston's new space. At my old job, I used to look out the window to the original Louis Boston on Back Bay's Berkeley Street every day, so I was eager to see the new location and restaurant. Because anything associated Louis doesn't disappoint. 😉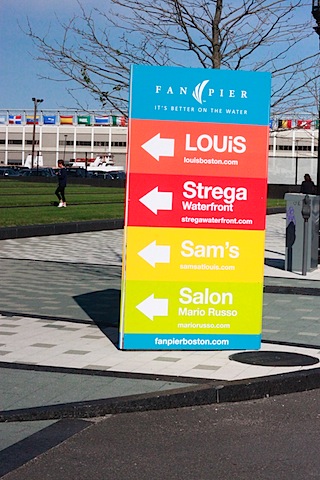 Boston is a city that is almost always undergoing some sort of construction or planning vision and nine times out of ten people have no clue what's going on or when they'll be done. Or really how we'll even get there because this city is notorious for having streets that make zero sense. Here's looking at you Big Dig. But, we love this city and that's what keeps us here, wonky construction projects and all 🙂 I think it's safe to say that the work done on Fan Pier was definitely worth it. It's a part of the city I never really venture out to, mostly because there isn't a direct train that takes you there. You either have to walk a bit, take a cab, or take the Silver line (which is a bus). But whenever I'm at the ICA or near the water I always say "I need to get out here more often!". Mostly just to walk around and take in the views, see some grass, and watch the sailboats float on by. It's a part of Boston that doesn't even really feel like Boston. It's all new construction so it definitely adds a nice flavor to an otherwise traditional and old-fashioned town.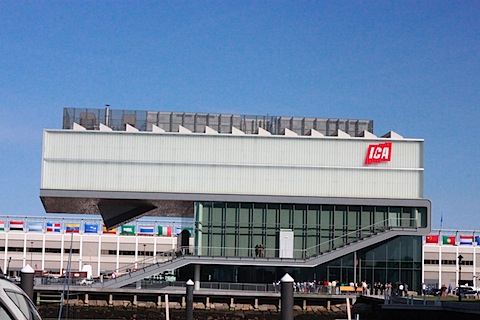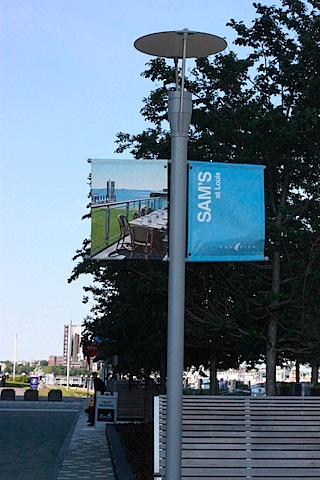 Sues and I decided since the weather had finally cleared up and it was such a nice night, that we would take the Green line to Government Center and walk to Sam's. It took about 18 minutes or so. And since we knew we'd be eating and sipping cocktails all evening, getting a little exercise in was an added bonus 😉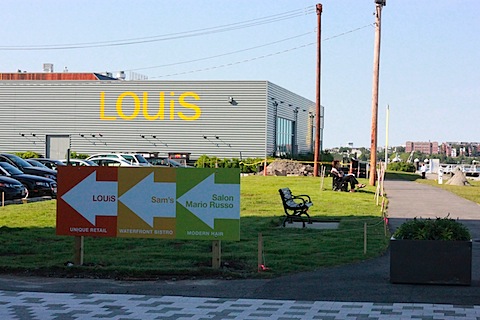 As we approached the building I was instantly happy. I looooove the industrial feel of the exterior and the curry-colored font on the building just about made me want to die and go to Design Heaven. All caps because it's a real place 😉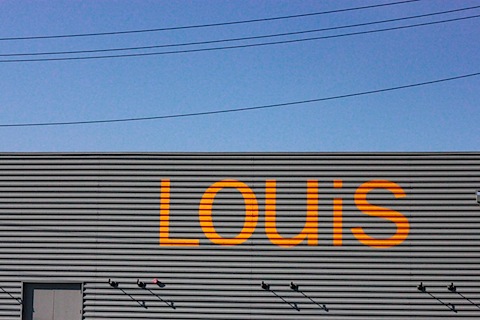 And then there's the other side of the building. Aren't you drooling? I would have been content just sitting on the lawn outside of Louis and admiring the architecture. 😉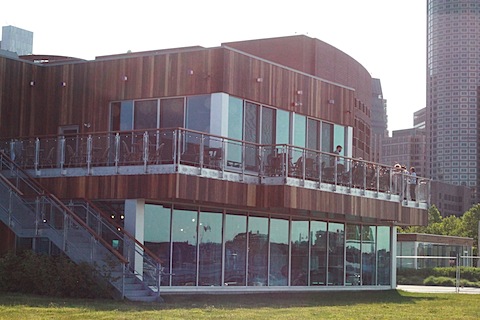 But there was food and drink to be served, so inside we went! After we casually wandered around the building trying to figure out which door we went in. Woops.
Just as we walked out to the patio we were served the evening's "signature cocktail" which was called The Less Than Three. It was the perfect mix of cassis, tequila, grapefruit juice, mint and a bit of club soda, as shown below.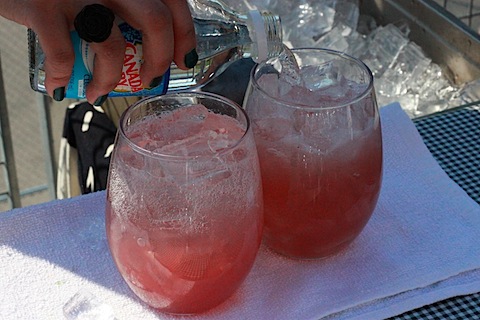 The little salted cucumber garnish was also quite delectable. A salty summery bite to finish off a refreshing cocktail!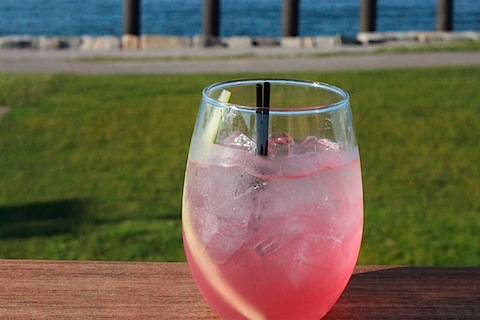 I didn't eat a proper dinner that evening so I was pleasantly surprised at the amount of appetizers Sam's served! Not to mention they were all jaw-droppingly good.
On the menu:
Crispy Jalepeno-Crab Rangoon with Sweet and Sour Plum Gastrique. Just wow. I'm almost 100% sure that if all Crab Rangoon tasted like this the world would be at peace.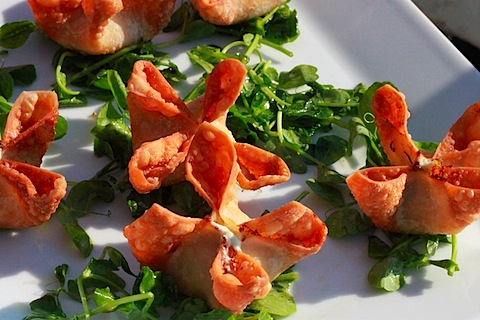 Pulled Pork Nachos. These chips were stunning and crunchy and I want more. Now!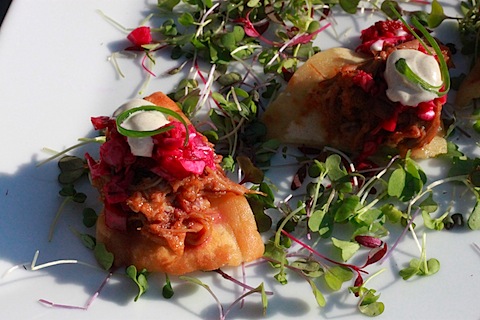 Quinoa Salad with Feta, Blueberries, and Orange Supremes.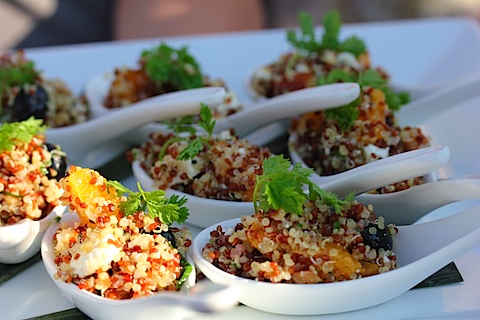 Grilled Lamb Lollipop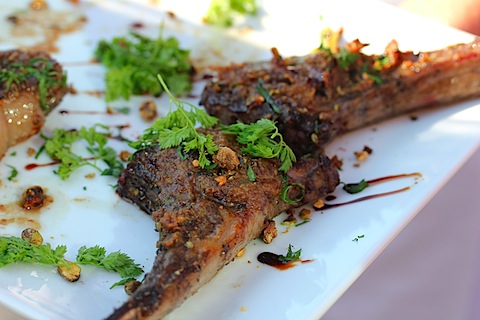 Lobster BLT with Candied Bacon. There are no words.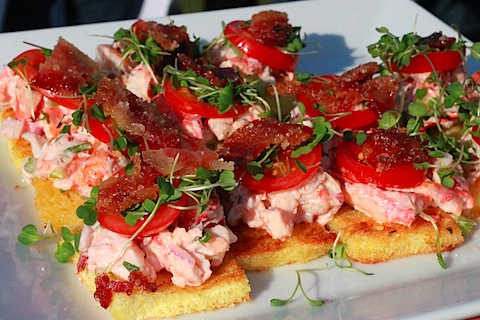 And two of my favorites of the night that I didn't get to photograph mostly because I was too consumed with eating them, the Halibut Ceviche with Bibb Lettuce, and the Pancetta Braised Endive with Pink Grapefruit.
Not on the menu, but naturally just as delicious as the food that was served, were these views of the water: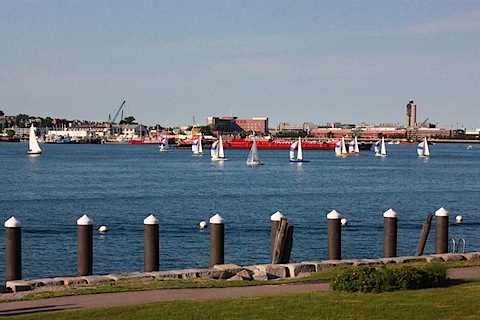 And sailboats.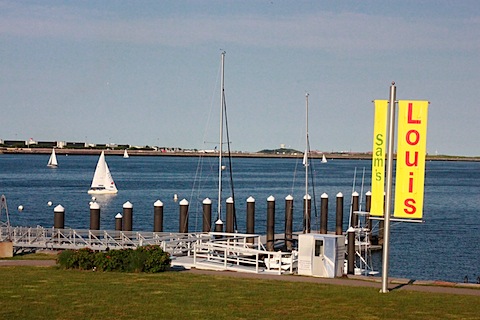 And Boston Bloggers.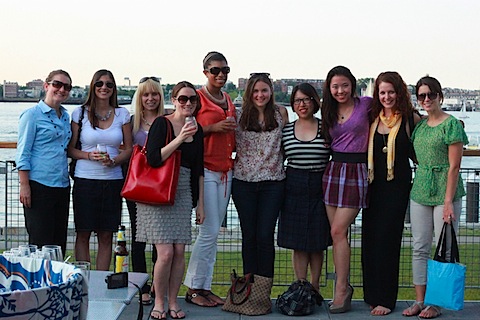 Of course, Sues and I were two of the last people to leave the party which is almost always typical. Once we start talking we automatically lose track of all time. And losing track of all time and reality is pretty simple to do when you're being treated to delicious bites on what I now like to think is one of Boston's finest patios. I'd be foolish to not spend as much time as possible at Sam's this summer. And you'd be foolish not to go. Word on the street is they have a fantastic brunch.
Sam's at Louis
60 Northern Avenue
Boston, MA
617.295.0191
————————————————————————————————————————–
Giveaway!
Speaking of Boston. And Summer. And food that makes you drool. We're giving away two pairs of tickets to the 30th Annual Chowderfest! It's being held Sunday, July 3, so if you're in Boston 4th of July weekend, and love clam chowder, definitely enter!
The participants are:
Jerry Remy's (Boston, MA)
Ipswich Clambake Company (Ipswich, MA)
Anthem Kitchen and Bar (Boston, MA)
Mr. Dooley's Boston Tavern (Boston, MA)
Clancy's Restaurant (Dennisport, MA)
The Chart House (Boston, MA)
Like I said, we're giving away two pairs, which means there will be two winners! Hooray!
Leave a comment on this post by Sunday, June, 26 by 11:59pm EST telling us why you want to attend this year's Chowderfest. Tweet for an additional entry. "Like" us on Facebook for another entry! Just be sure to leave another comment on this post letting us know about your extra tweets, etc. 🙂 Easy like Sunday morning. Good luck and hopefully we'll see you there!
[Chels]